be quiet! TFX Power 2 - 300W Gold
be quiet! Has sent me a power supply that they would like me to have a look at. It's not often I have this kind of test, and especially not the TFX kind.
A TFX power supply is very small, and made with special design for really small casings. I will show a little more detail in my review below.

Let's just start with the technical specifications.
As be quiet! is having a VERY comprehensive list of specifications, I list the main features of the power supply.
Energy Efficiency
80PLUS Gold certification independently verifies the extremely high operating efficiency (up to 91%) of this design
High efficiency means cost savings, because your PC draws less power from the mains. It also means less wasted heat, less cooling required and an overall quieter operation
Standby drain of less than 0.25 watts
Meets Energy Star 6.0 guidelines
Fulfills ErP 2014 guidelines
Zero Load design and support of Intel's Deep Power Down C6/C7 mode
Engineering
Use of the latest technology ensures premium performance and reliability
Supports the latest Intel® and AMD™ CPUs
Dual independent 12V-rails improve power signal stability
Full suite of top safety protections defends against over-currents, over- and under-voltages, short circuits, and overloads, thus safeguarding your valuable components
If you would like to see the full specifications, I've printed a PDF file for you here.
Let's get on with the packing and content.
TFX Power 2 comes in a nice, although standard packing from be quiet!. The cool thing about the be quiet! packings is, that you get all the information you need on the box.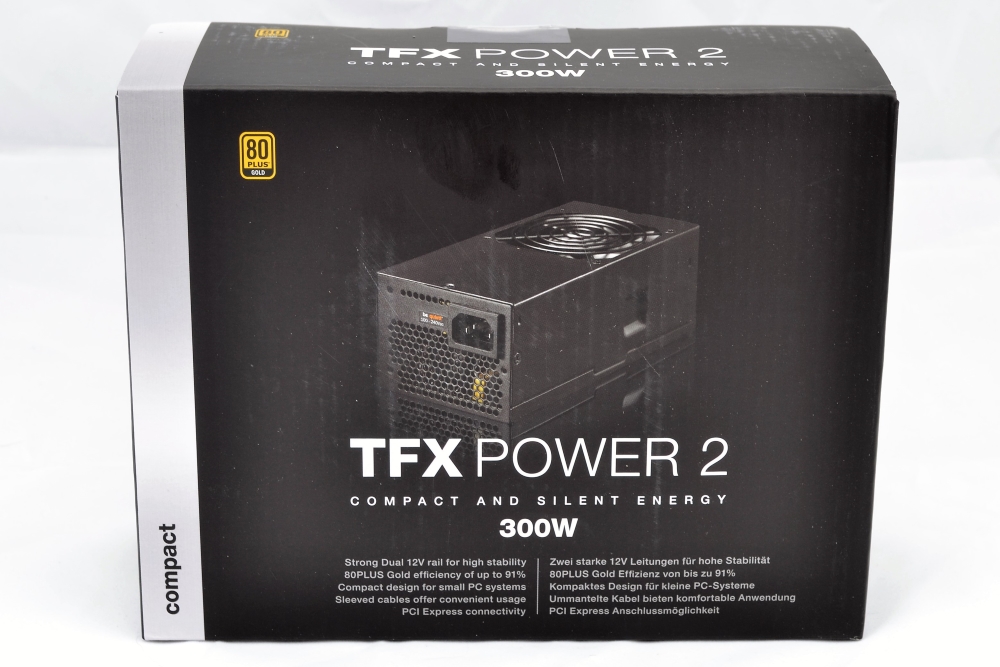 Inside the box we find the power supply and some accessories. There is a power cable, a Molex -> PCIe cable, user guide and a small bag of strips and screws.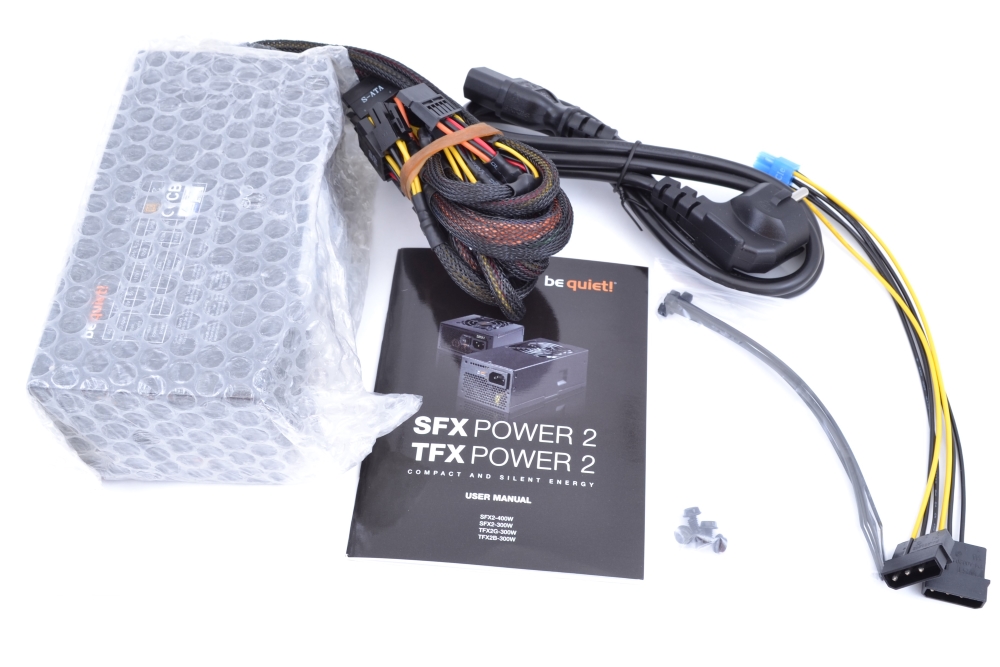 Content:
be quiet! TFX Power 2 300W Gold PSU
Userguide
Bag with strips & screws
Powercabel
Molex -> PCIe converter
A closer look at the unit.
TFX and SFX supplies are rarely modular. So no additional cables are included, and you can not remove those you do not need.
On top of the supply on this picture, you can see a small notch. It is used during assembly of the system so that the relatively long power supply is held in place by other than just screws.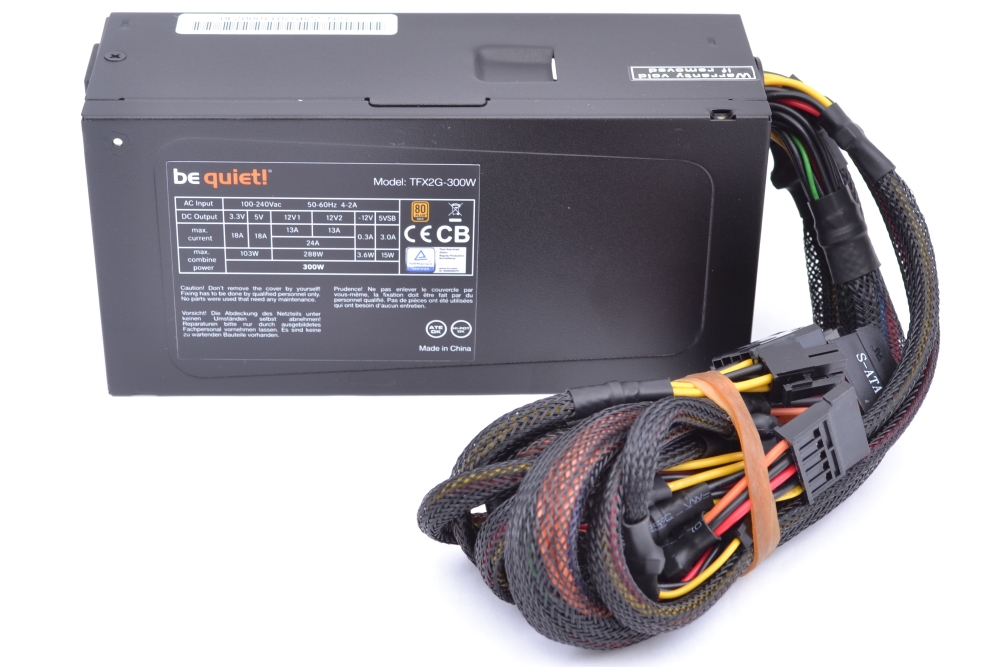 All connectors on the connectors are marked and the wires are assembled with net / sleeve. Visually, I would have liked if be quiet! had made the cable set with black wires so you did not have all those colors. It's not that nice if you mount in a casing with window.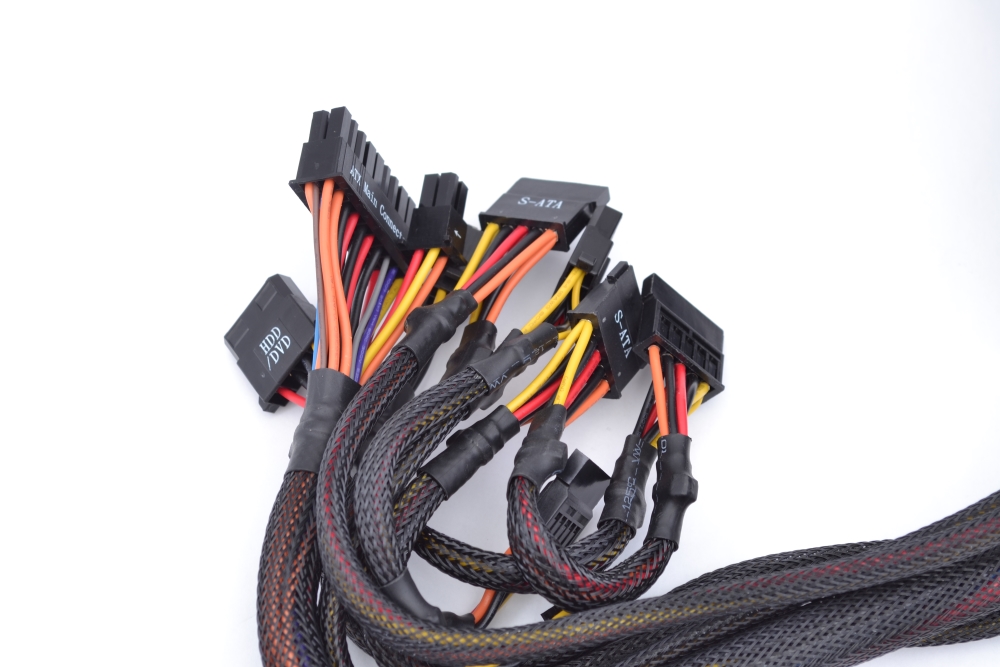 be quiet! Have made a nice picture of all the cables and the length on them. As you can see, you have 4 SATA connectors, 2 Molex connectors and one FDD connector. If you need to connect a graphics card, you can not use any Molex connectors, as both of these will be used to supply the graphics card. However, it is quite limited what you use Molex connectors for nowadays.
Also note that the motherboard connector is only 4 pin. I might have wanted it to be 2x4 pin instead. It may be that on slightly larger systems a single 4-pole plug is just not enough.
At the opposite end unit, we have the power plug. Unfortunately, it does not have any switch, so you can not turn off the power, unless you unplug it. I think that's a bit a shame, and I might have wanted a switch to turn on and off the power supply.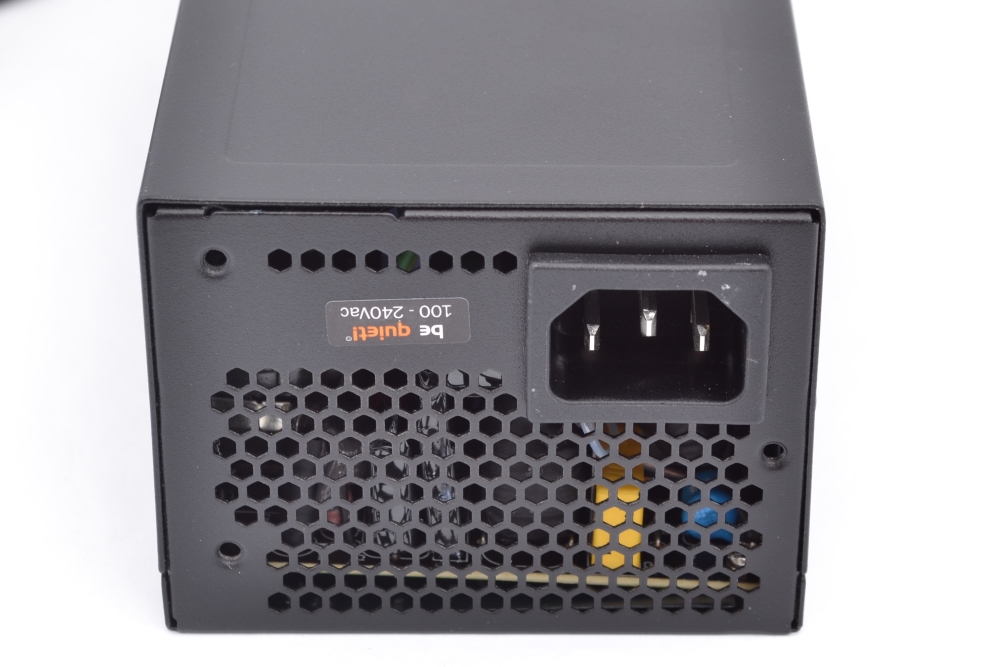 Finally a picture of the small fan in the power supply. It can run at 1815RPM, and makes a noise level at about 26.5dBA at full speed. It's actually a quite a bit, but because it's temperature controlled, it will probably never come that high. Then there are other problems than the noise from the fan, if that is the case.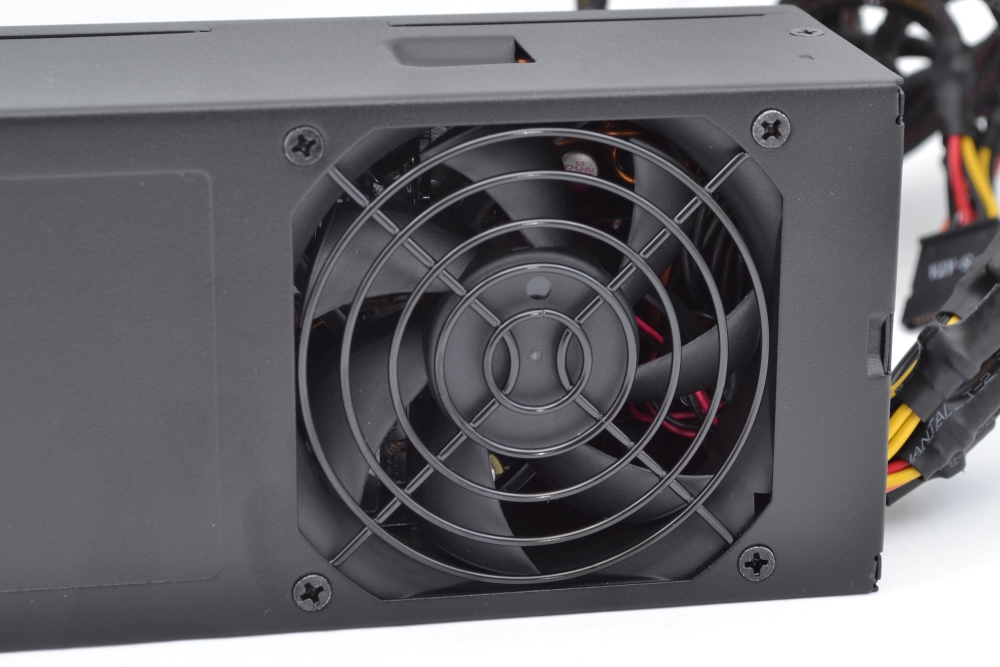 Before we begin the test, we need to check the certificates and approvals.
A power supply is subject to a lot of important approvals and certifications nowadays. This power supply is no exception and be quiet! have also chosen to make a little extra of it.
ATX Standard:
The basic standard of power supplies is called ATX, and it indicates how much the different voltages may differ on the power supply. It also tells you what limits, for example, the Ripple voltage limits it has to keep within.
If you want to read more about the ATX standard, you can find more information about it on this link:
https://en.wikipedia.org/wiki/ATX
However, the basic data for ATX power supplies can be seen in this table.

80Plus Certification:
In addition to ATX, you can build on and get better. Once you've done that, you'd like to show it to your customers and have some proof of how well you've done. This is achieved at 80Plus, which gives a certification of the good work that has been done.
80Plus certifications are about making power supplies more efficient. It is important to have as little a loss in a power supply as possible as it is just throwing money into the bin.
This be quiet! TFX Power 2 is 80Plus GOLD approved. It is the third best certification you can get, which means that the power supply must be at least 90% effective at 50% utilization.
All certificates and test results from 80Plus are freely available and you can read the certificate on the link below.
be quiet! TFX Power 2 - 300W Guld Certifikat
If you'd like to see if your own power supply has done well, you can do it on the link below.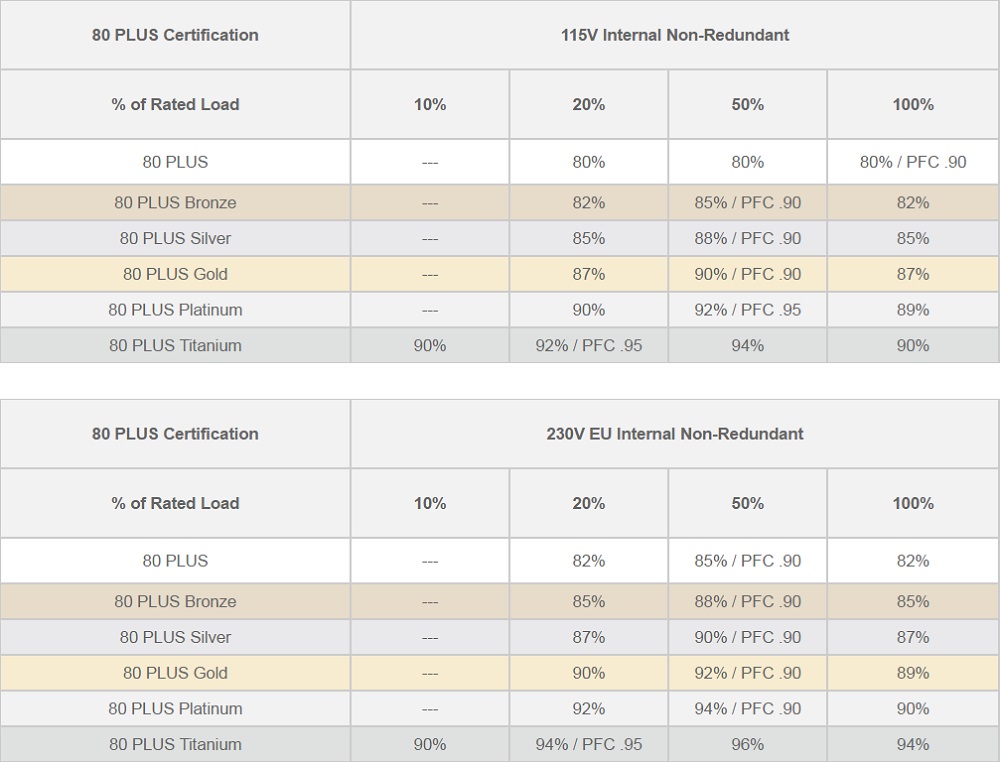 Now it's time to test the powersupply.
And I have made a small setup where I can load and measure the power supply. Below you can see the results, and this little power supply actually makes it quite good in my opinion.
It complies with all standards, and is actually very stable.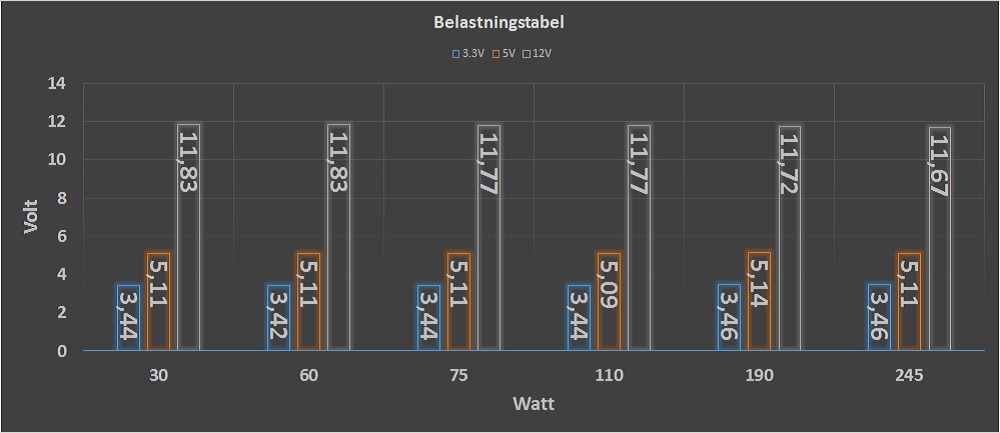 I have chosen NOT to make a ripple measurement, as I do not have the equipment for it yet. I'm working to get it, but unfortunately you have to miss it this time. However, I'm 100% sure that be quiet! has made sure that it is ok and at least meets the ATX standard, which says 120mV peak to peak.
My rating.
Now I finished my test of this small power supply. It is actually a little impressive how much power can be packed down in such a little space.
The length of the cables fits in most casings and purposes, however, I think be quiet! could have given the power supply a GPU plug, instead of adding an extra add-on cable for it. I'm generally not so much for extra connections.
Generally, the voltages are very nice compared to the loads, as confirmed by the 80plus certificate. It's certainly not a problem when it comes to be quiet! And this supply complies with the GOLD standard, which means that it is over 90% effective at 50% load. That's pretty nice.
In fact, when it comes to the price of the power supply, it's not because it's so bad. You have to pay about DKK 400 for this power supply in Danish stores. For that money, you get a good stable power supply, with good power for a workstation or media center. So it's definitely worth the money.
When it comes to the overall rating of the power supply, I give it a nice BRONZE star rating. I do so because I miss a dedicated cable for graphics cards, the wires are not black so it does not look so nice. And in last, I would have wished it was a be quiet! fan in the power supply, which unfortunately is not the case.
Read more about be quiet! TFX Power 2 - 300W Gold powersupply here.