Today we're announcing features that will begin rolling out soon in the v28 software update to Oculus Quest headsets. Oculus Air Link is a wireless way to play PC VR games on Quest 2, while new Infinite Office features make getting work done in VR even easier. We're also announcing native 120 Hz support for Quest 2 for an ultra-smooth gameplay experience.
Since launching in 2019 and exiting beta last year, Oculus Link has been a widely used feature across the Quest Platform. With a gaming PC and a compatible USB-C cable, Link has given people access to Rift's impressive content library, including games like Asgard's Wrath, Lone Echo, Stormland, and more. But of course, being tethered to your PC can break immersion and limit your mobility. We know gamers want to use Link without a wire—to experience the full freedom of movement offered by Quest 2 while playing the high-end titles that can only run on a gaming PC. That's why we've been working on a new streaming technology called Oculus Air Link—a completely wireless way to play PC VR content on Quest 2 using WiFi, built on the successful Oculus Link streaming pipeline.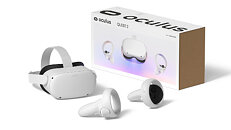 ---
Gigabyte has recently launched the first NVIDIA Crypto Mining Processor with the CMP 30HX D6 6G (GV-N30HXD6-6G). The entry-level CMP 30HX mining card features an Ethereum hash rate of 26 MH/s and a TDP of 125 W and was slated by NVIDIA for a Q1 2021 launch. Gigabyte is the first manufacturer to officially launch an NVIDIA CMP card and has revealed some interesting information including that the card is listed as having only a three month warranty period and 14 Gbps 6 GB GDDR6 on a 192-bit memory bus. The card features a WINDFORCE 2X Cooling System with alternate spinning 90 mm fans and no video outputs. NVIDIA also
announced
the CMP 40HX with a Q1 2021 launch date so we expect that partners will list that card shortly. These cards will be followed by the CMP 50HX, and CMP 90HX in May.
---
Novachips Co., Ltd., an innovator in flash storage solutions, today announced that it has started shipping a newcomer in its SCALAR Series of high-capacity SSDs. The new entrant, SCALAR-20T, is a 2.5-inch SATA MLC (Multi-Level Cell) 20 TB SSD that is entirely based on in-house hardware and firmware. SCALAR-20T utilizes Novachips' NVS3800 controller, and no third-party components—including JBOD and RAID component chips—are built into the device.
Since launching the world's first 2.5-inch SATA and NVMe MLC 8 TB in 2015, Novachips has consistently broken new ground in the massive capacity flash storage arena. The standard bus topology interface between SSD controllers and NAND flash memory has proven a limiting factor in flash storage capacity innovation. Novachips has resolved this structural problem by using a unique point-to-point ring topology. This technology has helped Novachips build its most recent, 20 TB capacity SSD, without compromising on performance or reliability from channel noise over its guaranteed lifetime.
---
KIOXIA today announced that its lineup of CM6 Series PCIe 4.0 enterprise NVMe SSDs has been successfully tested and certified to support NVIDIA's Magnum IO GPUDirect Storage. Modern AI and data science applications are synonymous with massive datasets - as are the storage requirements that go along with them. Part of the NVIDIA Magnum IO subsystem designed for GPU-accelerated compute environments, NVIDIA Magnum IO GPUDirect Storage allows the GPU to bypass the CPU and communicate directly with NVMe SSD storage. This improves overall system performance while reducing the impact on host CPU and memory resources. Through rigorous testing conducted by NVIDIA, KIOXIA's CM6 drives have been confirmed to meet the demanding storage requirements of GPU-intensive applications.
Large AI/ML, HPC modeling and data analytics datasets need to be moved and processed in real-time, pushing performance requirements through the roof," said Neville Ichhaporia, vice president, SSD marketing and product management for KIOXIA America, Inc. "By delivering speeds up to 16.0 gigatransfers per second throughput per lane, our CM6 Series SSDs enable NVIDIA's Magnum IO GPUDirect Storage to work with increasingly large and distributed datasets, thereby improving overall application performance and providing a path to scaling dataset sizes even further."
---
G.SKILL, the world's leading manufacturer of extreme performance memory and gaming peripherals, is announcing a new addition of high-performance DDR4 memory kit series to the renowned Trident Z family - the Trident Z Royal Elite series. Featuring a meticulously sculpted crystalline pattern across the polished surface of the aluminium heatspreader, the Trident Z Royal Elite also retains the patented full-length crystalline light bar and 8-zone RGB lighting of the Trident Z Royal to enhance the aesthetics of any high-end PC system build. Representing the upper echelon of DDR4 performance, the G.SKILL Trident Z Royal Elite will be available at speeds of DDR4-3600 to DDR4-5333 at launch.

Evolved from the luxury-class design elements of the Trident Z Royal, G.SKILL is introducing the all-new Trident Z Royal Elite series that features a magnificent multi-faceted crystalline design across the reflective aluminium heatspreader. After more than a year of development in crafting the perfectly-sized crystalline pattern and sculpting the 3D structure onto a solid piece of aluminium, each Trident Z Royal Elite heatspreader is painstakingly chiseled with 76 total facets to bestow the ultimate luxury aesthetic to any PC build. Available in gold or silver colors, Trident Z Royal Elite modules also inherited the iconic full-length crystalline light bar for a dazzling refractive display of RGB lighting.
---
NVIDIA today released the latest version of GeForce Game Ready drivers. Version 466.11 WHQL comes with optimization for "Mortal Shell," including support for raytracing and DLSS. The drivers also add NVIDIA Reflex support for "Valorant" with its latest patch. The drivers also integrate NVIDIA Broadcast noise reduction feature into OBS. The list of monitors with support for NVIDIA G-SYNC grows, with the addition of LG's 2021 G1, B1, C1, and Z1 series monitors; and the MSI MAG301RF.
Among the bugs fixed with GeForce 466.11 drivers are low frame-rates on "Supreme Commander/Supreme Commander 2," RAW files showing up black on Adobe Lightroom; "Microsoft Flight Simulator 2020 VR" stuttering on machines with hardware-accelerated GPU scheduling disabled; and some displays showing incorrect color levels after booting into Windows. Grab the drivers from the link below.
DOWNLOAD:
NVIDIA GeForce 466.11 WHQL
---
NVIDIA and Unity have announced that they're working on seamlessly integrating the green company's DLSS technology into the Unity game engine, thus allowing developers to more easily enable the technology on their development efforts. This is a sign of NVIDIA's power in the gaming arena - the company is actually leading engine makers to integrate its proprietary, RTX-only technology on their game engines. That is sure to give a boost to DLSS adoption throughout the industry - but of course, whether or not that's what would be best for consumers and gamers is very much up for debate.
NVIDIA said that native DLSS support would reach Unity through the High Definition Render Pipeline (HDRP) in the Unity 2021.2. release "before the end of 2021." That means there's still work to be done; however, we have to take into account that this is the second developer of a widespread game engine to adopt the new NVIDIA porprietary technology, after EPIC integrated DLSS into a plugin for its famous (and industry-wide) Unreal Engine. A strong victory for NVIDIA - should developers actually use the plugin instead of AMD's still-coming FidelityFX Super Resolution, which is supposed to be hardware agnostic, and enable the technology for millions of current-gen consoles at the same time. Check after the break for a video announcement.
---
The rumor mill keeps crushing away; in this case, regarding AMD's plans for their next-generation Zen designs. Various users have shared pieces of the same AMD roadmap, which apparently places AMD in an APU-focused landscape come their Ryzen 7000 series. we are currently on AMD's Ryzen 5000-series; Ryzen 6000 is supposed to materialize via a Zen 3+ design, with improved performance per watt obtained from improvements to its current Zen 3 family. However, Ryzen 7000-series is expected to debut on AMD's next-gen platform (let's call it AM5), which is also expected to introduce DDR5 support for AMD's mainstream computing platform. And now, the leaked, alleged roadmaps paint a Zen 4 + Navi 2 APU series in the works for AMD's Zen 4 debut with Raphael - roadmapped for manufacturing at the 5 nm process.
The inclusion of an iGPU chip with AMD's mainstream processors may signal a move by AMD to produce chiplets for all of its products, and then integrating them in the final product. You just have to think about it in the sense that AMD could "easily" pair one of the eight-core chiplets from the current Ryzen 5800X, for example, with an I/O die (which would likely still be fabricated with Global Foundries) an an additional Navi 2 GPU chiplet. It makes sense for AMD to start fabricating GPUs as chiplets as well - AMD's research on MCM (Multi-Chip Module) GPUs is pretty well-known at this point, and is a given for future development. It means that AMD needed only to develop one CPU chiplet and one GPU chiplet which they can then scale on-package by adding in more of the svelte pieces of silicon - something that Intel still doesn't do, and which results in the company's monolithic dies.
---
SPC Gear, the gaming label of the European manufacturer SilentiumPC, announces the feature-packed GK650K full-size mechanical keyboards. The new series comes in a solid and compact design with an aluminium top cover and a conveniently located volume wheel. The supplied palm rest assures increased comfort, while the customizable RGB backlighting covers the eye-catching illumination with effects. Thanks to the well-balanced feature set, the GK650K is the perfect keyboard for work or study during the daytime and extensive online battles during late hours. To match every gamer's requirement for the ideal click-feedback, GK650K is available with Kailh Blue, Kailh Brown and Kailh Red mechanical switches.

The SPC Gear GK650K Omnis keyboard is a combination of classic style and gaming power. The sharp edges, contoured aluminium top and palm rest look great in all conditions and provides an acclaimed combination for long sessions. The visuals are boosted further thanks to RGB LED strips on the keyboard's sides to illuminate the gaming environment further.
---
In response to the growing need for data protection, ATP Electronics, the global leader in specialized storage and memory solutions, has launched the SecurStor microSD cards - the latest in its line of secure NAND flash storage products for the Internet of Things (IoT), education, automotive, defense, aerospace and other applications requiring confidentiality and reliability.

"Removable storage media such as microSD cards provide great convenience and versatility for storing and transporting data. However, such convenience also exposes them to risks of unauthorized access," said Chris Lien, ATP Embedded Memory Business Unit Head. "In many instances, the boot image may be compromised, corrupting the operating system or rendering the system unusable. Malware may be introduced, or private information may be disclosed and used for damaging intents. Amidst such dangerous scenarios, we have made security a key priority for all ATP products."
---
Here are some of the first pictures of the ASUS ROG Zephyrus M16, a high-end 16-inch gaming notebook in development, characterized with its tall 16:10 aspect-ratio display. This display will come in two resolution options—2560 x 1600 at 144 Hz and 1920 x 1200 at 165 Hz. Both displays support 100% DCI-P3 coverage, and are mounted via a 180-degree hinge. Things get very interesting with that's alleged to be under the hood. The 2021 ROG Zephyrus M16 is powered by 11th Gen Core "Tiger Lake H45" processors, with the top SKU powered by the 10 nm Core i9-11900H, an 8-core/16-thread beast. Graphics options go all the way up to the GeForce RTX 3070 Mobile. A PCI-Express 4.0 x4 NVMe SSD is also included. Given its early listings on Amazon, one can expect launch of these notebooks to be right around the corner.