Reeven Polariz Fan Controller
I have simply said been so lucky that Reeven would like to join my blog.
Reeven makes casings, coolers and other accessories in high quality. It is exactly one of these pieces of accessories we are going to look at today. Reeven Polariz, an awesome fan controller with exclusive design.

I've actually reviewed Reeven before, just not here on the blog, but at one of the external sites. Among other things, I've reviewed their coolers, and not least one of their other fan controllers called Four Eyes Touch.
Review of Reeven Four Eyes Touch.
But let's have a look at the packing.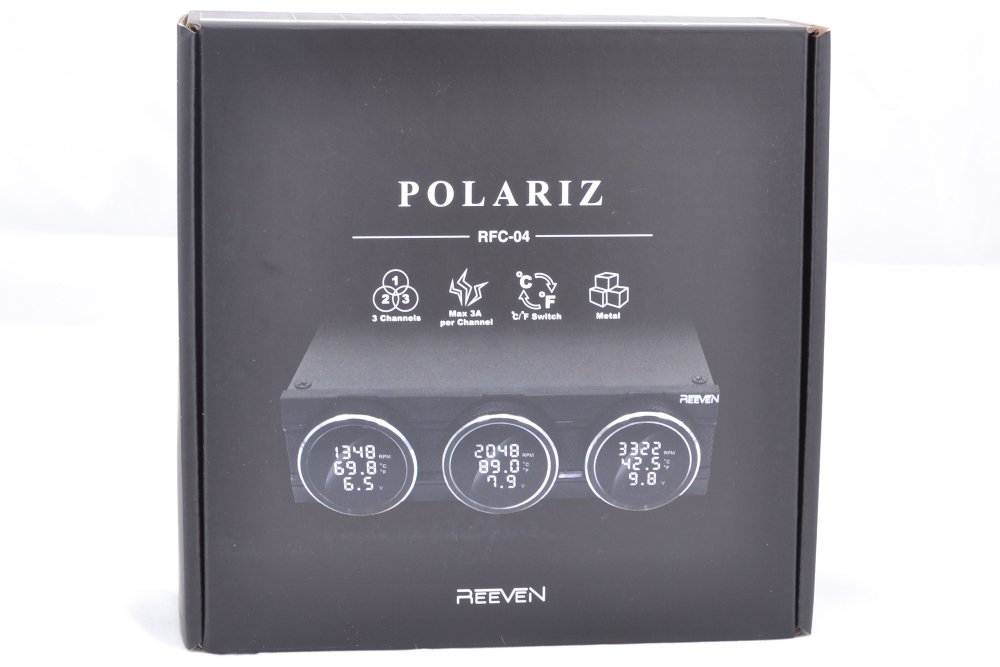 The box itself is decorated with nice looking illustrations, technical specifications and features on all sides. There is no doubt what is inside the box and what it can. Before packing it out.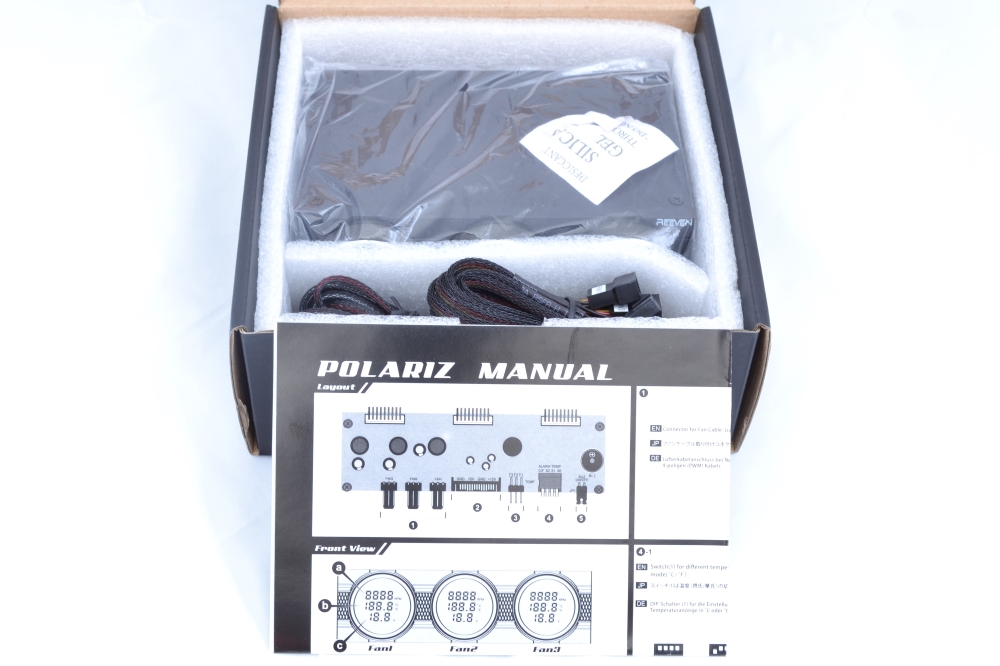 The contents of the box are well protected. The controller itself is wrapped in a plastic bag, while cables are separated in their own room. All of it is protected by foam so it is completely protected from shaking and strokes.
Contents in the box.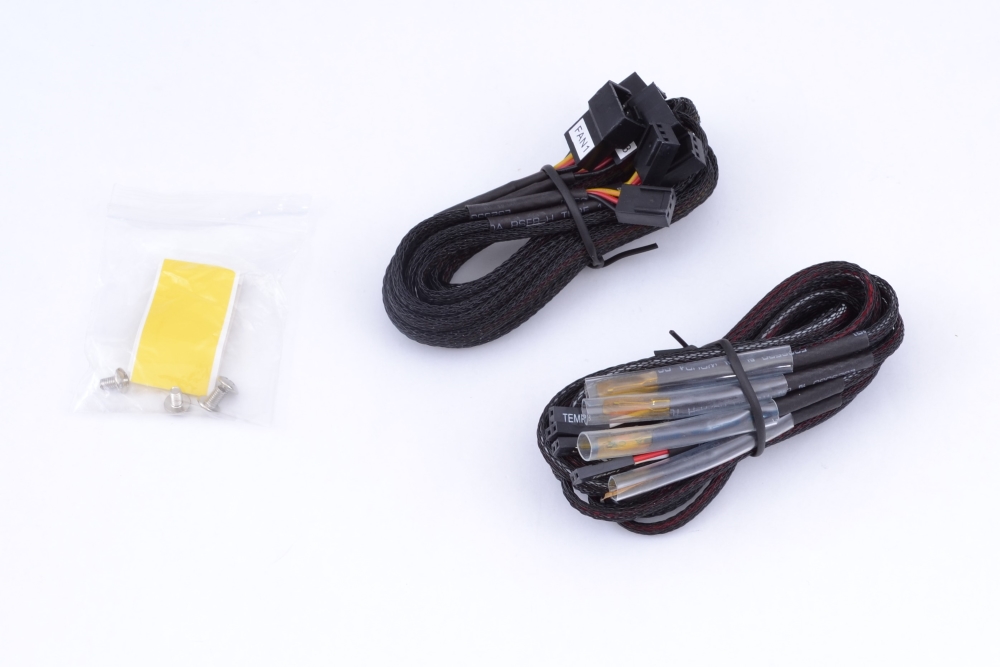 In addition to the controller itself, there is a bag of screws and tape to mount the temperature sensors. Then there is a bundle of extenders for fans, so you can reach all the way around the casing and finally there is a bunch of temperature sensors.
Liste med indhold:
Reeven Polariz Fan Controller
Bag with screws and tape
3 Fan extenders
3 Temperature sensors
User guide
The technical specifications.
Before we go ahead and look at the fan controller, we just need to have an overview of the technical specifications.
The controller can pull a total of 3 amps per. channel, which allows many fans to be put on the same channel. It can measure up to 100 degrees, which should be fine for the most part, and it fits in a single 5.25" drive slot.
Model Number: RFC-04
Dimensions: (W)148 x (H)42.5 x (D)98mm
DC Input: DC 5V & DC 12V
DC Output: 4V ~ 12V(±10%)
Output Ampere: 3.0A per Channel
Temperature Range: 0~99oC
Fan Speed Range: 0~9990rpm
Weight: 330g
Fitness: 5.25" driver bay
Compatable fan: PWM(4-PIN), 3-PIN
NOW, it's time to look at the controller.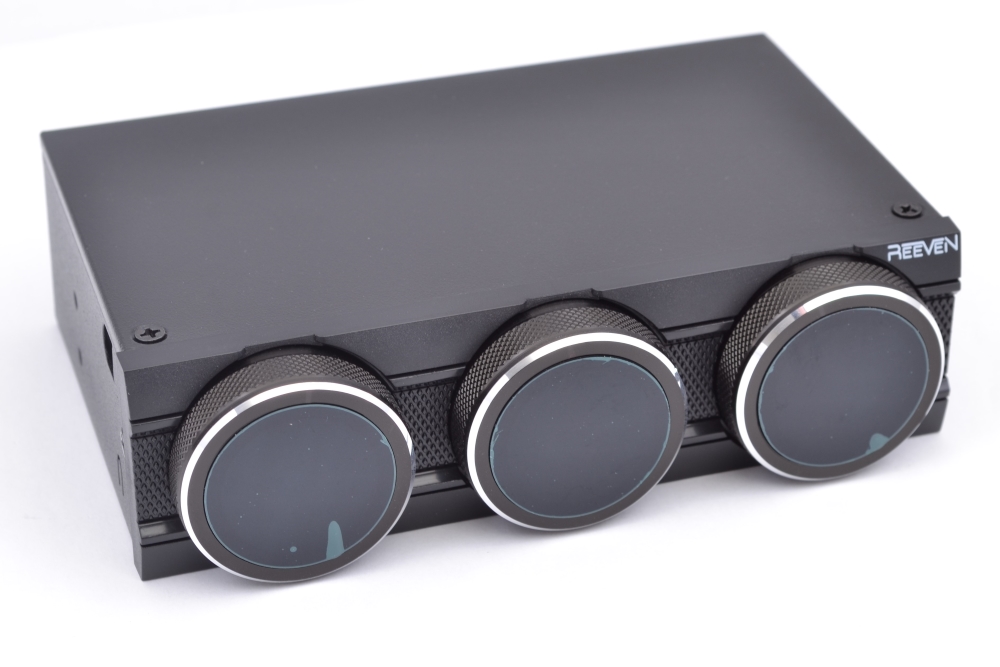 The controller is made of aluminum and iron, which gives a good impression of quality. It is held in the black & white theme, and there are some nice shiny aluminum edges on the buttons.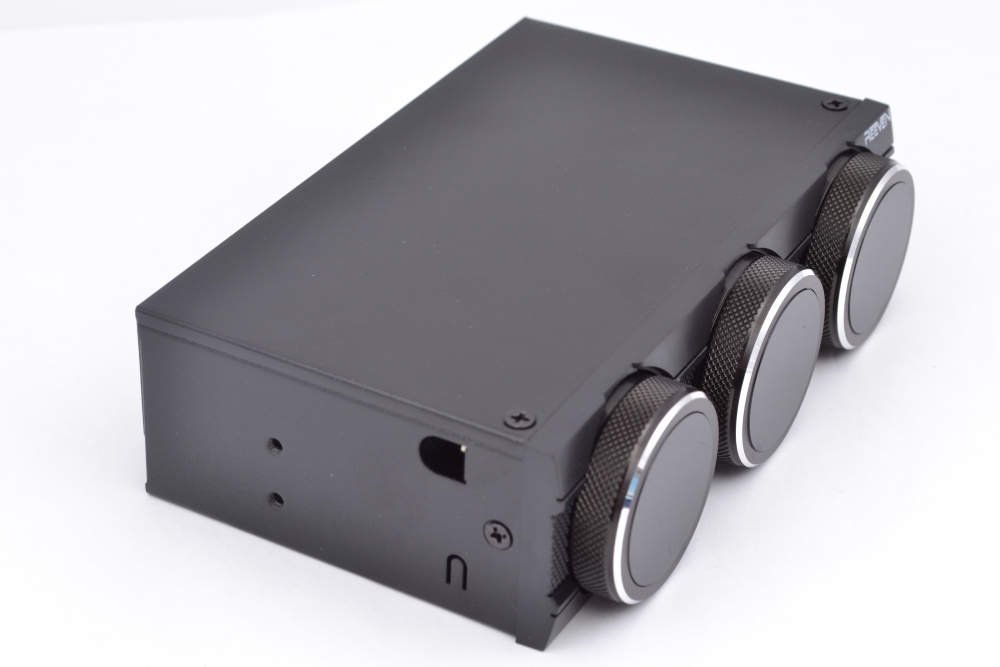 Reeven Polariz is mounted in a standard 5.25" slot with screws, if there is no other option for mounting. Many casings nowadays have mounting options without tools.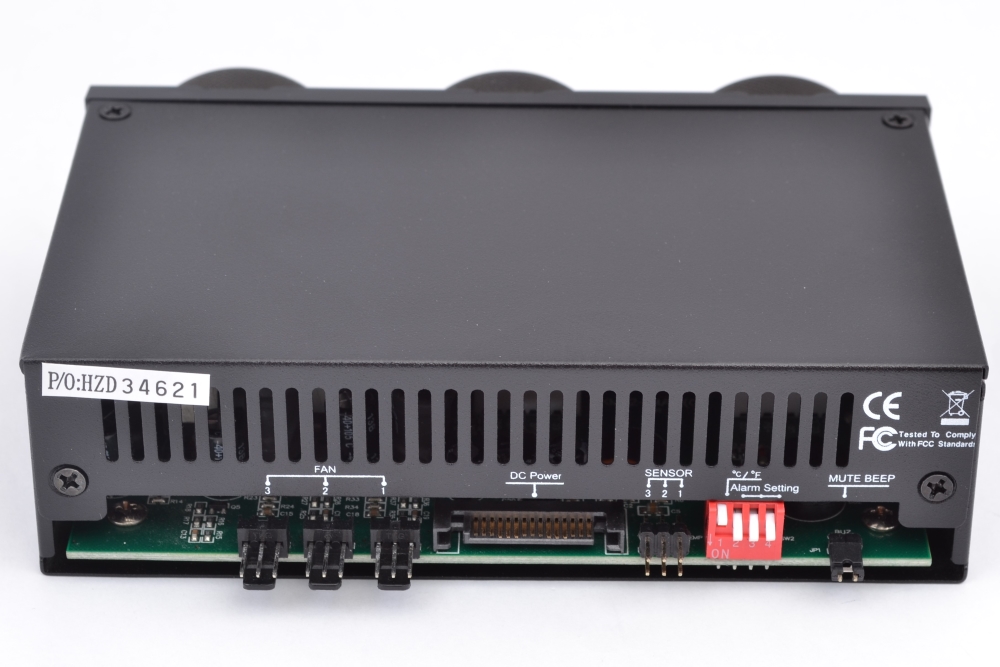 Of course, all cables are mounted on the back of the device, and this controller is as described previously, a 3 channel controller. It is supplied from a SATA Power connector, which supplies both 5V and 12V to the controller. On the right side, you can remove a jumper so that you no longer receive a warning with sound but only with blinking in the display. There is a small buzzer in the controller which gives alarm if it is set. That's what you do with the white contacts.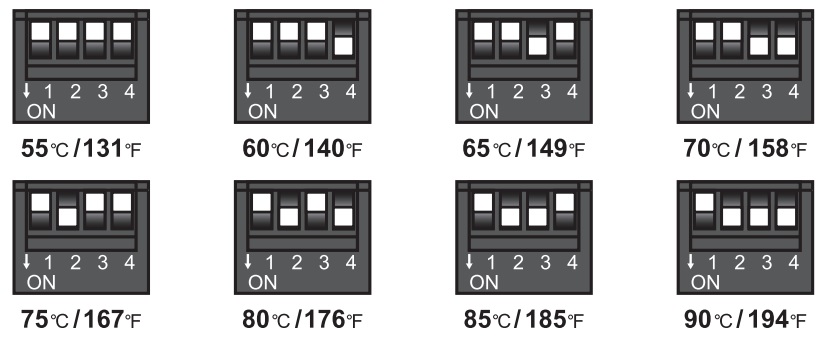 You simply choose which limit you want for the temperature. Unfortunately, you can not select it for each channel, but must select the same for all channels. Switch number 1 selects between Farenheit or Celsius in the display.
Now I'll connect it on and see how it works.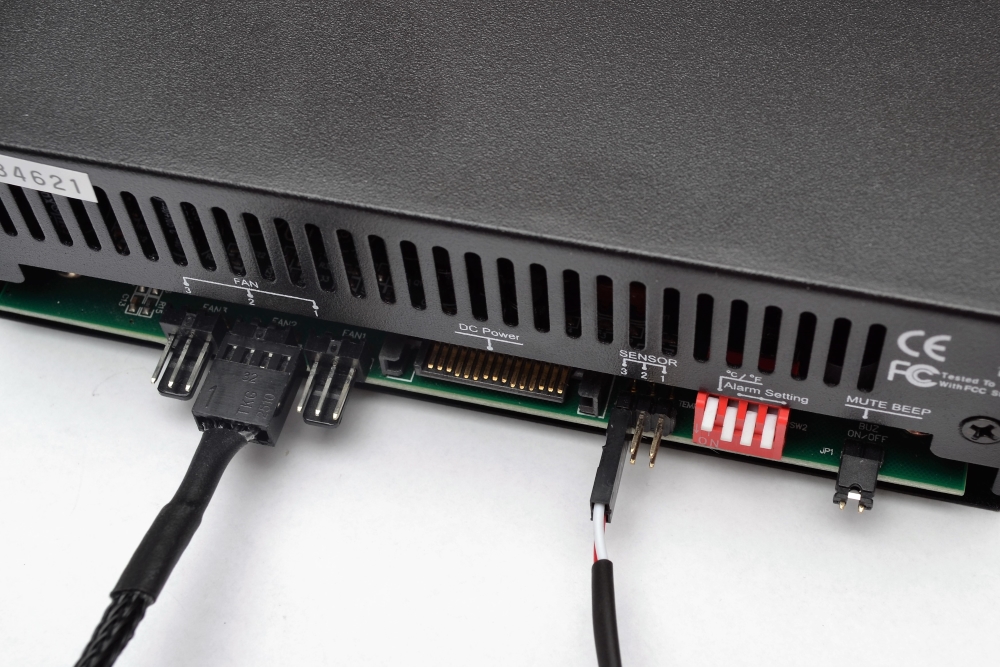 You can easily connect the fans directly if you have them right near the controller. Also, it is not a problem to connect a 4 pin plug, as there has been made room for that on the controller connectors. The fan extension the cables are about 75 cm long, which combined with the actual cable on the fans will be enough in most casings.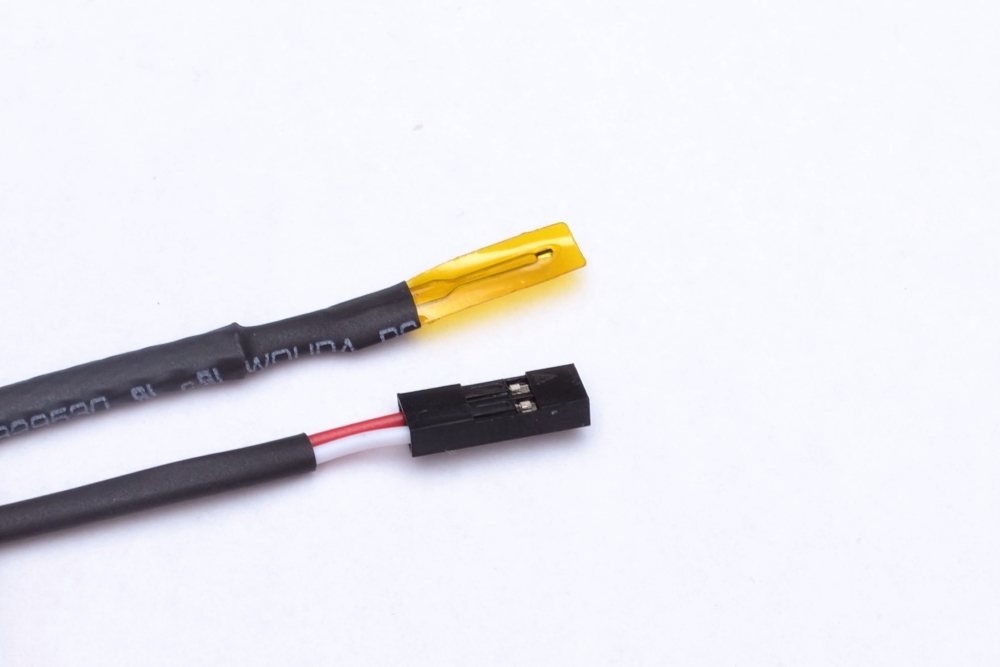 The temperature sensor is very small, as you can see in comparison. Small stickers are included, so you can pin them where you want them to feel the temperature. The sensor cables are about 75 cm long, which should cover most casings. But I will not deny that it may be a little short for some purposes.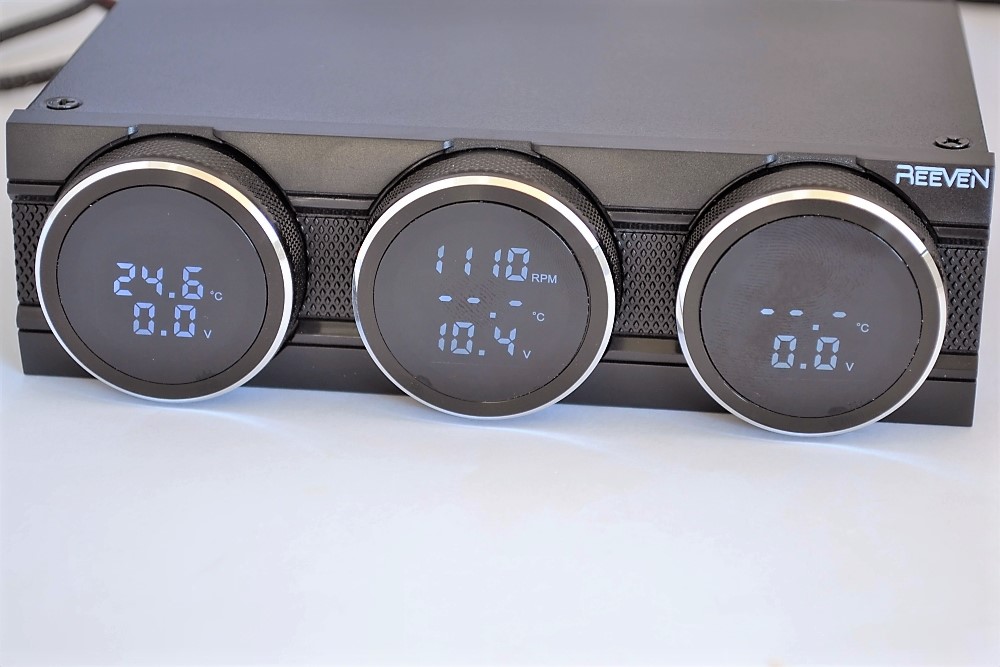 The controller was connected and turned on. I have put a temperature sensor on the first channel and one fan on channel 2. You simply control the speed by turning the big knobs around the display. It works really easily and you can control from 4-12V, which is enough for most fans.
My opinion.
There is no doubt that Reeven has made a nice controller. It looks really cool and seems to be made of great quality. The house is made of solid metal and the buttons are made of aluminum with nice details.
The display is nice and subdued so you do not get blinded by it, and you can read it in any light condition. The controller itself adjust the voltage and controls 0.5V per step. It should give plenty opportunities to control the fans according to your needs.
Unfortunately, the controller does not have any kind of automatic control. I might have liked, if you could control by the temperature, and it was just the temperature you adjusted on the knob.
And now we're at the shortcomings, it would have been good with different temperature alarm limits for each channel. It's not given that you want the same temperature limit on each channel, and now when you have 3 different sensors, so it would have been good with 3 different limits.
But if you like to manually manage everything in your casing, then this great controller is just right for you. And admitted it looks awesome.
I have not been able to find any prices on this controller in Denmark, but I could find it in the US. At Newegg you can buy this great controller for around 49 USD / 330 DKK. The price is great, and you get a really good controller for your money.
My rating of the controller gives it a nice SILVER rating. It is an awesome controller and great looking, but as I point out above, it's a bit lacking compared to what I think you can expect from a fan controller nowadays.