SilverStone TX300 TFX PSU
It's time to test a power supply. I've been waiting a little while, because I should have built a load tester for the purpose. Now I have it, and I'm looking forward to the test of this SilverStone TX300 TFX power supply.
SilverStone manufactures many different products, including power supplies. Most of all, they are probably known for their casings and power supplies.
Firstly the packing and content.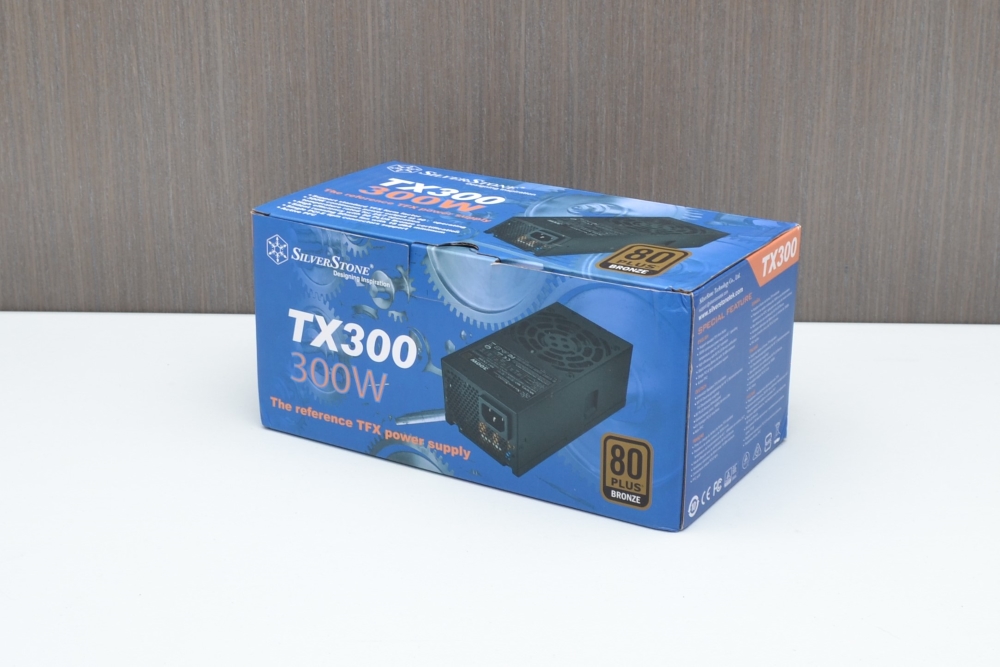 The power supply is packed well with bubble wrap to avoid transport damage. There is a user guide and a bag of screws as well as a power cable.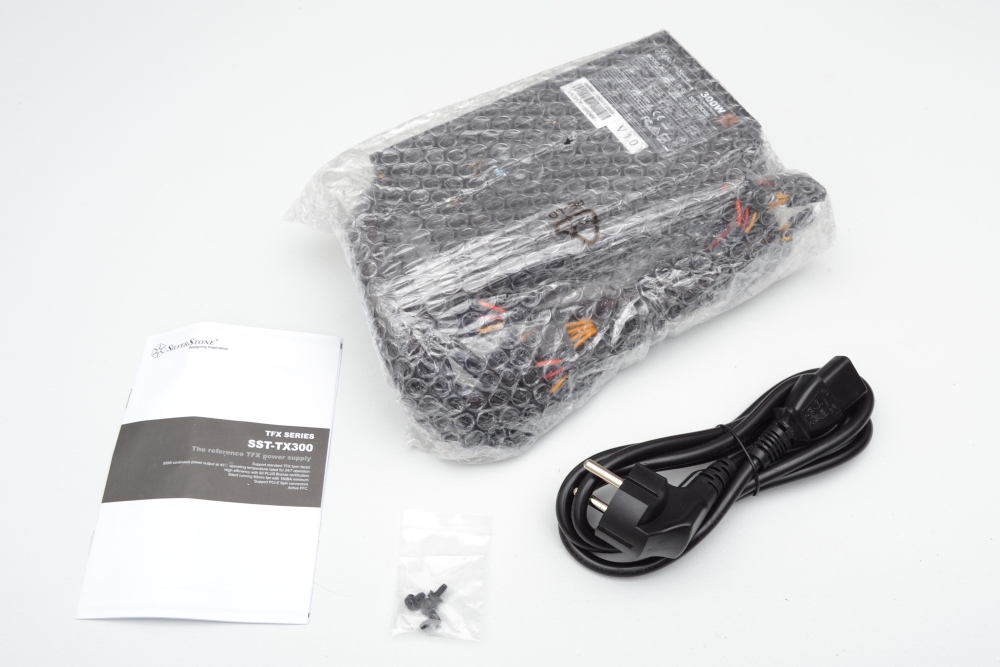 Content:
SilverStone TX300 PSU
Plastic bag with screws
Power cable
User guide
Now, the technical specifications.
Note that this power supply has limited protection. Under normal circumstances, it will not matter, but I notice it especially during my load test. There is no protection against over current, which means that I can load the 12V rails more than good is.
Besides that, the technical specifications look really nice. There are the connectors you need, as this supply is intended for small casings. An efficiency of 82 - 85% at 100% load is quite good for a BRONZE supply. We see what my measurements are when we get to the test.
Model No.: SST-TX300
Max. DC Output: 300W
Power density: 310W per liter
Color: Black (Lead-Free Paint)
Combined: +3.3, +5V 95W
Combined +12V: 276W
Input Voltage: 90 ~ 264 Vrms
Input Frequency Range: 47Hz ~ 63Hz
PFC: Active PFC (PF>0.9 at full load)
Efficiency: 82% ~ 85% at 20% ~ 100% loading
MTBF: 100,000 hours
Operating temperature: 0°C ~ 40°C
Protection:
Over Power Protection
Over Voltage Protection
Short Circuit Protection
Connectors:
1 x 24 / 20-Pin motherboard connector (350mm)
1 x 8 / 4-Pin EPS / ATX 12V connector (450mm)
1 x 6-Pin PCIE connector (350mm)
4 x SATA connector ("350mm / 150mm" x 2)
2 x 4-Pin Peripheral connector (350mm / 150mm)
1 x 4-Pin Floppy adapter connector (350mm / 150mm / 150mm)
Cooling System: Single 80mm silent fan
Form factor: TFX
Noise Level: 18 dBA minimum
Dimension:
85 mm (W) x 65 mm (H) x 175 mm (D)
3.35" (W) x 2.56" (H) x 6.89" (D)
Weight: 1 kg
Certification: 80 PLUS Bronze
Other: Compatible with ATX12V v2.4
| | | | | | | |
| --- | --- | --- | --- | --- | --- | --- |
| Load Range: | +3.3V | +5V | +12V1 | +12V2 | +5VSB | -12V |
| Max.(Amps): | 15A | 16A | 14A | 15A | 2A | 0.3A |
| Peak (Amps): | / | / | / | / | / | / |
| Min.(Amps): | 0.3A | 0.5A | 0.5A | 0.5A | 0A | 0A |
| Range (%): | ±5% | ±5% | ±5% | / | ±10% | ±10% |
| Line Reg.(%): | ±1% | ±1% | ±1% | / | ±1% | ±1% |
| Ripple(mVp-p): | 50mV | 50mV | 120mV | / | 50mV | 120mV |
Dimensions:
Let's take a look at the PSU.
The SilverStone TX300 is a nice little power supply. It is not modular, but that is mostly not needed for such a supply.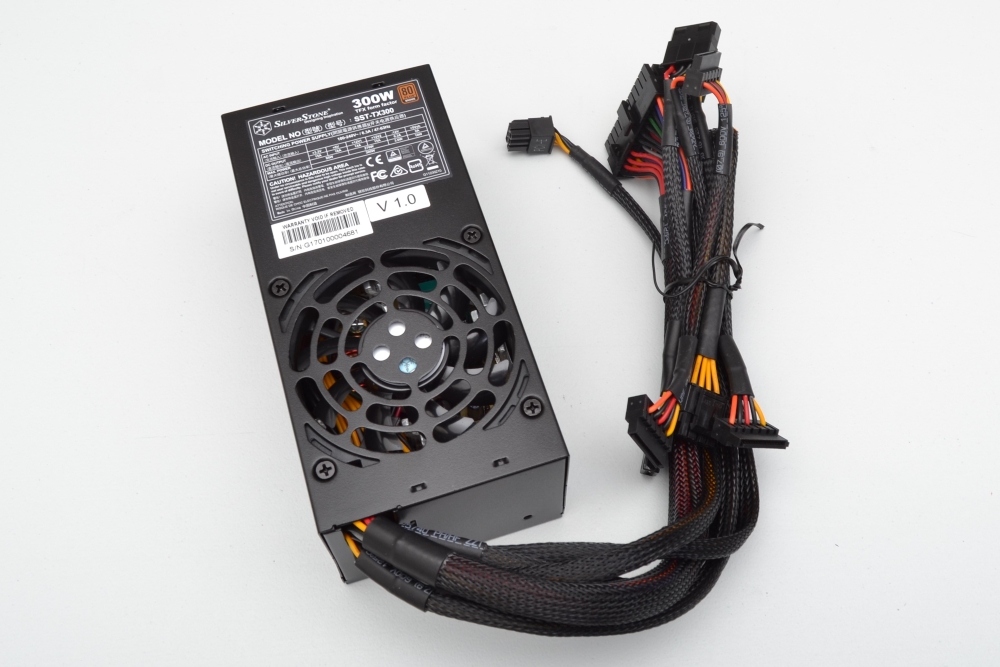 You can see that there is a SilverStone fan in the power supply. It should be 80mm and go up to 2200 RPM. It should also be controlled after the load on the power supply, starting at 1000 RPM, and then speeding up according to the load.
There is also a nice label that tells you how much power you can pull from the power supply.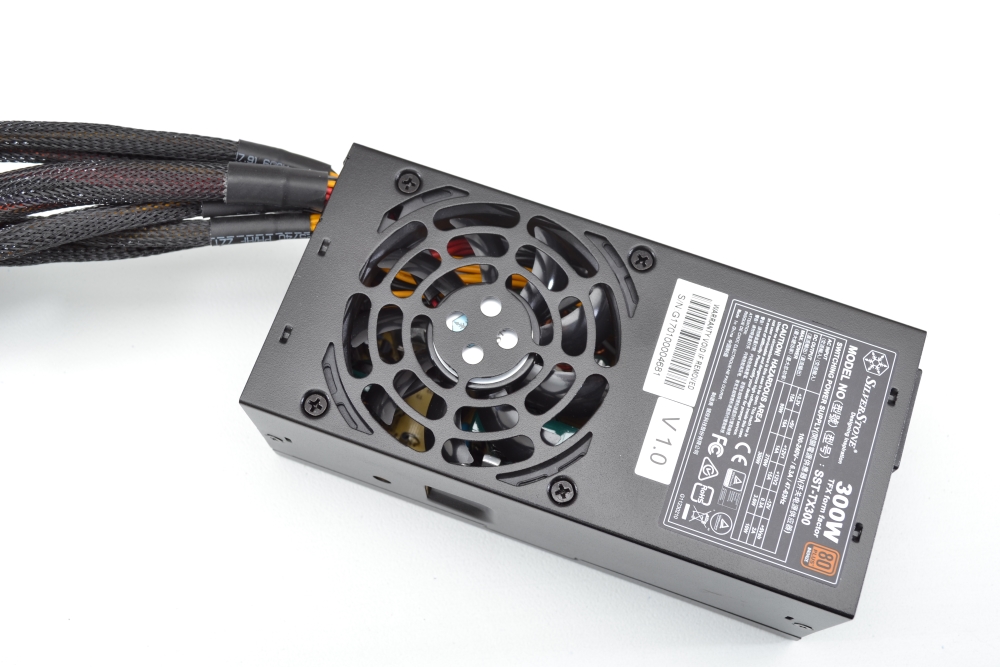 On both sides of the supply there are some holes in the surface. It is part of the TFX standard, as these holes can fix the supply in the casing. It's quite long, so it's to relieve the screws.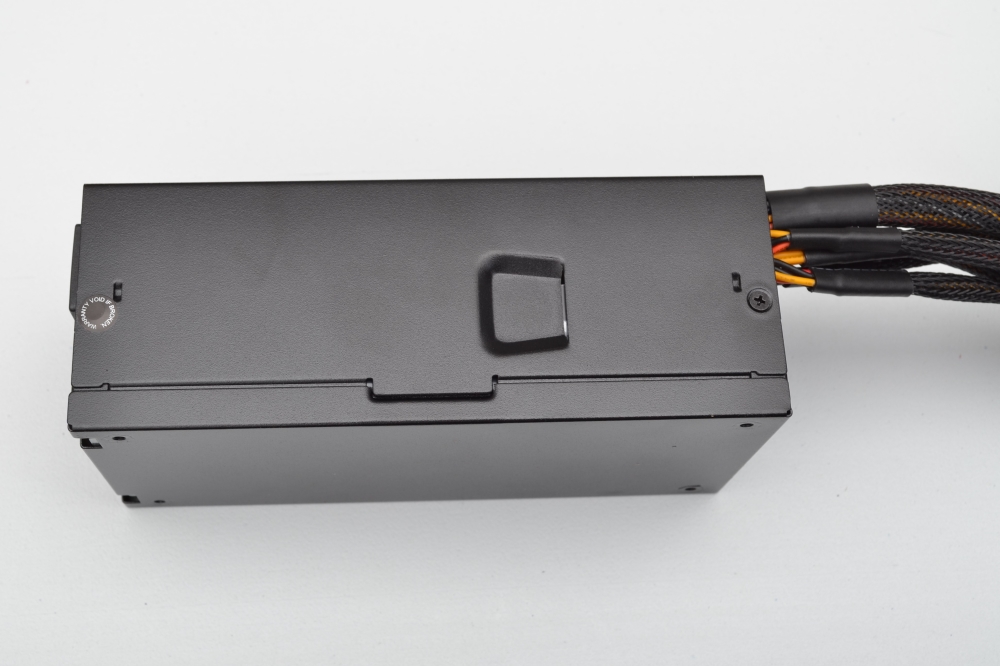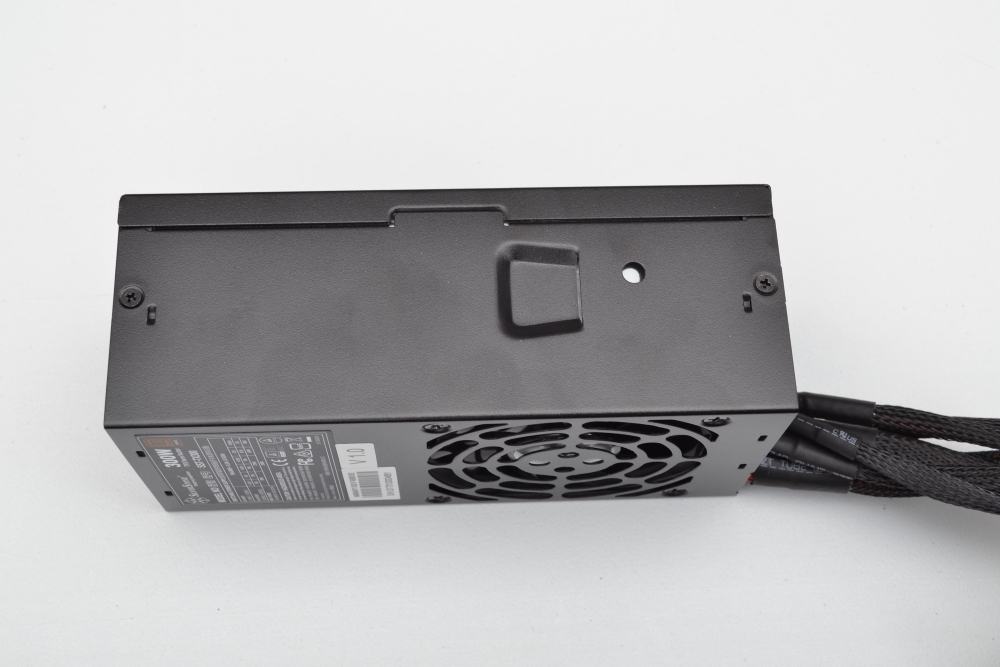 The back of the power supply is completely flat.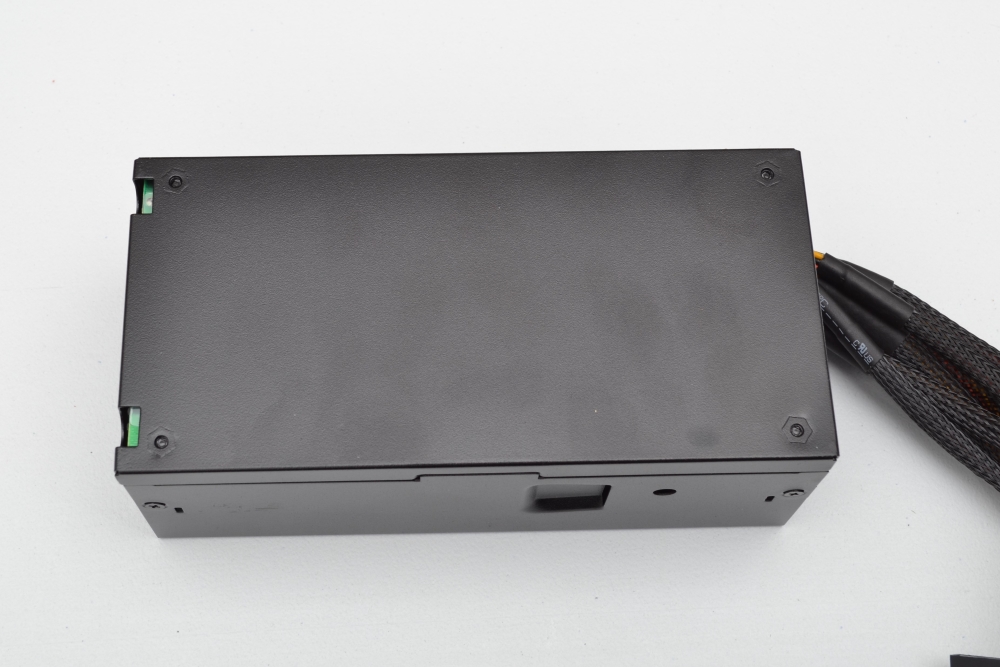 At one end of the power supply, we have a power cable plug. Unfortunately, there is no switch, which I would have liked. I think it's best to switch the power before unplugging. Inside the grid you can see the components and there are some good coils in this supply.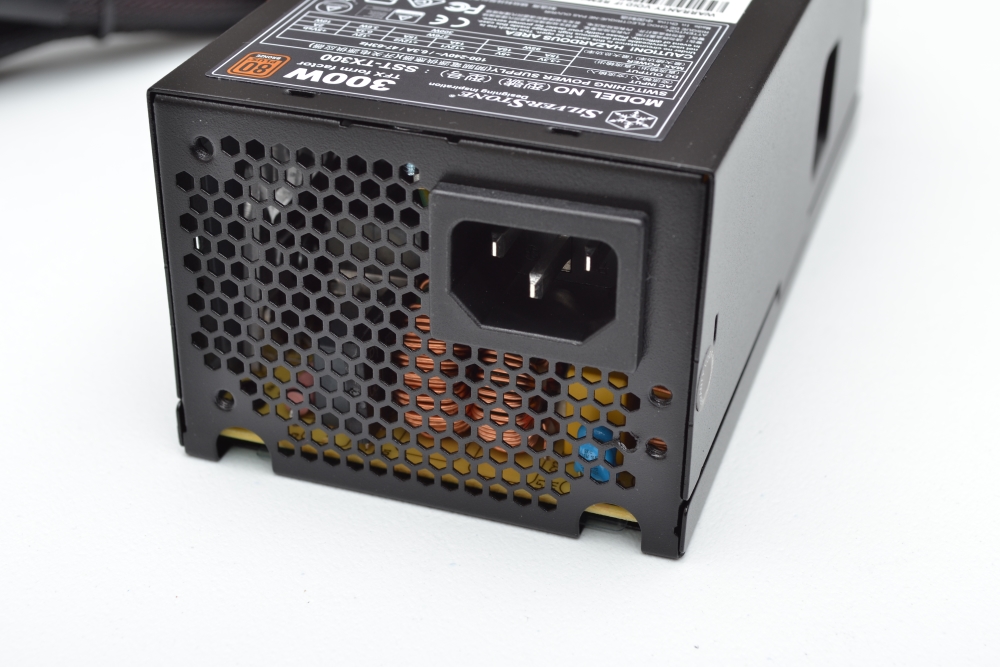 SilverStone definitely does not make anything bad to my knowledge. But I'm surprised that they have not chosen a little protection here where the cables come out. I think that years of vibration may rub through the insulation on the wires, thus creating a short circuit. It may be a little risky?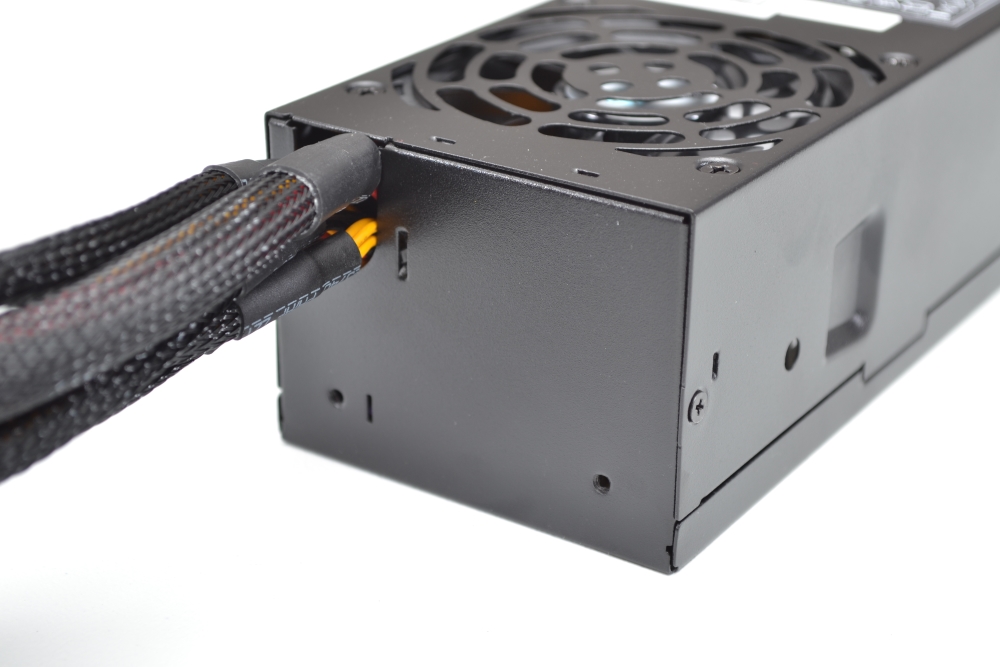 The cables are finely sleeved. I do not know so many casings for TFX power supplies, but I'm usually not a fan of colored wires. It seems a bit crazy that the cables are finely sleeved but colored behind. It can of course be to keep the assembly on wires, and not for the sake of vision.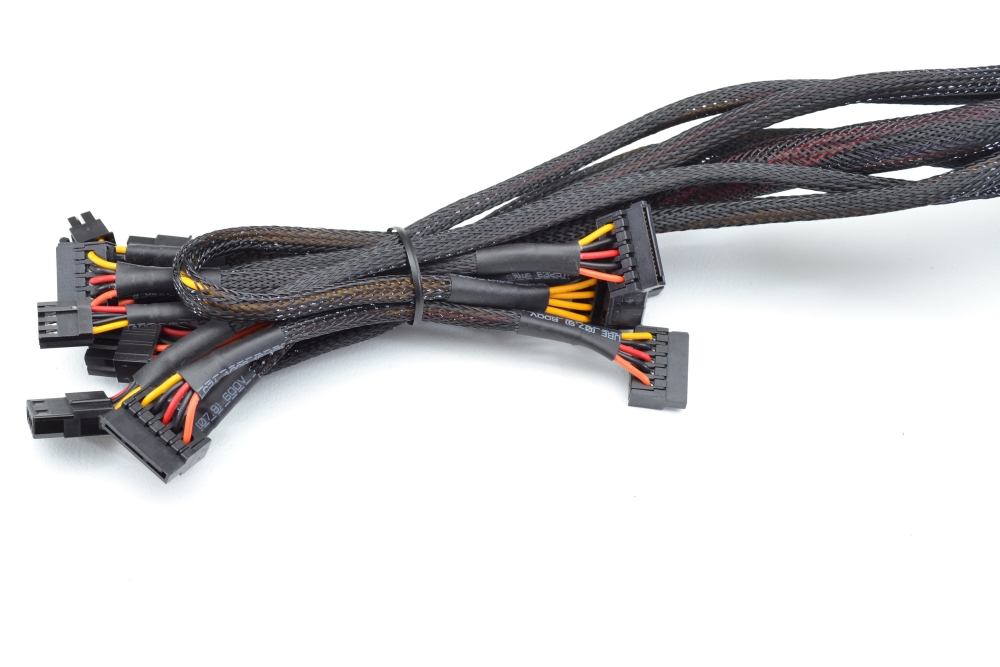 Before we begin the test, we need to check the certificates and approvals.
A power supply is subject to a lot of important approvals and certifications nowadays. This power supply is no exception and be quiet! have also chosen to make a little extra of it.
ATX Standard:
The basic standard of power supplies is called ATX, and it indicates how much the different voltages may differ on the power supply. It also tells you what limits, for example, the Ripple voltage limits it has to keep within.
If you want to read more about the ATX standard, you can find more information about it on this link:
https://en.wikipedia.org/wiki/ATX
However, the basic data for ATX power supplies can be seen in this table.

80Plus Certification:
In addition to ATX, you can build on and get better. Once you've done that, you'd like to show it to your customers and have some proof of how well you've done. This is achieved at 80Plus, which gives a certification of the good work that has been done.
80Plus certifications are about making power supplies more efficient. It is important to have as little a loss in a power supply as possible as it is just throwing money into the bin.
This power supply is 80plus BRONZE certified. This means that it will perform 85% with a 50% load.
All certificates and test results from 80Plus are freely available and you can read the certificate on the link below.
SilverStone TX300 Bronze Certifikat
If you'd like to see if your own power supply has done well, you can do it on the link below.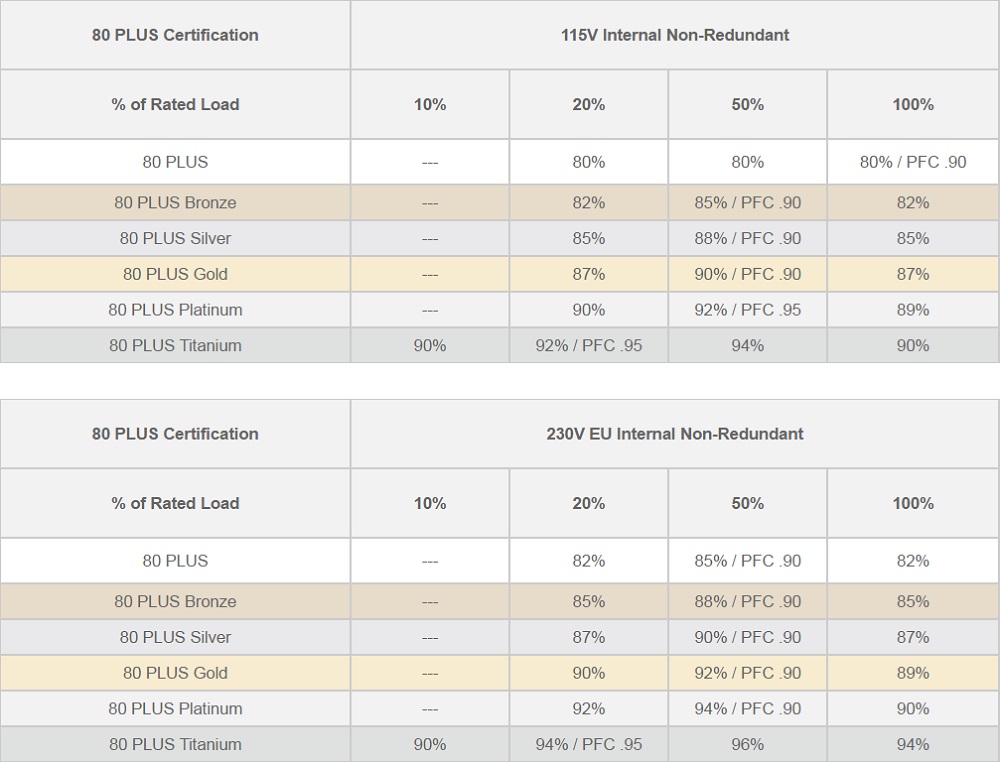 Now it's time for testing.
My little test shows how well the supply is doing with my method. My method is not as precise as 80plus, but it gives a small indication of how well it performs.
Voltages:
The measurements of the voltages look very good. I only load the 12V rails, and even at very hard loads it seems to stay well within the limits.
During my test and load of the power supply, I actually got an eye on what protection is missing. Because at no point I got it to shut down, which is usually normal at a load test. There is no protection against overloading the different rails. So I could actually pull as much power from the different rails I could with my setup. That protection seems to me to be quite important.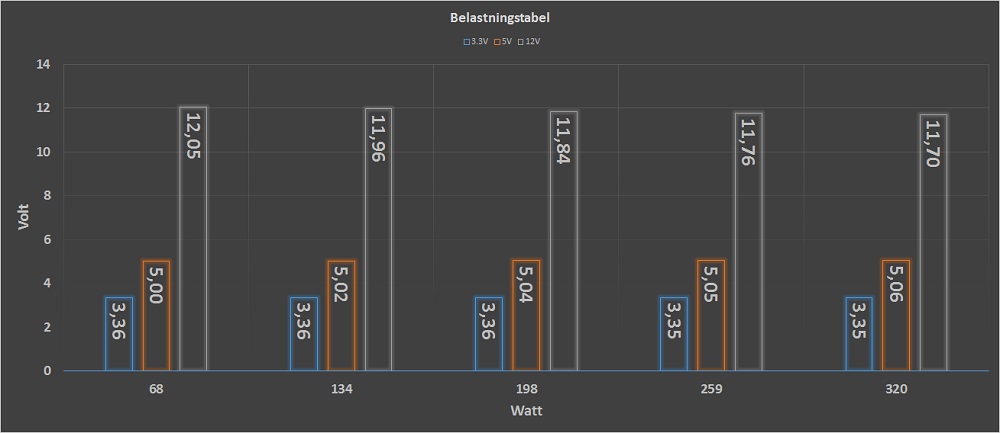 Ripple:
Below is a measurement of the ripple voltage at maximum load of the power supply. As you could read in the ATX standard above, the ripple voltage must be max 120mV on the + 12V line. It is also keept with this supply, as I measure below 100mV (Within the red markings) in ripple at max load on average. The high tips can be power peaks from the surroundings. As computers and other devices run in the house during the measurement.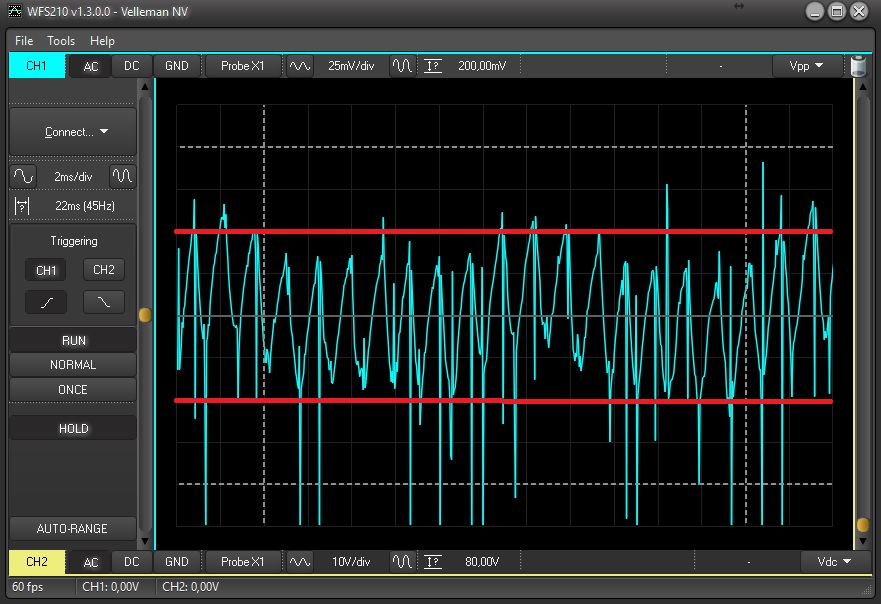 Efficiency:
If I loosely calculate the efficiency based on my measurements, I get an efficiency that is around 84%. I actually think that this power supply keeps what it promises in terms of energy efficiency. Bronze means that it must be at least 85% efficient, which it also does according to 80plus.
My opinion.
The SilverStone TX300 is a pretty good power supply for small casings. Should you have a power supply for your desktop or HTPC, then you can easily choose this one.
The power supply has been built for special casings, so make sure it fits the casing. It appears from the casing specifications. TFX is a standard such as ATX and SFX. It's just smaller than ATX, and has a shape other than an SFX, which is also small.
This power supply is 80plus Bronze, which means it is not that efficient (85%). It also means that this power supply can not be recommended for servers that need to be switched on 24 hours a day. Many would like to build a small server, but I would not recommend using this power supply. You simply lose at least 15% of its power most of the time.
There are the connectors you need in this power supply, which provides good opportunities for building a good system.
The noise from the power supply is minimal. The noise from the fan is not very loud, though it is small.
The power supply costs around 500 DKK in Danish stores. The price may be at the slightly high end, as you can get some more efficient TFX power supplies for less money.
My rating of this power supply is a nice Bronze Rating. In addition to the slightly high price, I could have wished that SilverStone had done a little more of the finish on the power supply. Such as black wires and protection of the edge where the wires come out of the cabinet.
Read more about SilverStone TX300 here.