Reeven Ouranos CPU Cooler (RC-1401)
It's time for another cooler test. In these hot times, it's important to keep your processor cool. This could possibly be done with this Reeven Ouranos, which I have received.

I have previously tested Reeven products and they are usually quite good. I will show in this article if this still sticks. You can read my review of the Reeven Justice cooler using the link under this section. Reeven is not so famous here in Denmark, but I would certainly like to help change that.
Review of Reeven Justice at Tweak.dk
Let's get started and take a look at the packaging and content.
Reeven Ouranos comes in a nice box. The box has lots of illustrations and specifications printed on the outside. So you're not in any doubt about what the product looks like or how it works at the time of purchase.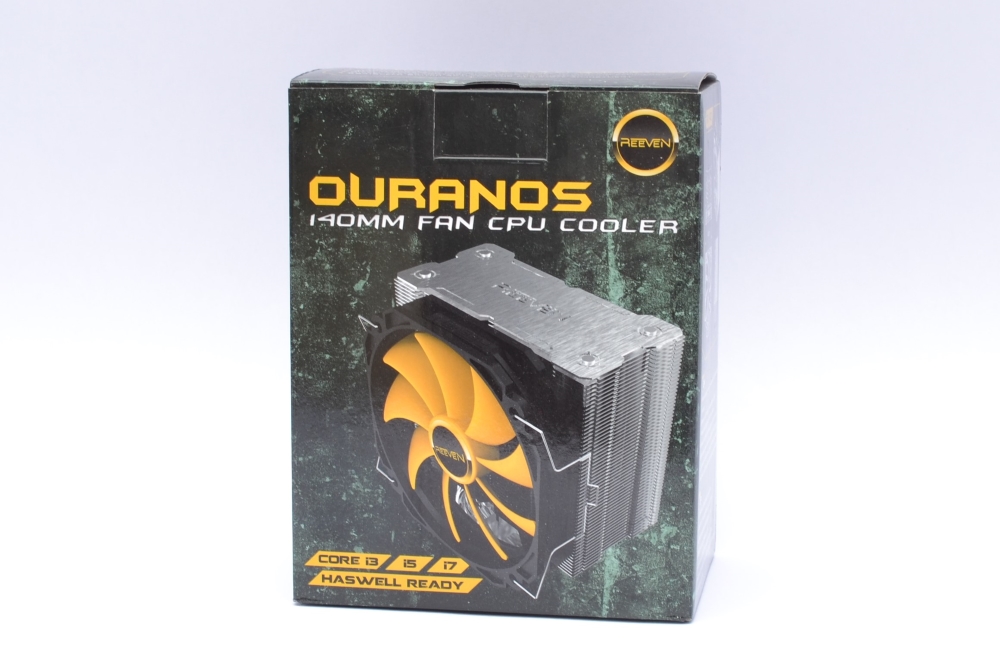 Inside the box we find, in addition to the cooler and the fan, various accessories. There are brackets for various standard sockets, mounting clips for two fans, so you can use the push-pull system and a speed damper for the fan. A manual is of course also present, which is filled with nice illustrations of the assembly.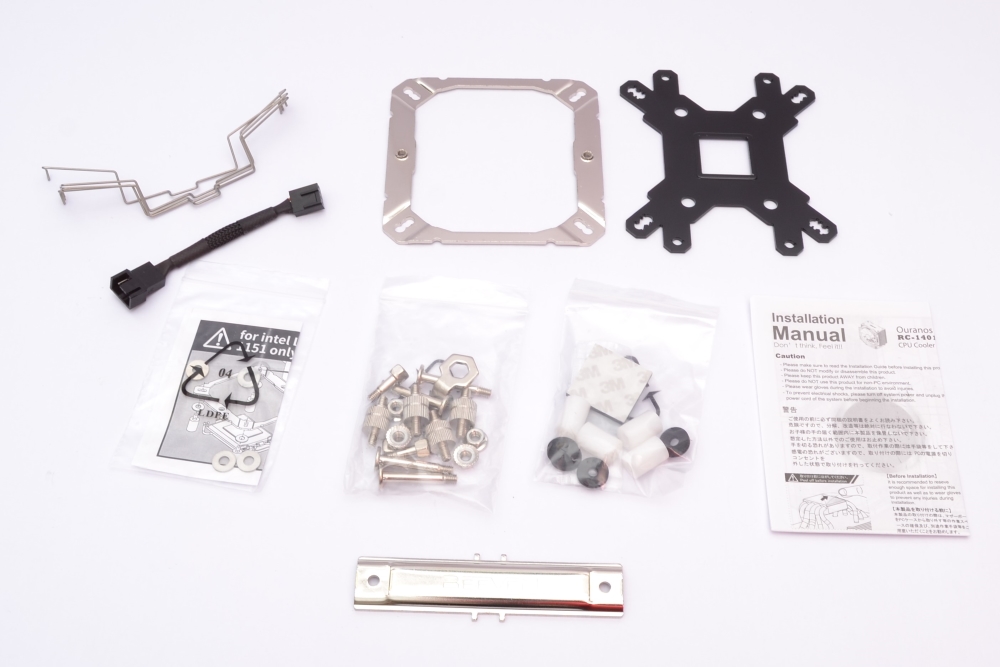 Content:
Reeven Ouranos Cooler
reeven Coldwin 14 fan
fan mounting clips
Mounting brackets for AMD and Intel
Userguide
Speed Switch Adapter
Let's start with a look at the fan.
Reeven has sent me an additional Coldwing 14 fan so I can test the cooler with two fans. It arrives in a nice little blister package, so you can see the fan. There are also various specifications on the package.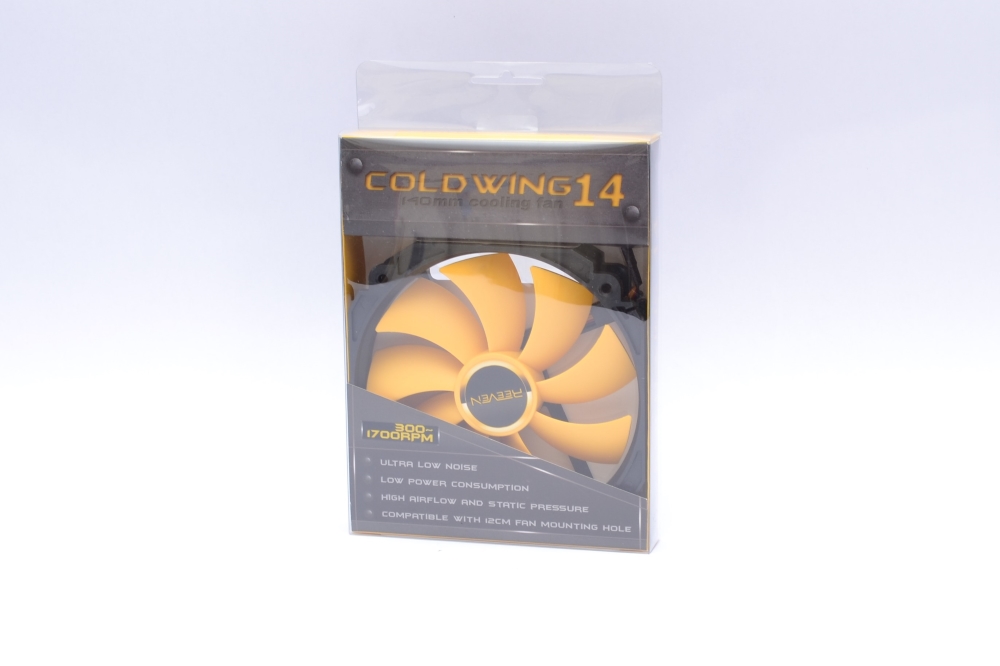 Inside the box you will find an Speed Switch Adapter, a bag of screws and a bag of rubber mounts. Then you can mount the fan in your casing, and moreover in the rubber mounts to get rid of vibration. It's great.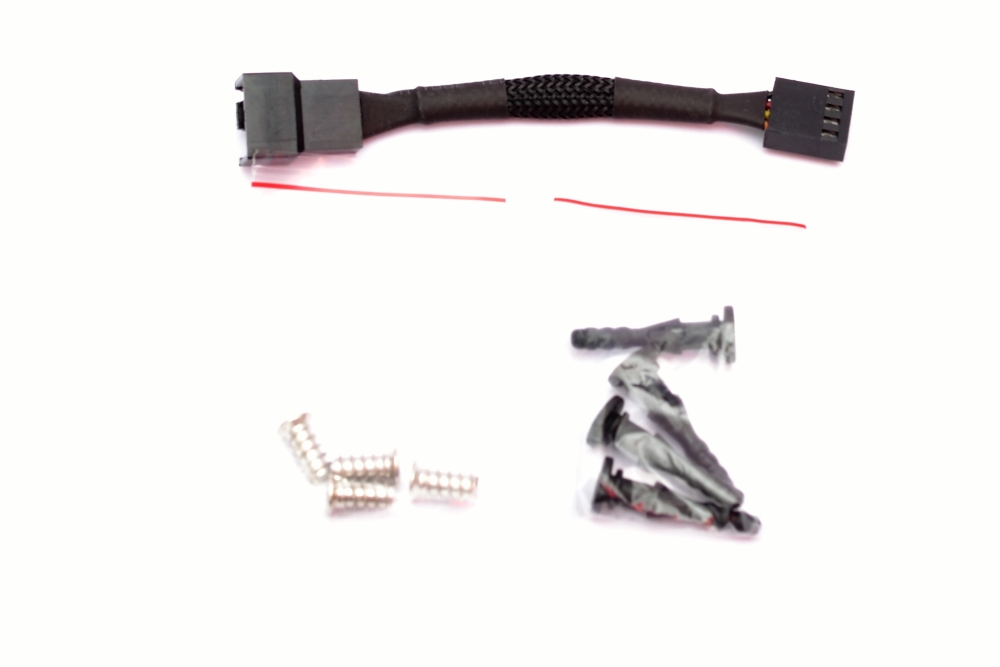 The fan is in the Reeven typical yellow and black design. It is characterized by Reeven products in general, so you have to have an setup where the colors can be used if you care about that stuff. But it looks nice.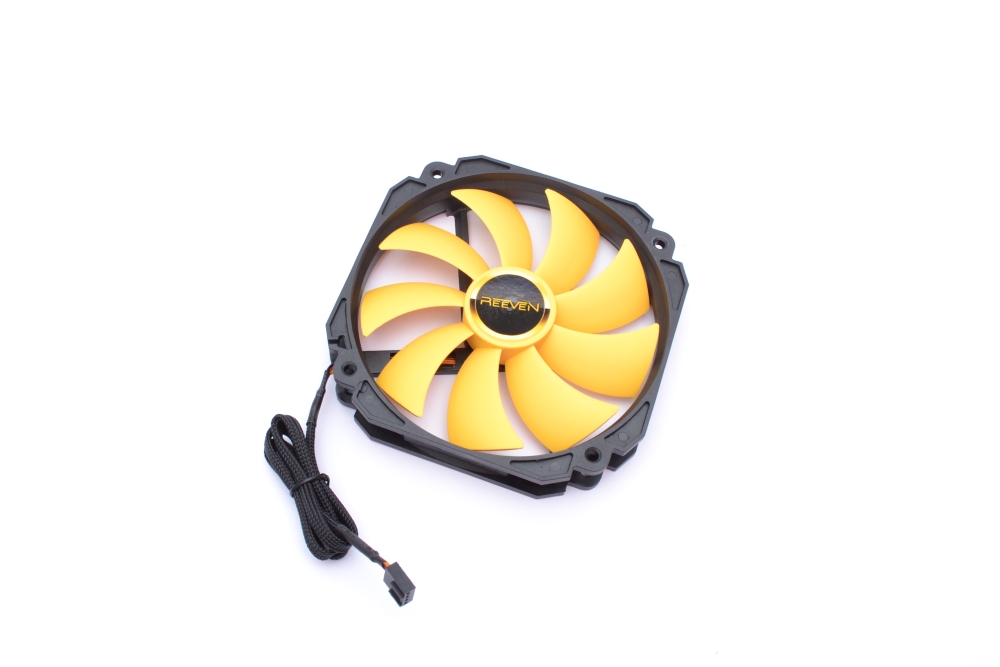 At the rear of the fan is a label with model number and a few specifications. The fan is a 140 mm fan but with mounting holes for 120 mm fan.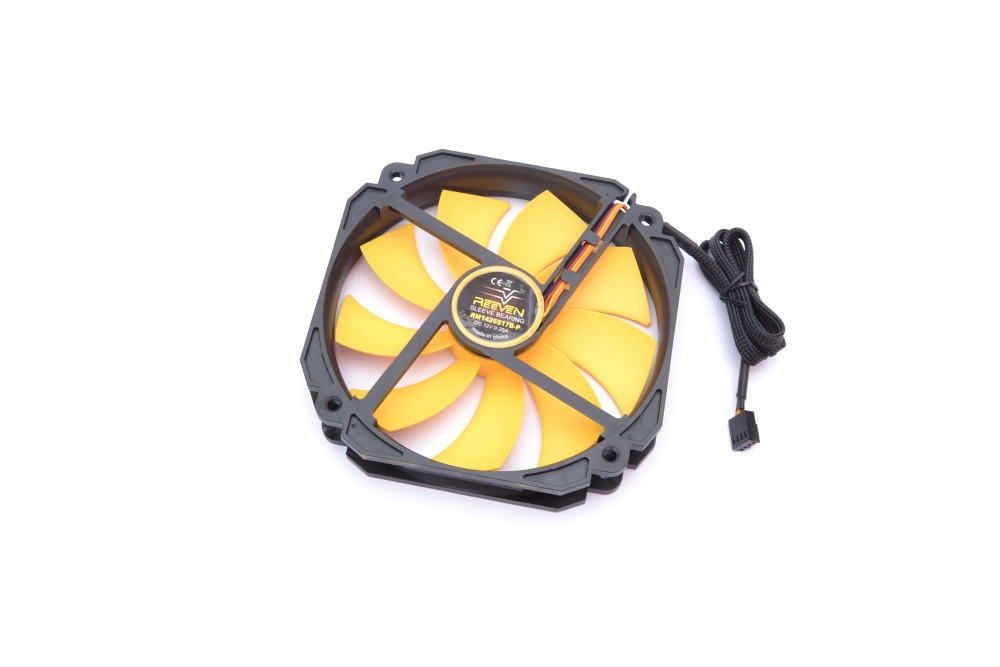 The cable on the fan is sleeved with black net. It looks pretty nice. I could have wished that the wires had been black instead of colored. But it's a small and personal opinion.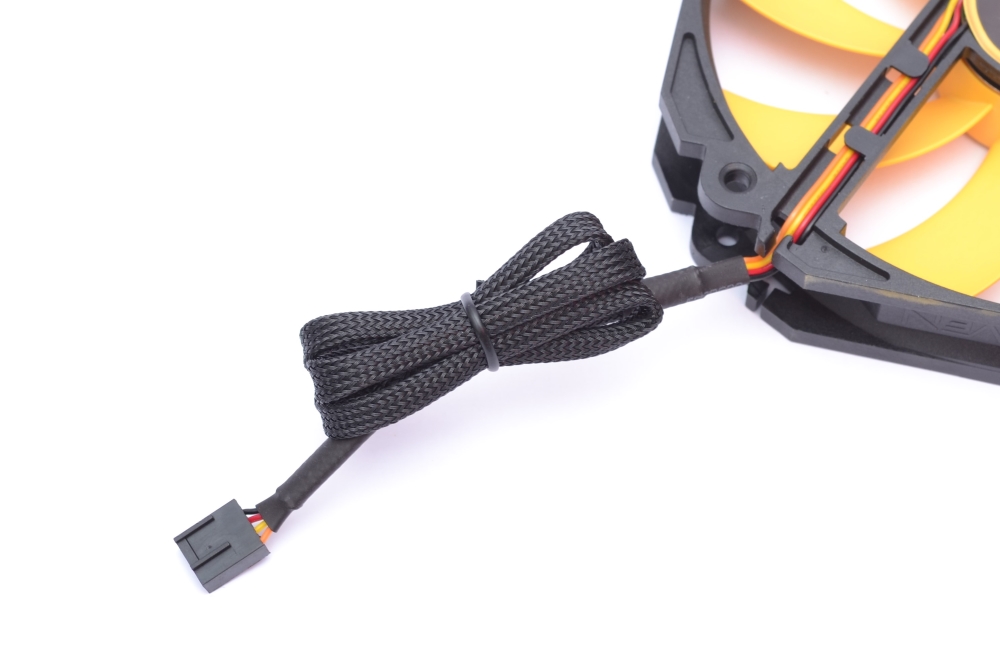 The technical specifications.
Note that this cooler also fits the new AMD AM4 sockets. So you can use this cooler for Ryzen. However, it requires that you order the new mounting bracket at Reeven. However, it is free.
The construction of this cooler is also a little special as it is built around 2 different sizes of heatpipes. There are 4 x 6 mm heatpipes and 2 x 8 mm heatpipes.
Model Number: RC-1401Socket:
INTEL: LGA 1150 / 1151 / 1155 / 1156 / 1366 / 2011 / 2011-V3
AMD: AM2 / AM2+ / AM3 / AM3+ / FM1 / FM2 / FM2+ / AM4 (Upgrade Kit required!)

Overall Dimension: (W)143 x (H)161 x (D)95mm

Fan Dimension: 140 x 140 x 25mm

Heatpipe: Ø6mmx4 + Ø8mmx2

Fan Speed: 300~1700(*300~1300)RPM

Air Flow: 16.3~92.4(*16.3~69.9)CFM

Static Pressure: 0.002~0.091(*0.002~0.048)inchH2O

Noise Level: 5.8~36.4(*5.8~24.7)dBA

Weight (with Fan): 1030g
Let's take a closer look at the cooler.
Already at the time of unpacking, it is felt that it is quality we have here. The cooling fins are made of fairly thick aluminum and the profile is very nice.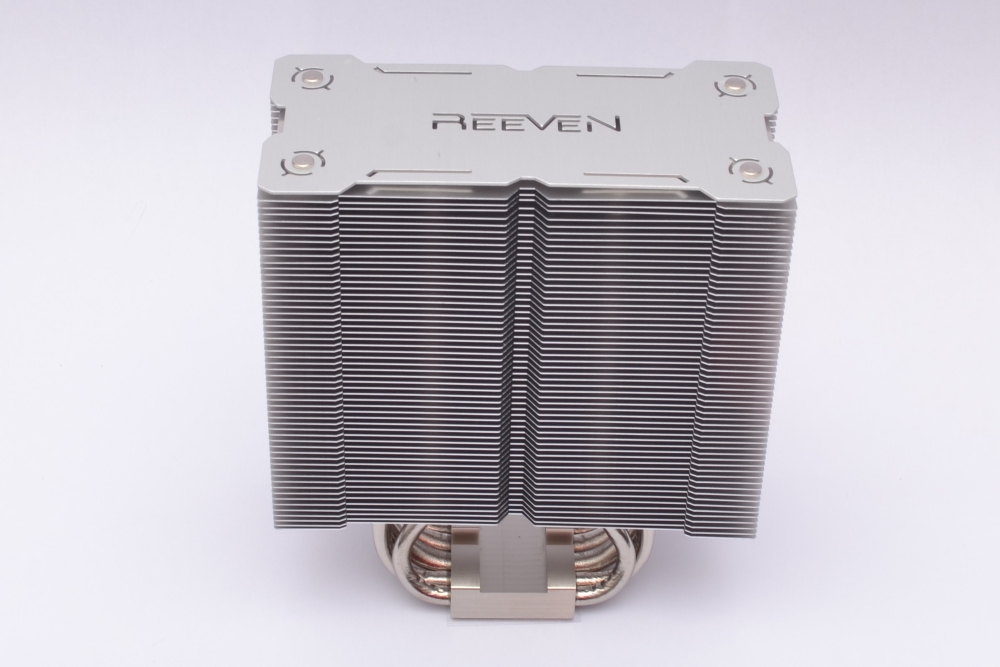 The top plate is cut out nicely and seems slightly thicker than the others fins. There is a beautiful Reeven logo cut in it.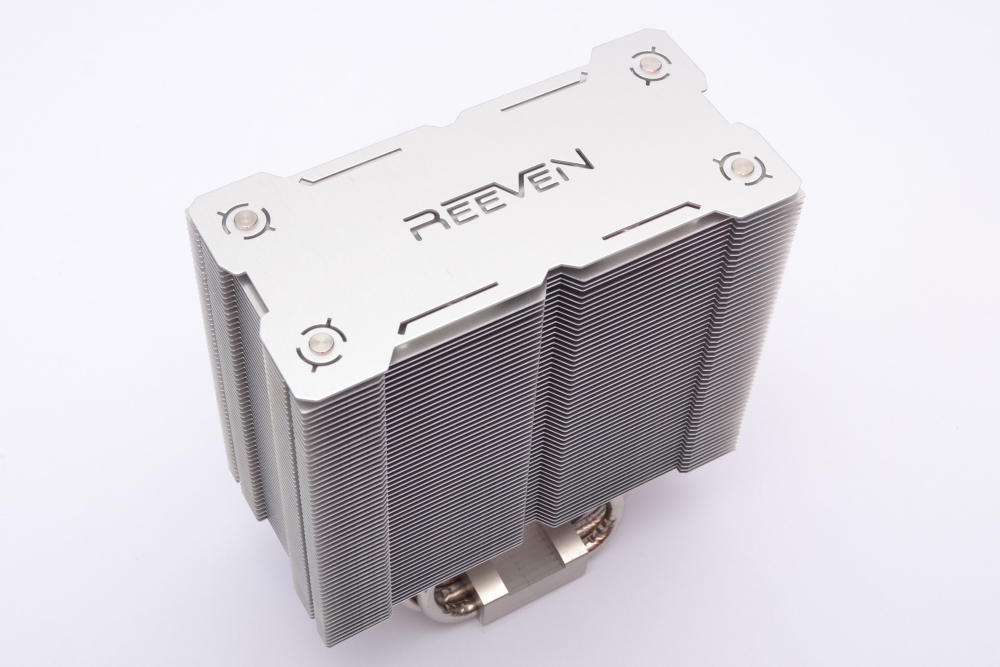 The pipes are nicely bent from the large aluminum block which is mounted to the motherboard. All pipes are nickel plated, which looks really nice.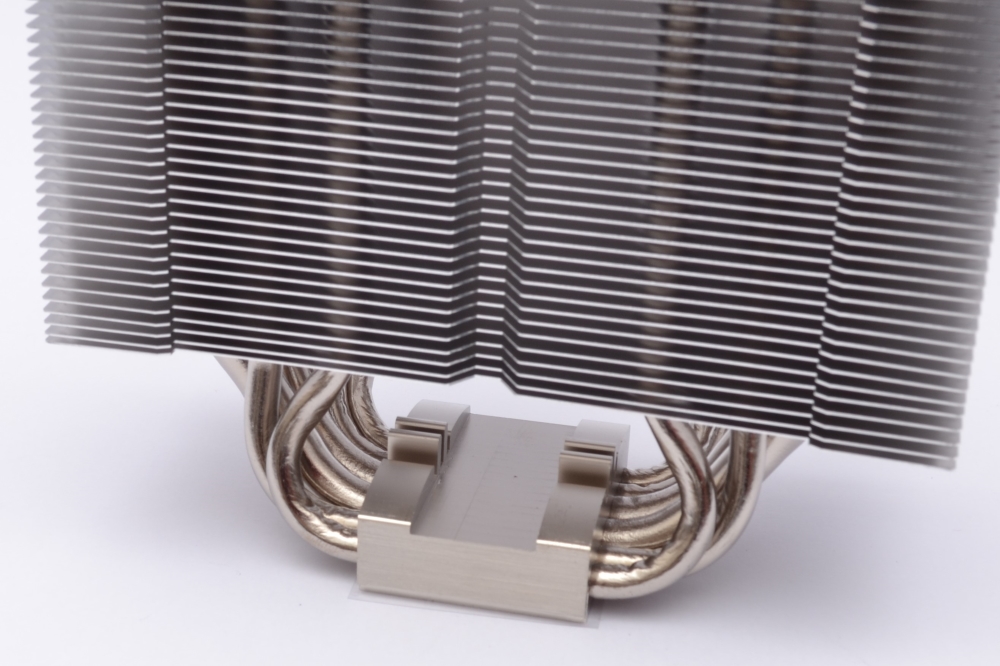 As you can see, the actual cooling block is located asymmetric relative to the profile. This allows the fan to be mounted without getting in the way of RAM or other objects. So the whole profile with 1 blower becomes as good as square. You can also clearly see at this picture that the two middle pipes are thicker than the others.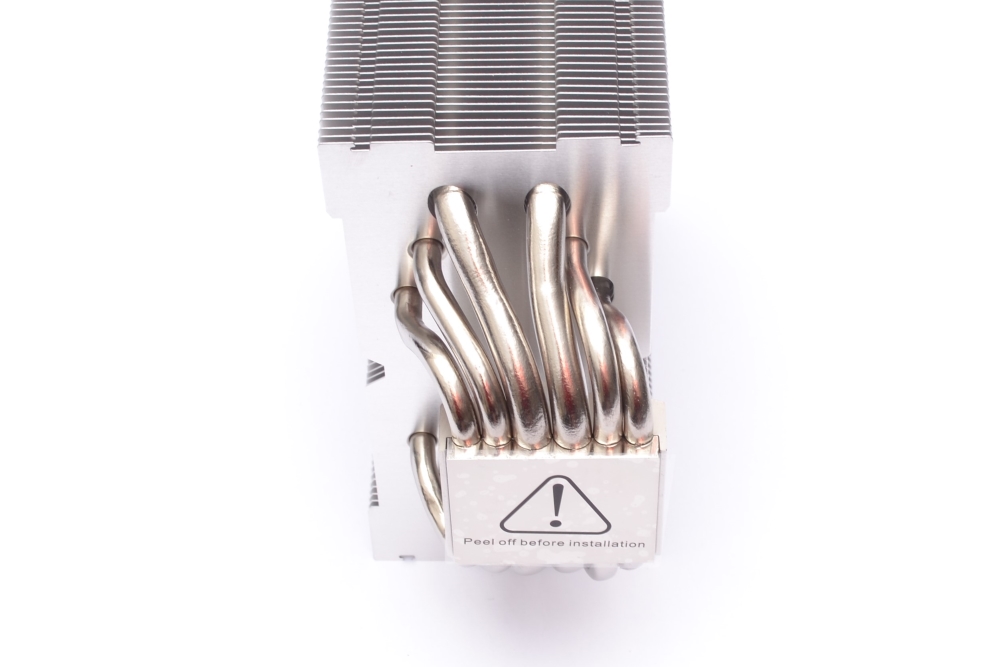 The surface for the processor is completely flat and smooth. You can almost use it as a mirror.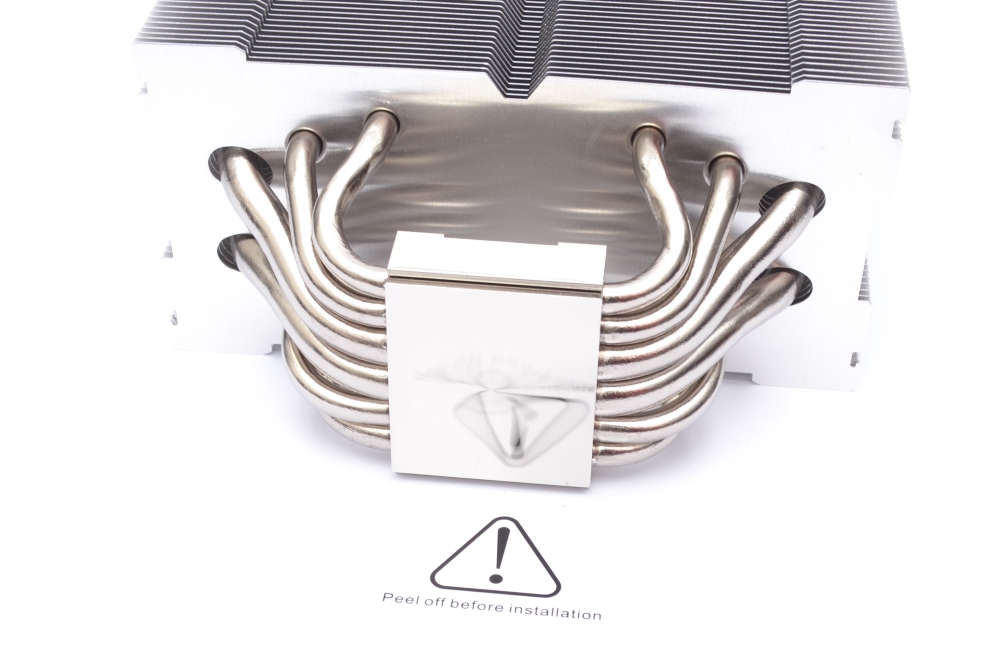 Then it's time to mount fans on the cooler.
This is what the cooler looks like with both fans mounted. It's a fierce block to mount on the motherboard, because the cooler with a single fan weighs over 1000 g.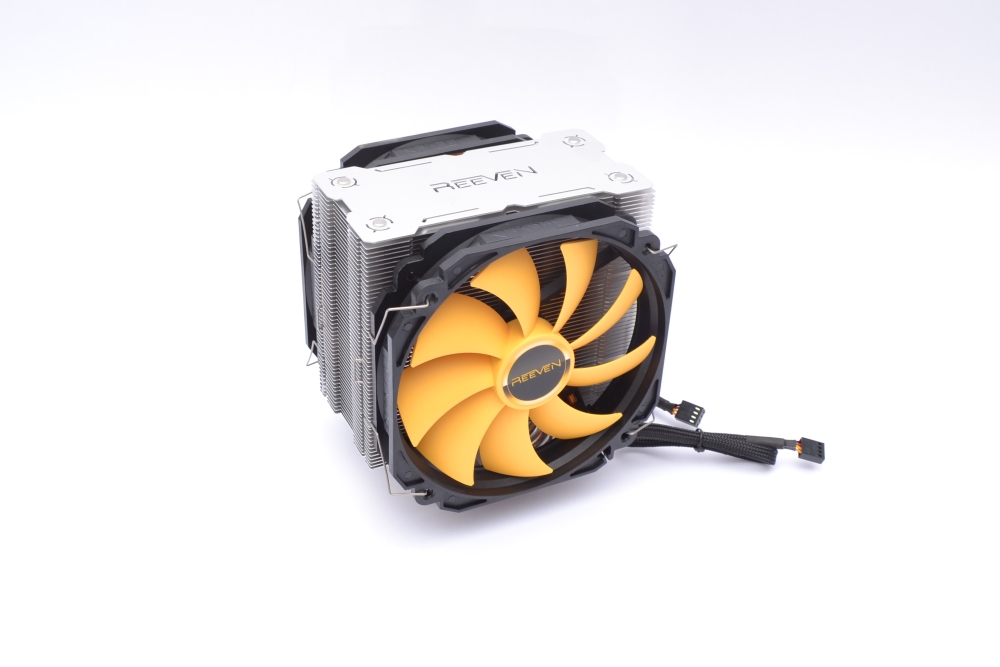 As you can see, the small mounting clips have just got a hold on the edge of the cooling profile. The fans are securely attached when mounted.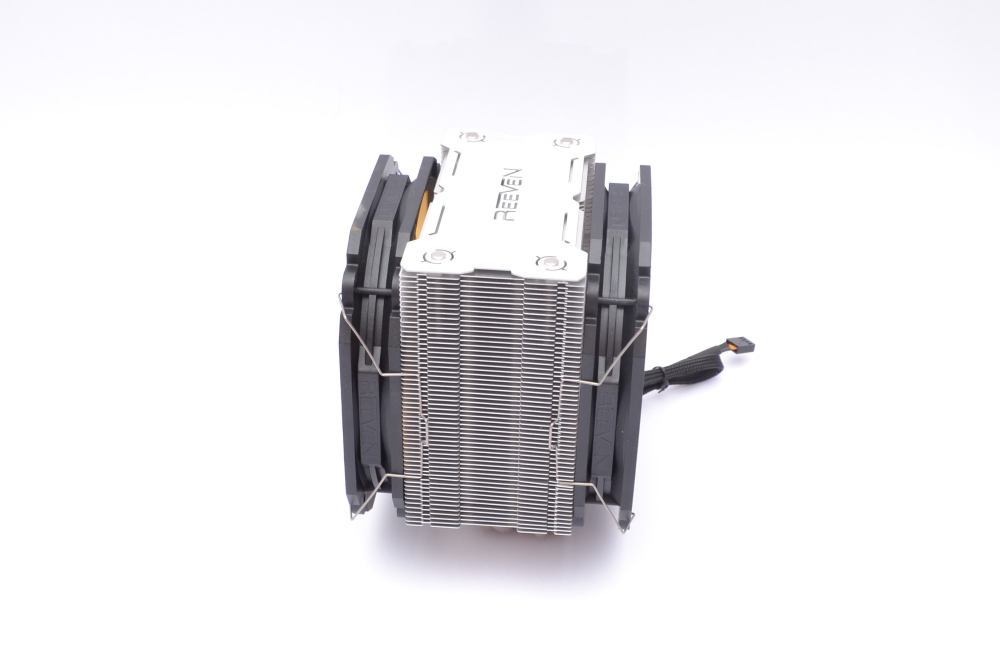 There is a recess in the profile under the fans. This makes less noise from the fan wings when they are powered on.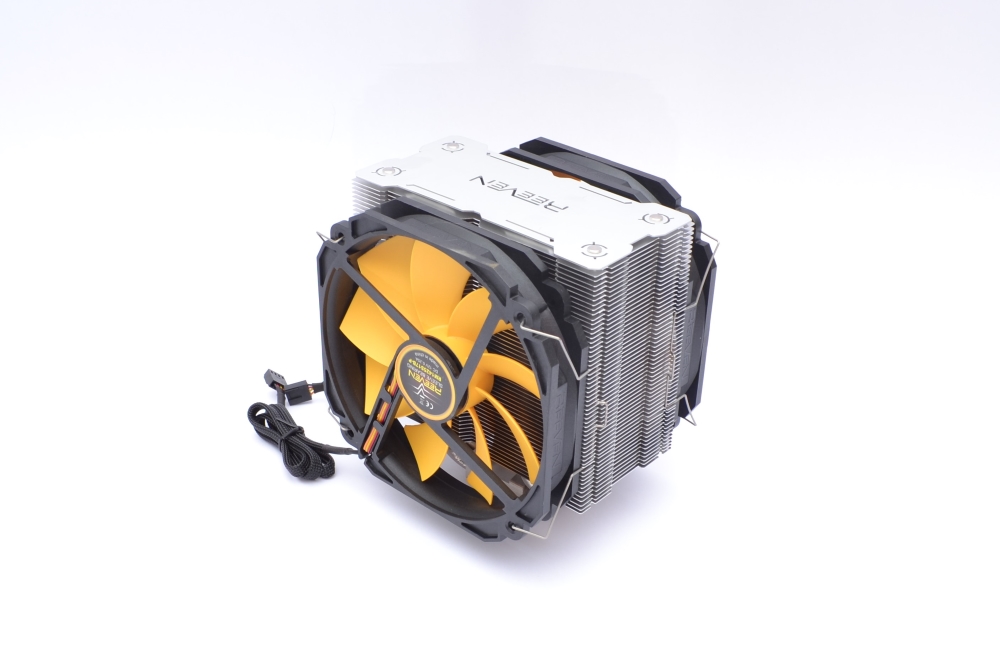 As you can see here, the cooling head is mounted a little asymmetric. The fan on the right occupy exstra space, and it will reach over the VRM modules on the motherboard.
If you only have one fan on the cooler, it will be the fan on the left and then the cooling head will actually be in the center of the cooler.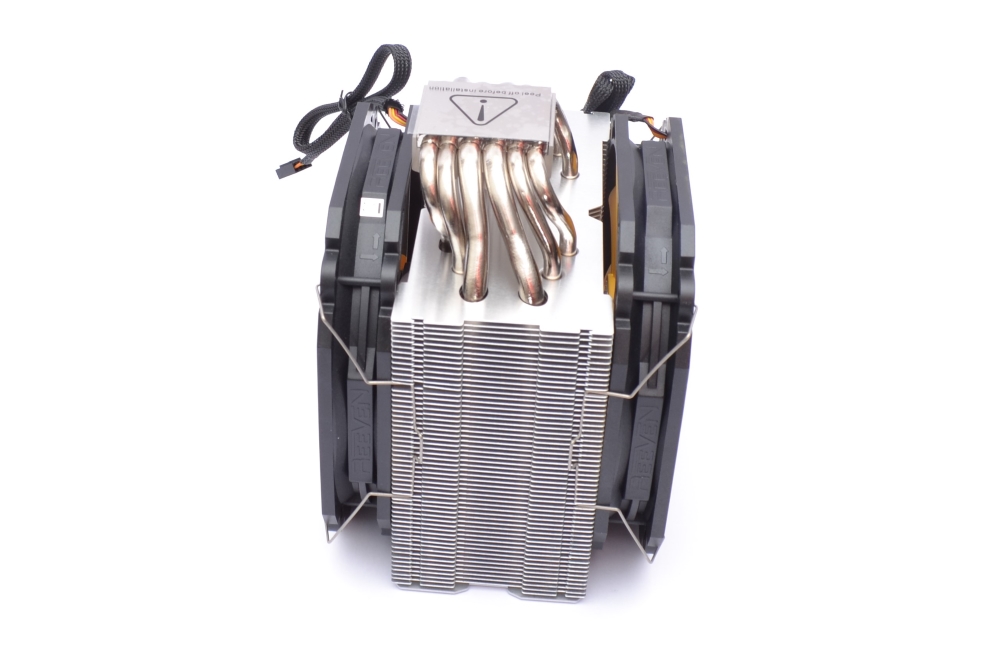 Tiem for mounting, so we can start the test.
The bracket for the back must be prepared. The rubber washers hold the threaded pins in place so that they do not slip or get pushed away during assembly.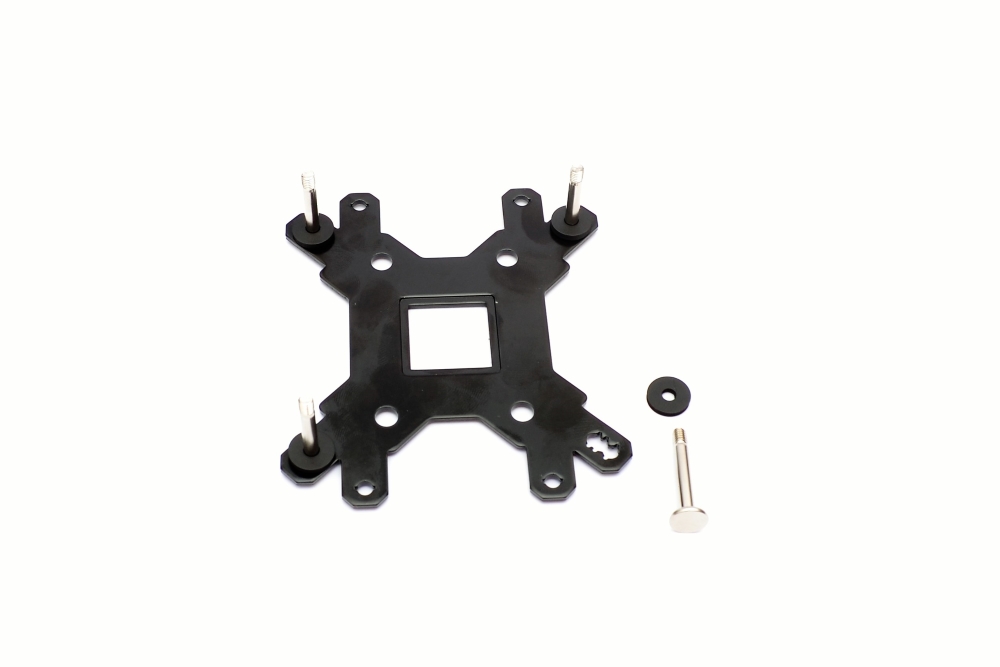 They are put through the holes in the motherboard, then you mount acrylic spacers over the threaded pins.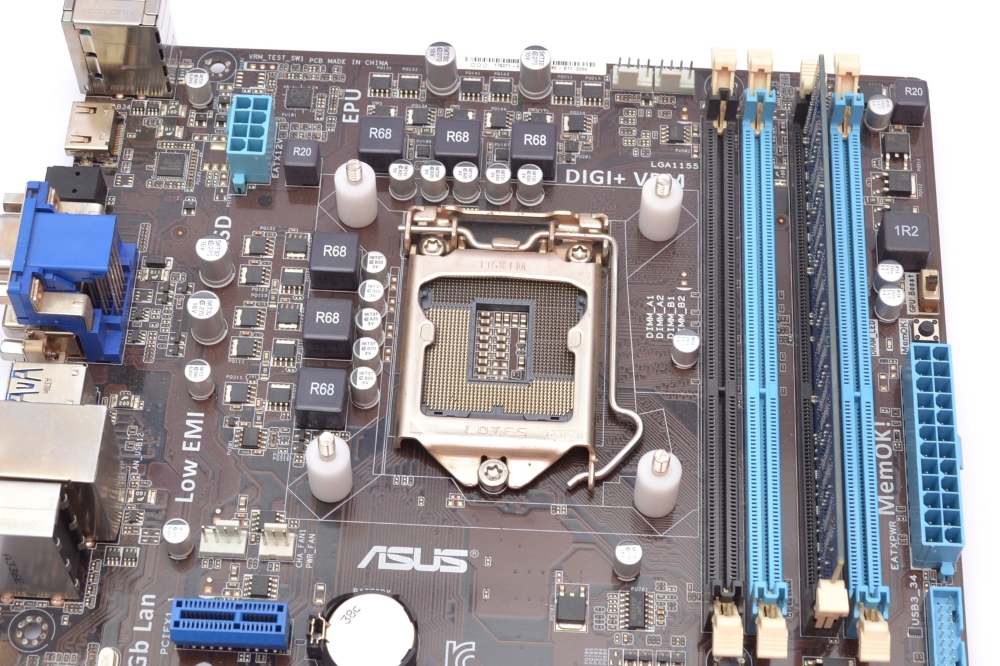 Finally, mount the bracket on top with nuts. Note that the threaded holes should be placed properly so that the cooler is mounted correctly. It is annoying if you need to do it over before you can install the cooler.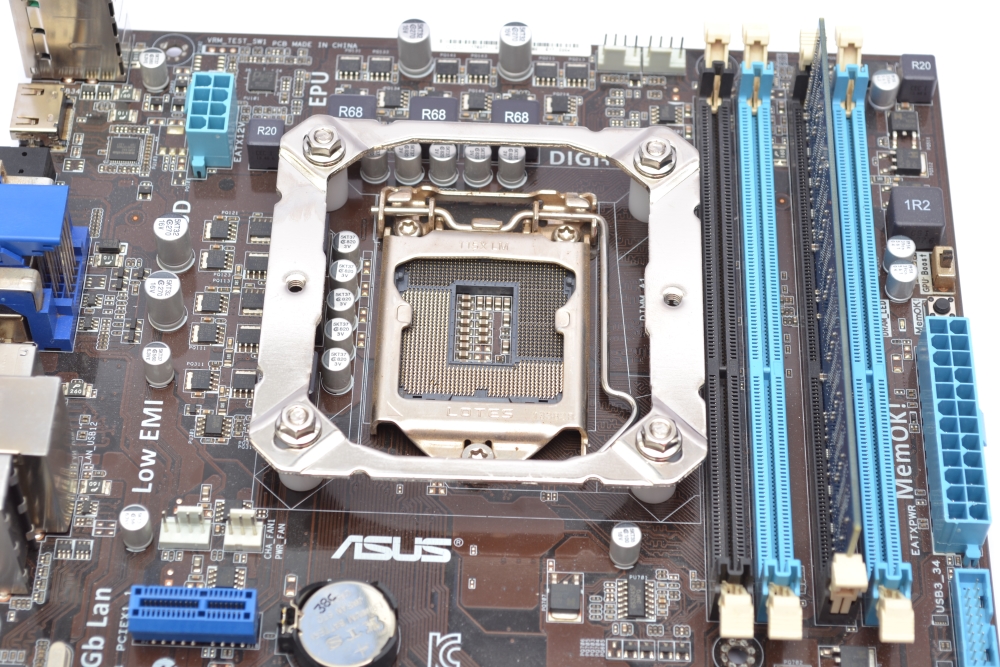 Reeven has applied a small tool to tighten it all.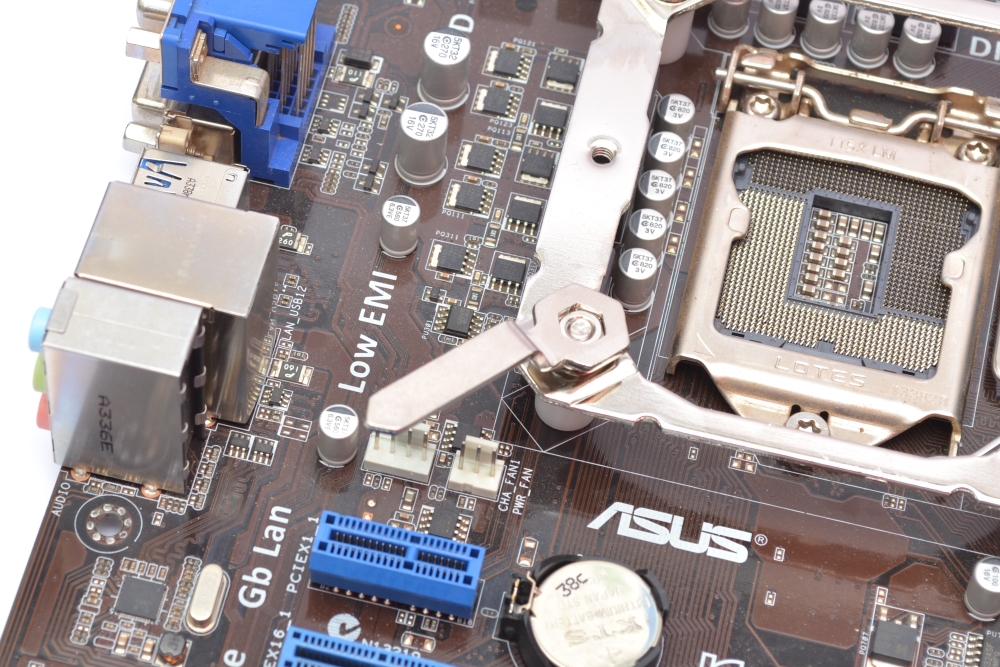 Mount the mounting bracket is placed on the cooling block. There are small pins that deos that it can not slide anywhere. It is, however, loosely placed.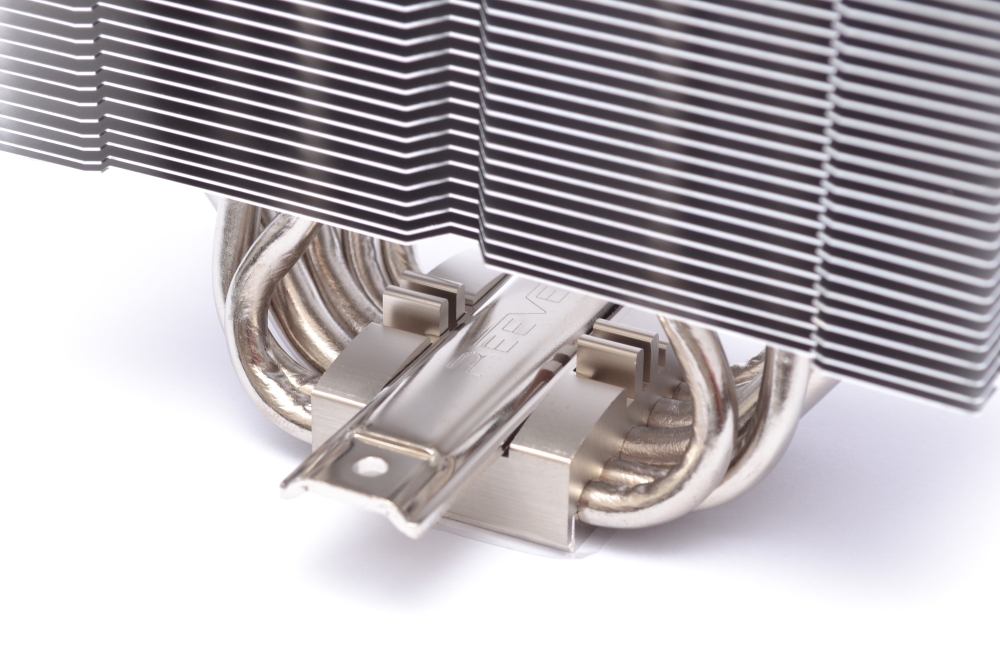 It is mounted on the motherboard. And you can then mount the fans. The screws are tightened to the end, so there is not much to do wrong. You just have to turn until you can not go anymore.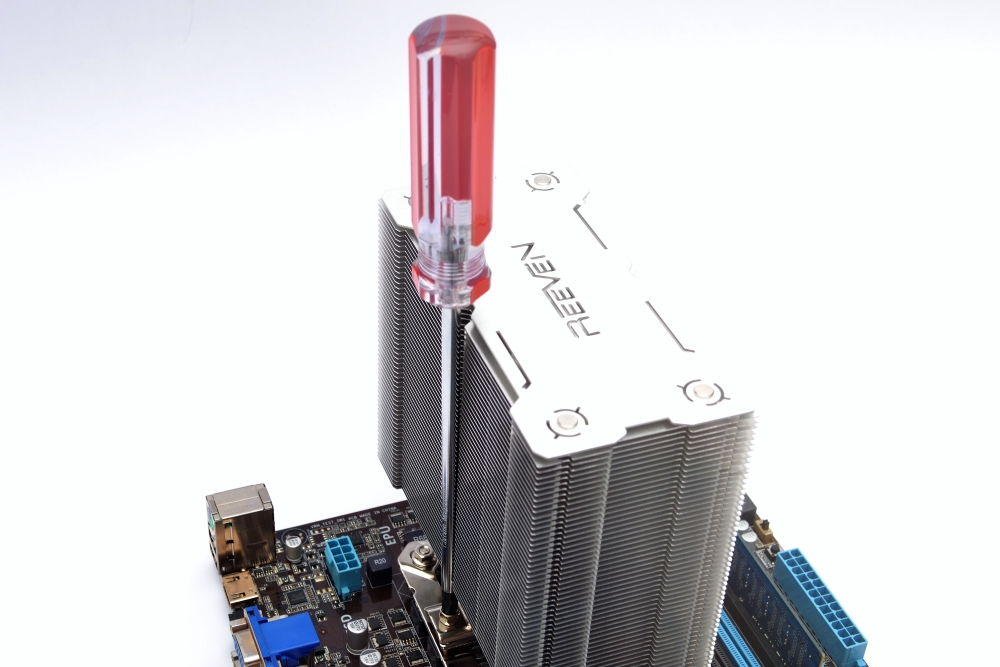 It seems that there is plenty free space for graphics cards. If you need a card in the first PCIe slot, it may well be a little bit squeezed. I would at be concerned about short circuit, unless the print has a back plate for protection.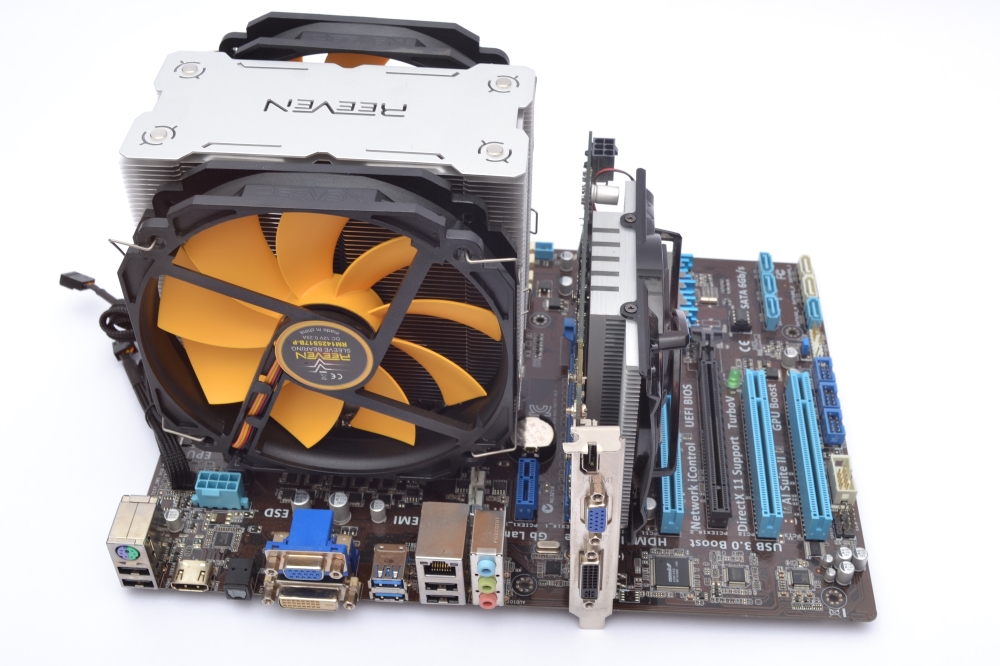 The RAM modules can also just be there. Note I use RAM modules without a cooling profile. If there was a cooling profile, I'm not quite sure it would be healthy for the RAM socket. The cooler will probably hit the RAM modules. It may be different from motherboards to motherboards, so you should be sure before purchasing the cooler.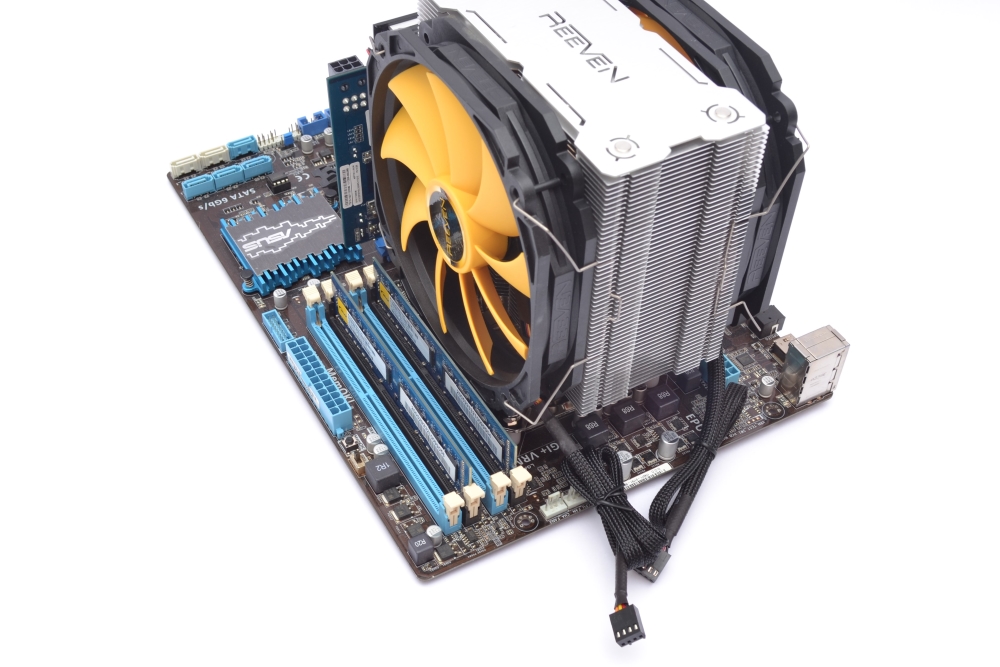 Let's start testing.
The noise test:
Before we start the stress test, I have made a small sound test of the fans alone and mounted on the cooler. A little video has come out of it, as you can see here.
I have done dBA measurements with my mobile phone. As you can see at the results, 2 fans naturally makes more noise than one. But as you can see and not least listen to in the video, it sounds different if the fan is mounted on the cooler or not. In this case, I actually think that the sound of a blower mounted on the cooler relative to the fan alone sounds better. But that's a personal taste.
The stress test:
All of my coolers are tested with the fans on 100% RPM. I have chosen to show my readers how much the coolers can cool at maximum. I'm aware that it makes a lot of noise, but hopefully you do not have the need to run with the fan at 100% under normal conditions.
The setup:
I use the following setup for my tests and can clock my processor up to 4.7GHz. All overclocks are done with the auto function on the motherboard, as it actually works quite well.
Processor: Intel i7 4790K (TDP = 88W)
Frame: 2x4GB Kingston Hyper Beast
Stock: 240GB Intel M2 SSD
Motherboard: MSI Z97A Gaming 6
The software:
Of software, I chose to use Prime95 without AVX, as it stress the CPU in a more natural way. The new versions of Prime95 can also be used, but remember to turn off the AVX to get a more natural load on the CPU.
For measuring temperatures, I've chosen to use HWinfo64, which is an excellent tool for that kind of thing. Temperatures are measured after a warming period of typically 10 minutes by air coolers and 30 minutes by water coolers. The cooler would most likely have stabilized and the measurement should be done over a 2 minute period after heating up.
The measurements:
Fan RPM: 1700
As you can see, the cooler performs quite well. Most of all, you can compare this cooler by the size of the Cooler Master EVO 612 cooler
4.7GHz does not seem to be a problem for this cooler. There is a slight difference between 1 and 2 fans, so I would use 2 fans if I had to run with a big overclock all the time, or if I had a very powerful CPU.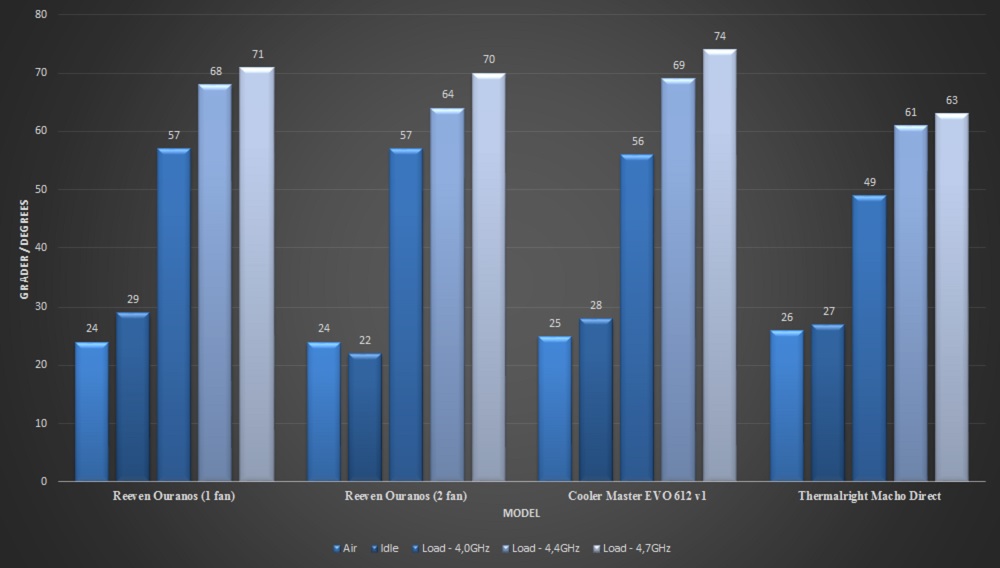 If you want to see a list and results of all the air coolers I have tested, you can find the list in the link below:
http://www.monberg.dk/pics/General/fantest_air.jpg
My honest opinion.
I'm a big fan of Reeven. From my first test of their coolers, I think they are making some good and not least good looking products. It seems to be really good quality.
This also goes for this cooler, and it also performs as you would expect. It even cools a larger overclock down to some good temperatures.
The included fan is also made in a cool design and some fancy colors. Of course, it's a matter of personal opinion if you like yellow and black together. But you know it before you buy it. The fan also seems as if it is made in good quality, and it certainly also performs very good.
Unfortunately, you can not buy Reeven products here in Denmark. So if you want to have Reeven, you need to go by Germany and order it. You can find dealers at the German Amazon.de. Reeven Ouranos can be purchased for just under 40 EUR plus delivery. It's converted to just under 300 DKK, which is actually a pretty nice price for this cooler.
My rating of this cooler lands on a beautiful gold star rating. The cooler performs as it should and as you can expect. Extra things are included in the form of extra clips for mounting additional fan and Speed Switch Adapter for the fan if you do not want it to run so fast. Not only that, it's nicely made, so it looks nice in the casing.
Read more about Reeven Ouranos here.