be quiet! Silent Loop 240 Cooler
be quiet! Is back with a cooler that I will look at and listen to. Silent Loop is their range of water coolers, ranging from 120mm up to 360mm. In this review we are going to look at their 240mm cooler.

be quiet! Have made a small intro video for their Silent Loop coolers, which I just want to show you. Video usually tells more than I can write in an article, so we start with the video.
The technical specifications.
As you can see at the technical specifications, this cooler can handle up to 350W. So it should actually manage most CPUs, even with overclock. It has 2 x Pure Wings fans that provide airflow and protection against bending of the hoses. It is also worth noting that this cooler supports the new AM4 socket, which means it is Ryzen compatible.
Be quiet! Have a VERY SPECIFIED list of technical details, but you have to go to their website to read it.
Link to the be quiet! Silent Loop 240 webpage.
Dimensions radiator, incl. fan (H x W x D), (mm): 277 x 124 x 55
Total weight (kg): 1,349
Socket compatibility
Intel®: LGA 775 / 1150 / 1151 / 1155 / 1156 / 1366 / 2011(-3) Square ILM / 2066
AMD™: AM2(+) / AM3(+) / AM4 / FM1 / FM2(+)
Maximum power capacity (W TDP): 350
Backplate Mounting: ?
Fan model, number: 2x Pure Wings 2 | 120mm PWM
Pump type: reverse-flow pump
Pump speed (rpm): 2,200
Pump connector: 3-pin
Tube length: 390
Bend-protection tubes: ?
Refill port: ?
Let's see what's included in the package.
You receive the cooler in a beautiful box in typical be quiet! design. There are nice illustrations of the product on it, as well as technical specifications on the back. You know what to buy.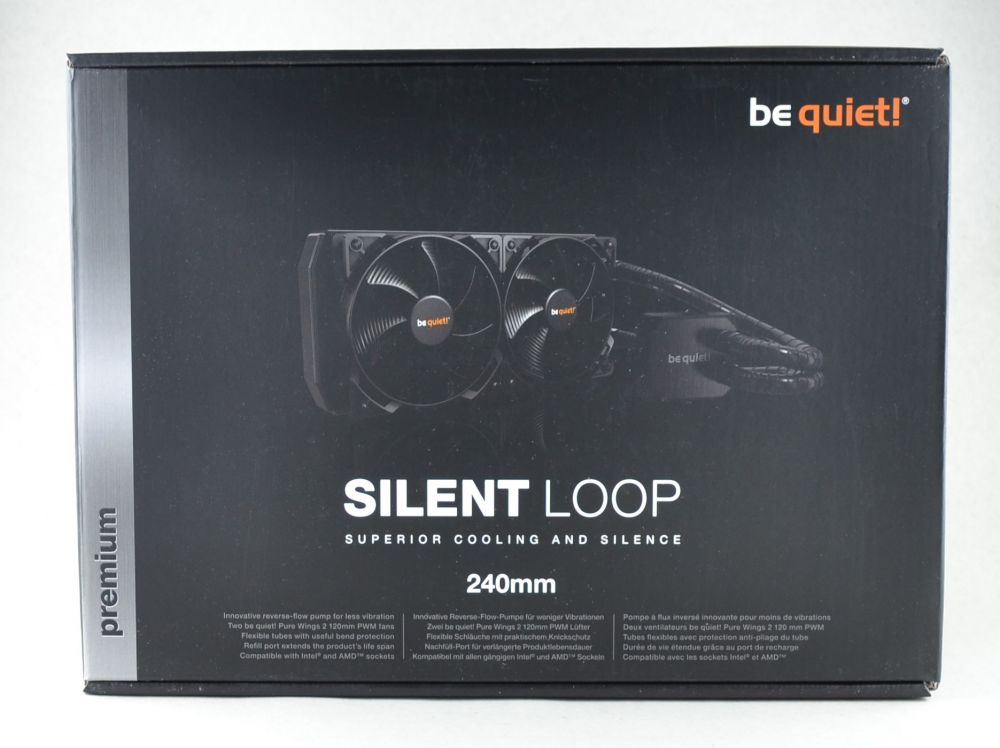 When you open the box, you can see clearly everything is wrapped in a nice molded holder. Everything is packed nicely in plastic bags to avoid scratches.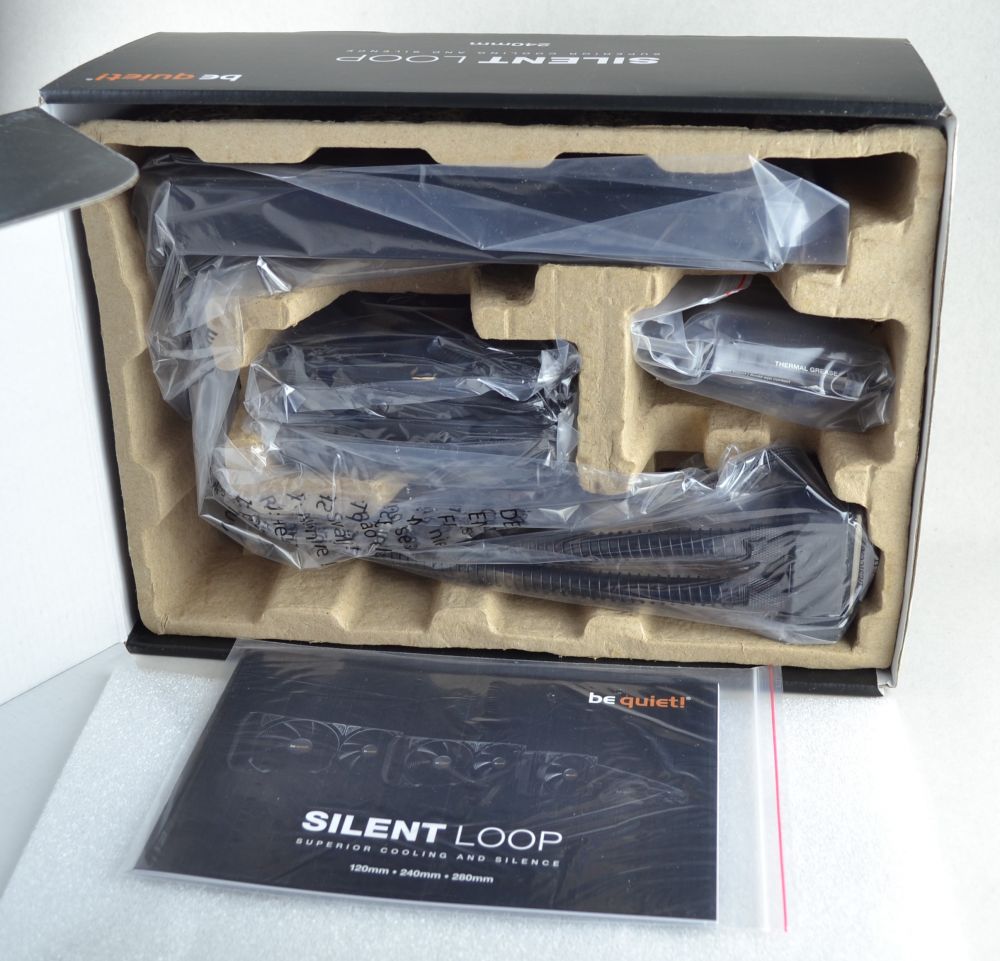 The package is complete. There are fans, fittings, user guide and cooling paste. It's all ready for assembly right away. The different bags are marked up to which socket the contents are intended for. That way you avoid using something wrong.
Content:
be quiet Silent Loop 240 Cooler
2 x Pure Wings 120mm fans
Fan splitter
be quiet! cooling paste
Bags with brackets and screws
Userguide
Then it's time to look at it all.
Let's start by looking at the fans. There are two Pure Wings 120mm PWM fans. The fans run at a maximum speed of 2000 RPM and have a noise level of just under 37 dbA at full speed. It will be rare, however, that there is a need for full speed, so do not be afraid.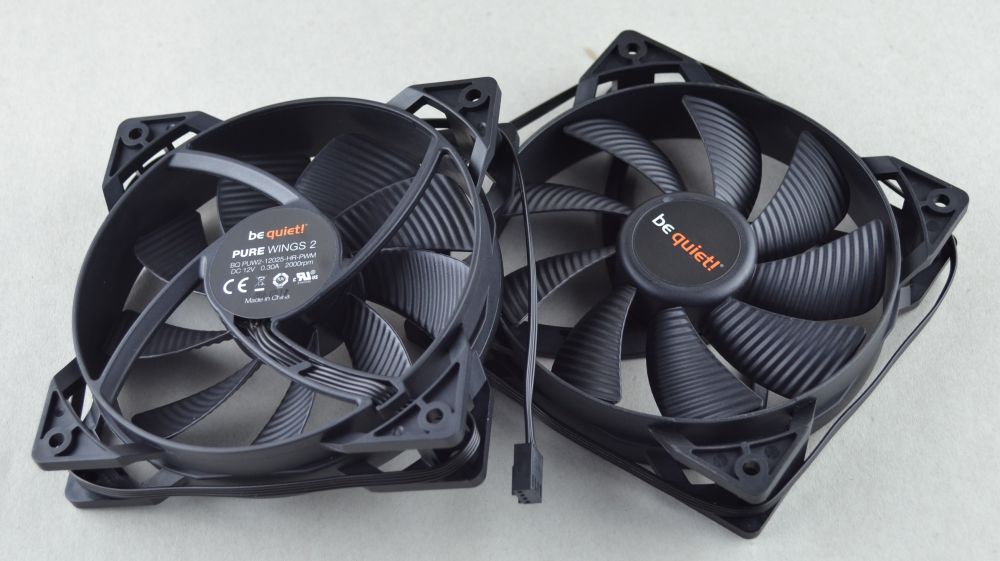 The cooler itself is a nice black painted cooler with some good thick tubes. There is a metal spiral around the tubes, which prevents the tubes from folding even at sharp bends.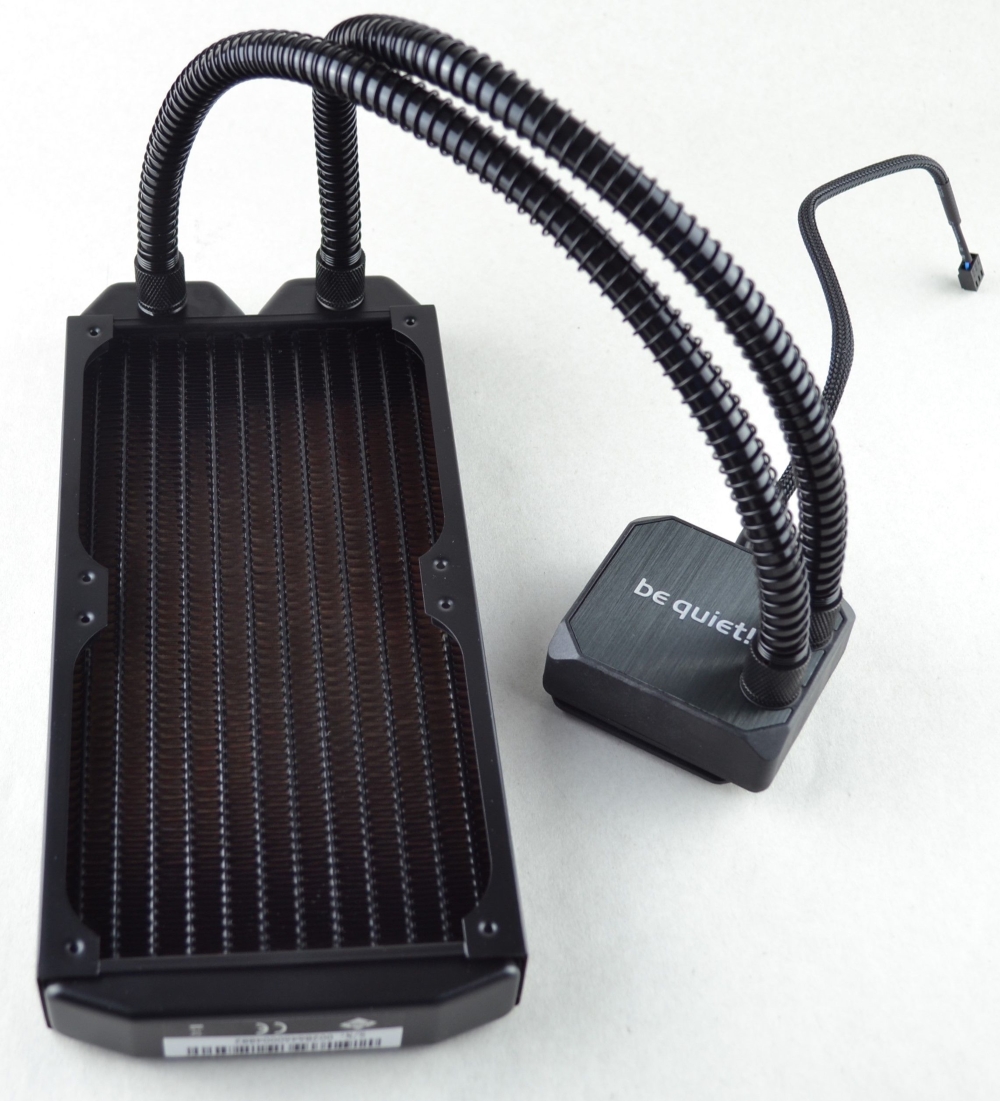 The fans are mounted on the cooler with screws, and like most new coolers, millimeter thread is used. It's great that they have gone away from the different UNC thread, and over to millimeter threads. This allows you to change the screws if you need it.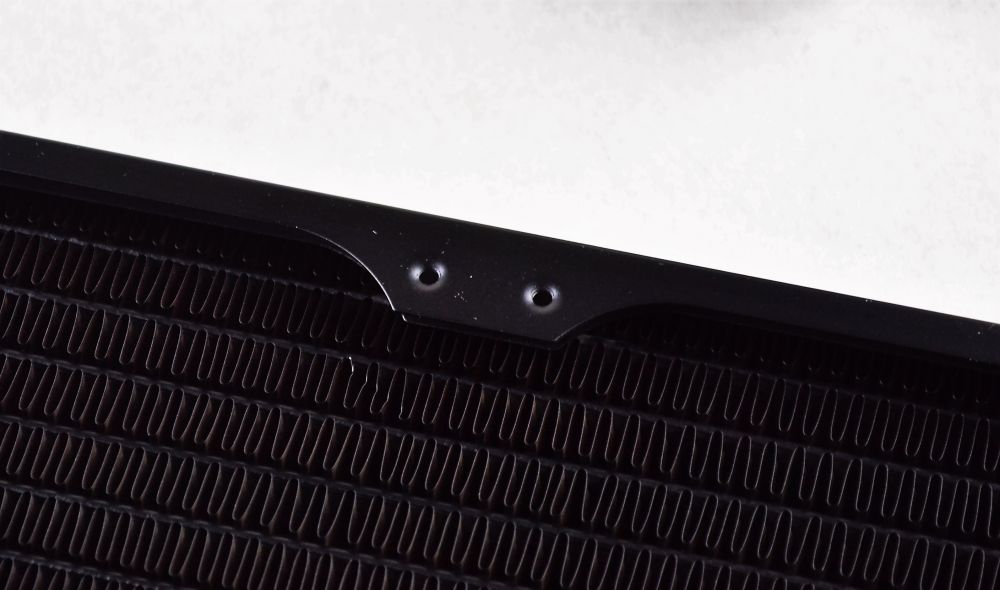 I have seen many water coolers before, there the hose connections themselves have been extremely thin and seemed fragile. This is not the case here where the hose connections are large and robust. However, it fits great for the rest, so it's not too fierce.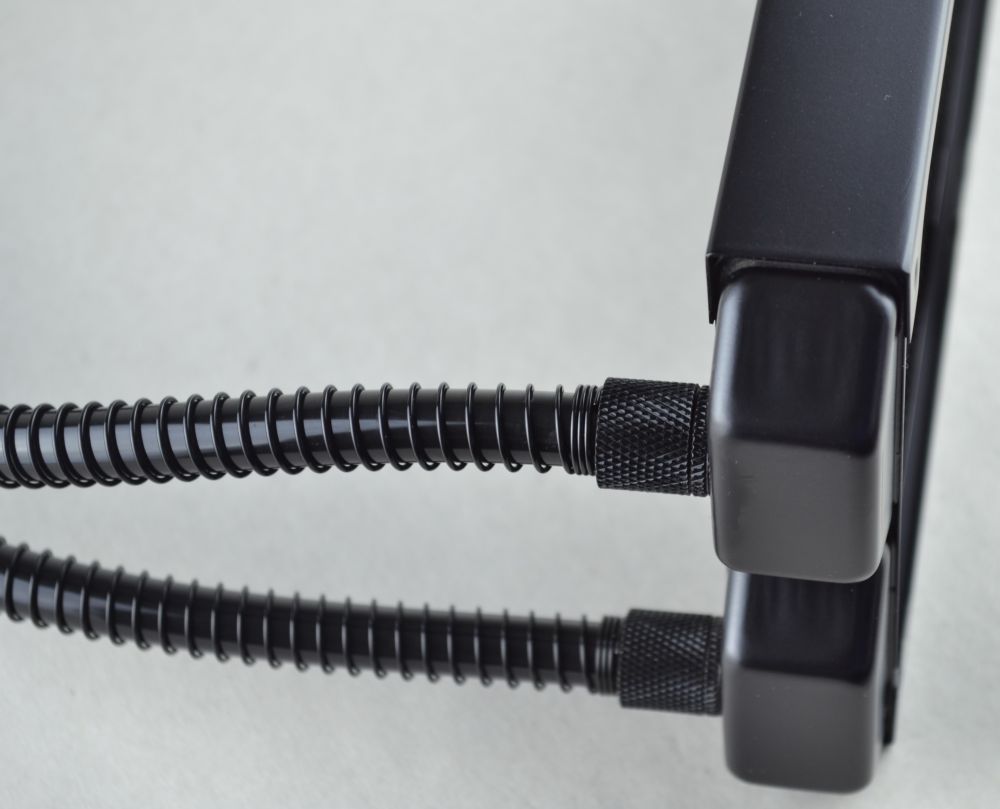 The pump head has the tubes in the top, and a nice aluminum plate with a be quiet! logo on top. Pretty nice and discreet, just as we know it from be quiet!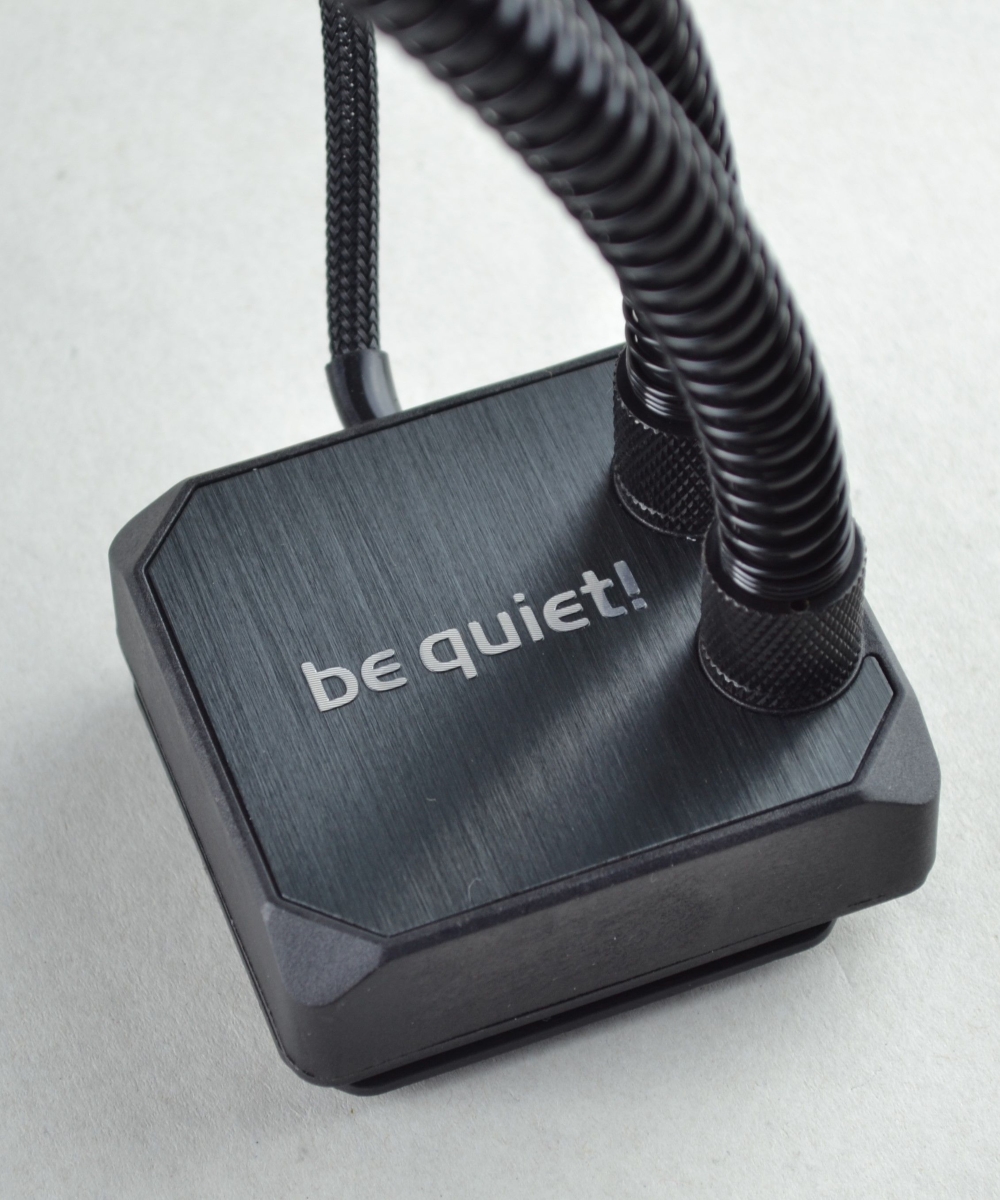 If we look at the cooling surface itself, it can not be any nicer. It's just before you can use it as a mirror, that's how polished it is. It can only be a success.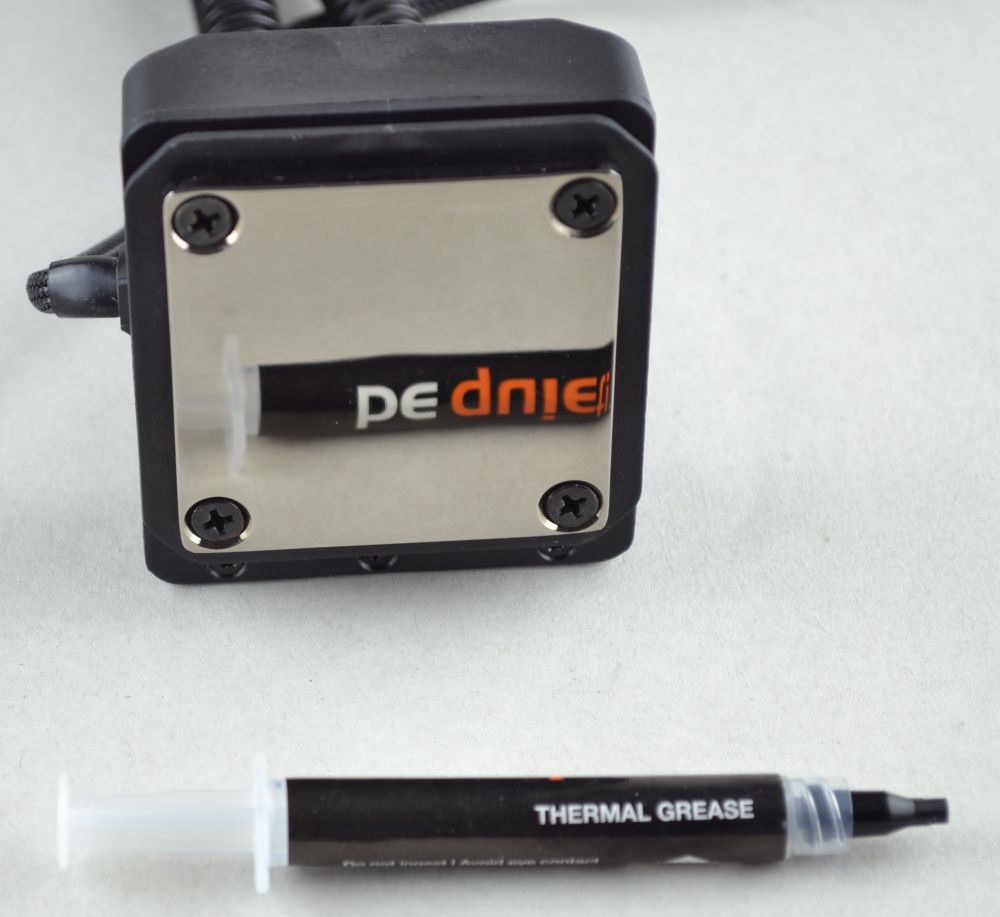 Finally, there is the plug for the pump itself, which is a 3 pole fan plug. The cable is sleeved, as you will probably see it a bit in the mount.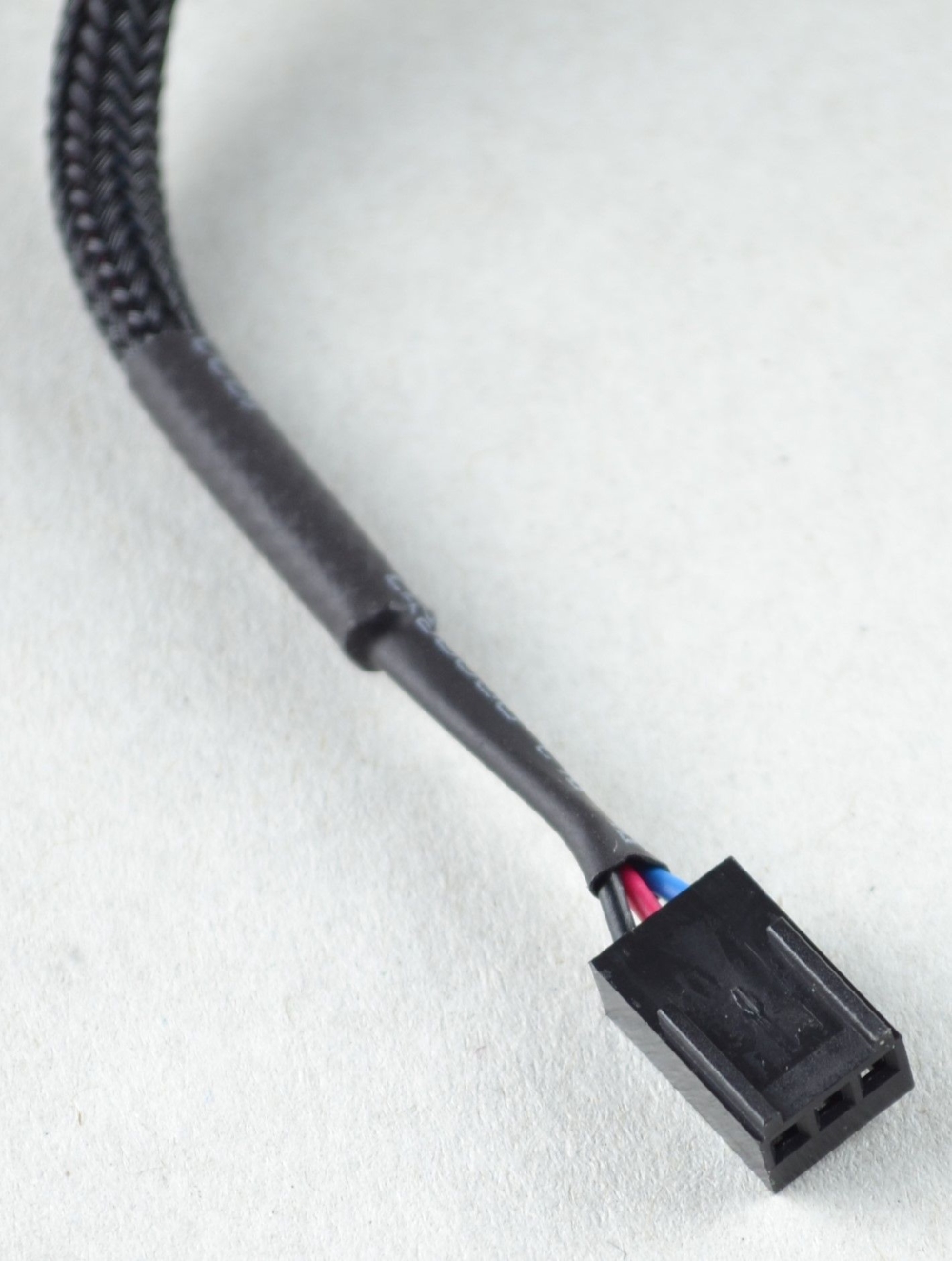 It has become time for assembly.
First, assemble the fittings on the pump head itself. To do this, slide the metal holder into a slit from each side of the head and click them together. Then assemble screws together with springs and nuts to fit the bracket.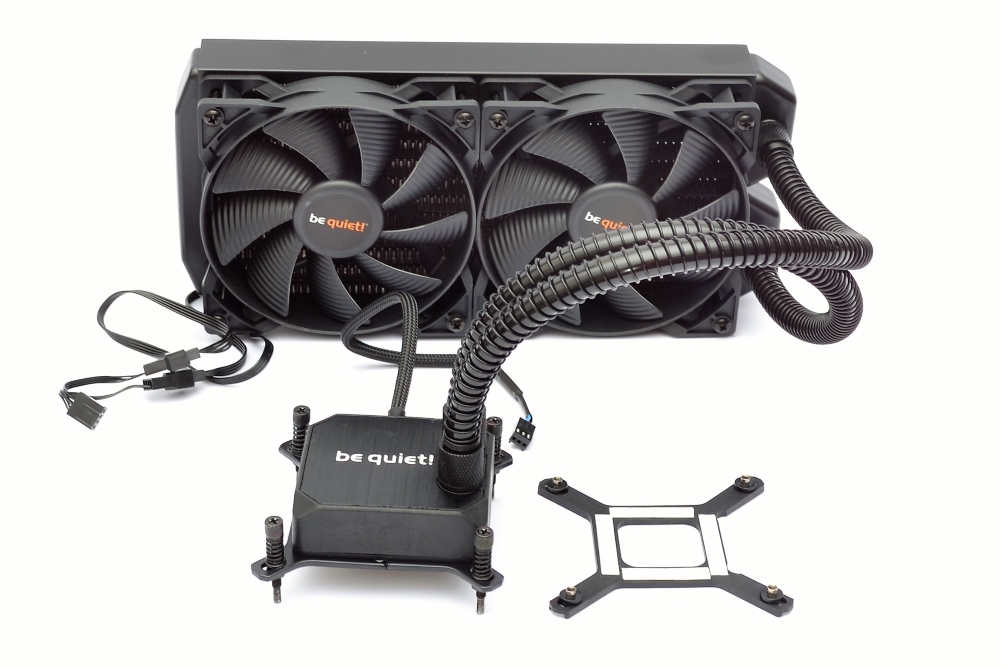 Then screw it all together, use the bracket on the back of the motherboard and the threaded pieces out through the holes in the motherboard. It's quite simple. You can tighten everything pretty well with your fingers, then tighten further with a screwdriver.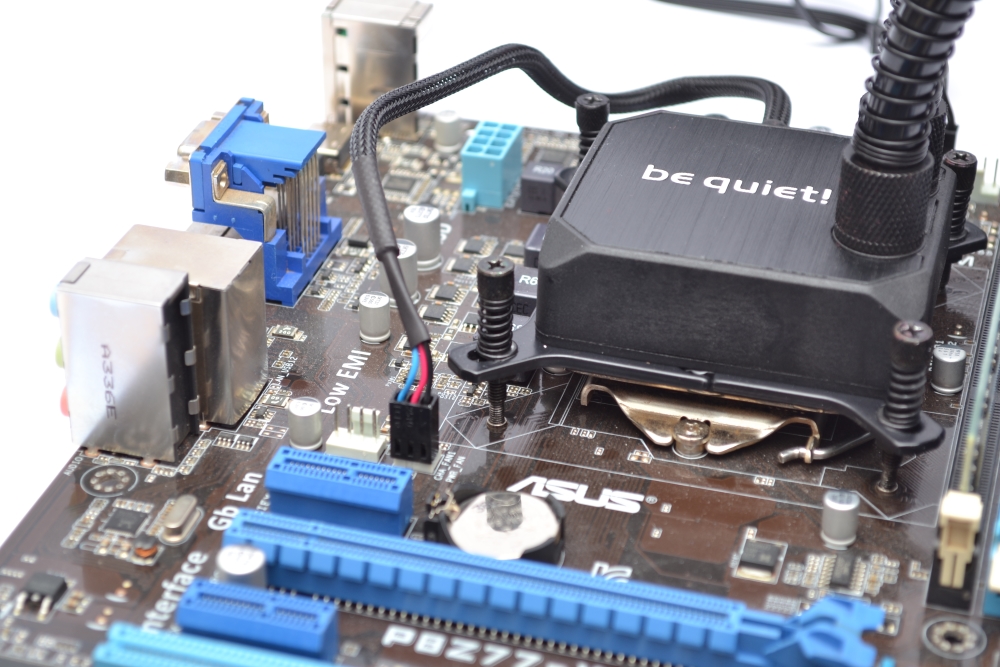 There is plenty free space around the CPU socket when using this cooler. It does not fill up more than the base itself, so there is room for RAM with cooling profiles, and graphics cards with back plates.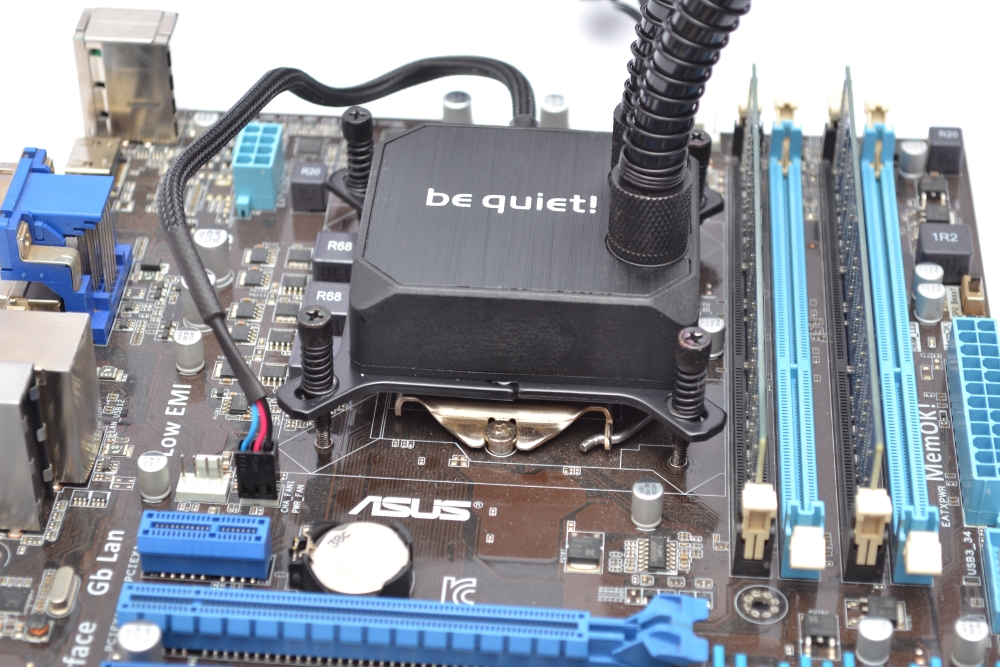 I encountered a small, yet quite annoying problem. The small threaded bush on the back plate is loose. So when you try to screw your cooler on, you can easily push it out of the rubber holder. It's a bit unfortunate. I did not use the sticker on the backplate, which means that I could not handle everything properly. So I can only recommend using the stickers on the back plate and stick it firmly, before installing the cooler. That way you can control and support it all when mounting it. be quiet! could have done so that they could not fall out.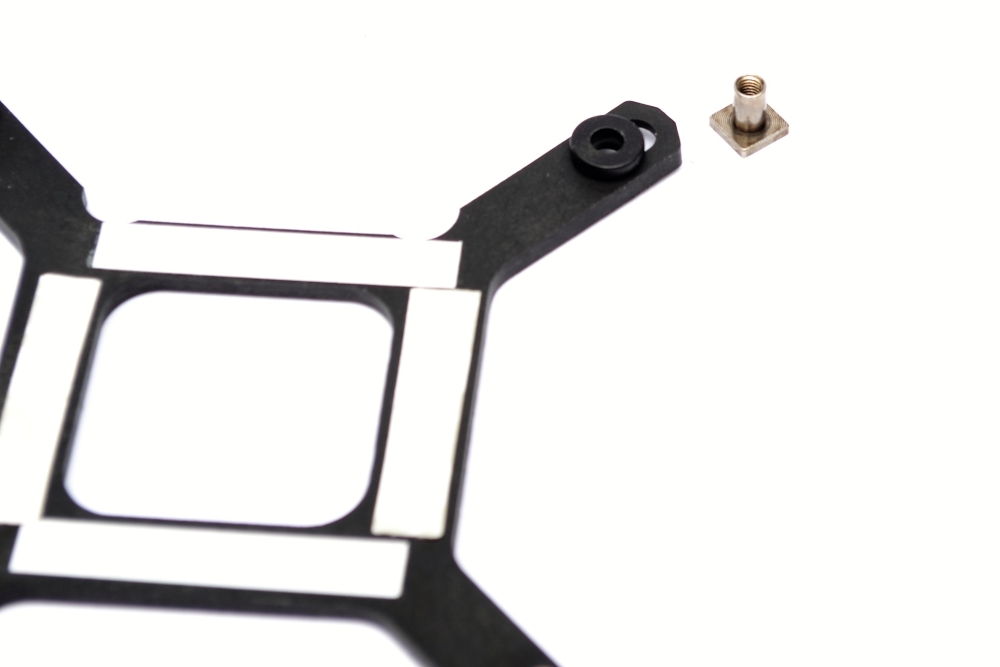 Then it's time for a test.
I think we should have a small listening test. I have made a small movie where I have made sound recordings of the noise on the cooler. All tests are done with the fans at full speed, 2000 RPM.
Since the pump has no remarkable noise, I have chosen not to implement it in the test. It's as good as noiseless.
The noise is measured at 30cm distance with a mobile app. It is not particularly accurate, but it gives a slight hint of how much it sounds relative to each other. And all my tests are done in the same way, so you can compare my tests with each other.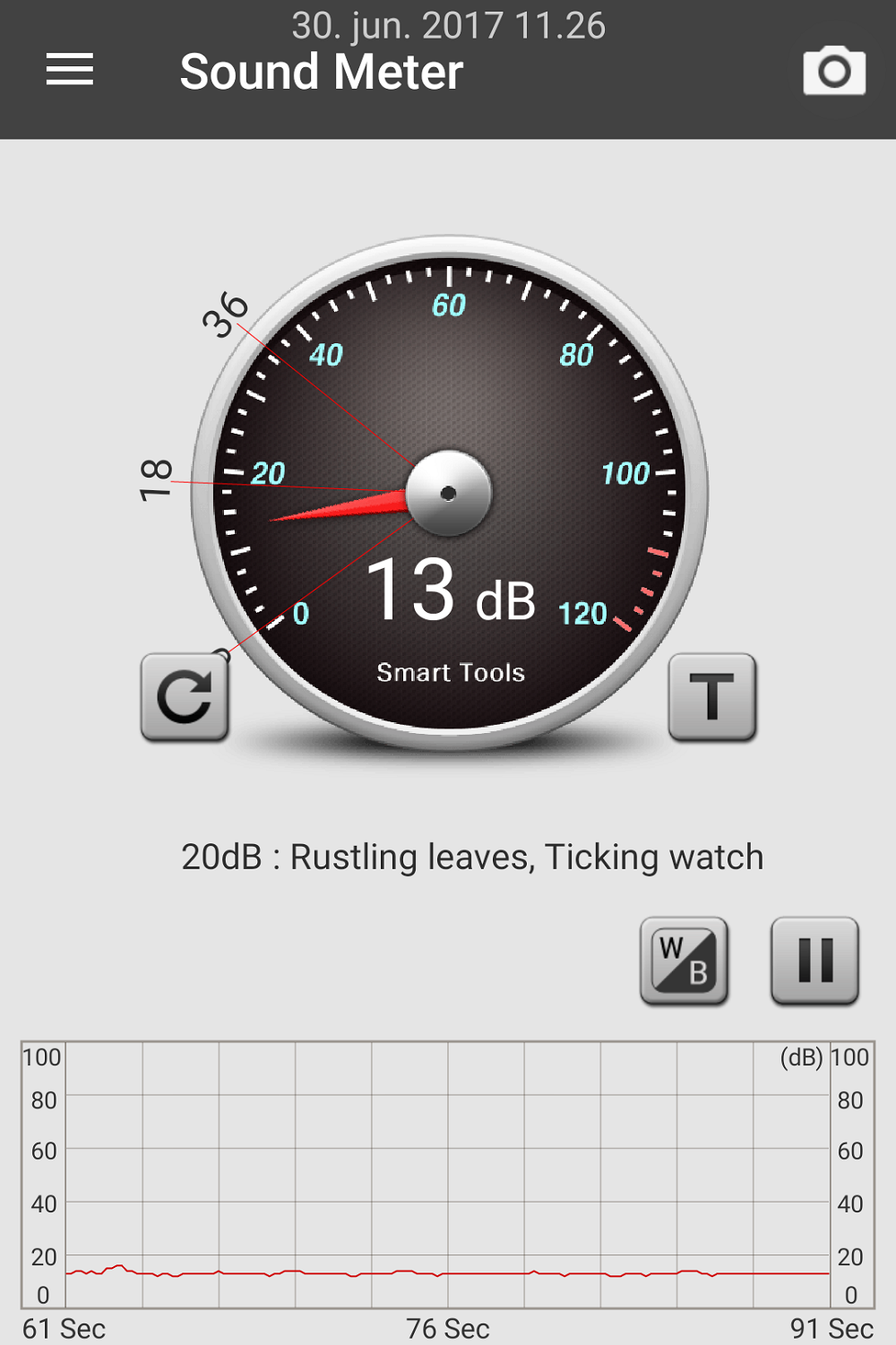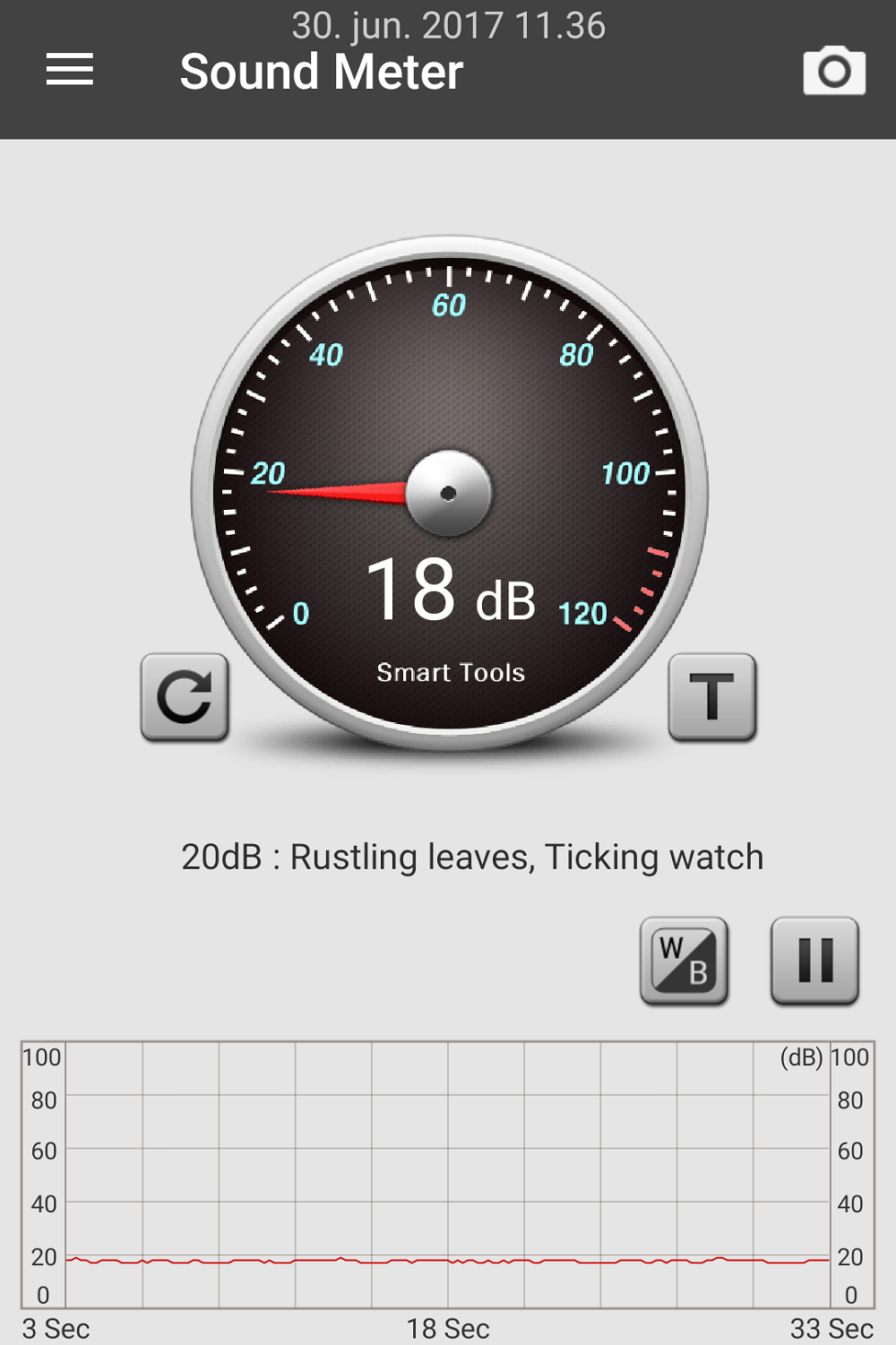 Stress Testing:
All of my coolers are being tested with the fans on 100% speed. I have chosen to show my readers how much the cooler can cool at max. I'm aware that it's making a lot of noise, but hopefully you do not have the need to use the fan at 100% under normal conditions.
Setup:
I use the following setup for my tests and have can clocked my processor up to 4.7GHz. All overclocks are done with the auto function on the motherboard, as it actually works quite well.
Processor: Intel i7 4790K (TDP = 88W)
Ram: 2x4GB Kingston Hyper Beast
Stock: 240GB Intel M2 SSD
Motherboard: MSI Z97A Gaming 6
Software:
Of software, I chose to use Prime95 without AVX, as it loads the CPU in a more natural way. The new versions of Prime95 can also be used, but remember to turn off AVX to get a more natural load of the CPU.
For measuring temperatures, I chose to use HWinfo64, which is an excellent tool for that. Temperatures are measured after a heatup period of typically 10 minutes by air coolers and 30 minutes by water coolers. The cooler would then be stabilized and the measurement should be done over a 2 minute period after heating.
Measurements:
Fan RPM: 2000
As you can see, Silent Loop 240 is doing quite well. There is no groundbreaking difference between the two other coolers, but they are also built in the same size, ie 240mm radiator with 2x120mm fans. So performance should broadly be the same.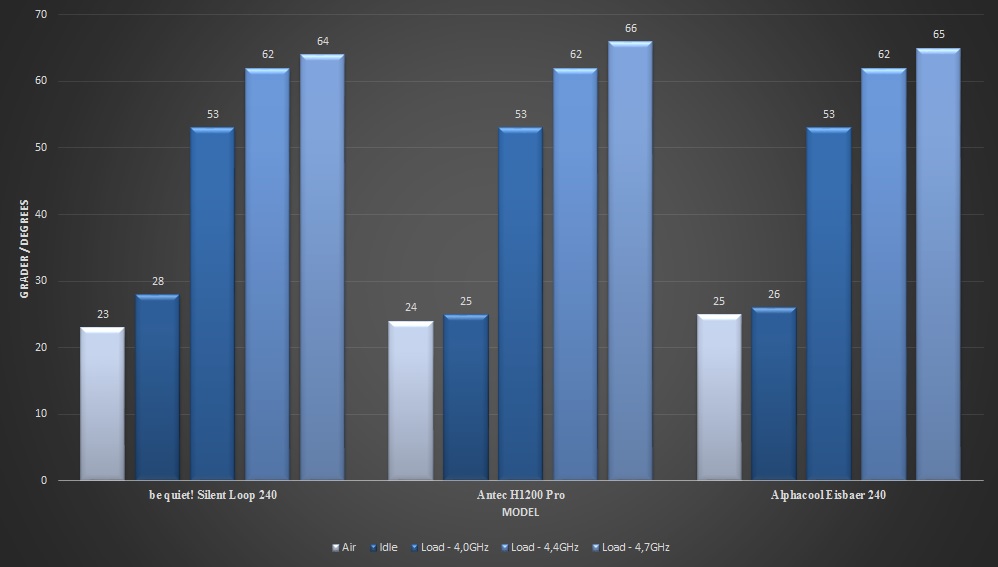 My opinion.
Now it's time to evaluate and think about the test of the be quiet! Silent Loop 240 cooler.
There is no doubt that I'm still a fan of be quiet !. They manage to make some products that work well AND look good. I love the discreet appearance of their products. It gives me a personal impression of incredible quality and efficiency. I mildly said, love be quiet! products.
This cooler is certainly no exception. It is discreet in appearance and performs minimum as expected. And it does it convincingly.
I love that be quietly! have chosen some good solid hose connections. It looks like something that is meant to be used. The same with their solution to prevent foldings on the hose. A metal spiral around the thick rubber hose. It looks cool.
The only negative I have to say about this cooler is that the threaded bushings are loose on the back plate. It's a little unfortunate that you can push them out of the holder, so they can slide behind the motherboard in the casing or get lost. be quiet! should take a look at improving that problem.
You can buy this cooler online for around 1000 DKK, and I'm sure the money is well spent. You can probably find something that is cheaper and performs as well. But I'm sure that be quiet! makes a quality that lasts for many years.
Based on all the comments I have above, I choose to give this cooler a nice SILVER star rating. I do that because it just lacks the last things to get up on gold. Had the bracket on the back been ok, and the threaded bushes been fixed, and maybe the price a little smaller. Then it would have been a gold rating.
Read more about be quiet! Silent Loop 240 here.