Tt eSPORTS Challenger Keyboard
So is it time for another review here on the blog. This time I would like to show you a keyboard from Tt eSPORTS. The keyboard is called Challenger Prime, and I received the Carbon Edition. It's called that because it's supposed to look like Carbon Fiber.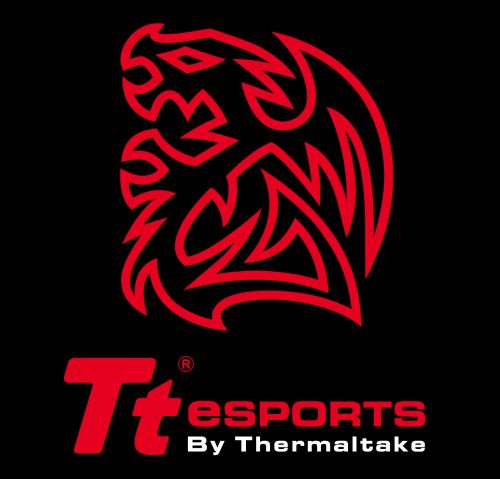 Lets start with the specifications:
As you can see in the specifications, it is a membrane keyboard. It has become like discussing religion when discussing if a keyboard must be membrane or mechanical.
My opinion is that there are advantages and disadvantages of both types.
COLOR: BLACK/CARBON
INTERFACE: USB
MEMBRANE, MECHANICAL, PLUNGER: MEMBRANE
ON-BOARD FAN DEVICE: NO
ANTI-GHOSTING KEYS: 24 KEYS
NO. OF GAME PROFILES: 3
NO. OF MACRO KEYS: 6 X 3
POLLING RATE: 1000 HZ
BACK-LIGHT: 3-COLOR
WRIST REST: YES, UNDETACHABLE
GRAPHICAL UI: YES
ON-BOARD AUDIO JACKS: NO
SMART CABLE MANAGEMENT: NO
GOLD-PLATED USB: NO
USB CABLE DETACHABLE: NO
MULTIMEDIA KEYS: 9 KEY
ON-BOARD USB PORT: NO
KEYSTROKE LIFECYCLE: 10 MILLION
CABLE LENGTH: 1.5M BRAIDED
DIMENSION (LXWXH): 508X239X24MM
OTHER FEATURES: ADJUSTABLE BRIGHTNESS VIA DIAL
What does the packaging look like?
The keyboard comes in a quite fine packaging. There is no doubt about what is in the package, and it is clearly on the box, which specifications keyboard has.
Inside the box we find the keyboard along with a user manual and warranty description. There is what you need, no more, no less.
Now, let's move on.
Yes, shall we .. Now it's time to take a look at the keyboard itself.
The keyboard has a quite nice look on the top side, and the imitation carbon look puts a nice touch to it. We will look at the special features shortly.
The keyboard has a built-in wrist rest, which I'm a big believer in. I think we're going to see many injuries due to improper use of equipment and improper equipment. It is important to take care of ourselves, and use equipment that fits your body. Wrist rest is in my opinion very important.
On the underside of the keyboard there is four large rubber feet that make sure that the keyboard is firmly on the table. Unfortunately, the folding feet does not have rubber under them. That means that the keyboard doesn't stand as firmly on the table when they are raised.
Note the many small holes under the keyboard. You get an explanation on those in the next picture.
As I wrote before, the holes underneath the keyboard has a reason. It is simply drain holes. So now it does not matter if you spill the cola or coffee onto the keyboard. Then you simply remove all the key caps, wash them and dry your mess up below. Then you should be ready to continue typing without a broken keyboard. That's smart. Imagine that there is being thought of that kind of problems. It had never been possible with a mechanical keyboard.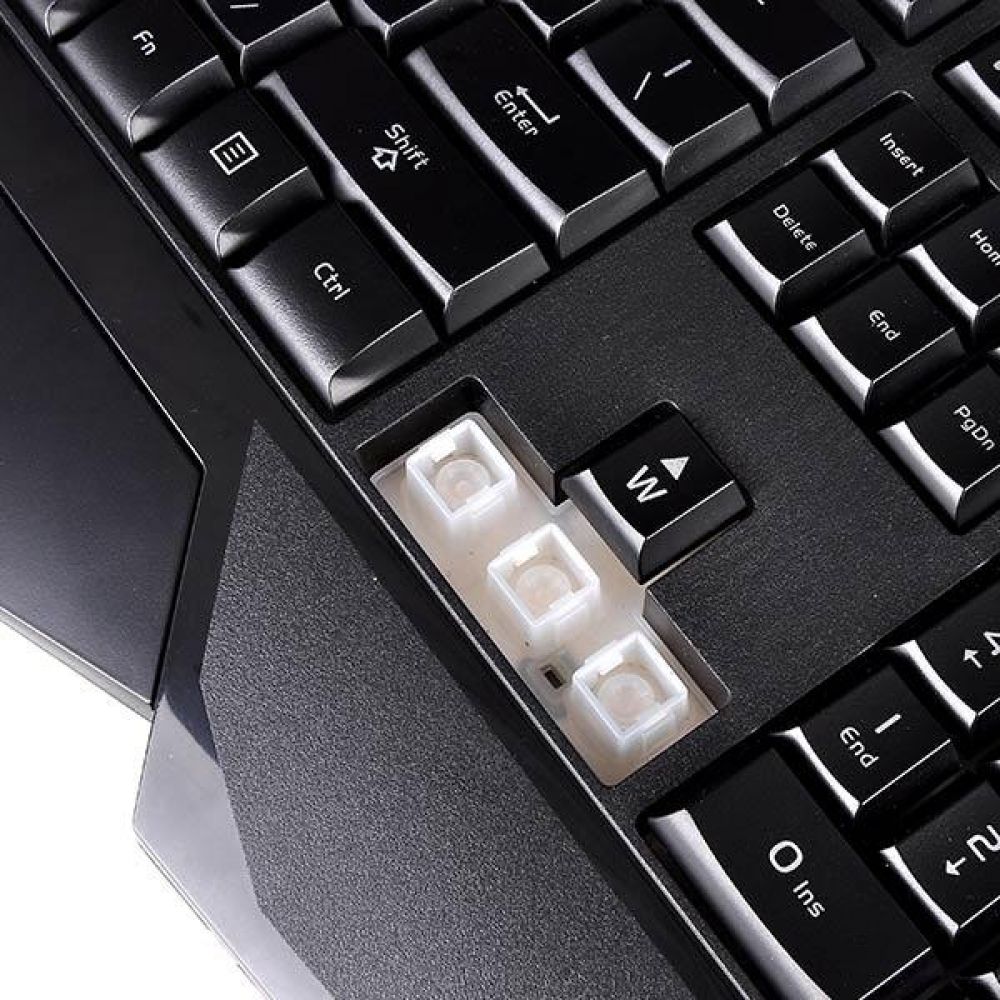 Well, let's move on and take a look at the other features this keyboard has.
On the left side there are 6 macro keys that can be programmed for various functions. This gives a total number of macro keys on 18 keys, as you can switch between three memory banks (M1-M3). Besides that, there are shortcut keys for Windows features in the top of the keyboard.
The buttons at the top on the right side, is the multimedia keys. So you get dedicated multimedia keys, which I really like.
Pressing the Fn key, you get the opportunity to set things on the keyboard itself. You can set the response time, adjusting the lighting and many other things. The keyboard of course also has a gaming mode, so you do not accidentally press the Windows keys while playing.
(The quick one will soon discover that it's a German version I received)
Up in the right corner of the keyboard you will find LED indication of the use of the Num Lock, Caps Lock and Scroll Lock. These diodes are also used to indicate the recording of macro functions. It is used when recording macros without software, so you just do it while using the keyboard.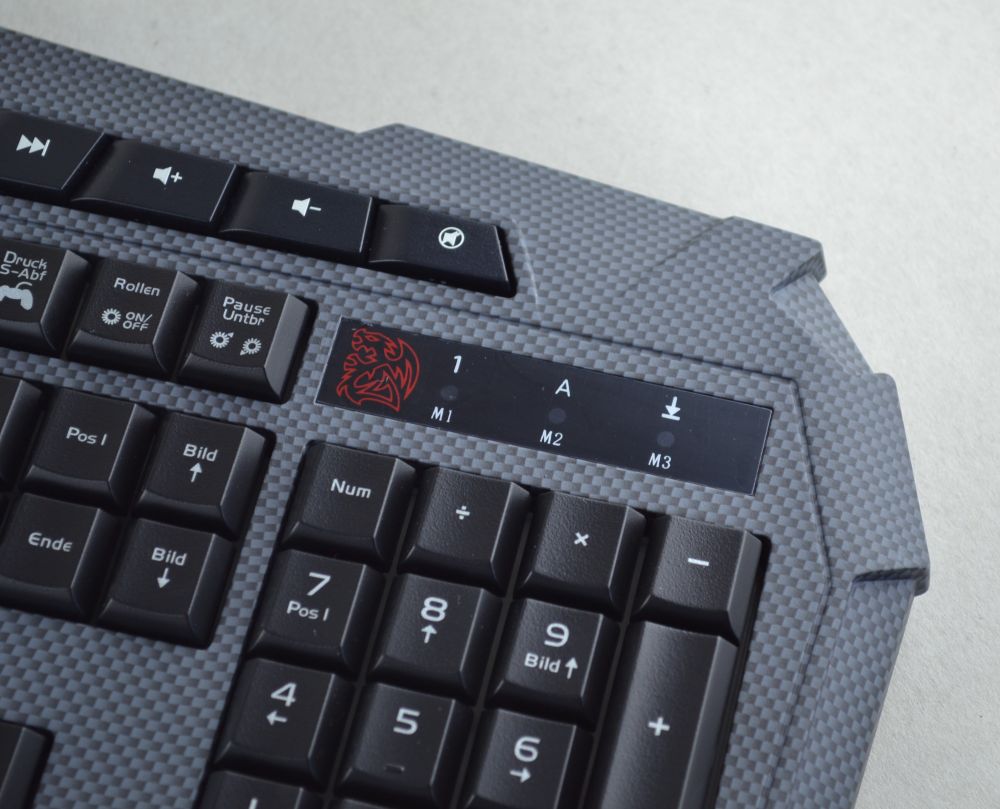 The software:
There is of course a driver software for the keyboard. I have chosen to use a movie that Tt eSPORTS has produced instead of taking a lot of pictures. Movies often say more than pictures, so here it is.
The lighting:
The light is distributed evenly across the keyboard. There is no RGB light, but 3 different colors. There is not a vairity of effects, as there are only pulsating light and normal steady light.
The light can be adjusted in strength via the large aluminium knob in the middle of the keyboard. It's turned to adjust the brightness.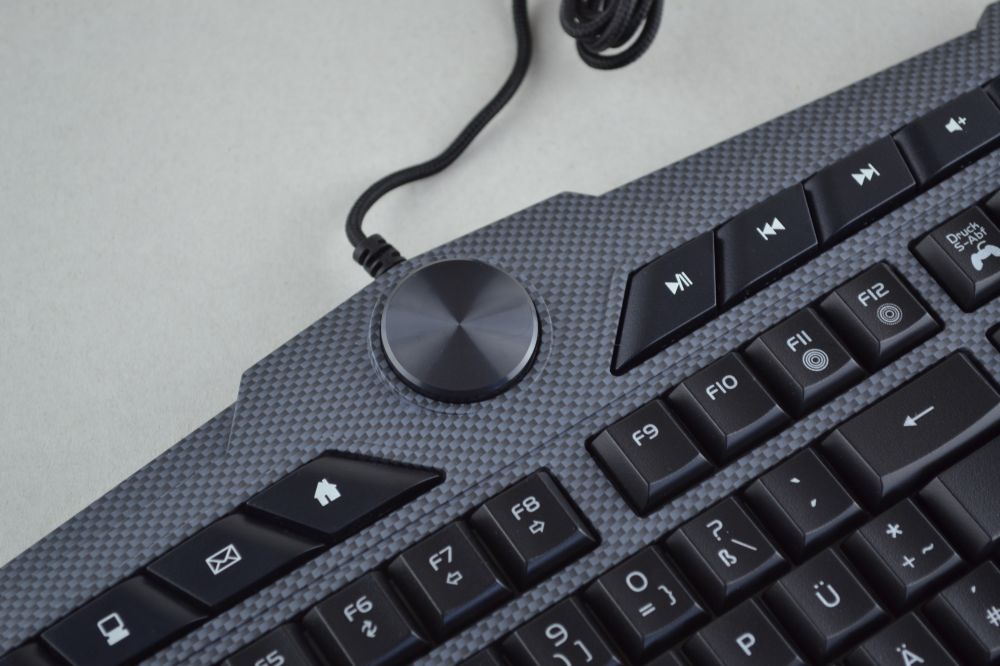 Here at last, we have the cable, which is a 1.5 m long fabric cable. It has a fine plugs at the end, which unfortunately is not gold-plated. I would also have wished that the cable was a bit longer.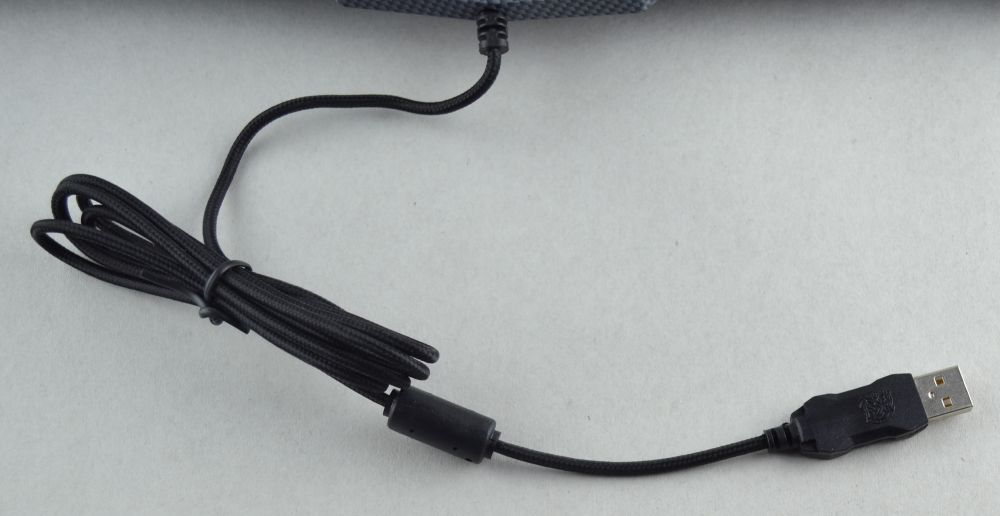 My opinion.
I'm SUPER happy about, that there still being produced membrane keyboards. They still have some benefits. They are cheap to produce, they are less sensitive to dirt and liquids, and the make far less typing noise.
Think that Tt eSPORTS have taken into consideration that you can spill your beverages into the keyboard and prevented the keyboard being harmed by it. That I'd like to see a mechanical keyboard be. It is the first time I see someone make drain in a keyboard. It's pretty smart, and I have heard of many keyboards that have been destroyed because of cola or energy drink in them. It stops with this keyboard. It simply drains away the liquid, and then you just clean it afterwards. It is clever.
You do not get alot fancy light effects with this keyboard, which is probably not necessary if we are to be honest. It looks cool, and has a certain smartass effect. But do we really use it? I don't, although I have had plenty of opportunities for it. However, I could wish to have a bit more colors to choose from. 3 colors is a bit too less in my opinion.
The keyboard offers what to expect of effects and features. It has 1000Hz polling rate, macro keys and can hold 10 million activations. That should be plenty for most gamers.
The keyboard is not particularly groundbreaking, but it is a sensible keyboard at a reasonable price under 400 DKK. There is a long way up to over 1000 DKK that a mechanical RGB keyboard may cost, and it is certainly worth the money.
I give the keyboard a fine SILVER star, because it basically meets all the needs you could imagine, and then some. It has a very nice price, and you get a good keyboard for the money. There are very few things that pulls down, as lack of light colors, gold plating on the plug and the cable length.
Link to Tt eSPORTS Challenger Prime