SilverStone AB120i-ARGB Fan Kit
SilverStone is making a lot of ​​accessories and casings, and in this review we are going to take a look at an ARGB fan kit from them. It's a package of 3 x 120 mm fans, and their own little controller.

Founded in 2003, SilverStone is an established leader in its field with an elite team of engineers. They provide the highest level of standards in the design and manufacture of casings, power supplies and accessories.
What's in the box?
The box itself is nicely printed with nice pictures and features as well as technical specifications on the outside.
Inside the box we find a box with accessories, 3 boxes with fans and of course a user manual.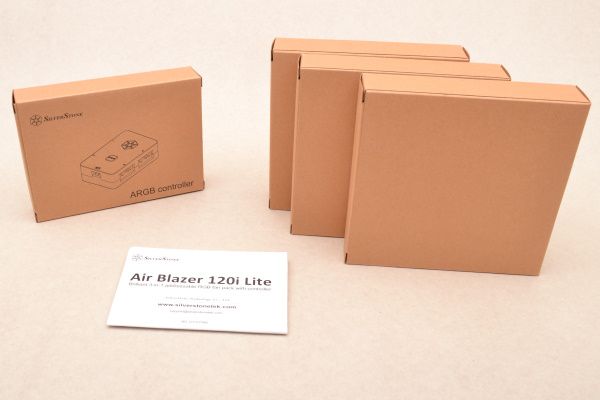 In the box of accessories we find 3 bags of fan screws, and the little controller you can use to control light in the fans.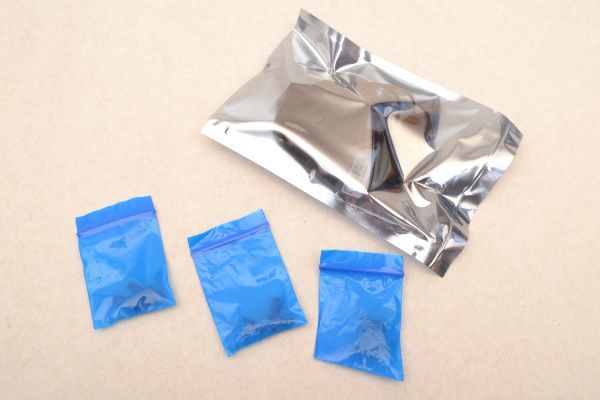 The technical specifications.
As you can see, the fan moves about 37.5 cubic feet per hour, which equals about 63 cubic metres. It's not crazy, but if you have 3 of them, airflow should be no problem. They run at a maximum of 1200 RPM and noise at 24 dBA, which is not too much either. These fans are built for airflow, not static pressure.
Model No. SST-AB120I-ARGB-3PK
Color Black frame, translucent fan blades
Bearing Hydro Bearing
Connectors 3 Pin fan & 4-1 Pin ARGB
Rated Voltage 12V DC
Start Voltage 5V DC
Rated Current 0.52A
Rated Power 6W
Speed 1200 rpm ± 10 %
Airflow 37.5 CFM
Static Pressure 1.15 mmH2O
Noise Level 24 dBA
Life Time 40,000 hours
Dimension 120mm (L) x 120mm (W) x 25mm (H)
Let's take a look at the product:
The fans have a black frame and matt white wings. They allow the light to spread visibly in the wings, compared to if they were completely transparent. It gets nice to see them with light.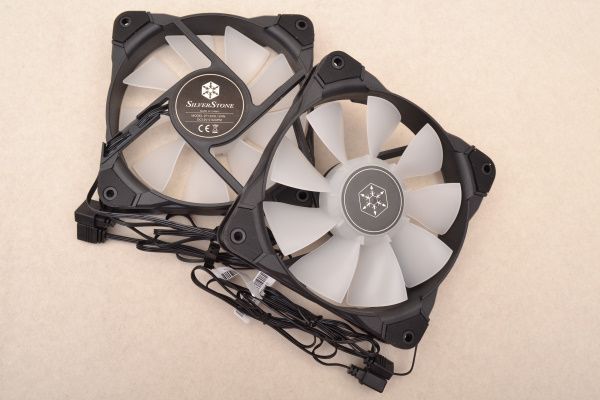 In the corners there is rubber pads, so that the fans are vibration dampened. It is also a nice feature to reduce the risk of vibration in the casing.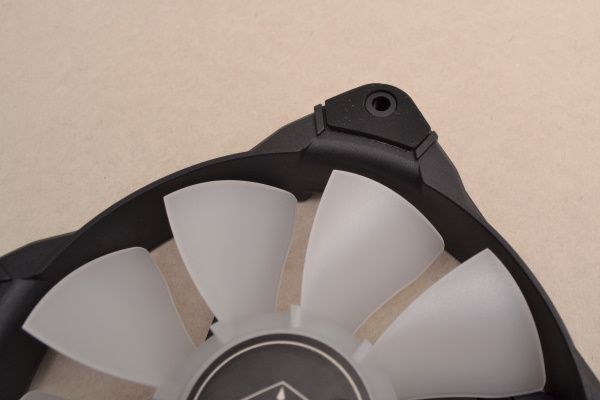 The connectors for the light are standard ARGB connectors, so you can choose whether you want to run with your own controller, directly on the motherboard, or use the small controller that comes with the kit. There are both male and female plugs on each fan, so you can run them in daisy chain. It's super cool.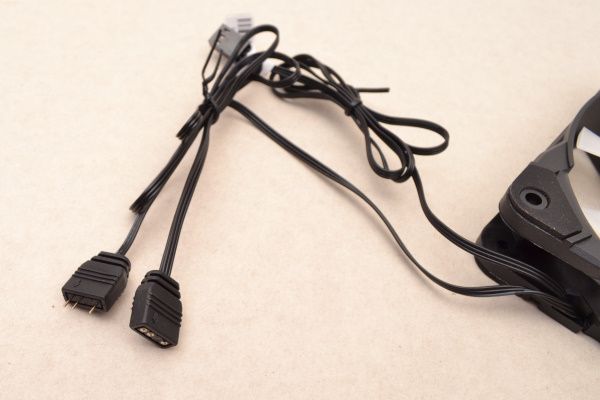 The power connector is a standard DC connector, so these fans do not run PWM.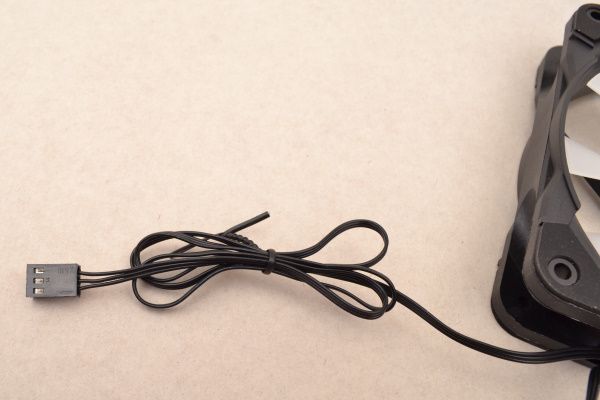 The controller itself has a small button on the top and 4 connectors, 2 on each side.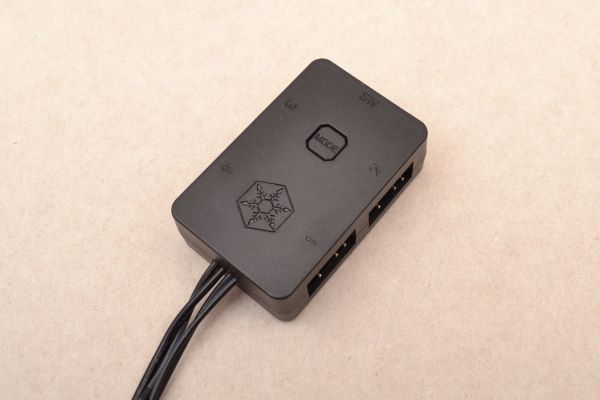 At the end of the controller it is possible to connect the casing reset switch so that you can use it to control the controller. It is pretty great, and frankly, how many actually use their reset button anymore.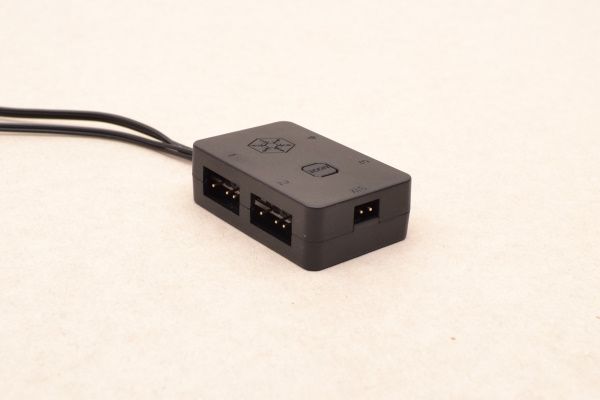 The controller is supplied with a SATA power connector, and of course there is also an ARGB connector, so you can control it all from the motherboard, or another controller. This way you can connect the fans in the controller and control them via an external controller.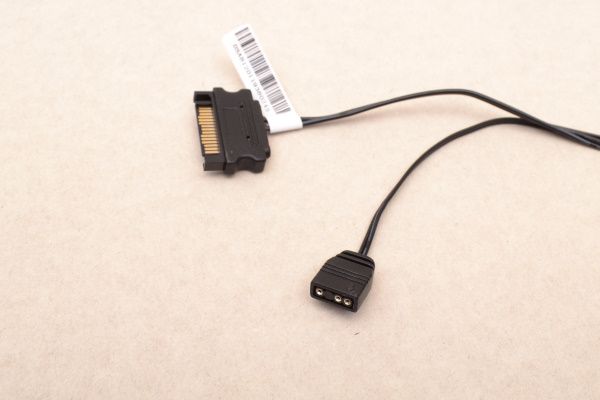 How are they used then?
The noise:
At the highest speed, and with all 3 fans at maximum speed, I could barely hear them. I have definantly heard fans making a lot more noise. It is probably thanks to the fairly slow speed, which makes the noise that does not sound exhausting. Once these fans are in a casing and are temperature controlled, then you'll no longer hear them, but in return you can enjoy the awesome light in them.
The airflow:
These fans do not move a lot air compared to many other fans, but they also do not run as fast. So it's totally as expected. On the other hand, you can put 3 in the front of your casing and get a nice front with RGB light, and at the same time get a good airflow through the casing, so that all the hardware is kept cool.
The light:
I made a little video with the different light settings in the built-in controller. It actually covers most needs and each port can take up to 48 LEDs, so there good posibilities for expansion and making a complete RGB setup with this small controller.
So what is my opinion on this kit?
I think you get great oportunities for RGB light in your computer with this kit. Not only that, you also get some really cool fans, which give a good quiet airflow.
The fans can be put into a daisy chain, or you can connect an LED strip to the fan, allowing for a full chain of RGB lights throughout the casing.
The small discrete controller can be placed in a discreet place, it is small enough to be placed on the back plate behind the motherboard, and from there you can wire your RGB light. It can be controlled remotely with the reset button, or the controller on the motherboard, so you don't have to open the casing to change color no matter which solution you choose to use.
The pricing:
The kit costs around 45 EUR and I have not been able to find it in Danish stores. However, it should be the same price in Denmark, which is converted to around DKK 350. That I have to say is a nice price for 3 ARGB fans and a controller in an overall great kit.
The final assessment.
Virtually everyone wants ARGB in their setup nowadays, and with this kit you have a really good and affordable opportunity to get started. You get a controller and 3 fans, and good opportunities to expand along the way. All in all, at a nice starting price, meaning this kit should have a nice GOLD rating. There is a really good correlation between price, quality and possibilities.
Read more about the product here:
https://www.silverstonetek.com/product.php?pid=879&area=en