YI Dome X Camera
YI is a large Chinese group, such as Xiaomi and Huawei. YI focuses on monitoring and surveillance with smart home products, and today we have to look at one of their motorized cameras namely their YI Dome X camera.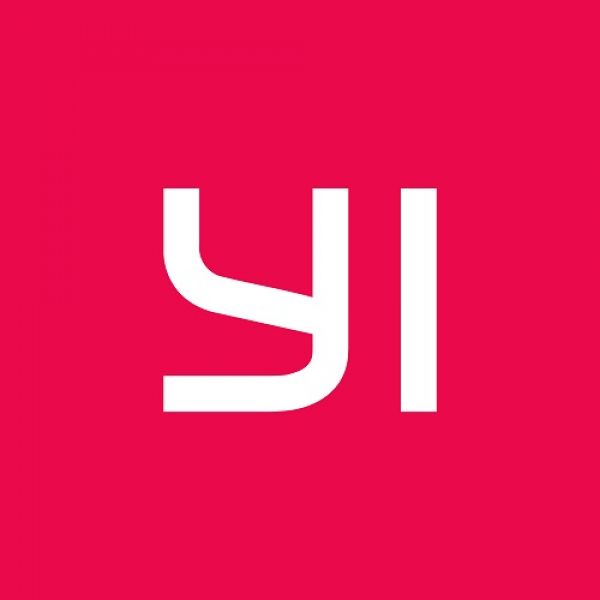 Whats in the box.
When you buy the camera, you receive a nice little white box with pictures of the product and features printed on the outside.
Inside the box you will find the YI Dome X camera, USB cable, USB power adapter. Ceiling / wall mount bracket a sticker and trial period on the YI Cloud. Of course, there is also a user guide so you can get started right away.
The technical specifications.
The camera does not weigh much when you consider it is motor controlled. It can record in full HD at 15 frames per second, which is fine for surveillance. It's not meant to be outside. But you can mount it outside, if only it is protected from wind and weather.
Model number: Y30
Dimensions: 8 x 8 x 13 cm / 3 x 3 x 5 inches
Weight: 300gr / 9.4 ounces
Colors: White/Black
Materials: Polycarbonate (PC)
Video Resolution: 1920 x 1080@15fps
Operating Temperature: -10°C ~ 45°C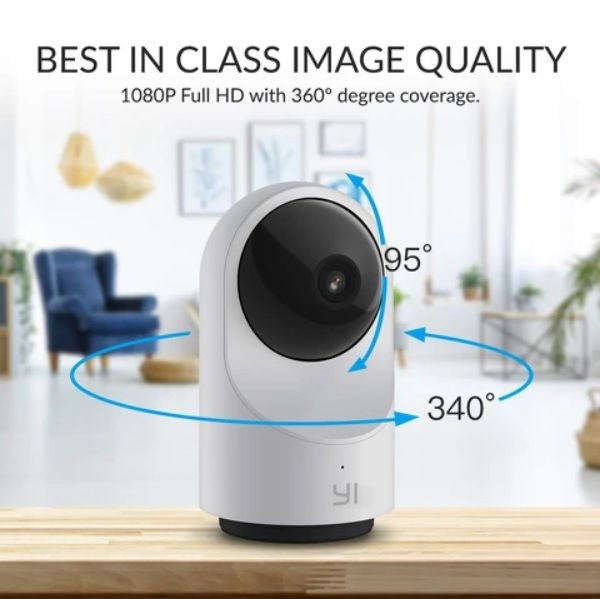 Let's take a look at the product.
The camera is tall and cylindrical with a big black eye. It is anonymously in appearance, and will fit in most homes. It can stand on a shelf, or hang on a ceiling or wall. In front of the camera we find a small YI logo, along with a small diode, which shows whether the camera is active. However, this can be turned off if you do not want to show it is active.
At the back of the camera we find a speaker which is used for intercom. The camera also has a hidden microphone so it can record and respond to ambient noise.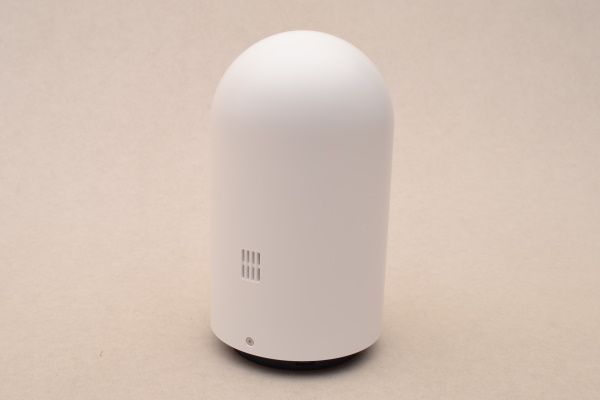 Beneath the camera, we find a good rubber pad, a SD card connector and a reset button. The SD card is used for local storage if you do not want to use YI Cloud, which is a storage on the Internet.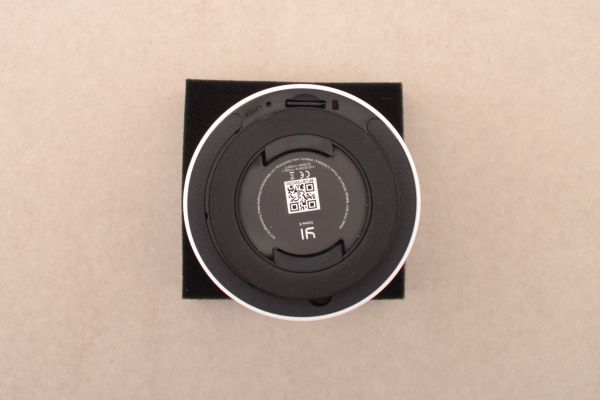 Also included in the package is a 1.5 meter long USB cable, and a USB power adapter of 5V 1A. It is a standard adapter and the connector is micro USB, so you can use any mobile charger to power the camera should it now dissapear.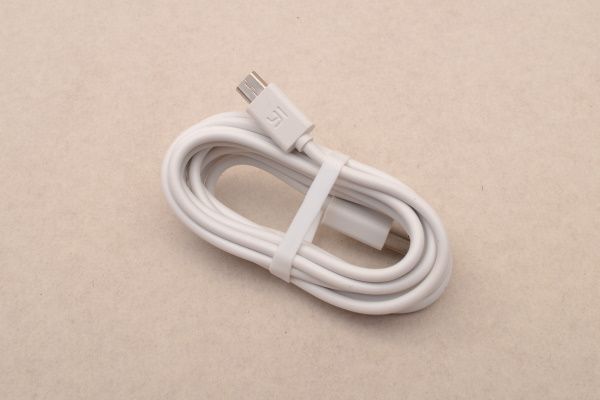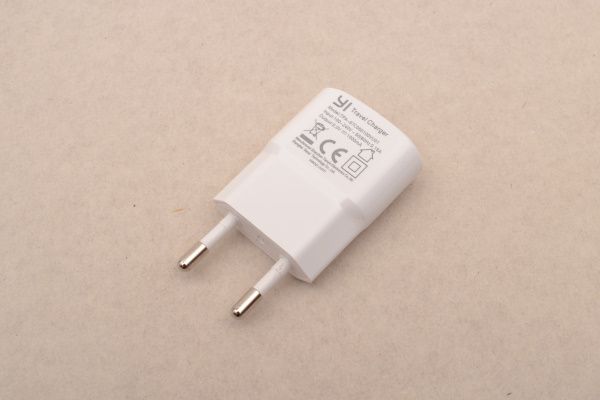 Software / App.
YI is one of the few that has made software for computer, at the same time as an app for mobile.
Computer program:
I downloaded the program for Windows and you can see here that you have a complete overview of your cameras. Of course, you can have several cameras connected to the same program, so you can have full surveillance of your home.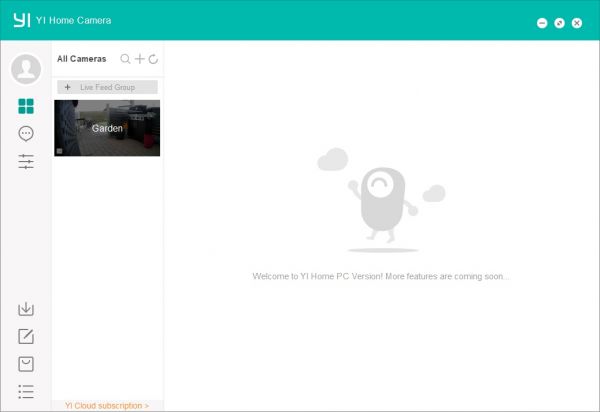 It is possible to watch the activity from the camera so you can see what is happening. All these activities will also give notification on the mobile app, which is probably the primary tool. But when you get an important activity, you can get on the big screen and investigate what's happening. I think that's pretty cool.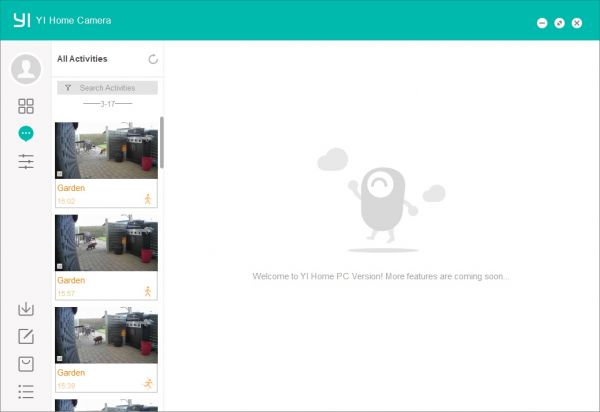 It is possible to watch live broadcast from the camera and you can move around from the program as this camera is motor controlled. The technical settings are put in the mobile app, but you can do the basic things in this program.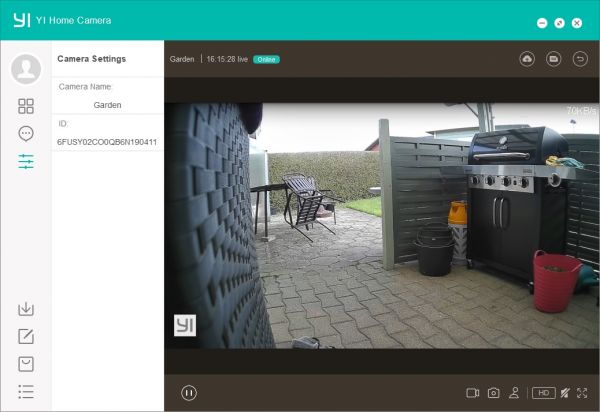 Mobile app:
The mobile app is called YI Home and you can install all your YI devices here. It provides a good overview, and it can be integrated into Google Home, so you can use your Google Assistant to manage and look at the devices. Camera requires smart screen, or chromecast.
In the mobile app, they very much want to sell you the cloud solution. However, I have not needed it as I can see it all anyway. I have put a small SD card in the camera, so I have the opportunity to save both movies and pictures. Of course, it's a shame if the thieves steal the camera or the SD card, the Cloud solution will then be handy.
It is possible to tell the app whether you are at home or away, which can then change settings depending on your choice. Some may want to turn the camera off when they are at home, so this is an option here.
With the app you can control the camera with a joystick, and you can bookmark directions that you can use later. There is the option of intercom so you can talk to those who are on camera so if you just want to talk to your kids or you want to tell the thief you have him on camera and the neighbor is on his way with his hunting rifle. Yes, then you have that opportunity.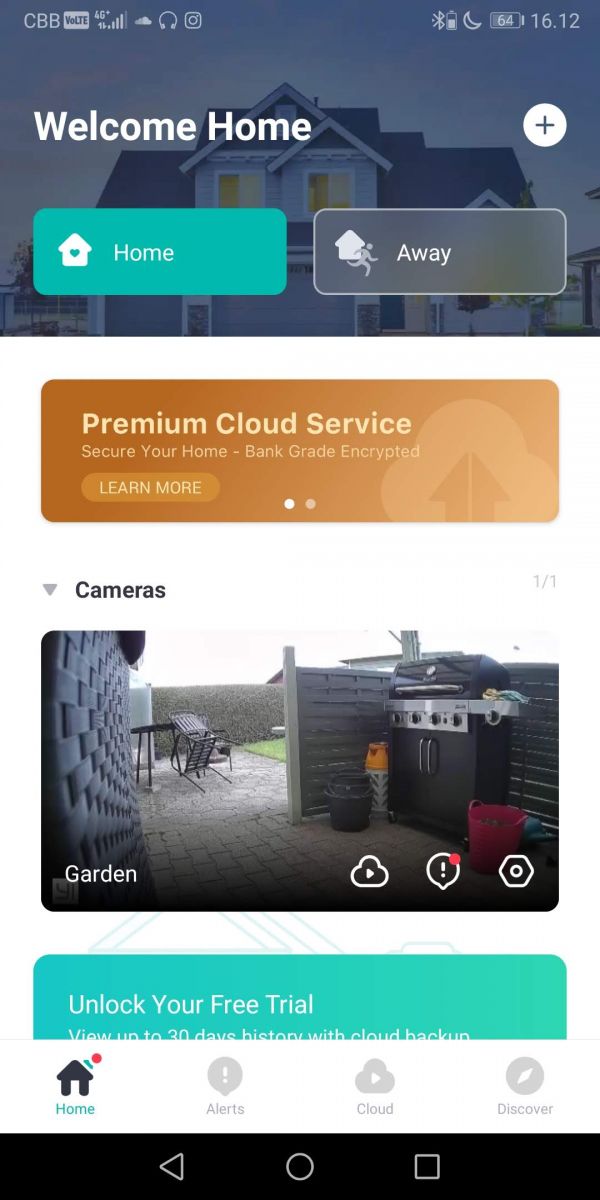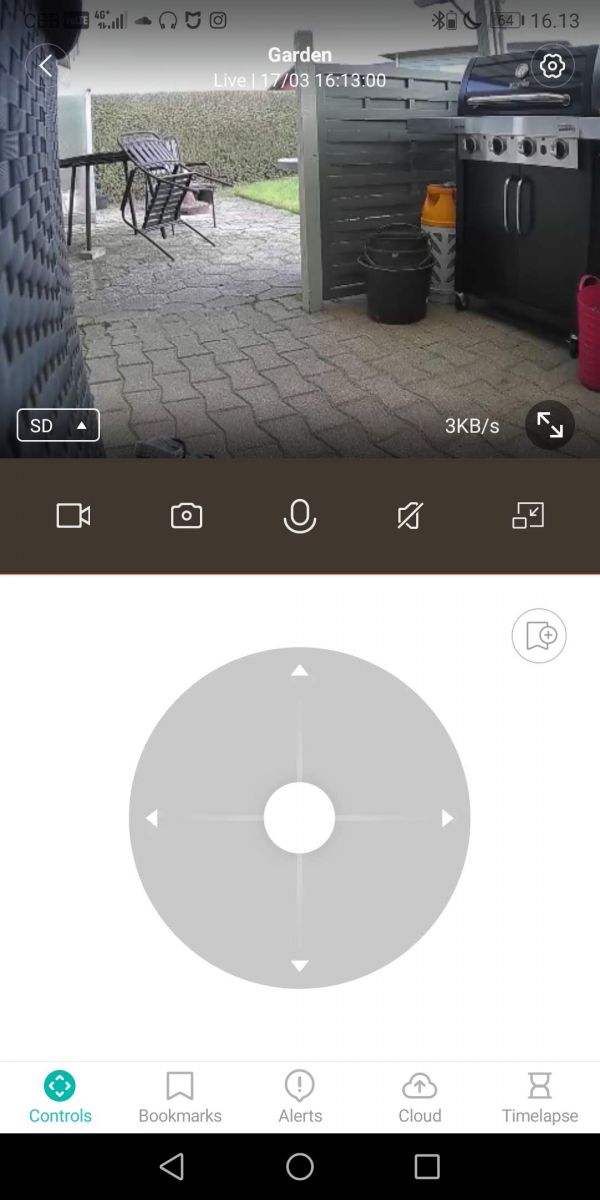 There are many options and settings. The main settings are accessed from this menu, where you can name the camera, give it location, get information about the state of the SD card, turn off the camera, decide what notifications you should have overall and switch on or off to record during activity on camera.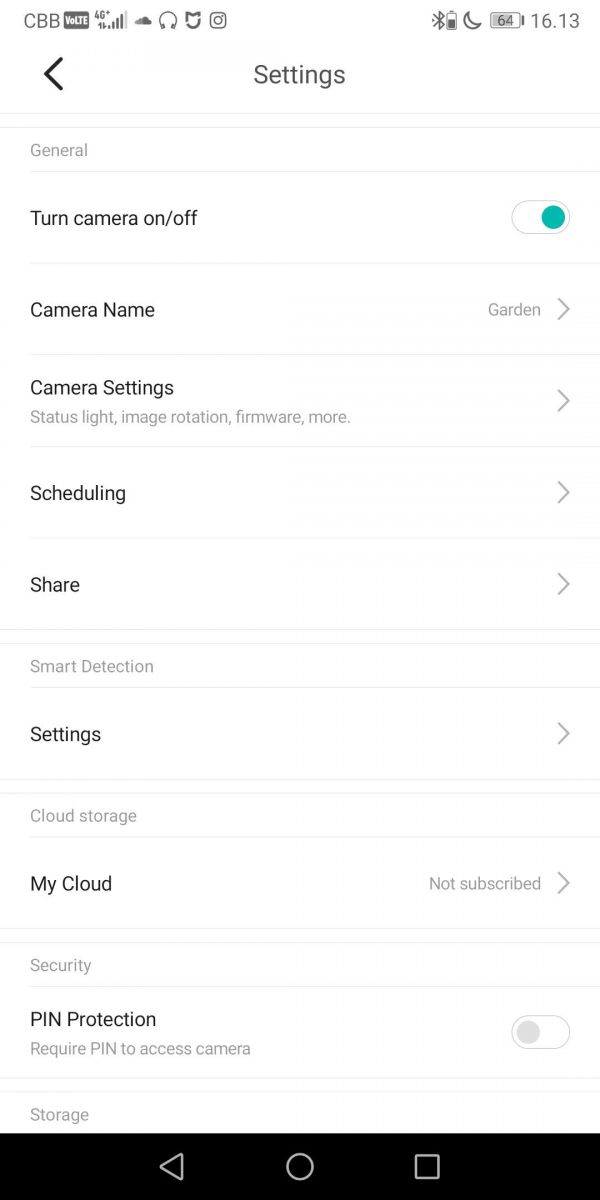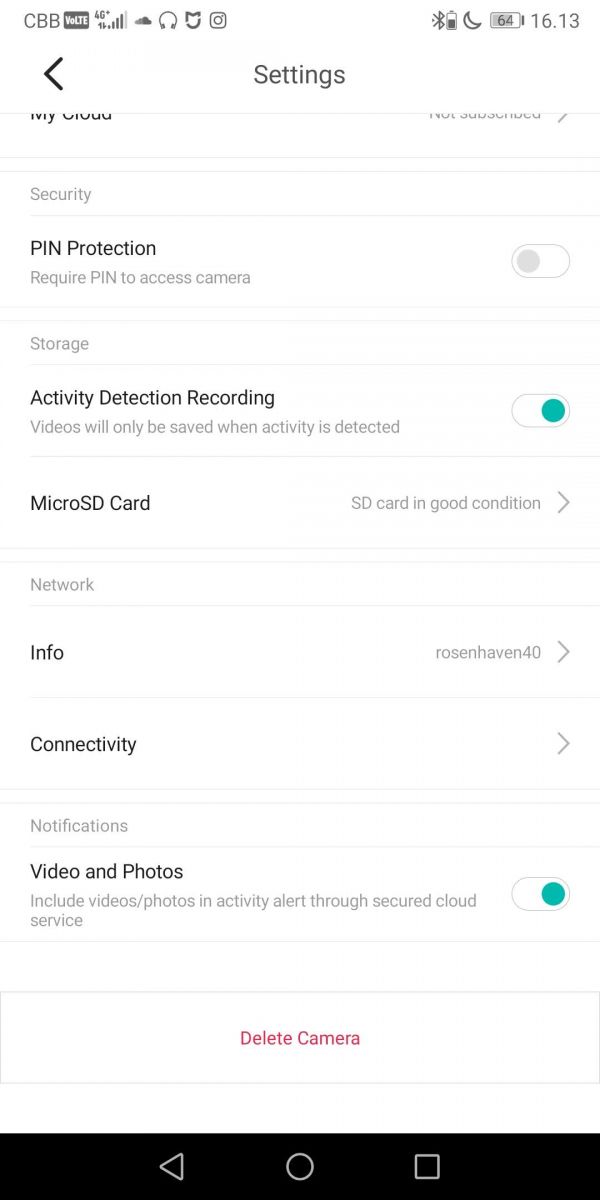 If you go a little deeper in the settings, you can decide under camera settings whether the camera must have the diode on or off, if the image is to be turned (If you place a camera in the ceiling) and whether the camera's microphone must be activated (nanny cam). There is also the option to turn the infrared light off or on so the camera can see clearly at night, motion tracking (follows the motion being captured) and auto cruise (Where the camera travels between different points of your choice, or automatically)
In smart detection, you can switch off and on whether it should respond to movement at all. Then it can distinguish whether it is people or other things it sees (it doesn't works so well). You can set the sensitivity, choose whether it should respond to sound and how high it must be before giving a notification. Then there is the cooldown time between notifications and then you can decide when the camera should be active.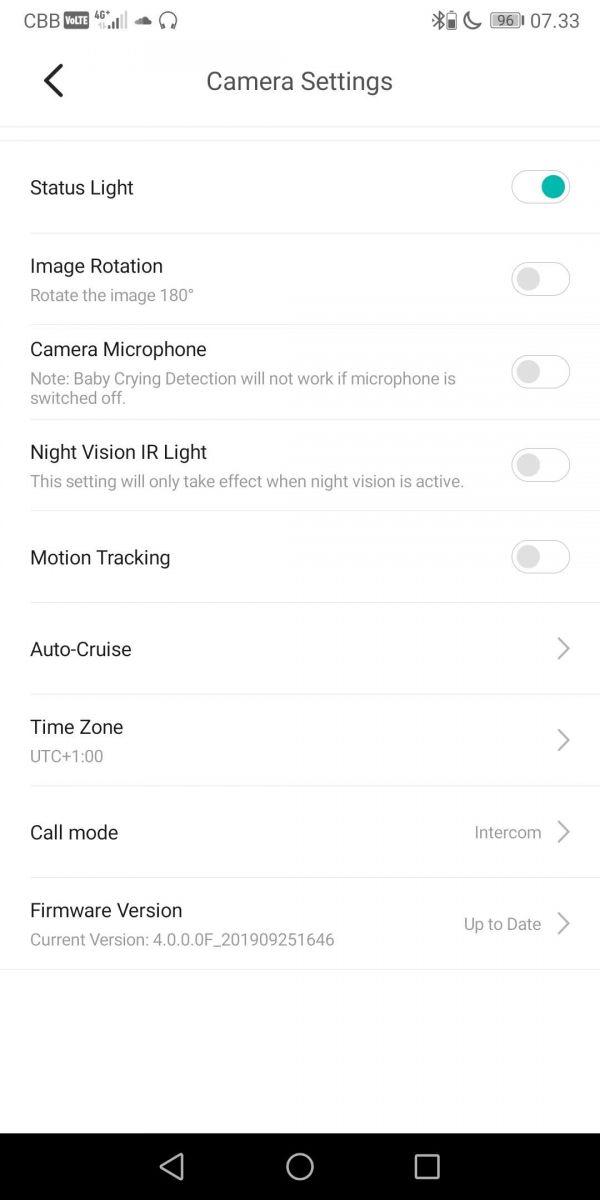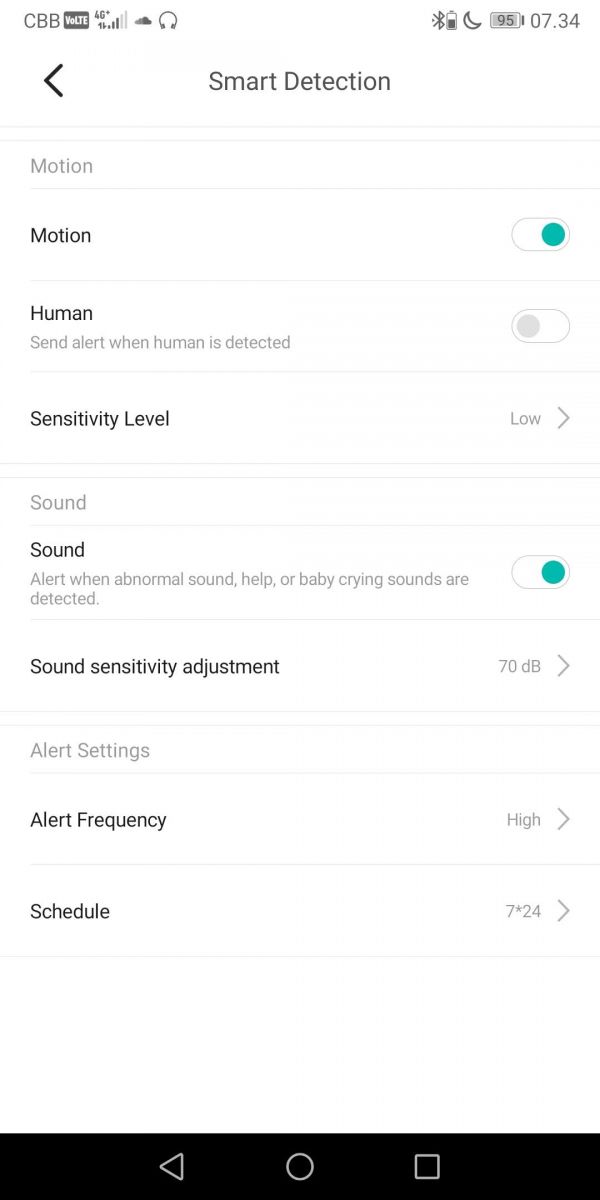 The test:
The camera is easy to connect once you have downloaded the app for it. Everything is self explanatory and straightforward.
I have tried to place the camera in different places and there are pros and cons to different locations.
You can take pictures with the app, which you then can save. You can do that from the live feed, and it looks pretty good.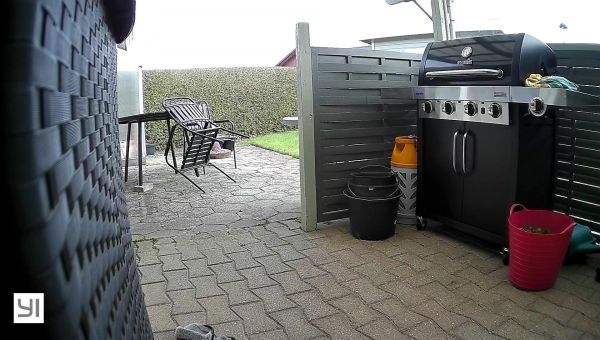 The camera can record both during the day and at night. At night, it uses infrared diodes to illuminate, that is, not ordinary light, but light that the eye cannot see.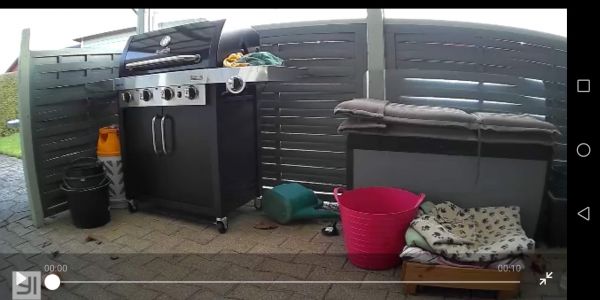 As you can see, it works pretty well and it goes a long way. Of course not as a powerful lamp, but it is as good as it can for such a small camera. Note it is in grayscale when recording at night.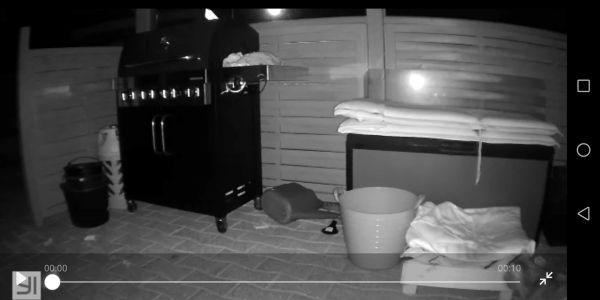 If you want to put your camera inside, and shoot out a window, you get this picture when it is night. You can't use the infrared light, which means that the images get dark at night. So, if you are going to shoot outside at night, then you should probably buy an outdoor camera.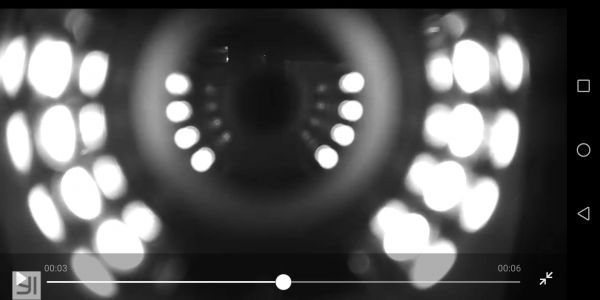 The technical settings:
Of course, I have been playing around with the various technical settings, and here is my little note on them.
You get notifications no matter what. I have tried to enable Human detection, set sensitivity to low, and alert frequency to low. But no matter what, I get notifications, even with the slightest movement. When a bird flies by in the back, or even when a night-fly flutters in the air. It's just too sensitive, and adjusting the sensitivity doesn't really seem to work.
The same goes for human detection. It doesn't work right and you get all notifications no matter what. You can't set that you only want to receive notifications about people in the picture. It's a bit of a shame, but probably more because this camera is intended for surveillance, and not security. As for example in stores.
YI also show that when it comes to the auto-cruise feature, which allows the camera itself to move at intervals between different locations it then records. So, for example, you can monitor some things at different places, and then find out if something is moving or disappearing. It's smart, but you have to know the purpose.
On the other hand, it works really well with motion tracking, with the camera tracking the movement. Our cat has passed by several times, and the camera has followed it, so it definitely works as it should.
What is my opinion of the YI Dome X camera.
I see YI Dome X more as a surveillance camera than a camera designed for home security.
My experience is that you get too many notifications and the planning for when to record and not to record is rather limited. It could have been great with an easy option to turn camera off and on without having to go into the app.
If you point the camera in the garden where birds fly by and there are constantly small movements, you will quickly become tired of notifications. The sensitivity itself does not appear to be working and the technical settings not working so well.
Of advantages to mention is, that the camera is very quiet when running with the motors. It is not noticed at all, even our cat doesn't care that the camera turns and follows it. It also seems that the camera is built to a fairly good quality, it is heavy, and works perfectly firm and stable when turning the various joints by hand (when not connected) So it is really good.
For surveillance in, for example, a store, I think it will be really good, especially with the auto cruise feature, where you can set the camera to keep track of different places in storage or in the store.
It will also be good for child monitoring as you can set it up as a nanny cam. Then it will respond when there is sound in the room, and you can talk to the child until you arrive and comfort it. I think that is really good too.
The Pricing:
This camera can be purchased for just under 700 DKK. Some will think it's a high price, but if you think about what the purpose of the camera is and what it can do. Then it's probably not so bad.
The final assessment.
YI has, in my opinion, made an excellent surveillance camera with the Dome X. However, it is probably more intended as a nanny cam or for in-store surveillance where you do not need notifications, unless it is an area with little movement. I hope YI gets their app updated so that sensitivity and notifications get better. Then this camera will certainly be good for private in active environments as well. It makes me give the camera a nice SILVER rating, as there is still some way to complete satisfaction for private use.
Optionally, buy your camera here:
https://www.mistore.dk/lyd-video-billed/overvagningskamera/yi-dome-x
Read more about the camera here:
https://www.yitechnology.com/yi-dome-x-y30/