Amazfit Stratos 3 Fitness Watch
Amazifit, a company under the Xiaomi umbrella. They make smart watches and sports trackers of the highest quality and packed with features. In this review, we will take a look at the new Amazifit Stratos 3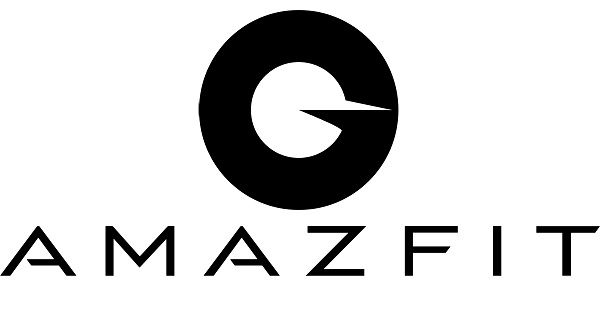 Packing and accessories.
You receive a nice small box with realistic illustrations and technical information printed on the outside.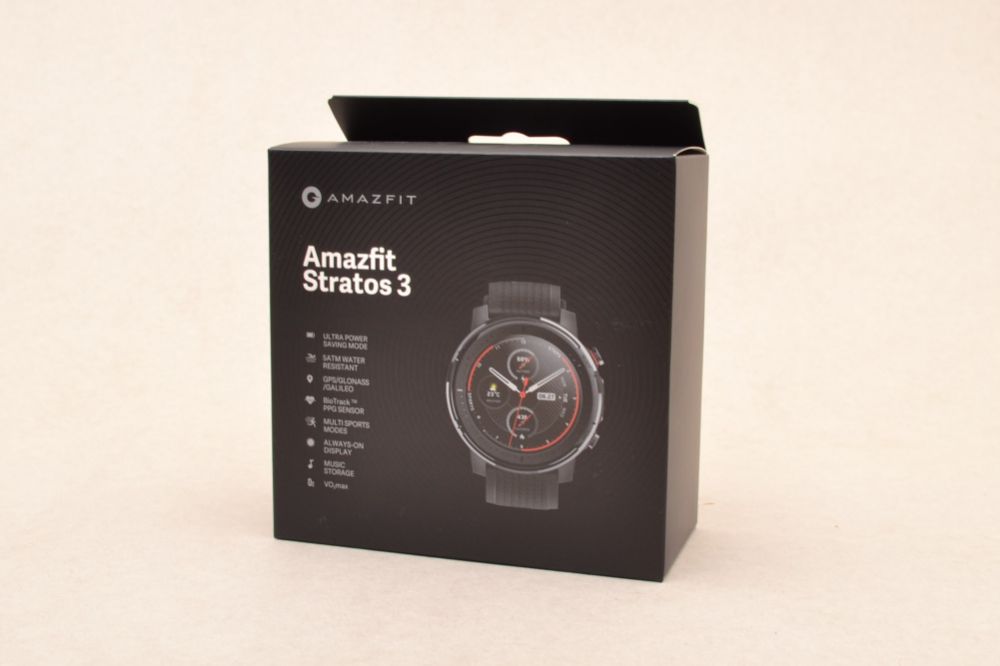 When you open the box for the first time, you are met by the neat watch directly. It is nicely presented in the box, so you want to start using it right away.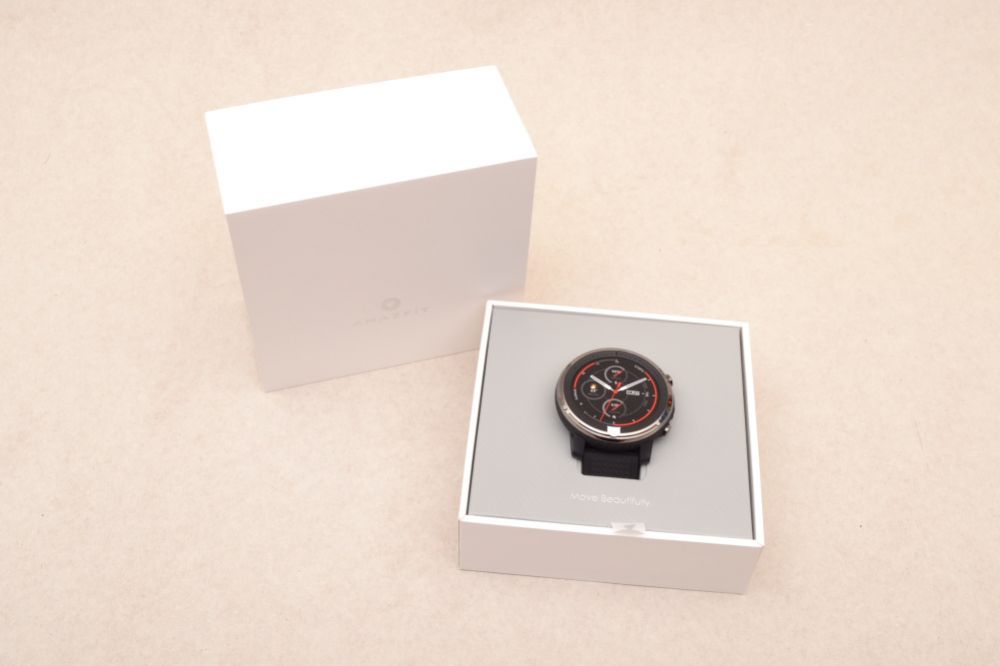 Inside the box itself we find a magnetic charging dock, a user manual and a warranty description. It's not a lot of accessories, but it is what you need.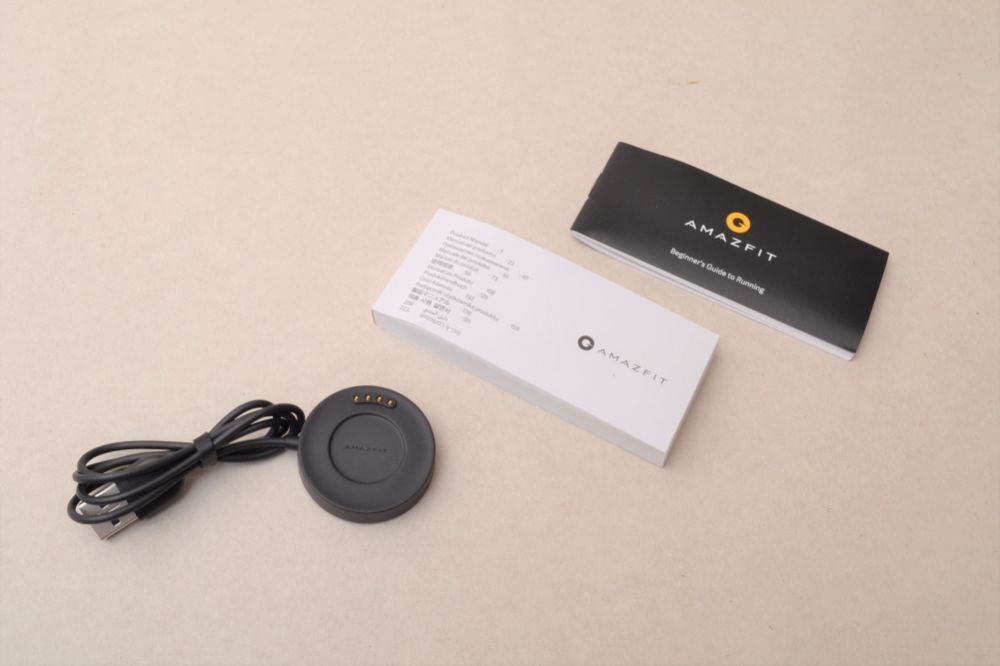 The technical specifications.
The watch has a diameter of just under 5 centiates, which makes it a men's watch. It is relatively large, but there can also be a lot of information on the screen at the same time (I show in the test section) Besides that, the box is made of plastic and the frame in steel. The glass is made of glass for best protection against scratches. The watch can withstand up to 50 meters in water and the battery can last up to 14 days on a charge. (Ultra save mode) Bluetooth and WiFi connectivity is possible, and the watch has a lot of ​​built-in sensors. All very promising.
Case Diameter: 48.6 mm
Case Thickness: 13.4 mm
Weight (without strap): Approx. 40.4 g
Body Material: 316L stainless steel and zirconia ceramic bezel, reinforced plastic bottom case, 316L stainless steel button and U-shaped frame
Strap Material: SiliconeStrap Length120 mm (long), 75 mm (short)Strap Width22 mm
Waterproof Rating: 5 ATM (up to 50 meters water depth)
Display: 1.34" full round MIP Transflective TFT Resolution 320 x 320
Touch Screen: Corning Gorilla 3 generation tempered glass + anti-fingerprint coating
Sensors:
BioTracker™ PPG Bio-Tracking optical sensor
6-axis acceleration sensor
3-axis geomagnetic sensor
Air pressure sensor
Connectivity:
Bluetooth 4.2 + BLE 5.0
WiFi 2.4GHz 802.11 b/g/n
Multiple Positioning: Four Satellites Three Modes (GPS + GLONASS / GPS + Galileo / GPS + BEIDOU)
Battery: 300mAh lithium-ion polymer battery (typical value)
Charging Time: About 2.5 hours
Charging Method: USB Magnetic charging stand / 4-pins POGO pin
Battery LifeSmart mode: 7 days
Factory default settings and heart rate always on.
Per day: Receive 150 messages, lift the wrist to see the time 30 times, 30 minutes of outdoor sports, 5 minutes of other operations.
Ultra endurance mode: 14 days
Factory default settings and heart rate always on.
Per day: Receive 150 messages, lift the wrist to see the time 30 times, 30 minutes of outdoor sports, 5 minutes of other operations.
GPS continuous working time:
Accurate Mode:35 hours (Access Heart Rate monitor, touch function, access notifications, always-on & low consumption LCD, raise wrist to update data 10 times per hour, GPS records once per second)
Balanced Mode:45 hours (Access Heart Rate monitor, touch function, access notifications, always-on & low consumption LCD, raise wrist to update data 10 times per hour, GPS records once every 5 seconds)
Power Saving Mode:70 hours (Turnoff heart rate monitor and touch function, turnoff notifications, always-on & low consumption LCD, raise wrist to update data 10 times per hour, GPS records once every minute)
Note: The GPS can be adjusted in 3 sports modes: Trail Running, Outdoor Walking and Climbing, other sports modes can only use the Accurate GPS mode.
Operating: SystemAmazfit
OS Supported Devices: Android 5.0 or iOS 10.0 and above
Accessories: Magnetic charging stand, user manual Application
A closer oook at the watch.
The watch is a neat classic sports watch with buttons on the side. It has a nice design, without being overly flashy.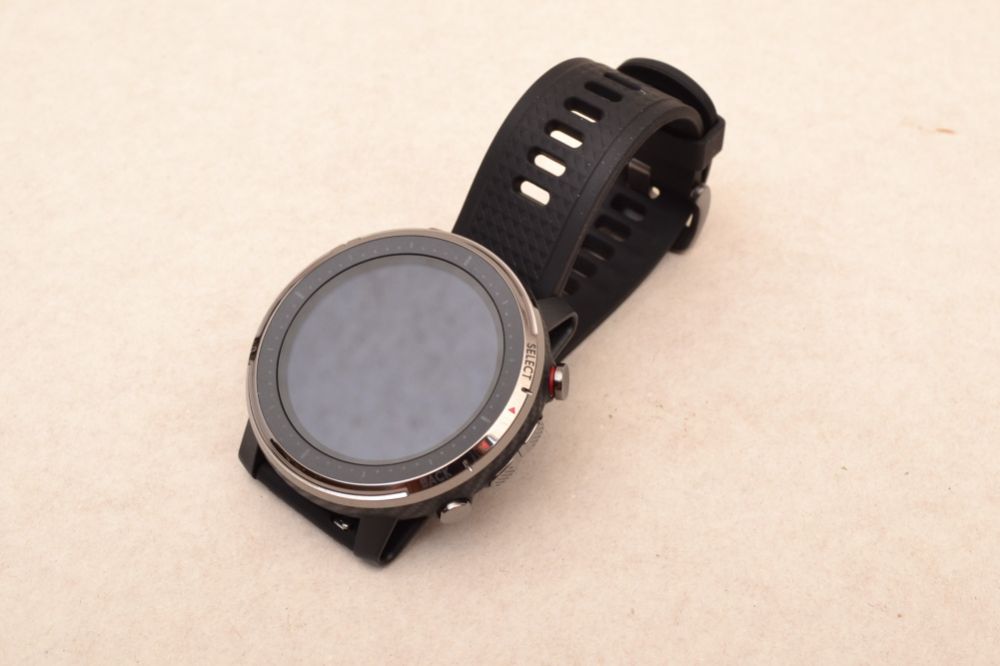 The steel frame fits well with the rest, and the belt is good and strong, so you are sure it holds. The box has got a carbon look, which I don't quite understand, but that's probably because it should look a little more raw and durable than if it were just plain plastic.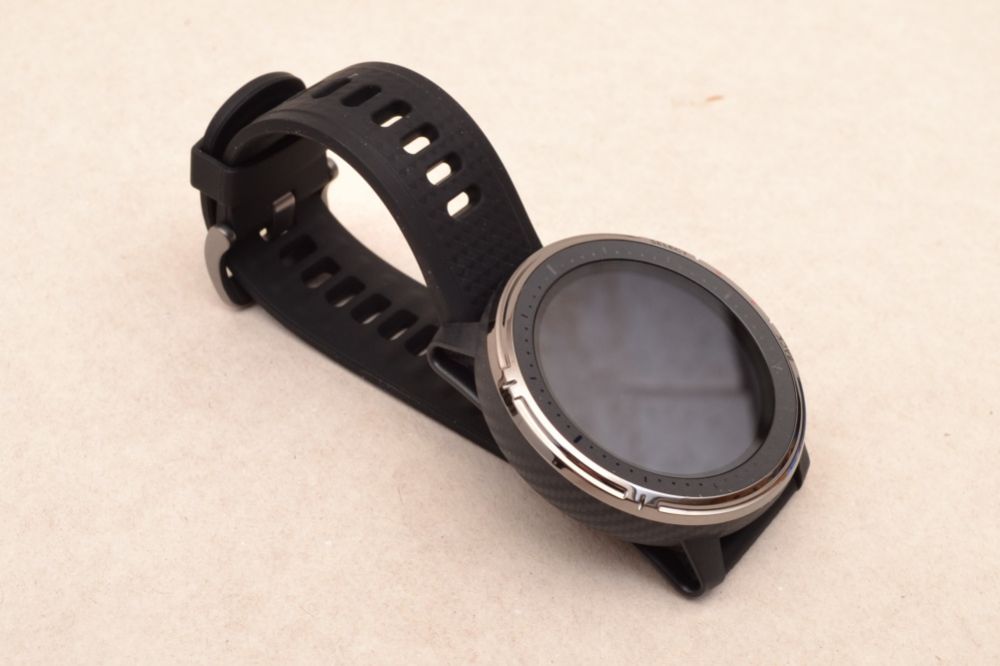 On the side of the watch we find 4 buttons. They are nicely designed to easily navigate the menus, and on the frame there is clearly written what the buttons are used for. So you do not have to guess even the first time you grab the watch. It's easy and straightforward.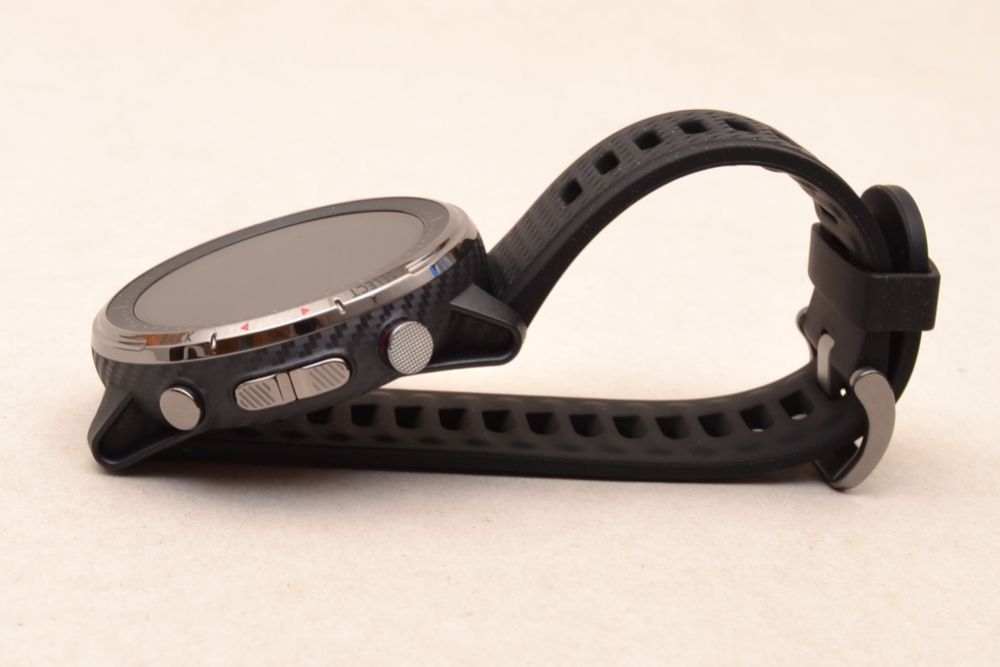 On the back of the watch we find the various sensors, and the charge / data connection. The watch is very flat on the underside compared to my older Garmin, which can easily make a rather deep hole in the wrist where the sensors are located. It provides good comfort. Note that the straps can easily be changed as the locks are easy to access from the outside.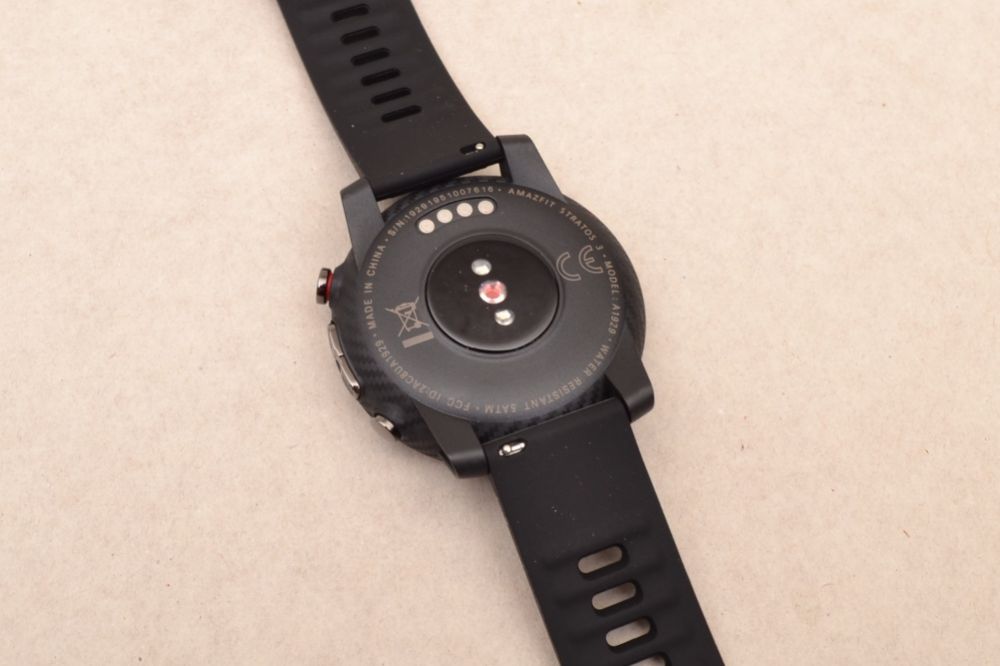 The Amzifit app.
The Amazifit app is somewhat different from the Garmin Connect which most people know, but it certainly does not make it any worse. You just have to get to know it.
The app, of course, allows for full tracking of how things are going on the given day, and of course there is also full history of all the data collected.
You have a lot of extra options in the app, which depends on which watch you have. But in the context of Stratos 3, you can control everything. It is possible to set alarms, goals for training and weight loss and much more.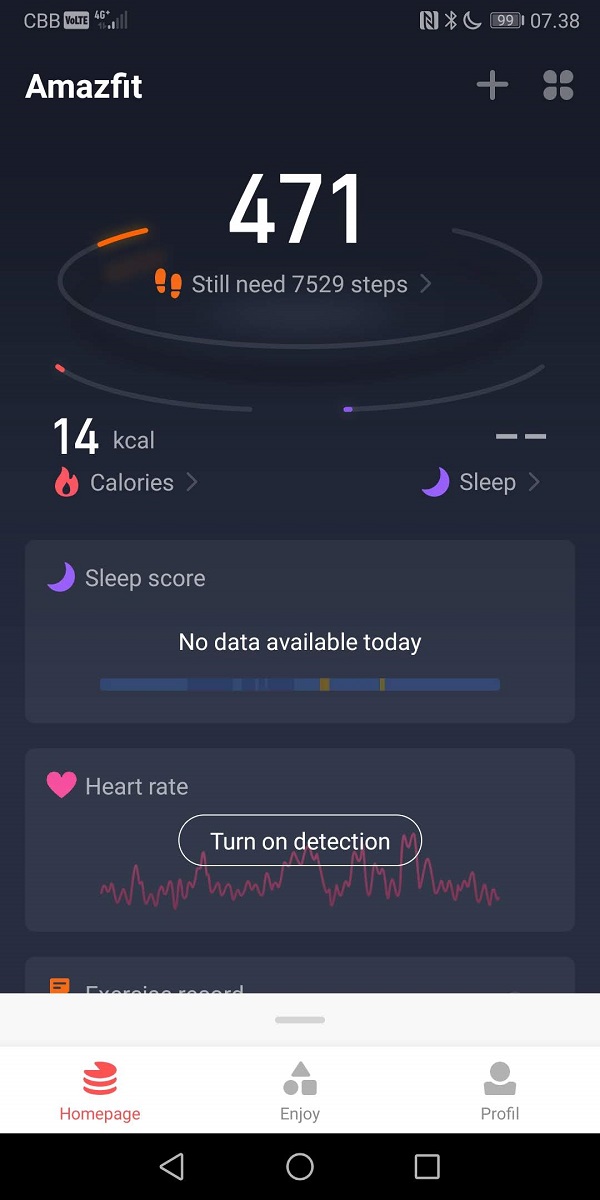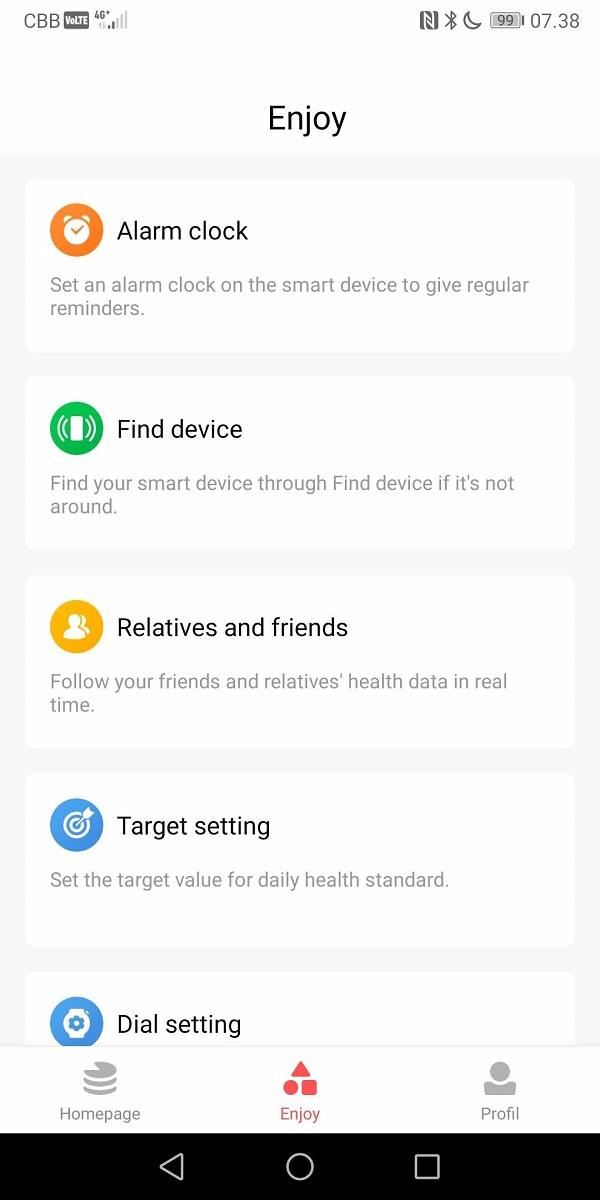 The setup itself is easy and straightforward and I like that you can control your watch completely from the app. That way, it is only if you want to start a workout, or control your music, that you need the screen or the buttons.
You can also install widgets on the watch so you can use the watch for much more than just sports tracking. It's pretty usefull.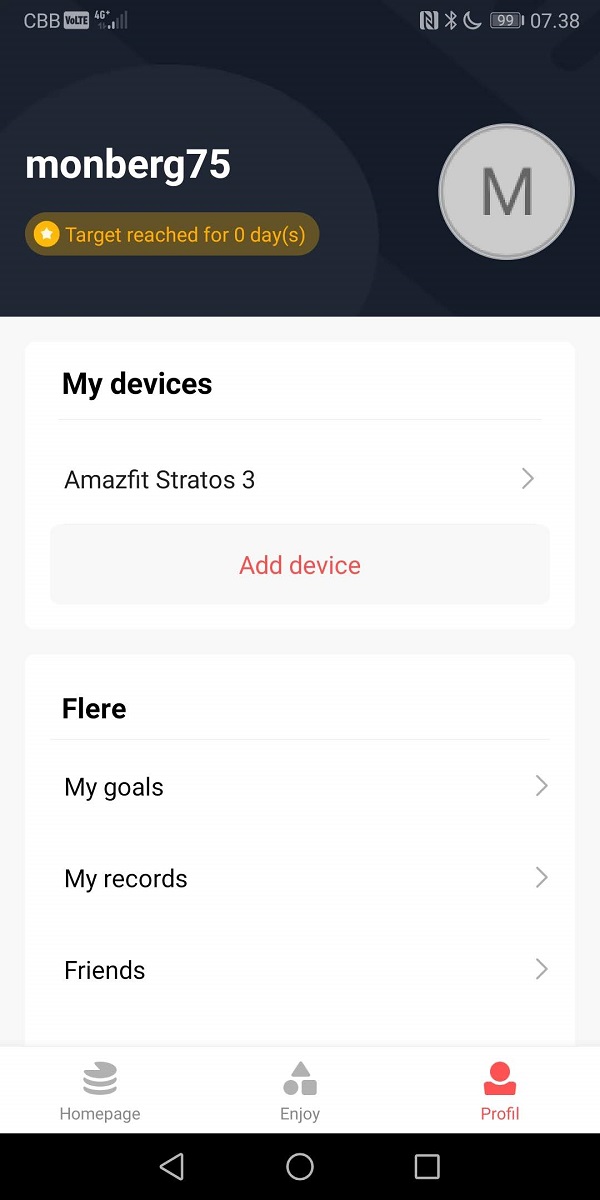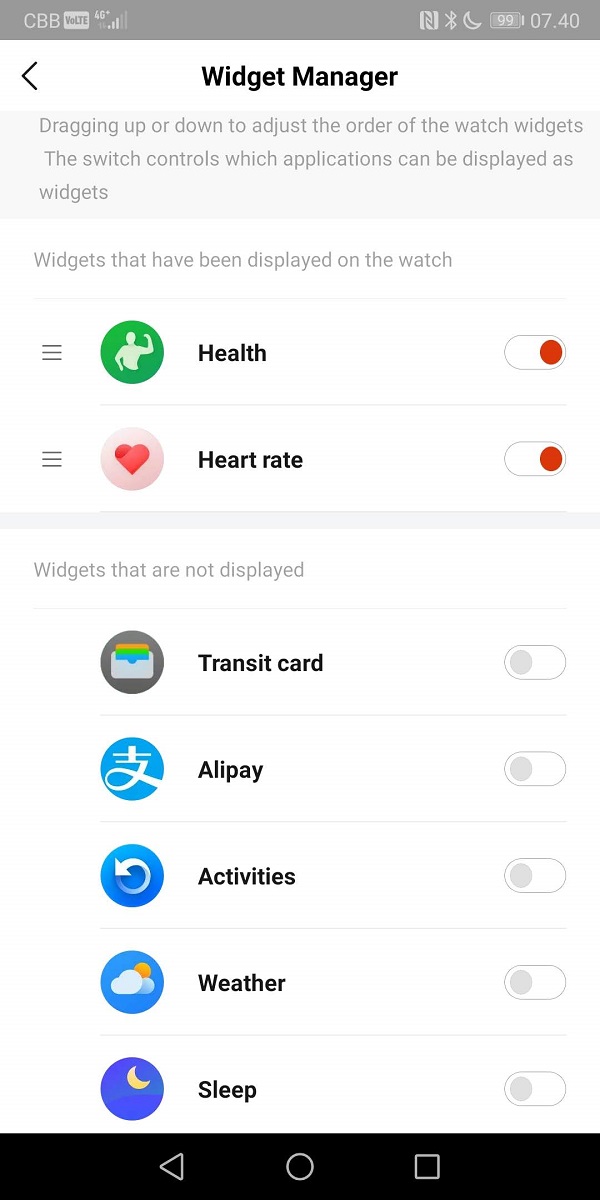 How isthe watch in use.
Normally I use a Garmin Vivosmart HR +, which is a small discreet sports watch.
The comfort:
The Amazifit Stratos 3 is great to wear. You pretty much don't notice that you're wearing it, and it's not that high, so you don't hit it with everything when you walkaround. The size also makes it quite comfortable to wear and the strap also makes the watch feel comfortable.
The tracking:
One can share a full tracking report that I have shown here. The clock tracks just about everything you could want once you have activated an activity. There is full GPS support so you can clearly see where the trip has gone and much more. What you don't get with Amazifit is all its data on a website. So all is done using the app. So if you change brand or something, you may not have all of your data on the web, but you must have the app installed. It's a bit of a shame, and definitely something I would miss.
Battery life:
There is no doubt that the watch has a good battery time. You can have up to 14 days running on a single charge if you enable ultra save mode. It's really impressive, and if you don't need full tracking and GPS, this is an option. Compared to my Garmin watch, this watch is super easy to recharge as the dock is magnetic and snaps into place. The magnet is powerful enough, so that you can put the watch for charging in a socket, hanging in the dock itself, which is great. Then you do not have to find a flat surface for the watch while it is charging.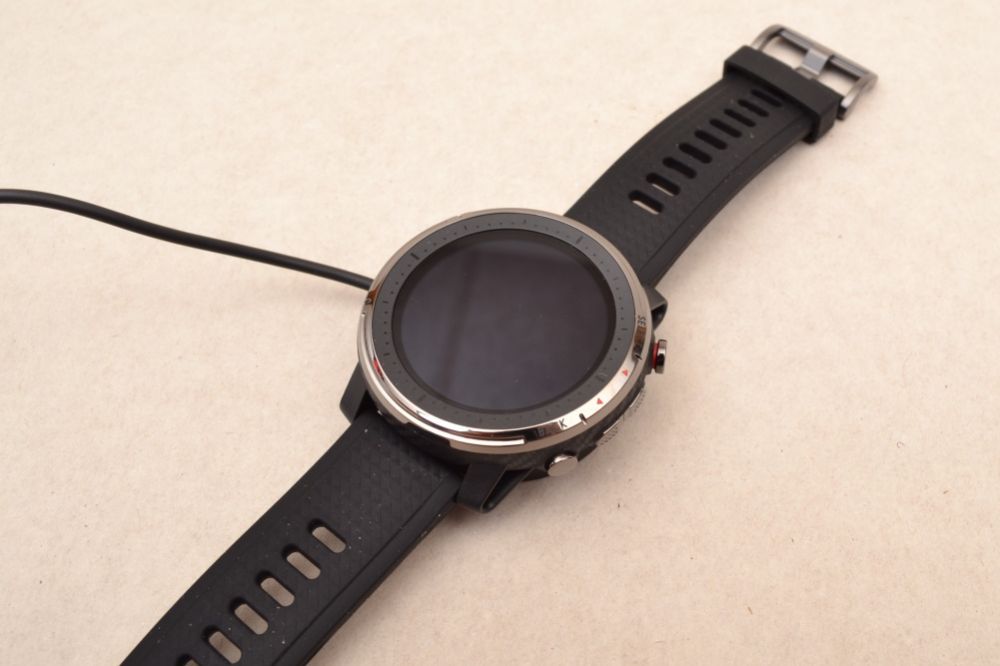 Operation:
The clock is operated using the buttons on the side or the touch screen. However, there are up / down buttons so you can almost operate the watch without having to touch the screen. There are a few screens where you have to make a choice on the screen itself, but that's also fine. The operation is super easy and straight forward.
The music player.
One of the cool things about this watch is that you do not have to bring your phone with you on the run when you exercise and want to hear music. The watch has 2 gigabytes of memory, which is enough for about 400 MP3 tracks. So there's enough music for a long run. The watch can pair with your bluetooth headset directly, so you can safely leave your phone at home when you're out doing sports.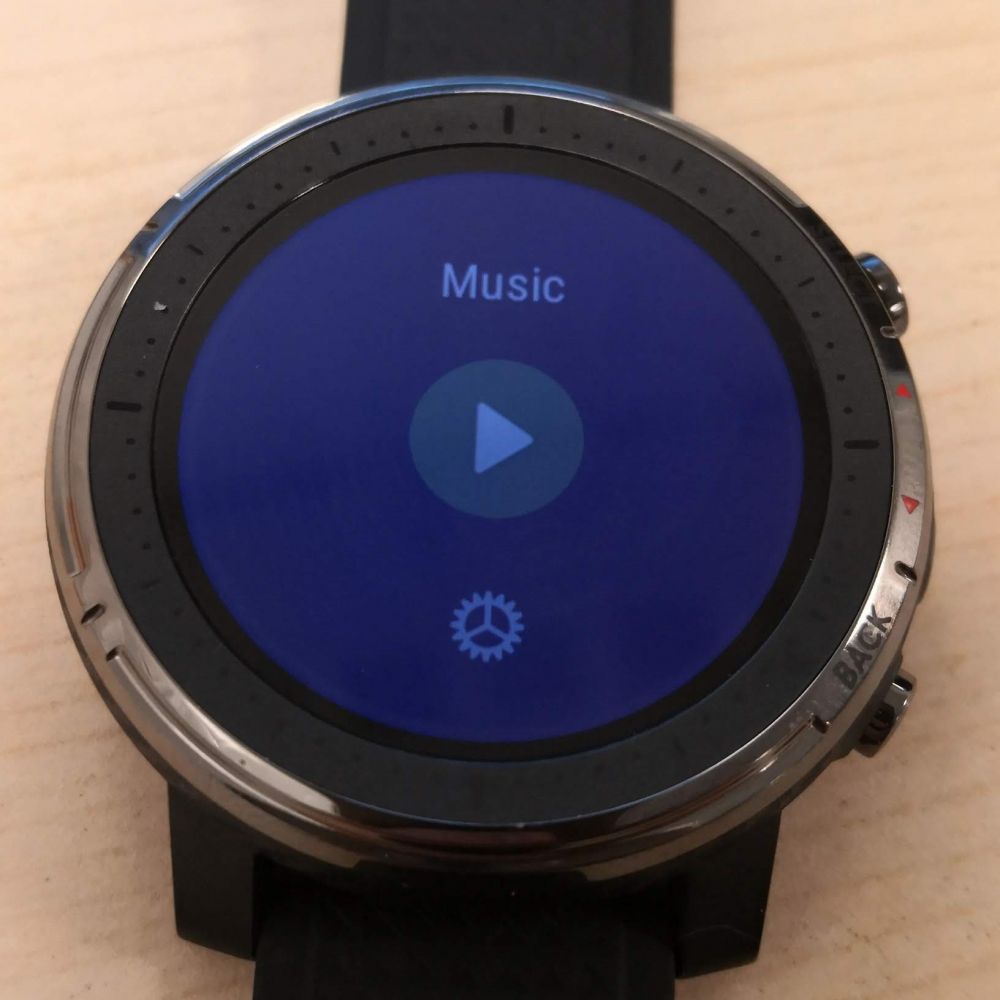 The screen:
So far, the watch has the opportunity for these different faces. It looks super fancy in the picture, but it gets really small when it's all on the small screen. You have to get used to it. Personally, I think the different faces are pretty dark, and I miss some faces that look like a handsome gentleman watch, and which may have a light back with dark dials. Most faces are very technical, but that may not always be an advantage. Sometimes discretion and elegance is important.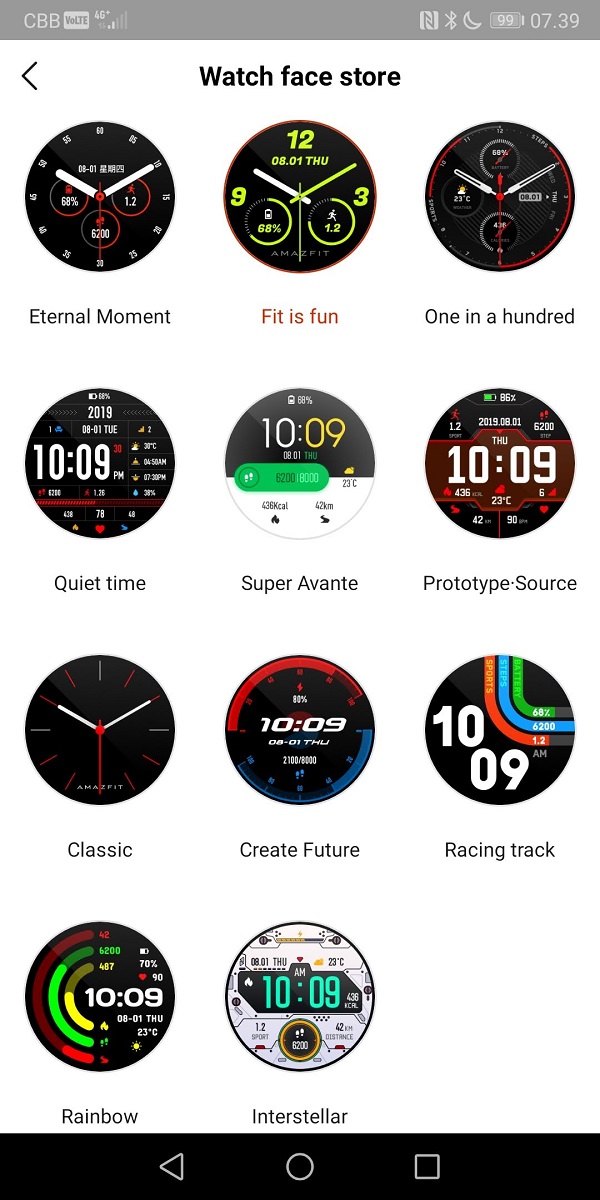 The light in the screen is probably one of the biggest criticisms of this watch. In general, the screen is a bit dim in it when the backlight is not turned on. It is often a bit difficult to see what time it is, which means you turn on the light. When you turn on the light, the screen gets a dull blue color that is everywhere. In general, an OLED screen would have been preferable to a gadget like this one. The screen is the most important thing about this gadget, it's the one you need for everything, and it's the one you depend on for a watch.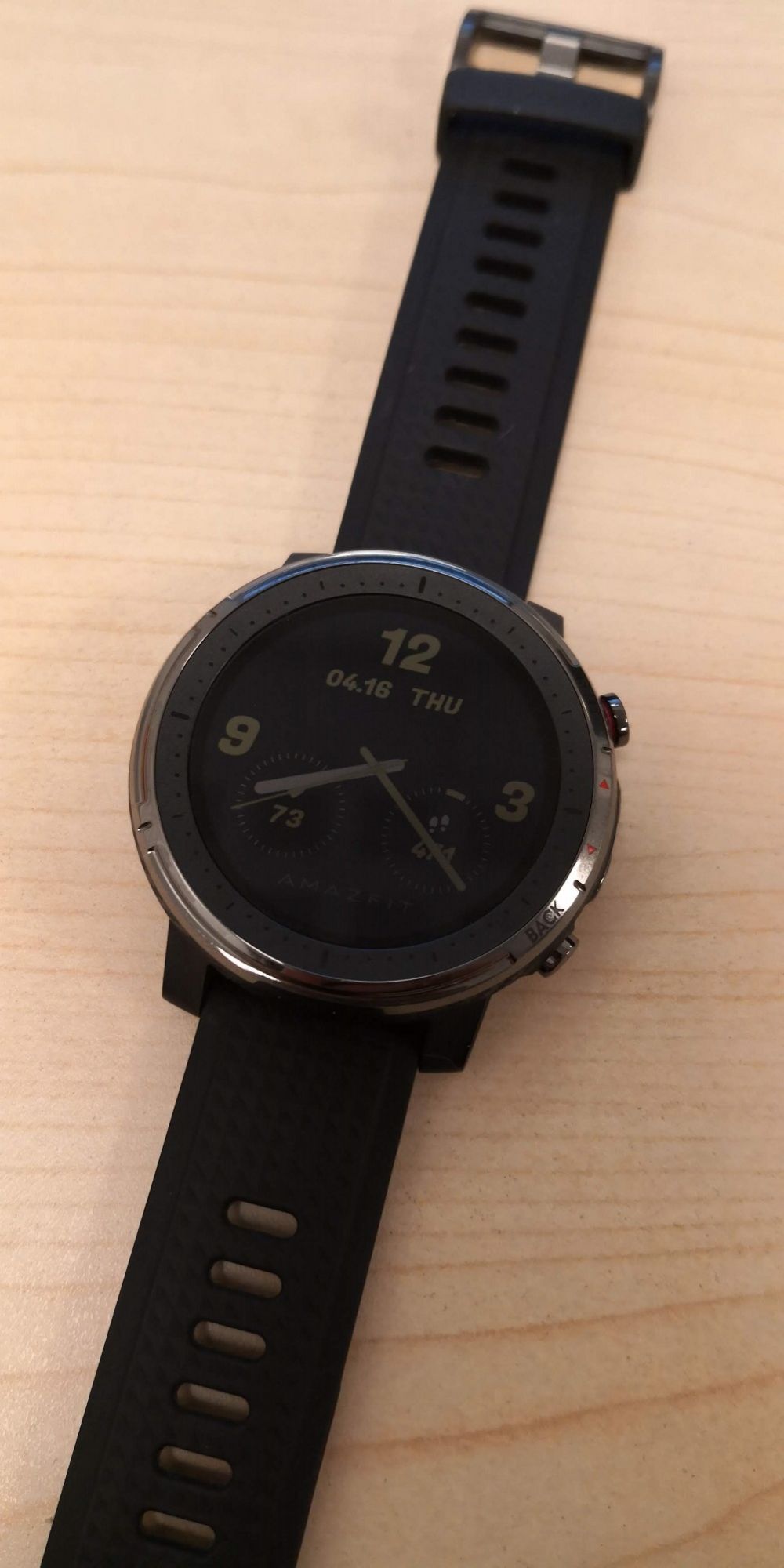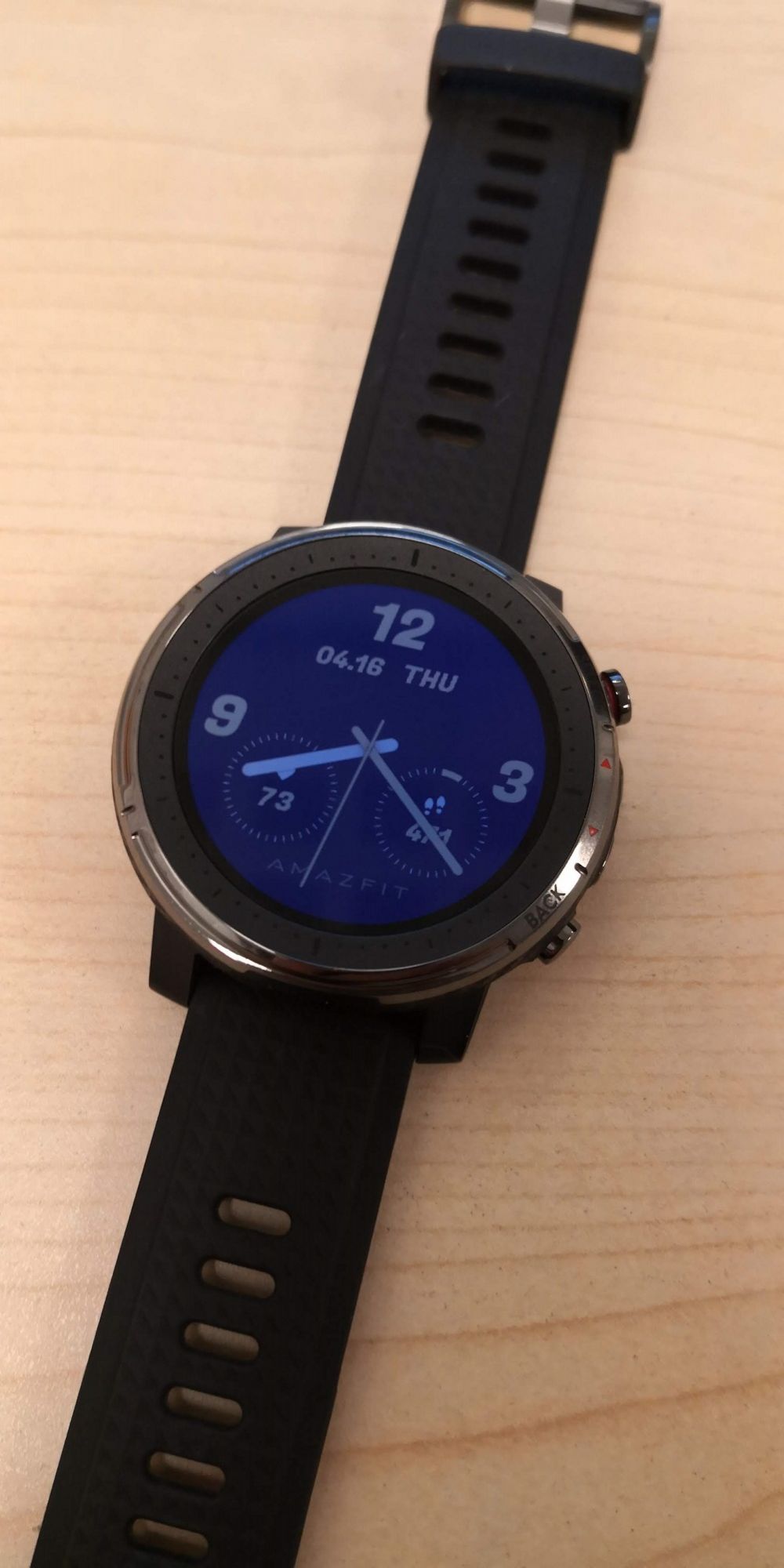 What is my opinion of Amazifit Stratos 3.
I have used the watch daily during my test period, and have actually been very happy with it. It should be no secret that I am not a sports fanatic by any means, but I think it is good and motivating that I can see how much I have moved the different days.
There is no doubt that Amazifit Stratos 3 is a potent sports tracker, and it also measures everything with convincing precision. This applies to both body measurements and movements using GPS. There are plenty of training options and you can put all your personal data into the watch right down to the waistline and much more.
The watch is quite elegant in appearance, and can easily be used both for the meeting, the party and when you are out playing sports. However, I personally lack some nice faces for the watch, without all the technical details. It would be great to have, for example, going to a wedding or another nice event, so that the watch could look more like a classic watch than one I use when traveling in space.
Then there's the display itself, which I think is the watch's biggest flaw. The screen itself is quite dark, and can be quite difficult to read without light. The dark faces don't make it any easier either. When the light is turned on, the face becomes completely blue by the light and all the colors are distorted. It's a shame, since everything else is great and good.
The pricing:
The watch costs just under 2000 DKK in the Danish stores, which is a fairly high price. If you compare with other brands and watches, then you can get a lot of watches in this price range, or lower, so the competition is big.
My final assessment.
When I compare with other watches, with the same features, and in the same or cheaper price range. Then I land on a nice SILVER rating. There is no doubt that you get a nice watch, but personally I think the light in the watch is annoying and that the display is generally too poor. I was expecting a razor-sharp and colorful display at that price.
Read more about the product here:
https://en.amazfit.com/stratos-3.html