Mi True Wireless Earbuds
In this review, we are going to look at a couple of earbuds, which are the new variety in mobile headsets. They are from Xiaomi, and are called Mi True Wireless Earbuds.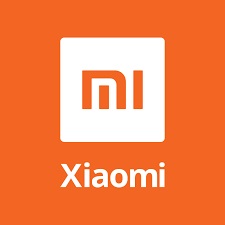 Xiaomi is the world's fourth-largest mobile provider. According to Forbes, Xiaomi's founder and CEO, Lei Jun, is the 11th richest person in China. Xiaomi released its first smartphone in August 2011 and quickly gained a large market share in China, so large that they became China's largest smartphone company in 2014.
Let's take a look at the packaging and the content.
Mi True Wireless Earbuds comes in a small box with fine pictures of the product on the outside, as well as listed features and technical specifications.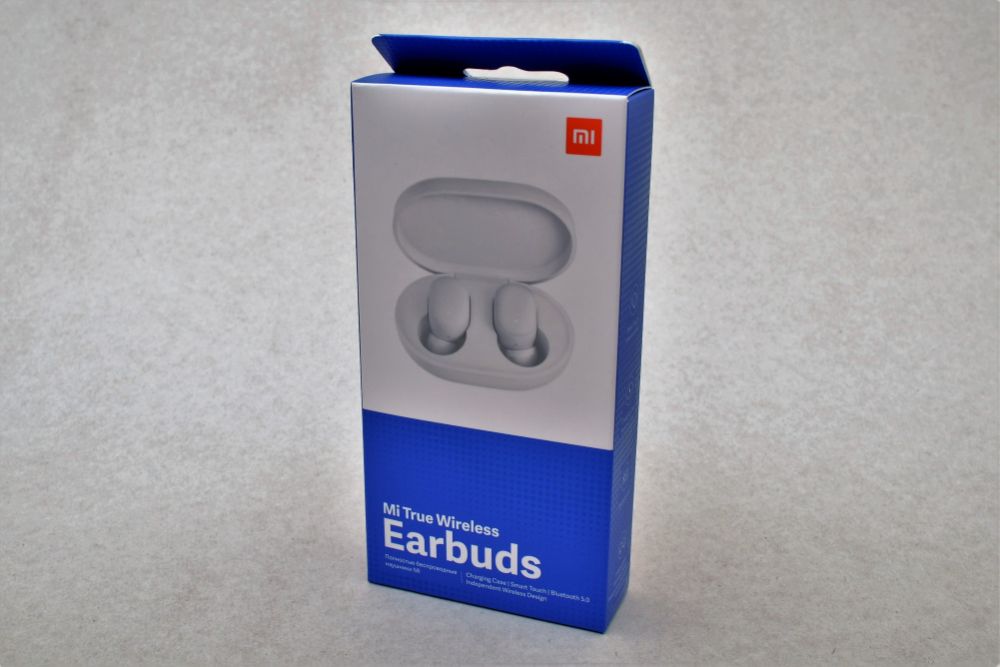 Inside the box, in addition to the headset in their holder, we also find a warranty description, a user guide, USB cable and extra silicone eartips.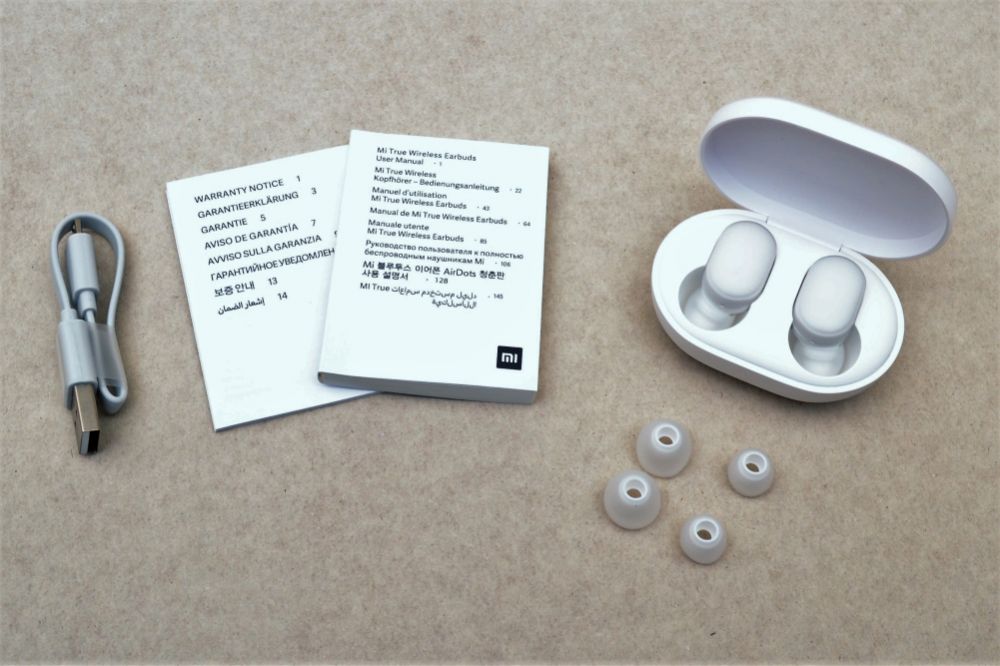 The technical specifications.
As you can see, playing time in these earbuds is good. There should probably be a couple of charges in the charger itself, so there is music for some good days. The specifications tell nothing about speaker units or other features, so unfortunately I can't write that.
Earbuds:
Wireless range: 10 m.
Playback time: 4 hours
Charging time: 1.5 hours
Standby time: 150 hours
Input: 5V 100mA
Battery: 43mAh LiPo (Per earbud)
Connection: Bluetooth 5.0
Charging Case:
Input: 5V 300mA
Output: 5V 150mA
Charging time: 2.5 hours
Battery: 300mAh LiPo
Let's take a look at the headset.
The small earphones are located in its charging box. It is not very big, we are talking 6 x 4 x 3 cm. It's a perfect small pocket size.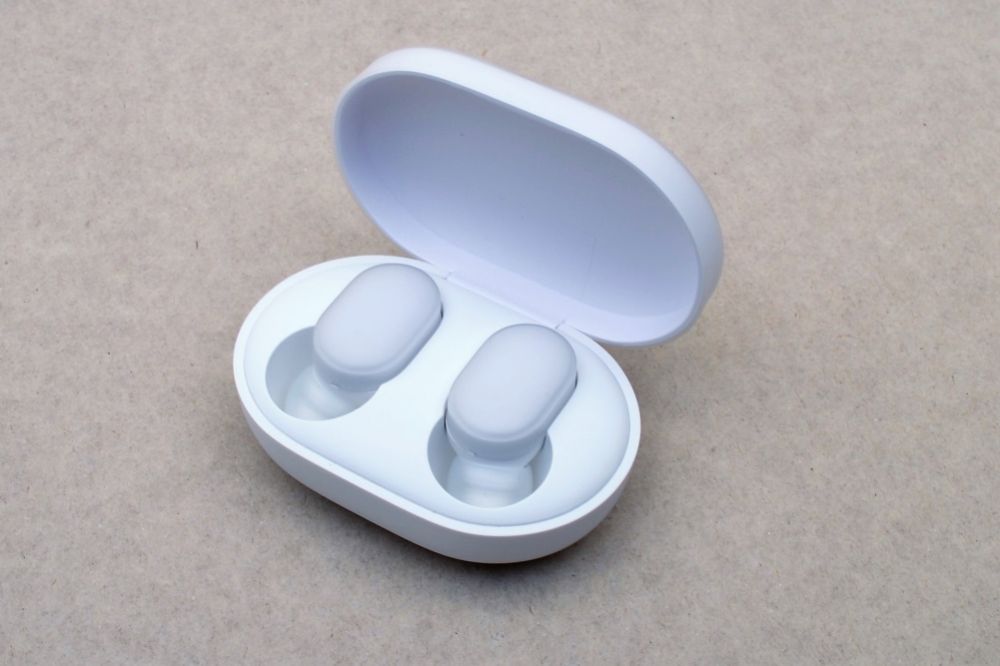 The earphones have good contact with the battery in the charger box with a few small contacts. The holder is magnetic, so they snap into place when you put them in the holes. It is a clever solution and keep them in place without losing contact even during harsh treatment. Then you always have freshly charged earphones for music.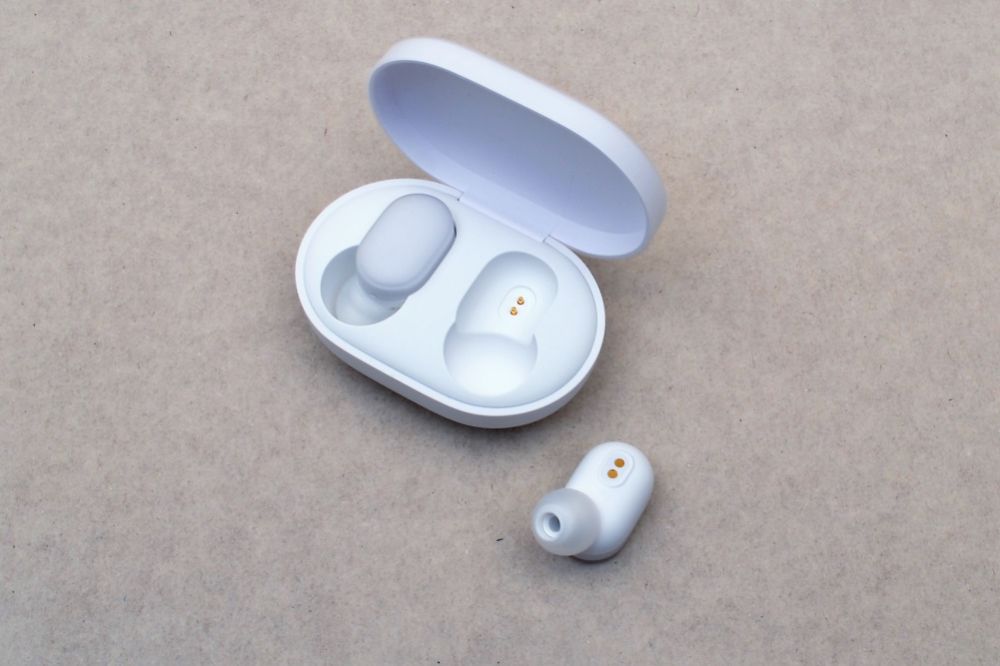 The earphones themselves are small and chubby. They are not specially shaped for the ear canals, as you see others are, but they are good anyway. And with a weight of only 14 grams per piece they do not wiggle much. You can run with them without losing them.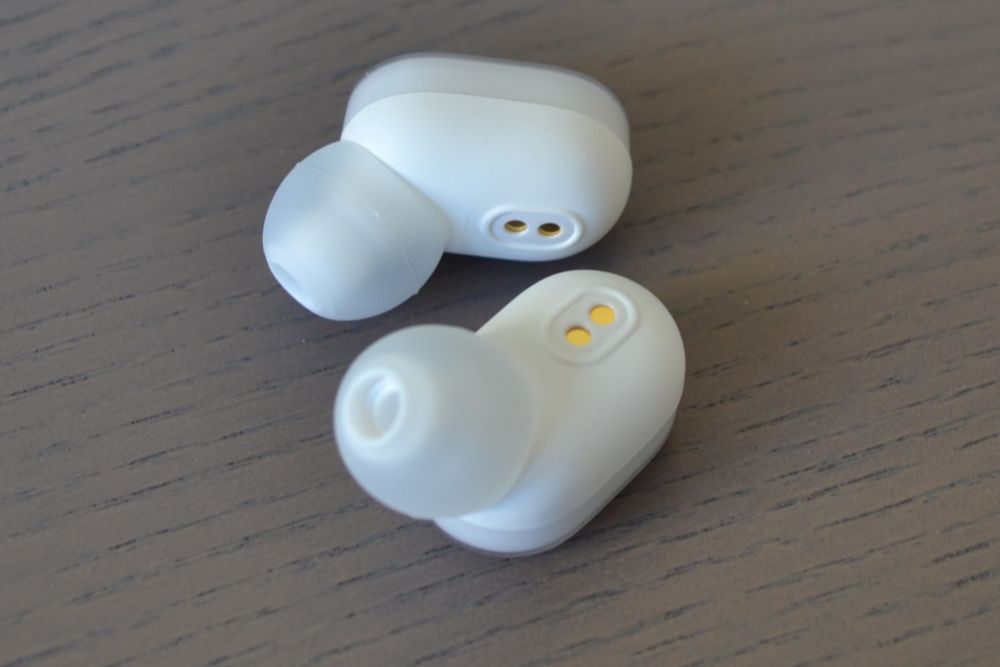 When you plug in the charger, all 3 devices are charged. It is clearly shown by a red diode turning on on all 3 devices which then turns white and after a while turns off when it is fully charged. It's easy and convenient and easy to find out.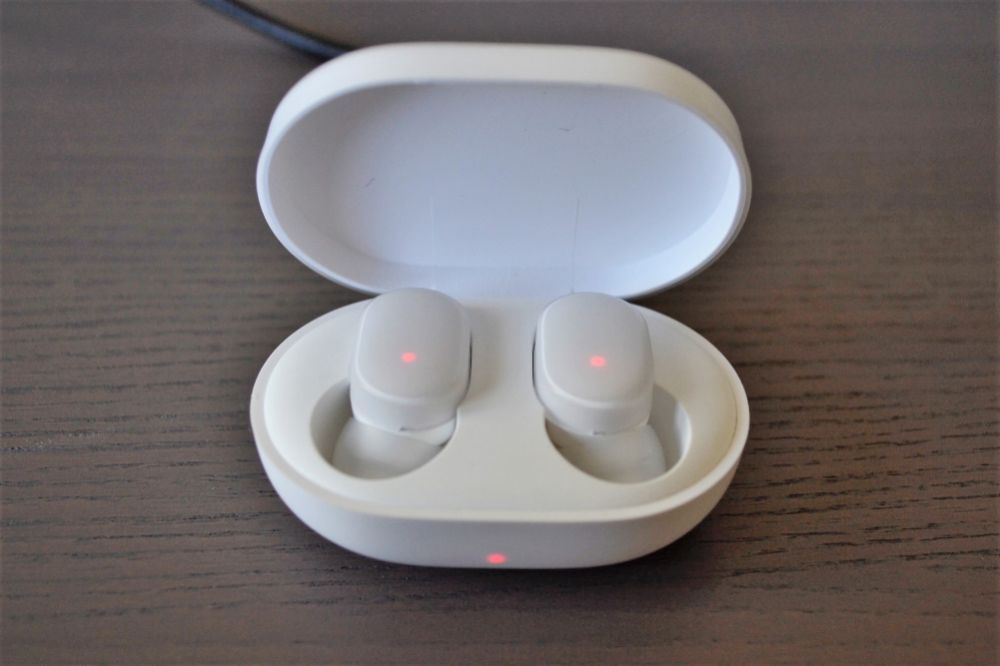 Here you can see the earphones recharge, one is fully charged, the other one is still missing a bit.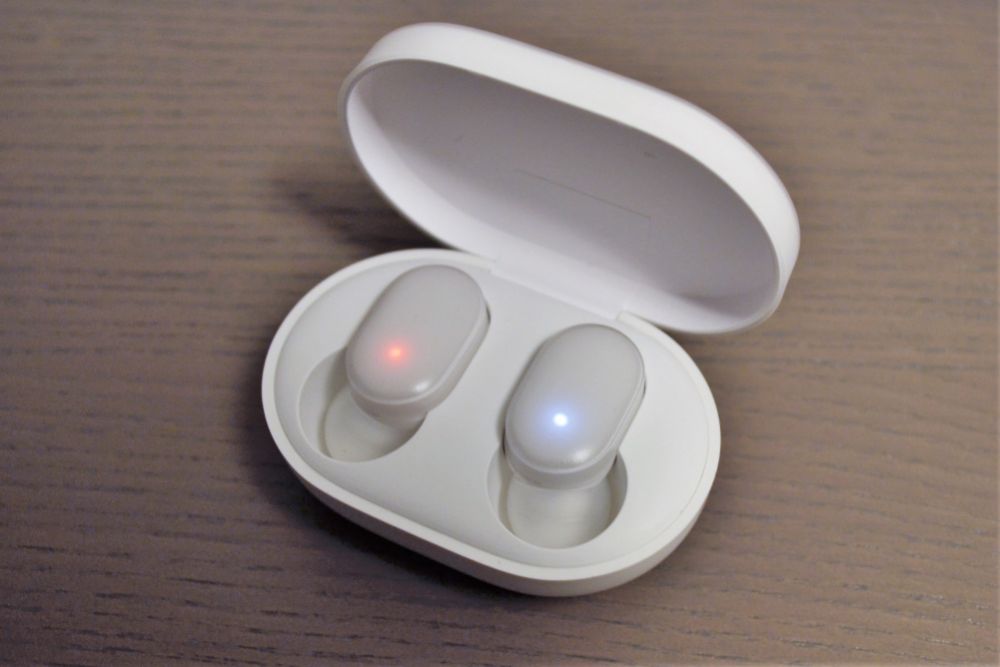 The small USB charging cable is more or less useless, unless you hang the charging box in your charger in the wall socket. Personally, I think it's just too small, but it's always something that it is there at all.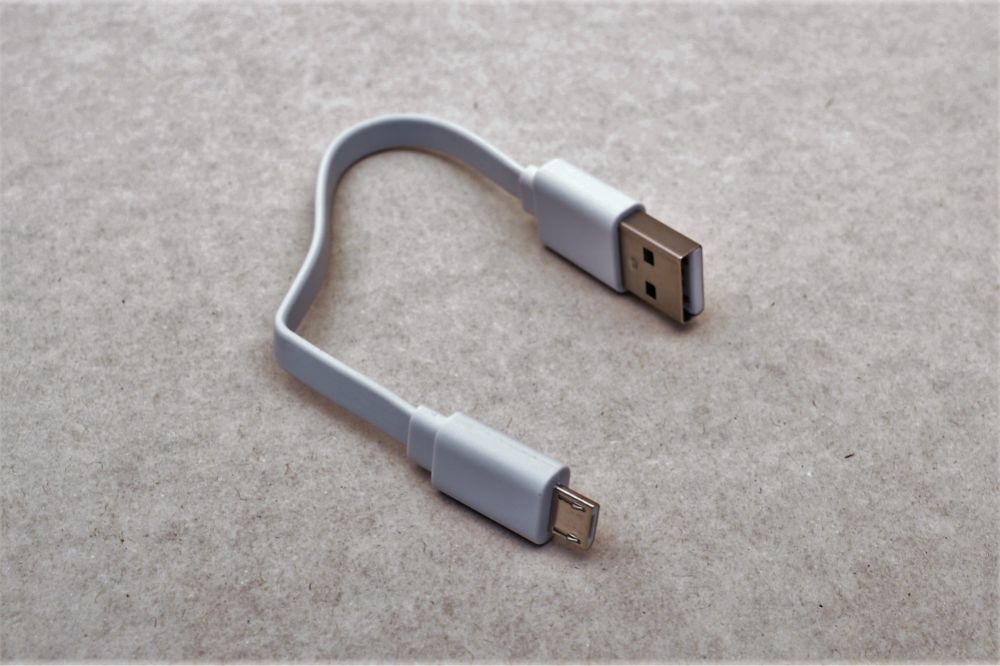 How are they in use.
I've been using the headset for a few days to get an idea of ​​how they play and are in use.
The connection:
It is super easy to connect with this headset and you choose whether you want stereo or use each earbud separately as the right and left audio side respectively.
There is an easy user guide and the headsets can be reset easily and quickly. You can only connect one device to the headset, so if you want to connect to another, you have to reset your earbuds and then pair them again.
The comfort:
There are 3 different eartips included, ie the silicone nipples you put on so they are stuck in the ear canal. It is quite important that you choose the right size, otherwise you risk losing your earbuds. Besides that, it is like all other in-ear headphones, as the weight is only 14 grams, it matches very good ordinary headsets of this type. So, if you are used to them, you will not have any problems with these earbuds.
The sound:
The sound in Mi True Wireless Earbuds is actually pretty good when you consider the price. They play pretty well throughout the sound spectrum, and there is actually an ok deep bass in them as well. It is super important again that the eartips fit tightly in the ear canal, it clearly gives the best sound, and means among other things that you get the deep tones in the music.
The microphone:
I have tested the microphone with calls and it is probably as you would expect from such a headset. It is also far placed from the mouth, so it will record everything that goes on around it. It also means that there is a rather aggressive noise reduction which distorts the voice and sound image in general. The microphone may be used in an emergency, but miracles should not be expected.
The controls:
The operation of the headset is super easy. There is a touch button on each earbud that you just press / touch. Note that there is assistant support, but only in Chinese. I tried, of course, and it started the assistant, but it wouldn't record from the microphone. So whether that is my setup or whether it really only works with Chinese, I should not be able to say.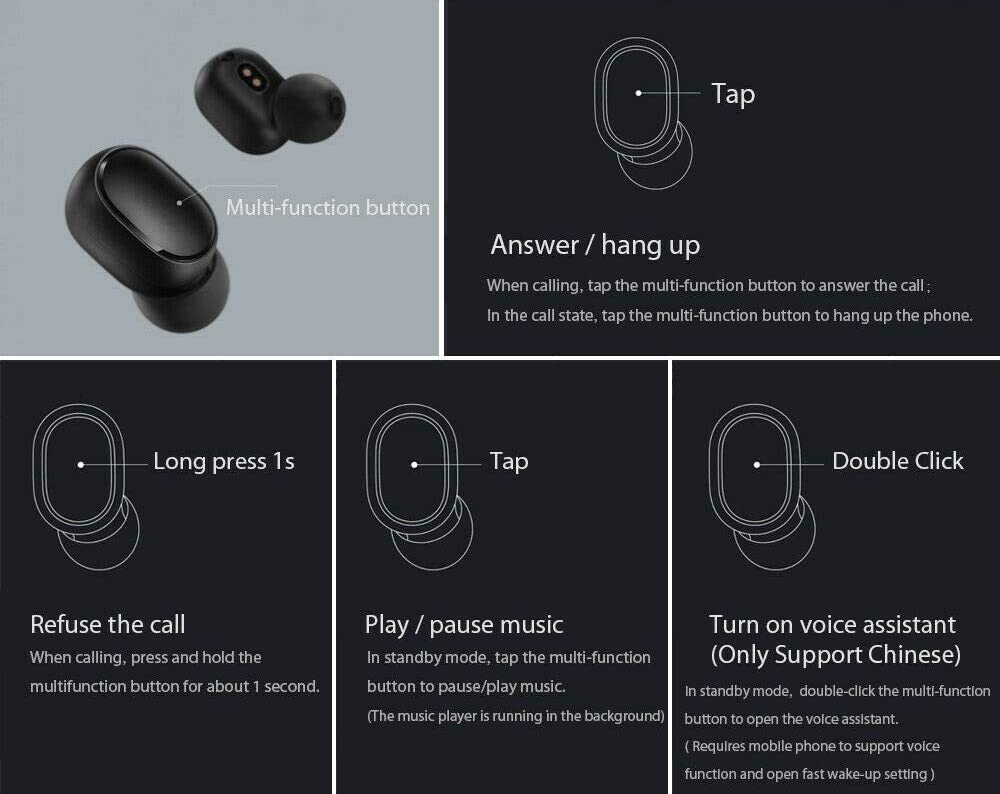 What is my opinion on Mi True Wireless Earbuds.
I've tested many headsets over time, but these are my first earbuds though. And I'm actually pleasantly surprised, so it's a good start.
I'm used to wearing in-ear headsets when I'm out, so the type itself is not unfamiliar to me. However, it is a little strange that there is no cord, and it makes it undeniable that you are a little more careful not to lose them.
The operation of these earbuds is super easy, you take them out and on, and then just listen to the music or audiobook. If you want to pause, you just press one of the devices and then pause the music. The same goes when a call comes, then you just press one of them to talk to people.
When you take your earbuds out of the charger, they turn on and when you put them back in the charger they turn off. You can also switch them off and on manually if you do not have the charger with you. However, it is so small that it can be in any pocket or bag or purse.
I am pleasantly surprised by the sound quality, which is amazingly good when we talk earbuds in this price range. There are good details, and a good depth in the sound. Of course, it requires you to choose the right size of the 3 eartips, so that the headset fits tight in the ear canal. Otherwise, the depth of the sound disappears.
The microphone is as it is, I do not want to write long dissertations on. It is there and it works pretty well, but that is it.
The pricing:
You can buy this headset for just under 200 DKK in Danish stores, which is quite a good price for a wireless headset.
My overall assessment:
Mi True Wireless Earbuds is a nice little headset with some nice little earbuds. It plays well, and has some excellent features. The battery time is good and the design is nice. The same goes for the charging box which is also small and discreet. All in all, I want to give this headset a nice gold star as everything fits together just fine.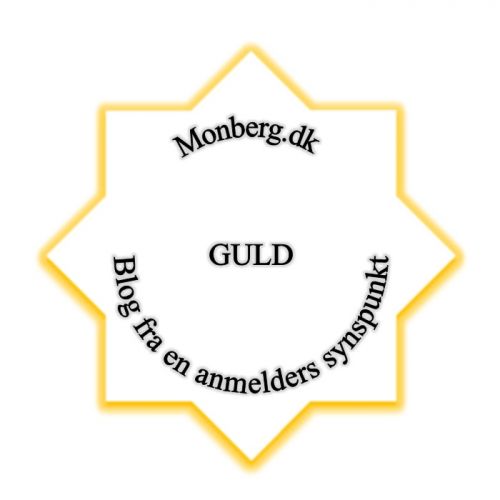 Read more about the product here:
https://www.mistore.dk/mobiltilbehor/horetelefoner/mi-true-wireless-earbuds-basic