Riotoro Enigma 850WG2 Gold
Riotoro has sent me one of their power supplies for review. It is their Enigma 850W G2 GOLD supply, which is the standard ATX with a lot of different features.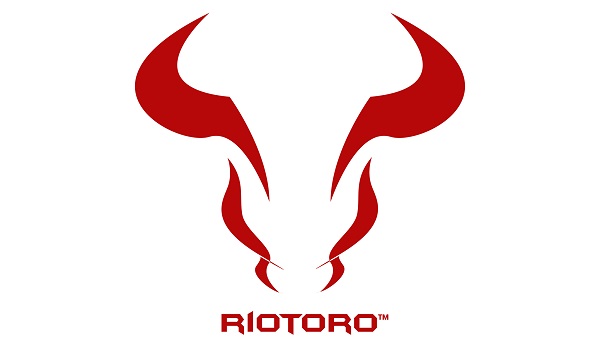 Founded in 2014, Riotoro strives to make the best high-performance PC hardware parts and accessories. As they develop things, they do their best to deliver the most satisfying products to those who want to build their own computer.
The packing and content.
The box may be just small enough, or it may have been damaged during transport. It was quite deformed when I got it as you can see.
On the box are nice colorful prints with illustrations of the product, features and specifications are printed on the outside.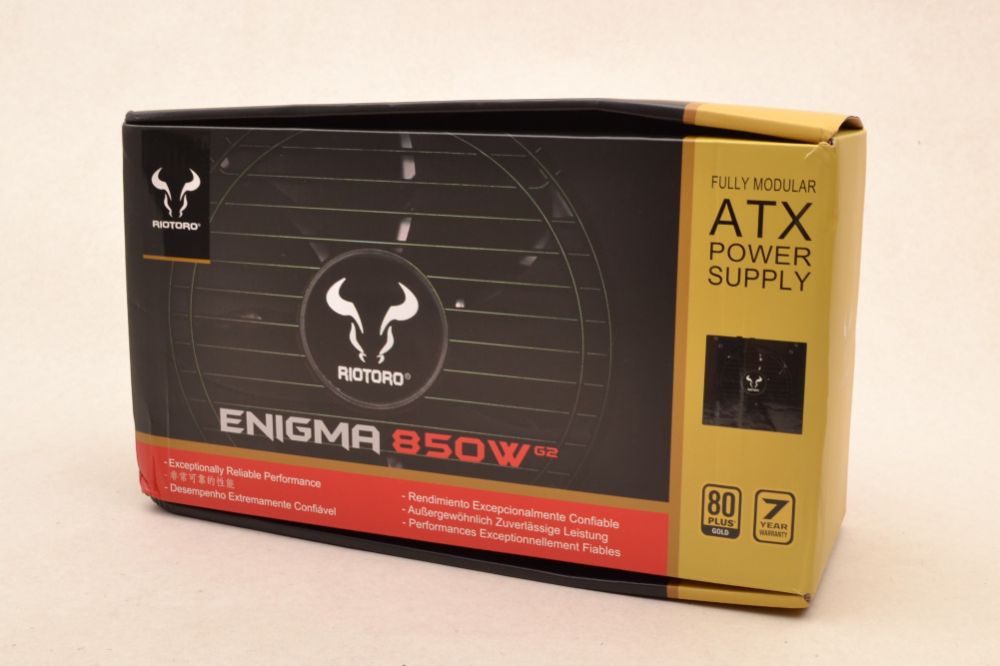 Inside the box everything is well protected. The cables and the power supply itself are in a nice fabric bag. In addition to cables, there is a bag of strips and screws as well as a user manual.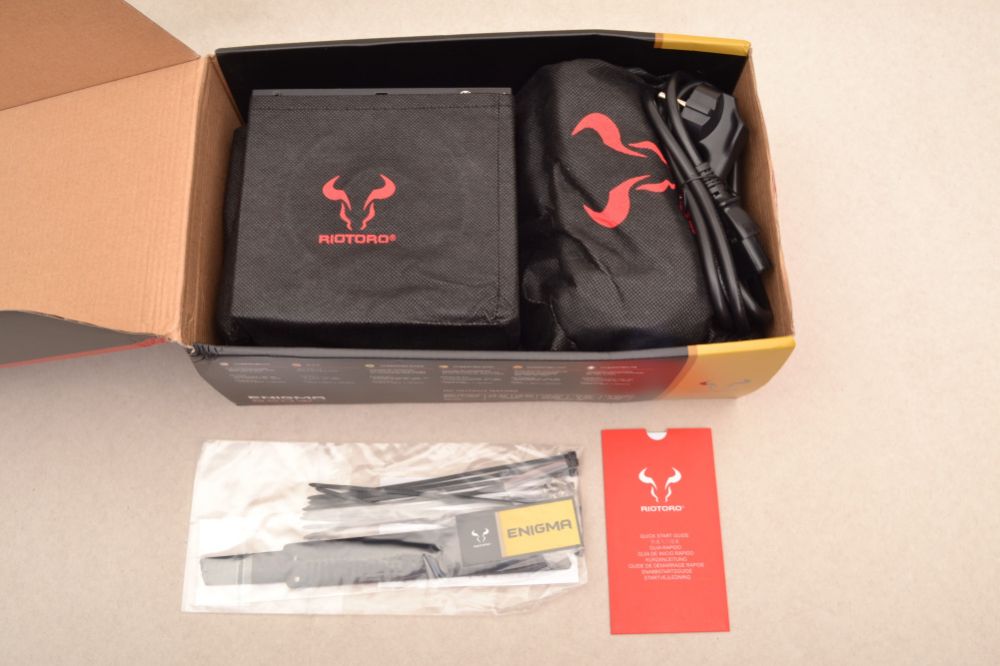 The technical specifications.
The power supply is 80plus GOLD certified, and fully modular. It has a lot of protection built in to protect your system well and thoroughly, and it can run fanless at up to 30% load. So a standard machine in idle or with a little web browsing should not start the fan. And then there is no less than a 7-year warranty on the supply, so you are well covered throughout the life of your computer.
80PLUS® Gold
Cybenetics Efficiency Level ETA-A
Cybenetics Noise Level LAMBDA-A
Form Factor Intel ATX 12 V
Dimensions 140 mm (L) x 150 mm (W) x 86 mm (H)
Fan Information:
Fan Size 120 mm
Fan Control S3FC - Fanless until 30 % load
Fan Bearing Fluid Dynamic Bearing
Life Expectancy 50,000 hours at 40 °C, 15 % - 65 % RH
Cable Information:
Modularity Fully Modular
Cable type Flat black cables
Electrical Features:
Operating Temperature 0 - 50 °C (derating from 100 % to 80 % from 40 °C to 50 °C)
MTBF @ 25 °C, excl. fan 100,000 hours
AC Input Full Range
Protection OPP, OVP, UVP, OCP, OTP, SCP
Safety and Environmental:
Safety and EMC cTUVus, TUV, CB, CCC, BSMI, EAC, CE
Environmental Compliance Energy Star, RoHS, WEEE, ErP Lot 6, REACH
Warranty 7 Years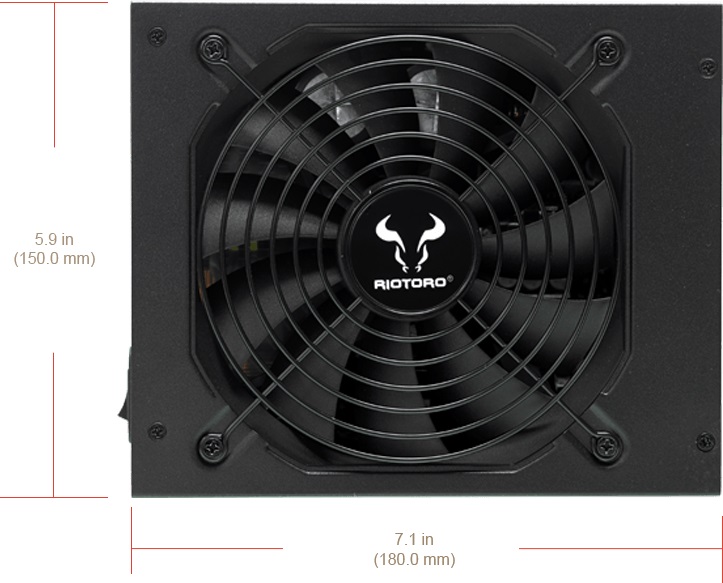 Review of the supply and accessories.
If we start with the cable set, then you will find that there are two different cable types. Namely, cables for graphics cards and motherboards that are sleeved, so they are assembled as round cables. All connectors are black and clearly marked with the purpose of the connectors themselves.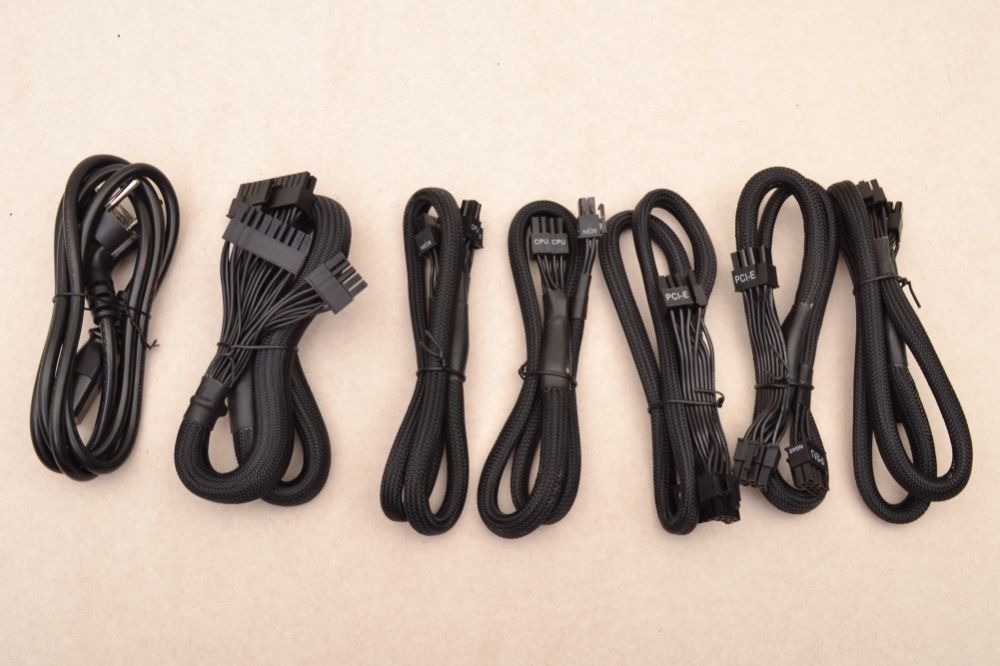 The rest of the cables are flat ribbon cables, and there is plenty of plugs for a fairly large setup. Note that the floppy plug is for itself with a Molex converter. That's pretty cool, because honestly, who uses floppy plugs anymore?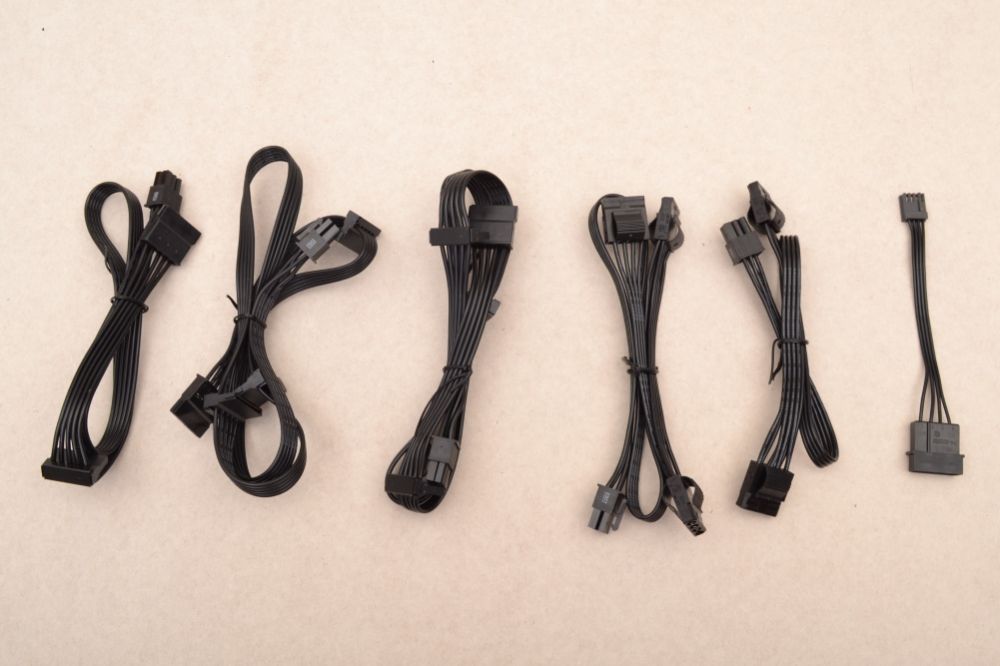 The cables are suitable for most systems. There is also a suitable number of connectors compared to a larger setup, where I would assume that you would use such a power supply of an entire 850W

The power supply itself is made in standard ATX format to fit in all casings designed for ATX power supplies. There is a nice fan grill in front of the 120 mm fan, along with a Riotoro logo.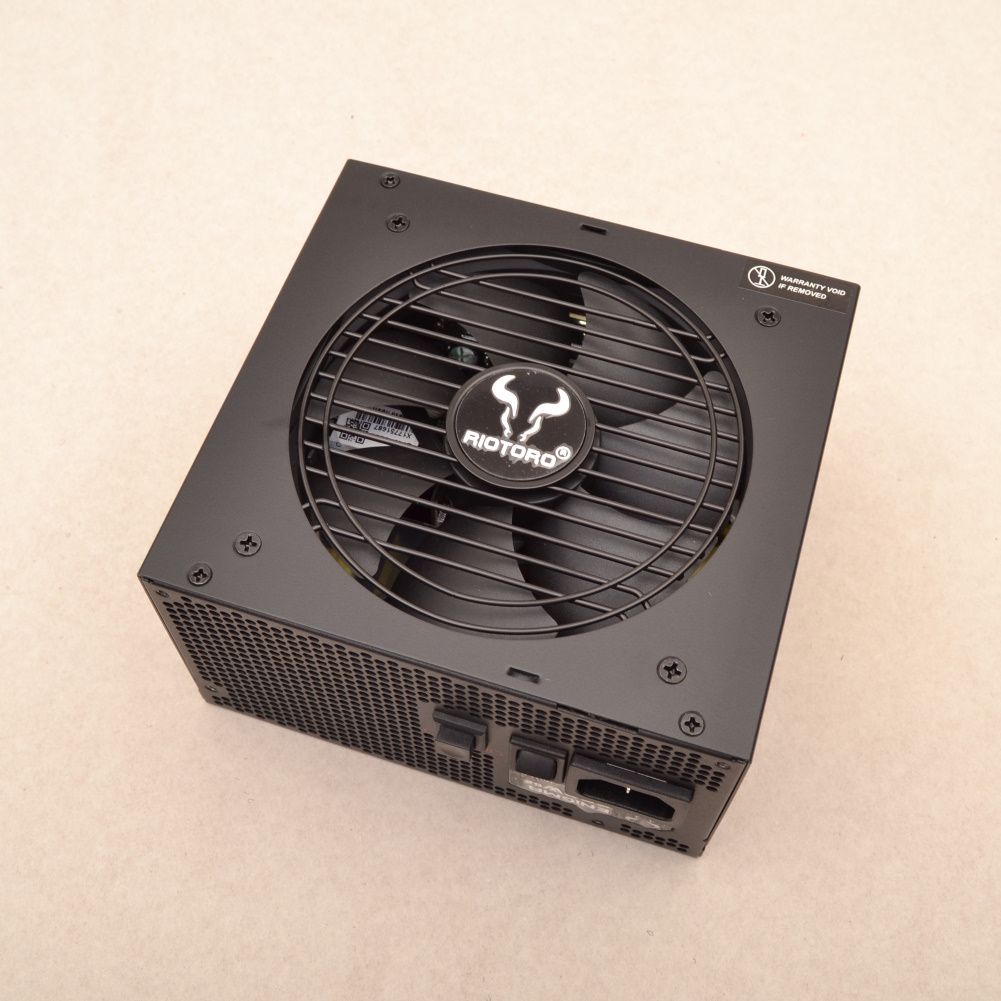 On the underside of the power supply we find the plate which provides all the technical data on the power supply. It will also be the one that comes up and is visible when installing the power supply with the fan down, as you do in some casings.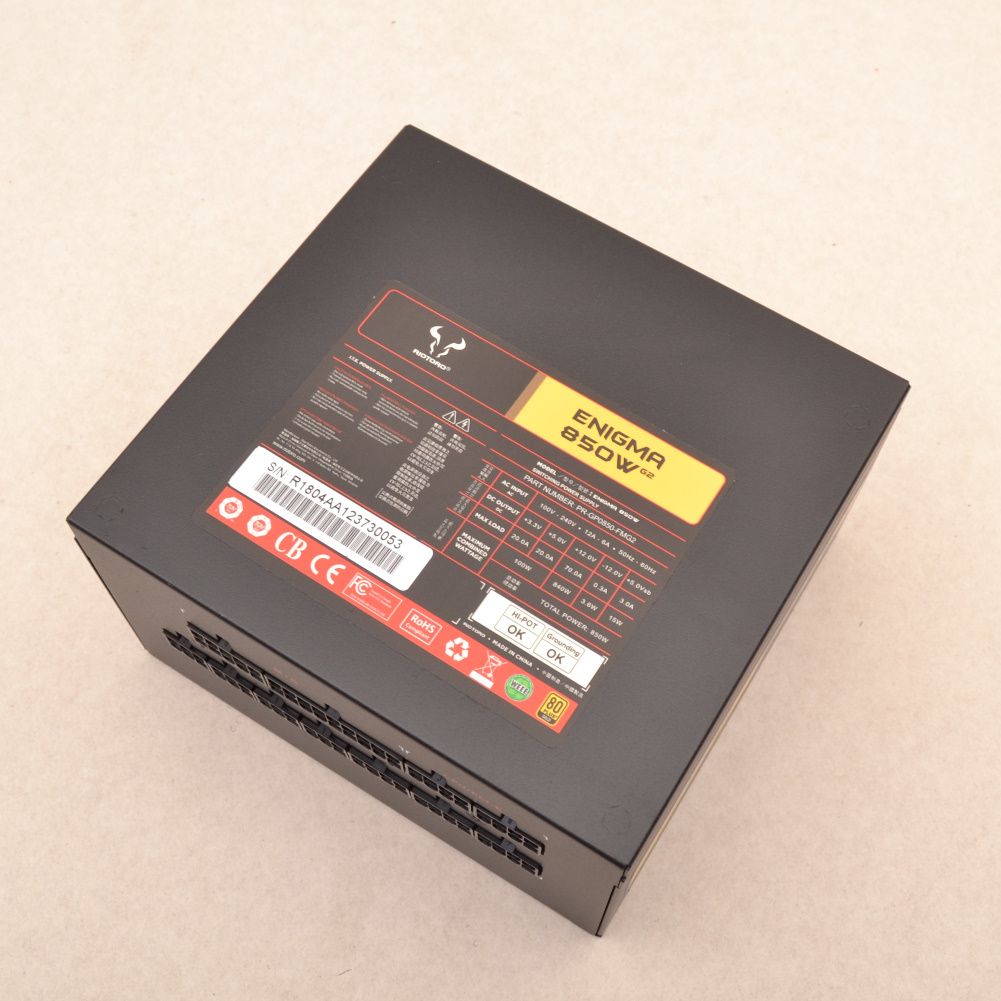 At one end we have the power plug for the wall socket. There is a switch on the plug so you can turn off the power supply completely and then there is a HYBRID switch. It switches the fan between 0 RPM and LOW RPM. At 0 RPM, the fan starts at a given temperature or load, where at LOW RPM the fan runs all the time, but at low speed at low load.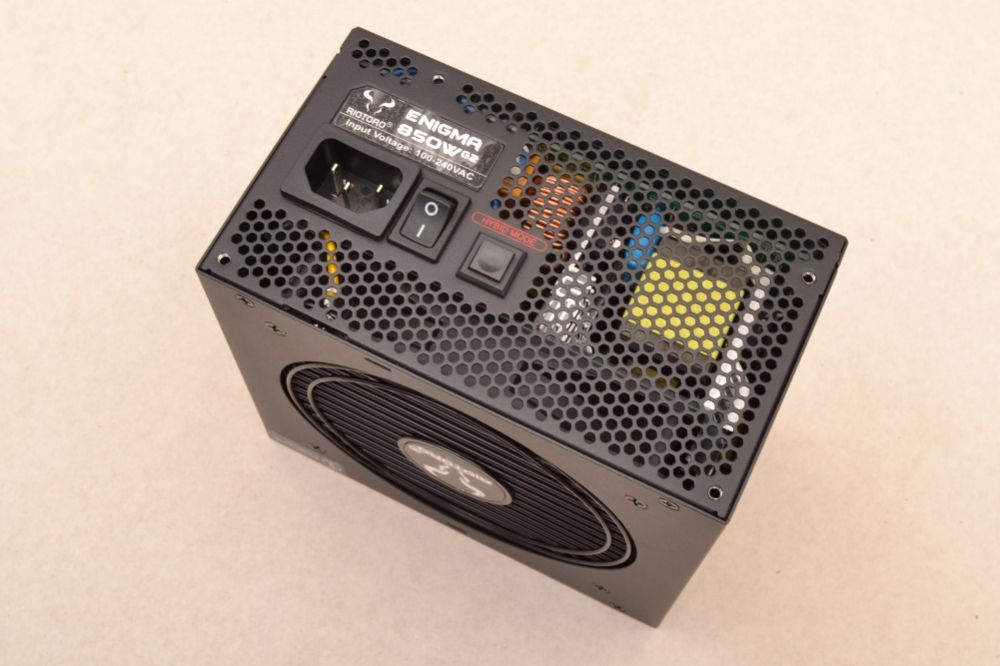 At the opposite end we find all the connectors. This power supply is fully modular so all cables can be disconnected. It is quite nicely marked where the different things should be plugged in.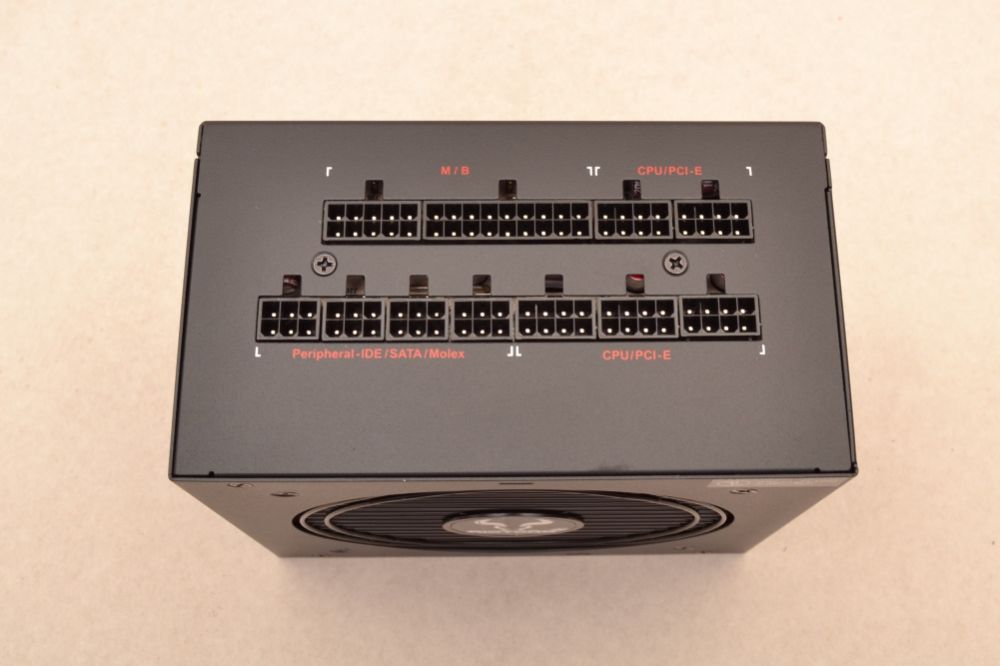 Before we begin the test, we must look at certificates and standards.
A power supply is subject to a lot of important approvals and certifications nowadays, and this power supply is no exception.
ATX Standard:
The basic standard of power supplies is called ATX, and it indicates how much the different voltages may differ in the power supply. It also tells you what limits, for example, the ripple voltage it needs to stay within.
If you want to read more about the ATX standard, you can find more information about it on this link:
https://en.wikipedia.org/wiki/ATX
However, the basic data for ATX power supplies can be seen in this table.

80Plus Certification:
In addition to ATX, you can move on and get better. Once you've done that, you'd like to show it to your customers and have some proof of how well you've done. This is achieved at 80Plus, which gives a certification of the good work that has been done.
80Plus certifications are about making power supplies more efficient. It's important to have as little a loss in a power supply as possible, as it's just throwing money into the bin.
This power supply is 80plus GOLD certified. This means that it will provide 90% efficiency at a 50% load.
All certificates and test results from 80Plus are freely available and you can read the certificate on the link below.
All certificates and test results from 80Plus are freely available and you can read the certificate at the link below. (Note that it is a SeaSonic Rebrand)
SEA SONIC ELECTRONICS CO. LTD._SSR-850FX_850W_ECOS 4947_Report
If you would like to see if your own power supply has performed well, you can do so on the link below.
What's under the helmet.
Everything looks nice and tidy in this power supply. There are no wires, which means everything is soldered together print to print with fixed connections. There is electronics protection on the 230V plug, which takes the worst noise from the outlet, which is definitely a good thing.

Large electrolytes (the large round at the bottom of the image) are also important, and especially the quality of them.


All in all, a nice power supply to look at.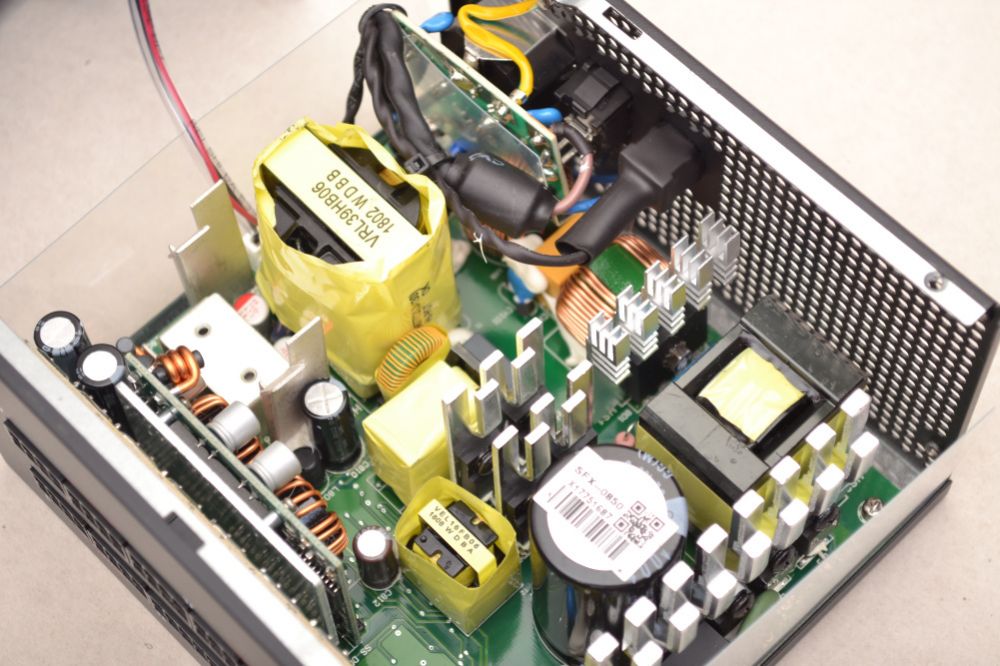 The fan is a 120 mm fan from manufacturer Hong Hua. It has Fluid Dynamic Bearing, and is so-called long life. It has a maximum speed of 2200 RPM and maximum noise of 32.4dBa, which is quite a lot. But I hardly think it is running that fast as I couldn't almost hear it during my test.
This fan is VERY used among power supply manufacturers, and when you Google the fan model you quickly find out how many manufacturers are using exactly the same design as this power supply. It is a lot.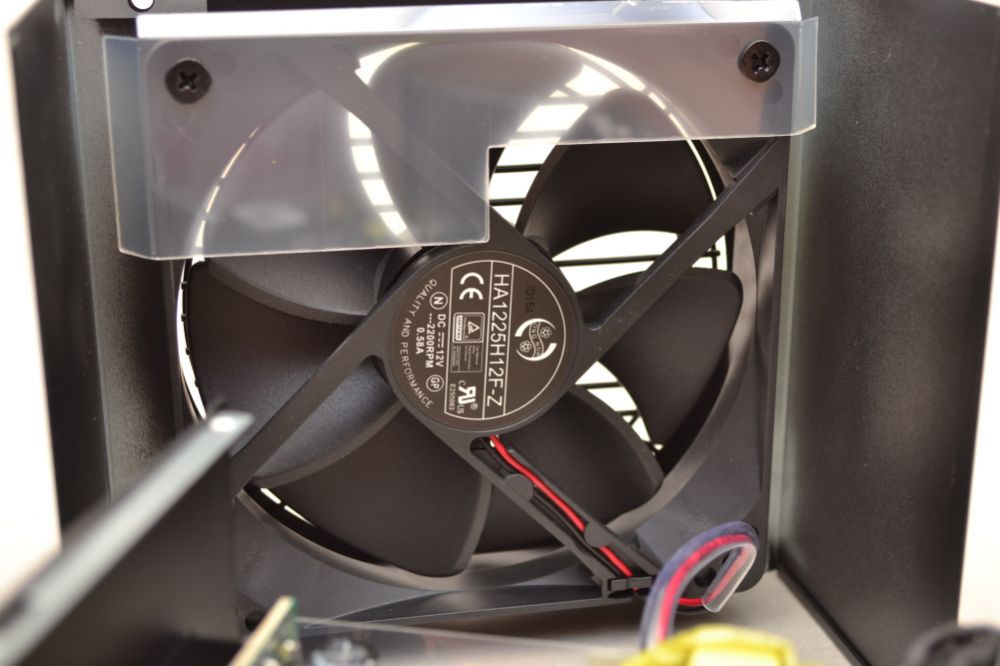 Load test.
Then we have come to the test itself, and I have had everything geared up to measure how well this power supply is doing. All voltages are measured on the ATX connector as it is the most important connector of them all. If you start to see uncertainty on this connector, it will have a major impact on the entire machine performance.
As you can see, the power supply is doing really well. There is not the slightest loss on the ATX connector, which means the entire supply is quite stable.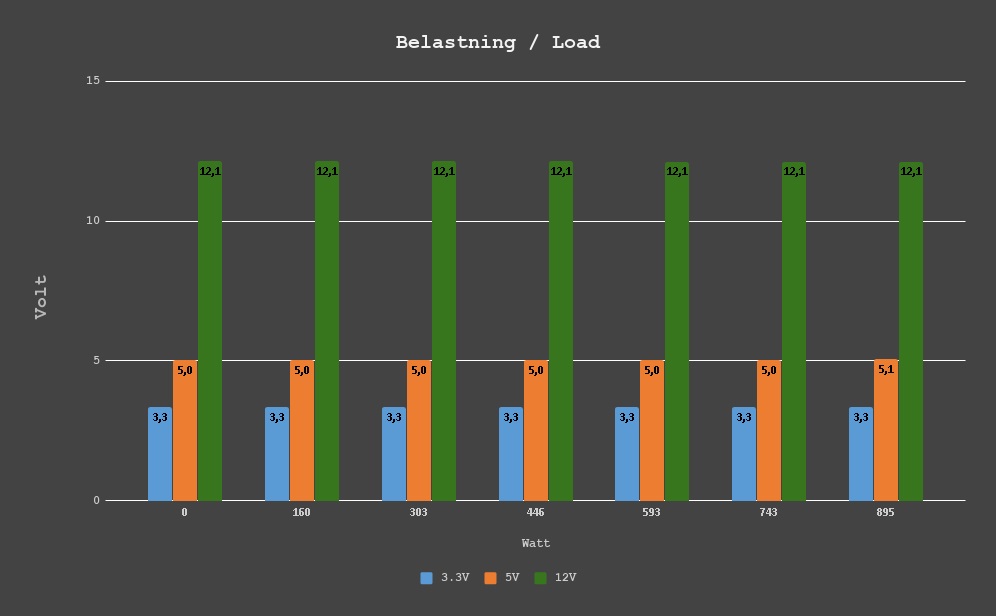 If we measure ripple, we can see that it performs really well here too. My measurement says 22.40mV from peak to peak, which is VERY nice. It is measured at maximum load on the power supply. It doesn't get any better than this, and since there must be a Vpp of 120mV on the 12V line, you have to say this supply has passed the test.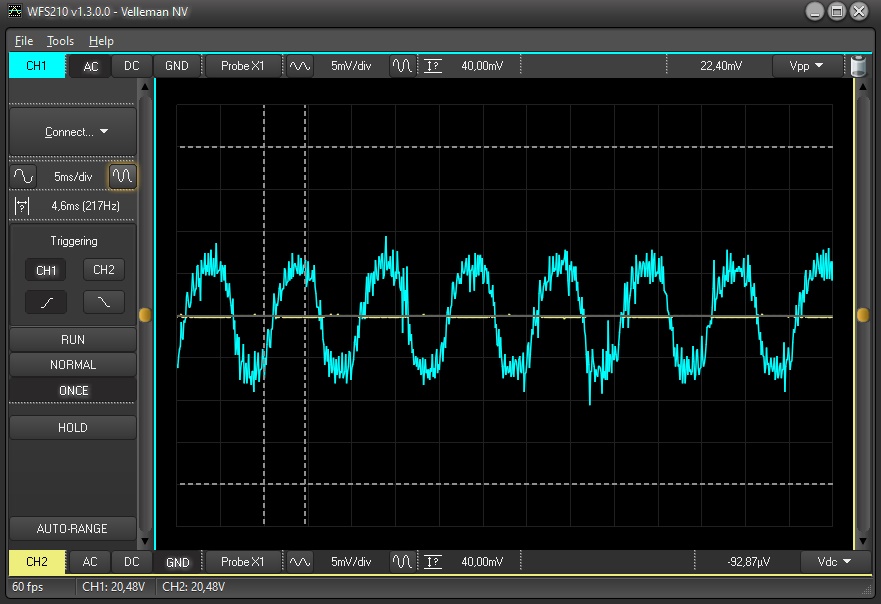 Effectiveness.
According to my measurements, the Riotoro Enigma 850WG2 Gold supply hits an efficiency of 90.8%, which is a great efficiency. It is also within the range, and is actually quite close to the measurement 80plus achieves in their power supply testing. It's approved.
What is my assessment of the product.
If you choose to buy the Riotoro Enigma power supplies, then I definitely think you have made a bargain.
You get a nice power supply, which does not take up much space in terms of how much power it can deliver to your system.
The power supply has all the important types of protection built in, so your system is well protected against errors. As we could see from the ripple measurement, that is also really nice and the voltage on the ATX plug is super stable.
The efficiency certainly does not fail either as it is well within the range of the ATX standard, so it is certainly approved as well.
The price.
You have to give around 1000 DKK for this model, which is a pretty good price. You get a good power supply with good value for money.
The final rating.
All in all, it looks really good. You get a good power supply with the option to run fanless as long as you have a low load on it. The efficiency and protection is as it should be, and so is the price which is quite nice. It makes me land on a nice GOLD rating.
Read more about the product here:
https://www.riotoro.com/enigma-850w-g2