SilverStone Strider 750W Platinum
SilverStone has sent me one of their power supplies that they would like me to review. It's their Strider series, where all supplies are 80plus approved, and fully modular. The one we are going to look at in this review is from their Platinum range, and with 750W power, which is plenty for most systems.



Let us have a look at the packing and content.
The box is pretty nice with pictures of the product, specifications and features listed on the outside.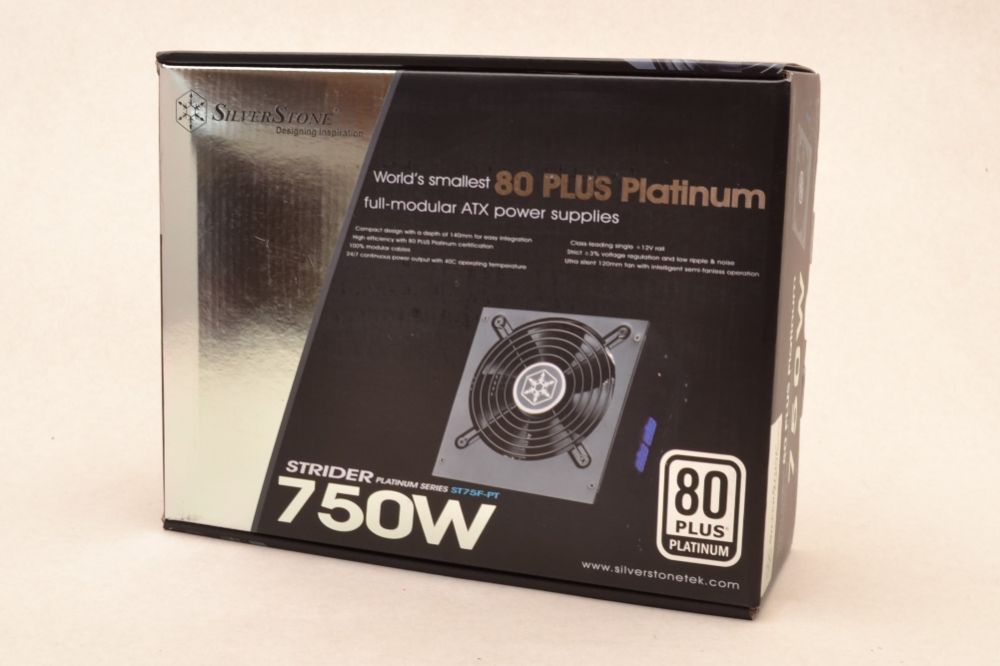 Inside the box, the power supply itself is well protected in foam, and the cables are next to it. Note the yellow label that says the fan does not start until it is needed. Of course, there is also a user manual in the box.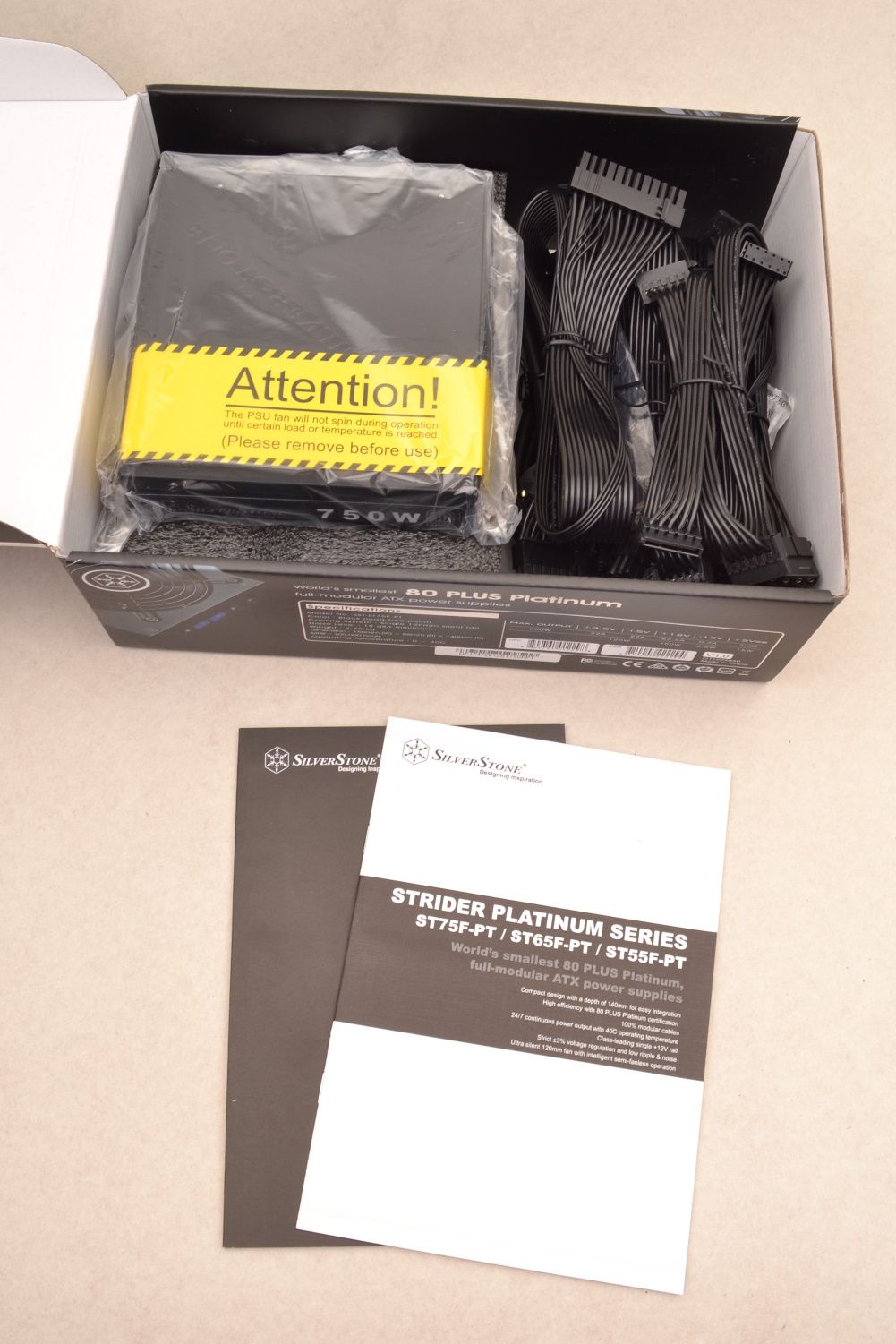 The technical specifications.
As can be read, the supply is platinum approved, which means it is above 92% efficiency at 50% utilization. Besides that, there is a lot of protection for the system itself, so if something goes wrong, the supply should shut down. The noise is as low as 0 dB, which means that the fan is switched off completely at low load. It is great if you, for example, use the supply in a media center.
Model No.: SST-ST75F-PT
Max. DC Output: 750W
Power density: 415W per liter
Load Range: +3.3V +5V +12V +5VSB -12V
Max.(Amps): 22A 22A 62.5A 3.0A 0.3A
Min.(Amps): 0A 0A 0A 0A 0A
Range (%): ±3% ±3% ±3% ±5% ±10%
Line Reg.(%): ±1% ±1% ±1% ±1% ±1%
Ripple(mVp-p): 50mV 50mV 120mV 50mV 120mV
Color :Black(Lead-Free Paint)
Combined +3.3V & +5V: 120W
Combined +12V: 750W
Input Voltage: 90V~264V
Input Frequency Range: 47Hz~63Hz
PFC: Active PFC(PF>0.9 at full load)
Efficiency: 89%~92% at 20%~100% loading
MTBF: 100,000 hours
Operating temperature: 0°C ~ 40°C
Protection:
Over current protection
Over power protection
Over voltage protection
Short circuit protection
Under voltage protection
Over temperature protection
Connectors:
1 x 24 / 20-Pin motherboard connector(550mm)
1 x 8 / 4-Pin EPS / ATX 12V connector(750mm)
4 x 8 / 6-Pin PCIE connector("550mm" x 4)
8 x SATA connector("600mm / 150mm / 150mm / 150mm" x 3)
6 x 4-Pin Peripheral connector(600mm / 150mm / 150mm)
2 x 4-Pin Floppy connector(100mm)
Cooling System: Single 120mm silent fan
Form factor: ATX
Noise Level. 0 ~ 28 dBA
Dimension:
150 mm (W) x 86 mm (H) x 140 mm (D)
5.91" (W) x 3.39" (H) x 5.51" (D)
Weight: 2.25 kg
Certification: 80 PLUS Platinum
Other: Compatible with ATX12V v2.4
Review of the supply and accessories.
In the box we find a bag of screws, strips and velcro ties. So there are good options for securing the cables around the casing.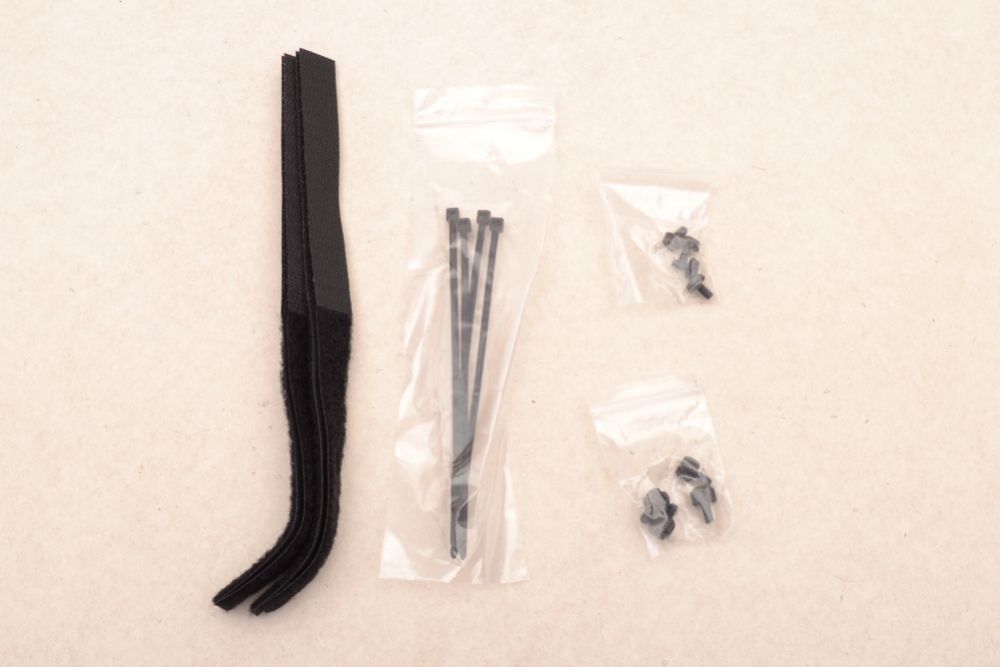 The cables are all ribbon cables to optimize airflow, and it seems that there are plenty of the different types of connectors, which are also listed in the specifications.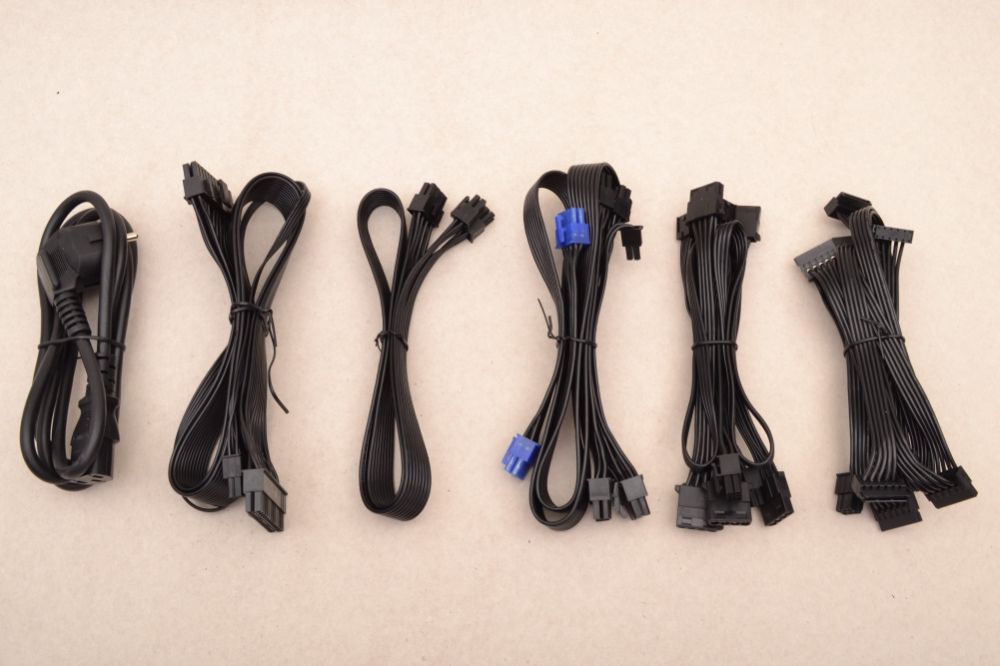 If we look at the power supply itself, we find on the upper side a SilverStone fan grill, where you can see the fan and components down through.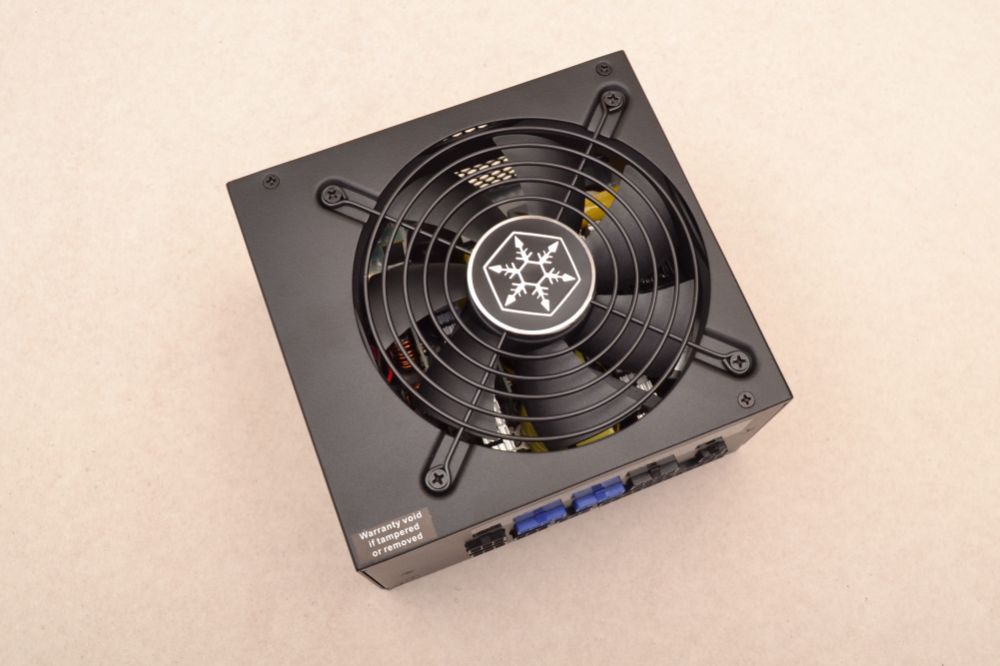 On the bottom we find a SilverStone logo stamped into the metal plate. It will be this side that turns up when the supply is mounted in the casing with the fan down.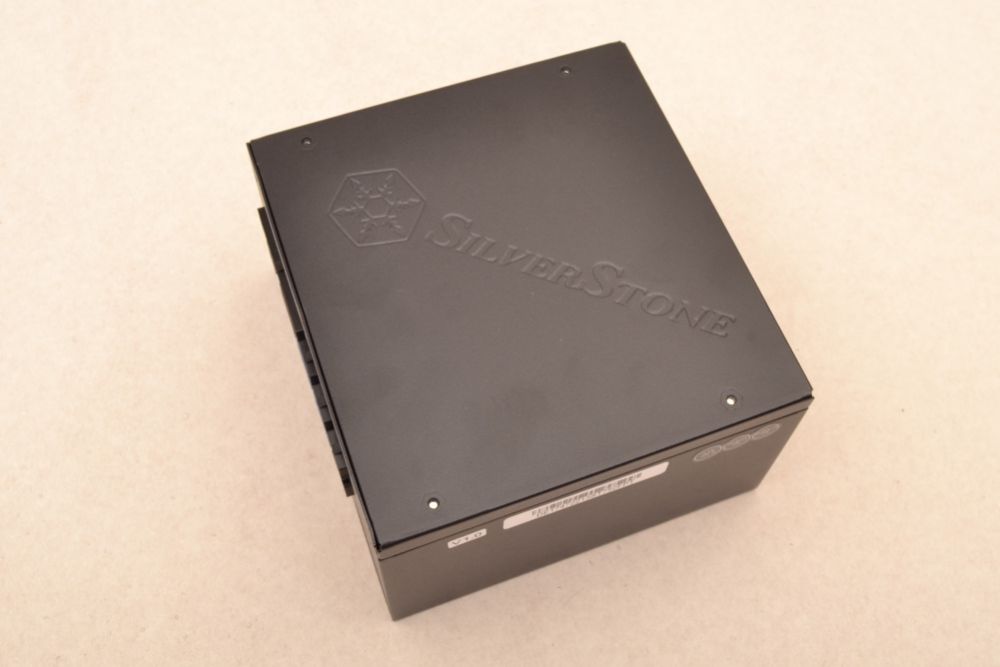 If we look into one end of the power supply, we find the power plug and an associated switch. So you can turn off the supply before unplugging, which I quite like.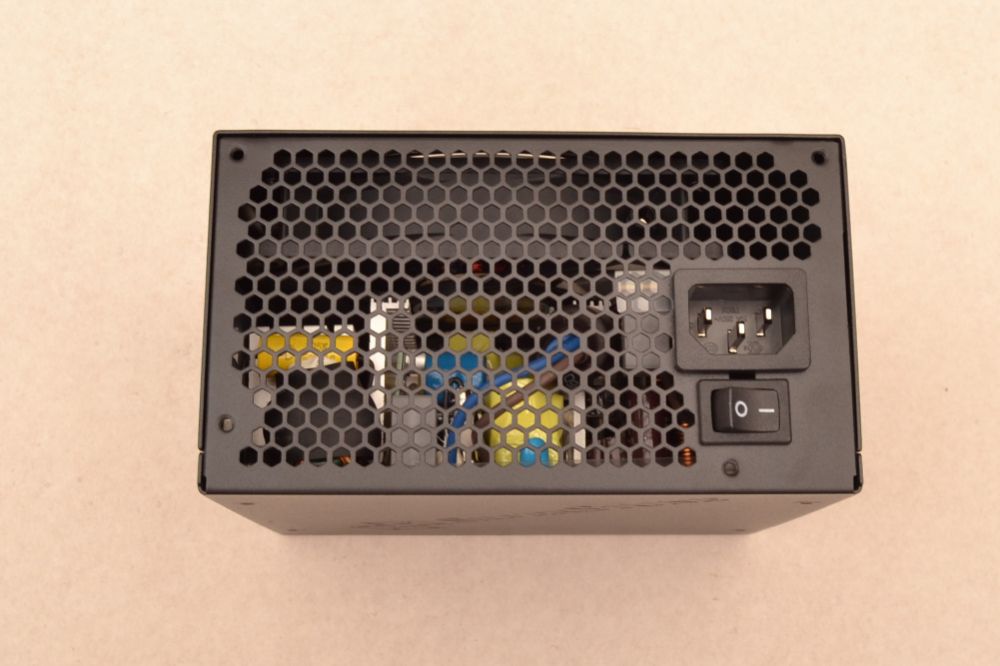 At the opposite end we find all the connectors for the computer. There are connectors for everything, and the PCIe connectors are blue. Then they are not mistaken as they are also blue on the cables themselves, as we saw earlier. There is a sticker showing where the cables should be connected so that you are not in doubt.
Before embarking on the test, we must know about the certificates and standards.
A power supply is subject to a lot of important approvals and certifications nowadays, and this power supply is no exception.
ATX Standard:
The basic standard for power supplies is called ATX, and it specifies how the range is on the various voltages on the power supply. It also tells you what limits, for example, ripple voltage must stay within.
To read more about the ATX standard, you can find more information on it at this link:
https://en.wikipedia.org/wiki/ATX
However, you can see the basics of ATX power supplies in this chart.

80Plus Certification:
Besides ATX, you can expand and improve. Once you have done that, you will want to show it to your customers, and have some kind of proof of how well you have done. You get that from 80Plus, which gives you a certification on the good work you have done.
80Plus certifications are designed to make power supplies more efficient. It is important to have as little loss in a power supply as possible, as it is just like throwing money into the trash.
This power supply is 80plus PLATINUM certified. This means that it must provide at least 92% efficiency at a 50% load.
All certificates and test results from 80Plus are freely available and you can read the certificate at the link below.
SilverStone Strider 750W Platinum Certificate
If you would like to see if your own power supply has performed well, you can do so on the link below.
What's under the helmet.
Most manufacturers have switched to fixed connections, but we do not find that in the SilverStone Strider series. Here, all connections from base to plug are made with wires. It gives a slightly messy look inside the power supply, but fortunately, we usually don't have to think about that since there is a box around.
The components look quite good. There are some good large coils and capacitors which remove noise of various kinds.
Note the small print in the right corner, which is on the 230V plug. It is designed to remove noise from the plug so that you do not get a shock through the system.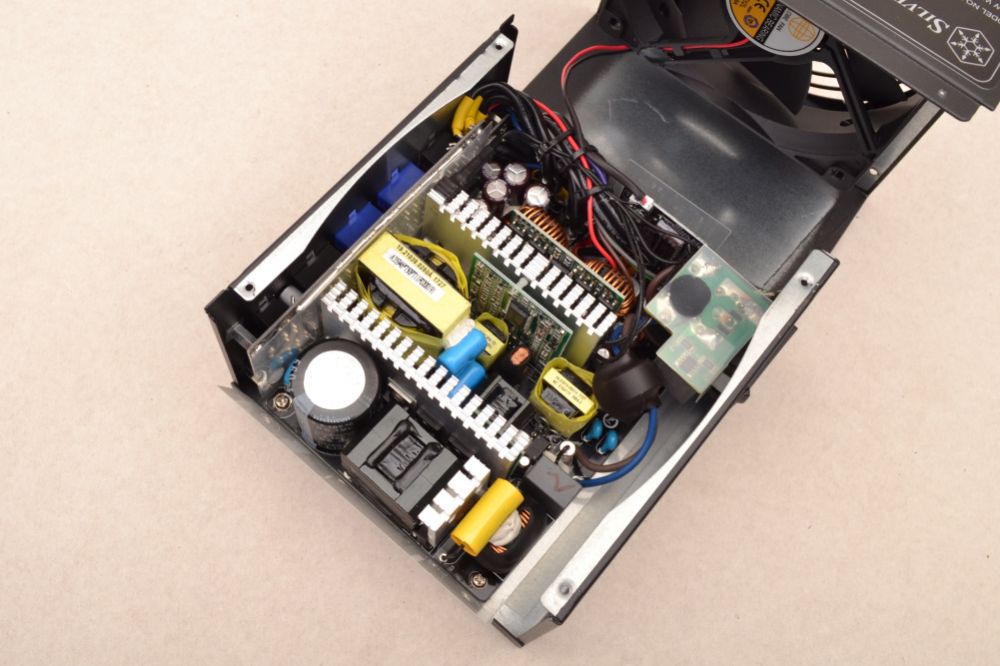 The fan is a 120 mm fan from the Globe. It is a well-known manufacturer and as you can see, it is a fan with FDB bearing that lasts a long time. The specs on the fan say it has a noise level of 34 dBA at 2000 RPM, but I don't think it is running full speed in this setup as I could barely hear it under full load of the power supply.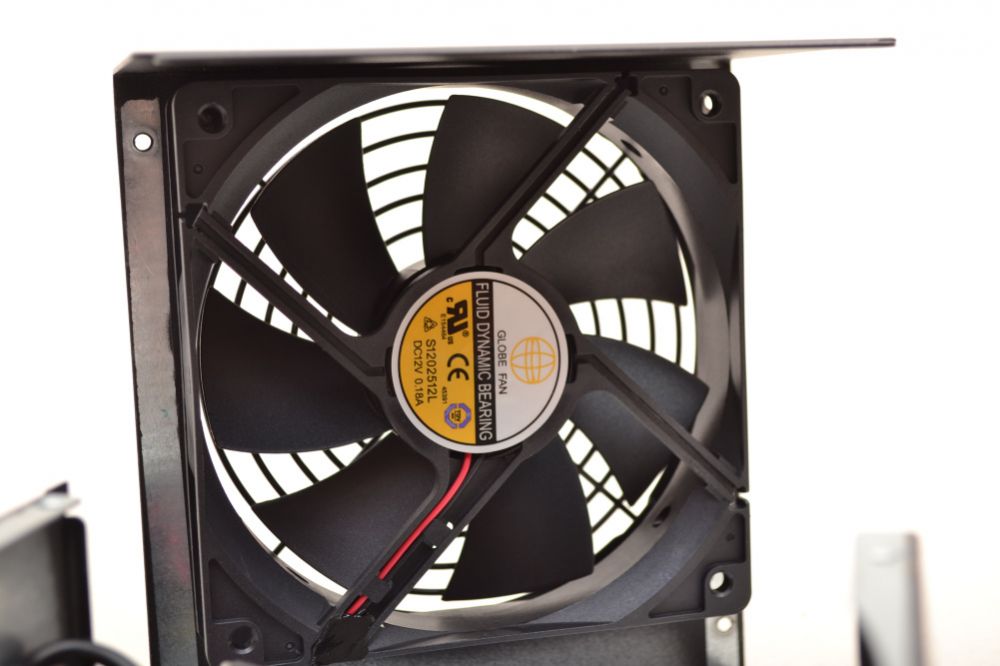 Load test.
Then we have come to the load test and I have thrown a lot of load on the power supply. The measurements were made by the ATX connector, which is the most important connector in the computer for a stable system. As can be seen, the measurements do not diminish from start to finish, which shows that the power supply is quite stable on the ATX connector.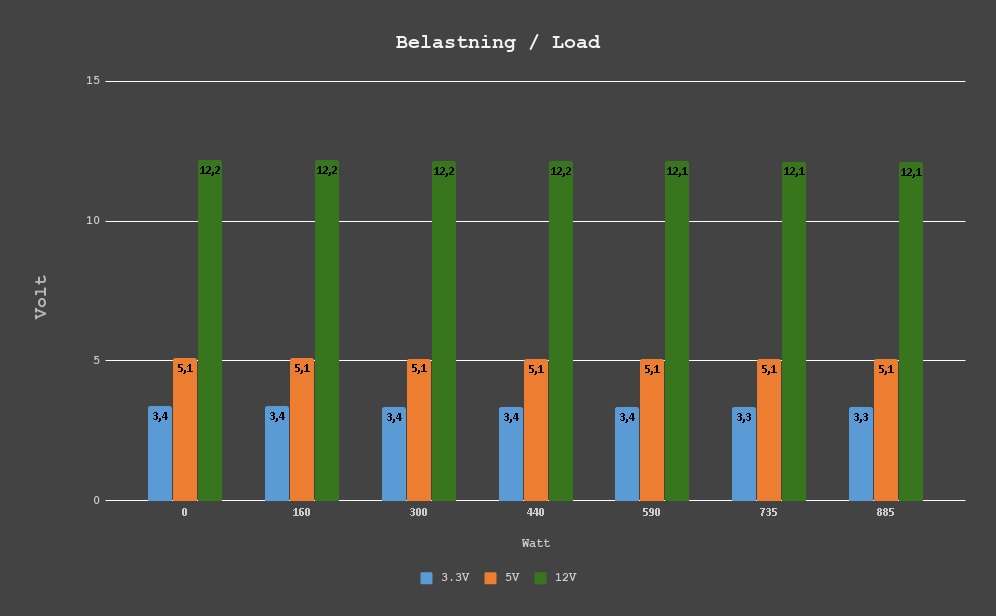 The measurement of ripple shows how much noise is coming out of the system. The measurement was done at full load on the power supply on one of the loaded PCIe connectors. As you can see, we hit just 40mV peak to peak, which is really nice. It is allowed to have up to 120mV peak to peak on the 12V rail.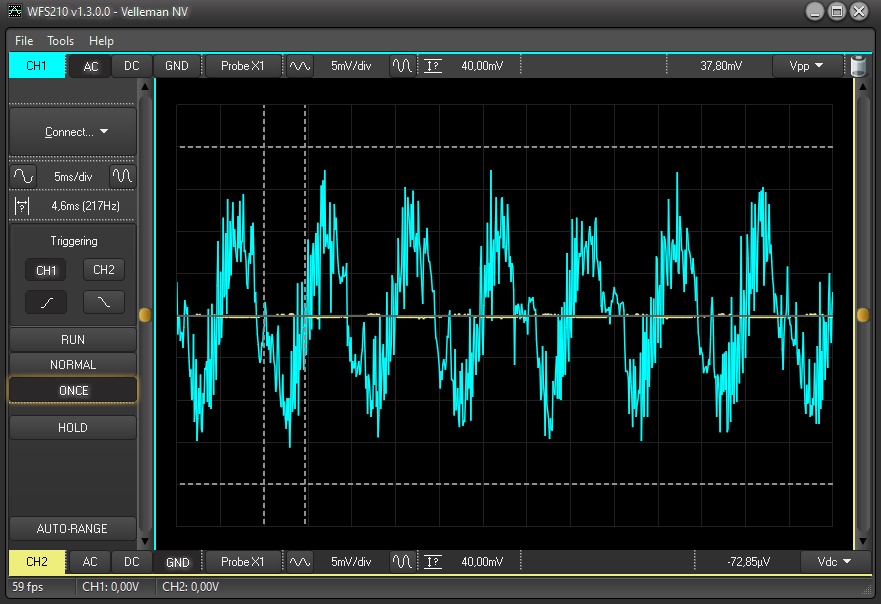 Efficiency.
My measurements show a maximum efficiency of 93%, which is great. However, my measurements are not expected better than the measurements 80plus makes, but we are very close. It is a pretty nice measurement and it shows that SilverStone keeps what they promise with the Platinum certificate.
What is my assessment of the product.
The SilverStone Strider Platinum series is quite a sensible power supply for those who would like a good efficient power supply.
It contains all the protection you can expect from a power supply nowadays. The structure of the supply itself is made in a slightly old-fashioned way with wires between the different prints. But that doesn't mean it's bad.
The power supply measures as a standard ATX power supply, so you will not have trouble fitting the power supply in any casing, which is definitely an advantage.
All cables are flat ribbon cables which make it easier to make cable management and which can also provide a better airflow where the cables are visible.
The fan does not start until the power supply reaches a certain load, or has a certain temperature, which is also really good. Then you can run completely silent as long as you only use the computer for small things, where the fan gets started when the computer has to work for real.
The price.
The power supply can be purchased from around DKK 1280, which is roughly the price range this type of power supply is in. The better efficiency (80plus certification) the more they cost. But the better supply you get for your expensive system.
The final rating.
Since both price and quality are very well aligned, I want to give this power supply a nice Gold star. You get a good power supply with lots of power and good efficiency, which is becoming more and more important in these green times.
Read more about SilverStone Strider 750W Platinum here:
https://www.silverstonetek.com/product.php?pid=595&area=en