be quiet! Shadow Wings 2 fans
be quiet! is back on the blog with another cool product. In this review, I look at their Shadow Wings 2 fan, which is now also available in white.

be quiet! is a German manufacturer that makes good discrete products of the well-known German quality. They have gradually begun to move on from their black designs, which we also see in this review.
First, a little introductory video that be quiet! have made. Then we take a closer look at the product afterwards.
The technical specifications.
be quiet! is making these fans in several different models and I have received several of them as well. However, there are some common features that can be lined up. Funny enough, it is actually the PWM fans in the series that make the most noise, but you can't say 'noise' in that sense. Because that's not what I would define the whispering noise they make. Also note that there is a full 3-year warranty on these fans and they are guaranteed a lifetime of 80,000 hours, which is 9 years of nonstop running. The fans are not intended for coolers or radiators, as they cannot deliver a static pressure that is high enough, they are for casing and airflow only.
Whisper-quiet operation
Whisper-quiet operation even at low rpm(14.7-15.9db(A))
Optimized fan blade surface structure provides excellent airflow capabilities
Mechanical noise is minimized by the anti-vibration mounting system and rubberized fan frame
Available with 3-pin or PWM connectors to meet individual requirements
Premium features
Push-pins make installation easy and secure without screws
Low-noise operation due to high-quality rifle bearing
Pulse width modulation (PWM) allows compatible 4-pin controllers to vary the speed of the fan intelligently
Product conception, design and quality control in Germany
Expressly recommended for use in very silent PC builds
High-grade rifle bearing technology contributes to a very long lifespan of up to 80,000 hours
3-year manufacturer's warranty
Read the individual specifications at the website:
https://www.bequiet.com/en/casefans/shadow-wings-2/1620
Packing and content.
The boxes are in classic be quiet! colors that are black and orange with white text. Quite stylish and discrete. On the boxes, you can see the product and read the specifications and features.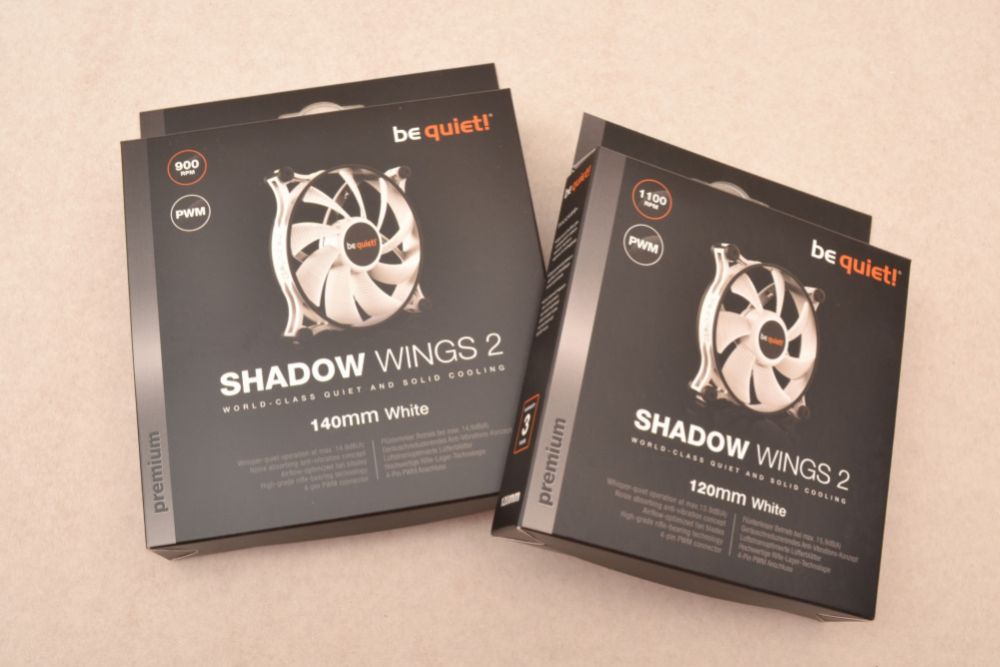 Inside the box you will find the fans themselves, mounting pins and mounting instructions. Normally there would be screws, but they are not included. I'll explain it all down further.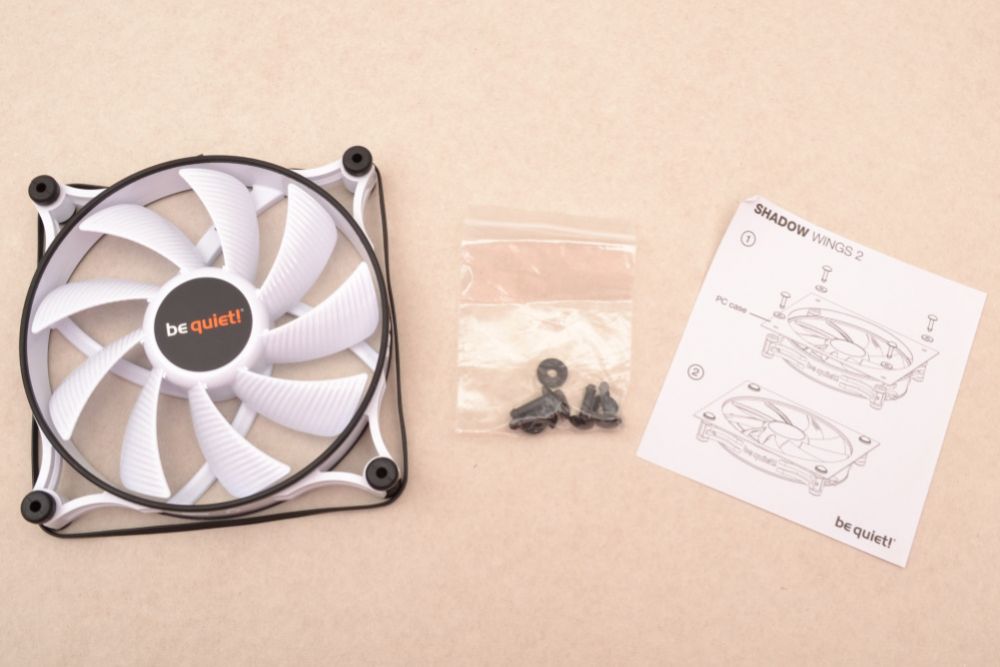 Let us look at the product.
The fan itself is made in a very lightweight design. The corners are hollow and the whole frame is generally very light by the looks of it.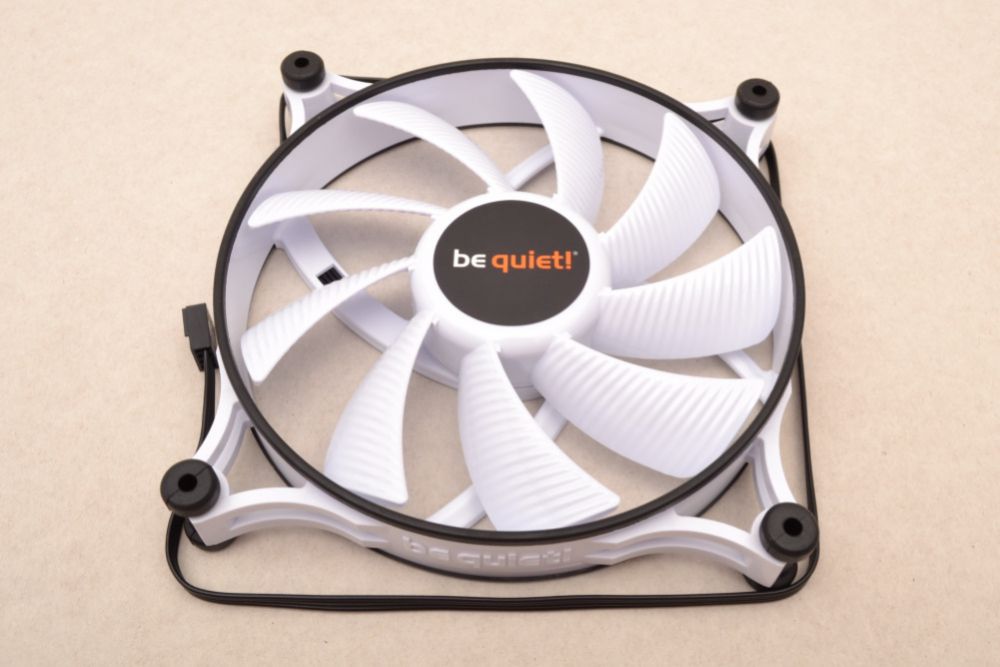 On the back, you can read which model you have. This is a 140 mm x 25 mm fan with PWM and a maximum speed of 900 RPM. Note that the cable is a thin ribbon cable, and not sleeved or anything.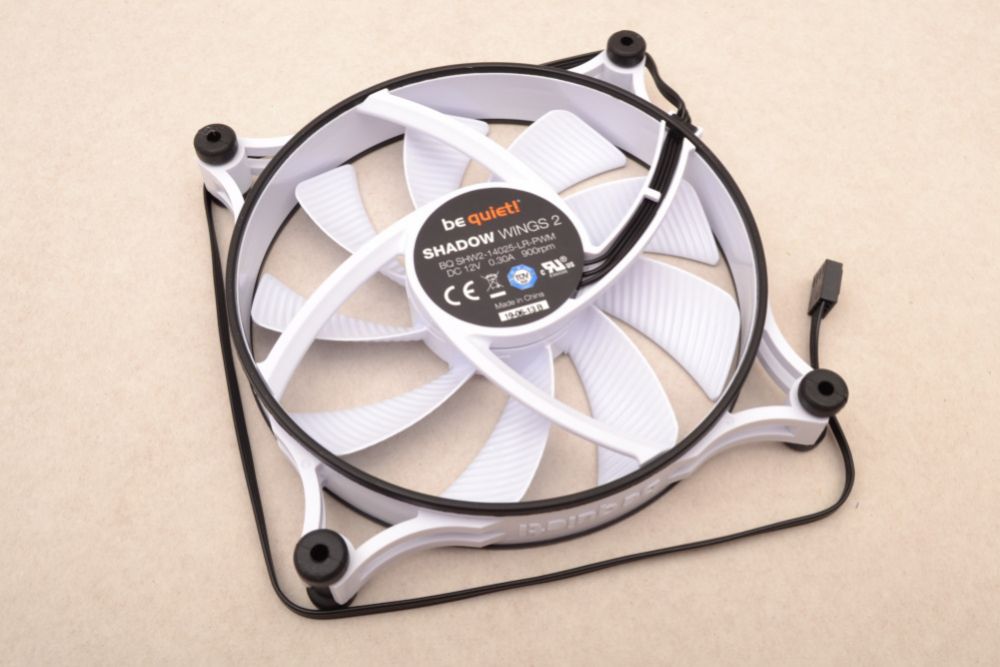 The mounts in the corners are rubber tubes, and the black edge you can see around the frame is also rubber. This ensures that no annoying noises come from the fans if there is vibration from the engine. However, that is usually no problem with these fans.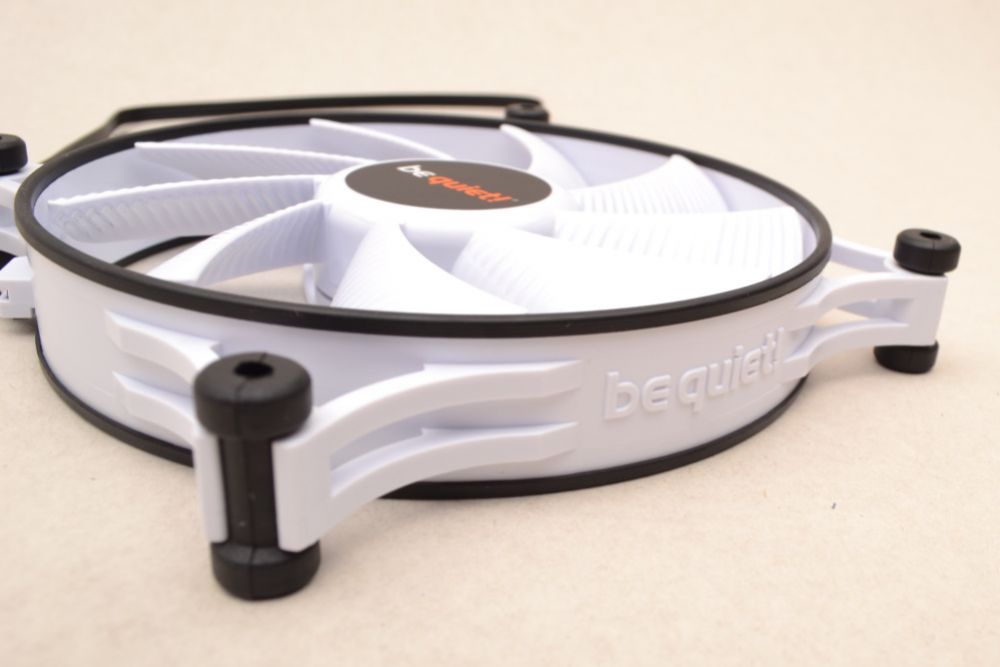 The wings have the well-known grooved design, which all be quiet! fans have. This is to minimize the noise from the wings. On the side, you can clearly see which way the fan should turn.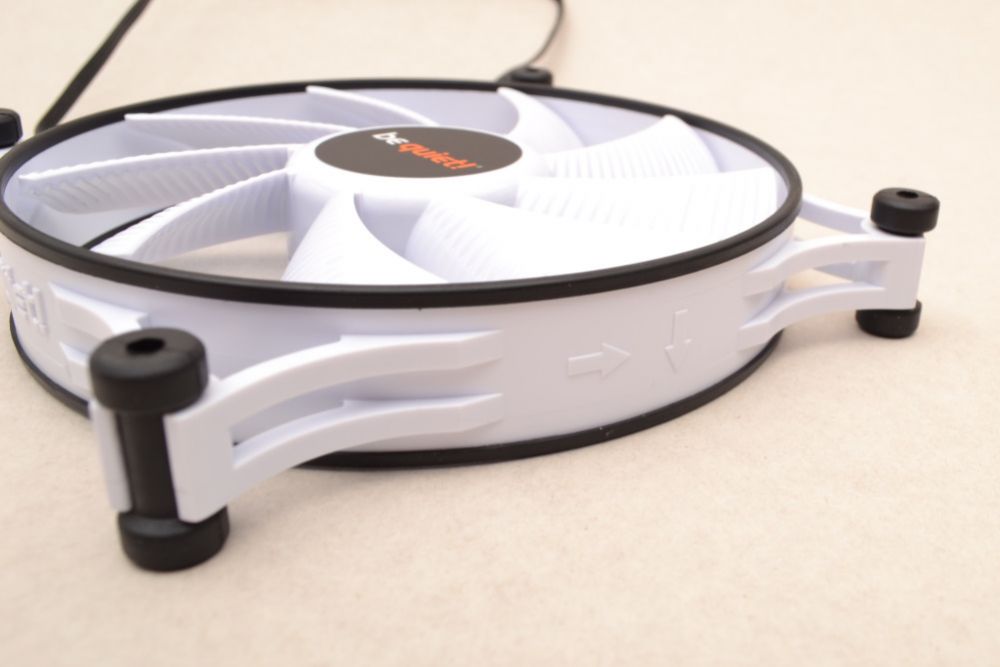 The installation.
The actual mounting of these fans is as simple as it can be. A rubber washer, and a pin, that's it.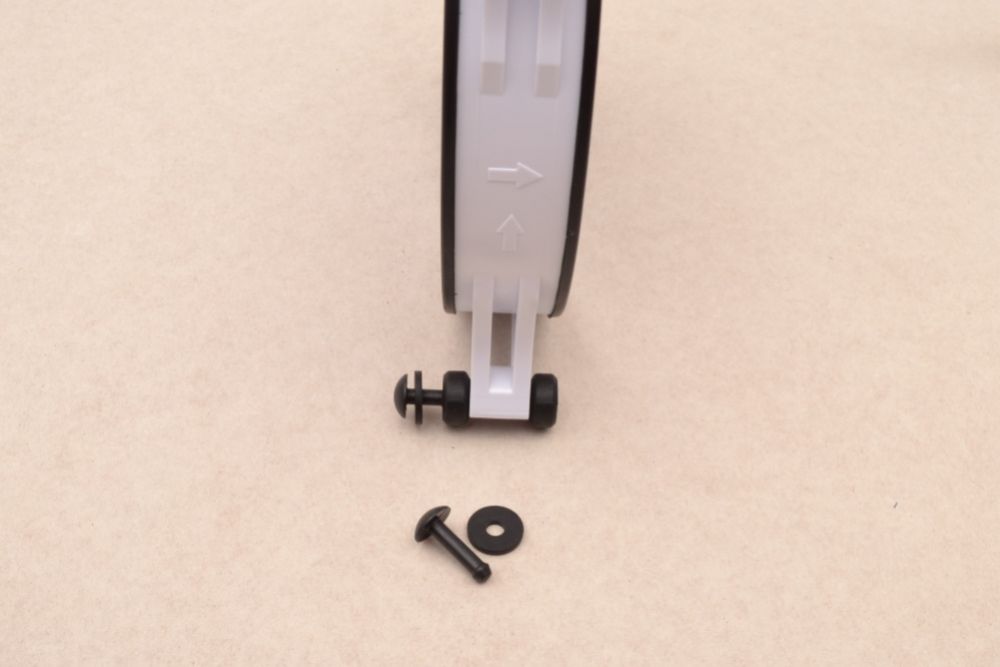 Place the disc on the stick and push the stick into the holes in the corners of the fan. Then it gets stuck and is completely vibration-dampened. It doesn't get much easier. However, if you lose or break a pin, you have a problem. But I am pretty sure a standard fan screw also works in these rubber mounts.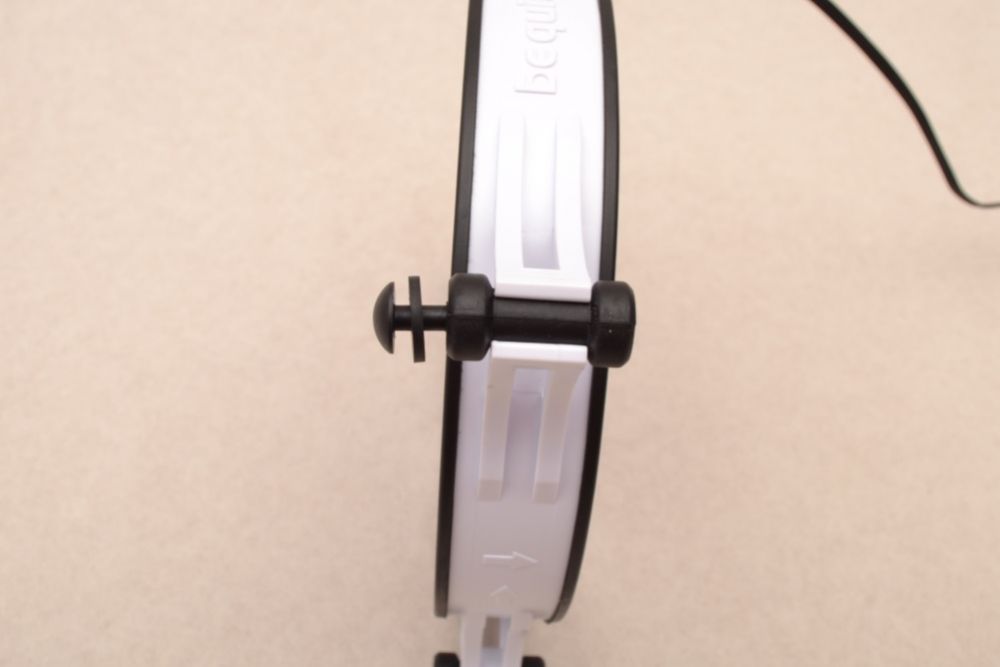 The test.
Of course, I've had all the models mounted, and have to admit it's impressive how little noise they make. I had to put my ear close to hear and feel how little noise they were making.
In a standard setup, where there is also a CPU fan, a graphics card and other things that may make a little noise, you will not notice these fans at all. That is how quiet they are.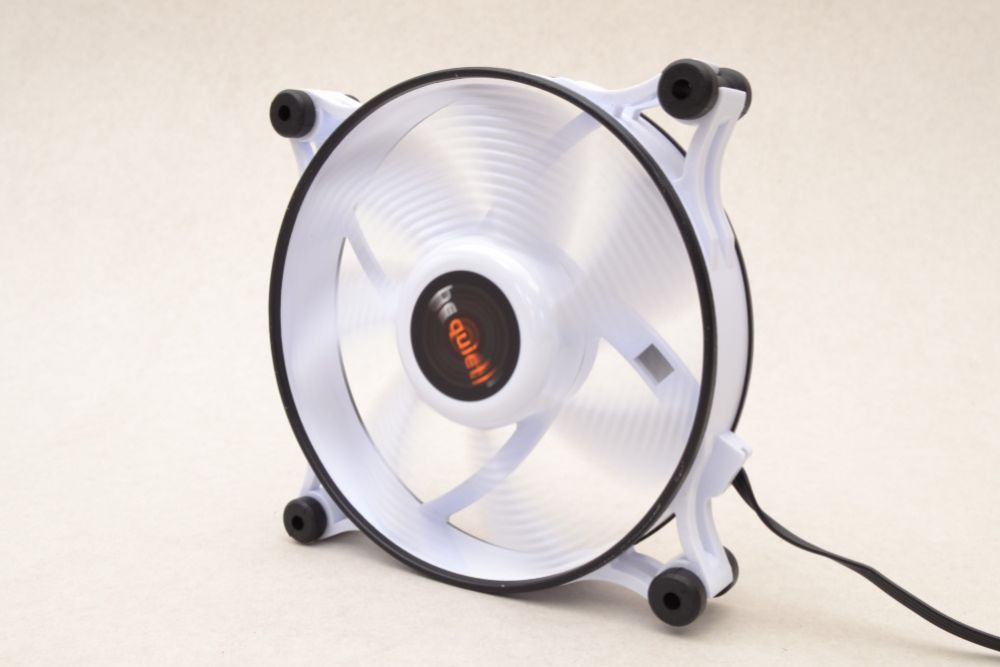 The final conclusion.
be quiet! have not disappointed to date, and certainly, do not with their Shadow Wings 2 series either.
The fans are made in a super lightweight design so they don't seem as bombastic as their Silent Wings or Pure Wings fans.
The vibration dampening corners and the edge of the ring just give the last impression of quality. It is discussable if mounting by pins sticks is optimal, but you can replace the pins with screws if you have the screws yourself.
That's the only thing I really lack in the context of this fan. It is an extra pin if one of them is gets lost, or one of them accidentally breaks. Then it could have been good with screws if you now want to screw instead of using the pins.
The pricing.
Depending on the model and size and colour, the price fluctuates slightly according to the prices of Pricerunner. I have found a price range that is between 120 - 190 DKK, which is perhaps at the slightly higher-end when compared with, for example, Silent Wings 3, which is a bit below the overall price level.
Everything added together, we end up with a beautiful SILVER star rating. Smalle things are missing to get gold, to mention the extra accessories and maybe a lower price. This fan does not perform as well as Silent Wings 3, which is the flagship of fans from be quiet!
Read more about Shadow Wings 2 here:
https://www.bequiet.com/en/casefans/shadow-wings-2/1620