SilverStone PS14-E Casing
SilverStone has asked me to look at one of their casings, namely their PS14-E cabinet. It differs slightly from today's trends, and we look at whether it is good or bad.



Packing and content.
The box in which the casingis received is a standard brown cardboard box. There are illustrations, features and specifications printed on the outside. Inside the box we find the casing wrapped well in a plastic bag and flamingo.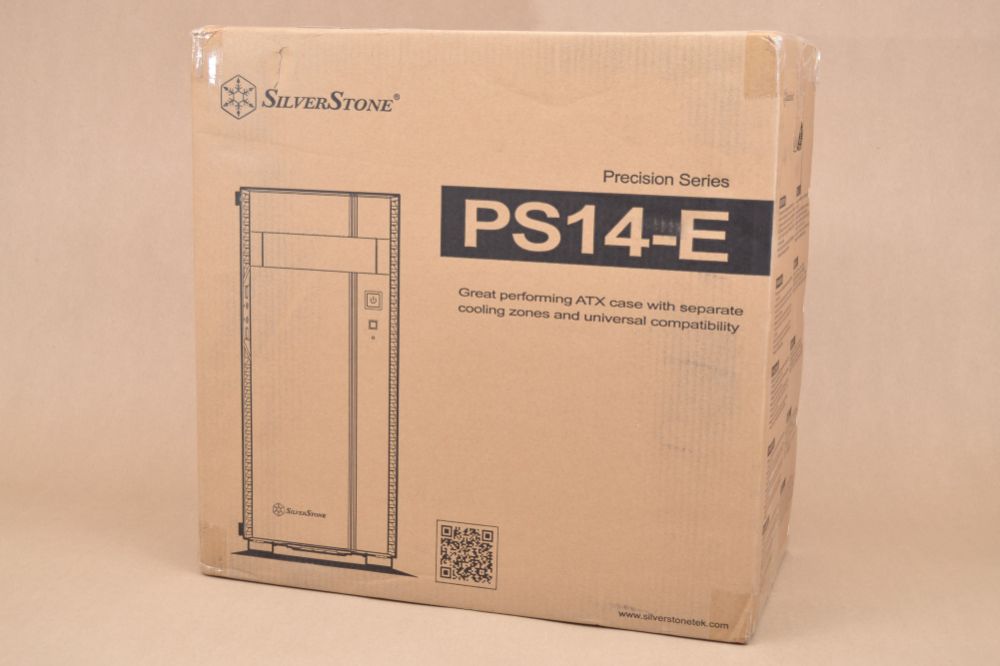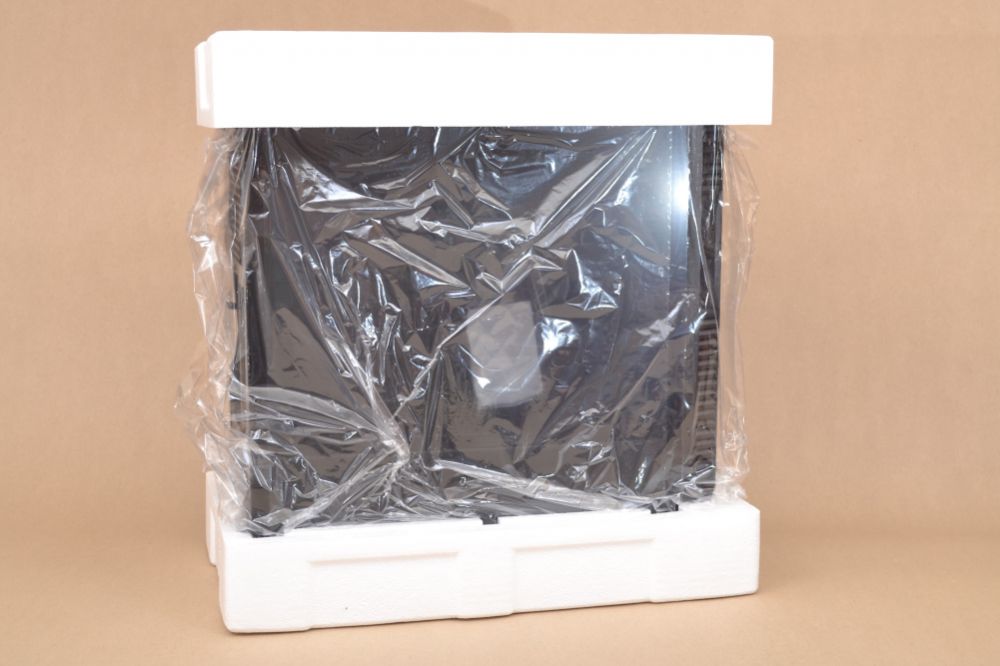 Inside the casing we find a bag of various screws, strips, warranty description and a holder for graphics cards. I show it some more down in the assembly section.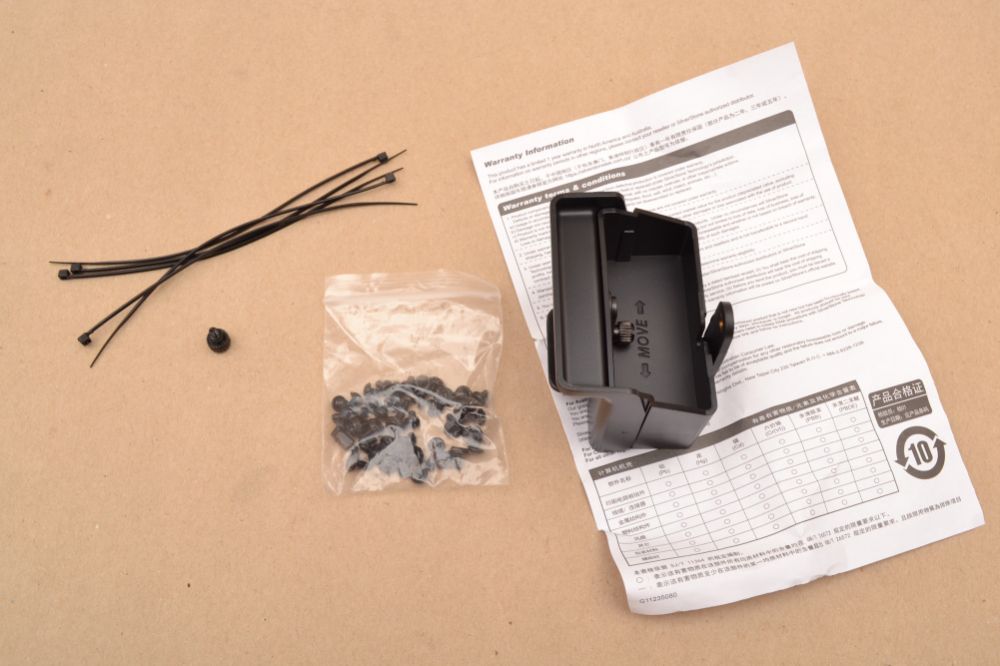 In the box is also an RC03 PCIe extender, which I have asked them to send. This is to show the horizontal mounting of graphics cards. I show that down in the assembly section.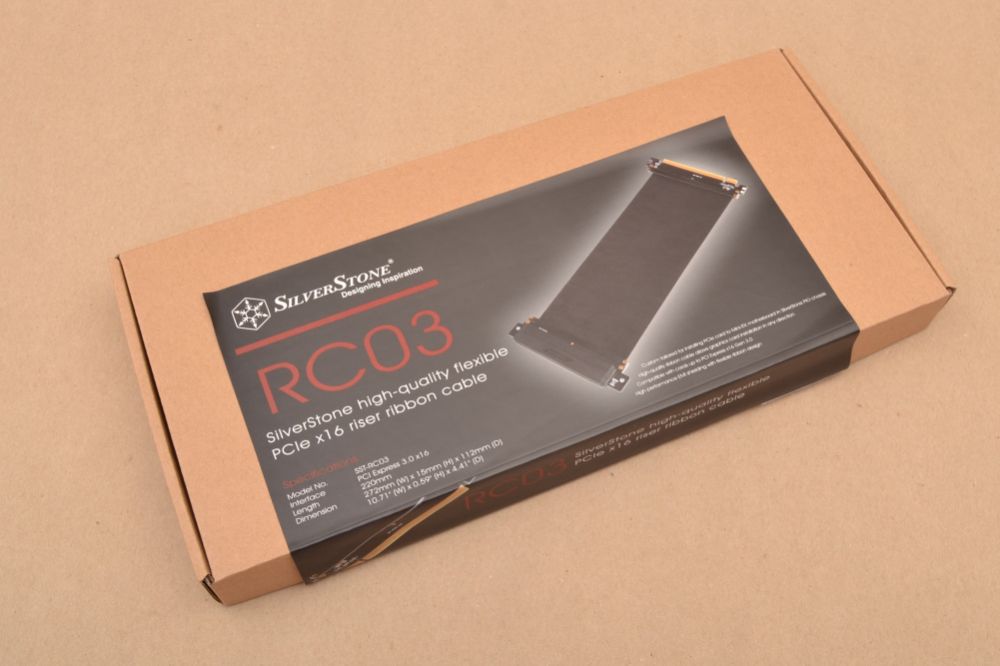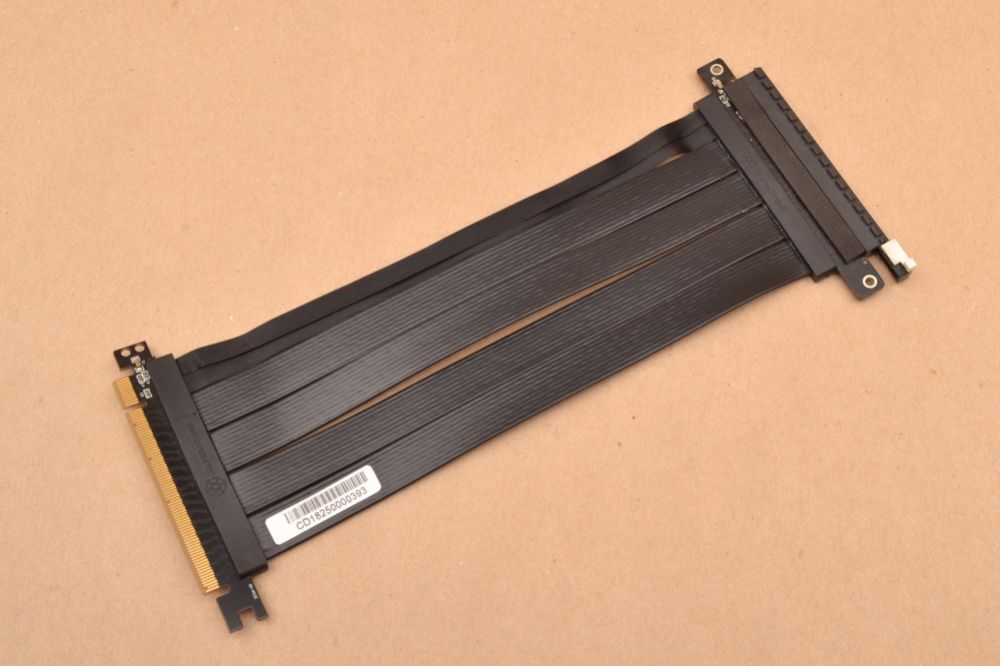 The technical specifications.
The casing is an ATX casing that can take most motherboards, m-ITX though not mentioned in the specifications. A standard ATX psu can be used, and a 357 mm long graphics cards. The casing weighs just under 6 kg, which is actually not much, and has plenty of room for water cooling.
Material: Plastic front panel, steel body
Motherboard: SSI-CEB, ATX, Micro-ATX
Drive bay:
External 5.25" x 1
Internal 3.5" x 2, 2.5" x 2
Cooling system:
Front 120mm fan slot x 3 (support 140mm fan x 2)
Rear 120mm fan x 1 (support 140mm fan x 1)
Top 120mm fan slot x 2 (support 140mm fan x 2)
Radiator support:
Front 120mm / 140mm / 240mm / 280mm / 360mm x 1 (5.25" drive bay unavailable*)
Rear 120mm / 140mm x 1
Top 120mm / 240mm x 1 (5.25" drive bay unavailable*)
Expansion slot 7
Front I/O port:
USB 3.0 Type-A x 2
Audio x 1
MIC x 1
Power supply Standard PS2(ATX)
Expansion card Support up to 14" (357mm), width restriction – 7.2" (183mm)
Limitation of CPU cooler 177mm
Limitation of PSU 190~210mm
Net weight 5.7kg
Dimension:
210mm (W) x 469mm (H) x 438mm (D), 43.1 Liters
8.27" (W) x 18.46" (H) x 17.24" (D), 43.1 Liters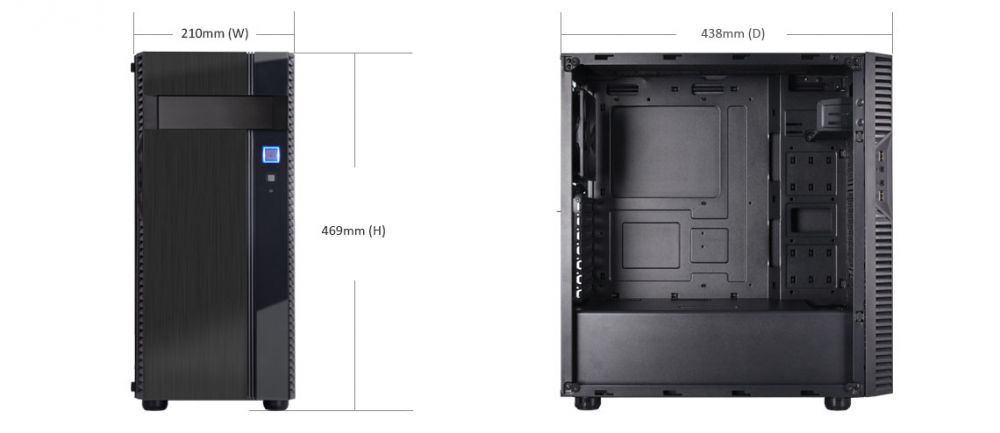 It's time for a tour.
Nowadays, casings should preferably be made in glass all the way around, with full RGB and lots of other glitter. The PS14-E differs quite a bit since there is neither glass over all, nor RGB light.
The front is made of plastic with beautiful details such as brushed aluminum imitation, and glossy surfaces.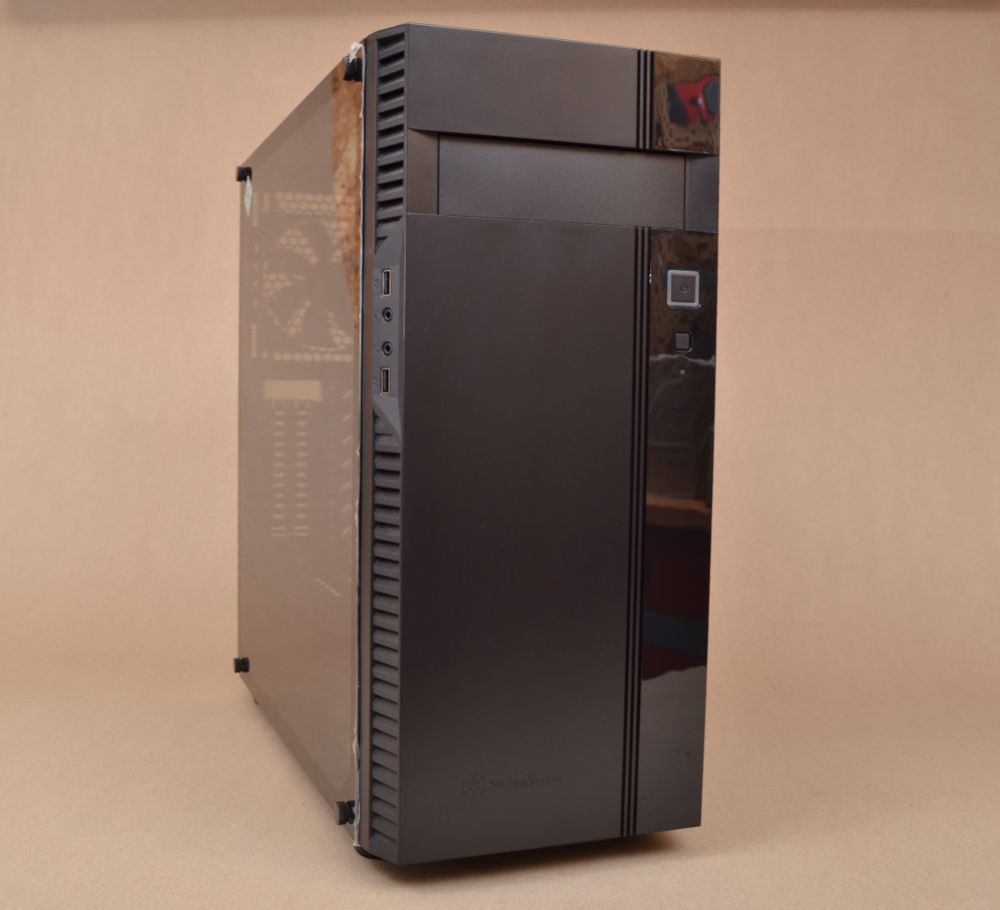 On the back we can see that a 120 mm fan is mounted, but with option for larger models. Both horizontal and vertical mounting of insertion boards are possible (Therefore the RC03 PCIe extender)
The covers on the back are completely removed when mounting anything. Unfortunately, there are no extra covers if you remove a cover that does not need to be removed. Or you move things around in the computer. Then unfortunately you get some pretty big holes on the back.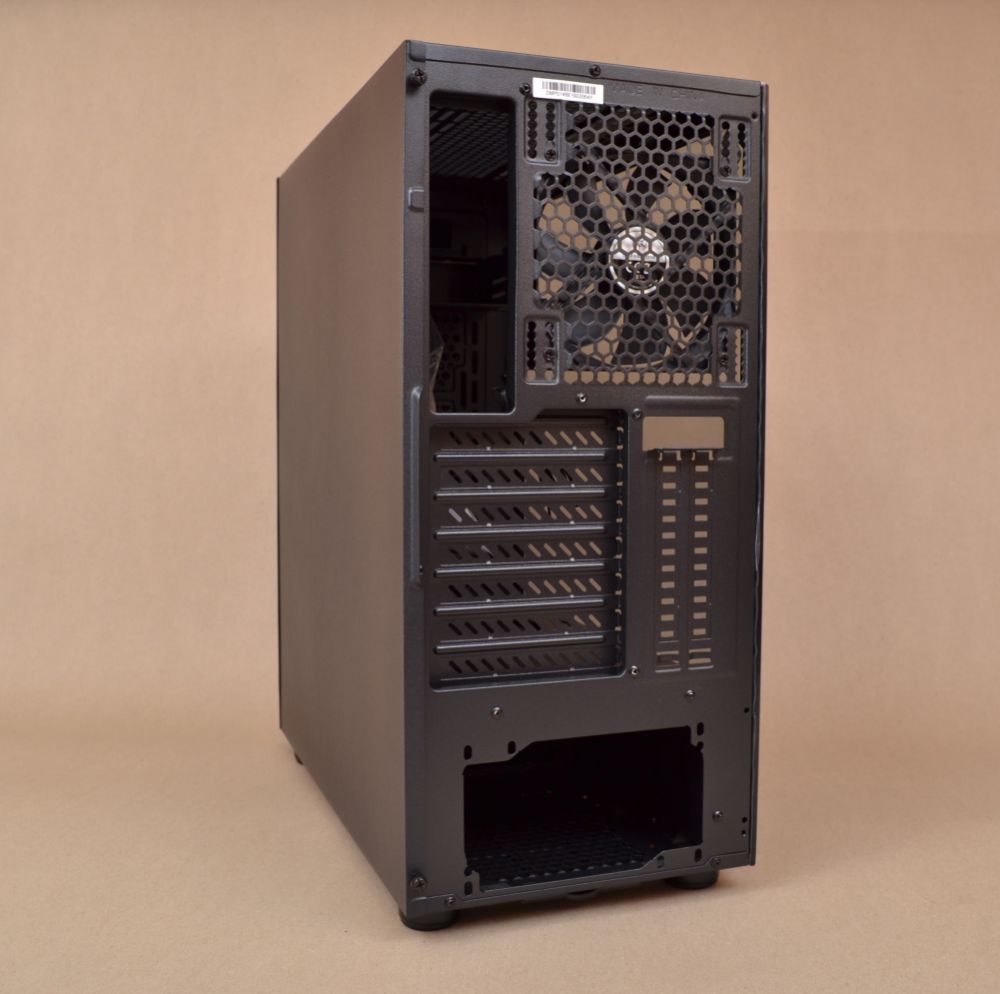 On the right side of the front we find a power and a reset button. Note that this casing has room for a 5.25" unit in the front. You don't see that very often anymore. So those who would like a Blue ray drive, or a fan control or other stuff in the front, have the option with this casing.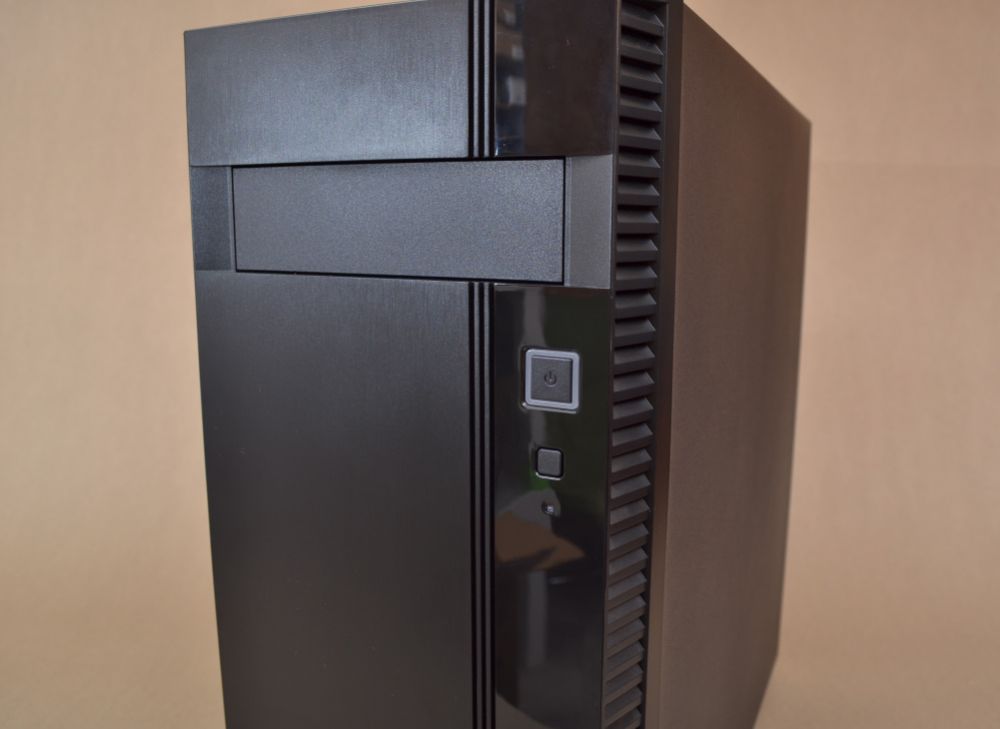 On the left side of the front we find all the connectors, which are a pair of USB and audio connectors. The plugs are kept in black so it matches the front and the entire casing, which looks pretty cool. There are ventilation gills in the front so front fans can pull air through there.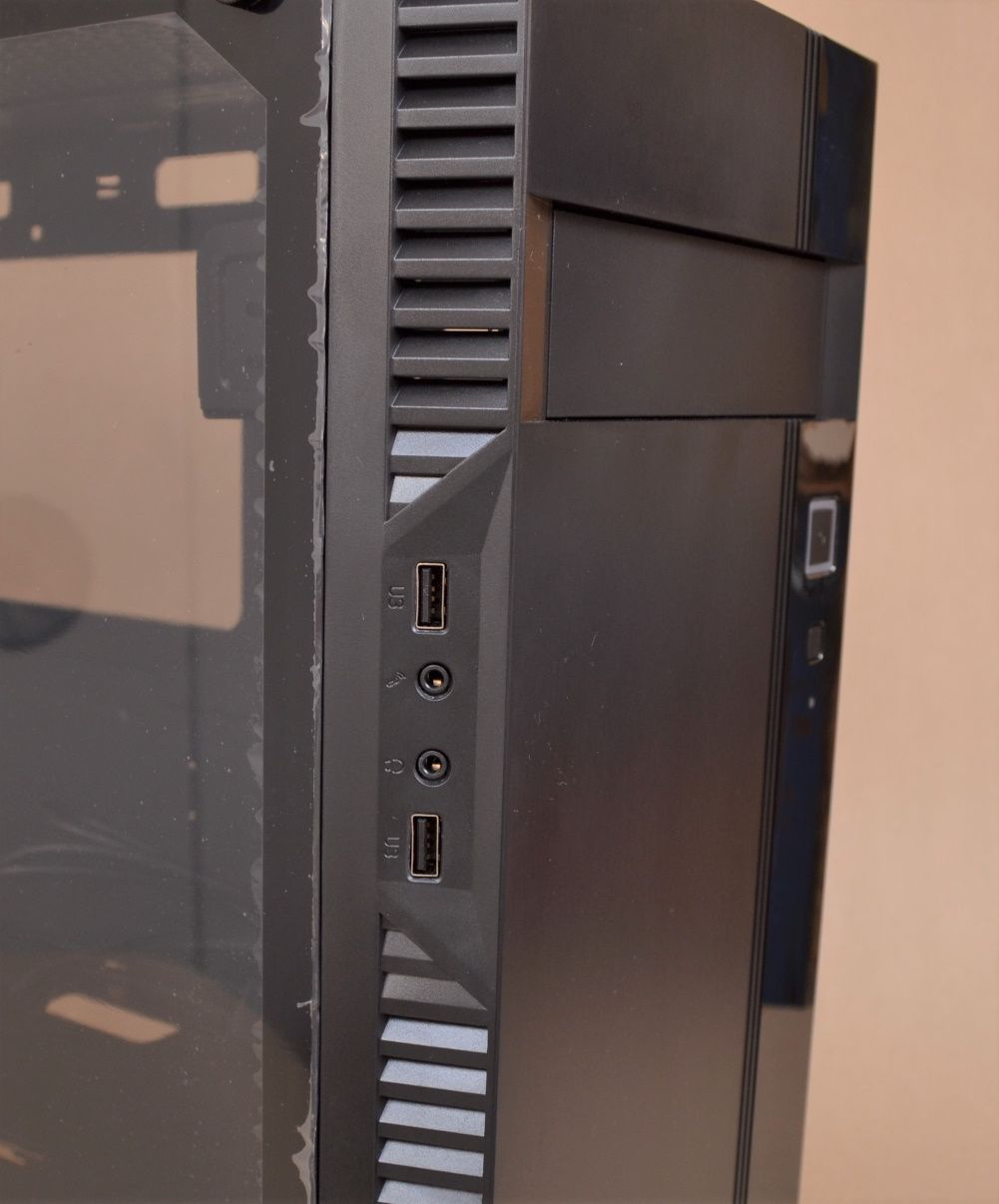 At the top we find a magnetic dust filter. Unfortunately, a fixed cover is not included, so you cannot completely blend the holes in the top for better airflow through the casing.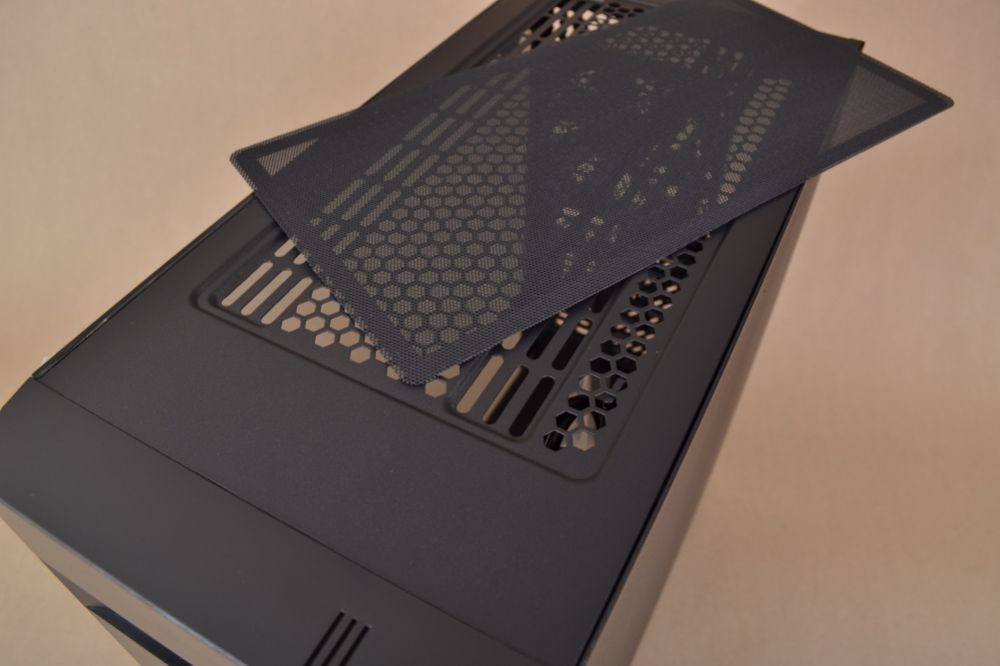 At the bottom we find some good high feet as well as a dust filter for the power supply. The filter can be removed from the back, but it requires some unusually small fingers to get to it.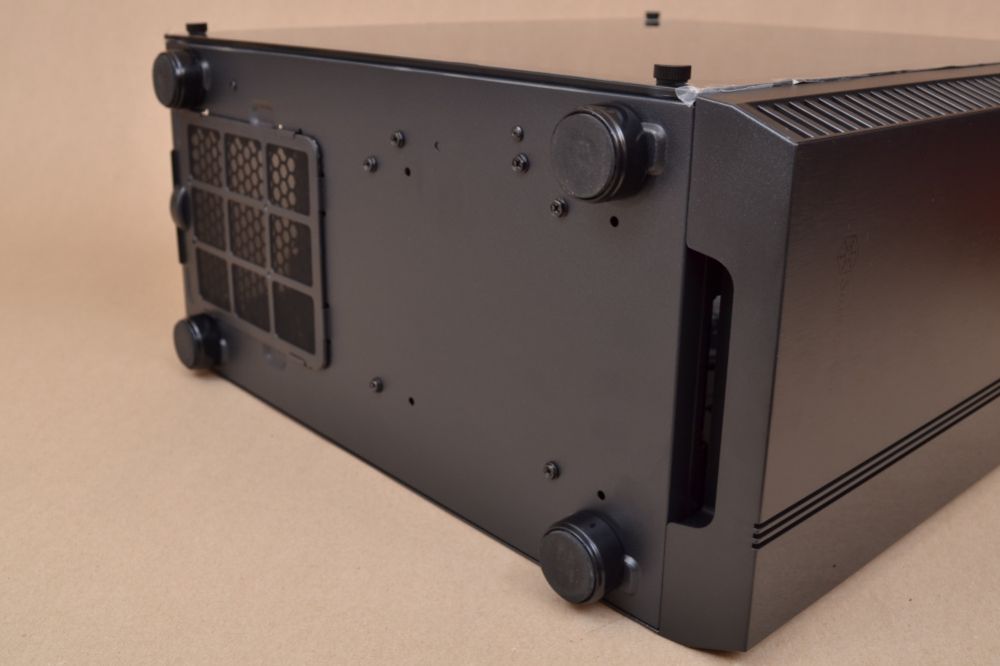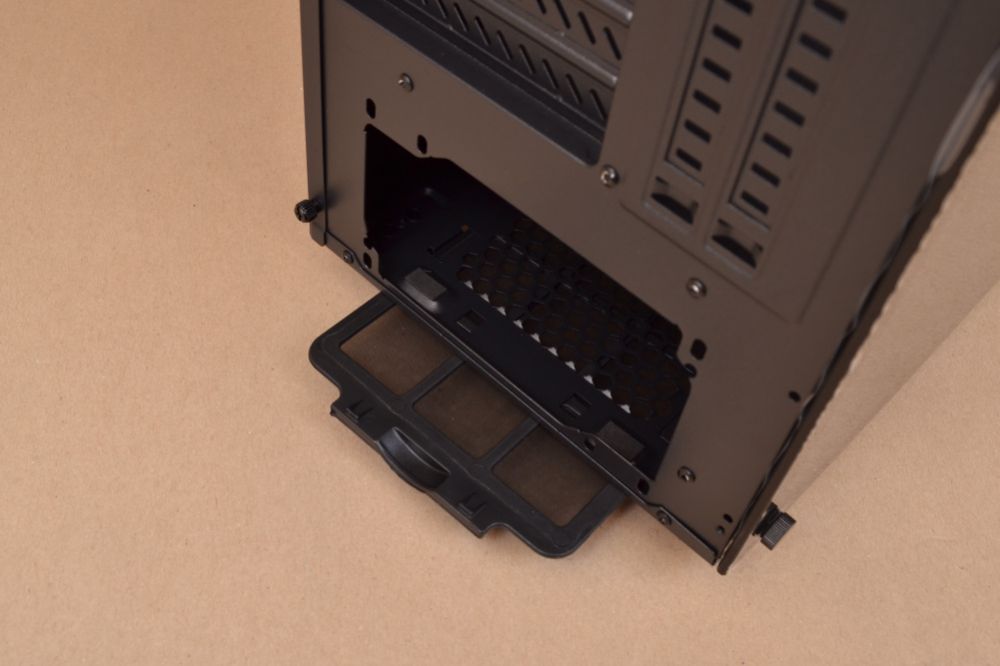 If we open to the front of the casing we can see that there are good options for cooling. Unfortunately, there is no dust filter here in the front, so you have to keep a close eye on any radiator you put here in the front.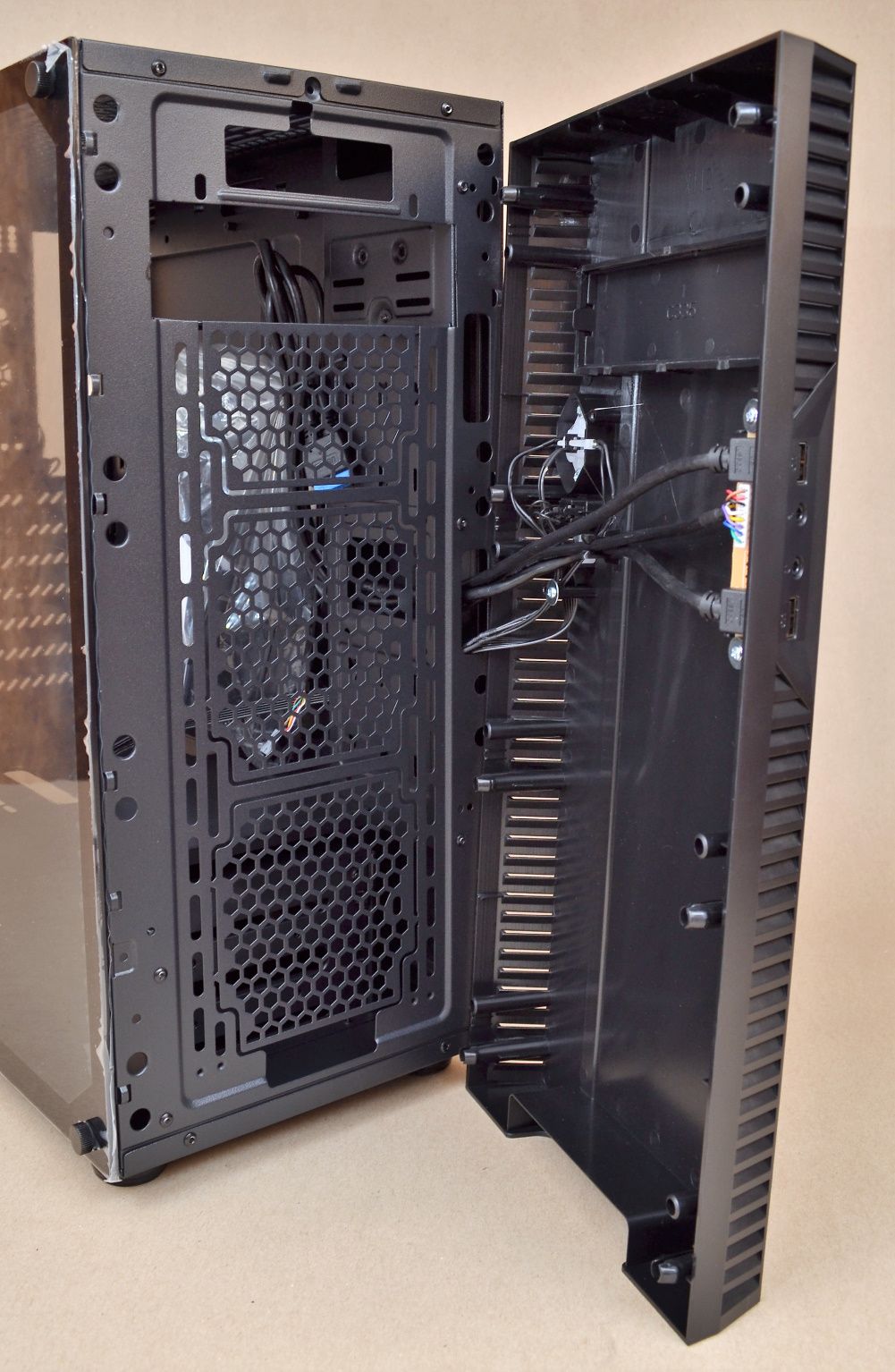 Here is an overview of the water cooling options this casing offers. It's not a small waterloop when you consider the size of the cabinet.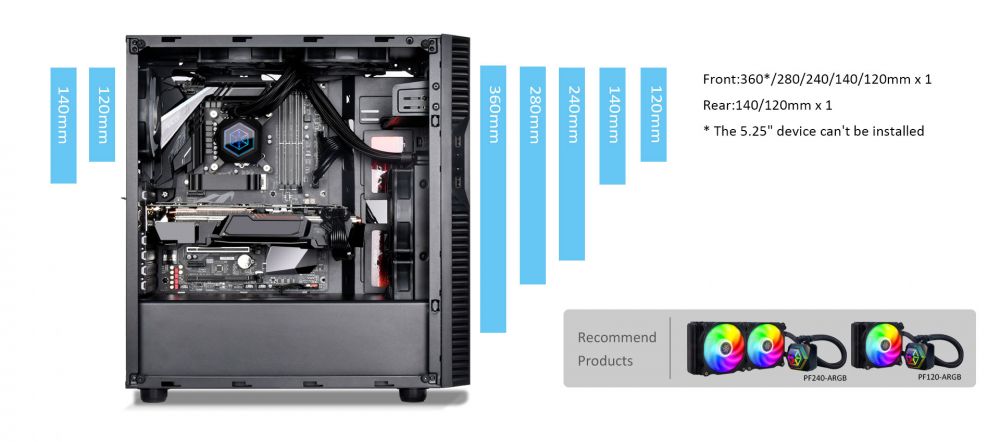 The glass panel on the side is slightly smoky, as you can see in the picture. It does not give the wild distortion of the colors. However, in my opinion a better gray color than the ones you see which is more brownish.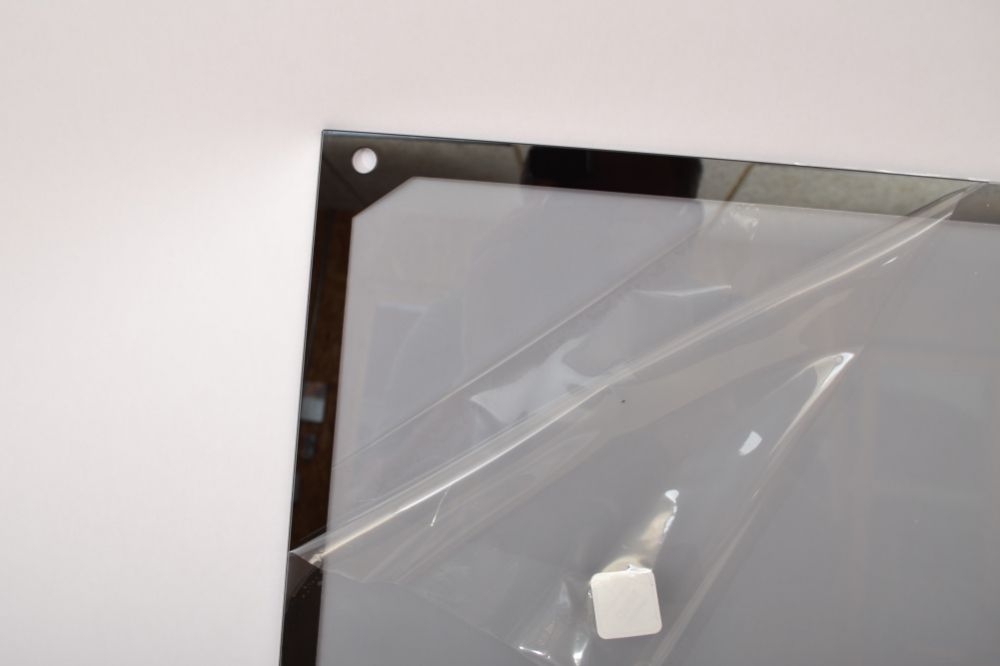 If we take a look inside the casing itself, it looks pretty stylish. Everything can be separated as it is all screwed together. I personally like that instead of using pop rivets. A few SSDs can be mounted on the right side besides motherboards. This is just fine with the possibilities you have nowadays with RGB light in your SSD.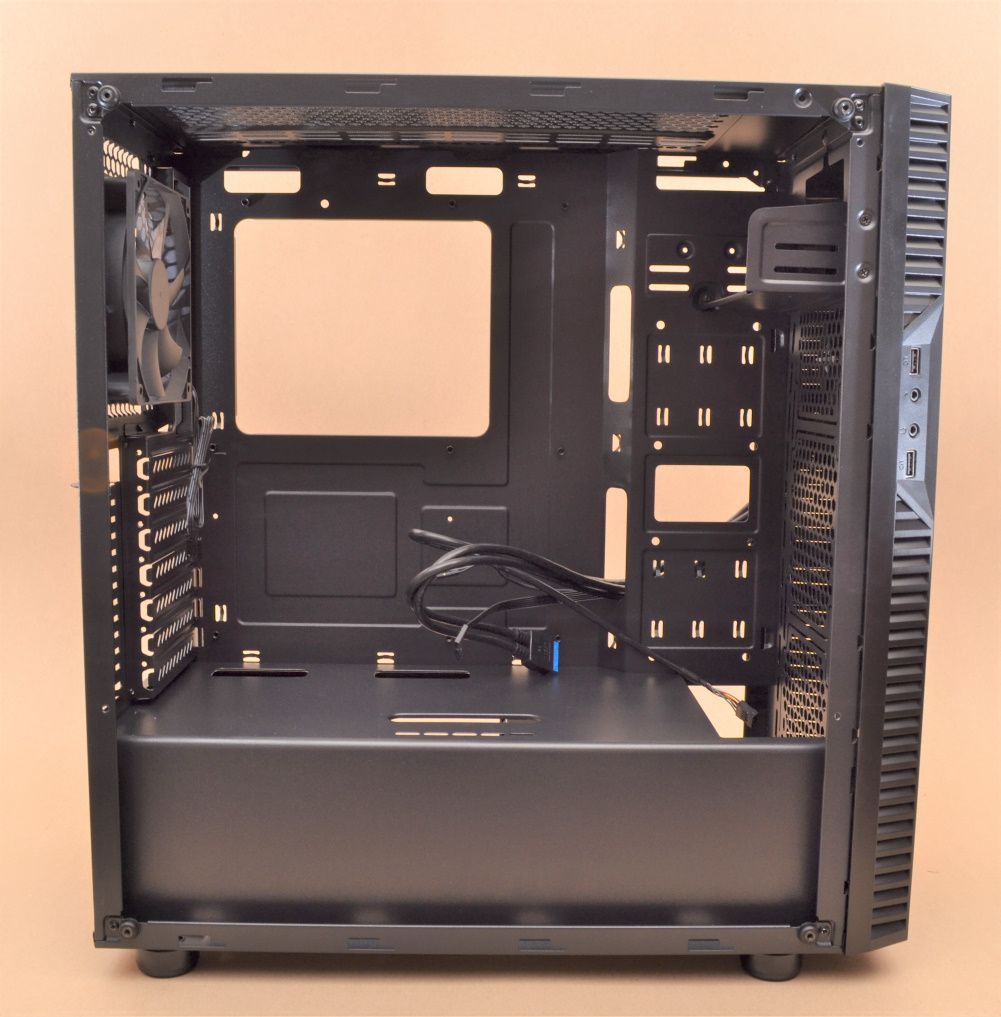 On the back there is the possibility of a couple of drives under the PSU cover, which is great for storage.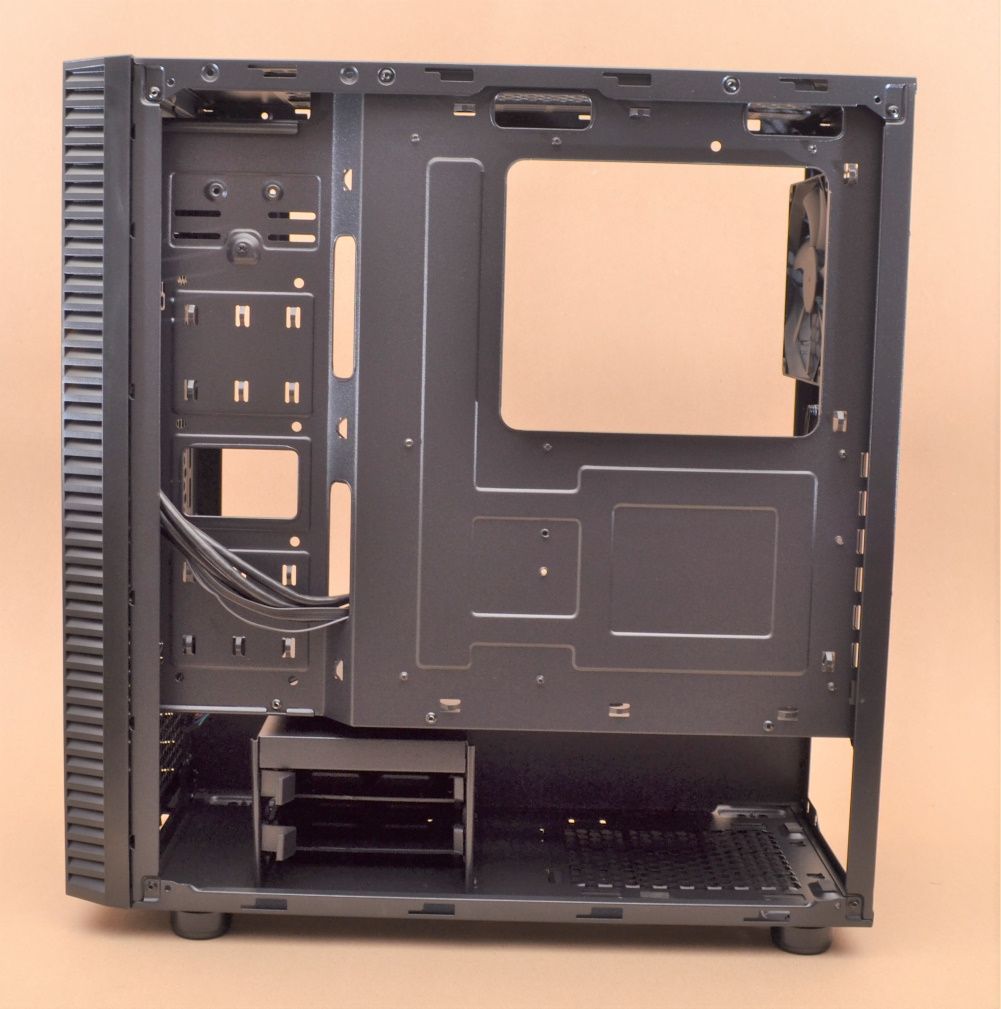 How's the mounting.
I have mounted an ATX motherboard in the casing, and as you can see, there is plenty of space for cables. On the right side, I have mounted an SSD, and as you can see, it can get a little difficult with the cables. Especially if you mount one more, which sits upside down, and the cables then meet in the hole.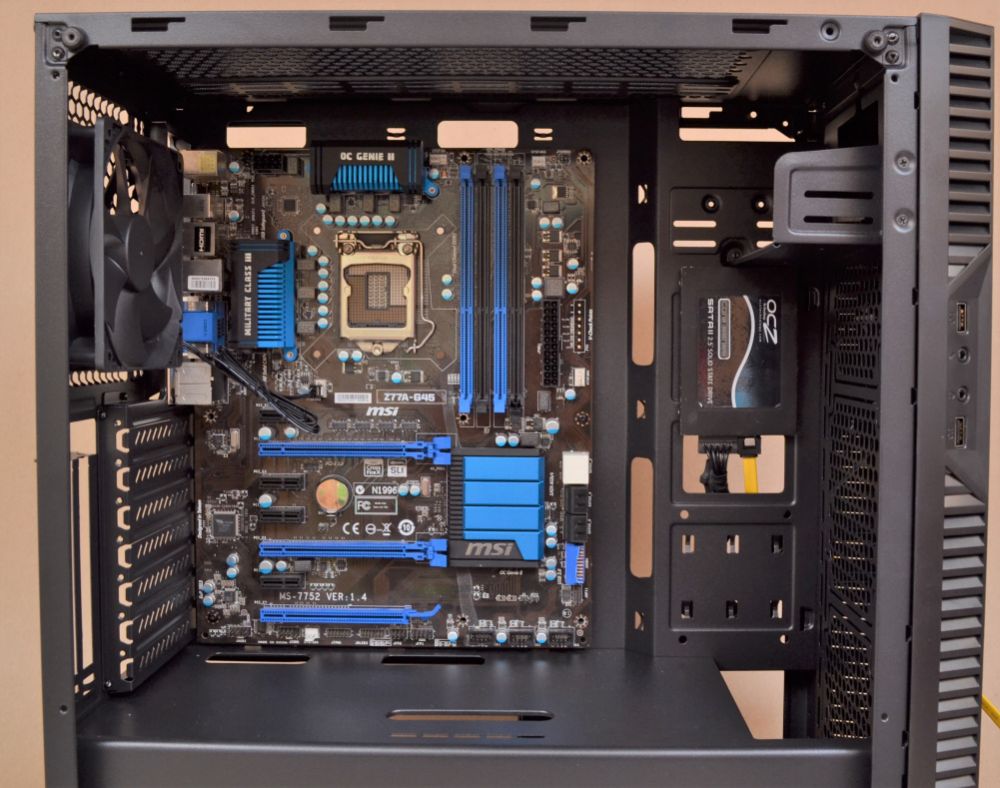 The graphics card can be mounted as usual, or you can use the supplied bracket and mount the graphics card horizontally. The bracket can be adjusted to fit most graphics cards.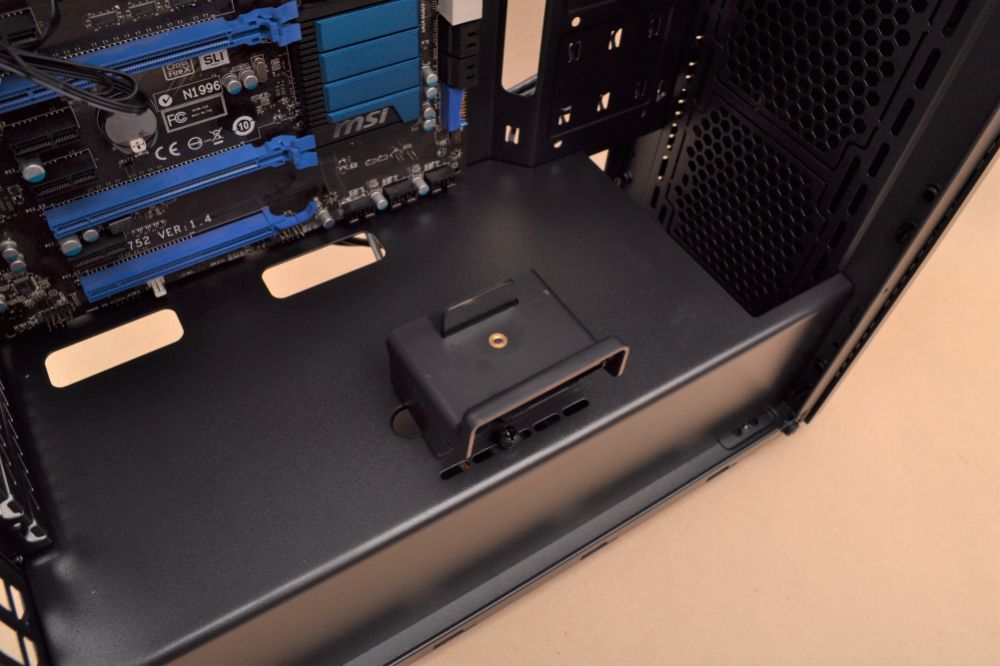 Here I have mounted a GTX 1060 card with the bracket. I know it is not the optimal graphics card for mounting this way, it should preferably be blower fan style. After all, the graphics card will sit completely gaainst the glass panel. There is plenty of room for a much larger graphics card in this casing.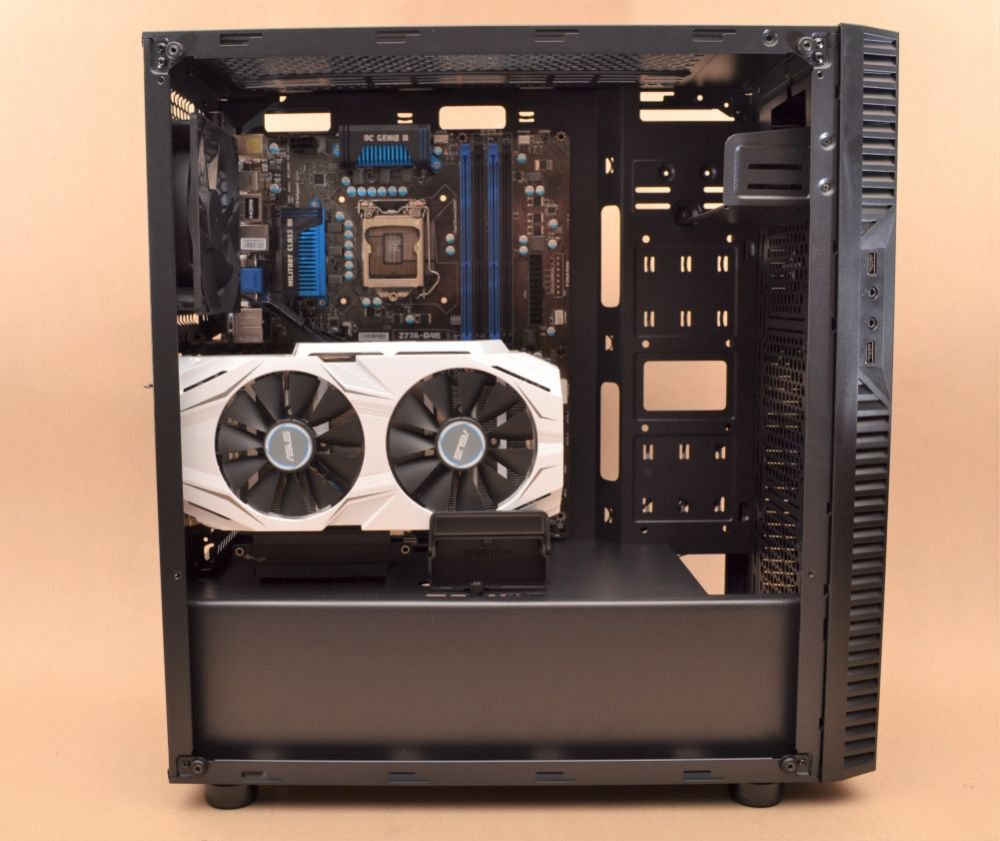 There is plenty of room for a standard power supply and I might suggest a modular supply so you can avoid having to pack a lot of cables into the small hole in the front. If you have a physically larger supply, you should probably re-consider using your HDD slots for anyhing, because that cage can be removed in favor of more cable space.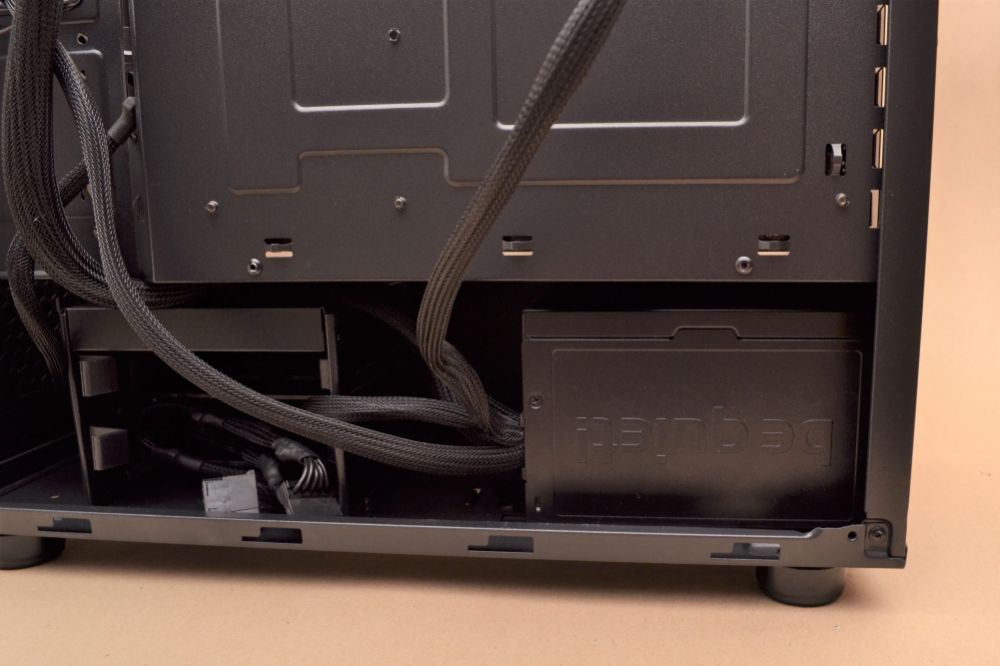 Regarding space, there's not a lot of space between the back plate and side panel. But there can be an EPS cable to supply the motherboard. So you should not get into big problems even if the space is a little cramped.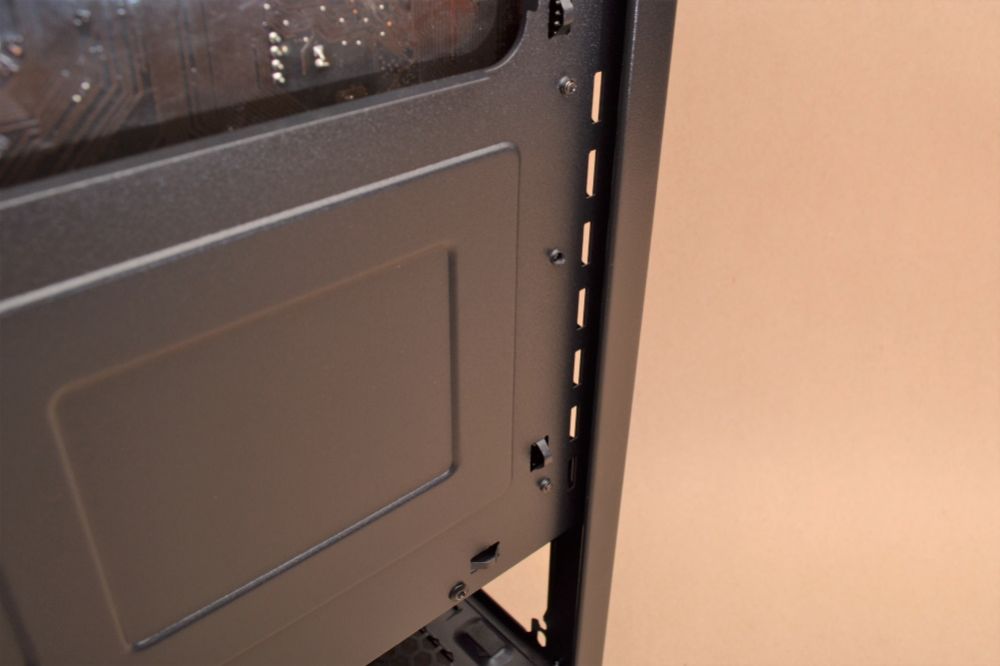 The same goes for HDD cables, where there is also not much space left. At least I'm glad I have a power supply with angular plugs on.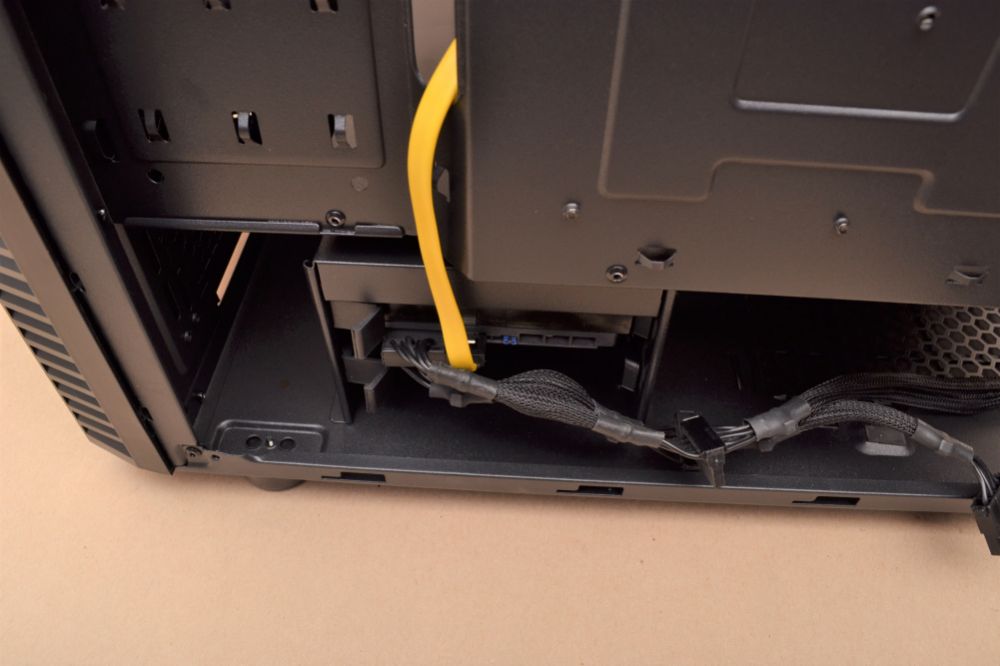 The light.
The light for Power is around the power button, which looks pretty cool and discreet. The HDD light is in a small LED further down, and also quite discreet. In general, the light fits the casing quite nicely. Not too flashy, but neat and discreet.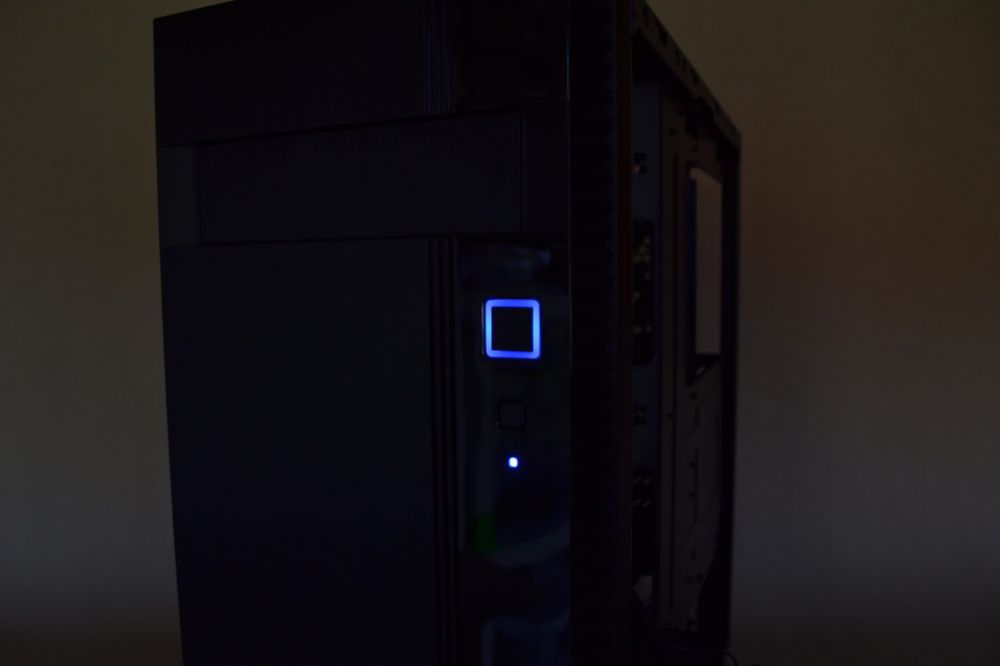 What is my opinion of the SilverStone PS14-E case.
SilverStone is actually known for thinking differently. They do not make the wild RGB solutions, and their Raven series turns upside down on the entire interior.


The PS14-E is also a casing that has not gone all in to please the European market. SilverStone have chosen a bit of glass, but also chosen, to offer the solution with 5.25" drive in the front. You do not see many new casings with that option nowadays.
There is also no RGB light, but if you want it, there are many solutions you can buy for your casing. Even from SilverStone.
In contrast, the PS14-E offers really good options for water cooling. There is plenty of space both front and rear, and you can mount fans at the top of the casing.
The PS14-E is a discreet casing that does not seem too flashy in itself. But it offers good options and solutions for making a good computer with the accessories you want to put in it.
The price:
I have not been able to find the casing in the Danish databases, but it should have been released for free trade. In contrast, I received a suggested price from SilverStone, which reads EUR 50, which gives a price of about DKK 380. It is a good price if it is the same in Danish stores.
If you add and subtract from the SilverStone PS14-E, I end up with a nice SILVER star rating. The casing is super nice, but I think some accessories are missing. There should have been extra covers for the expansion slots and I could have wished for a dust filter in the front and a cover on the top. that way you can make a good airflow and get rid of dust in your radiator in the front.
Read more about SilverStone PS14-E here:
https://www.silverstonetek.com/product.php?pid=852