be quiet! Dark Rock Slim Cooler
be quiet! back on the blog with a brand new product. They have made a smaller version of their top cooler Dark Rock Pro 4, and called it Dark Rock Slim. Read here if this is a good idea.

First, a small introductory video.
The packing and content.
The box you receive with your cooler is in typical be quiet! colors, namely black, white and orange. There are illustrations and specifications printed on the outside.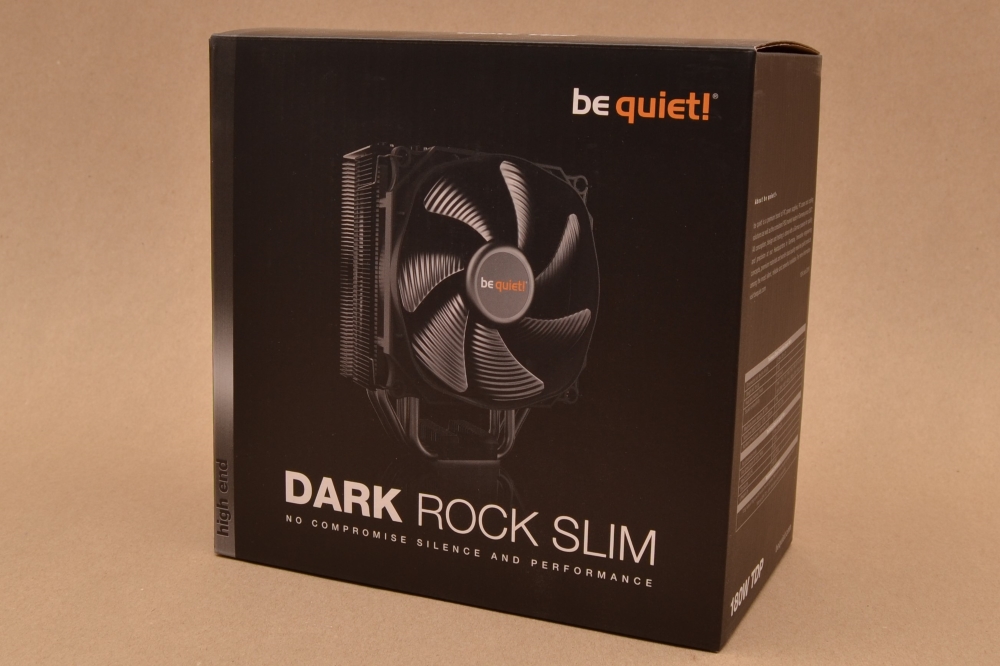 Inside the box we find the cooler itself with a mounted Silent Wings 3 fan. There are extra hangers for an extra fan, a bag for Intel and one for AMD as well as the user manual and a little cool paste.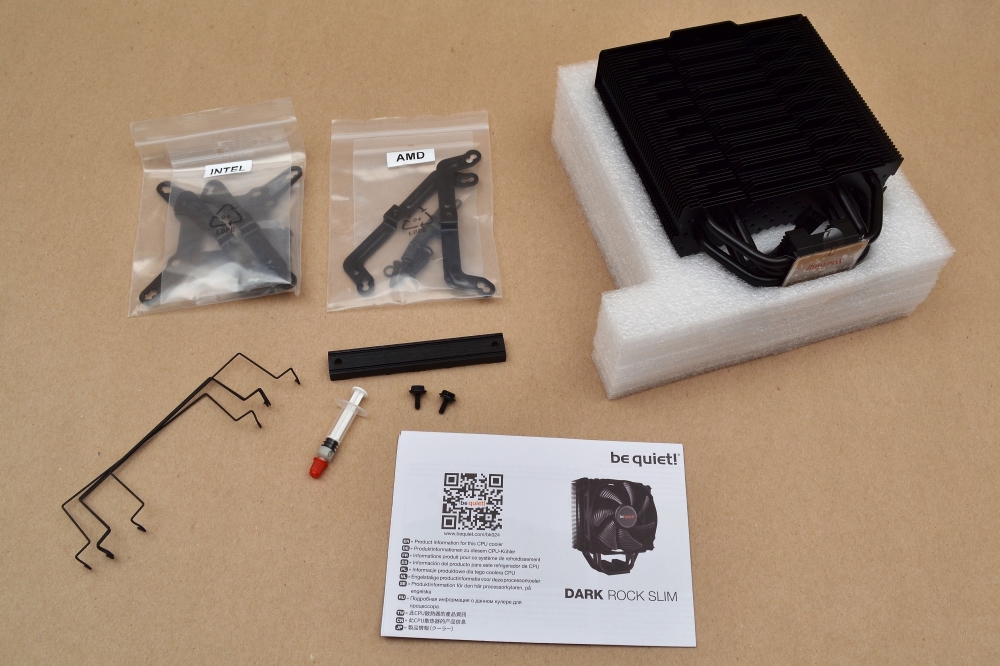 The technical specifications.
As you can read,m the cooler weighs 0,62 kilo, and can handle a CPU with a 180W TDP. My test CPU should be at 220W TDP, so it will be exciting to see if this cooler kan keep up. It supports all standard sockets for both AMD and Intel.
General data
Model: Dark Rock Slim
Overall dimensions without mounting material (L x W x H), (mm): 72 x 127 x 159.4
Total weight (kg): 0.62
TDP (W): 180
Socket compatibility:
Intel: LGA 1150 / 1151 / 1155 / 1156 / 1366 / 2011(-3) Square ILM / 2066
AMD: AM2(+) / AM3(+) / AM4 / FM1 / FM2(+)
Fan model, number: 1x Silent Wings 120mm PWM
Decoupled fan mounting: ✓
Overall noise level (dB(A)) @ 50/75/100% (rpm): 11 / 16.9 / 23.6
Heatsink specifications
Dimensions (L x W x H), (mm): 47,4 x 127 x 159.4
Number of fins: 51
Fin material: Aluminum
Base material: Copper
CPU contact surface: CNC machined
Heatpipe number / Diameter (mm): 4 / 6
Surface treatment: Aluminum / black ceramic spray painted
Fan specifications
Fan dimensions (mm): 120 x 120 x 23
+Silent Wings: ✓
Speed @ 100% PWM /12V (rpm): 1,500
Bearing technology: Fluid Dynamic Bearing
Motor technology: 6-pole fan motor
Rated Voltage (V): 12
Input current (A): 0.08
Input power (W): 0.96
Connector: 4-pin PWM
Cable length (mm): 220
Lifespan (h / 25°C): 300,000
Let us have a look at the cooler.
I have taken the fan off so we can see what is hiding behind it. There are rubber sides on the cooler, so the fan is vibration damped. This way, no funny sounds come from the fan, if there should be a little imbalance. You can also see the structure of the cooling fins, which are notched. This means that there will not be as much air noise when the fan is running. It breaks the air.
On the opposite side we also have some structure. Not quite the same, but still some structure. If you install a fan here, the blades will run just beside the cooler fins, where the structure here also helps break the noise.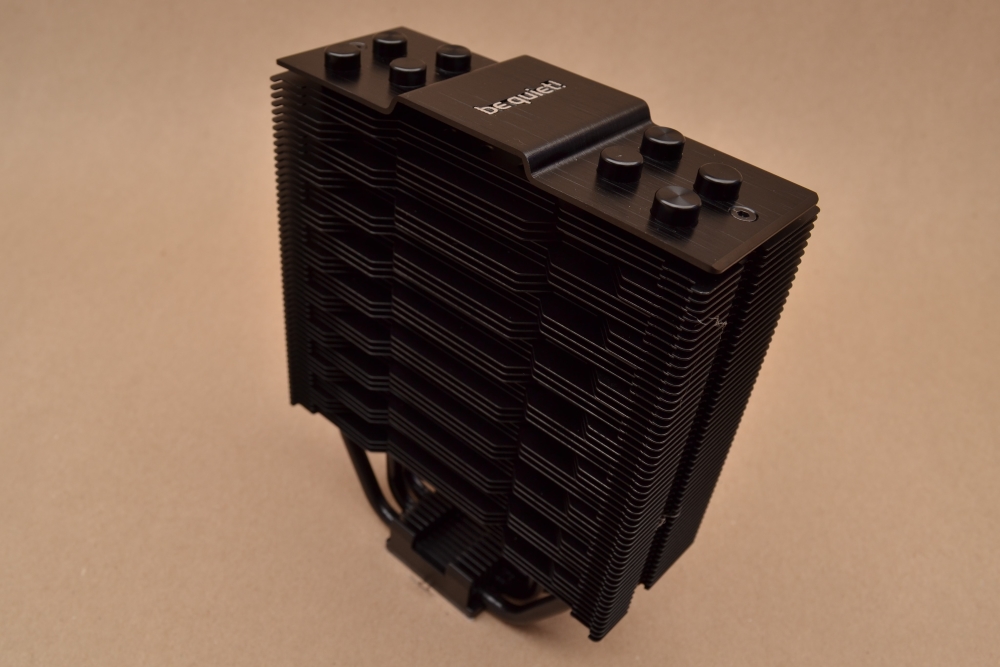 Seen from the side, you should mostly focus on the pipes at the bottom and the location of the cooling surface. You can see that it is all centered. Many coolers have this offset so that the cooling surface goes out to the side and gives room for the fan. It is obviously not the intention of this cooler. We will see this later with regard to the free space around the cooler during installation.
As can be seen from this picture, the cooling fins are also structured with small dents. This means that the air is forced around between the cooling fins, thereby creating better cooling.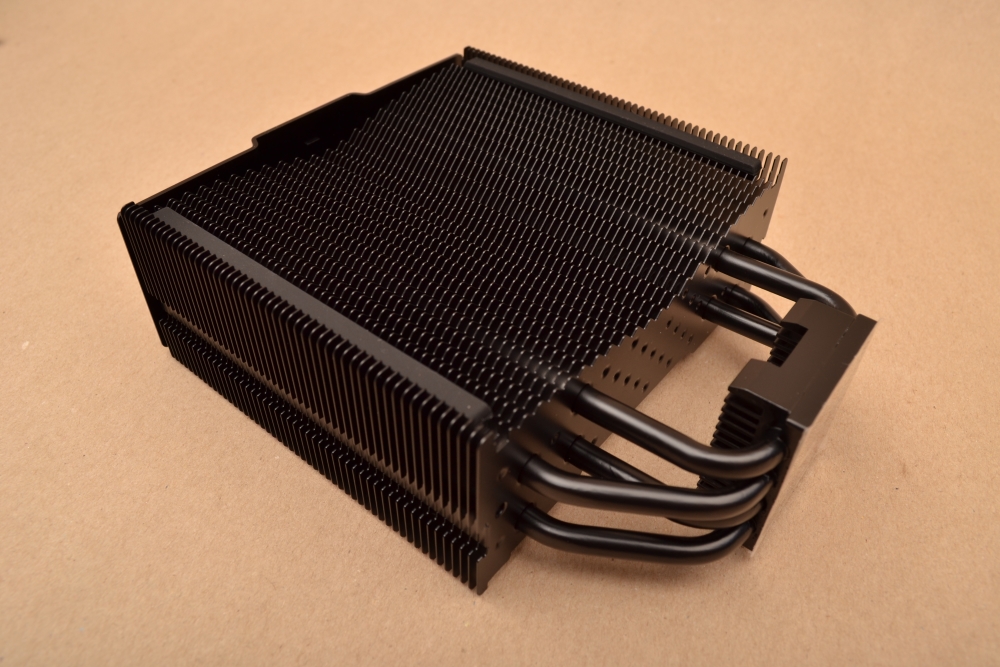 At the top we have a nice looking top plate, and nice covering of the pipes. There is an engraved be quiet! logo at the top, and the top plate is made of thick brush aluminum. Really high quality.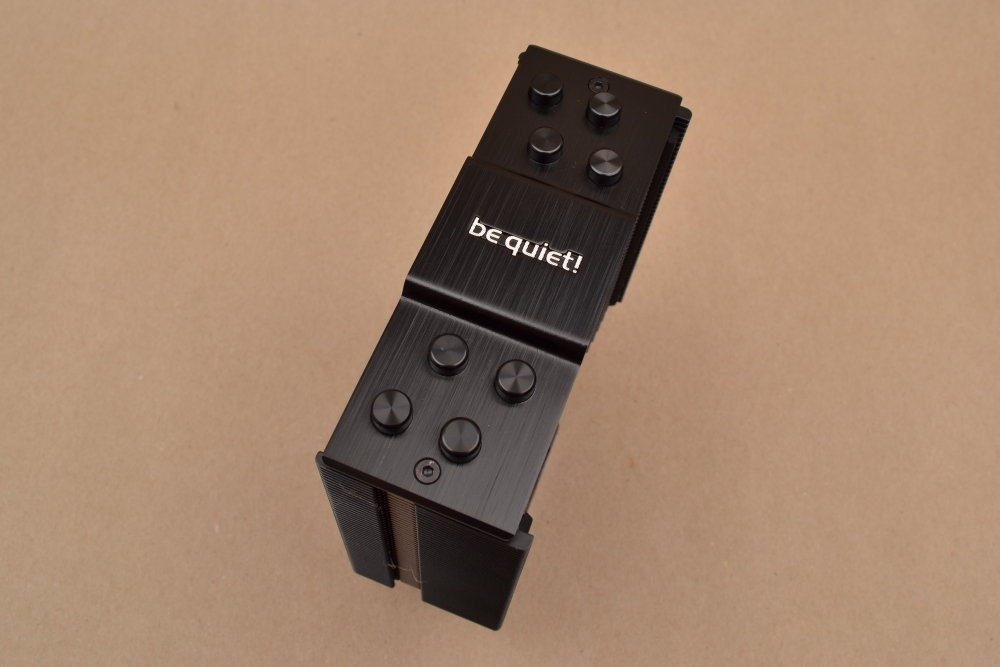 The fan is a be quiet! Silent Wings 3, the newest model from them. It is very quiet and built in super high quality.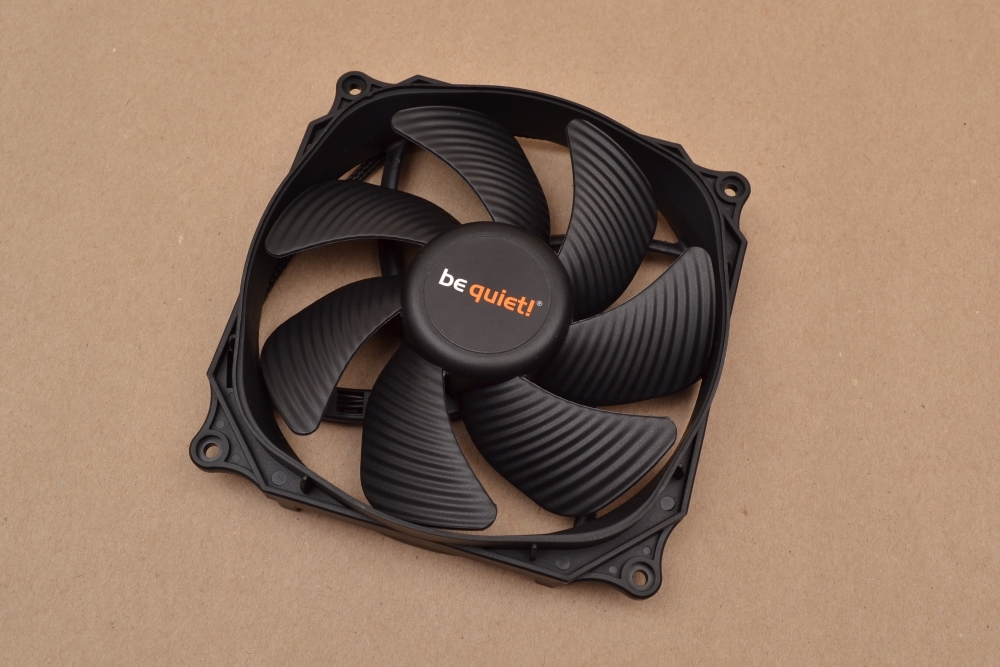 At the back we can see that it is a PWM fan and it runs at 1500 RPM as the maximum. It is the small pins at the top and bottom that are against the rubber on the cooler, so the fan has only 4 small contact points on the cooler.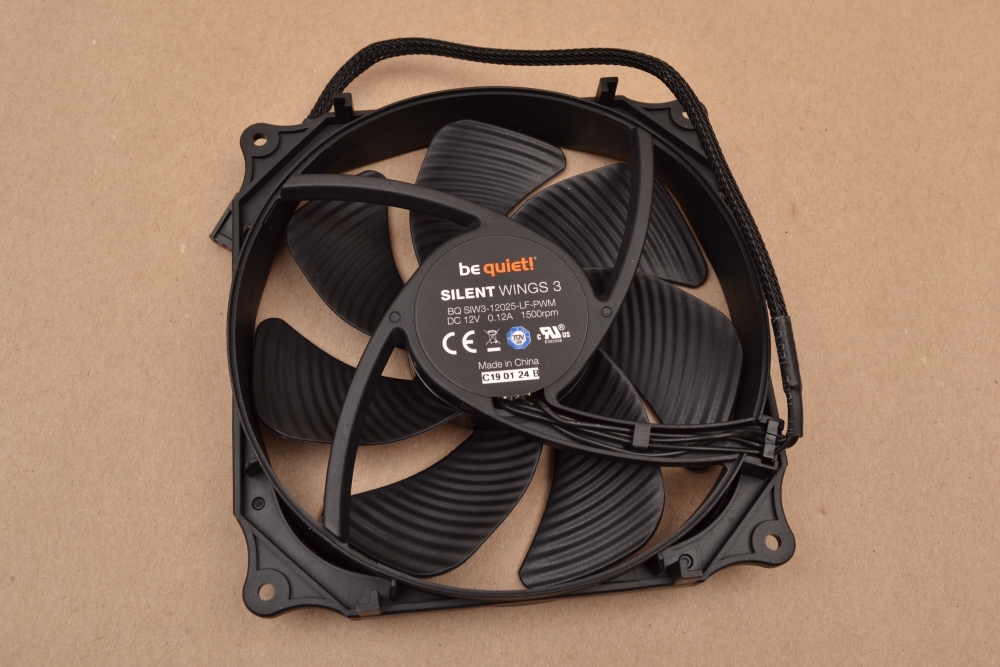 This is how it looks when the fan is mounted on the cooler.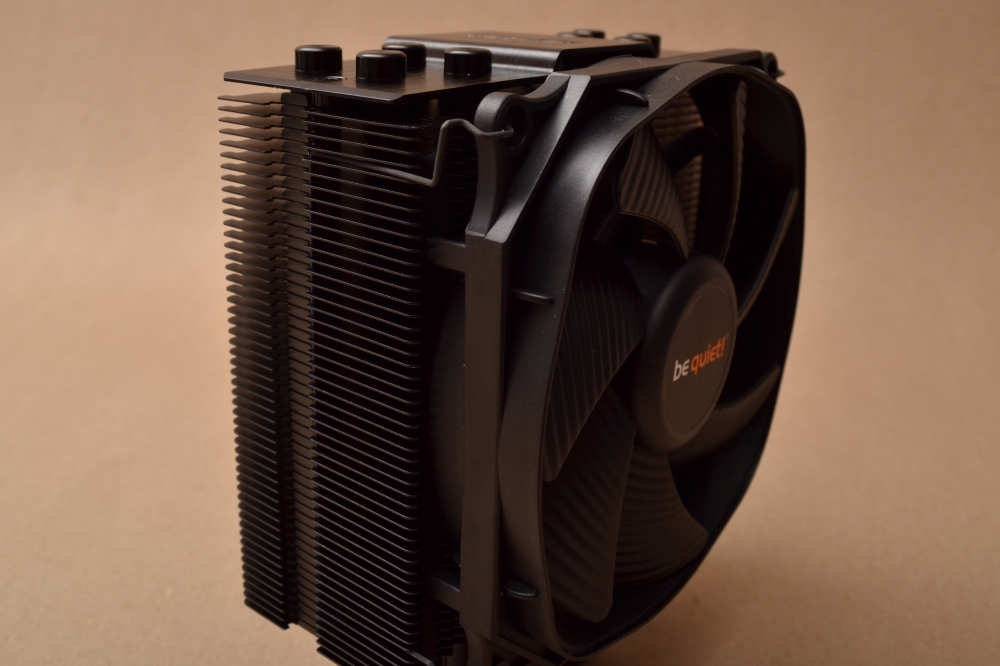 The mounting.
Since I am using AMD, it is super easy to mount the cooler. You unmount the original bracket, keep the rear bracket, and put some plastic pipes over. Then tighten the new bracket. It won't be easier.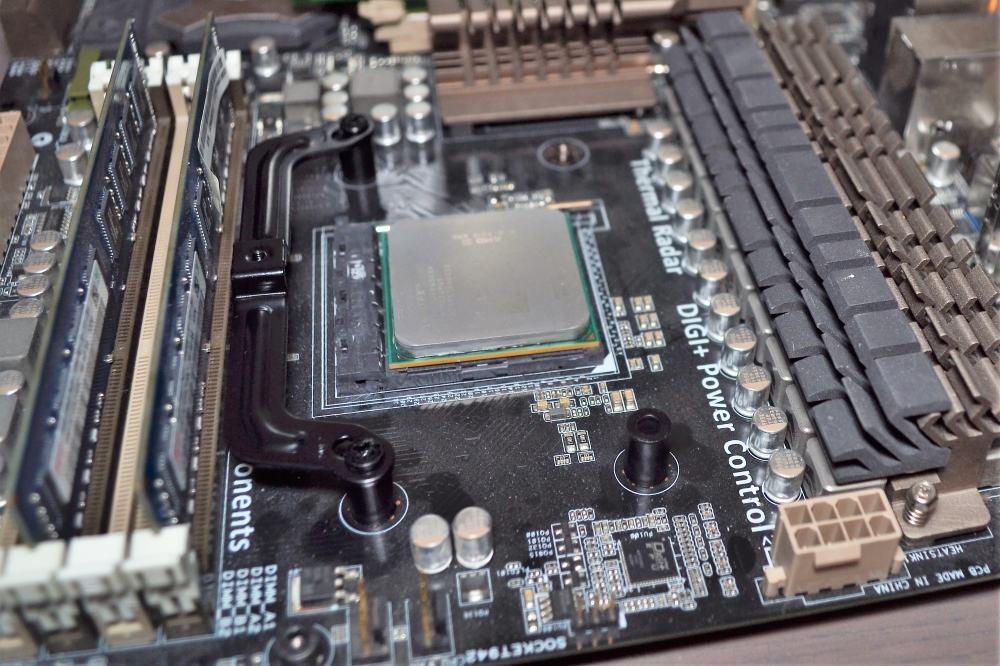 When the cooler is mounted, you can see why there was no need to displace the cooling surface. There is plenty of free space around this cooler so you can easily mount an extra fan, and graphics cards also have plenty of free space for the back plate.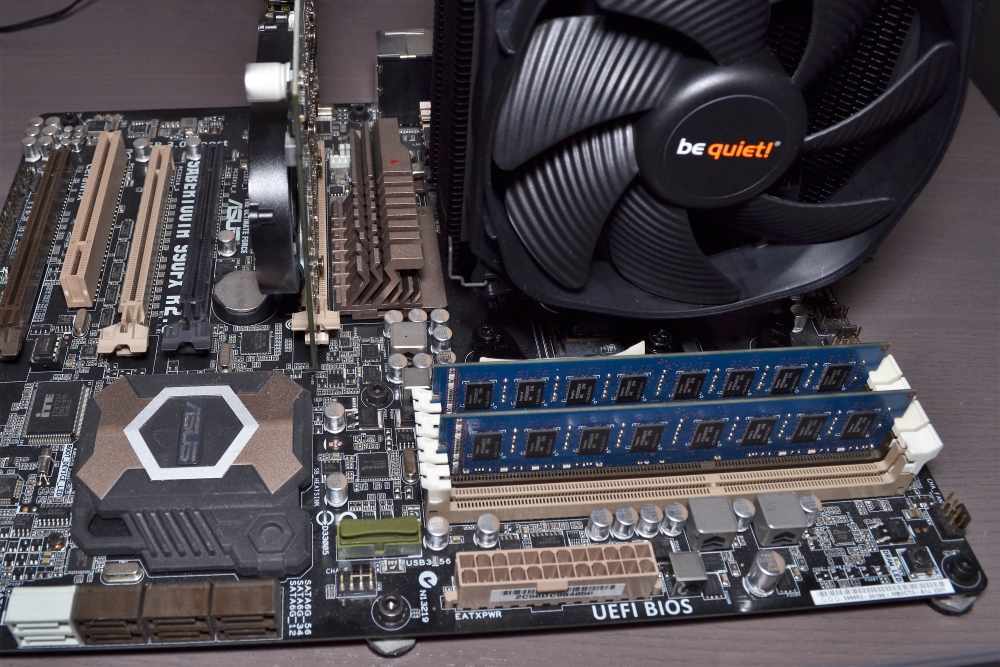 Time for testing.
My test procedure is quite simple, as I often find other reviewers shoot over the target with deep and not least VERY stressful test methods. My method is intended for the ordinary user who wants to know if the cooler is suitable for the standard setup they have.
If you overclock, you should already have a deeper knowledge of cooling from the start, and will therefore already have an expectation of whether the coolers I tests is good enough or not.
Hardware:
MB: Asus Sabertooth 990 FX R2.0
CPU: AMD FX 9590 Black Exition (TDP=220W)
Software:
Procedure:
Air: Warmup = 10 minutes / Test period = 2 minutes
Water: Warmup = 30 minutes / Test period = 2 minutes
Readings: Delta temperature (Reading-Room temperature)
Fan speed: 100%
Test loads: Idle / 2 core / 4 core / 6 core / 8 core
Room temperature: ~25 grader.
As you can see on the graph, it is, quite funny, the two top models I have reviewed with my new procedure. Then it is easy to compare.
As expected, Dark Rock Pro 4 is just a little better than the Slim model. It is quite natural, since this cooler is much smaller. Yes, let's say half size. BUT, it certainly does a good job this new cooler. It keeps my CPU cold at all 8 cores, which is pretty good. There is no doubt that most CPUs will be able to keep cool with this cooler without any problems.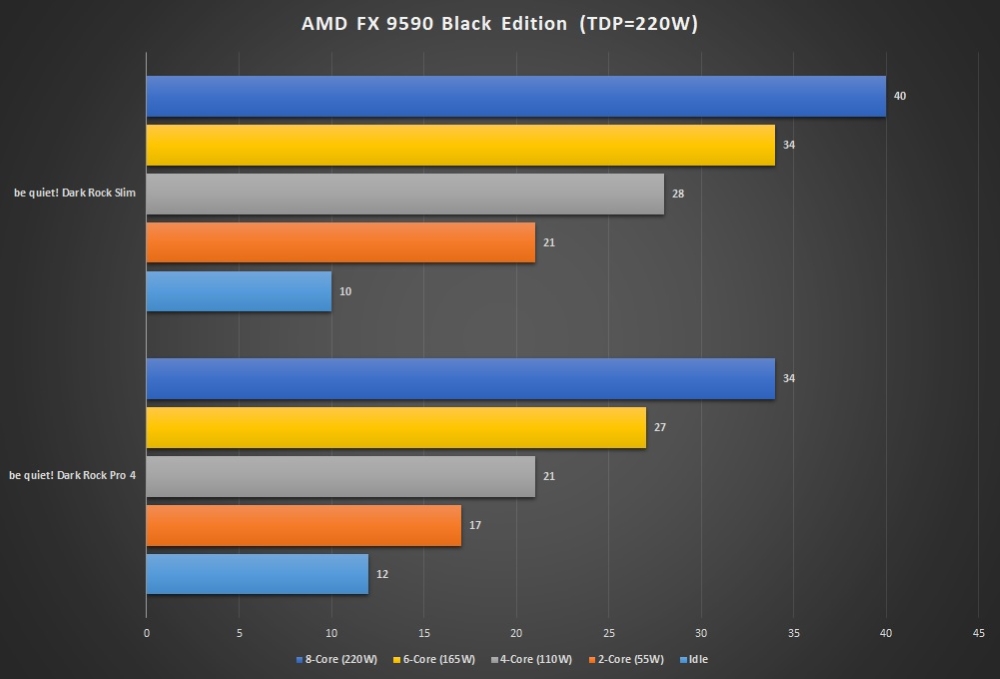 My assessment of the cooler.
be quiet! almost have a full range in their popular Dark Rock series coolers. They cover everything from the big to the small. But they still lack low profile, something for very small systems.
The Dark Rock series impresses with its beautiful look and not least its impressive performance. This also applies to Dark Rock Slim, which performs impressively well. Not only that, it just looks really nice.
The cooler is made in the highest quality, which you immediately senses. All pipes are bended beautifully without any folds or curls, and the ends of the pipes are finished with a nice top plate and neat caps. All in all, a really great looking cooler.
The fan is a Silent Wings 3, which in my opinion is one of the best to find on the market. It is an all-round fan that puts a nice air pressure and gives a pretty nice airflow. Not only that, it says virtually nothing, which most people appreciate.
The price:
As the cooler is first released the same day this article comes out, I don't know the price in the stores yet. be quiet! has, however, stated a price which is EUR 57.90, which in the current rate is about DKK 430. So I expect it will be the price in the EU and therefore also Danish stores.
The assessment:
If you put it all together, then I can't give be quiet! Dark Rock Slim less than a nice gold star. It has an impressive cooling ability, looks great and be quiet! still presumes to keep the price at an acceptable level.
Read more about be quiet! Dark Rock Slim here:
https://www.bequiet.com/en/cpucooler/1659