Cryorig H7 CPU Cooler
The German manufacturer Cryorig is known for their high quality coolers. I have previously reviewed one of their coolers, which was kindly sponsored by Froggaming, as they use Cryorig coolers in their systems. This is also the case when I have to look at the Cryorig H7 cooler.

Let's start with the packing.
The box itself is printed with nice illustrations and specifications on the outside.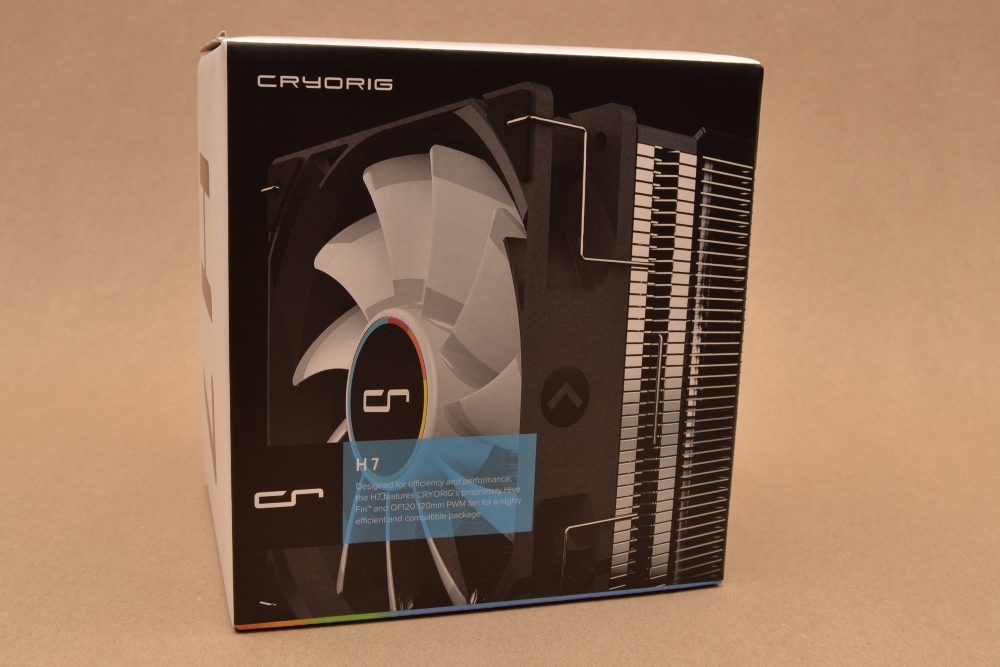 Inside the box, we find the cooler itself with mounted fan, cooling paste, fittings for mounting and a user guide. There are also extra clips for an extra fan if you need to run with two fans.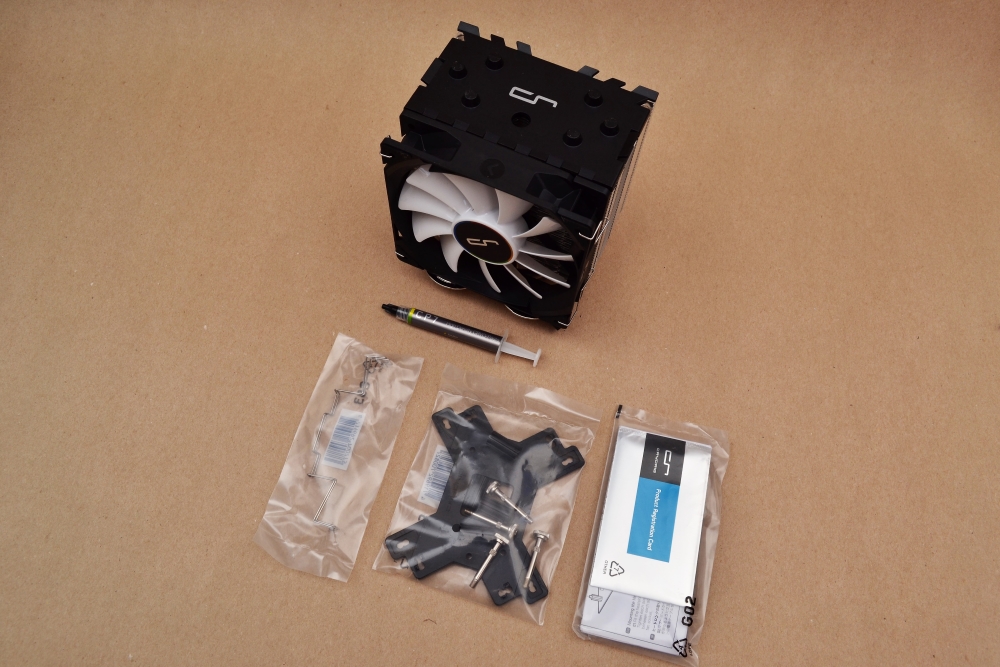 The technical specifications.
As you can read, most sockets are supported by both Intel and AMD. The radiator has a TDP of 140W, which is pretty low for my CPU, but we'll see how it works.
In addition, it has a fan running up to 1600 RPM and having a noise level of 25 dBA. All in all, the technical specifications looks pretty promising.
Heatsink Specification
Dimension ( with fan ): L126 mm x W123 mm x H145 mm
Weight ( with fan ): 711 g
Weight ( without fan ): 577 g
Heat pipes: 6mm heatpipe x 3 units
Fin: T = 0.4 mm ; Gap = 2.2 mm
Fin Pcs: 40 pcs
Copper Base: C1100 Pure copper nickel plated
RAM Height Limit: Limitless
TDP: 140 W
Fan Specification
Model: QF120 Balance
Dimension: L120 mm x W120 mm x H25.4 mm
Weight: 134 g
Rated Speed: 300 ~ 1600 RPM ±10 %
Noise Level: 25 dBA
Air Flow: 59 CFM
Air Pressure: 1.65 mmH2O
Ampere: 0.16 A
Motherboard Compatibility
INTEL: 1150, 1151, 1155, 1156
AMD: FM1, FM2/+, AM2/+, AM3/+, AM4

What's In The Box
H7 x 1
X-Bar™ Backplate x 1
Screw Pillars x 4
Screw Sleeves x 4
QF120 Wireclip x 2
CRYO-Paste CP7 x 1
Installation Guide x 1
Product Registration Card x 1
Let's have a look at the cooler.
Cryorig is known for making nice looking coolers, which also applies to this one, which is in aluminum with black top.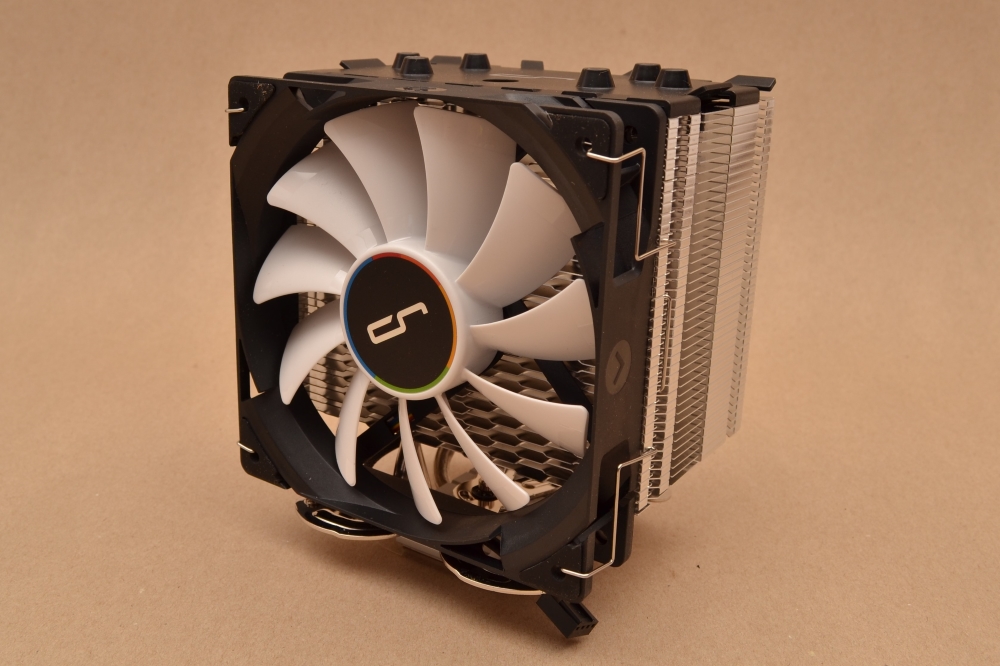 The cooling fins have different structures. On the back they are straight, and on the front they are shaped like a kind of hive design. I'll show you that in a little while. There is the possibility to put an extra fan here on the back for a push-pull setup.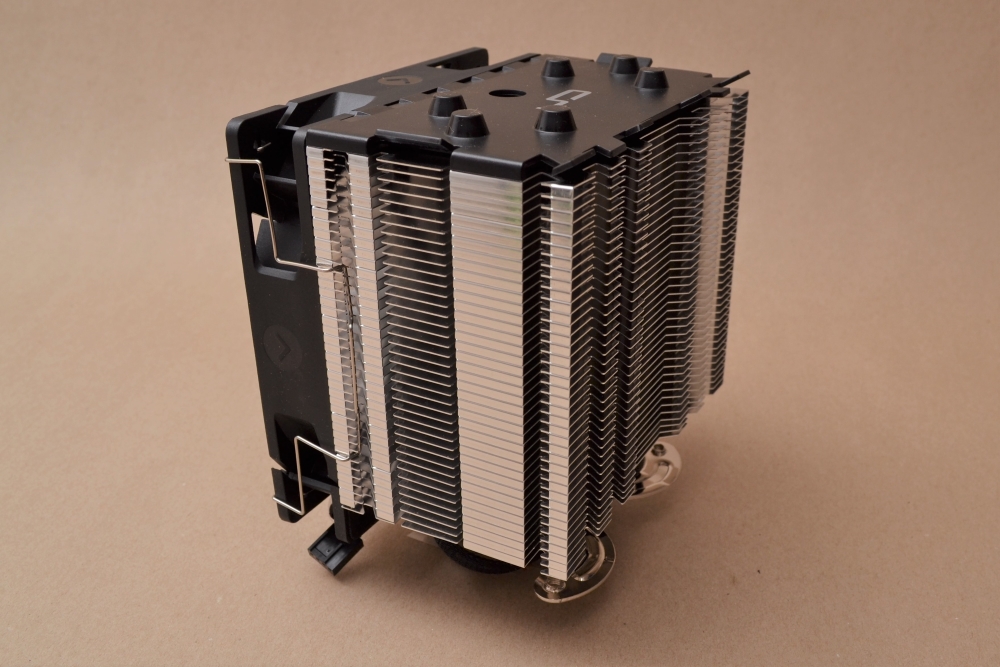 The top is finished with a nice thick aluminum profile. The ends of the cooling pipes are invisible, which is great. They are rarely particularly neat in their raw form.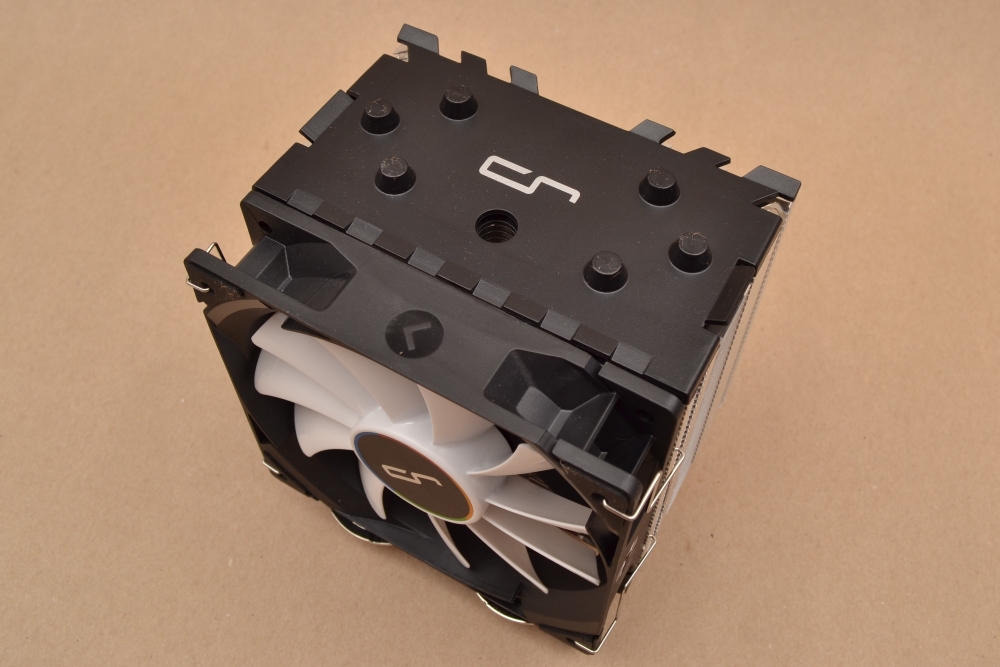 The fan is a nice Cryorig fan that has rubber on the corners. It provides damping of vibration from the fan to the cooling profile. You can see the beehive design on the cooling fins behind the fan on this image.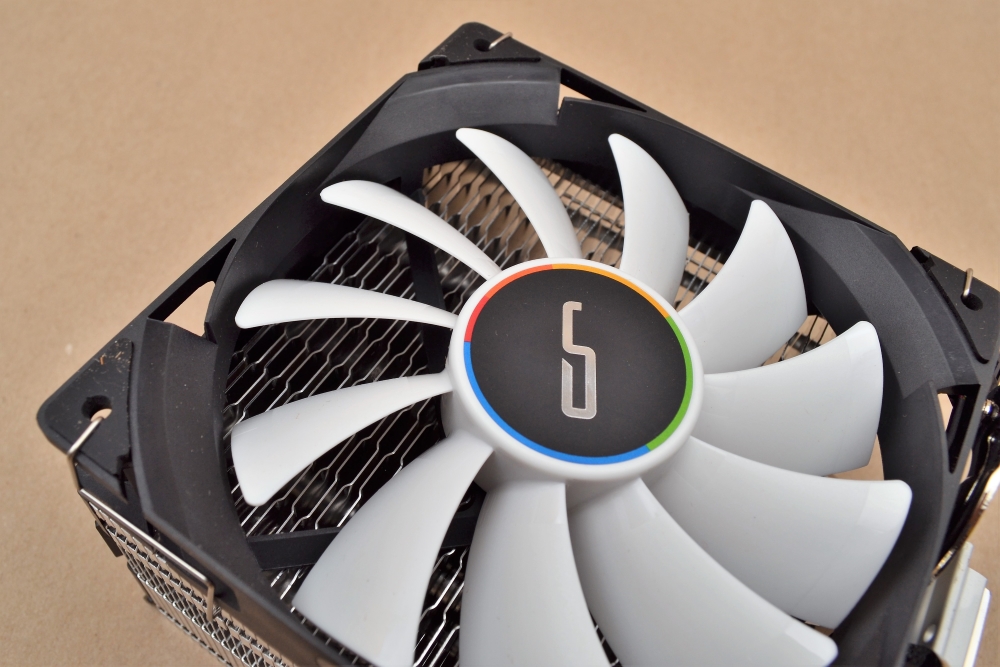 Here we can see why this cooler cannot handle more than 140W in TDP. It has only 3 cooling pipes to move the heat from the block to the cooling fins. Had it had 2-3 more, I think it had been more effective. We can also see the special fittings that I have only seen at Cryorig. The two wings are mounted on the cooling head and can be moved to fit the specified sockets. It's super smart.
Let me mount the cooler, so we can test it.
The cooler is installed inversely in relation to most other coolers. This cooler is mounted from the back of the motherboard. First, the bracket is prepared with the long screws that are inserted through the bracket.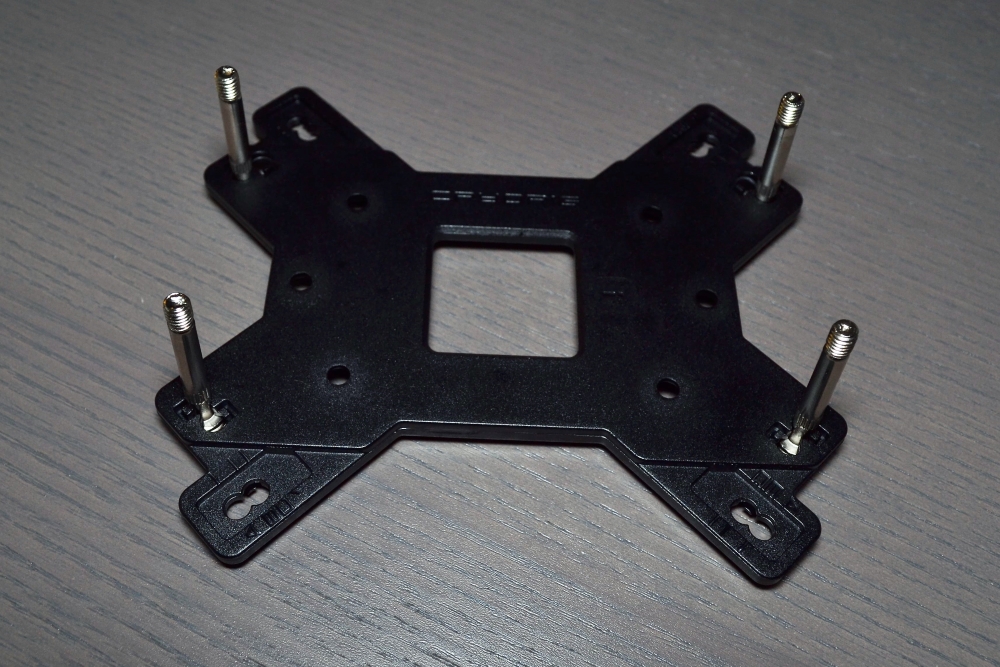 Then the screws with the bracket are put through the motherboard and then the plastic bushes over are put the screws.
Finally, the cooler is screwed in using the screws on the back of the motherboard. It is super smart with the wings you can adjust according to which socket to mount. This makes mounting rather easy, since you do not have to control so many things.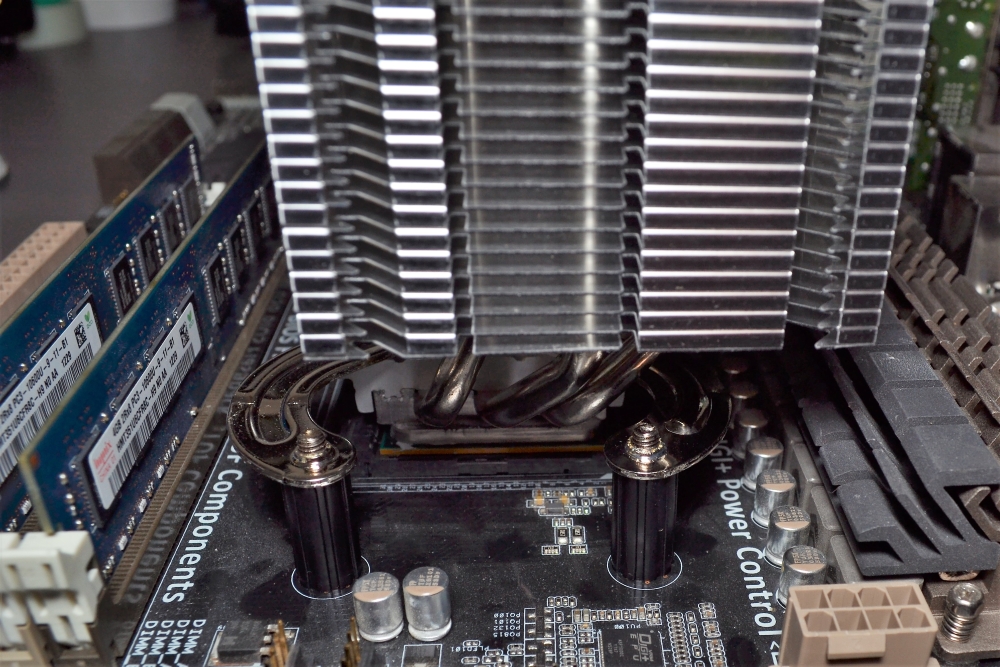 After mounting the fan on the radiator, you can see how much free space there is between fan and RAM. And there won't be any problems whatever RAM type you choose.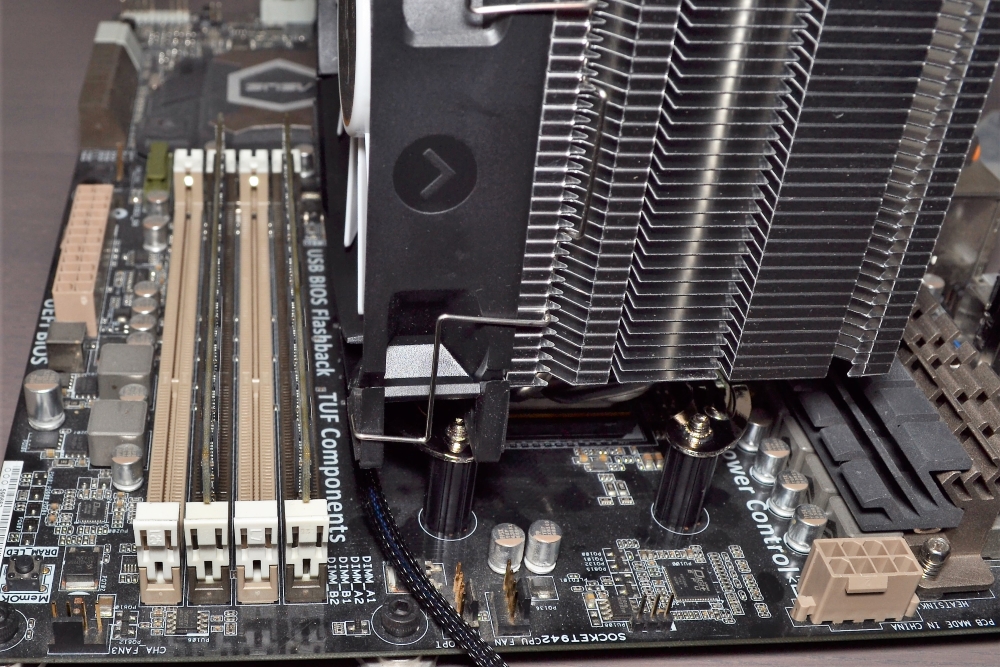 The same goes for the first PCIe slot, which also goes free of the cooler. So there is plenty of space for the backplate on the graphics card.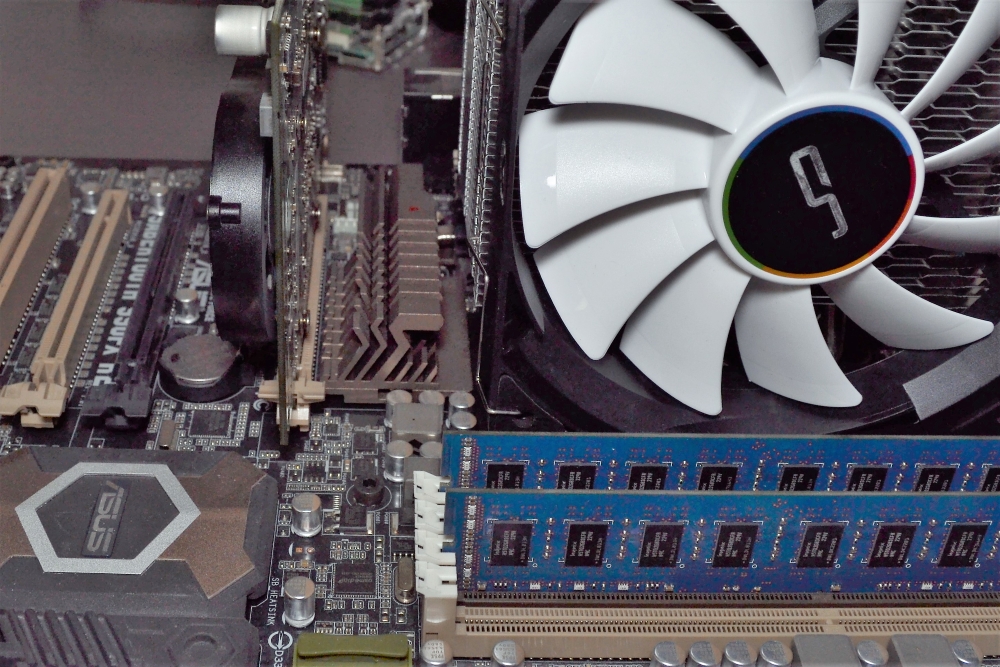 Time for testing.
My test procedure is quite simple, as I often find other reviewers shoot over the target with deep and not least VERY stressful test methods. My method is intended for the ordinary user who wants to know if the cooler is suitable for the standard setup they have.
If you overclock, you should already have a deeper knowledge of cooling from the start, and will therefore already have an expectation of whether the coolers I tests is good enough or not.
Hardware:
MB: Asus Sabertooth 990 FX R2.0
CPU: AMD FX 9590 Black Exition (TDP=220W)
Software:
Procedure:
Air: Warmup = 10 minutes / Test period = 2 minutes
Water: Warmup = 30 minutes / Test period = 2 minutes
Readings: Delta temperature (Reading-Room temperature)
Fan speed: 100%
Test loads: Idle / 2 core / 4 core / 6 core / 8 core
Room temperature: ~25 degrees celcius.
The graph shows quite clearly that the cooler will fall short when I turn on the full power on my CPU. It was also expected as the cooler is set to 140W TDP, and my CPU is set to 220W TDP. The cooler, however, performs quite well at 165W, which is also quite natural, as the producers like to give some air from what their products can actually handle and then to what is being announced in the specifications.
The only 'problem' I have with Cryorig H7 is actually the fan. It begins to sound rather loud when you drive it up to 100%, which may be annoying to some people.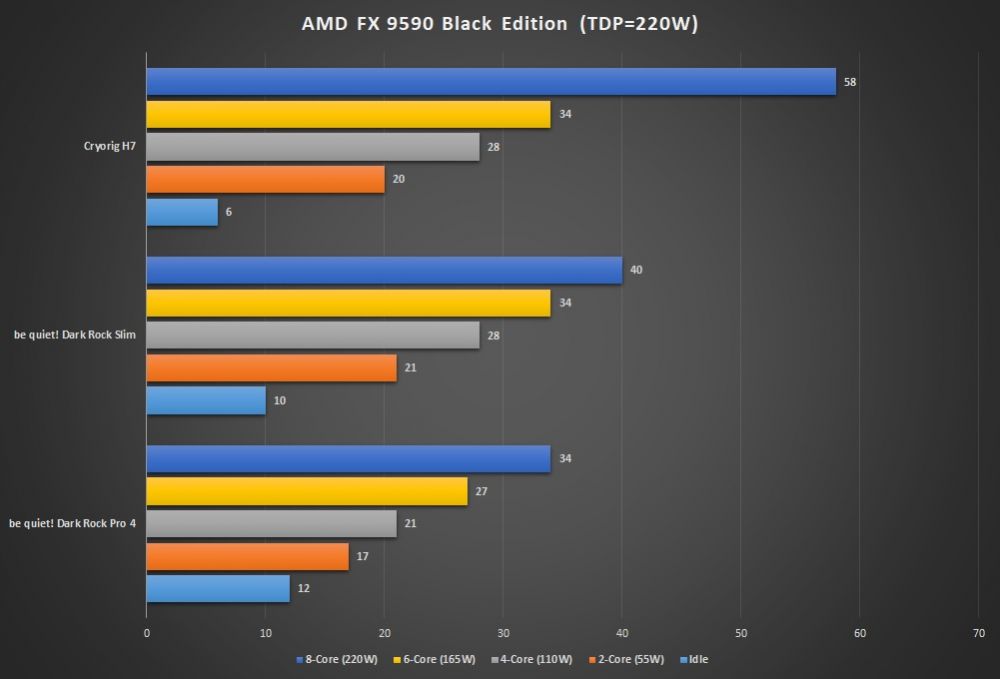 What is my assessment?
Cryorig H7 is a nice cooler and it keeps what it promises in terms of performance. You should not use this radiator for overclocking, as it is simply not powerful enough.
The installation of the cooler is reversed compared to other coolers, but in fact it does not do so much. You quickly finds out what to do and there are no small loose parts that can fall off all the time, as both screws and fittings are held firmly. So it's easy and straightforward.
Noise:
I always test my coolers with maximum efficiency. So the fan always runs at 100% speed. Usually, it does not mean a lot, as the fans have become so quiet that it is almost not worth mentioning. However, this cooler is so loud that I just want to mention it. It may not matter when you have the cooler in a casing with sides and everything on it. But when it stands in the open and runs, you hear it quite clearly.
Price:
The price is about 270 DKK at the time of writing, which is quite fine for a cooler of this caliber. You get a nice cooler with good cooling capacity for the price. It keeps what it promises.
The assessment:
When I put it all together, pluses and minuses, I arrive at a nice silver star rating. Should Cryorig H7 have had the last gold, then the fan should have been quieter. I can't criticize either the efficiency or the mounting, both of which are as they should be.
Read more about Cryorig H7 here:
http://www.cryorig.com/h7.php