CHERRY KC 6000 SLIM Keyboard
CHERRY has released their new KC 6000 SLIM, which I review in this article. There is a super slim keyboard with SX switches and durable laser printed keys.

CHERRY is a German manufacturer who makes many different products. They are primarily known for their switches, which are used in gaming keyboards. But CHERRY also makes their own quality products.
Let's look at packing and content.
The keyboard comes in a white package, as we know it from most CHERRY products. On the front is a picture of the product, and the technical specifications are printed on the backside.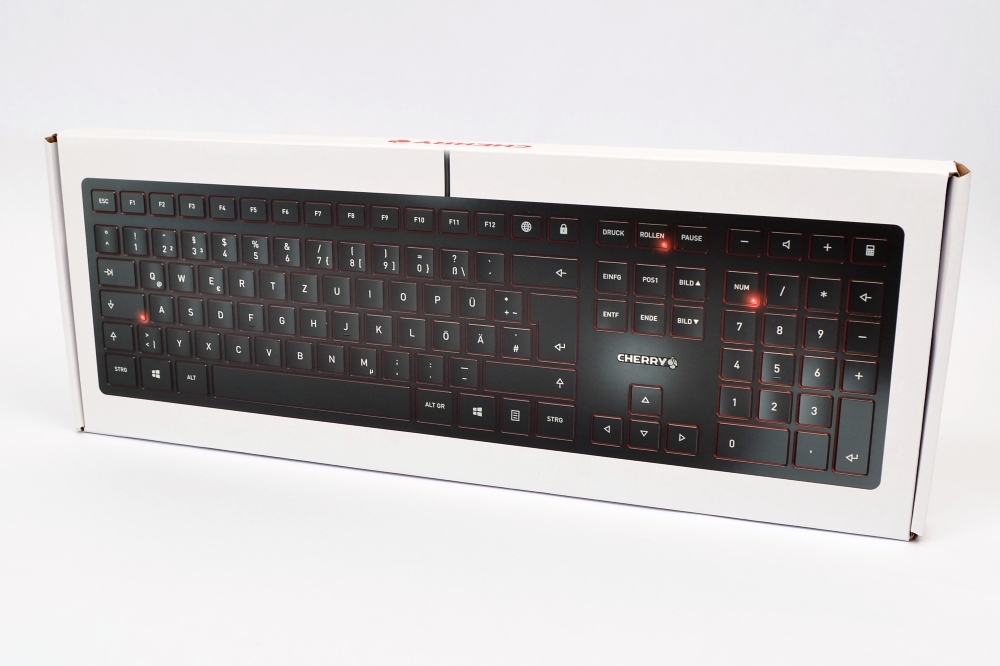 Inside the box is the keyboard well protected, packed into a plastic bag.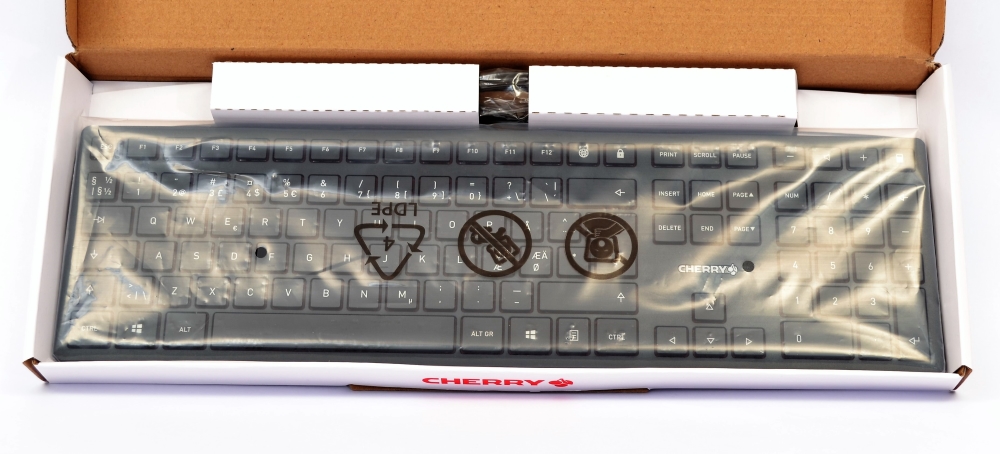 The accessories are a user guide so there is not much to write about here.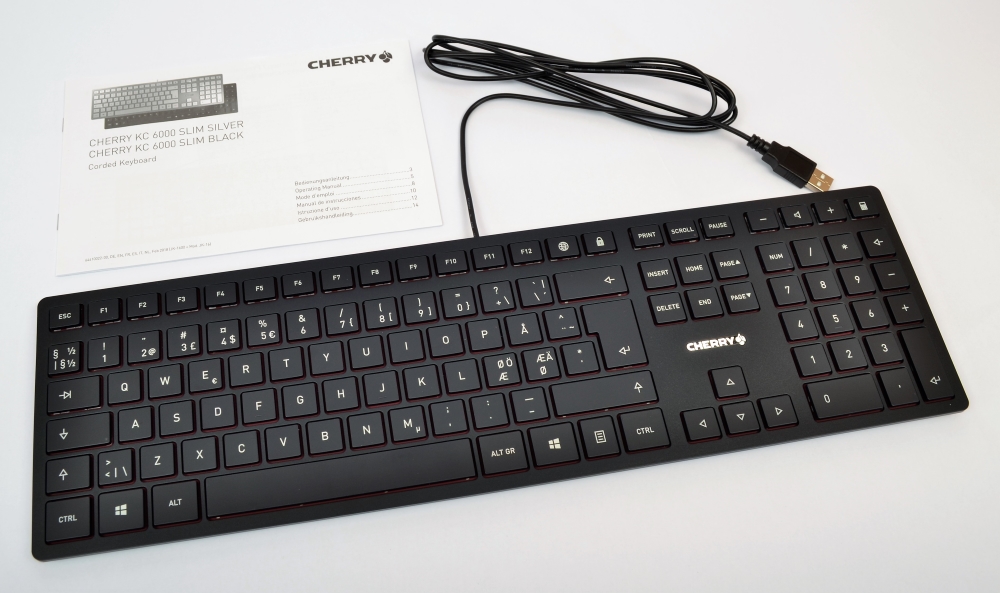 The technical specifications.
There are no big fancy features in this keyboard. Note, this keyboard is not intended for gaming, but more for office and everyday use.
As can be seen, the keyboard weighs 660 grams. It is not least because of a metal plate that is inserted into the keyboard. The cable length of 1.8 meters is quite suitable for most, and as you can see, the keyboard is only 15 millimeters high. It is not very much when we speak keyboards. The contacts should withstand more than 10 million activations, which are also quite good.
Weight (product): approx. 660 g
Cable Length: approx. 1.80 m
Interface: USB
Dimensions (product): approx. 440 x 130 x 15 mm
Key technology: SX
Service life, standard key: > 10 million key operations
Inscription technology: Laser
Inscription layout: Standard
Warranty: 2 years
Let us have a closer look at the product.
CHERRY KC 6000 SLIM is a nice little keyboard, with an almost standard layout. As you can see, the numeric keypad is slightly different from what you are used to.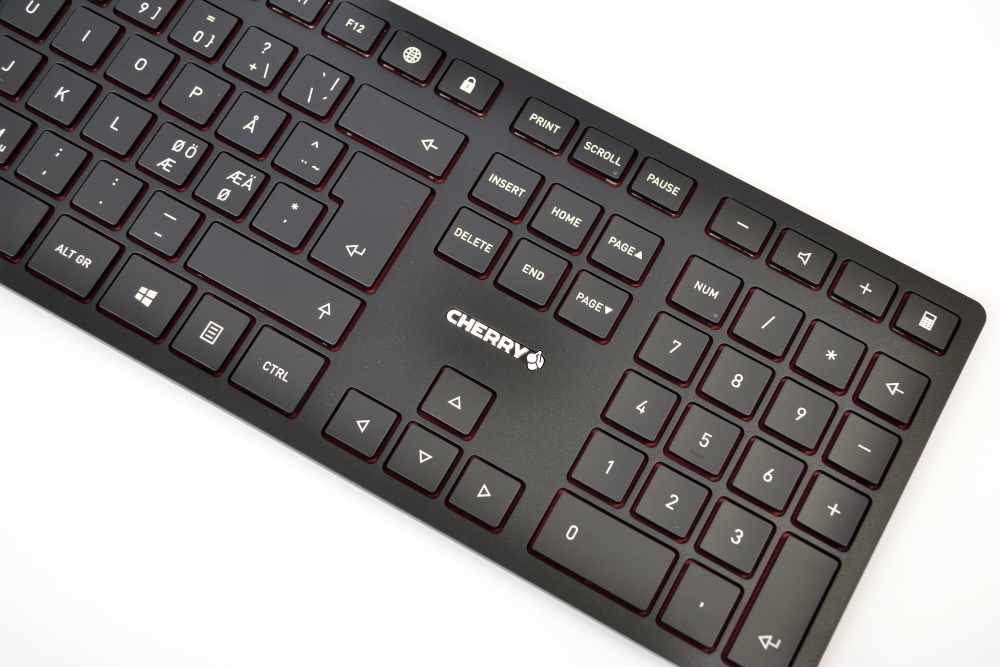 The low keys have a very small activation distance, just like on a laptop. They seem to be coated with soft touch material which is nice, but also a magnet for greasy fingers. You notice that immediately after you have written on it.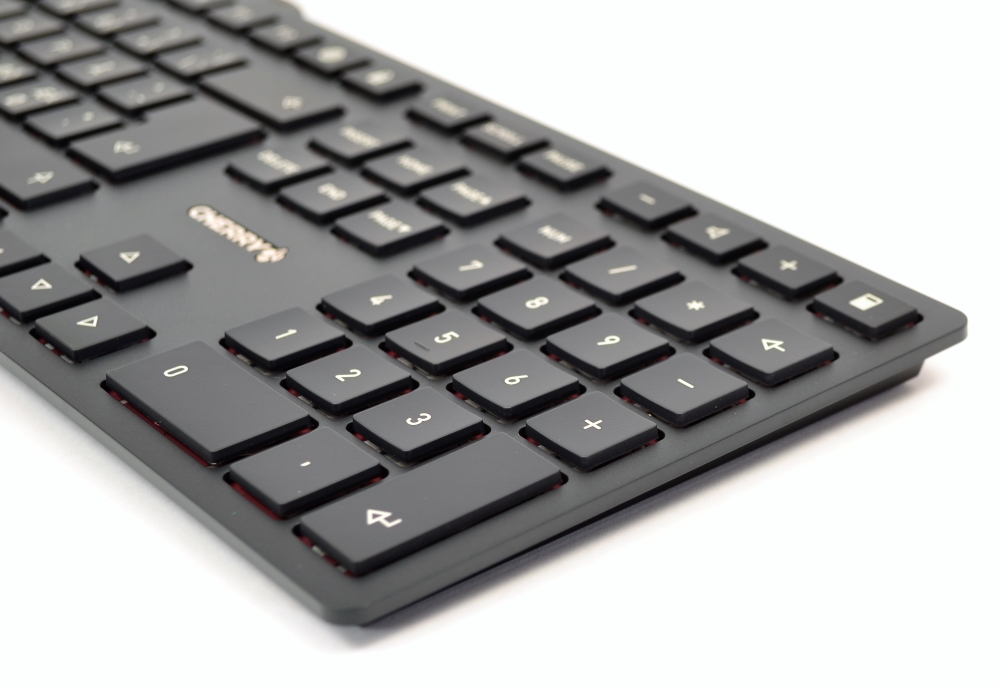 The keyboard has no special functions, which means there is no Fn key to find anywhere on the keyboard.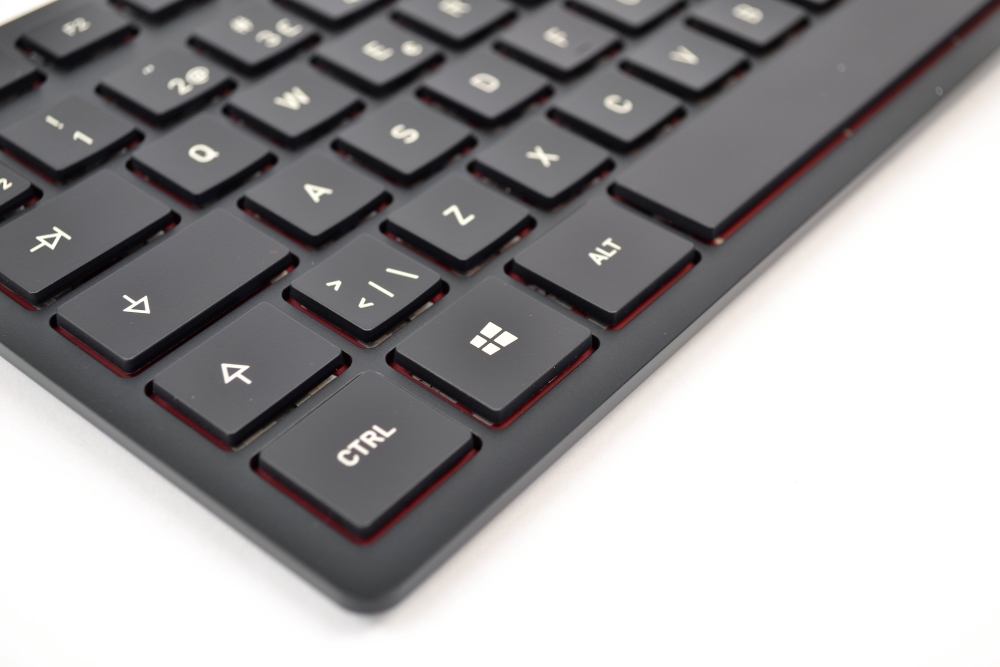 Neither on the left nor the right side. So, a classic classic keyboard layout, as we know from the old days.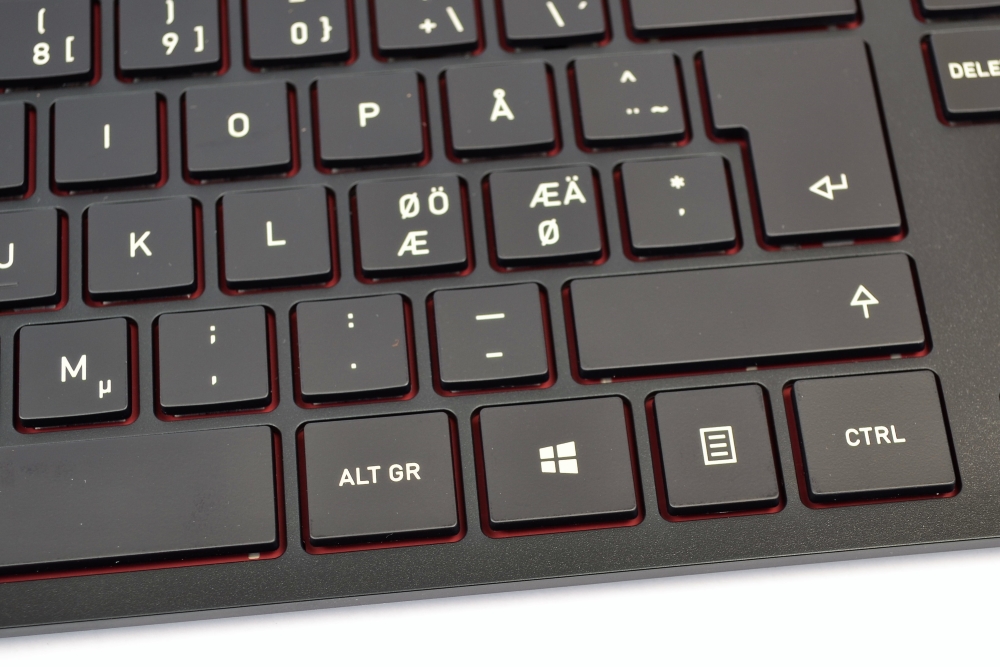 However, in the top right side of the numeric keypad we find some dedicated keys. These have standard Windows features, such as audio up and down, mute, and a shortcut to the calculator. This also tells us that this keyboard is more intended for office use than gaming.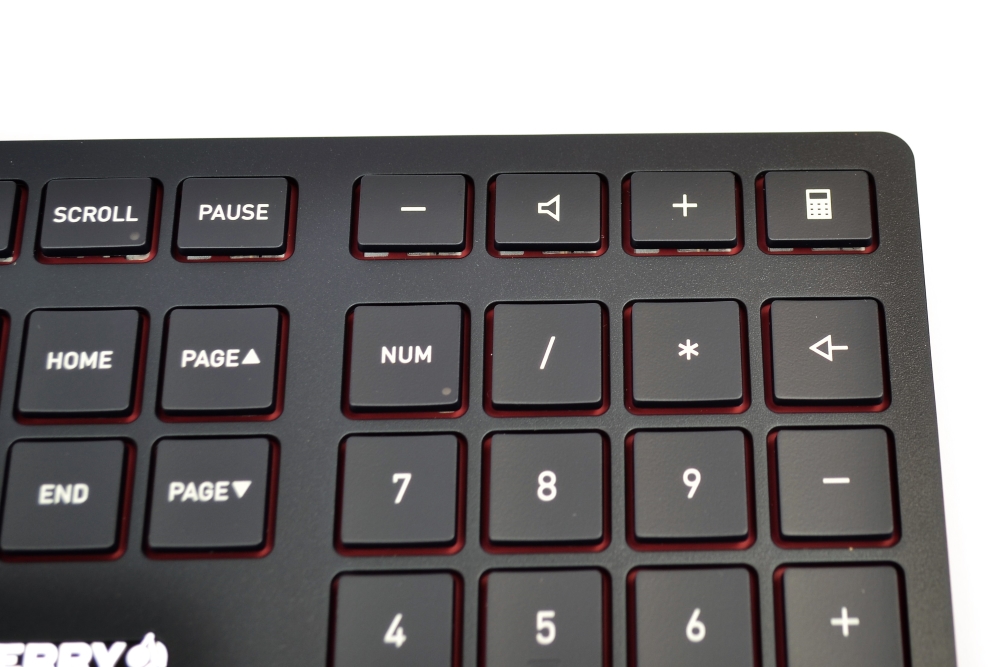 Above the normal keyboard next to the F12 key, we also find a few additional keys. There is a browser key that loads your default browser. And a key to lock the computer. Then you do not need to remember all sorts of Windows shortcuts. That is clever.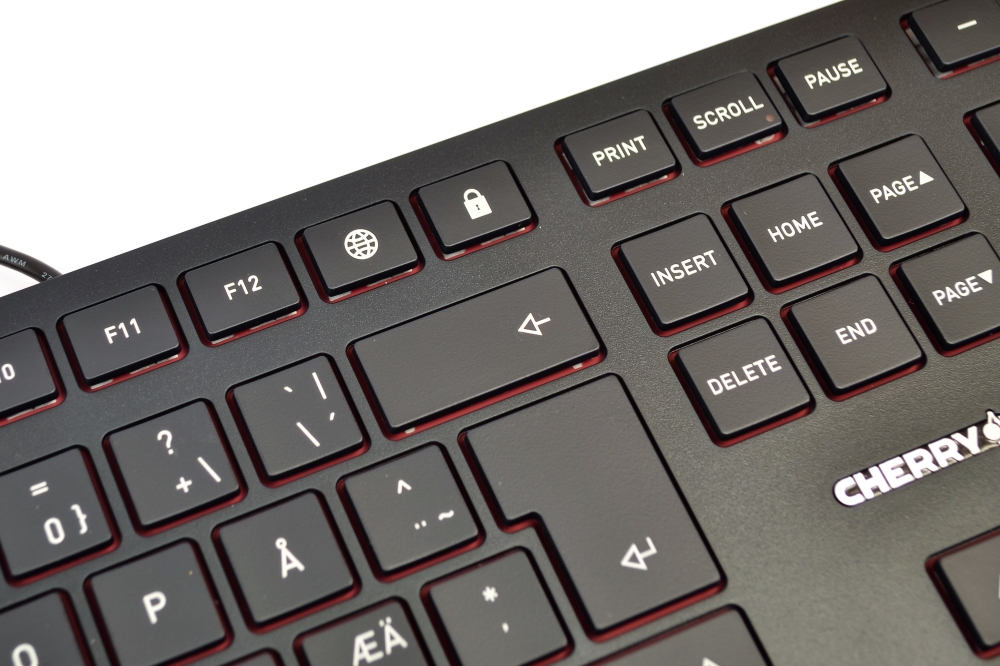 If you turn the keyboard around, you'll find a big sticker and 8 rubber feet. This keyboard does not slip any way.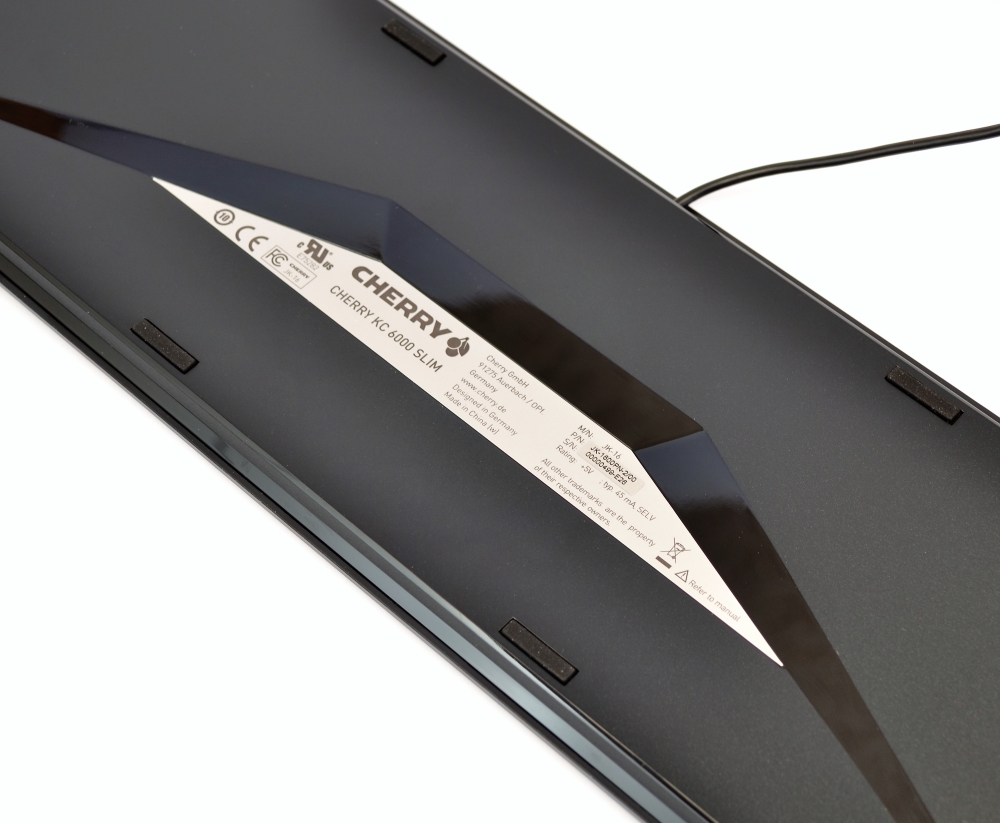 Normally, you can tilt the rear rubber feet out to get a higher angle on the keyboard. Unfortunately, this is not possible. I really miss that.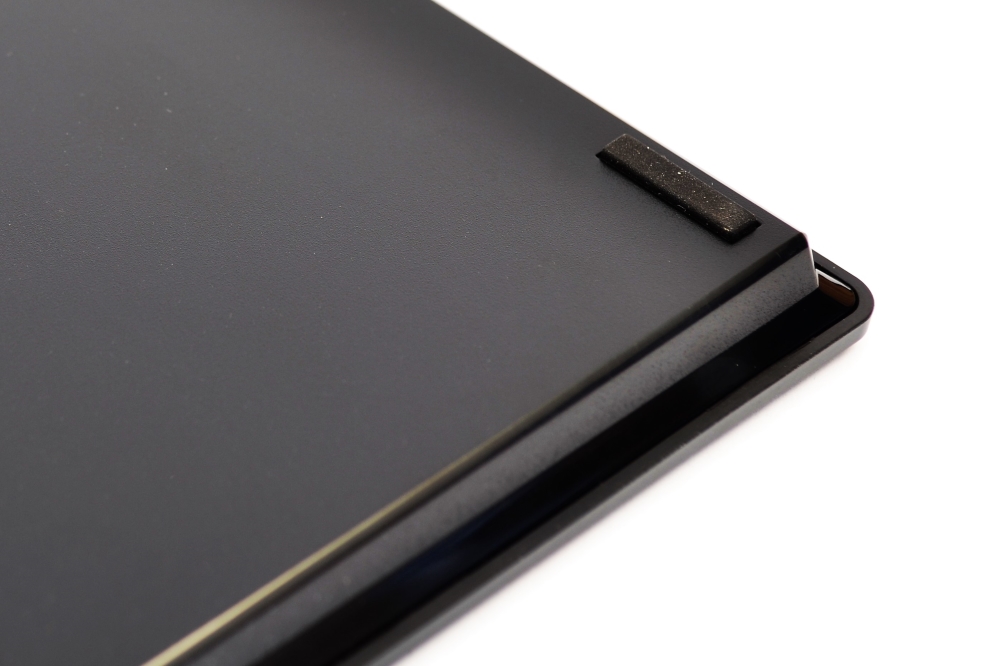 The keyboard cable is a standard USB cable. It is quite thin and made of plastic. There is no fancy fabric around this, which you normally do not use to see in office environments for which this keyboard is intended.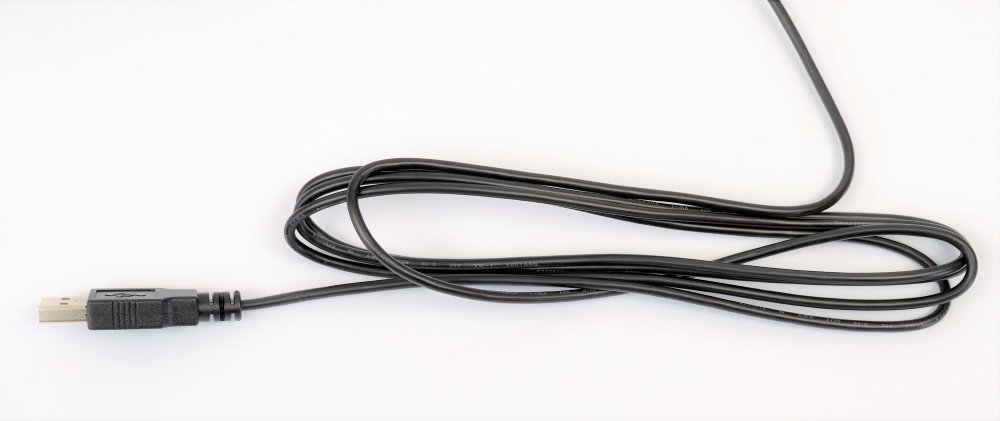 The test.
The comfort:
Unless you are used to writing on a laptop. You may think this keyboard is just on the flat side. In any case, I would like to have a keyboard with a slightly higher angle at the back. That is not possible because of the missing feet you can fold out.
You do not get wristed acke due to lack of support as the keyboard is as flat as it is. That is pretty great.
The noise:
I love when a keyboard is quiet. This keyboard is, with its SX switches. SX is the actual control of the switch, but there is a membrane contact below. This means that the impact is very quiet, as rubber is pushed instead of plastic.
However, I'm annoyed that the space bar makes quite a lot of noise compared to all the other keys. It gives an annoying noise to yourself and others when sitting down writing. CHERRY could have done this a little better.
The light:
CAPS, SCROLL and NUM-Lock all have a small red LED that lights in one corner when the function is turned on. It's nice and discreet. However, I think it's a pity that you can see the light under the key. It might have been a bit more isolated if they had worked a bit more on it.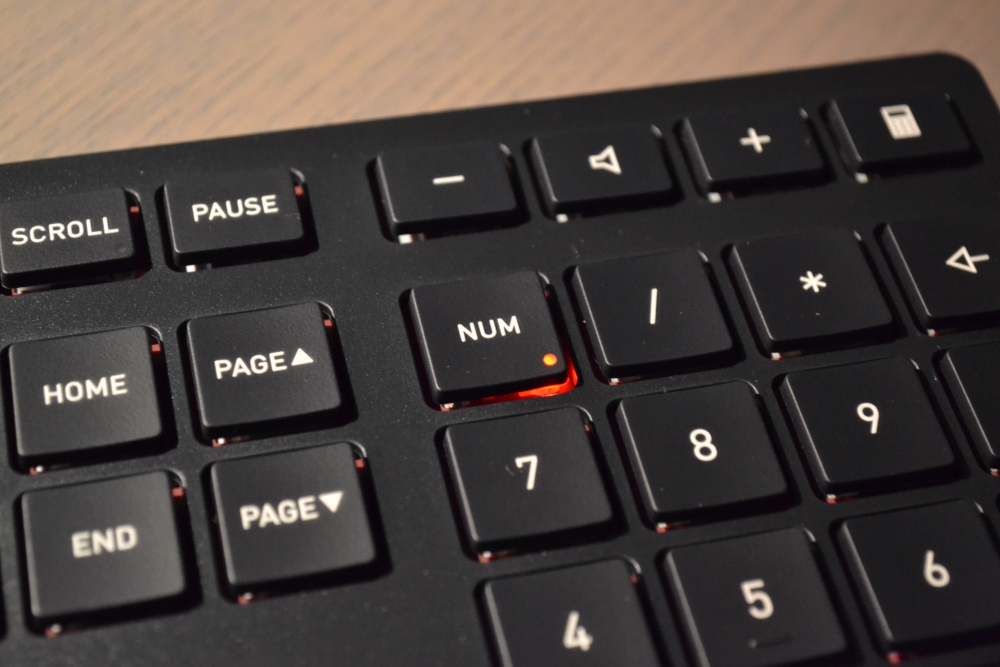 What is my opinion about the CHERRY KC 6000 SLIM.
CHERRY KC 6000 SLIM is a very good keyboard for office use. It has the features I like from a keyboard, namely shortcut keys for useful applications and features like audio and browser as well as the calculator.
But then the adventure also stops a bit for me. There are more things I do not like than I like about this keyboard.
Of the important things, I can mention folding feet under the keyboard. It should not cost much to make a pair of feet, so you could get a little angle on the keyboard. And then I want to highlight the sound from the space bar, which annoys me a lot. It should have been more subdued when this keyboard is intended for office use.
I have found a price on this keyboard, which is just under DKK 500 at the time of writing. For this price, you get a keyboard without light in the keys. Without fancy programmable features, keys with rubber dome contacts and which can not be angled. It might be just a bit expensive, and I think CHERRY very easily and for quite a few extra funds, could have improved this keyboard considerably better. Unfortunately, it only brings them up to a BRONZE star rating this time, so I hope they listen to the criticism and improve their product as much as possible to make the experience better.
Read more about CHERRY KC 6000 SLIM here:
https://www.cherry-world.com/cherry-kc-6000-slim.html