be quiet! Dark Rock Pro 4 cooler
be quiet! have renewed some of their coolers, and this time we're going to look at the new version of their biggest cooler Dark Rock Pro 4.

be quiet! is a German manufacturer making computer products in discreet design and extremely high quality at favorable prices.
We start with a little introduction video.
What's in the box?
The box you receive is in classic be quiet! design. Black with all necessary information printed on the outside.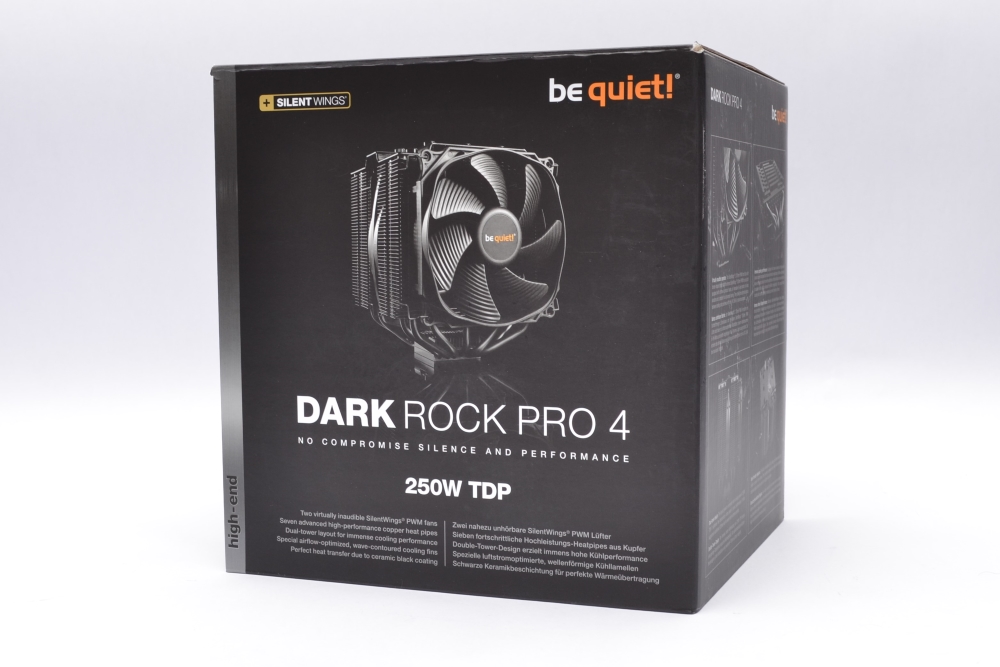 Inside the box we find in addition to the cooler itself, an additional 135 mm fan, brackets for AMD and Intel, cooling paste, fan power splitter and a long screwdriver.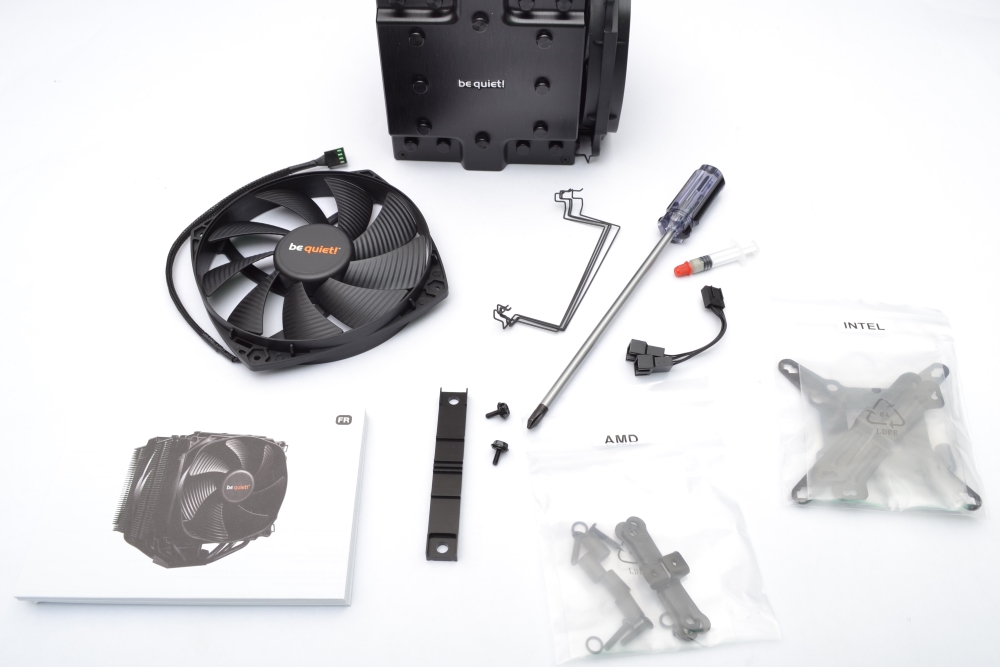 Content:
be quiet! Dark Rock Pro 4 cooler with brackets
Cooling paste
Fan power splitter cable
Screwdriver
Userguide
The technical specifications.
As you can see, it's a pretty heavy cooler. It weighs 1.13 kg, which is quite a lot. On the other hand, it can also cool a 250W processor, and only makes 24 dBA of noise at full speed on both fans. It is quite impressive. It supports most common CPUs on the market from both Intel and AMD.
Model: Dark Rock Pro 4
Overall dimensions without mounting material (L x W x H), (mm): 145.7 x 136 x 162.8
Total weight (kg): 1.13
TDP (W): 250
Socket compatibility:
Intel: LGA 1150 / 1151 / 1155 / 1156 / 1366 / 2011(-3) Square ILM / 2066
AMD: AM2(+) / AM3(+) / AM4 / FM1 / FM2(+)
Fan model, number: 1x Silent Wings 3 120mm PWM, 1x Silent Wings 135mm PWM
Decoupled fan mounting: ?
Overall noise level (dB(A)) @ 50/75/100% (rpm): 12.8 / 17.9 / 24.3
Let's have a closer look at the fan.
be quiet! have really made this cooler awesome. Great detail and beautiful finish.
There is room for 3 fans on this cooler. The two included are a 120 and a 140 mm fan. The 140 mm fan sits in the middle and runs at only 1200 RPM, which is quite low.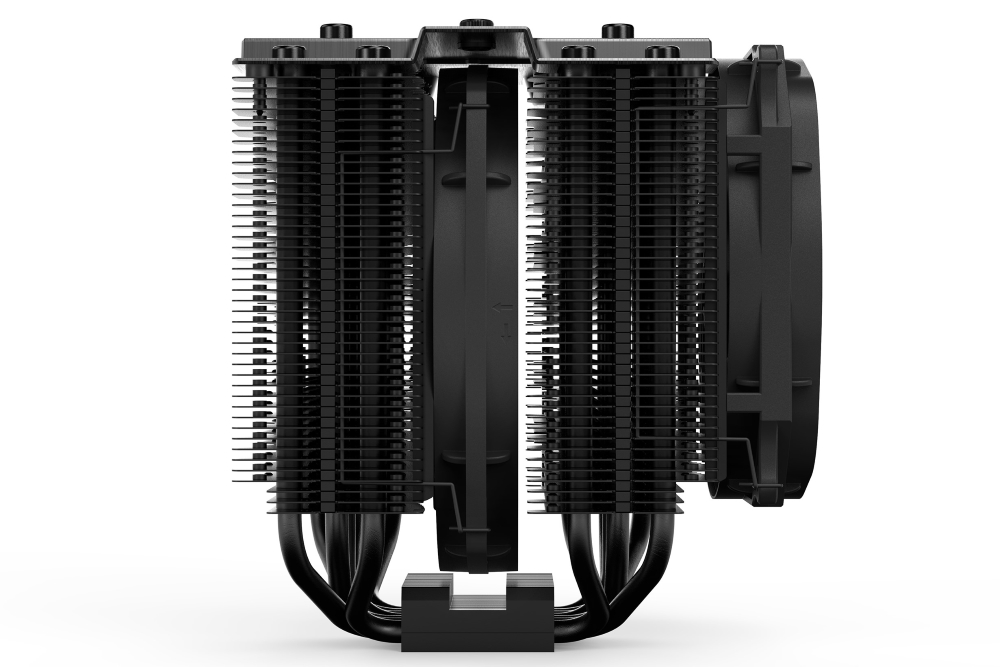 The top of the cooler is made with a sturdy thick aluminum plate. The entire cooler is black anodised, and all the cooling pipes have beautiful caps at the ends.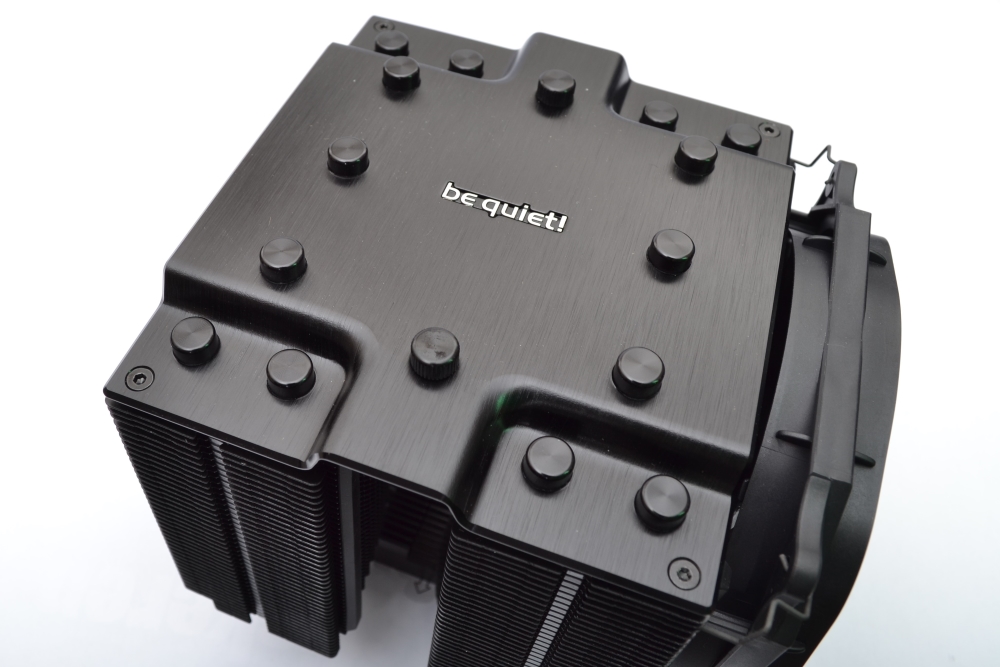 The 7 tubes all have the same thickness, namely 6 mm in diameter. They are bent nicely without curling. The cooling surface is not polished, but CNC milled, so it is completely flat.
Also note the small dents in the cooling ribs, which provide a larger surface so that the heat can be better moved from the pipes.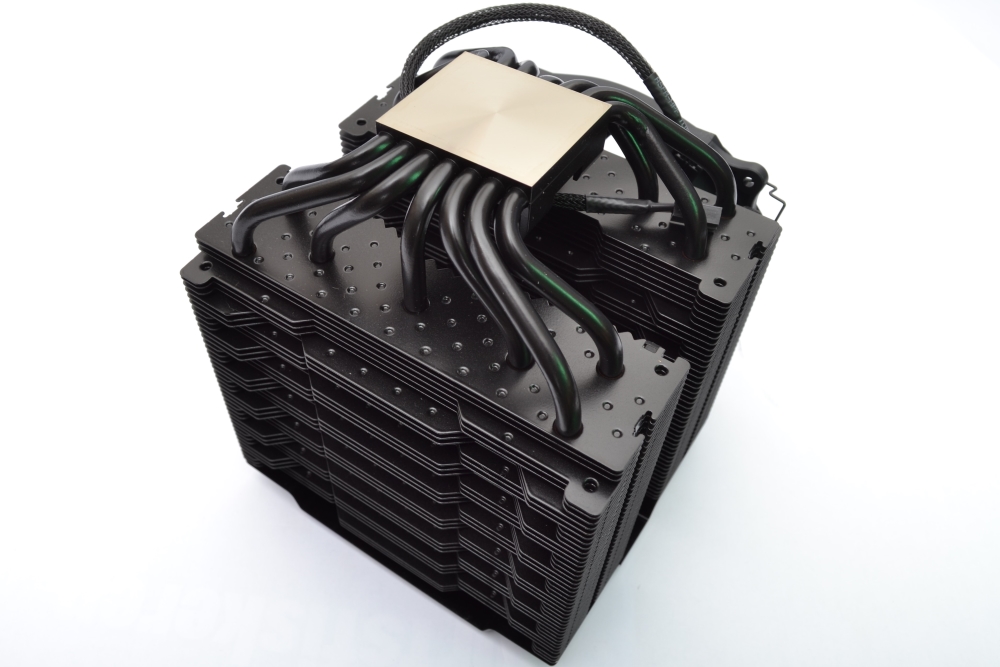 The big fan that is applied is like the little one a Silent Wings 3 fan. It is 135 mm in diameter and runs at 1200 RPM at maximum speed. These fans are some of the quietest fans you can find on the market.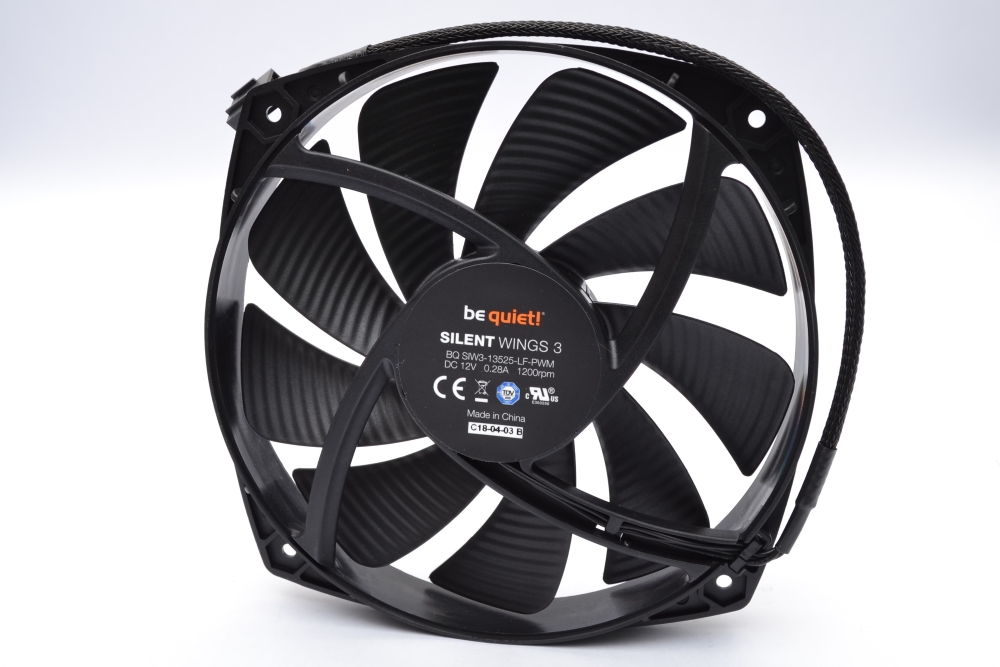 Time for mounting.
The instructions for the AMD socket are a bit hard to understand, so keep your tongue straight when mounting. If you know be quiet! and have tried to mount them before you will notice that they changed their bracket. So you need to mount the cooler from the top now, instead of from the bottom. It's great they've changed it. You use the original bracket on the back, so you have to save it from before.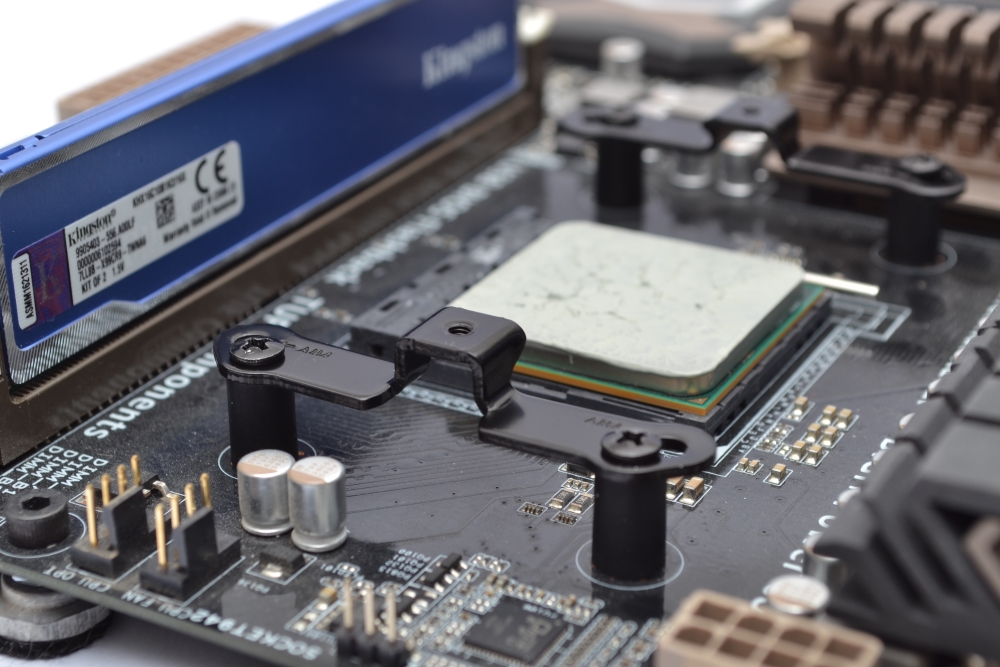 Two of the covers on top of the cooler are actually cheat covers. You can screw them off so that the screwdriver can be lowered through the cooler. Once again a great solution from be quiet! where you can close things nicely after assembly.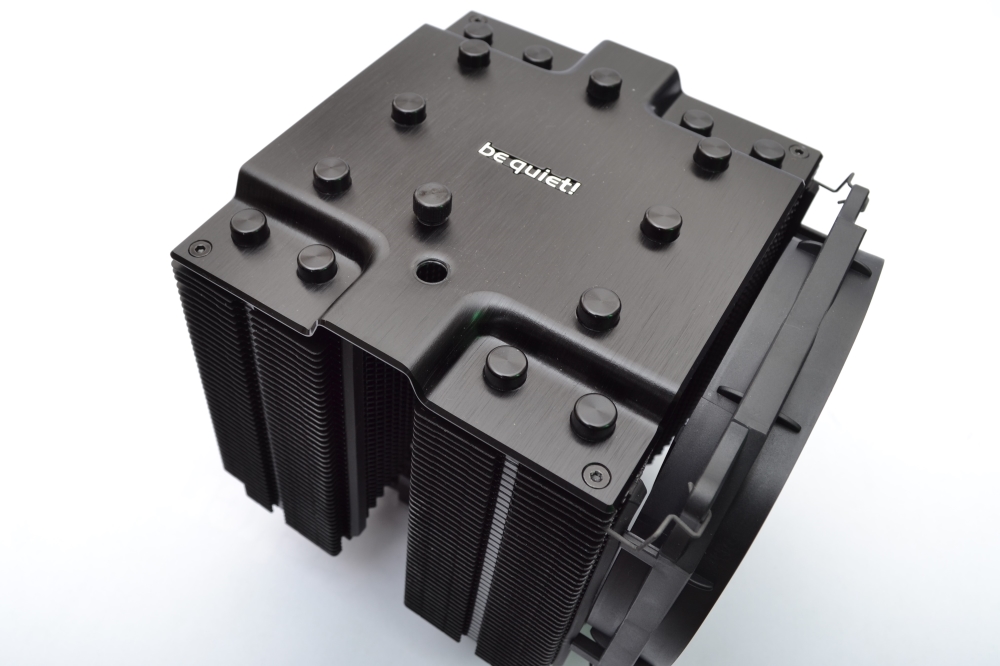 It's a long screwdriver. Make sure you can mount the cooler just as I do here, ie horizontally. It's hard to control if you try to mount it all vertically. The screws are a bit too big so they can not come down through the hole at the top. So you have to either lay the screws in the bracket before you lay it down, or hold the screwdriver slightly obliquely into the hole, and then put the screw on the screwdriver. That works because the screwdriver is magnetic.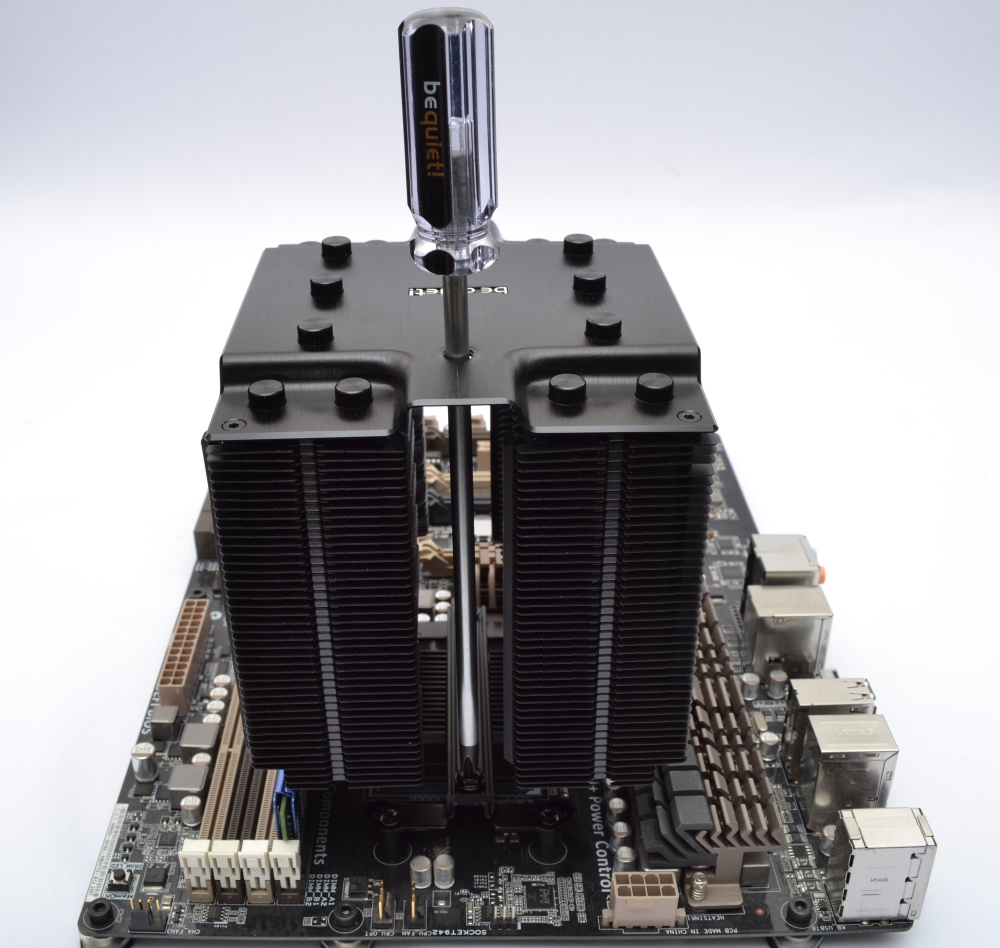 It fits perfectly so that the screwdriver can get through the hole.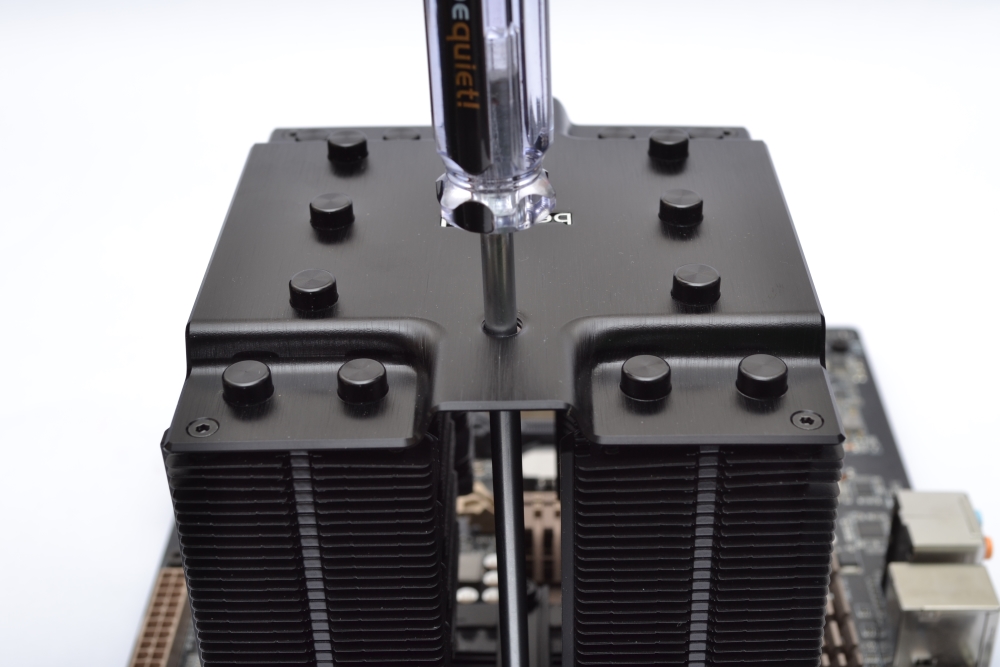 The brackets are completely screwed together, then it is perfectly tightened. Note the good clearance height for RAM with high cooling profiles.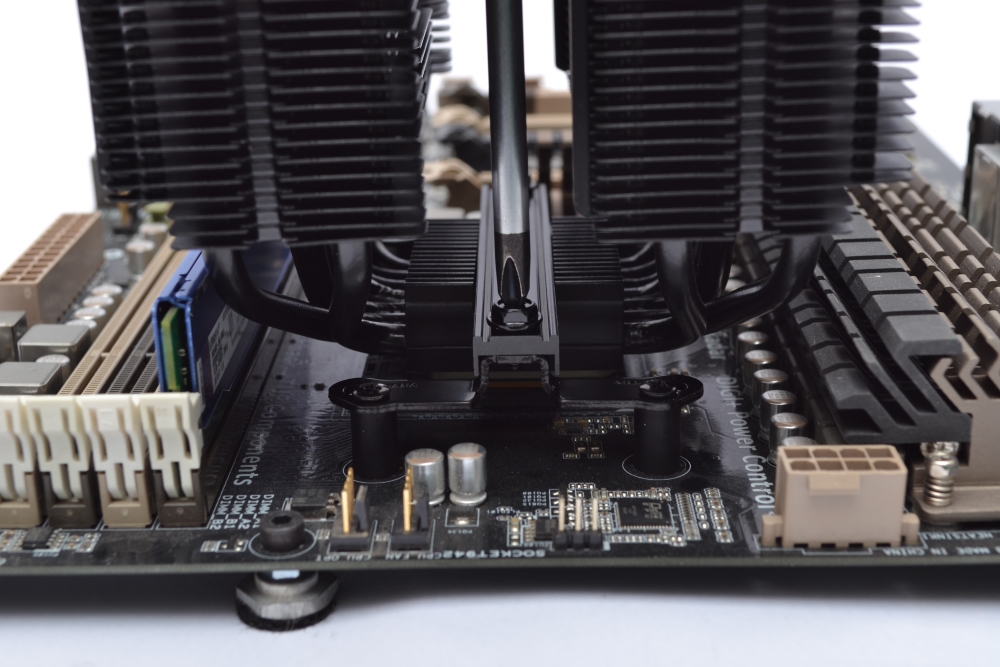 The fans can now be mounted. Note that there is rubber on the cooler itself, so any vibration from the fans gets dampened. It's a nice detail.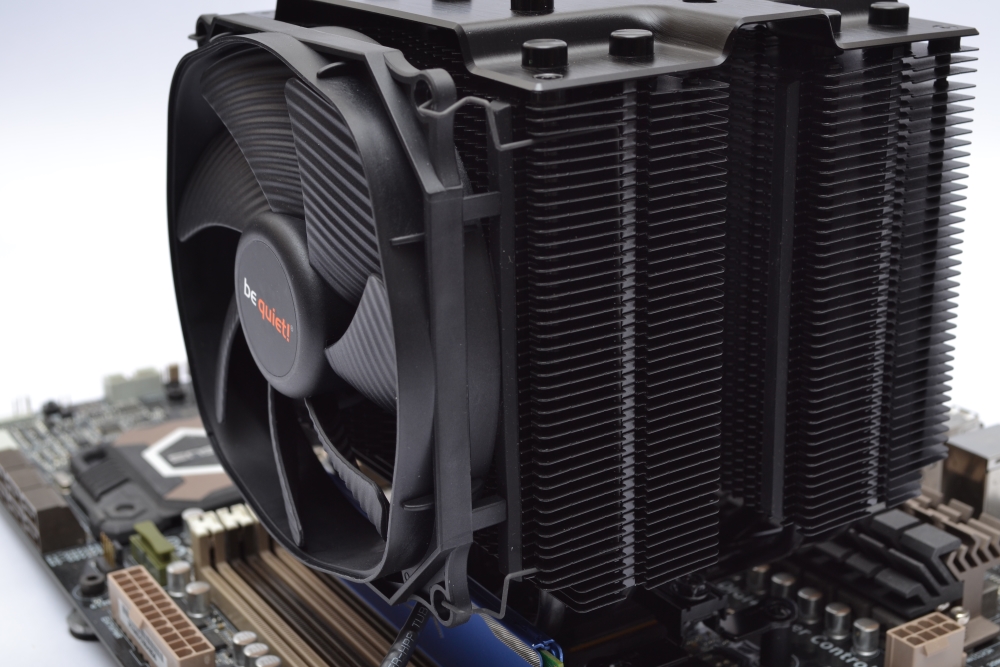 Time for testing.
I have simplified my test a little. However, still a test that shows how efficient coolers are under normal and stressed conditions. The use of Prime95 is pretty violent for the CPU and caused some problems. It is in my opinion overkill in relation to a realistic test of the cooling efficiency.
Hardware:
MB: Asus Sabertooth 990 FX R2.0
CPU: AMD FX 9590 Black Exition (TDP=220W)
Software:
Procedure:
Air: Preheat = 10 minutes / Test period = 2 minutes
Water: Preheat = 30 minutes / Test period = 2 minutes
Readings: Delta temperatures (Reading-Room temperature)
fan speed: 100%
Tests: Idle / 2 core / 4 core / 6 core / 8 core
Room temperature: 25 degrees.
Maximum Temperature: 70 degrees. / Delta: 45 degrees.
As you can see, the cooler is doing amazingly well. It simply sucks the heat out of the processor. I was at no time near a critical temperature on the processor, which is great as this processor is hard to keep cool. However, it is also a big cooler.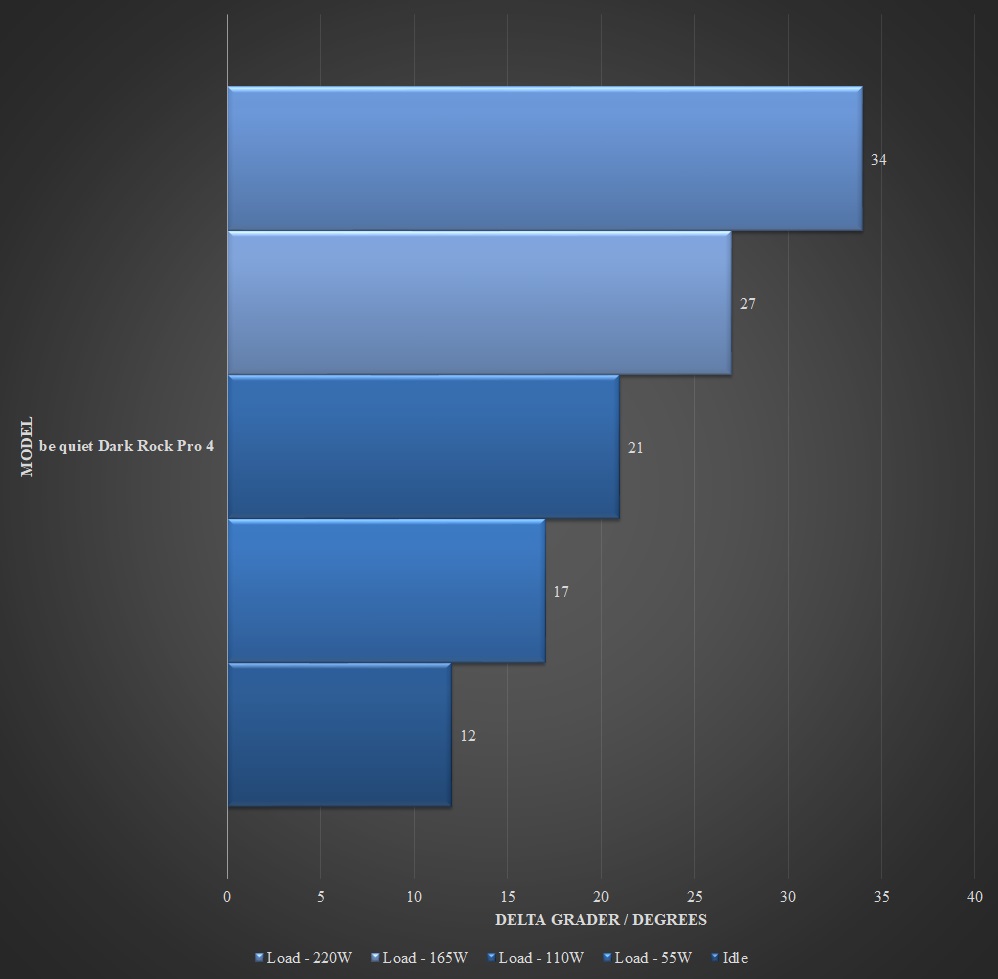 What is my judgment.
be quiet! has done it again. They have taken a good product and made it even better. The performance and appearance are all in be quiet! style with black and great quality.
The performance of the cooler is at its peak, mounting is made much easier than in previous models. The look is exquisitely awesome, the matte black color, the detail with the capes on the pipe ends and the little discreet be quiet! logo on top, which furthermore turns right for vertical mounting. It will not get any better.
That be quiet! also, have used their latest Silent Wings fans does definitely not make it worse. They are so stable and quiet that you almost will not believe your own ears. Not only that, they also look great.
With a price level of less than 600 DKK at the time of writing, we are on the right price. You get an AWESOME and good cooler for the money. It is certainly worth a nice gold star and the money.
Read more about be quiet! Dark Rock Pro 4 here:
https://www.bequiet.com/en/cpucooler/1378