Fantech CAPTAIN 7.1 Gaming Headset
In this review we are going to look at the last product from Fantech in this round. I have saved a 7.1 surround headset till last. So in this review we are going to look into a Fantech HG14 CAPTAIN 7.1 Gaming Headset.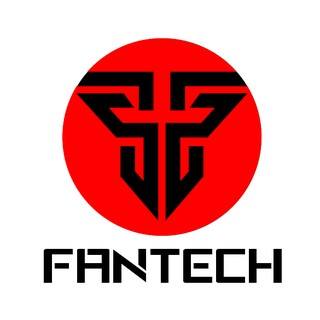 Fantech is a manufacturer from the East, which is being imported by USB-Port.dk. Fantech is supposed to be a worthy competitor for the expensive brands. So good quality at a fair price.
Introduction video.
Here's a little video that tells a little about the highlights of this headset.
What we fine in the box.
The box has nice illustrations and technical specifications printed on the outside. You are in no doubt how the product in the box looks or what it can.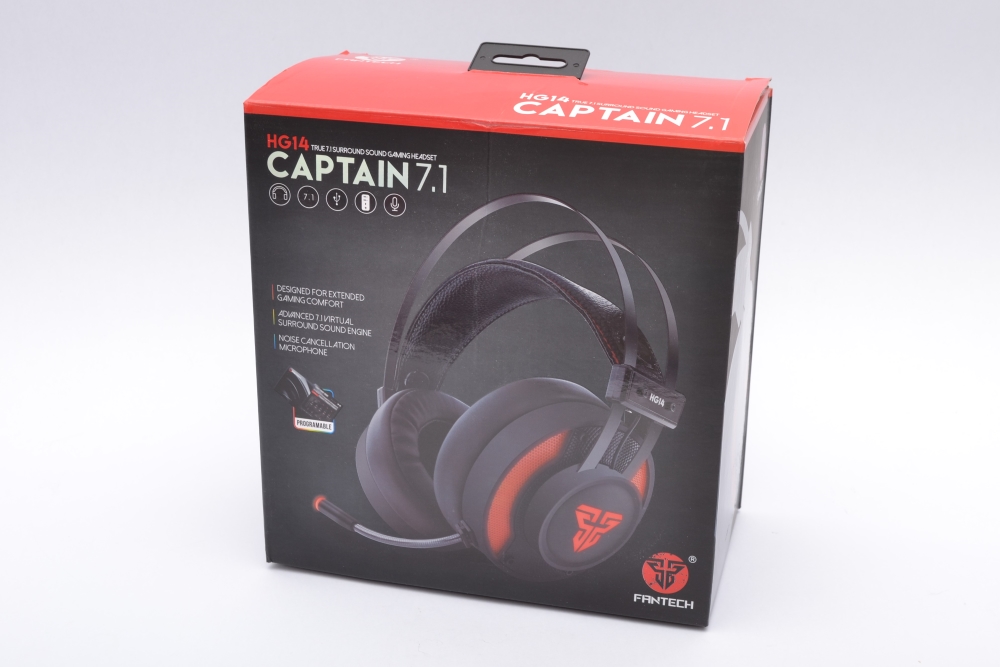 Inside the box we find the headset itself. It is wrapped in a bag of bubble plastic, so it is well protected against impact and scratches.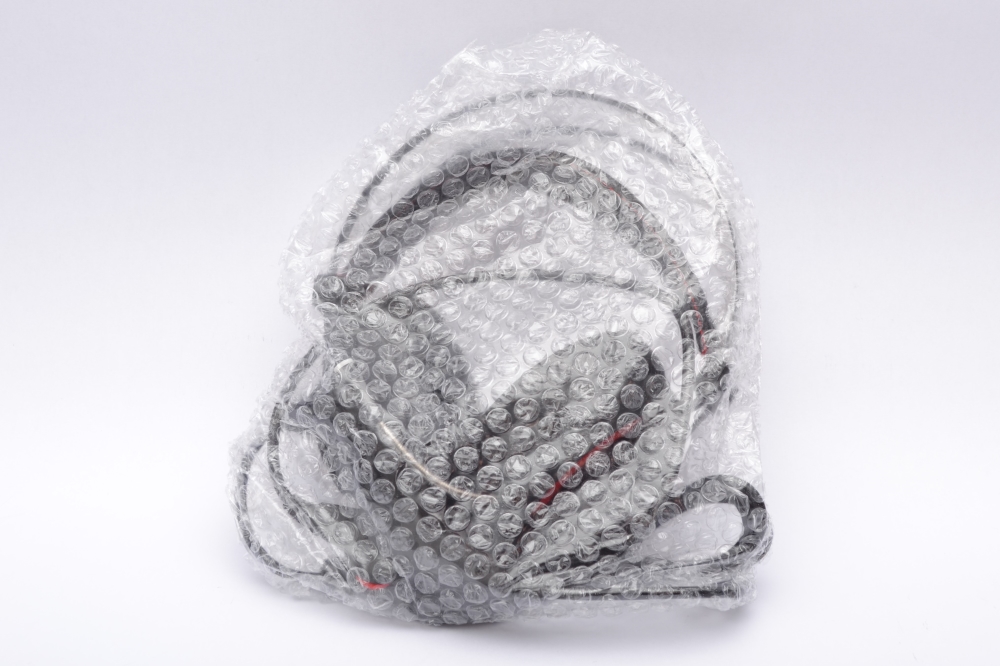 How are the technical specifications.
It looks like, the microphone does not appear to have an active noise reduction. Maybe it's built into the driver. The speakers are 50 mm units, which is quite nice. They should play the entire hearing range of 20 Hz - 20 kHz, which promises well. If they make it convincing and detailed test will show later. A 2.5 meter long cable is perfect if you have your computer under the table like I have.
Mic Dimensions: Ø6.0 x 5 mm
Mic Sensitivity: 58 dB
Mic Direction: Omni directional
Speaker Unit: Ø50 mm
Speaker Impedance: 32 ohm
Speaker Sensitivity: 95 dB
Speaker Frequency: 20 Hz - 20 kHz
Cord Length: 2.5 m
Connection tybe: USB
Control: Cord Remote Control
Let us have a look at the goodies.
The headset is pretty nice and fits comfortably on the head. The microphone is a small swan neck microphone attached on the headset. So you can not move it in or remove it from the headset.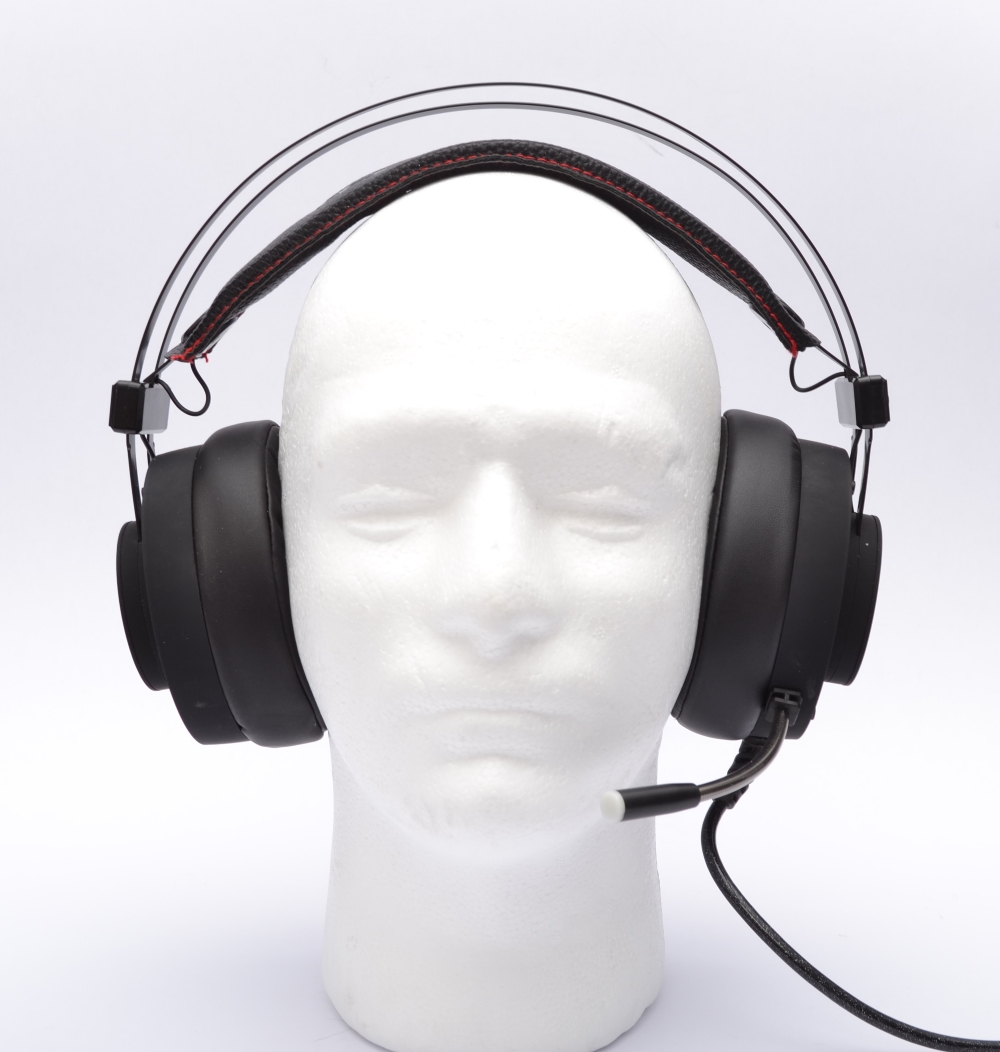 Each ear cup is with metal mesh, where light comes out. There is also a Fantech logo that lights up in every ear cup. Note the red stitches on the head pad that fit well with the red theme this headset has.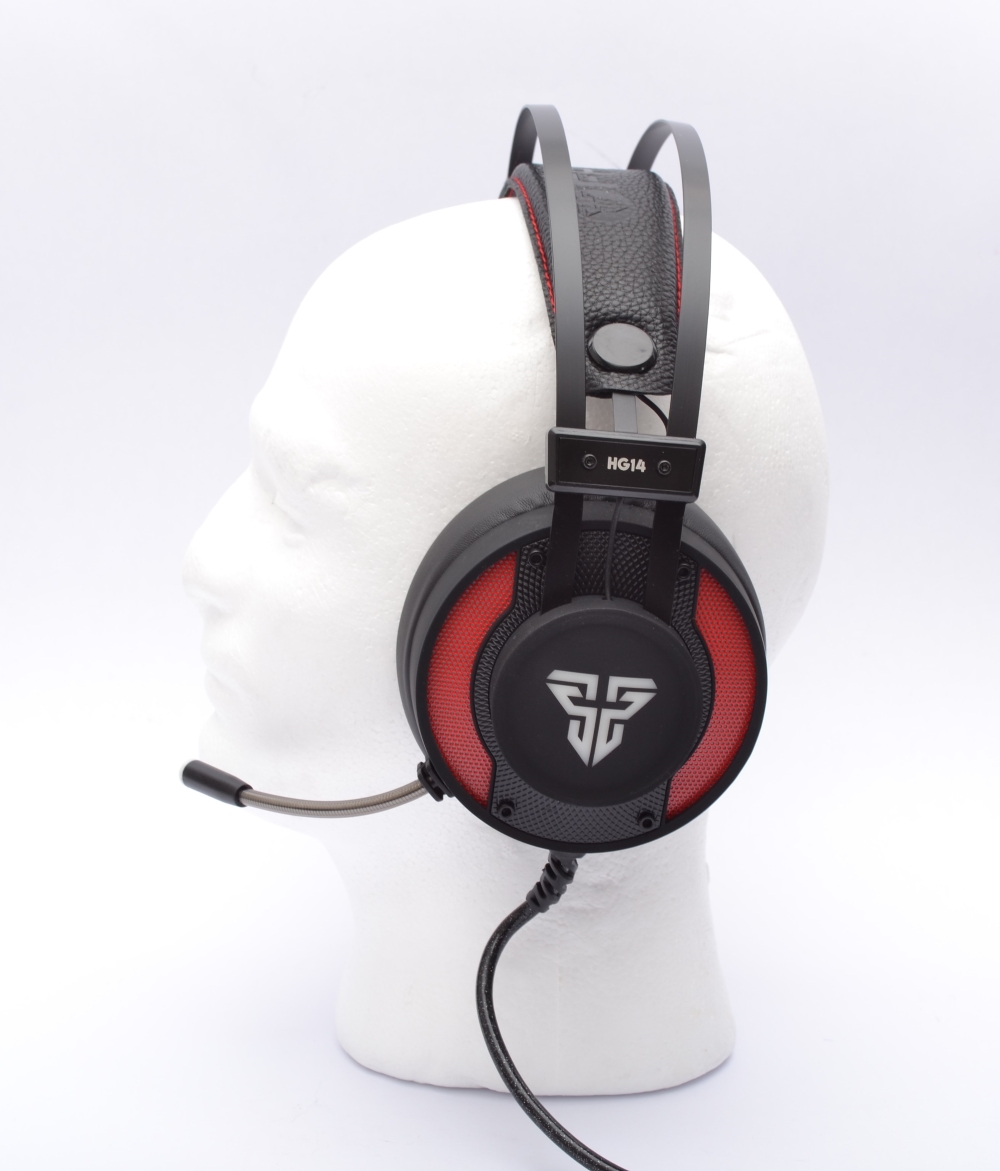 Ear cups are quite large and the headset seems pretty sturdy.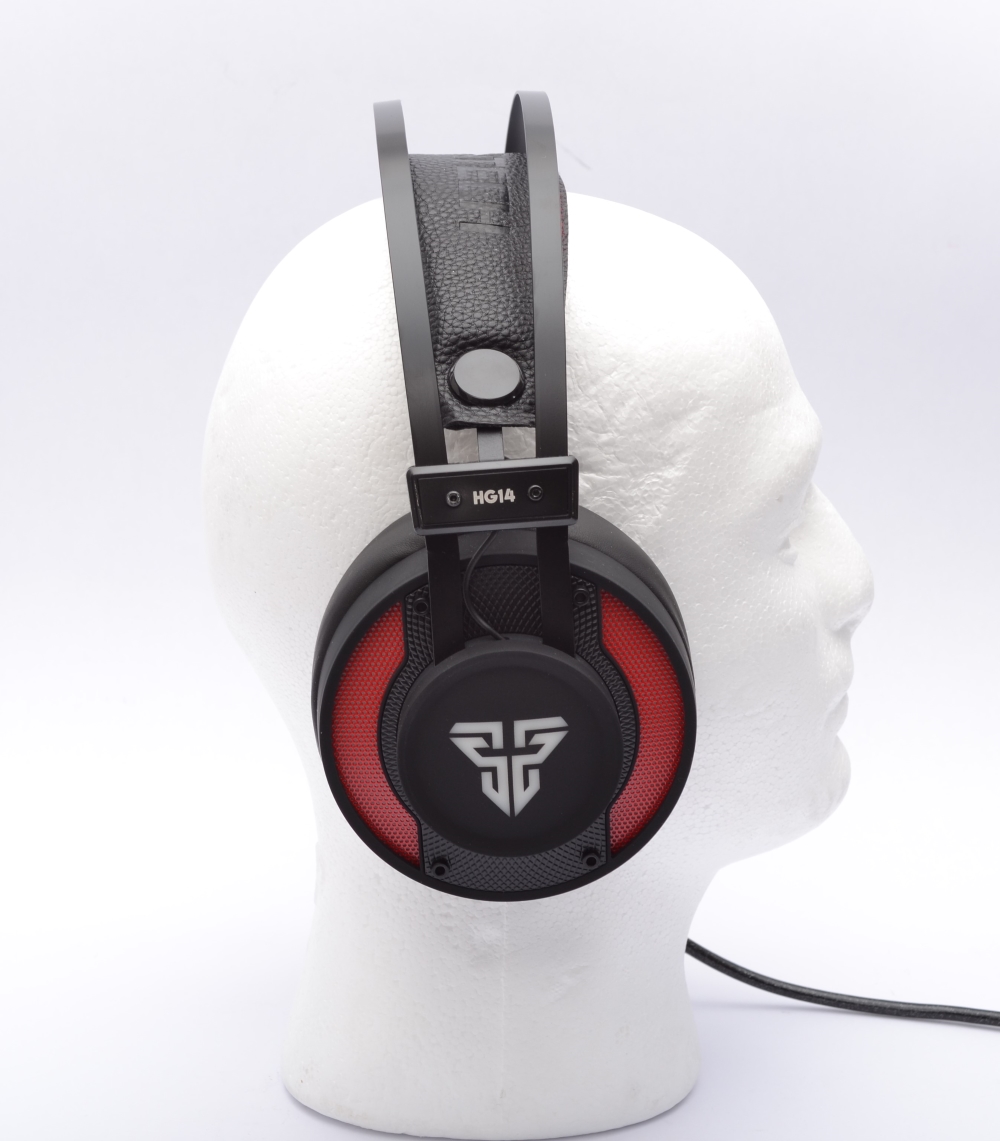 The head pad has a Fantech stamp in the leather, which looks pretty great. The headband is made of steel, which makes the headset very robust. As you can see, there are large metal fittings, which also shows that this headset withstand some hard treatment.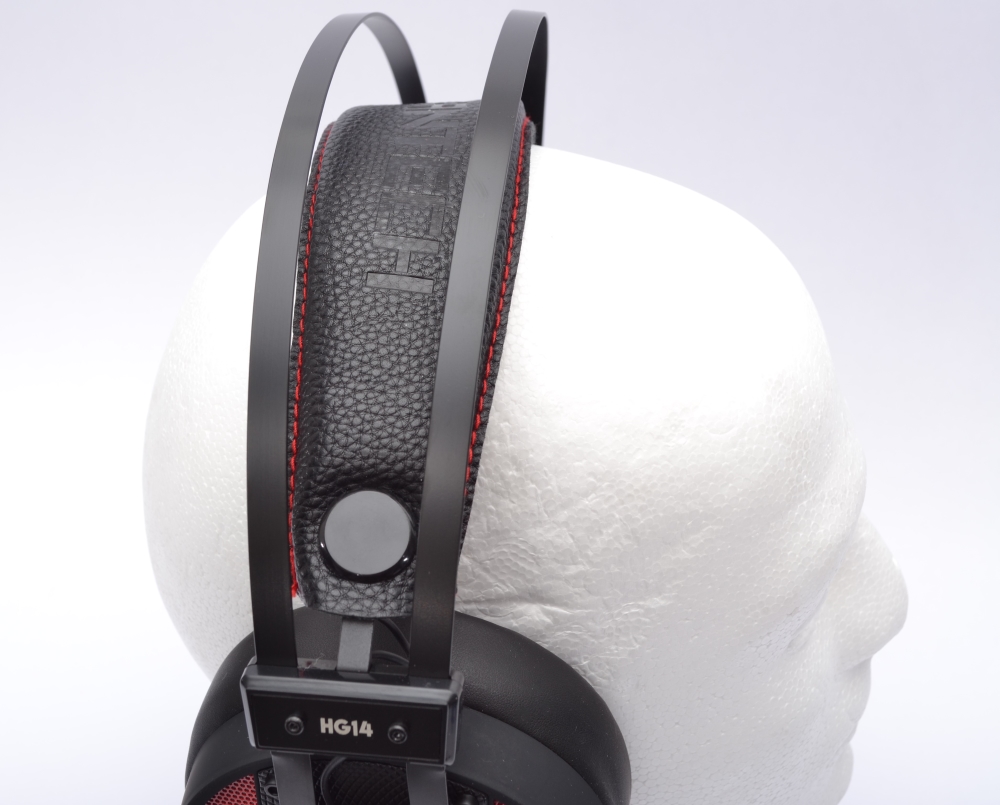 The ear pad is thick and soft. It has a inner hole diameter of 5.5 cm. which might be right at the small side for some on the on the vertical part. But the cushion is so soft that you do not notice it pressing on your ear.
Approximately 50 cm down the cable we find the remote control. It is in a good size, and also acts as something that can withstand a bit with powerful pull relievers.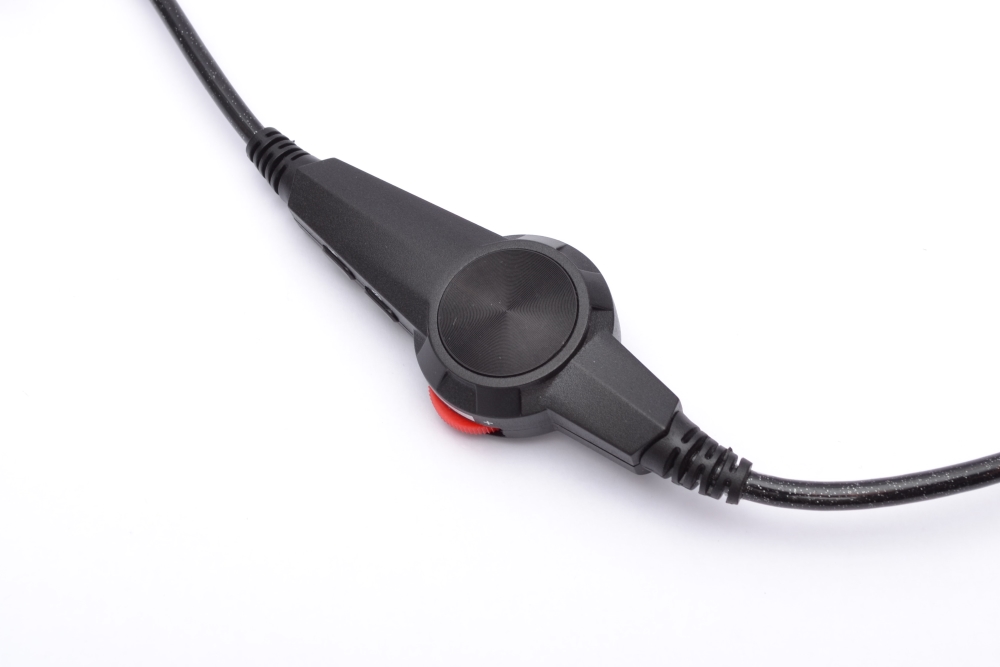 On the remote control we find a volume button. There is also a button to turn off the light and microphone of the headset. Unfortunately, there is no indication of whether the microphone is turned off or on.
Finally, a picture of the cable itself and the plug. The plug is a big USB plug that you can easily grab. The cable is also a solid rubber cable with glitter. This is the first time I've seen this kind of cable for a headset and must admit it looks pretty cool.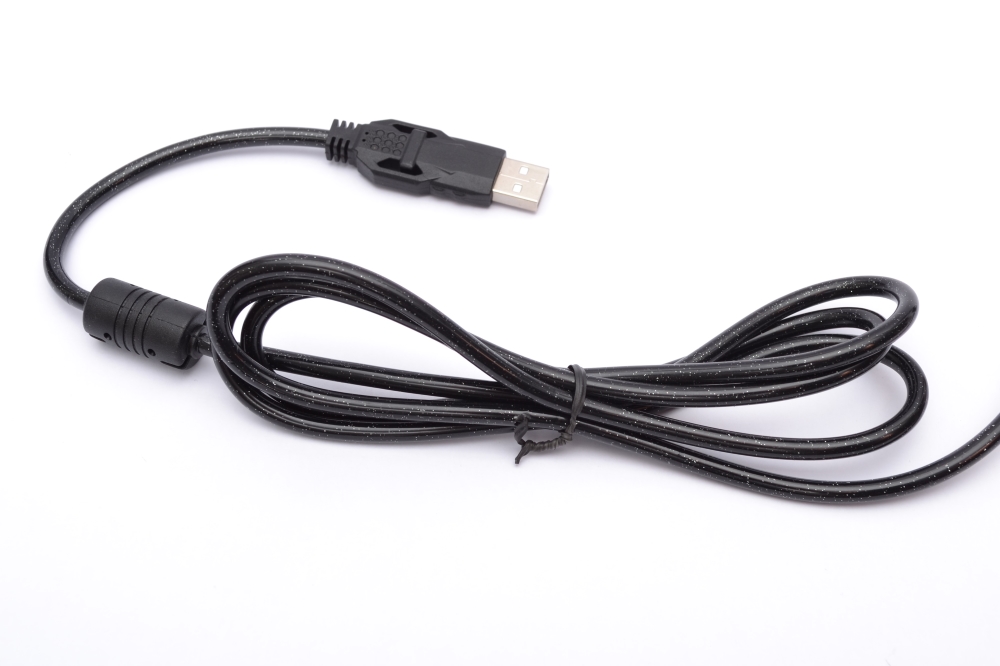 The software.
Fantech has made a driver software for this headset. In this software you can set different things and give different effects to sound in the headset.
On the first tab we find the Equalizer. It's super smart if you want to fine tune the sound in your headset to suit your own needs. You can also add the sound a 3D effect if you need it.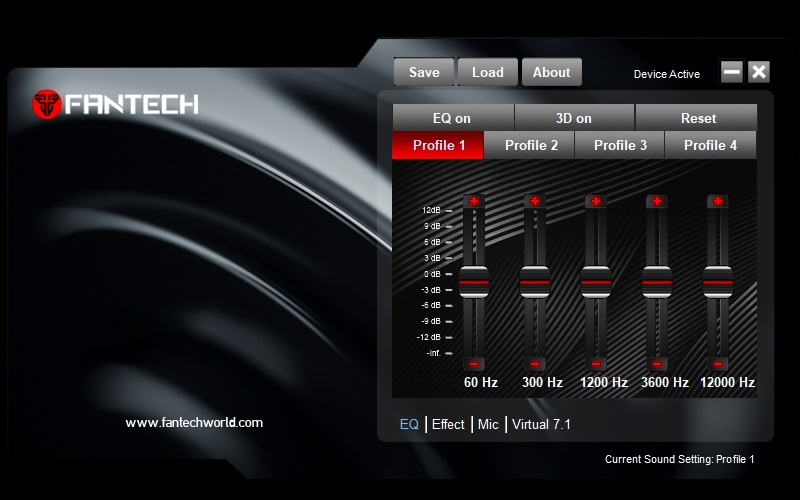 On the 'Effect' tab you can select different effects for the sound. I have to admit that some of them sound better than others.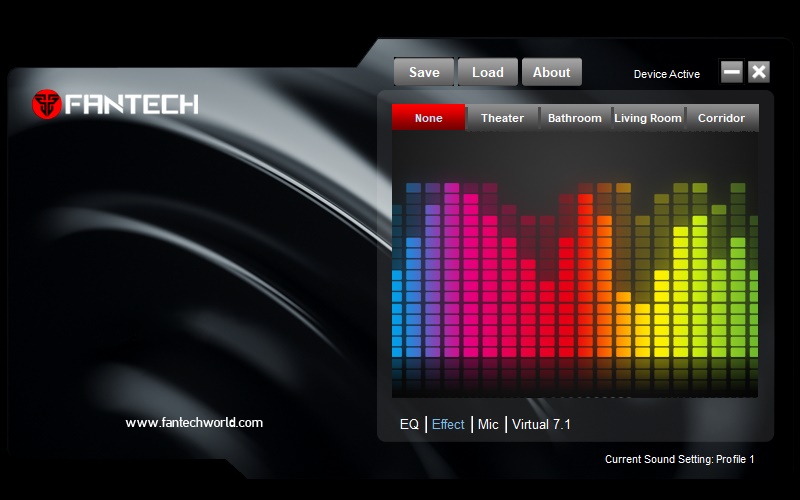 Then there are settings for the microphone, where you can adjust the power and whether there should be boost on it or not.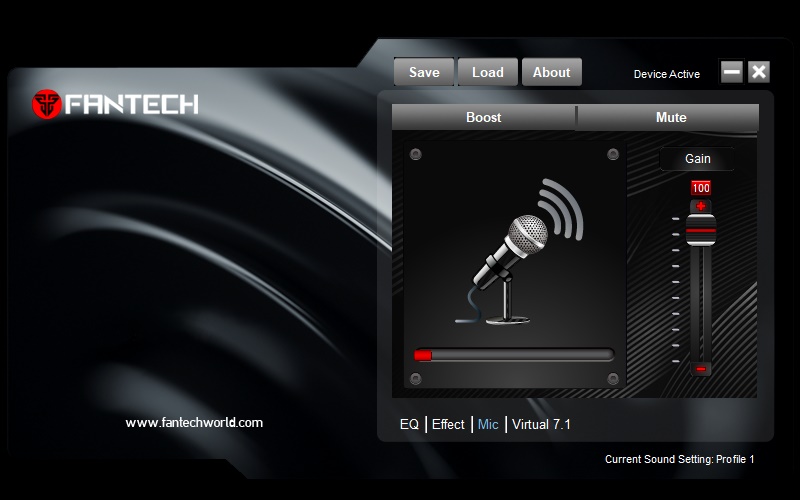 Finally, there is Virtual Surround. CCW and CW are some fun effect in which the sound is rotating. I will think it's for fun and to test different options. If you can use it for something serious, I'm a bit more doubtful.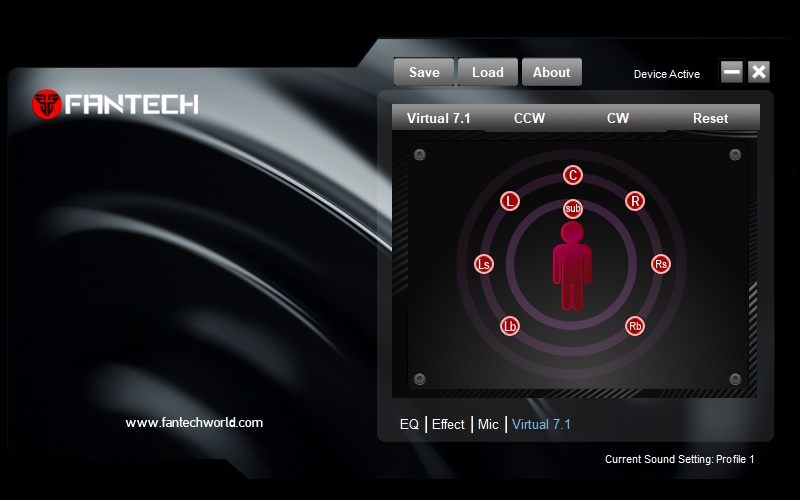 Time to listen.
Compared with:
Headset: Sennheiser PC-350SE
Soundcard: ASUS Essense STX II
The Comfort:
I have used this headset for some of hours in a row. Both for gaming, but also for listening to music while editing articles. The comfort of this headset is actually quite good. I have not had any genes associated with my glasses or head, as are the typical places I feel sore after long periods of use with some headsets.
However, the wife tried the headset briefly, and she thought it was too heavy and sat too loose on her head. She has a relatively narrow head, which you must suspect many children also have. So this headset is maybe not very useful to children.
The Sound:
The basic sound of the headset are nothing to shout hurray about. It sounds quite cumbersome and lacks treble and detail. Fortunately, Fantech has chosen to make a driver with Equalizer, so the basics mean less because you can adjust the sound to your own needs. It gives some freedom to the headset without equalizer. (Yes, they exists)
Another advantage is that this headset is a USB headset. So you rarely change the sound source of such a headset. There will always be a computer where you can install a driver. If you do not want to install driver and need the basic sound. Then you stand pretty bad with this headset.
The Microphone:
The microphone should be with noise reduction according to Fantech. However, as you can hear in the following recording without background noise, there is some white noise in the recording. The recording is made without boost so it should be as less noise as possible.
As you can listen in this recording, Fantech keeps very well what they promise in terms of noise reduction. The microphone does not absorb much from the surroundings, which makes the headset really good for LAN parties and in noisy environments with siblings who run around and play, or the girlfriend watching television while playing.
The Light:
The light in the headset is quite beautiful and subdued. As you can see here, there is light in the microphone. Unfortunately, this light does not turn off with the microphone. It would have just been spot on ifit was so, then you could see physically if it was switched off or on.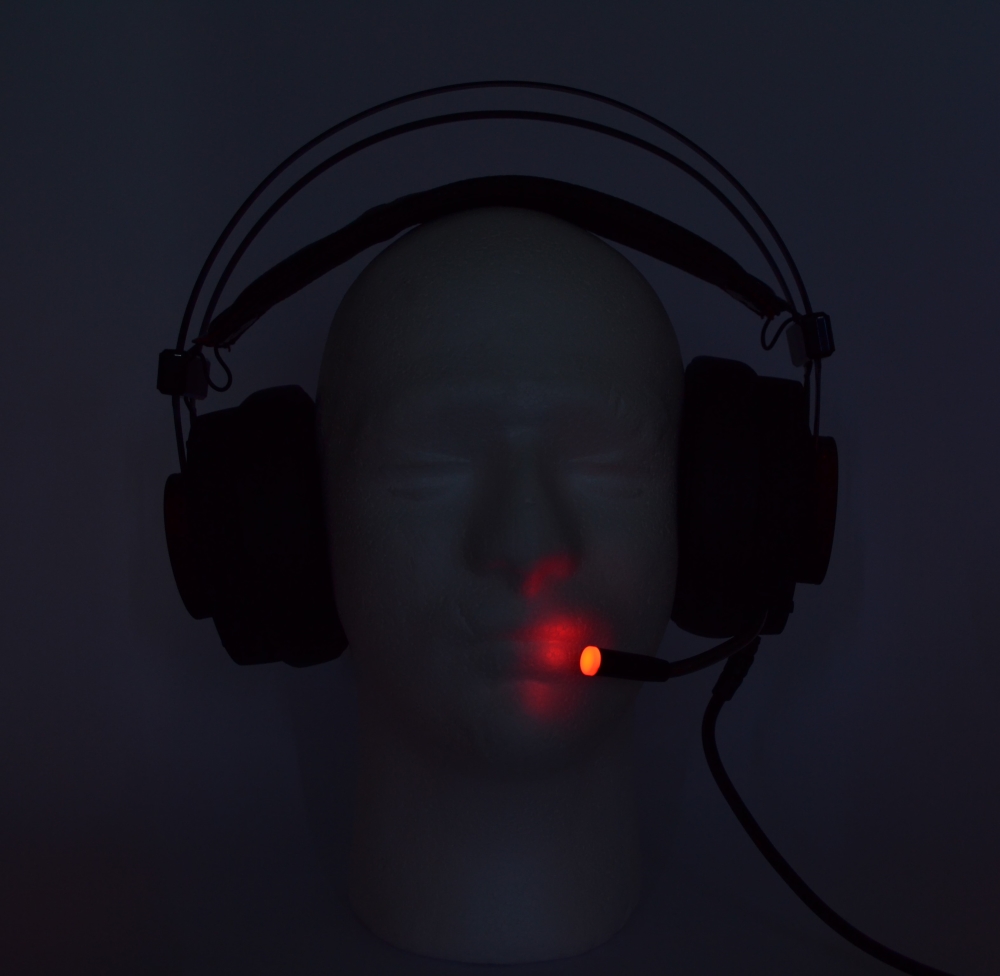 The light in each ear cup is also quite subdued. I like that you do not sit in a light sea when you sit in the evening and play so the light in this headset fits greatly to my style.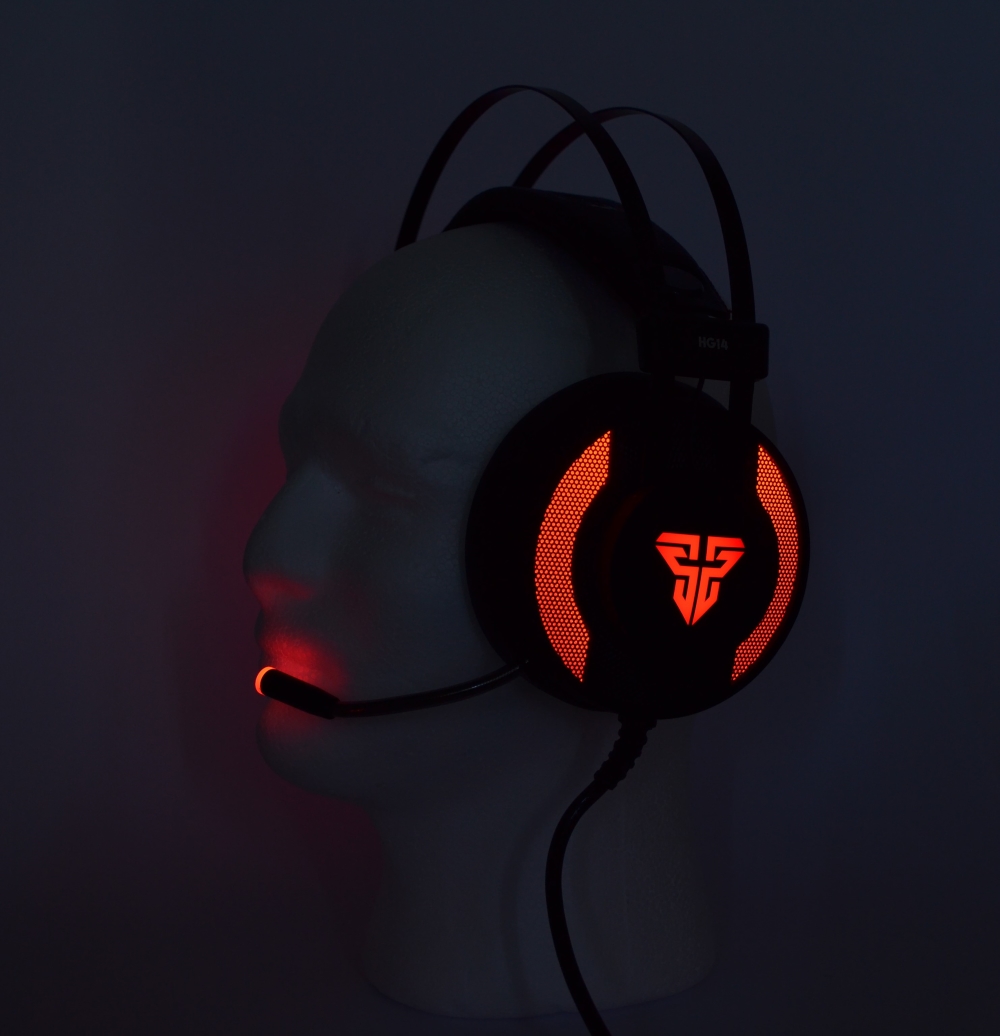 What is my evaluation then.
Fantech has good thoughts about their products, but I do not quite think they are able to reach the goals they are aiming for.
The Fantech HG14 Captain is all in all an good headset. It's just lacking on the audio side, which where it should perform, now it's a headset.
If we talk about the basic sound, then it is very squeezed and certainly lacking treble and detail in my opinion. You can adjust it a lot with the included driver, but I personally do not adjust it like that. That kind of adjustments should only be very small, and not to customize the entire audio image that I think is necessary here.
The microphone also records the voice fine, but I had some white noise in the recordings that you can hear above. I do not think that the noise should be there, and I do not know for good reason whether it is the standard or if there is an error in my setup. It may be annoying to some, maybe not everyone.
The headset has a good comfort, of that there is no doubt. However, it may not be for people with small heads, because the wife thinks it's too heavy and loosely on her head.
The price for this headset is just under 350 DKK, which in itself is a very excellent price. You get a comfortable headset that can be adjusted to play how you like it and where the microphone has noise reduction and takes up the voice quite nicely.
My review of this headset will be five-star. I do not seem to be able to give it metal as there are too many setbacks and missing on the headset in relation to what it actually could.
Read more about the Fantech HG14 Captain here:
http://www.teecomp.com/products/audio/14/113