Enermax T.B.RGB Fan Kit
In my cooperation with HwT.dk I have been allowed to review some new fans from Enermax called T.B.RGB. It is a full fan kit with 6 fans and RGB control.

Enermax is a major manufacturer that makes many different kinds of computer accessories. Fans, coolers and casings as well as power supplies are what they are most famous for.
Let's start with a little intro video about the product.
Packing and content.
On the box is printed all specifications and it is shown in fine print what is inside the box.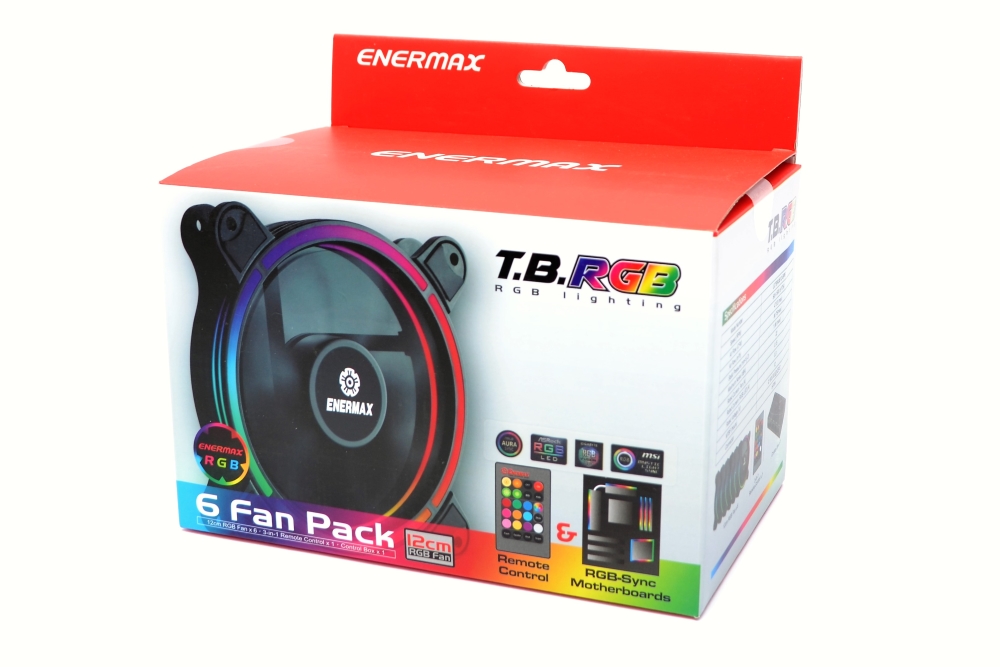 When you open the box, you see 7 white boxes. One box is labeled 'Accessories' and you know it's the one you should open firstly. The other boxes must be the fans.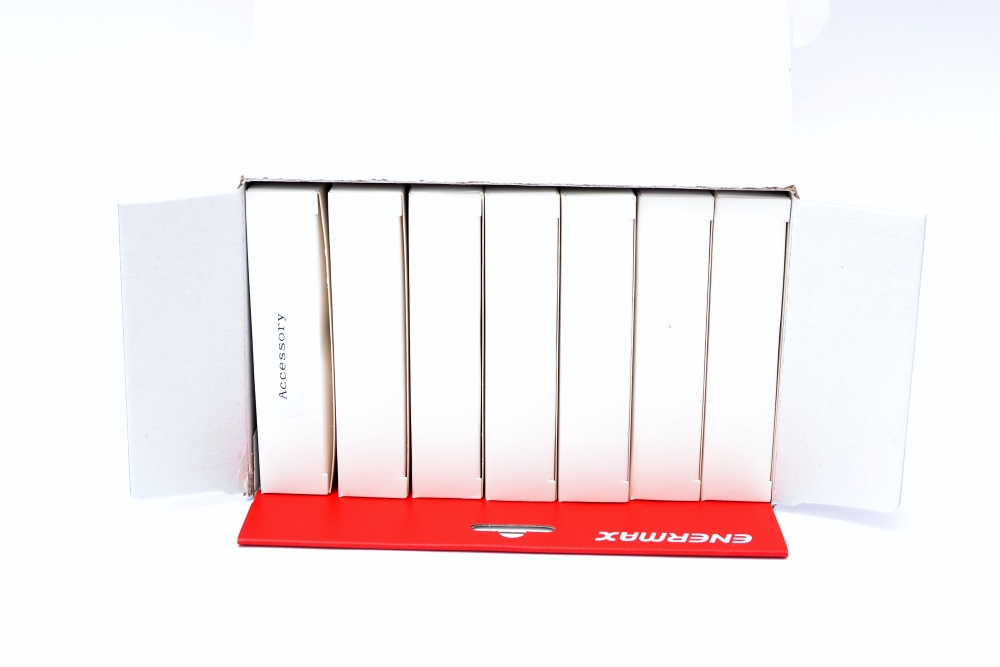 The accessories are very suitable, there are screws, instructions, remote control, a controller and various cables.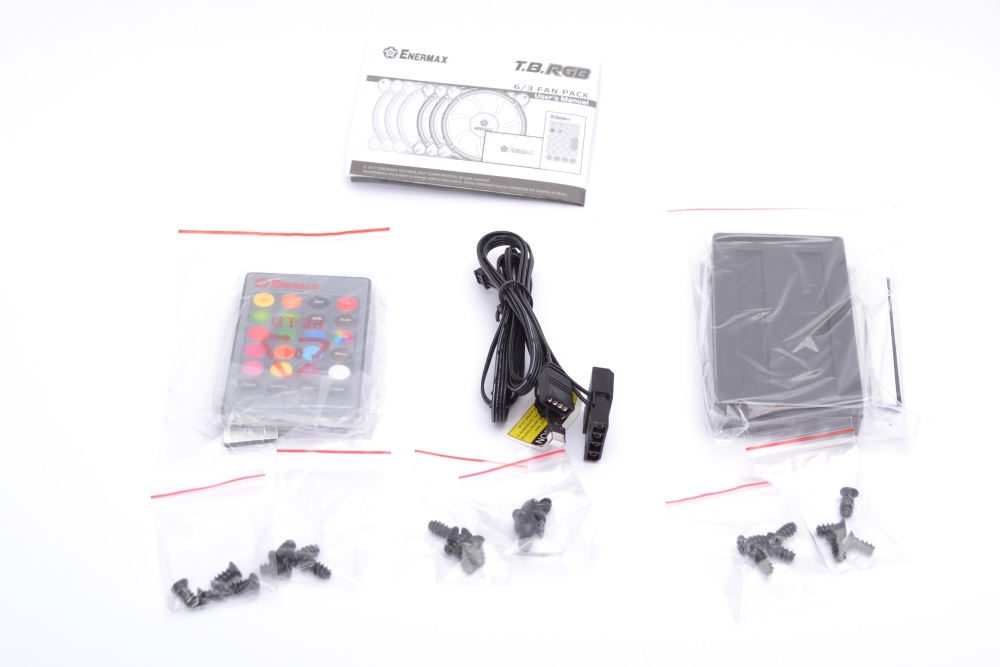 Content:
6 x T.B.RGB Fans
6 x Plastic bag with screws
Remote control
Control box
Cables
User guide
Before we look at the product, we look at the technical specifications.
The package I received is with 6 fans. There is also a package of 3 fans. As you can read, they are 120 mm fans and they run up to 1500 RPM. They have a noise level of up to 22 dBA, which is actually not very much. All in all, the specifications look nice to the casing fans.
UCTBRGB12-BP6
Quantity 6x
Bearing Type Twister Bearing
MTBF 160,000h
Number of Blades 7
Fan Dimensions 120 x 120 x 25mm
Fan Speed 500 – 1,500RPM
Fan Control Steps 150RPM
Color Effects
RGB color change, Flash, Sparkle, Beat, Vegas Mode
Rated Voltage 12V
Rated Current Fan 0.15 A
Rated Current LED 0.3 A
Fan Connector 6-pin
RGB Connector 4-pin (12V/G/R/B)
Power Connector 4-pin molex
Noise Level 14 – 22dB(A)
Air Flow 23.29 – 80,75m3/h
Air Flow 13.71 – 47,53CFM
Static Pressure 1.66mm-H2O
Let us have a look at the product.
The fans are nice looking in black design.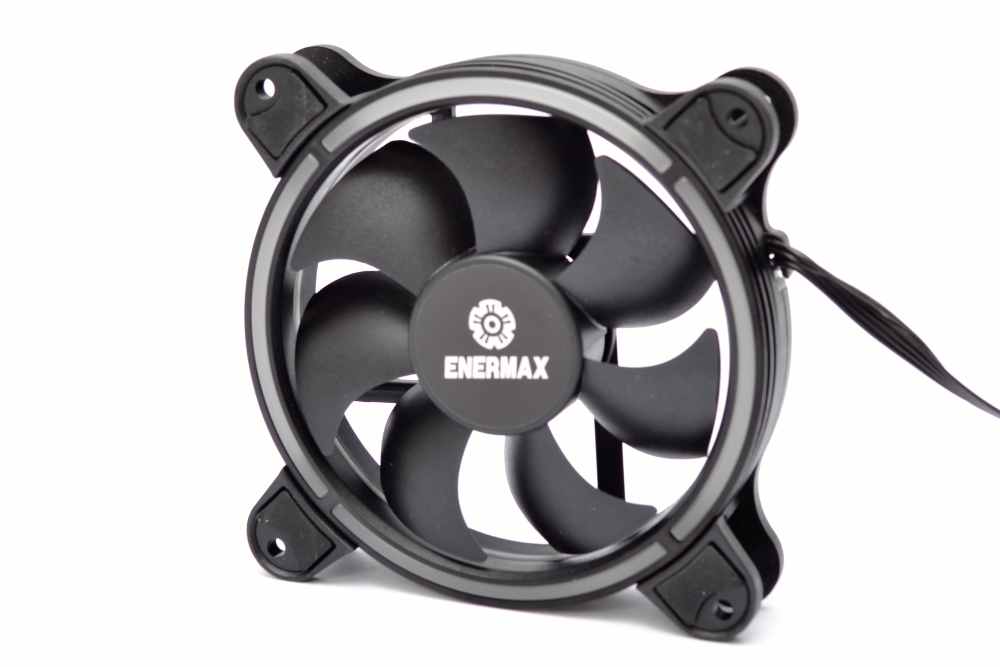 There are 3 rings on the sides that light up when you turn on the FANS. It looks cool, even without lights in it.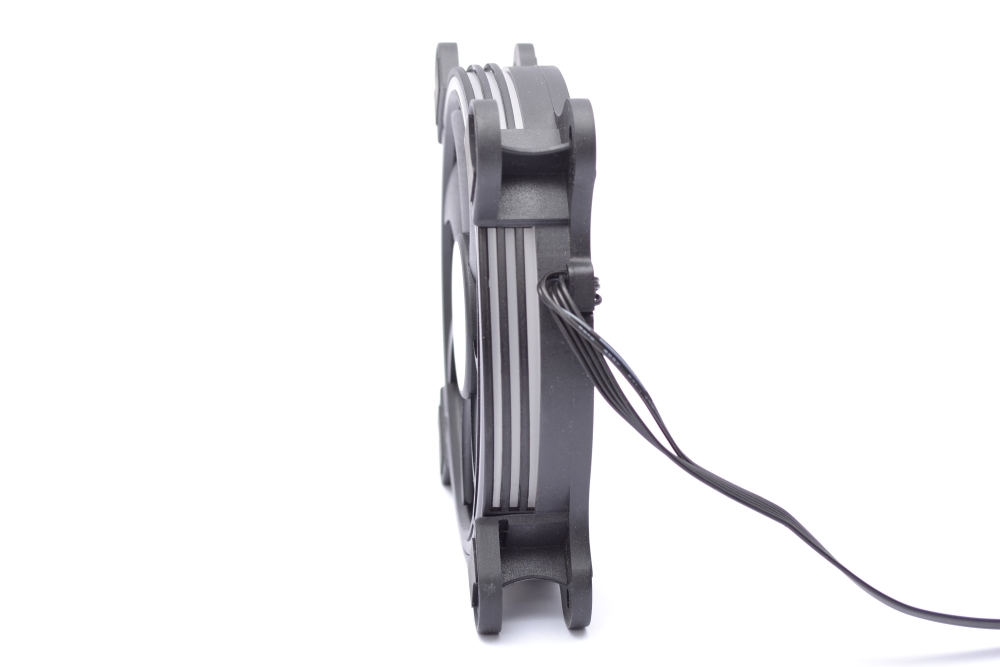 As you can see, there is vibration damping in the corners. So if you do not mount the fans too tight, the rubber in the corners actually takes a little of the vibrations if there is some unevenness in the wings. However, I do not often experience that it's a problem anymore.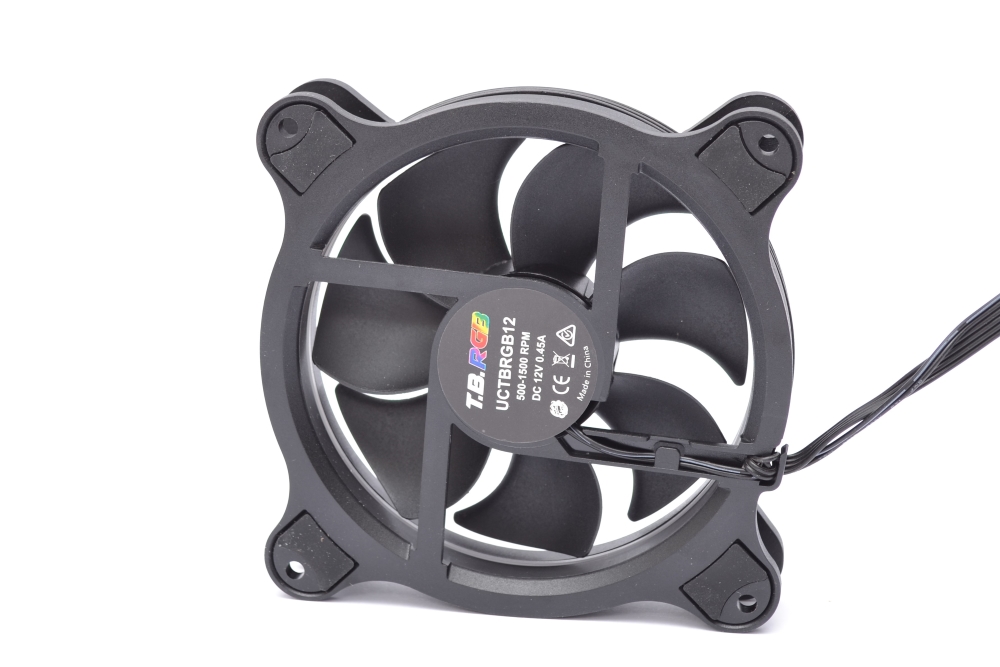 The connector on the fans is not standard in any way. So if the control box breaks before the fans, you're in trouble. I have searched for a fan adapter so that you could control the fan from a normal fan header, but I have not been able to find that. It's a little shame as you can not connect normal fans to the set and can not connect the fans to a normal fan header.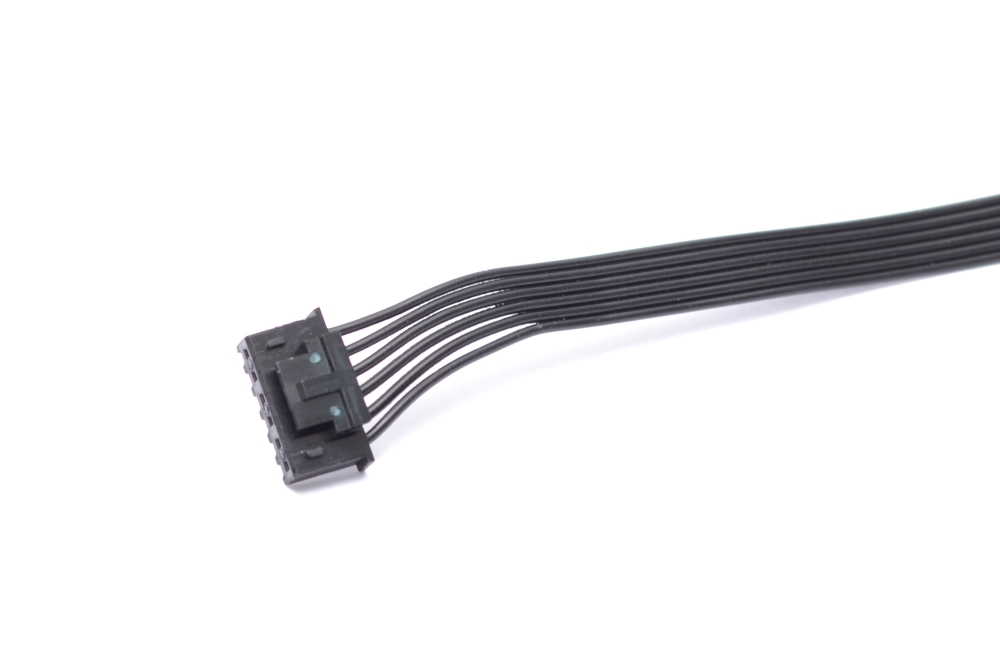 This is the control box. It can connect up to 8 fans as well as LED strips. So you can also control LED strips with this controller. Not only that, you can put the remote control aside and let your motherboard control it all if you have a motherboard which is supported. (My test will be with the remote control)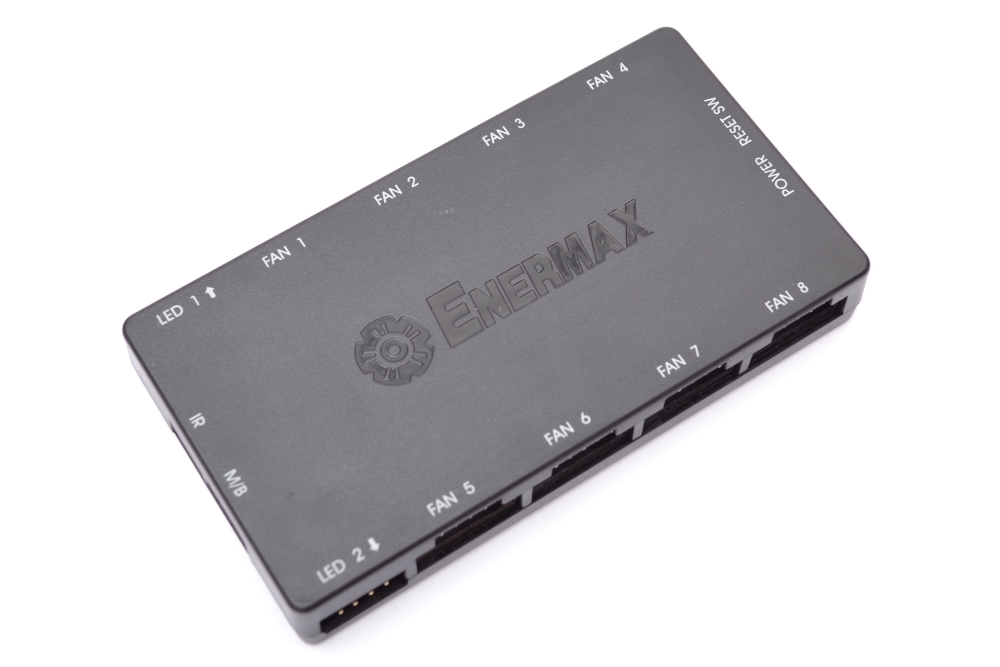 This is how the actual connectors look at the different outputs. It's easy and straightforward.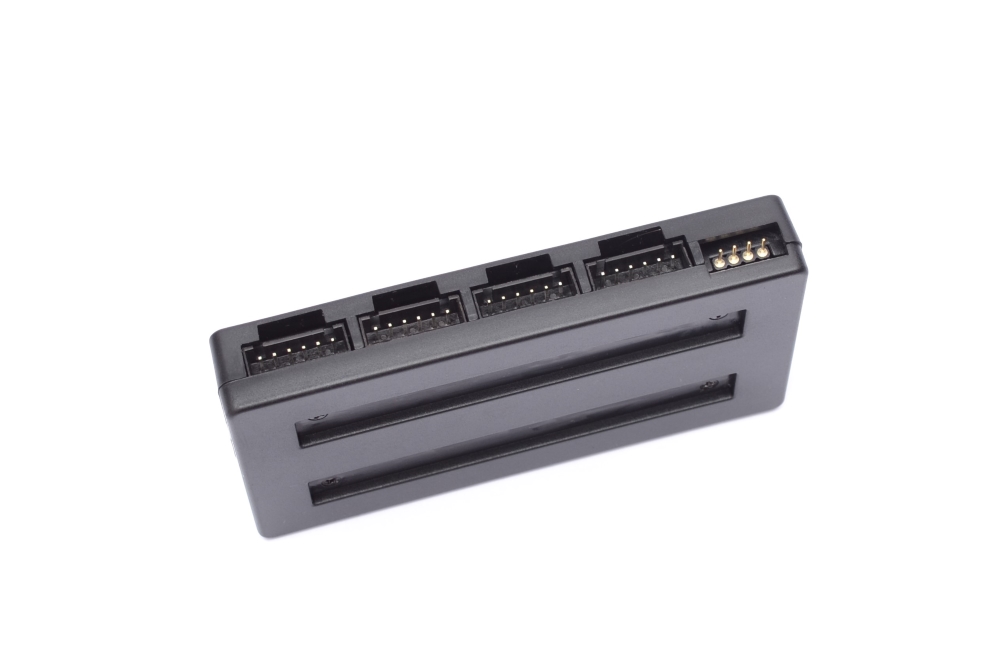 There are both velcro and magnets for mounting the controller. So you can choose how to fix it in the casing. The magnets fit into the recesses in the controller so that it will stick plain to the casing surface. It's pretty clever.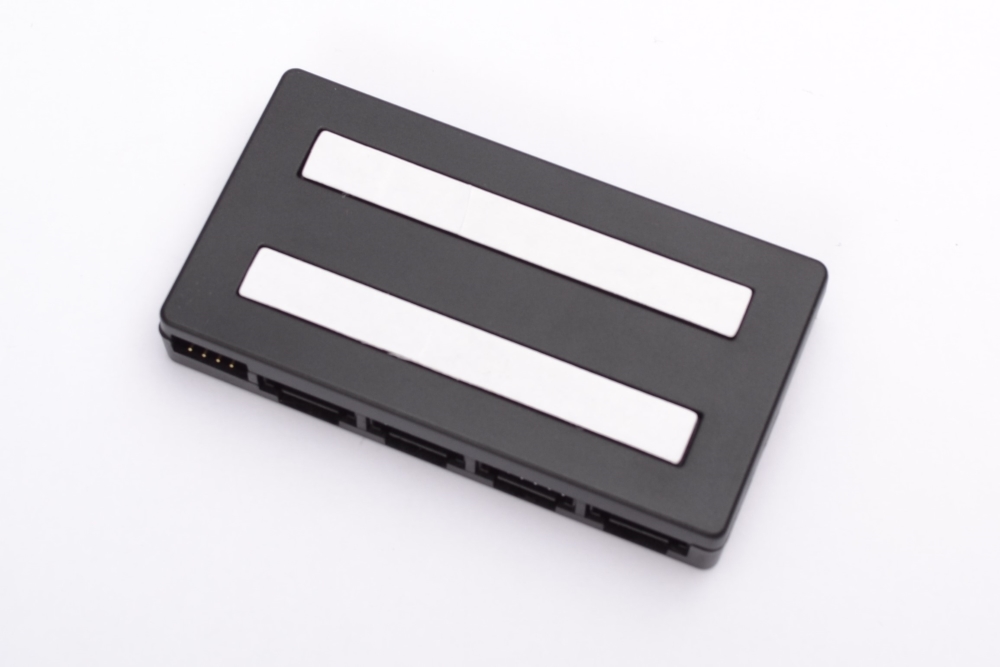 Power cable for the controller. There is no SATA connector, so you must have a free Molex plug on the power supply.
Synchronization cable for the motherboard if you need it.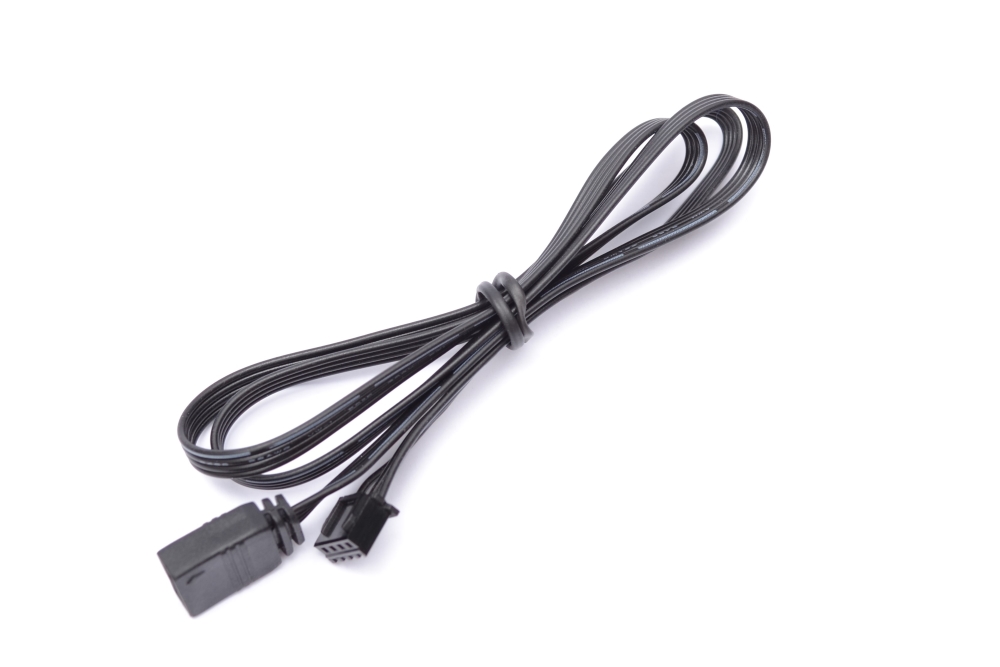 The kit supports connection to LED headers on motherboards, so you can control LED strips and fan color from the motherboard. The biggest manufacturers are supported, as you can see here, and if you have another manufacturer with the same connector for LED light. You can almost be guaranteed to control this set from there too. Remember, it's only the light you can control with this cable. You still need to use the remote control to control the fan speed.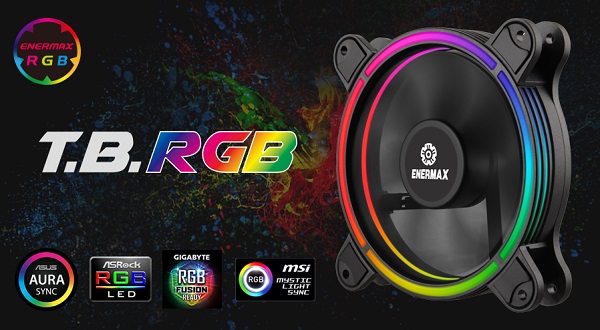 The infrared receiver for the remote control. The wire is long enough to reach around most casings. If you have a window in the casing, it is not necessary to pull the sensor outside, then it can only be located inside the casing. As long as the remote control can see the receiver, it is fine.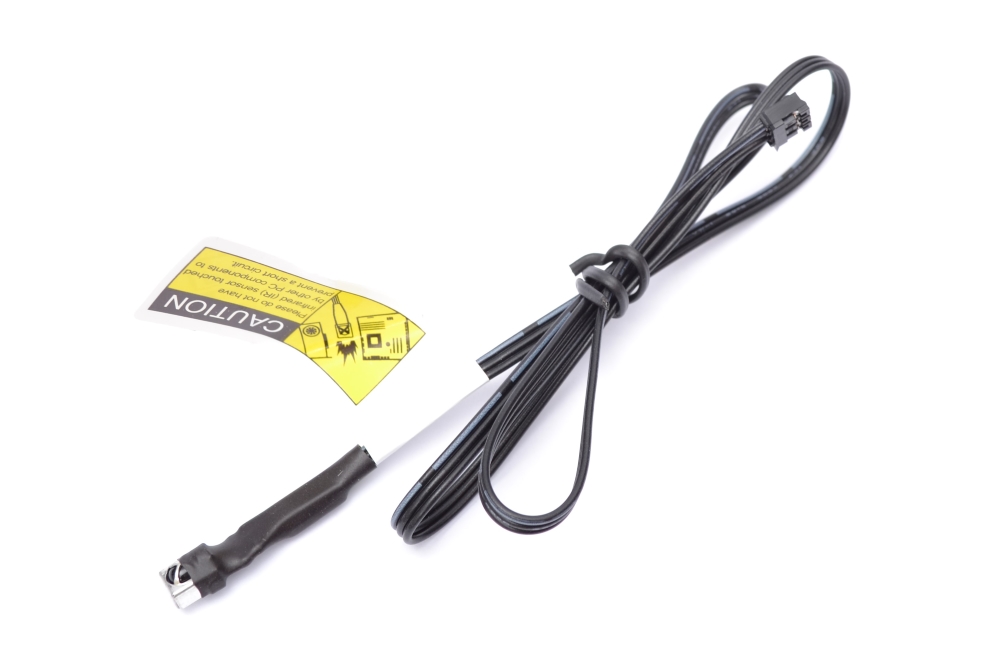 Finally, a picture of the remote control itself. There are many buttons on it, but it is quite self explanatory. You can control both the light and the speed of the fans here. There are some solid colors, and some predefined effects you can choose from. Then you can roll it in the RGB colors and lock the color when you hit the desired color.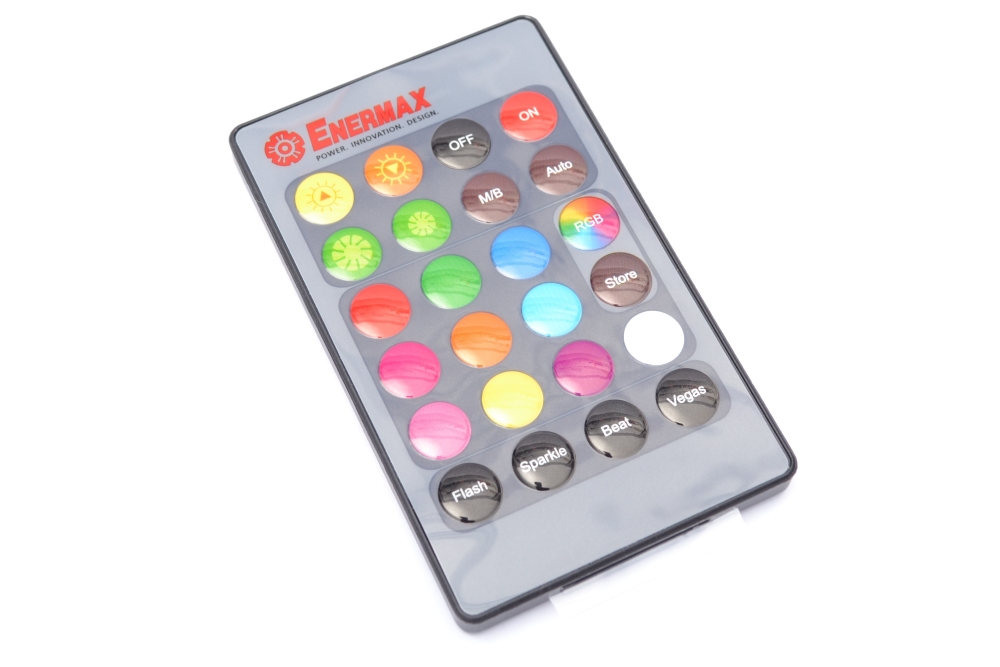 Let me fire up a fan and test it.
The light:
Here is a few pictures of the light in different colors and from slightly different angles. Then I will see you further down in the text.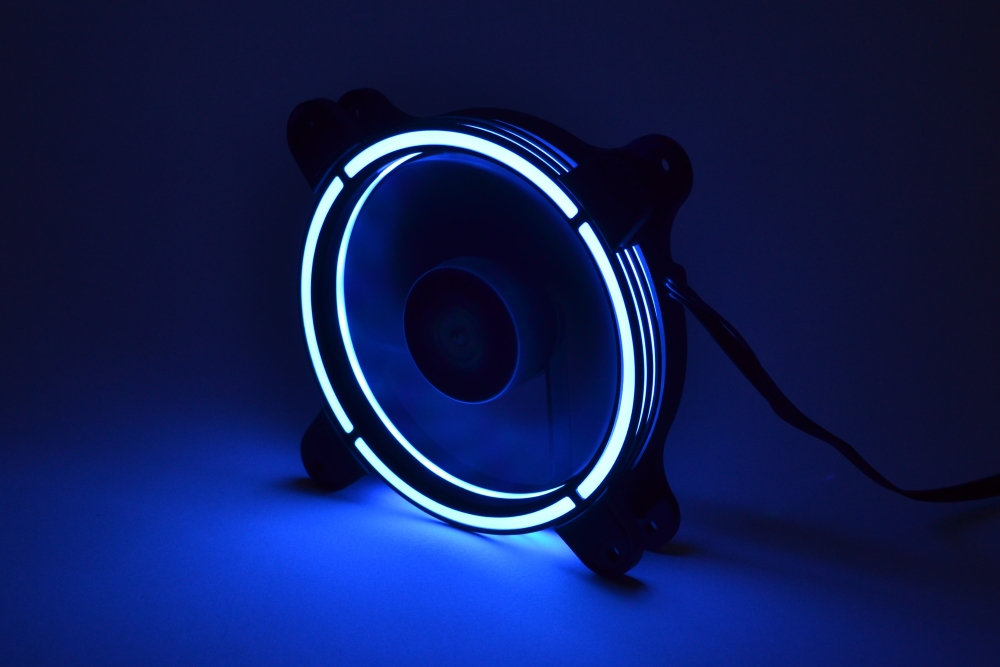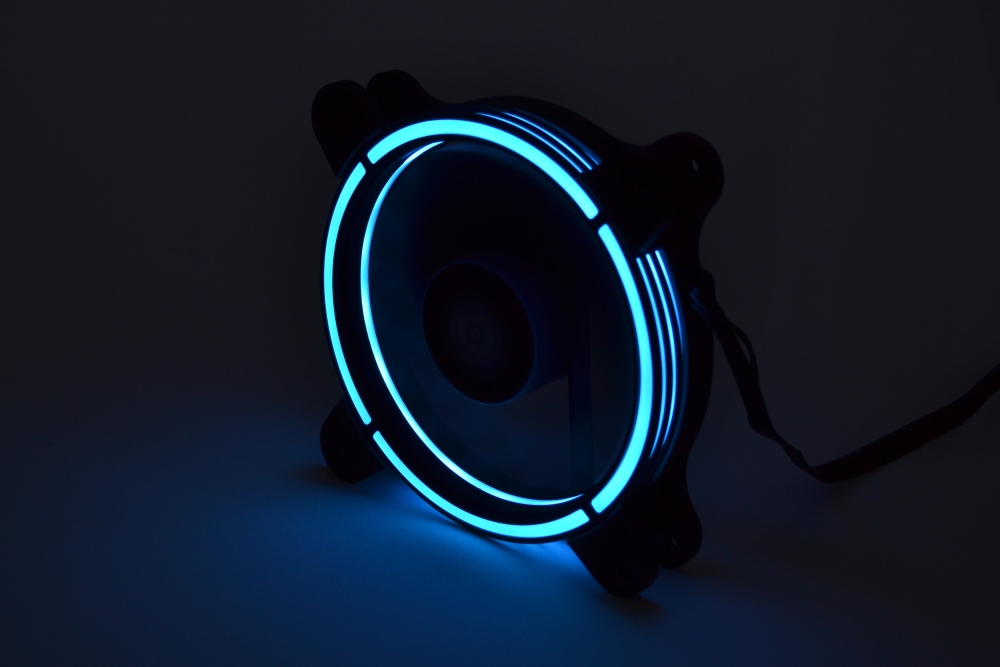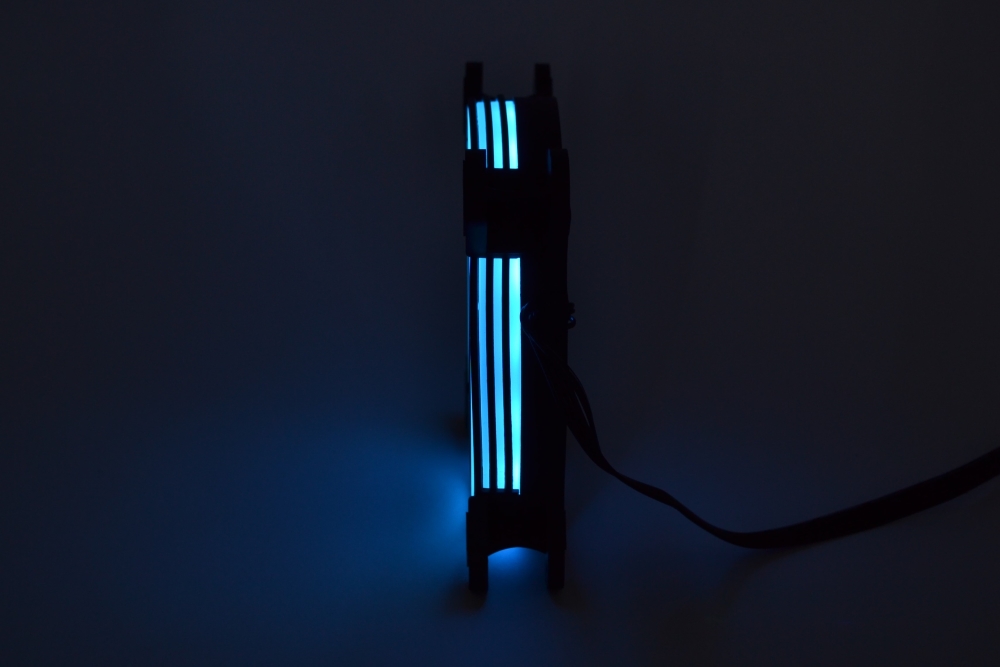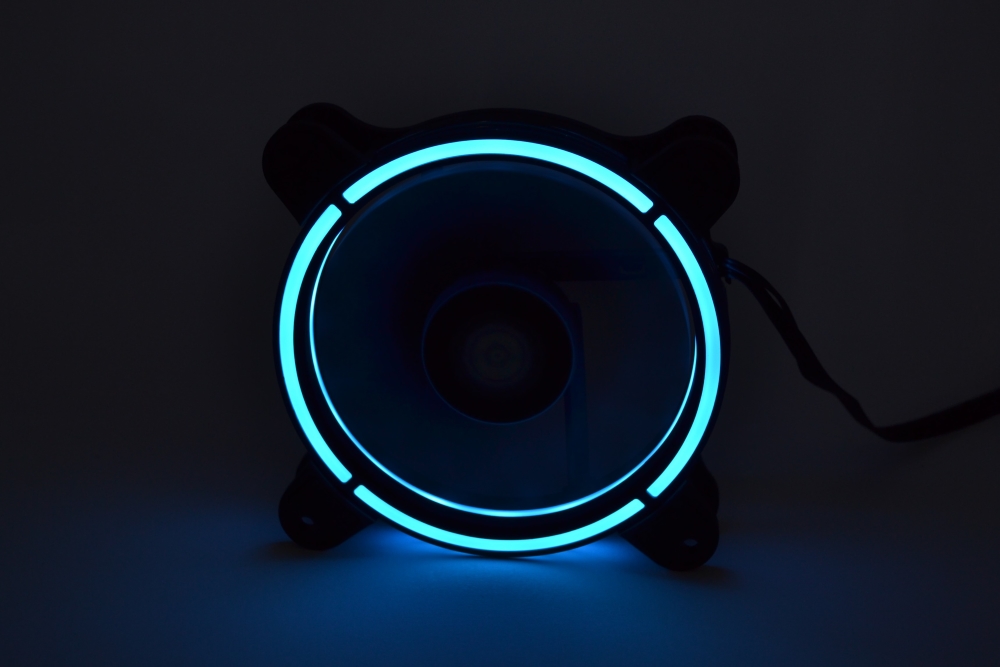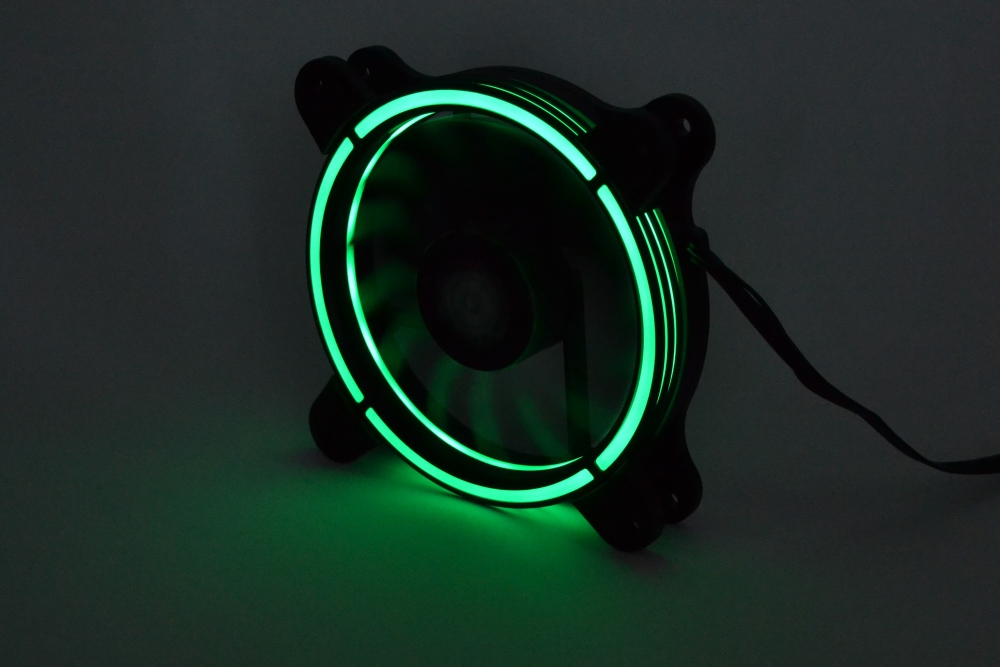 As you can see, the fans look pretty cool. If you connect multiple fans, they follow the same color, as you can not let each fan have different colors.
The noise:
These fans are incredibly quiet. Nor are they high performance fans, but anyway. I do not think you notice if you have many fans in the casing that quietly moves the air for you.
Usability:
It's super easy to get started with an impressive light and fan control for your computer. It's just plug'n'play as they say, because you just have to connect it all and then turn it on. Then you can control everything on the remote control.
What is my opinion about this product.
I'm a bit torn with this product.
Enermax certainly meant it well when they made this set. However, it is in my opinion for beginners and for those who just need some colored lights in their casing.
It's super easy to get started, and you can easily change color or light effects in your casing. It is also quite smart. You can even connect the controller to your motherboard, that way controlling everything from the motherboard.
Personally, I wish much more control over that kind of thing. Either you should have the option of controlling the fans from the motherboard using a fan header cable, or the possibility of USB connection so that you can control both light and speed from a USB driver. That you can connect the light to the motherboard, but still need to use the remote control to control the speed does make sense in my mind.
But when that is said, it all depends on the price. And this set of 6 fans and controller can be bought for less than 600 DKK. It is a price of less than 100 DKK per fan. So it gives much more meaning.
If we are to compare it with one of the competitors who have done a part in this, namely NZXT with their HUE. Yes, here's the same price for a kit with 2 fans. You will receive 4 great fans in the same price. It is certainly worth considering.
I actually think that this kit from Enermax is doing well and you get a lot of value. The fans seem to be of good quality, and it's very easy to set up and get started. It gives a beautiful GOLD star rating.
This article has been created in collaboration with ...

Read more about Enermax T.B.RGB here:
https://www.enermaxeu.com/products/fans/led-fans/t-b-rgb/