CRYORIG C7 Low Profile Cooler
It's time for another review.
The Danish computer builder FrogGaming has asked me to look at a cooler for them as they saw my test of Reeven VANXIE.

Therefore, this time we are going to look at a cooler from CRYORIG called C7. It's their smallest cooler, and meant to replace a standard cooler.

CRYORIG is a company that has existed since 2013. They make some competent and nice looking coolers with the purpose of creating the coldest system possible.
Let's look at the packaging and the content.
The cooler comes in a nice box with lots of illustrations printed on the outside. There are also various specifications, so you know what to expect regarding performance and compatibility.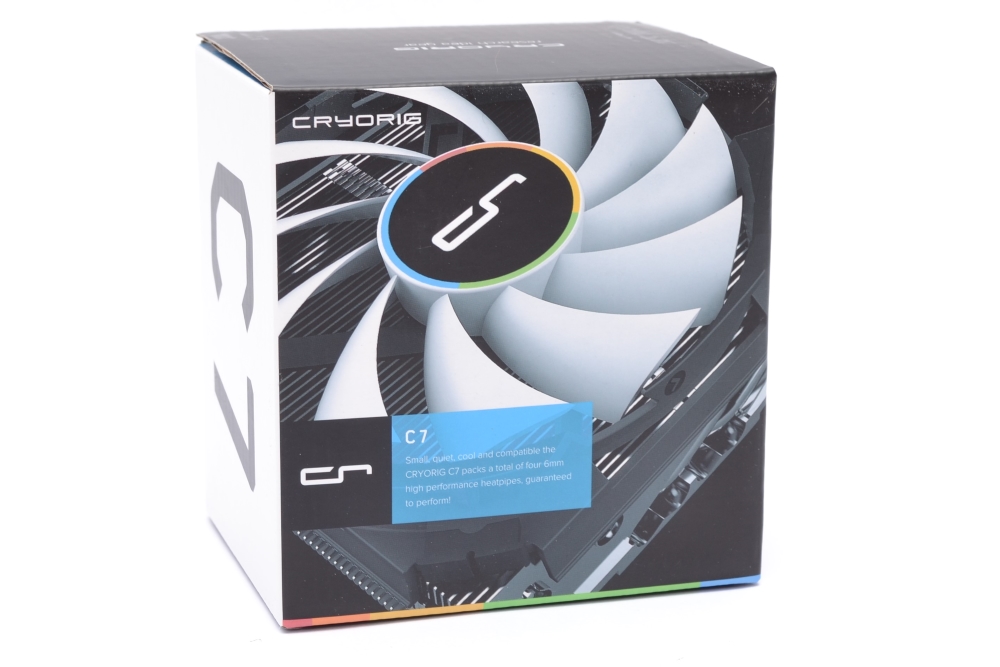 Inside the box we find in addition to the cooler itself. Cooling paste, screwdriver nuts and washers for ITX mounting.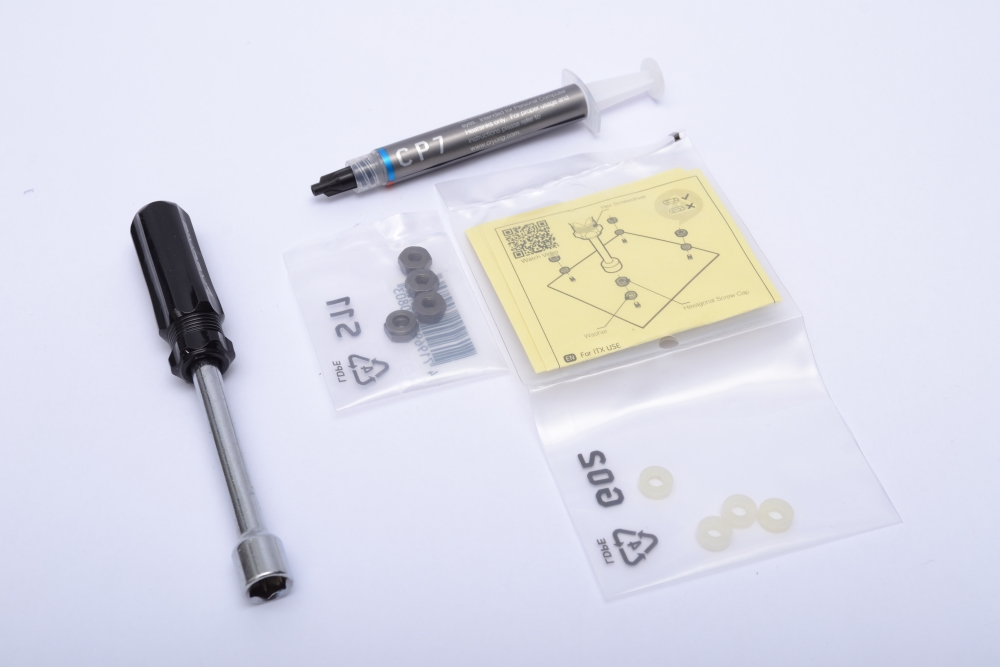 Then there is a mounting guide in several languages as well as a backside bracket.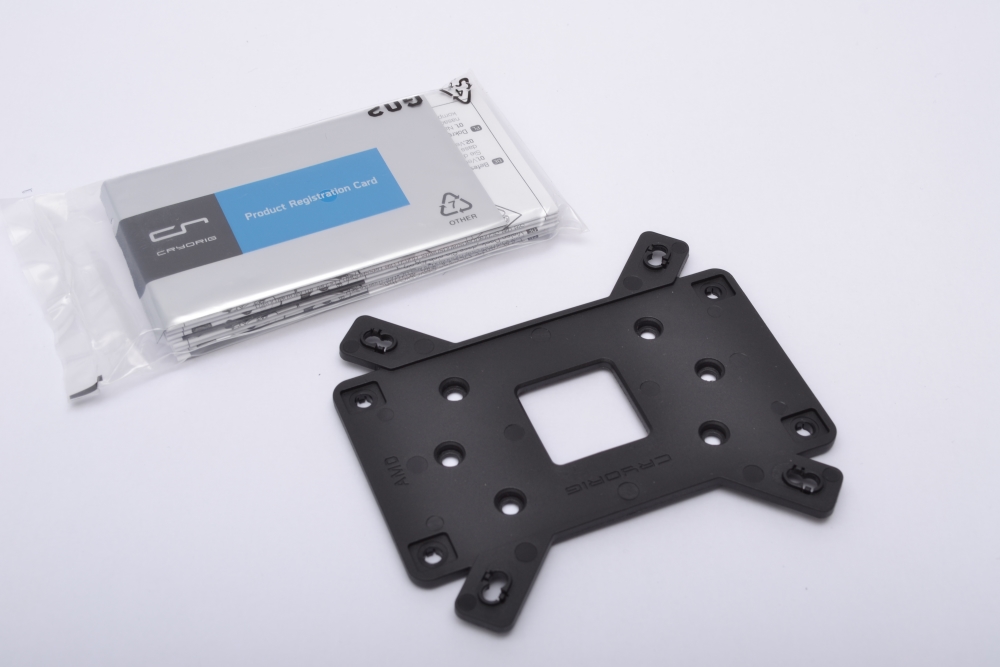 Content:
CRYORIG C7 cooler
CRYORIG CP7 cooling paste
Mounting tool
Nuts and washers
Mounting guide
Backside bracket
Let's have a look at the technical specifications.
As you can see, this cooler fits most sockets. In fact, you can also order a kit for the new AM4 from AMD.
Besides that, this cooler is quite small, only 97x97mm and 47mm in height. It fits into all casings. The noise is max 30 dBA and TDP is 100W which is quite fine, considering the size.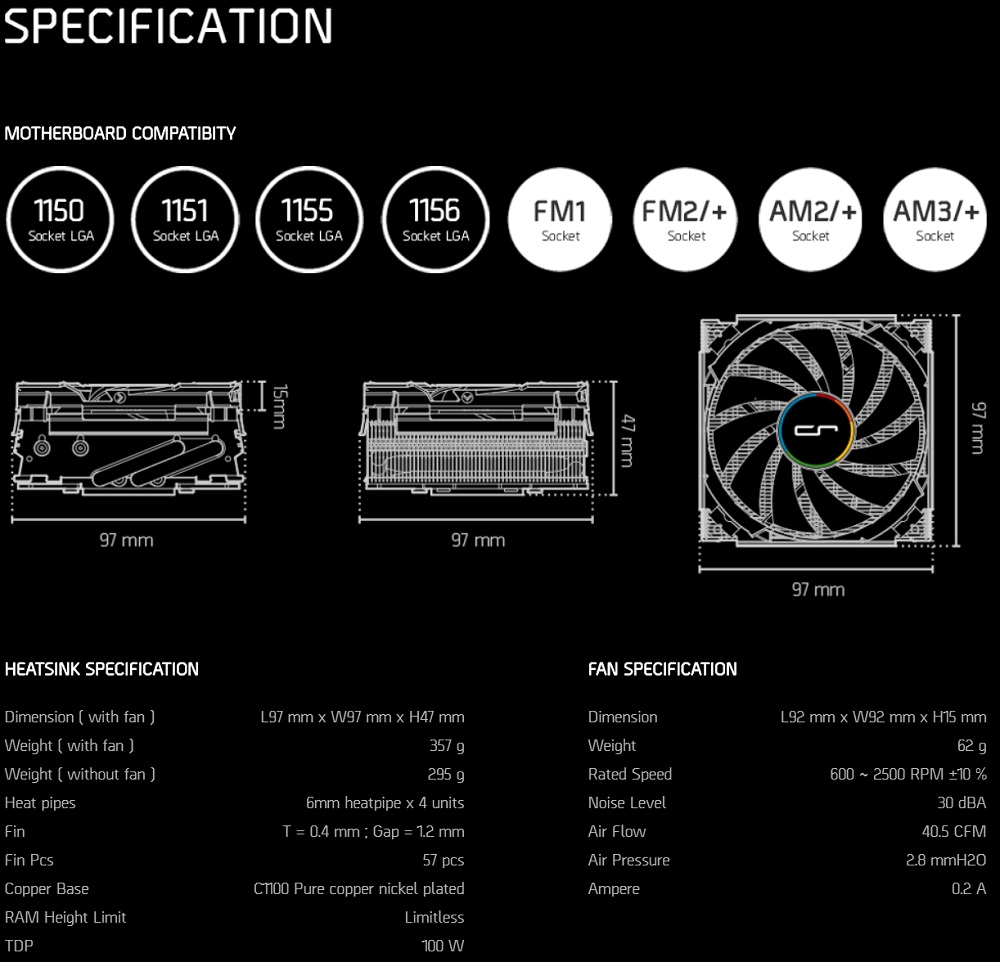 It's time to take a look at the cooler.
The cooler has a beautiful custom built fan on top. It is 92x92mm and unfortunately it can not be changed to another model.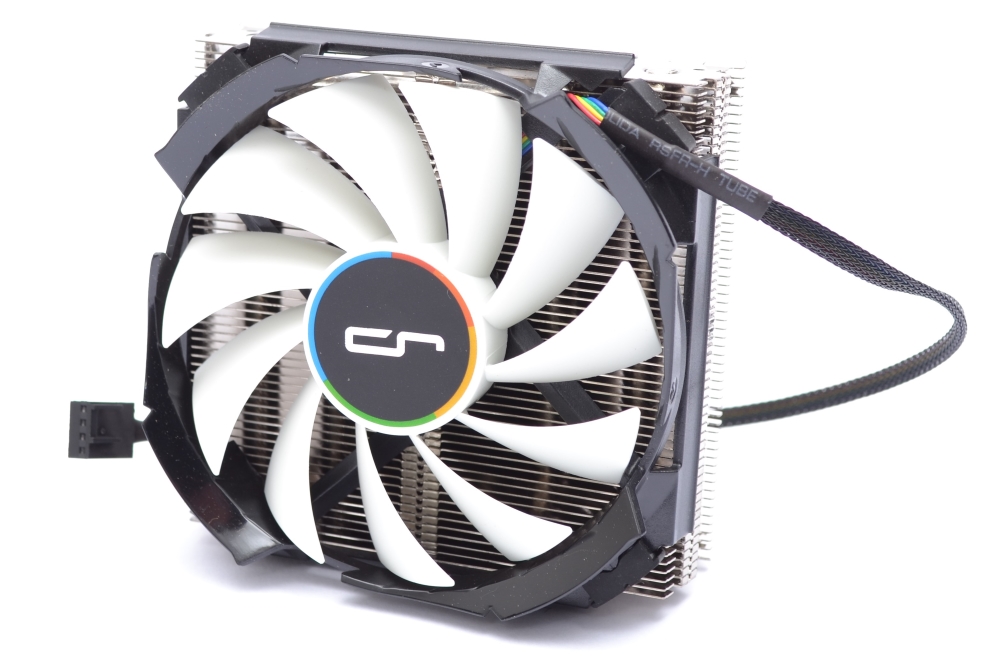 There are 4 heatpipes that run from the center and around each side. So the other side of the cooler is similar to this one. It's all very compact.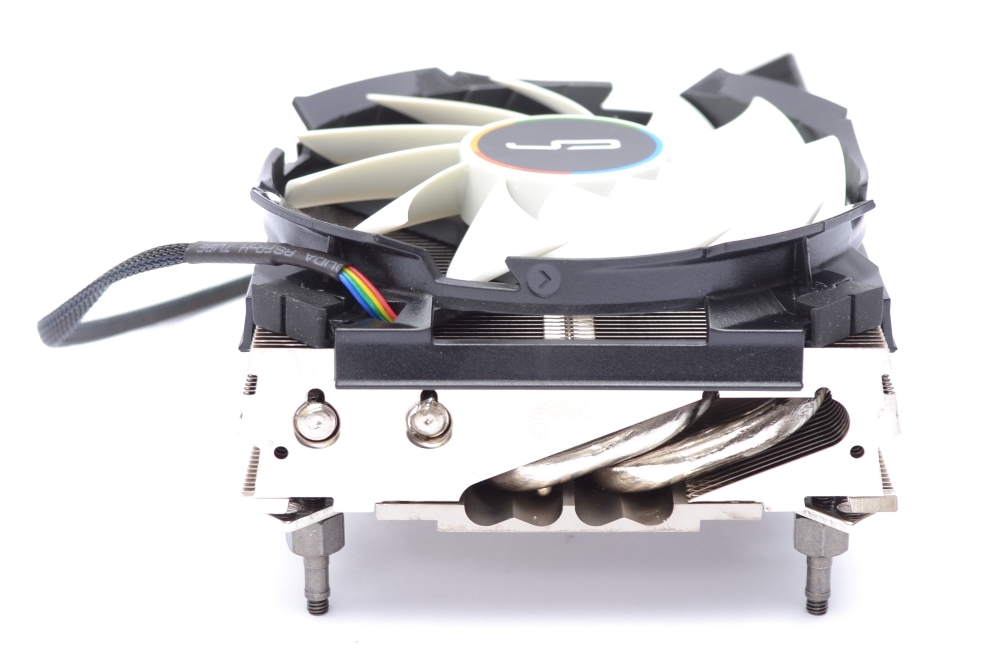 Under the cooler is fittings mounted from the factory. They are compatible with Intel 115x, so you can mount it directly from the box without having to customize anything. The cooling surface is nicely polished, here covered with a protective sticker.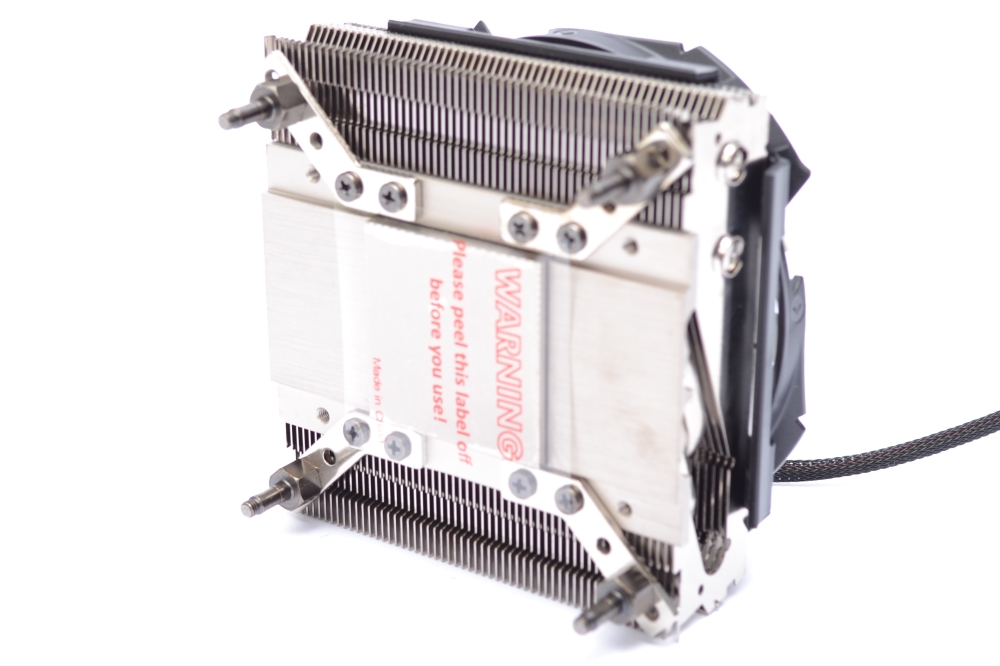 The fittings below can be adjusted to all supported CPU sockets. By default, it is mounted for Intel 115x, but just by moving screws and threaded rods, you can customize it according to the motherboard you have without any major problems.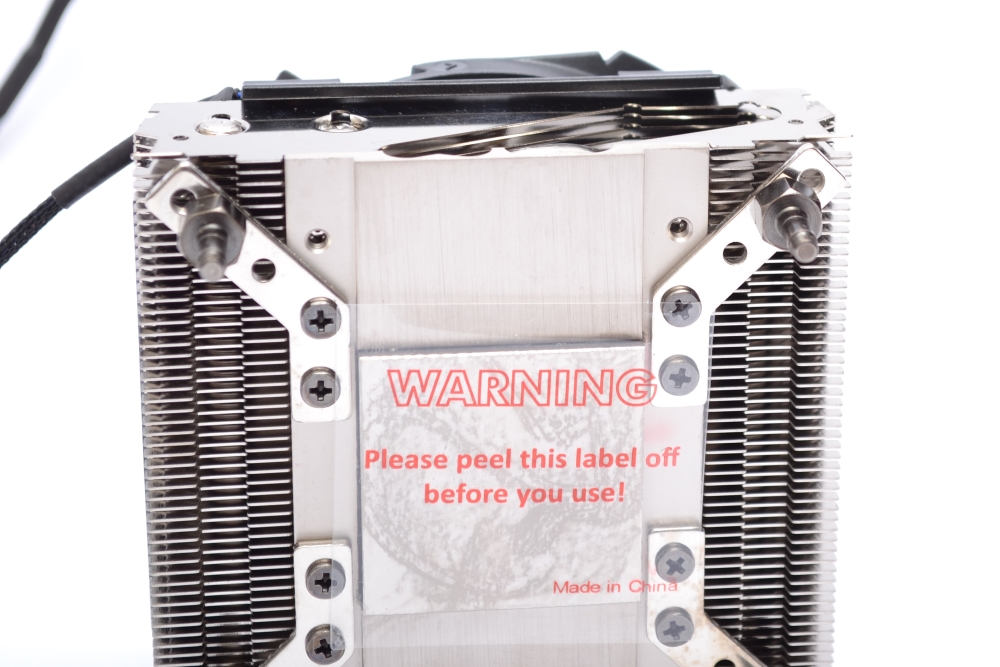 The cable is covered with a sleeve. It has got a shrinking tube at the end at the black plug. It looks pretty nice.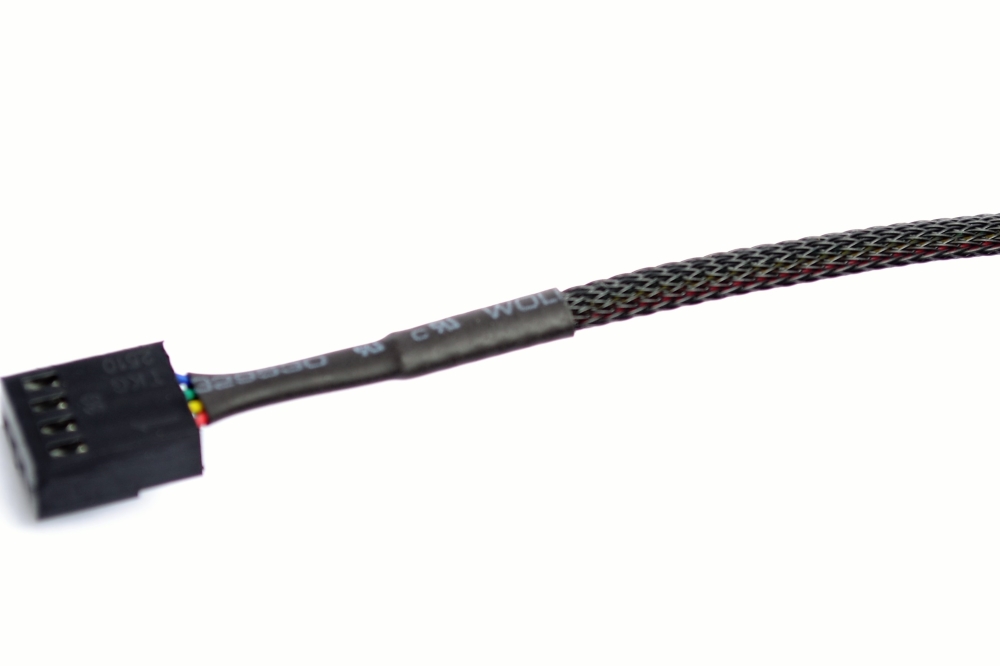 Mounting before test.
As said, you have to move the fittings around to use it on a different CPU than an Intel 115x. I'm going to test on an AMD socket AM3+, which means I've moved it around. It is quite easy and effortless to adjust the cooler.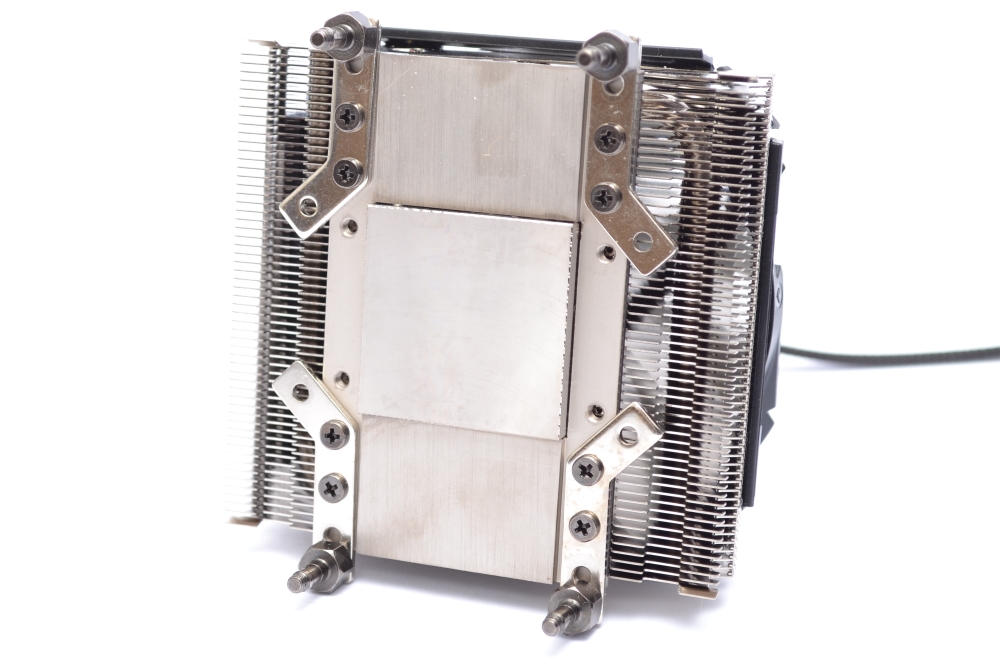 Now it gets a bit more tricky, which I could imagine could give a little trouble. This cooler must be mounted from behind. So, you put cooling paste on your CPU, mount the cooler with your hands through the holes in the motherboard and hold it firmly. Then mount the bracket on the back and then mount the nuts behind the bracket. I found it a bit difficult and if you want to change the cooler on a motherboard that is already in a casing, I think it will only get more difficult. All in all, the cooler can move a bit around on the CPU and thereby scrape the cooling paste.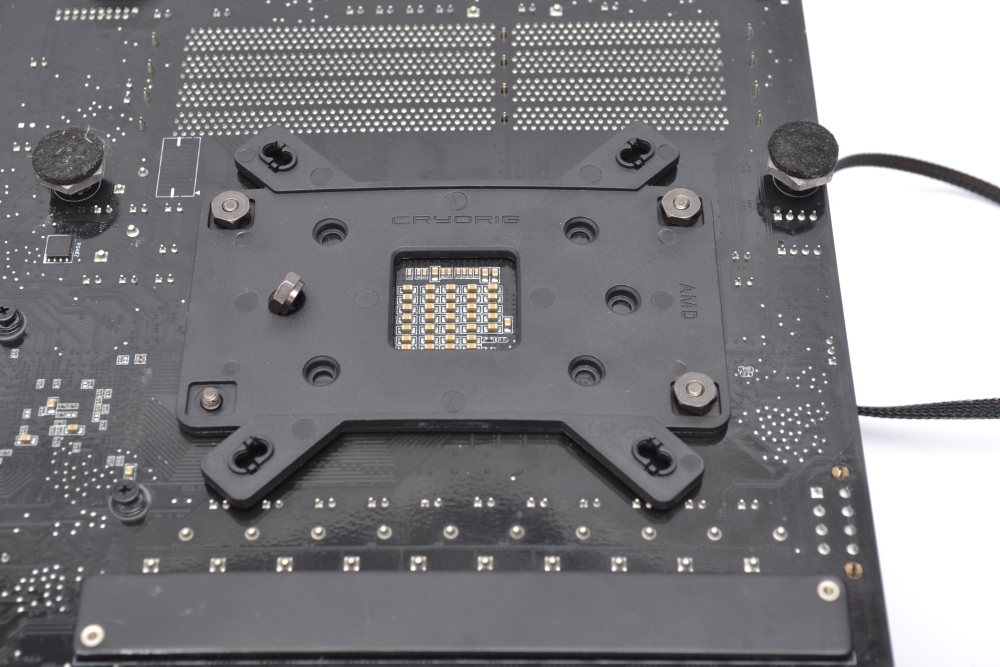 Once the cooler is fitted it actually looks pretty nice. It take no more space than a standard cooler, and can easily fit in a low-profile desktop casing.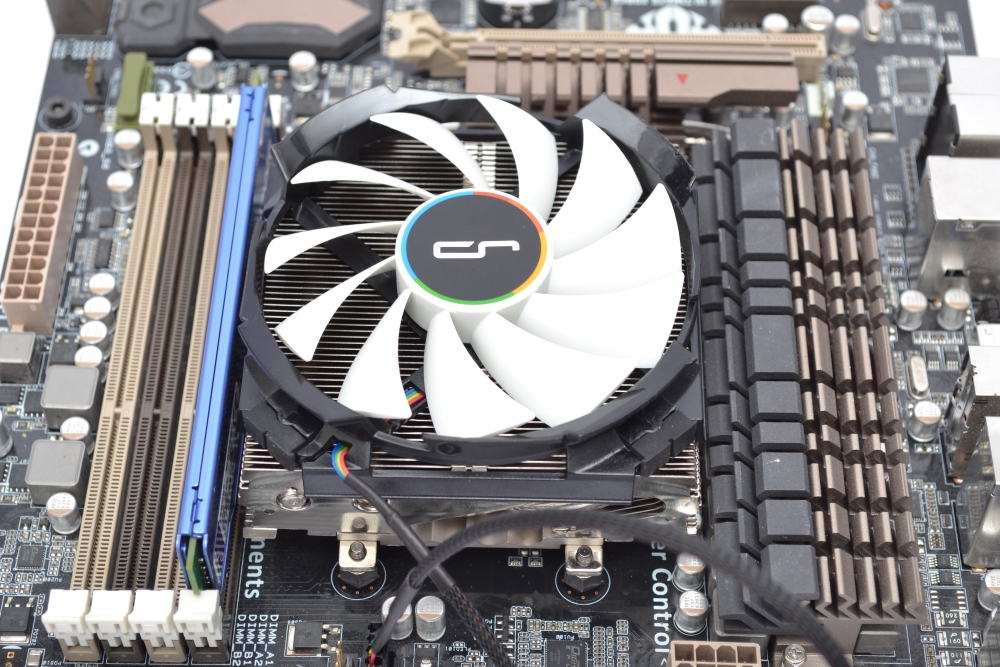 The test.
As with Reeven VANXIE, I have unfortunately not been able to test this cooler with satisfying results. It's because of my current test CPU, which is VERY demanding in terms of cooling.
However, you are not going to be cheated for some comparisons, and I have found some good reviews with some good measurements of the cooler.
TweakTown.com has tested CRYORIG C7. It has been tested with an Intel 4770k by standard clock. As you can see in the graph below, CRYORIG is doing better than the standard Intel cooler by 15 degrees.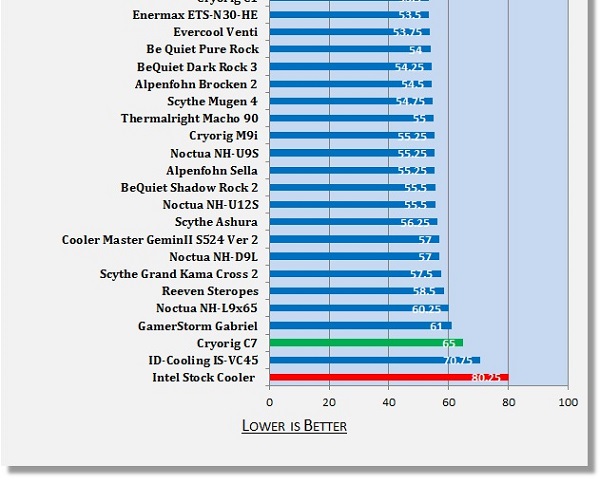 Read the full review at TweakTown here:
https://www.tweaktown.com/reviews/7489/cryorig-c7-cpu-cooler-review/index6.html
Kitguru.net has also reviewed this cooler. This test is done with an Intel 4790k. Here you can also see that the cooler is at the bottom regarding heat dissipation.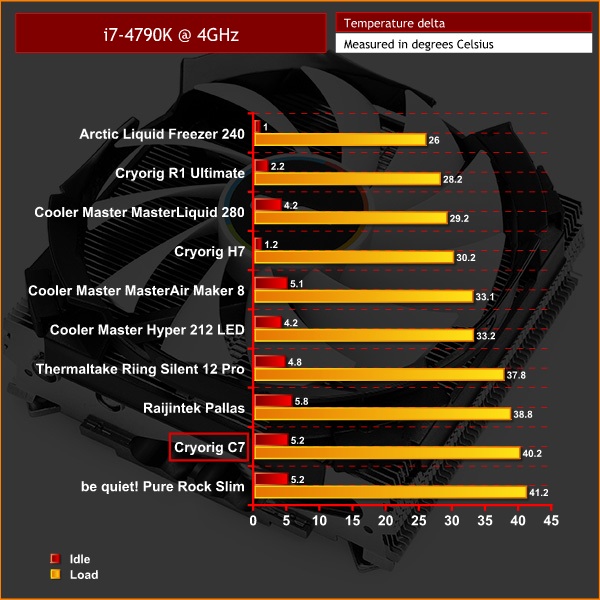 Read the full review from Kitguru here:
https://www.kitguru.net/components/cooling/dominic-moass/cryorig-c7-low-profile-cooler-review/5/
What is my rating of the cooler.
I like CRYORIG, and have reviewed several of their products over time. They make some great and effective products.
It may be that the results in this review do not show a big revolution that you might have expected when buying a new cooler compared to the standard cooler. BUT, just take a look at how small this cooler is. And it's a lot better than the standard cooler, which in itself is really good.
There is unfortunately also some downsides. CRYORIG has in my opinion, not made it particularly easy to use this cooler to replace the old standard cooler. It requires that you have access to the back of the motherboard, otherwise you must take the entire computer apart. You just have to take it into consideration. Besides that, you can easily ruin the cooling paste you have put on, because it is quite difficult to mount nuts on the back while keeping the cooler on the front with your hands.
In addition to the mounting problems, you can not change the fan. The fan is the device on such a cooler that may break. With this cooler you must order a new cooler or, if possible, order a new fan at CRYORIG. Because you can not just buy another standard 92mm fan and mount it on the cooler. It's a pretty bad.
When it comes to the price, the CRYORIG C7 costs around 280DKK, which is a pretty nice price. You get a nice and efficient cooler. It's approved.
When I have to gather all my experiences with this cooler, unfortunately, I can not give it anything more than a BRONZE star. I think some critical things are missing on this cooler, compared to other products in the same price and product class. CRYORIG should see if they can do a little better next time.
Sponsored by:
Read more about CRYORIG C7 here: