be quiet! Straight Power 11 PSU
It's time for another review. This time we'll look at power from be quiet! Namely their Straight Power 11 series, which has now become fully modular.

As you already know, I'm a big fan of be quiet! I have tested many of their products and they are astonishing me every time. It is a German manufacturer, and everyone knows German products = quality.
First, we start with a small intro video.
Let's have a look at the packing.
The box is in a typical be quiet! design. It's minimalistic, but you have no doubt about what you get. There is a picture of the product and a long list of good specifications.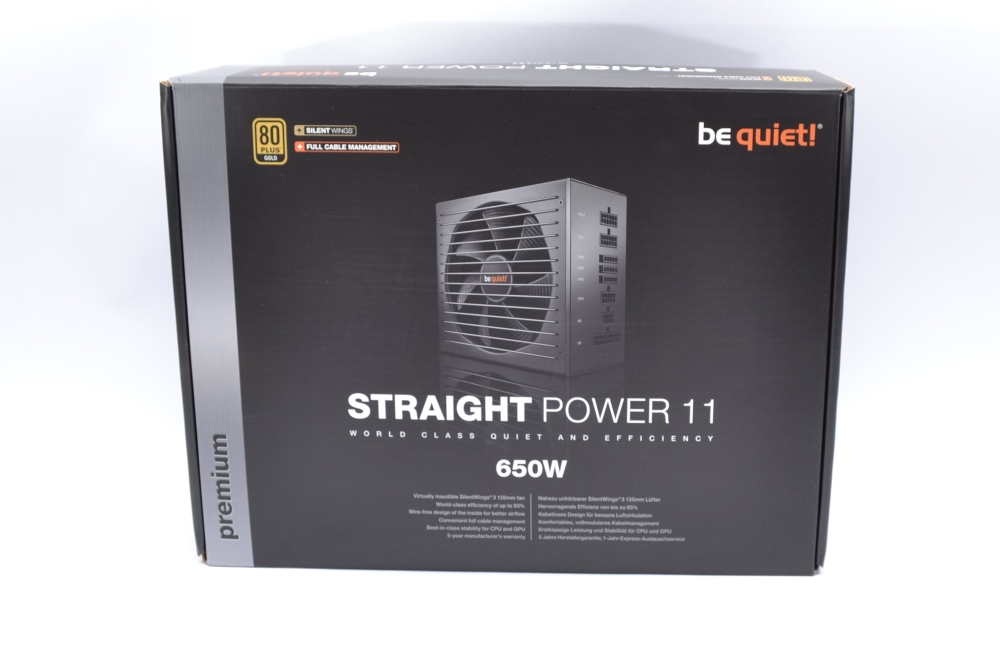 Inside the box everything is packed nicely and safely. The power supply is protected by bubble wrap so it does not get scratched.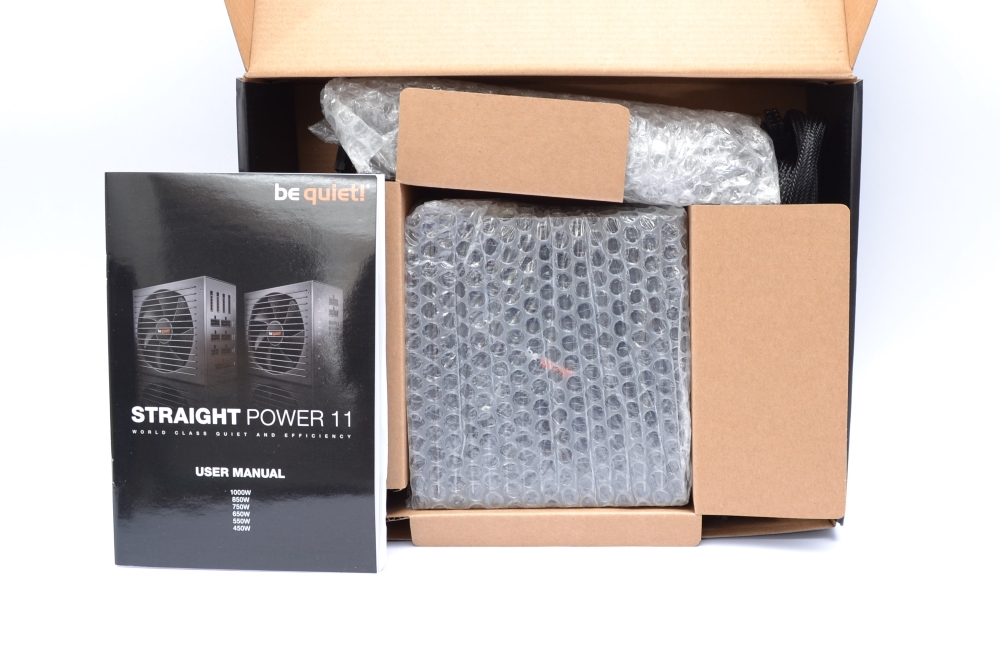 Content:
be quiet! Straight Power 11 - 650W
Power cable
Modular cables
Plastic bag of cable ties and screws
User manual
The technical specifications.
As you can see in the specifications, you can get this supply from 450W to 1000W, which is quite a big spread. They are all built up about 4pcs. 12V rails, which is quite good. And then they are equipped with a SilentWings 3 fan, which is super quiet. One last thing to look at is all the types of protection built in the power supply (OCP,OVP,UVP,SCP,OPP,OTP)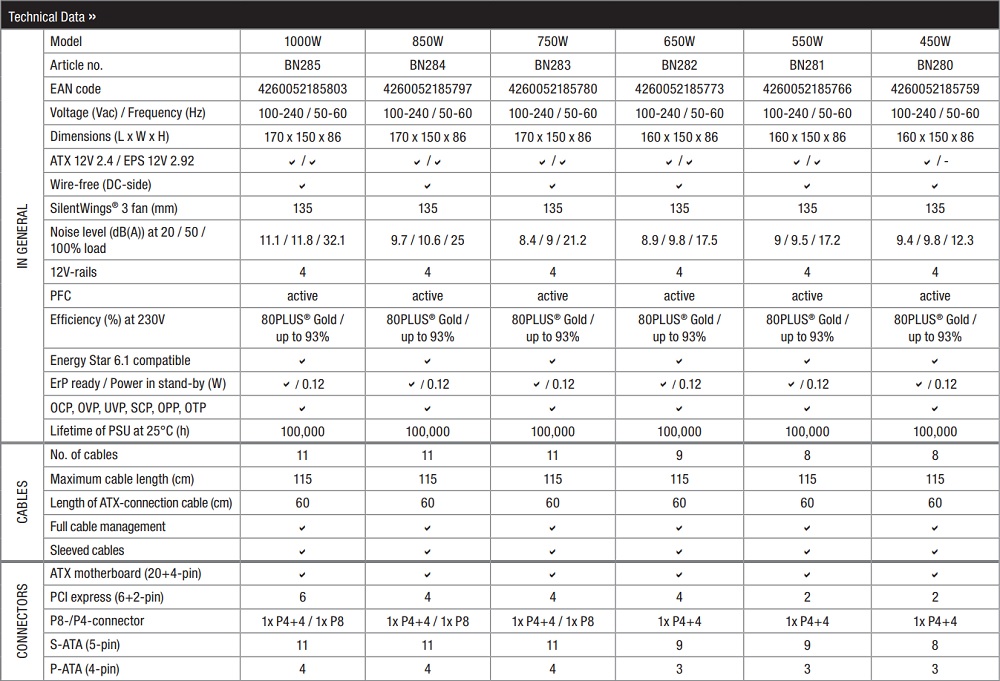 In output data, you can see how much power one can load each string with. The 4pcs. 12V rails help protect the entire system.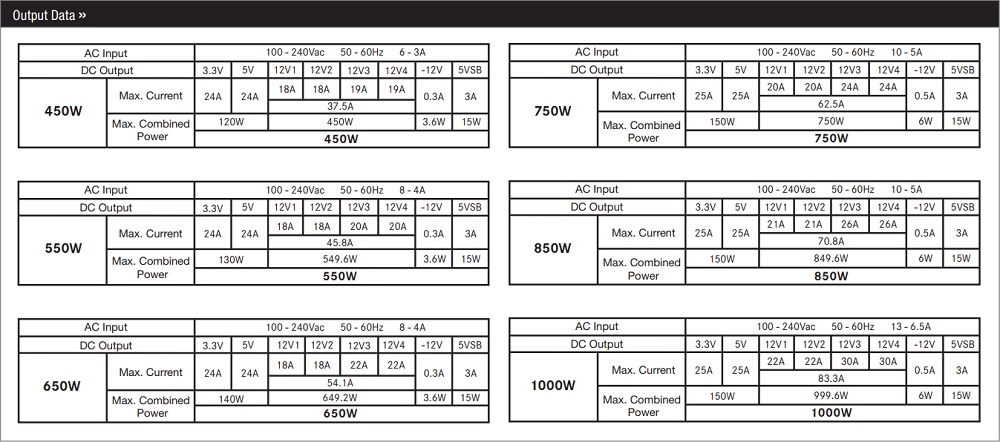 Time to look at the goodies.
We start with the fan, and the bold unconventional grid that is quite typical of a be quiet! power supply. Behind the grid we find the new be quiet! SilentWings 3 fan. It is very quiet and does almost not spin under normal circumstances.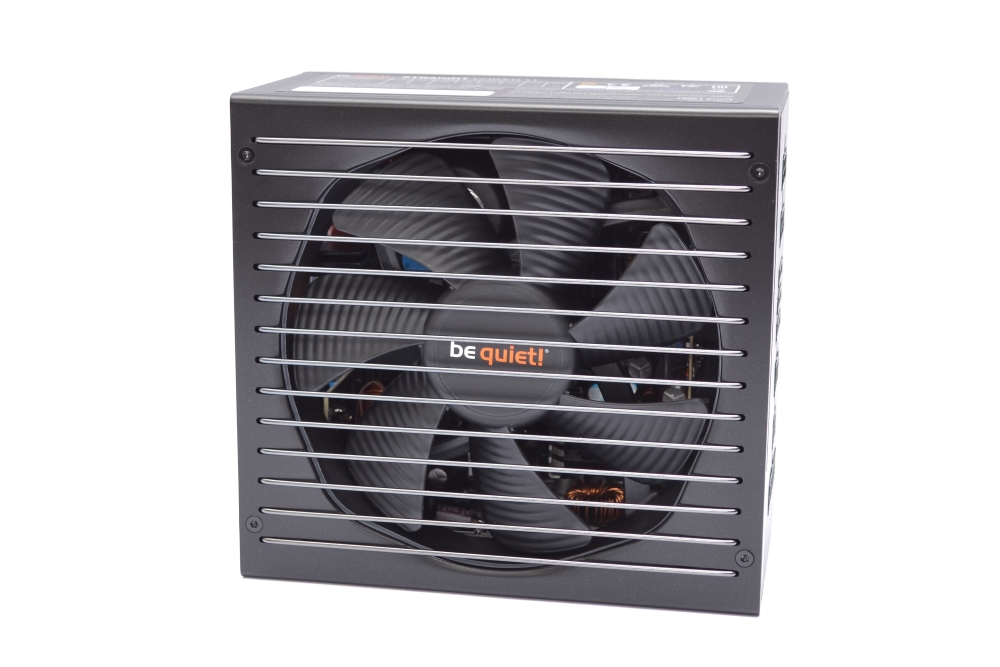 Here you can see how 'much' noise it makes at different loads. It's so quiet that it's not even worth spending time mentioning. (but I'll do it anyway)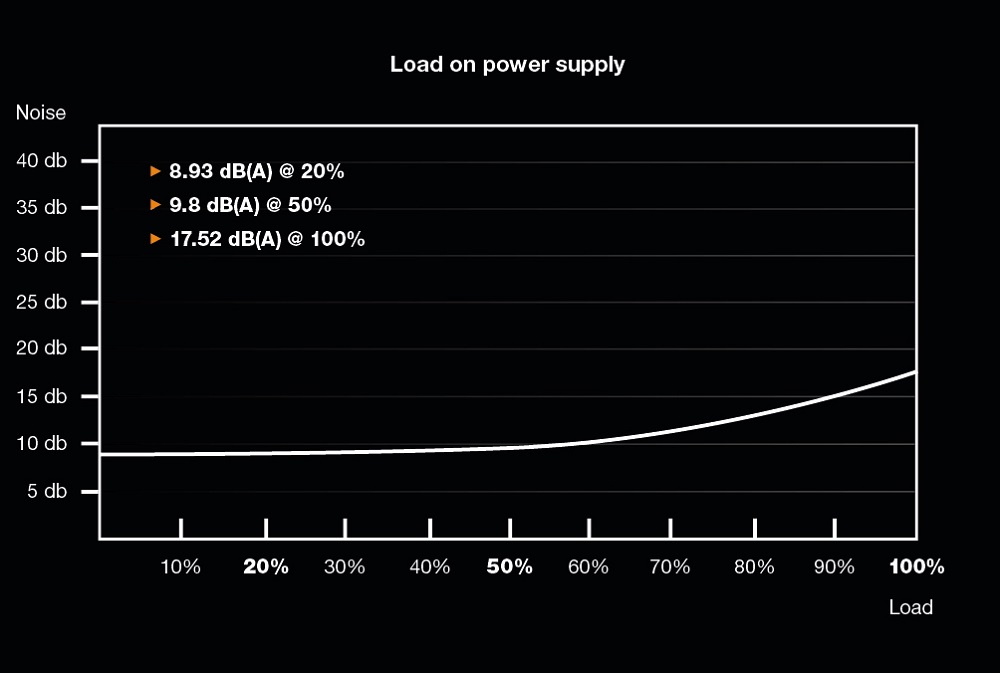 On the back side we see that this power supply is fully modular. You can leave all sockets unplugged if you do not need them. So if you just need a server with an ATX cable and maybe a cable for a hard drive. Then you can do it with this. It is optimal for keeping a good airflow in your casing. All connectors are marked so that you know what to connect where.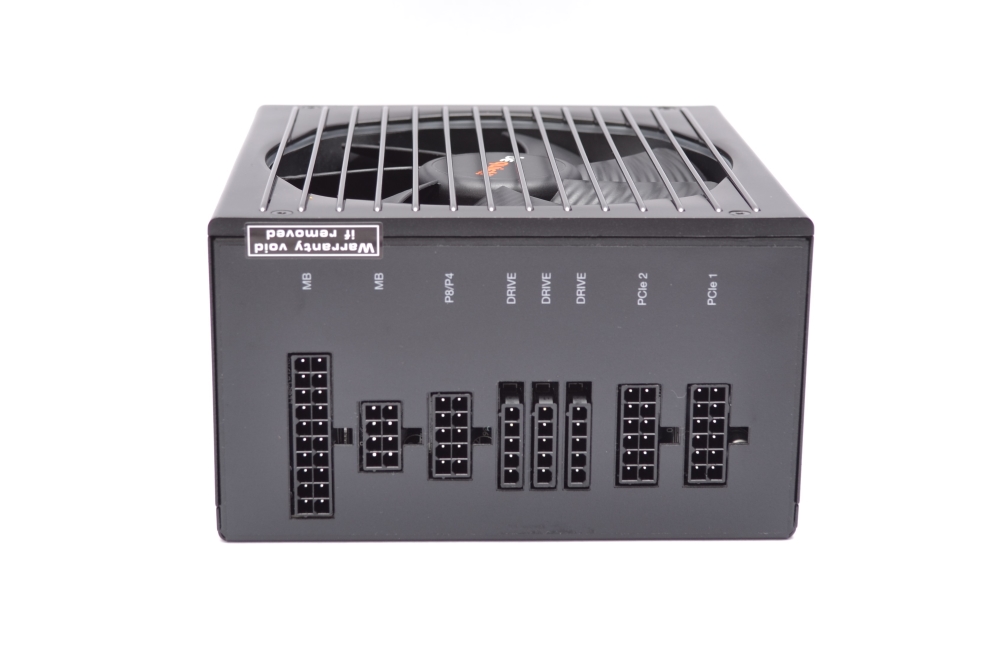 On one side we find the sticker that tells you how much power you can pull from the supply. There are also all the approvals where we look at some of them in a moment.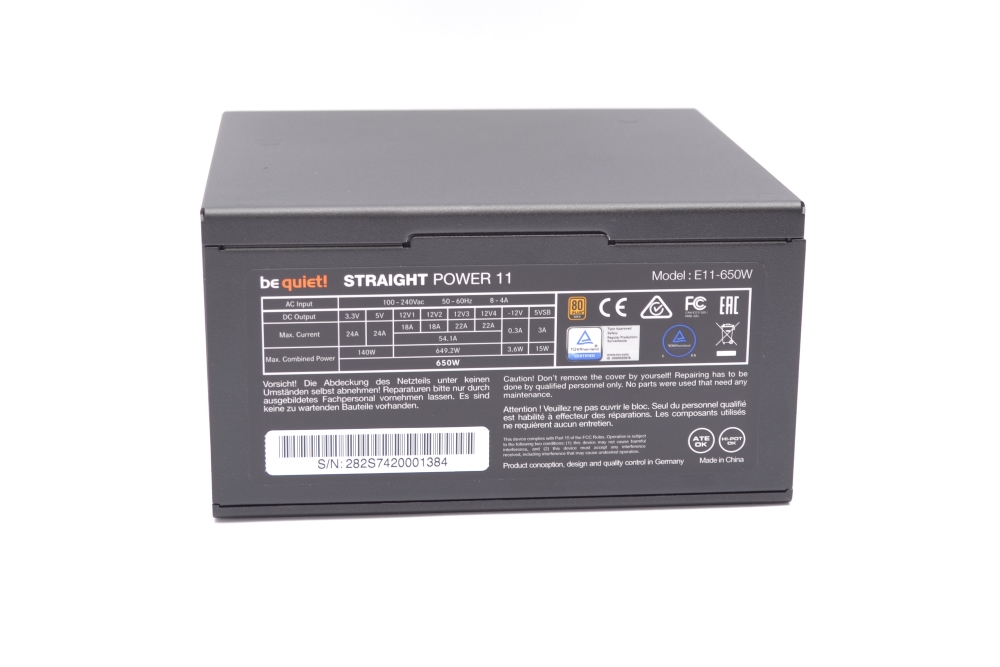 On the opposite side we find a nice be quiet! logo pushed into the metal plate.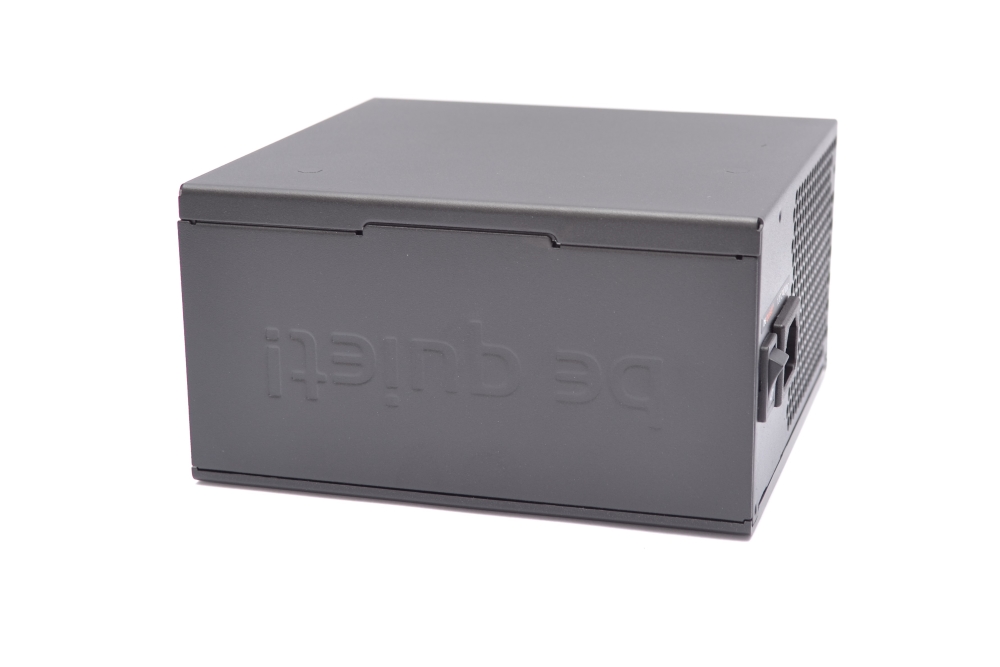 I love when the power plug has a small switch, then you can turn the power supplu on and off. There is nothing worse than sparking when you plug the cable into an power supply. The grid is very open and in a nice bee cube pattern. Just as we know it from all the be quiet! power supplies.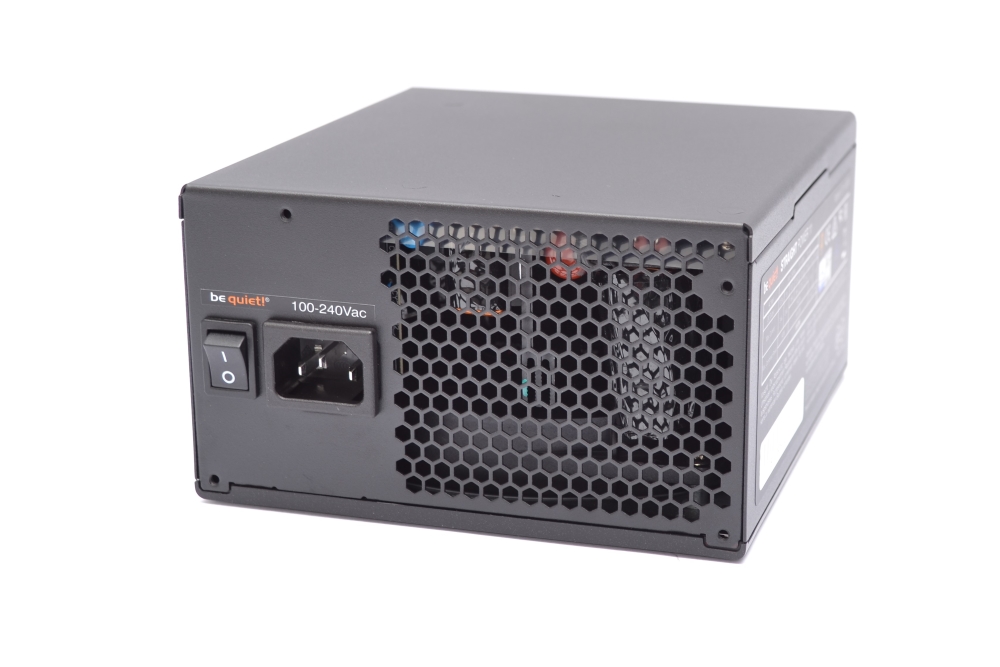 Then there are the cables. They are all sleeved, black and with black connectors. It looks awesome and stylish, just as many like it. It shows that be quiet! does something for the looks.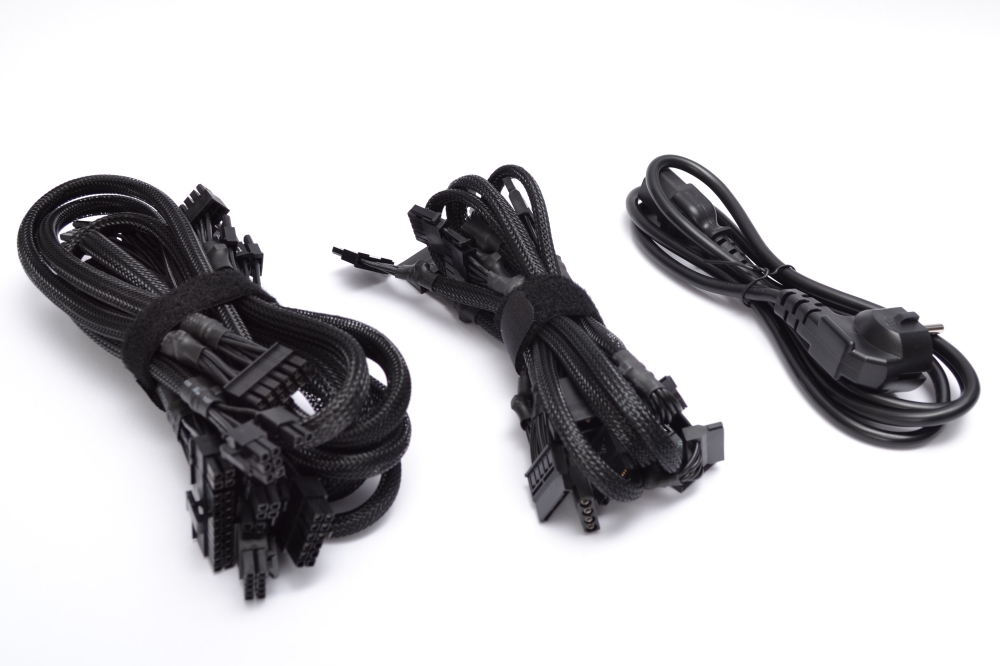 Here is a list of the lengths of the cables provided. There should be plenty for a standard gaming setup.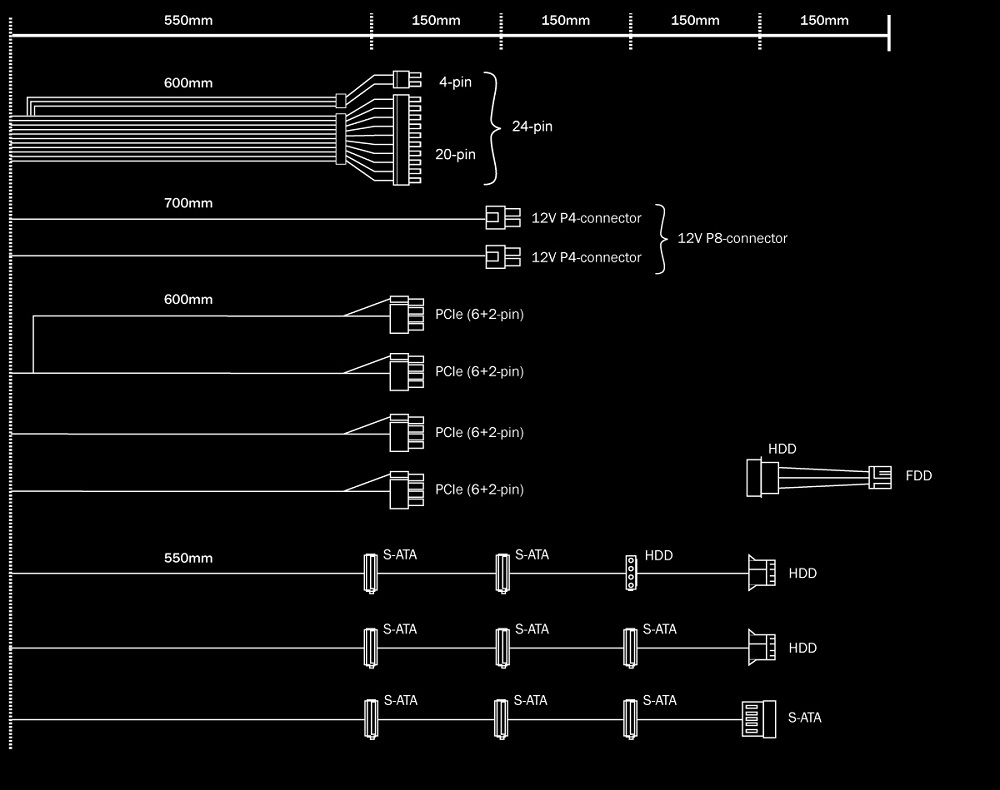 All plugs are coded so that you can not plug the incorrectly. Note that the sleeve has been completed with a shrink tube and a cable tie. That makes it stay where it fixed.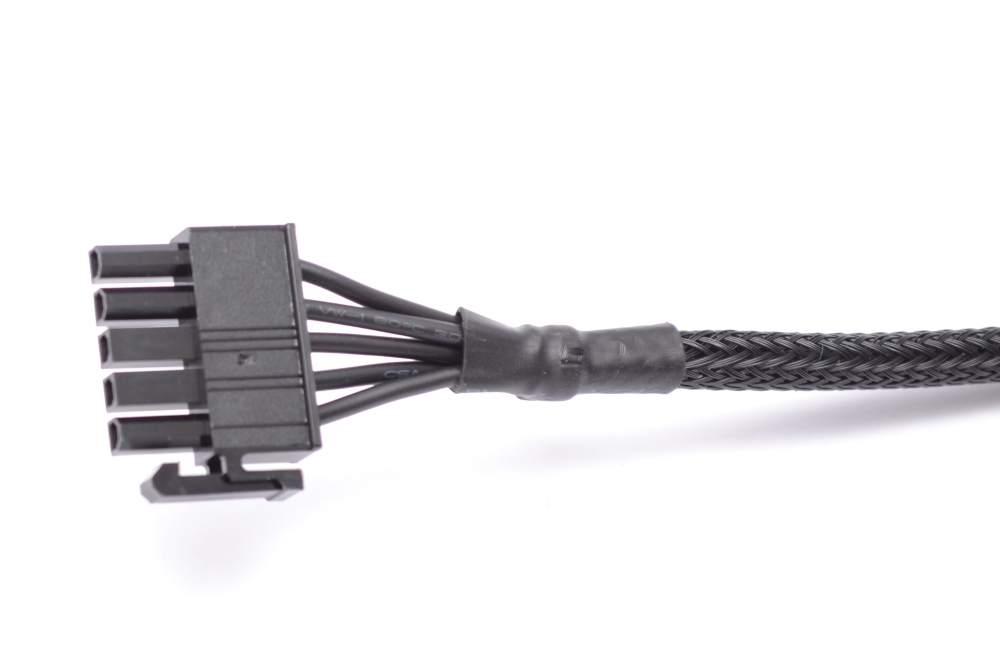 All connectors for components are named for their purpose. On S-ATA connectors there is S-ATA and on GPU connectors there is GPU etc. It's great.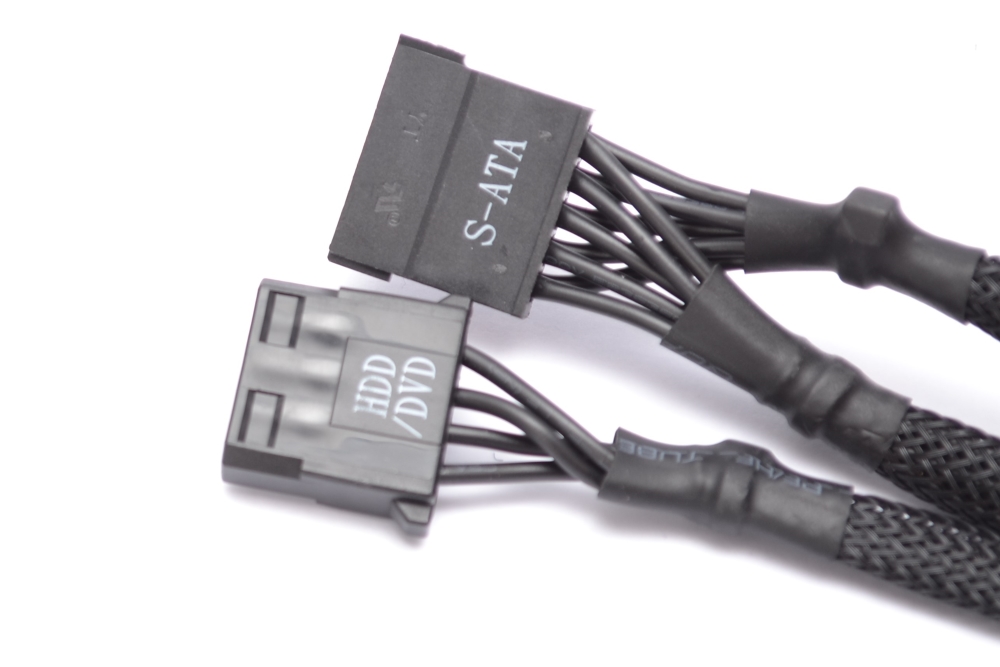 Finally a picture of cable ties and screws. I miss thumb screws, but it applied with this power supply.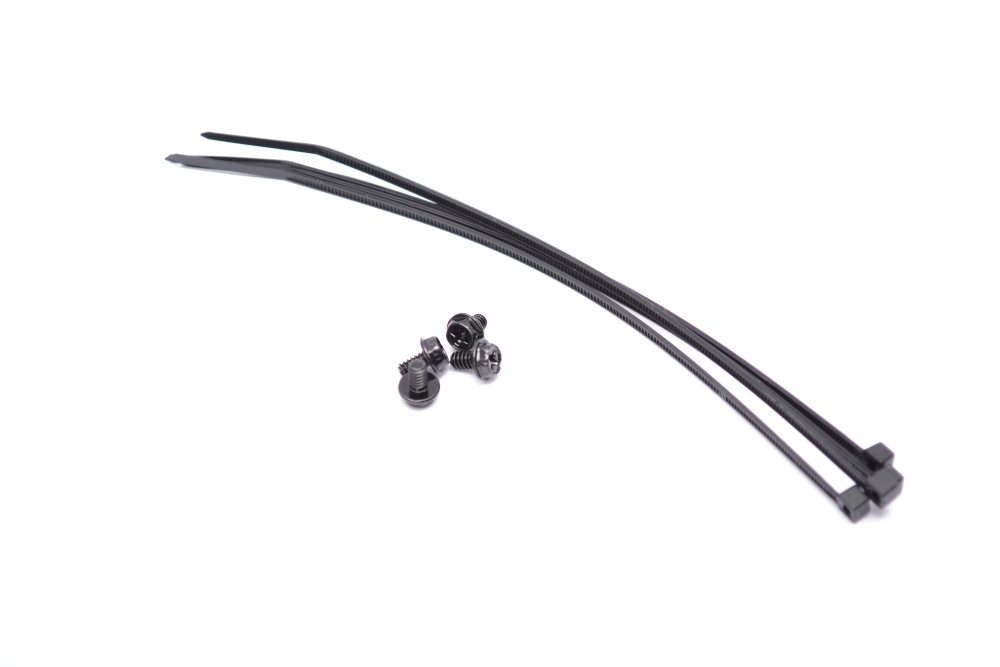 Before we begin the test, we must look at certificates and standards.
A power supply is subject to a lot of important approvals and certifications nowadays, and this power supply is no exception.
ATX Standard:
The basic standard of power supplies is called ATX, and it indicates how much the different voltages may differ on the power supply. It also tells you what limits, for example, the ripple voltage it needs to stay within.
If you want to read more about the ATX standard, you can find more information about it on this link:
https://en.wikipedia.org/wiki/ATX
However, the basic data for ATX power supplies can be seen in this table.

80Plus Certificering:
In addition to ATX, you can move on and get better. Once you've done that, you'd like to show it to your customers and have some proof of how well you've done. This is achieved at 80Plus, which gives a certification of the good work that has been done.
80Plus certifications are about making power supplies more efficient. It's important to have as little a loss in a power supply as possible, as it's just throwing money into the bin.
This power supply is 80plus GOLD certified. This means that it will provide 92% efficiency at a 50% load (230V).
All certificates and test results from 80Plus are freely available and you can read the certificate on the link below.
be quiet! Straight Power 11 - 650W Gold Certificate
If you'd like to see if your own power supply has been doing well, you can do it on the link below.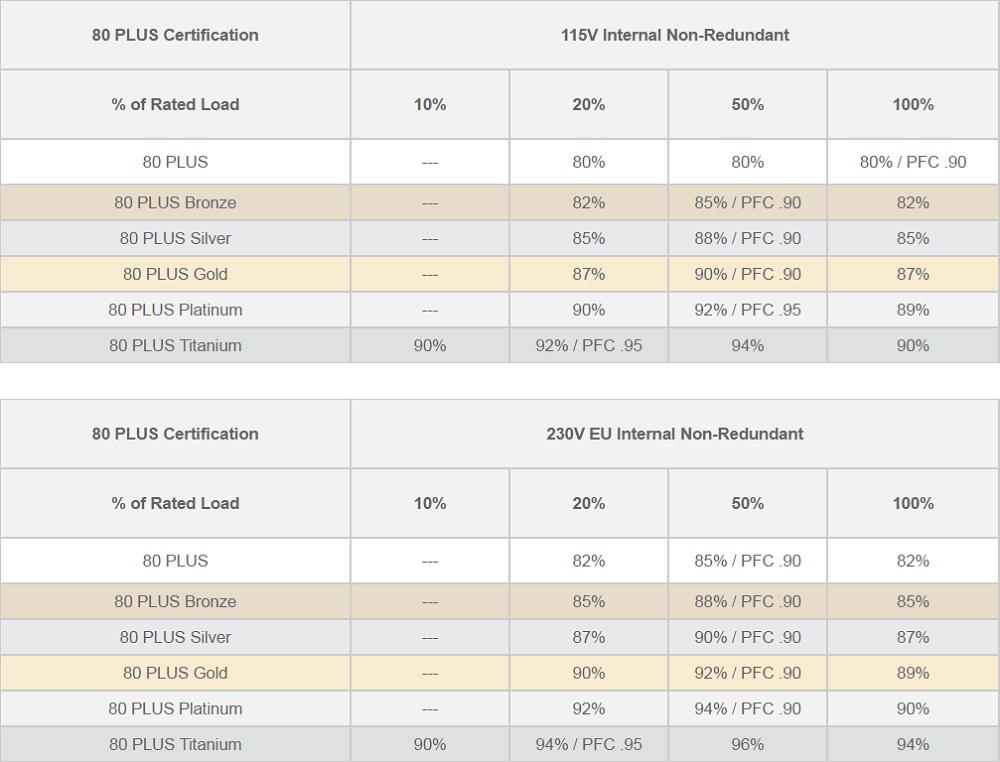 Let's start testing!
My little test shows how well the supply is doing with my method. My method is not as precise as 80plus, but it gives a small indication of whether if it's all sticks.
Voltages:
It is important for a computer's stability that voltages (Volt) stay within the limits set by the ATX standard. The more voltages differ from the voltage, the more unstable the system becomes.
Measurement:
This power supply is rock solid. Even when overloading, it simply chooses to keep the voltage.
I have measured the voltages on the ATX connector, ie the power supply for the motherboard. I was wondering that the 12V supply was as stable as it is, and so I measured the different rails. It turns out that the different rails go down to 11.75V at maximum load, which is quite alright.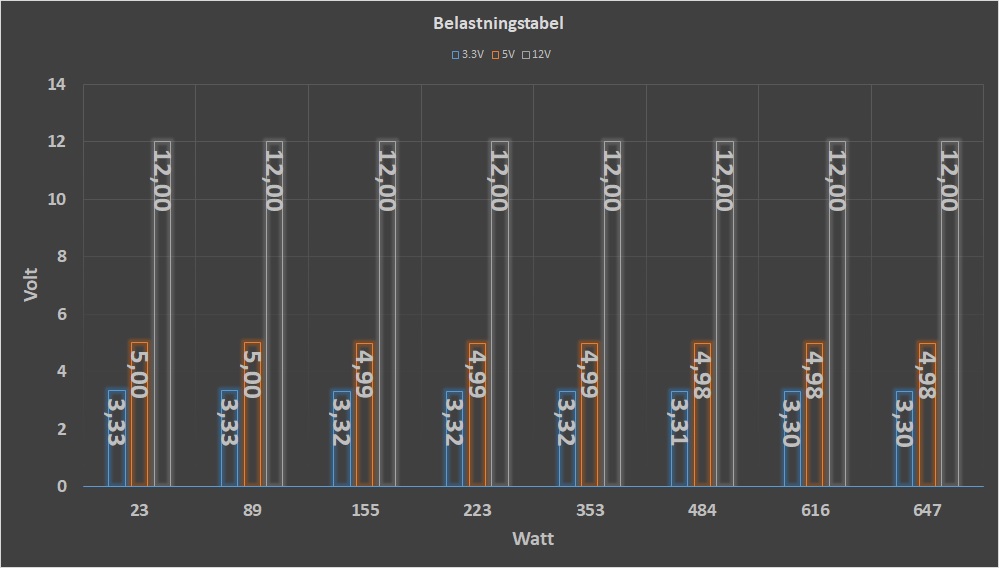 Ripple:
Below is a measurement of the ripple voltage at maximum load of supply. As you could read in the ATX standard above, the ripple voltage must be max 120mV on the + 12V line.
Ripple voltage is actually AC voltage (AC) from the wall outlet that comes into the computer. It may damage the hardware if it is too much. Therefore, there are standards for how much power must come through a power supply.
Measurement:
be quiet! continues to amaze. This supply shows a ripple voltage of 20mV between the two red lines. It's pretty nice when you think the power supply is under full load.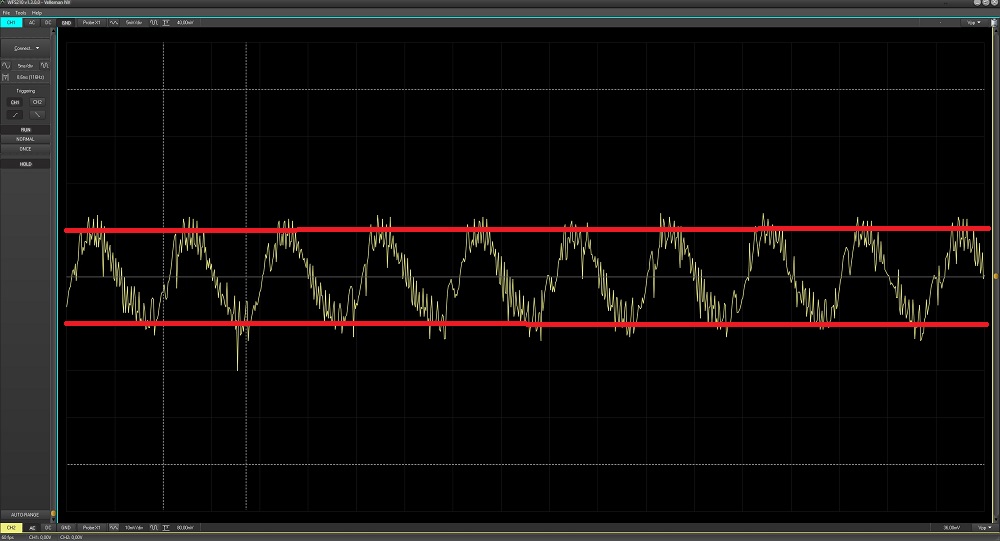 Efficiency:
A power supply should be as effective as possible. That way you save money on the power bill. It also means that the power supply becomes less hot, as a power loss most often develops more heat.
Measurement:
Based on my measurements, this power supply is on the right side of 90%. That would also be the case, as it would, according to the certificate, be above 90% at a load of 20-50% which is great. There is no doubt that this supply is fairly stable and economical in use.
Do I like this power supply?
YES! I certainly can. It is rock solid in performance, built around some good principles and has good protection of the system.
Not only that my measurements show some great results. But be quiet! has also put a lot of great protection into the power supply. It is quite important if a device in the computer should fail fatal.
be quiet! has chosen in this model that there should be no wires inside the power supply. So it is built around copper bars that are soldered around the supply. It is great and provides a much more stable and fixed connection between the different circuit boards.
Then there is the fan, which is the latest model of the SilentWings series. They are some super cool fans that do not make any noise worth mentioning. So I'll move on right away.
For the new modular design I can only say. That I just love that be quietl! has switched to the fully modular design to avoid thick long cables and so on. It just gives the last chance to go fully custom build with be quiet! power supplies.
When we get the price of this power supply, it can be bought around 950 DKK. It's a lot of money, admitted. But if you buy this supply, you have power for life.
My judgement of this power supply can only be a big GOLD star rating . This supply has been improved in many ways compared to the old model, and it only got way better. Thumbs up for be quiet! once again.
Read more about be quiet! Straight Power 11 here.
https://www.bequiet.com/en/powersupply/straight-power-11/1247