be quiet! Silent Loop 360 Cooler
I have received the biggest water cooler from be quiet! so far. It is a large 360mm model with reverse flow pump and 3 x 120mm pure wings fans. The cooler is called Silent Loop 360.

The German producer be quiet! is known for their incredibly high quality products with an extremely discreet design.
Intro video.
be quiet! have made a small video that shows what I'm going to review. So, I'll show it to you now so you have an idea of what is waiting for you in this article.
Let's move on to the technical specifications.
Note that the AMD AM4 socket is supported and there is a refill port on the system, so you can refill or change the fluid in the system.
Model: SILENT LOOP | 360mm
Dimensions radiator, incl. fan (H x W x D), (mm): 397 x 124 x 55
Total weight (kg): 1.7
Socket compatibility
Intel®: LGA 775 / 1150 / 1151 / 1155 / 1156 / 1366 / 2011(-3) Square ILM / 2066
AMD™: AM2(+) / AM3(+) / AM4 / FM1 / FM2(+) / TR4 (+ mounting kit bz007)
Maximum power capacity (W TDP): 450
Backplate mounting: ?
Fan model, number: 3x Pure Wings 2 | 120mm PWM
Pump type: reverse-flow pump
Pump speed (rpm): 2,200
Pump connector: 3-pin
Tube length: 390
Bend-protection tubes: ?
Refill port: ?
Now we jump to the packing and content.
You receive a nice box in typical be quiet! design. There are illustrations of the product and specifications printed on the outside of the box.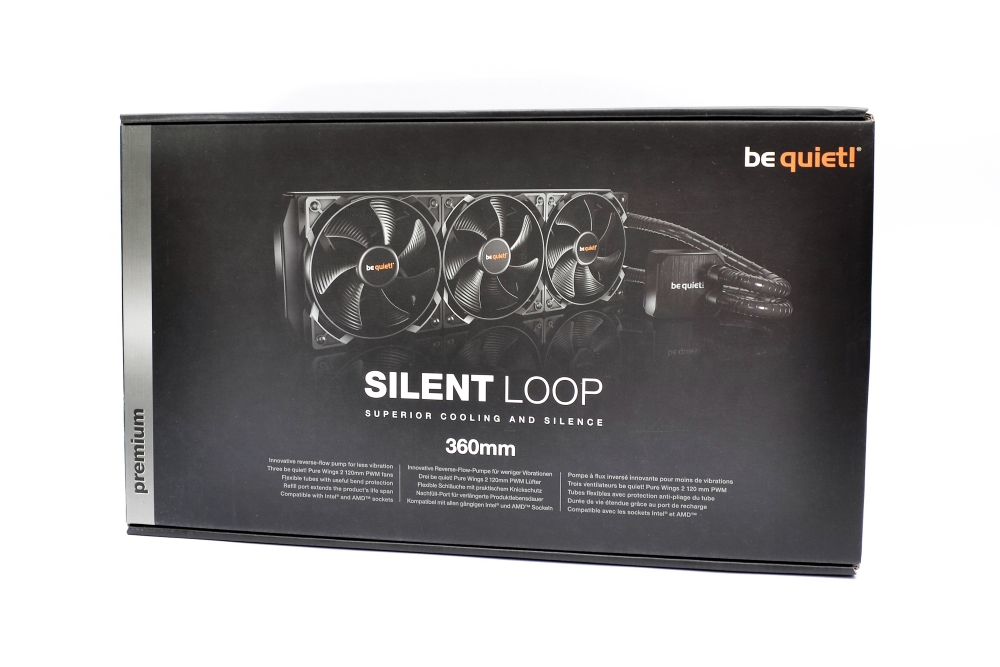 Inside the box we find it all packed nicely into plastic bags so it does not get scratched. Cooler and accessories are firmly fixed in a molded holder.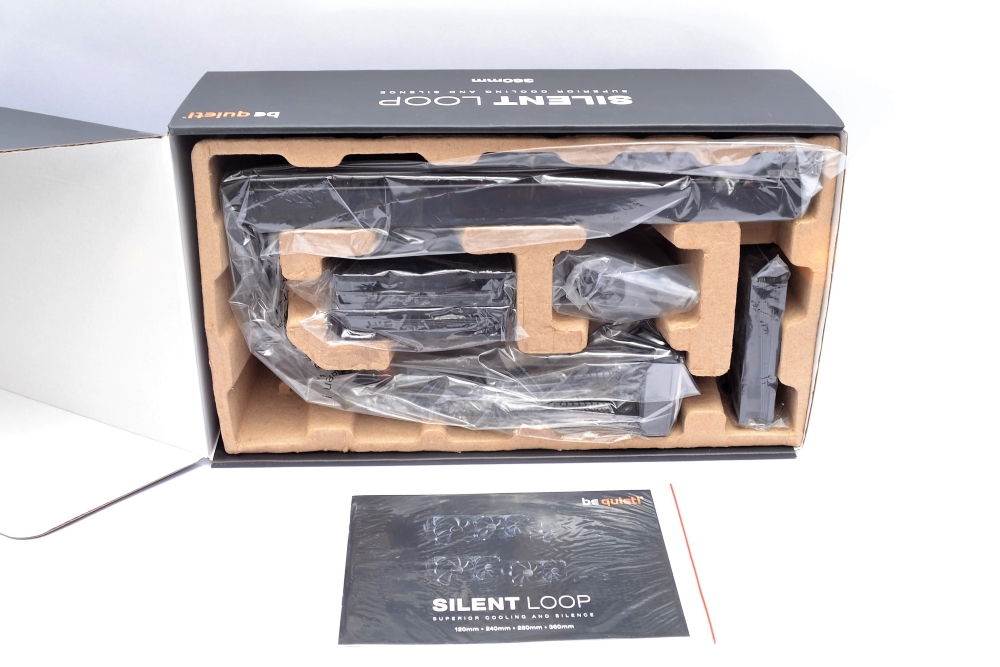 The small parts are assembled in plastic bags. A bag for Intel, one for AMD and one with screws and one with springs for the system. There is also a tube cooling paste and a fan splitter so you only need one connector on the motherboard.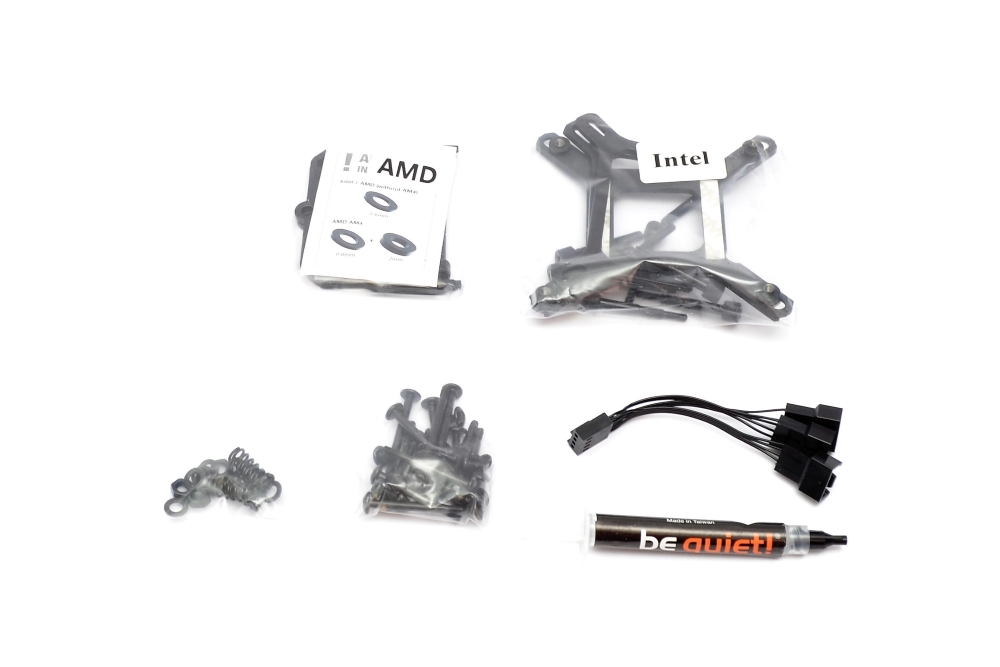 Content:
be quiet! Silent Loop 360 cooler
3 pcs. be quiet! Pure Wings 120 mm fan
Bags with mounting brackets
Tube of cooling paste
PWM power splitter
Mounting instructions
Enough of the packing, let's have a look at the actual cooler.
When start unpacking, you will find the 3 fans in the package. It's 3 be quiet! Pure Wings fans, which I have also looked at in my review of their Silent Loop 240 cooler.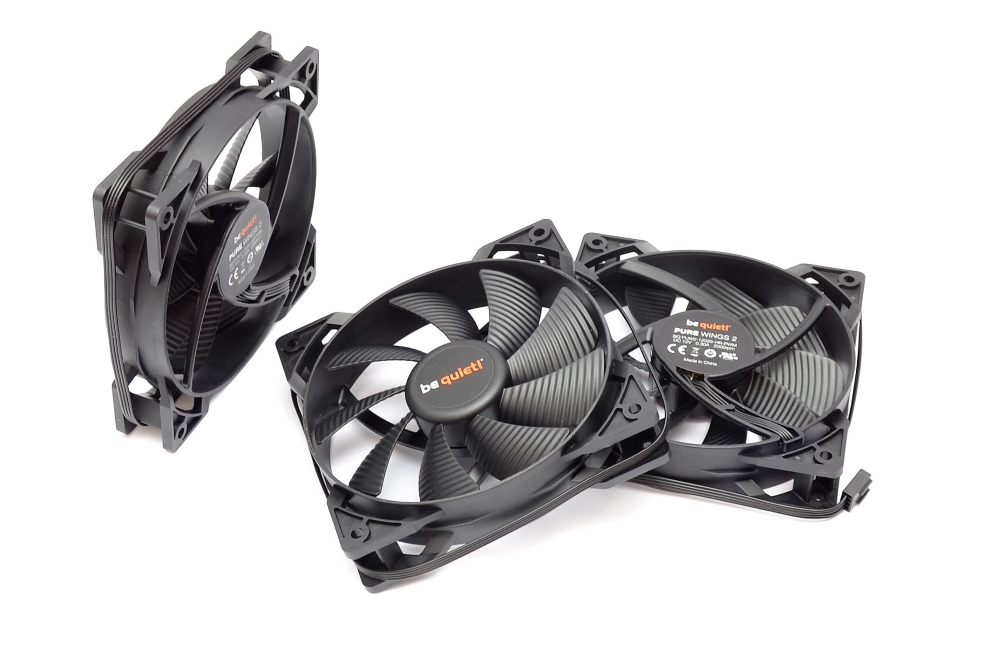 If you just want to hear how this fan sounds. Then you can hear it in this little movie I've made.
If you're looking at the cooler, you'll find a nice black painted radiator with a pretty nice pump head.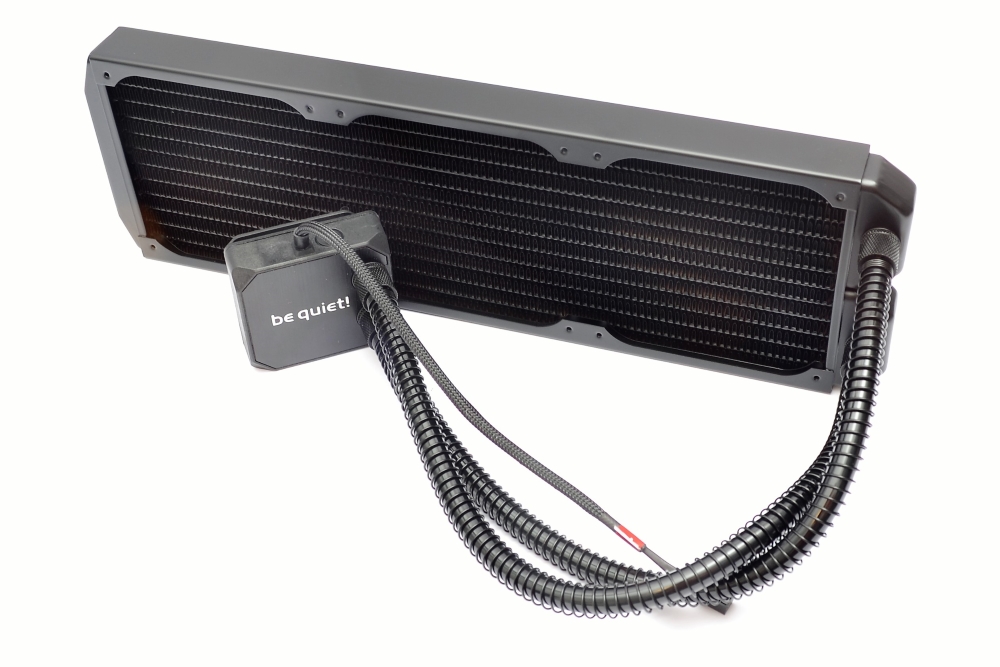 The radiator is reasonably standard of appearance. The cooling fins are mounted in a waveform between the water pipes. It provides an effective cooling of the water. One can barely notice the copper color between the fins, and that's because pipes and fins are made of copper for best heat dissipation.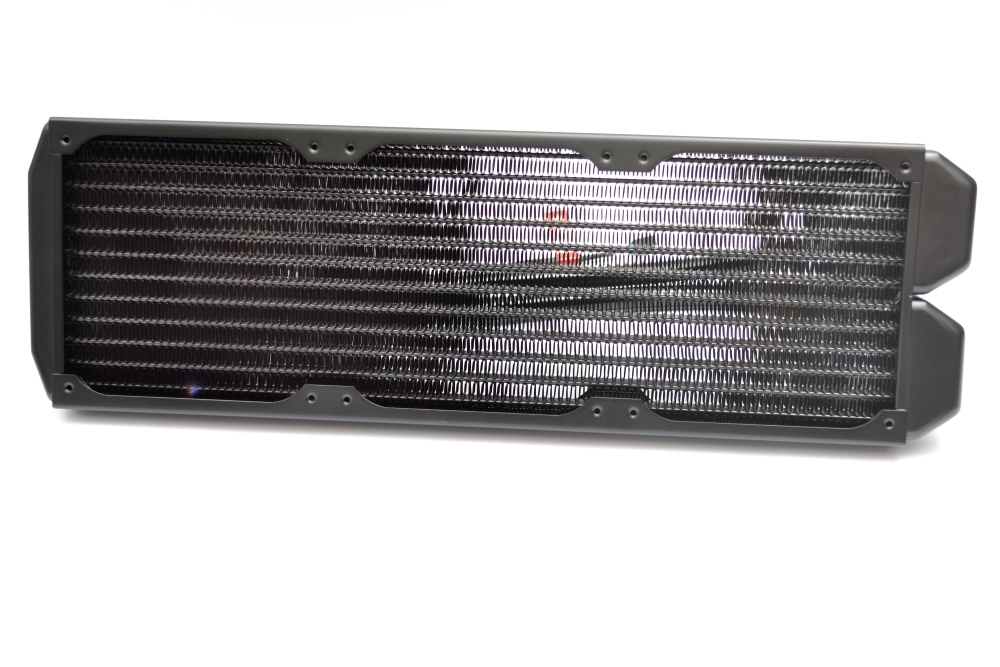 The tubes are made in sturdy rubber with a steel spiral around. The steel spiral prevents the hose from collapsing if you bend it too much. So you can bend these hoses quite a bit as they keep the flexibility. The hoses are attached with some large solid connections.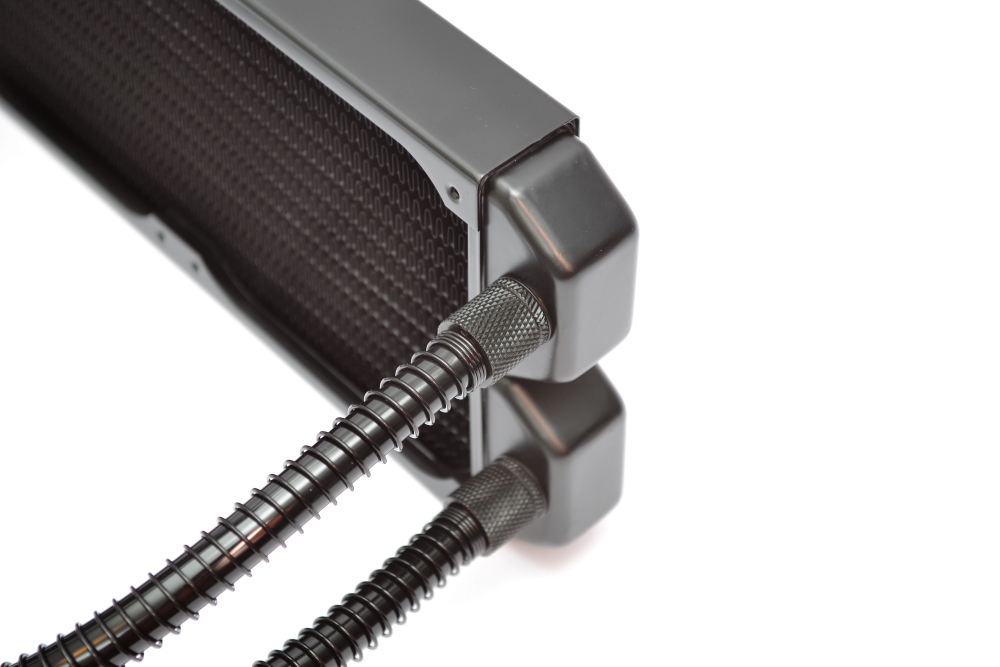 The actual pump head also has the solid hose connections, and a top with a sign in aluminum. The sign has a beautiful be quiet! logo engraved on it, and in addition to that there is no boast in the form of light or other gimmicks. Absolutely in the quiet! spirit.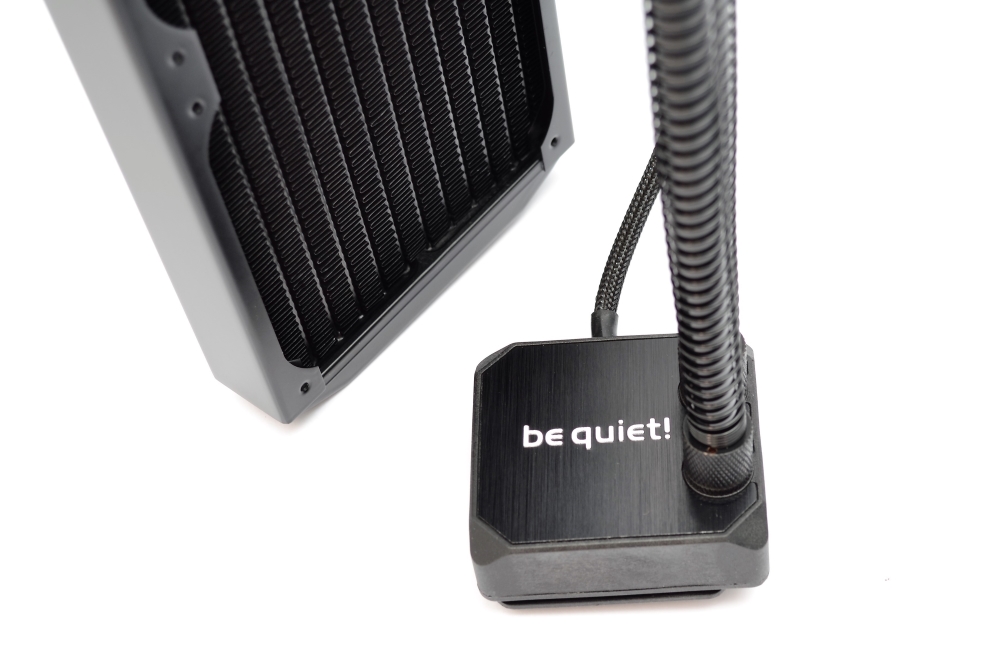 Cable and plug for the pump itself are sleeved and 3 pole. The pump should run with 12V direct or 100% speed if connected to the motherboard. This pump should not be regulated in speed, as it then will lose cooling efficiency.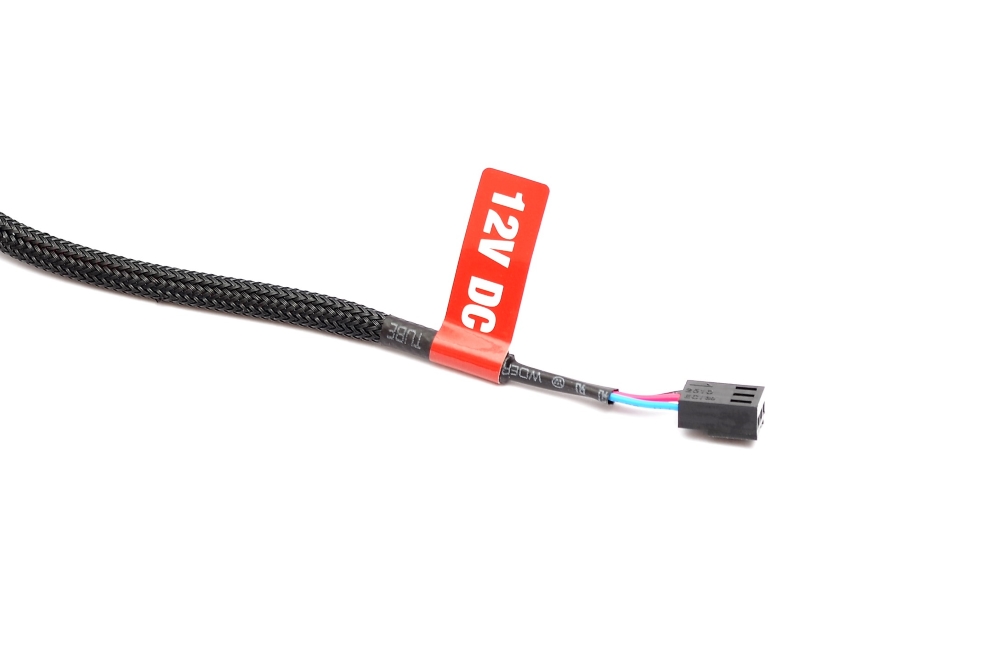 On the side of the pump house there is a refill port. So if you think the system needs to be serviced, or maybe needs the liquid to be changed. Then you also have this option. I have seen this more and more on closed systems, and I personally think it's good to be able to service the system a bit instead of just replacing it.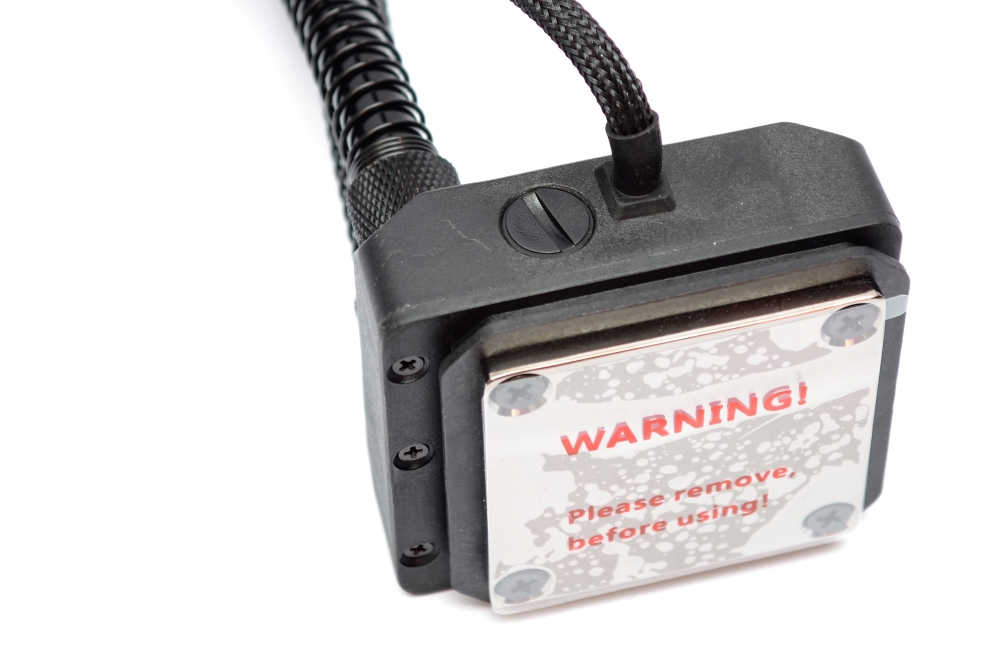 The actual cooling surface is completely blank and flat. It will ensure good contact with your processor.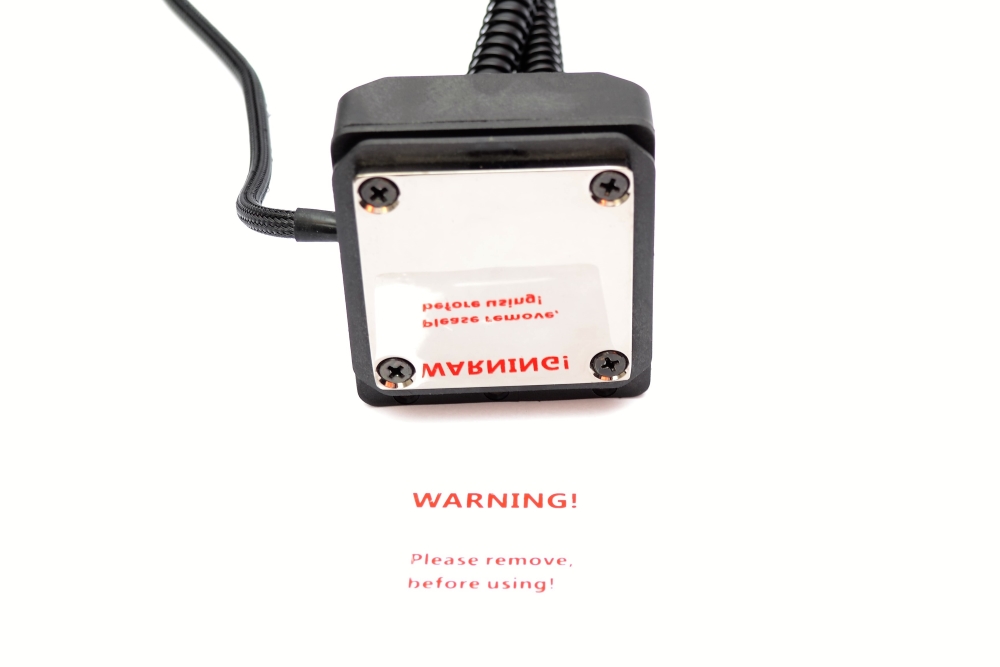 Let's get the cooler assembled and tested.
The fans are mounted on the radiator.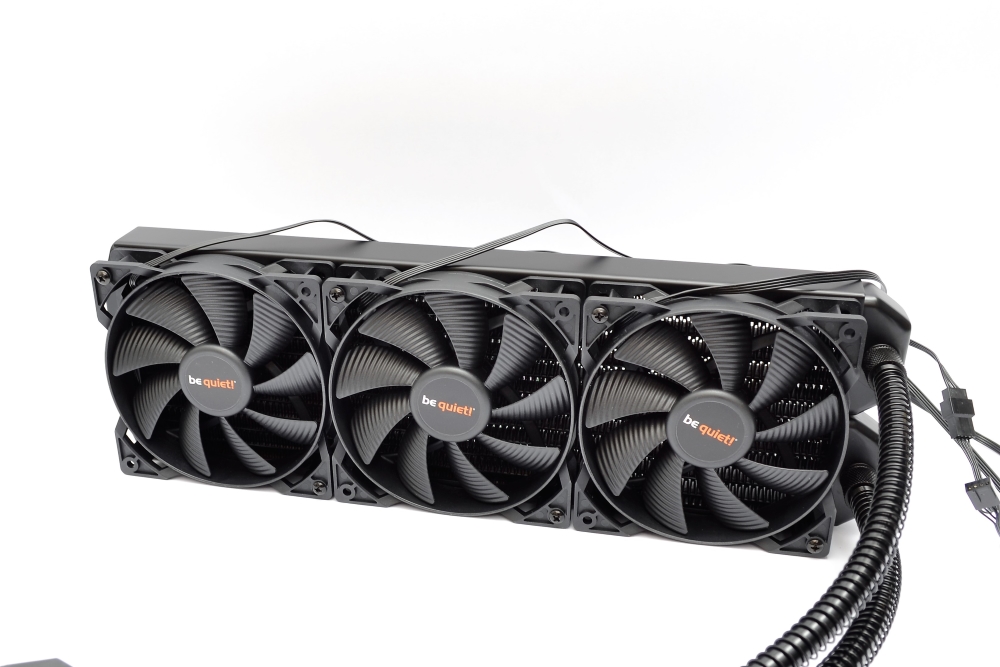 The bracket is made ready for the pump head. This is the Intel bracket, and note that the backplate should turn correctly to fit.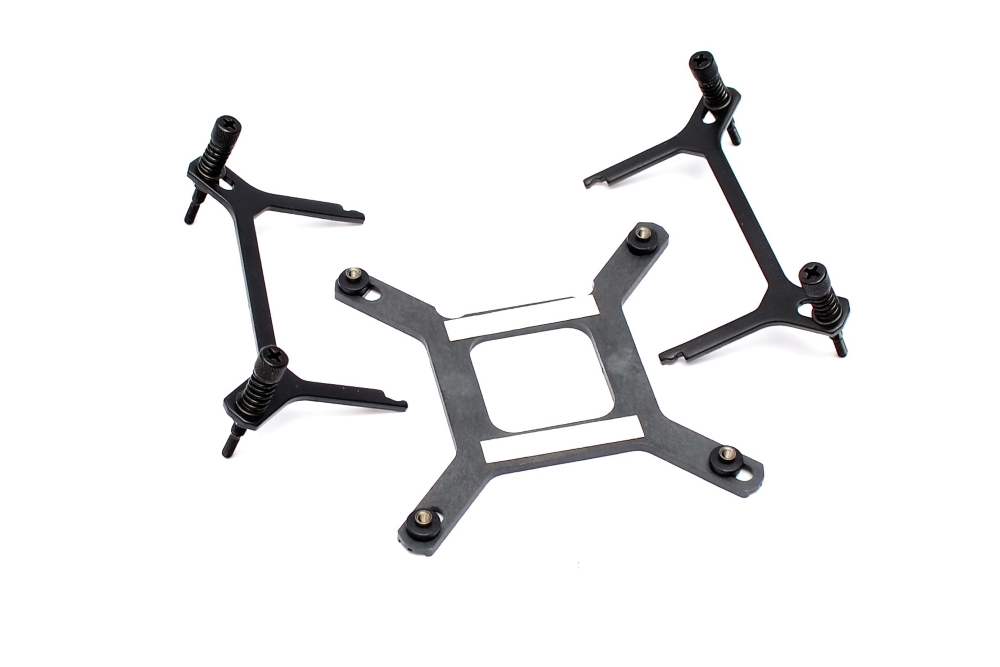 Then the pump head is ready for assembly with the metal fitting pushed into place.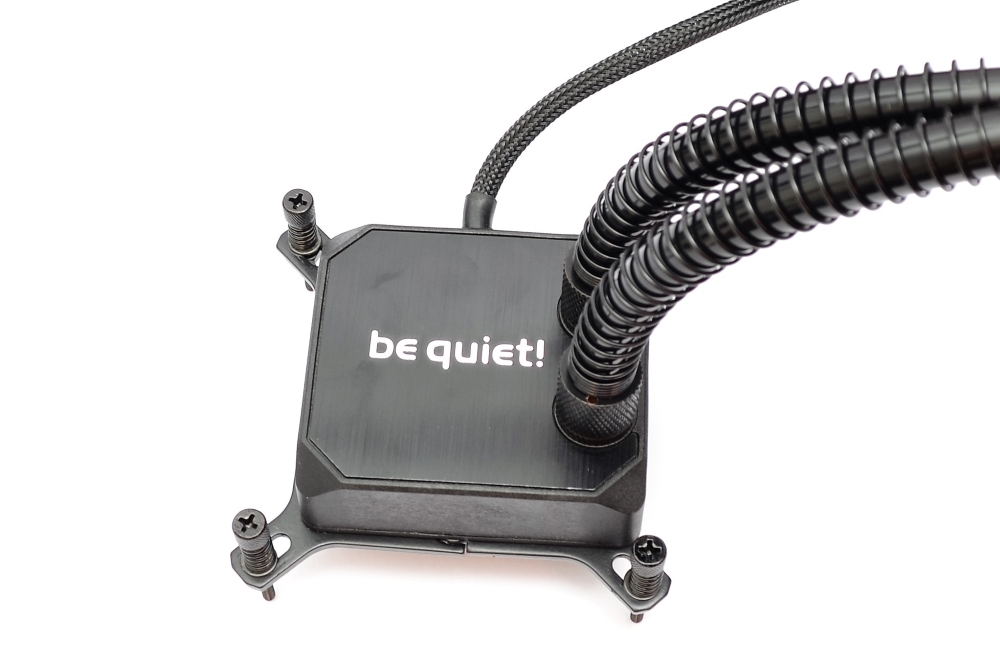 Finally, screw the head firmly onto the motherboard. The assembly went well, but you have to hold the bracket on the back while screwing on the front. It's a bit hard to do, but can be done.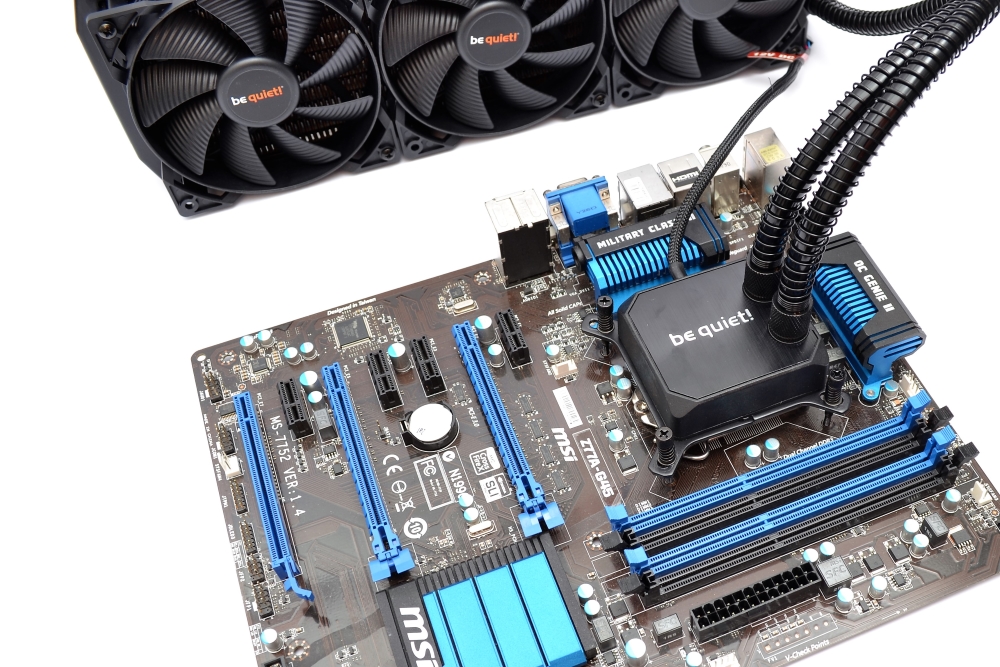 Time for testing.
The change in setup:
This review is a transition between my Intel 4790K setup, which I'm leaving from. I have chosen to move my tests over to an AMD setup with an older FX-9590 CPU on. I have done that for the following reasons.
Intel makes some pretty bad cooling solutions when it comes to their IHS (Metal Plate on the CPU), which resulted in i had to delid my CPU to get a good test solution. This solution has been shown to not last long when mounting and dismounting coolers all the time.
An AMD FX-9590 is a 220W CPU where an Intel 4790K is an 88W CPU. This means that without overclocking of AMD FX-9590, I have the same heat as a powerful overclocked Intel 4790K CPU. So I have the opportunity to test the same effect without the hassles of Intel IHS and overclock. I will also show below, as this test is the first test with both AMD and Intel results. That way you can compare.
Software:
For software, I have chosen to use Prime95 as it uses the processor to the max. It shows the absolute hardest load you can put on your cooler. Prime95 is run with the 'Small FFT' setting, which should provide the greatest heat development, and load the RAM less.
For measuring temperatures, I have chosen to use HWinfo64, which is an excellent tool for that. Temperatures are measured after a warming time of typically 10 minutes fot air coolers, and 30 minutes for water coolers. So the cooler should be stabilized and warm and the measurement of max temp should be possible.
Intel setup:
CPU: I7 4790K (TDP=88W)
MB: MSI Z97A Gaming 6
AMD setup:
CPU: FX-9590 (TDP=220W)
MB: ASUS Sabertooth 990FX R2.0
The process:
All of my coolers are tested with fans on 100% RPM. I have chosen to show my readers how much the coolers can cool at max. I'm aware that it makes a lot of noise, but hopefully you do not have the need to drive the fan at 100% under normal conditions.
The graph shows so-called DELTA temperatures. This means that I have withdrawn the temperature from the surroundings. That way, everyone can compare the result without calculating on my results.
Intel Graph:
As you can see, be quiet! Silent Loop 360 is performing pretty nice. It keeps the temperature well down even in spite of a reasonable 4.7GHz overclock.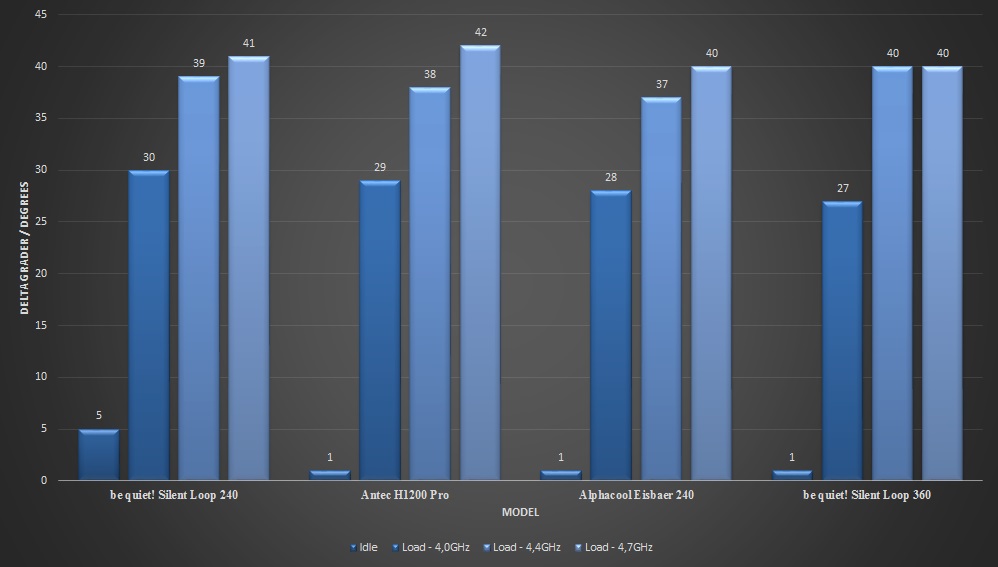 AMD Graph:
I have chosen to test the AMD CPU with 4 and 8 cores enabled. That way I can test 110W and 220W respectively in power consumption. It should give a good overview of which CPU of both Intel and AMD you can put on the cooler.
I think the cooler is doing well and you can easily put this cooler on both Intel and AMD top CPUs, without running into any kind of problems.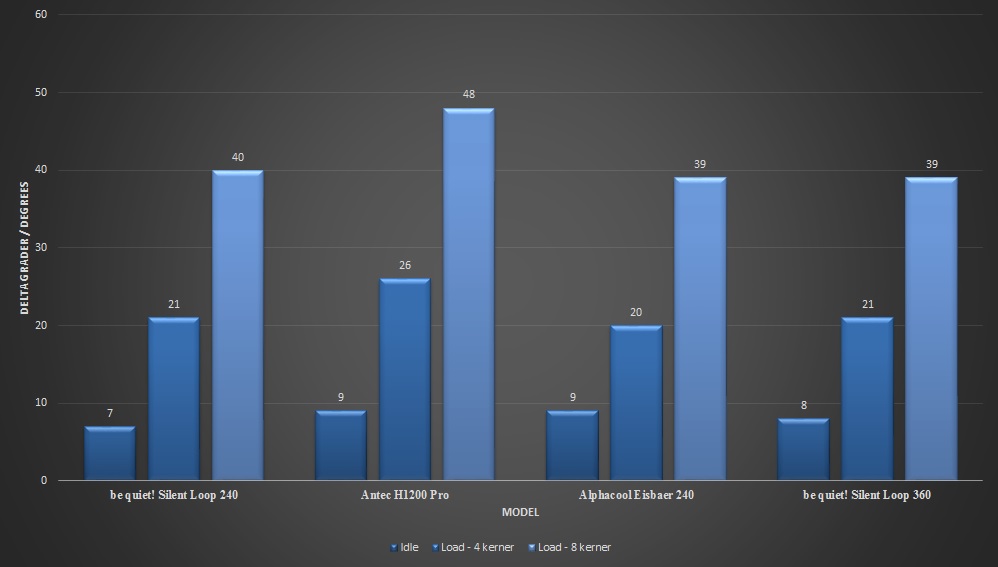 Time for the conclusion.
As always, it's a pleasure to test be quiet! products. There is no doubt that if you want to play with overclock, and do not have the courage to make your own custom water cooling setup. Then be quiet! Silent Loop 360 is a very excellent example of a high performance AIO water cooling setup.
This cooler cools everything you can put on it without any problems. There is ample buffer for large overclocks, and it's without sounding like an airplane even at the maximum speed of the fans.
There is clearly some noise, but it is not exaggerated. And when the cooler and fans are mounted inside a good casing, I do not think you'll notice the noise.
Besides that, I love again the discreet look in which be quiet! make their products. The solid hose connections, and the soft hoses, which are protected from collapsing by a steel spiral. All in all, a super nice and discreet solution, for a power setup with a subdued look.
In fact, in my test of Silent Loop 240, I found only a bug / lack. That was on the bracket at the back and the threaded bushes. The problem here is the same, and the same thing that you have to turn the bracket correctly when installing Intel. be quiet! should maybe take a look at this, as these are a few changes needed to make the installation of this cooler super easy and straightforward.
You can buy be quiet! Silent Loop 360 for less than 1300 DKK. It's a pretty nice price and you get a super cool and efficient cooler for the money. There is no RGB light or other gimmicks in this setup. But I promise you readers that you get really high quality. The price is quite ok.
My rating on this cooler, as with the Silent Loop 240, turns into a nice SILVER star. It is only because of the bracket, that makes the difference between GOLD and SILVER. be quiet! really should take a look at that next time if they want to go to the top.
Read more about be quiet! Silent Loop 360 here.