JBL Flip 4 Bluetooth Speaker
I think it's time for another review on the blog. It is about last chance for a summer party on the beach. But that should not stop us from partying, right?
JBL do what they can for us to continue to party. That's why they've made their Flip 4 Bluetooth speaker, which gives you the ability to connect over 100 speakers to a huge sound system.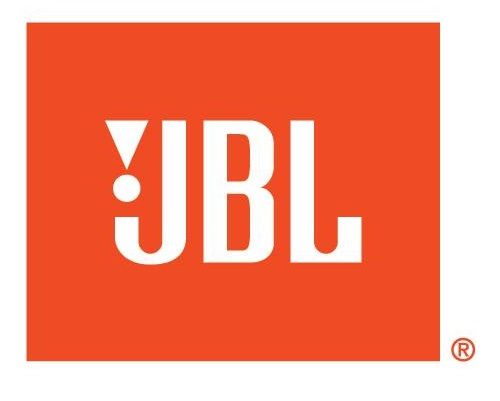 JBL has been kind to make a small video presentation of their speaker so we'll start right here.
The technical specifications.
Now we will have a look at the technical specifications. And as you can see, the speaker is IPX7 approved, which means it can lay on 1 meter deep water for over 30 minutes without damaging it. That's impressive. Not only that, the battery can last up to 12 hours of playing time, and you can use the speaker for phone calls and voice assistant.
Technical specifications:
Bluetooth version: 4.2
Support: A2DP V1.3, AVRCP V1.6, HFP V1.6, HSP V1.2
Transducer: 2 x 40mm
Output power: 2 x 8W
Frequency response: 70Hz – 20kHz
Signal-to-noise ratio: ≥80dB
Battery type: Lithium-ion polymer (3.7V, 3000mAh)
Battery charge time: 3.5 hours @ 5V1A
Music playing time: up to 12 hours (varies by volume level and audio content)
Bluetooth transmitter power: 0 – 9dBm
Bluetooth transmitter frequency range: 2.402 – 2.480GHz
Bluetooth transmitter modulation: GFSK, π/4-DQPSK, 8DPSK
Dimensions (H x W x D): 68 x 175 x 70 (mm)
Weight: 515g
Let us have a look at the packing and content.
The speaker comes in a box with nice illustrations and technical specifications printed on the outside.
The box opens with a magnetic lock, after opening you get to a small box in the front. This box contains the user manual and various other written material. In the small box above, is the USB cable applied with the speaker.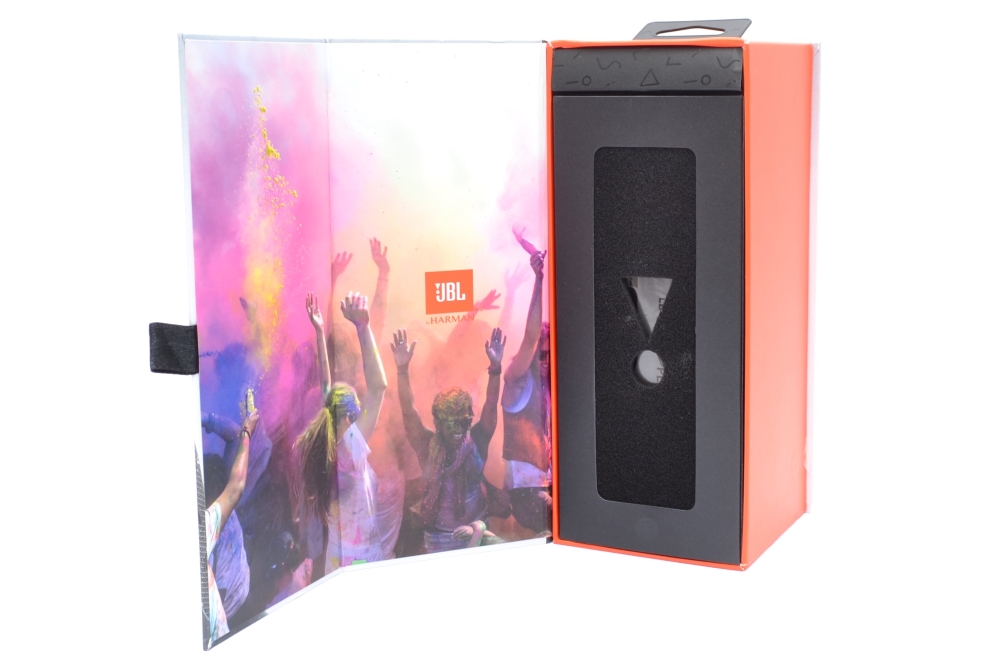 If you take out the small box in the front, you come in to the loudspeaker. It is well protected with foam on all sides.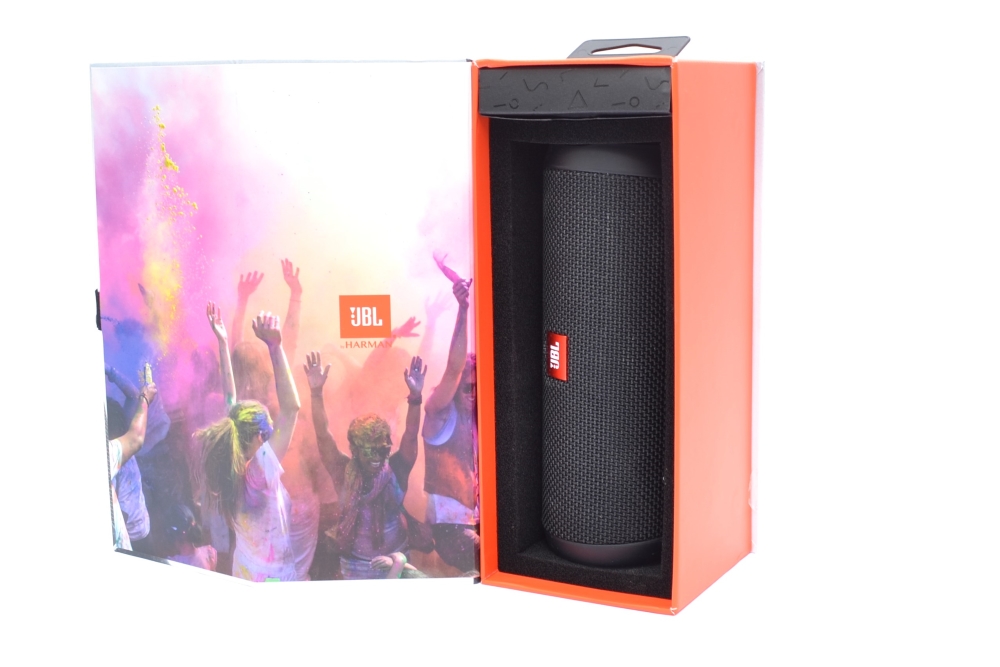 What is in the box:
1 x JBL Flip 4
1 x JBL Micro USB Cable
1 x Safety Sheet
1 x Quick Start Guide
Warranty Card
Should we take a closer look at the speaker?
The speaker is cylindrical with fabric cover. The ends are soft touch coated plastic.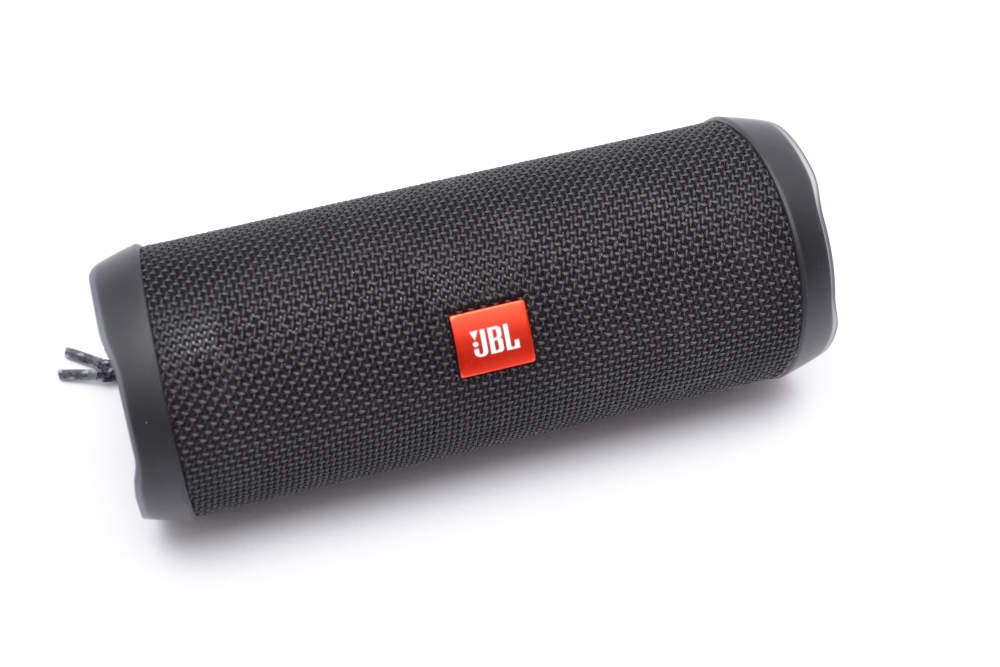 You can feel the relatively large bass speakers at each end, they are visible, and you may feel them vibrate.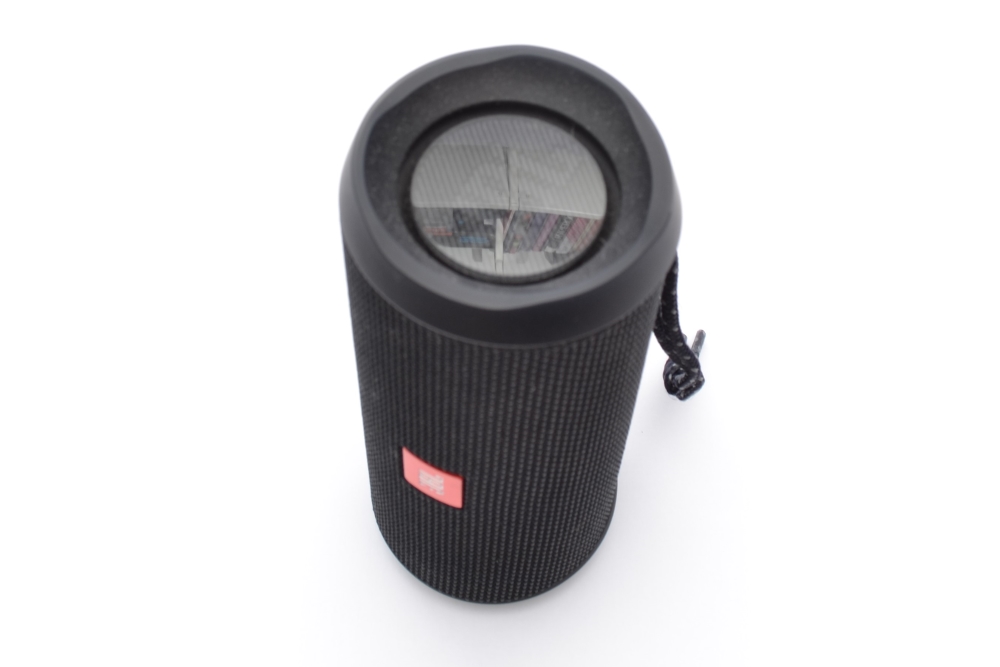 On the 'backside' you will find the control buttons. There is also a strap so you can have the speaker on the wrist or hang it up where you need it.
There is a power button, 4 diodes for battery status and a connect button.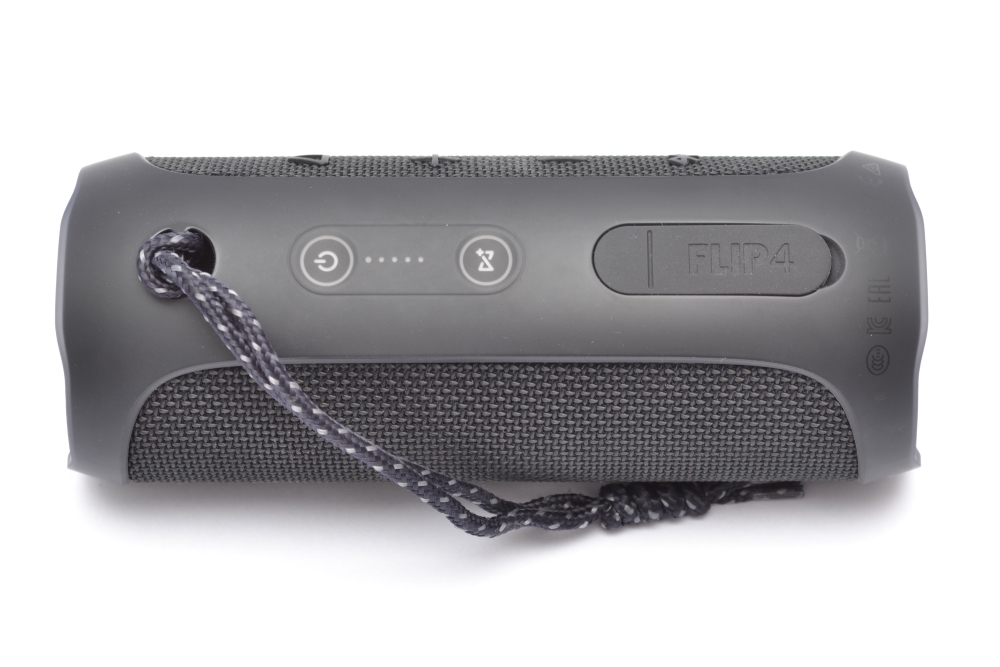 Behind the rubber cover you will find a jack for the audio input, and a micro USB plug for charging. Remember that the speaker is not waterproof if you do not push the cover firmly into place after use.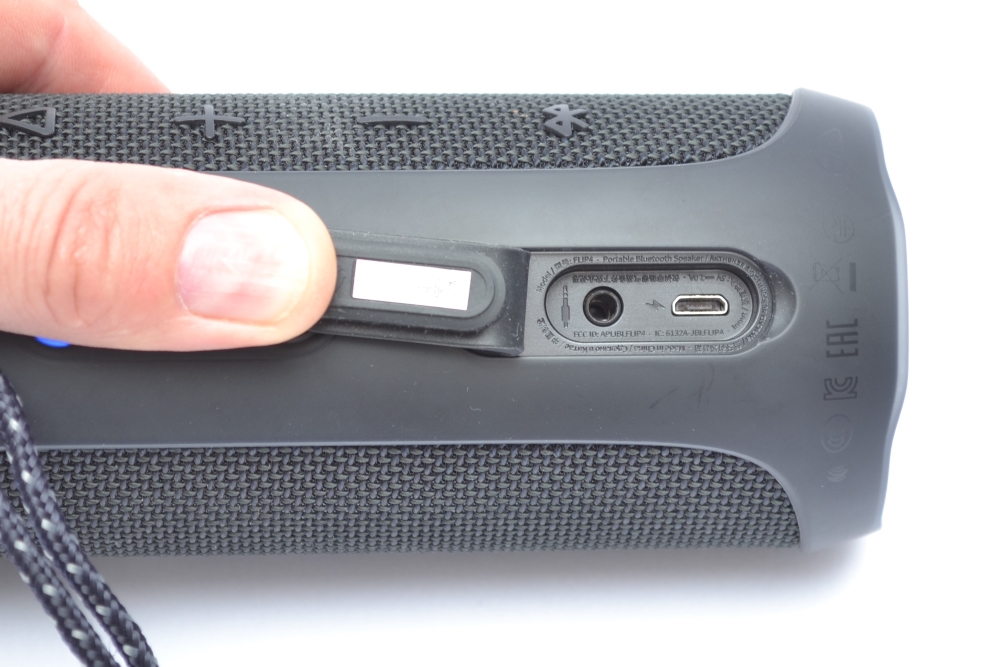 There are control buttons on the speaker, and they are as follows. A bluetooth button to pair and connect the speaker with your bluetooth player. A plus and minus volume, and a play / pause / skip button to pause and play the music. The play / pause button can also be configured to voice assistant so you can enable this instead. More about that in a while.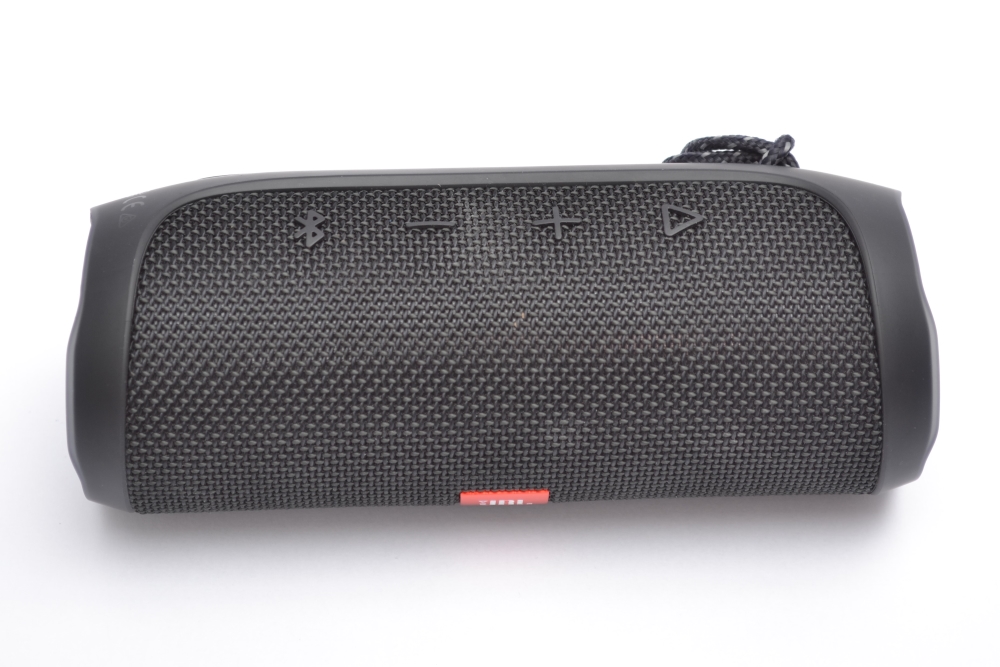 The buttons and battery diodes are illuminated. The power button changes color depending on function. The brightness is fine, subdued, and not dazzling in any way. It looks pretty nice.
White = Power on
Blue flash = pairing mode
Blue = connected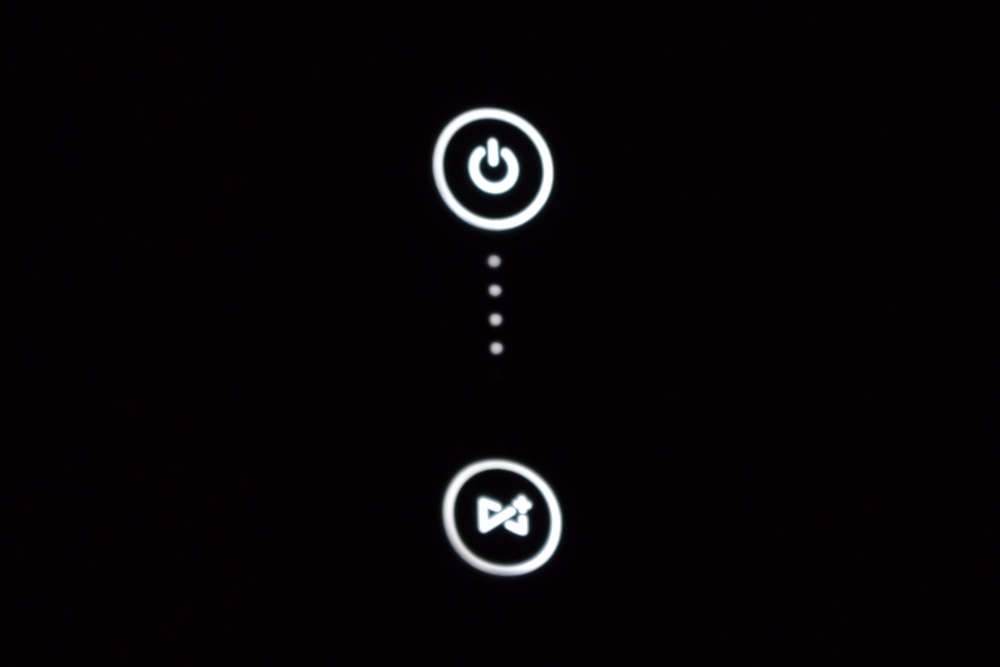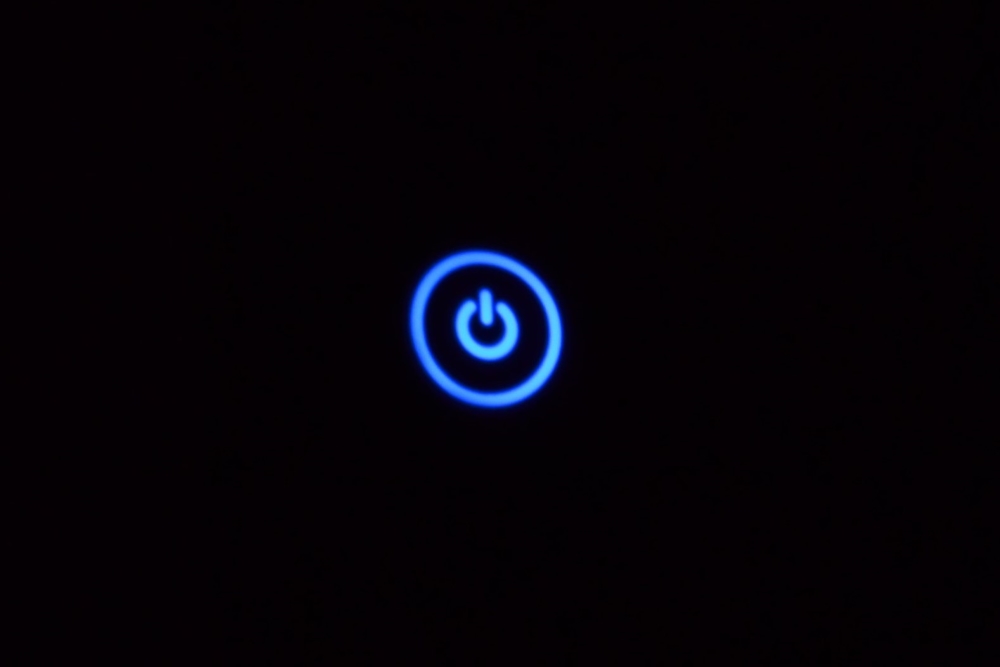 A review of the JBL Connect App. (Android)
It's time for a quick review of the JBL Connect app. It is not packed with features, but it can do some useful things that you should know.
At startup, choose which speaker you want to use with the app. Then you get a small presentation with the possibilities for the device.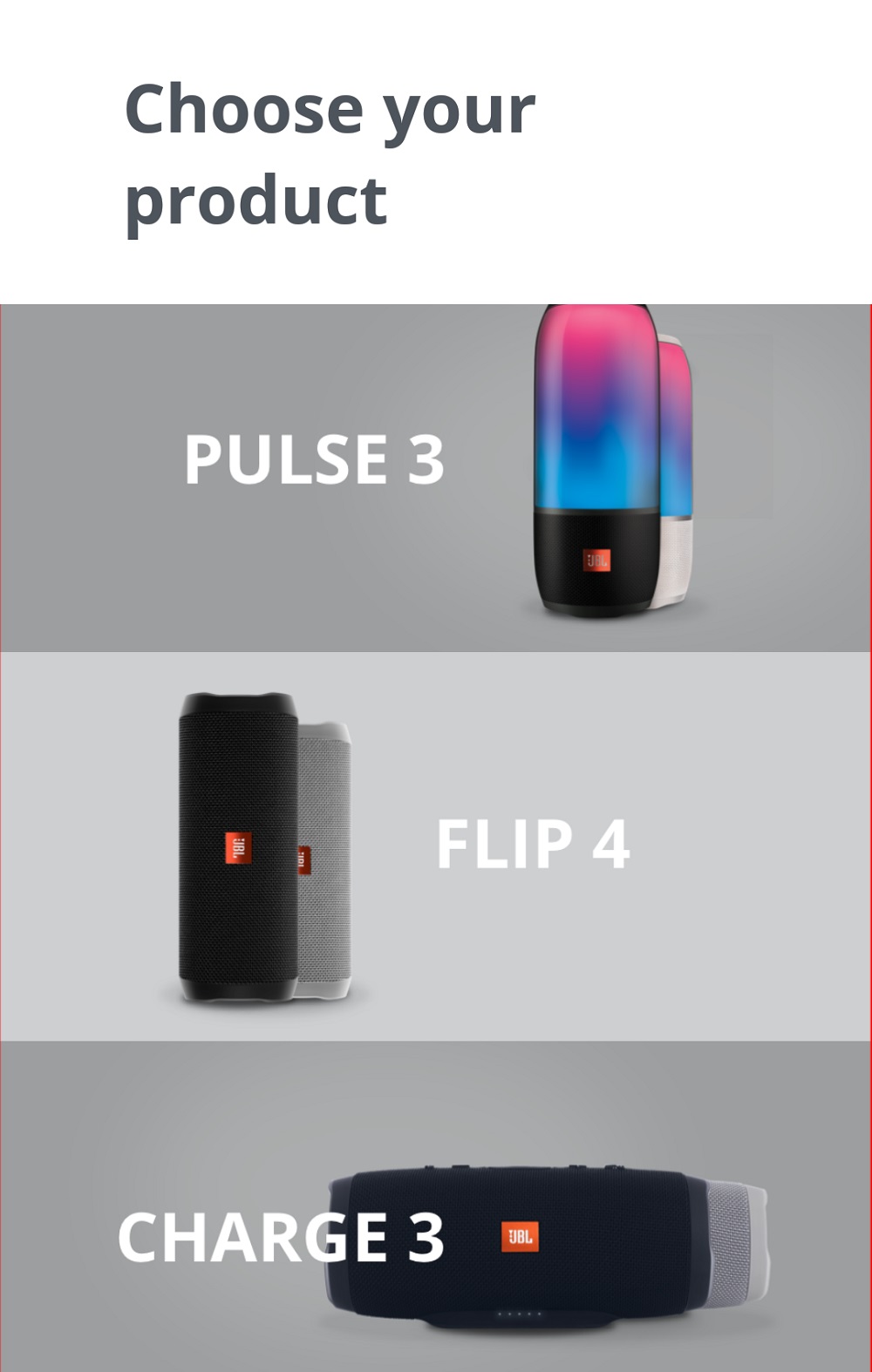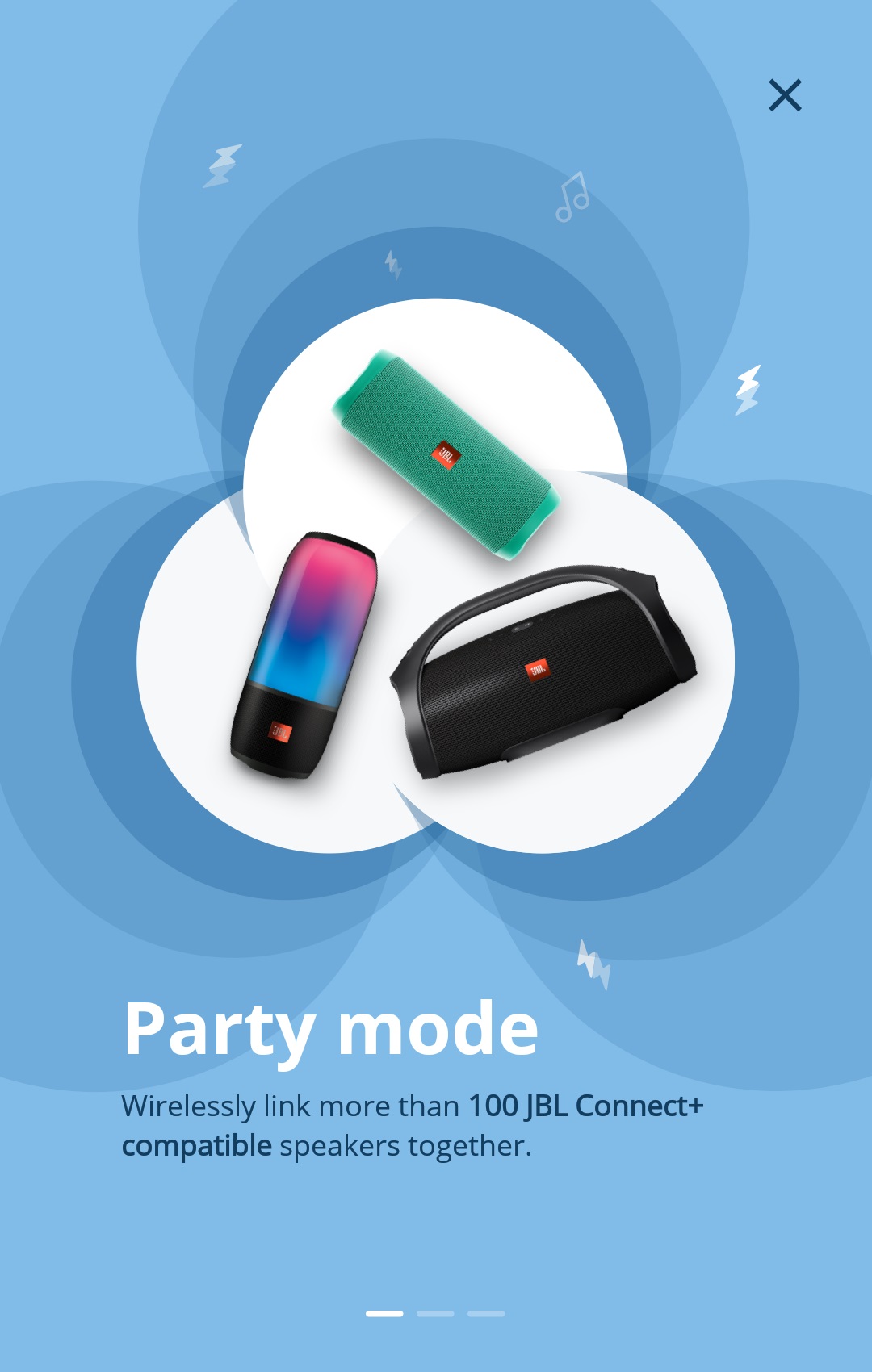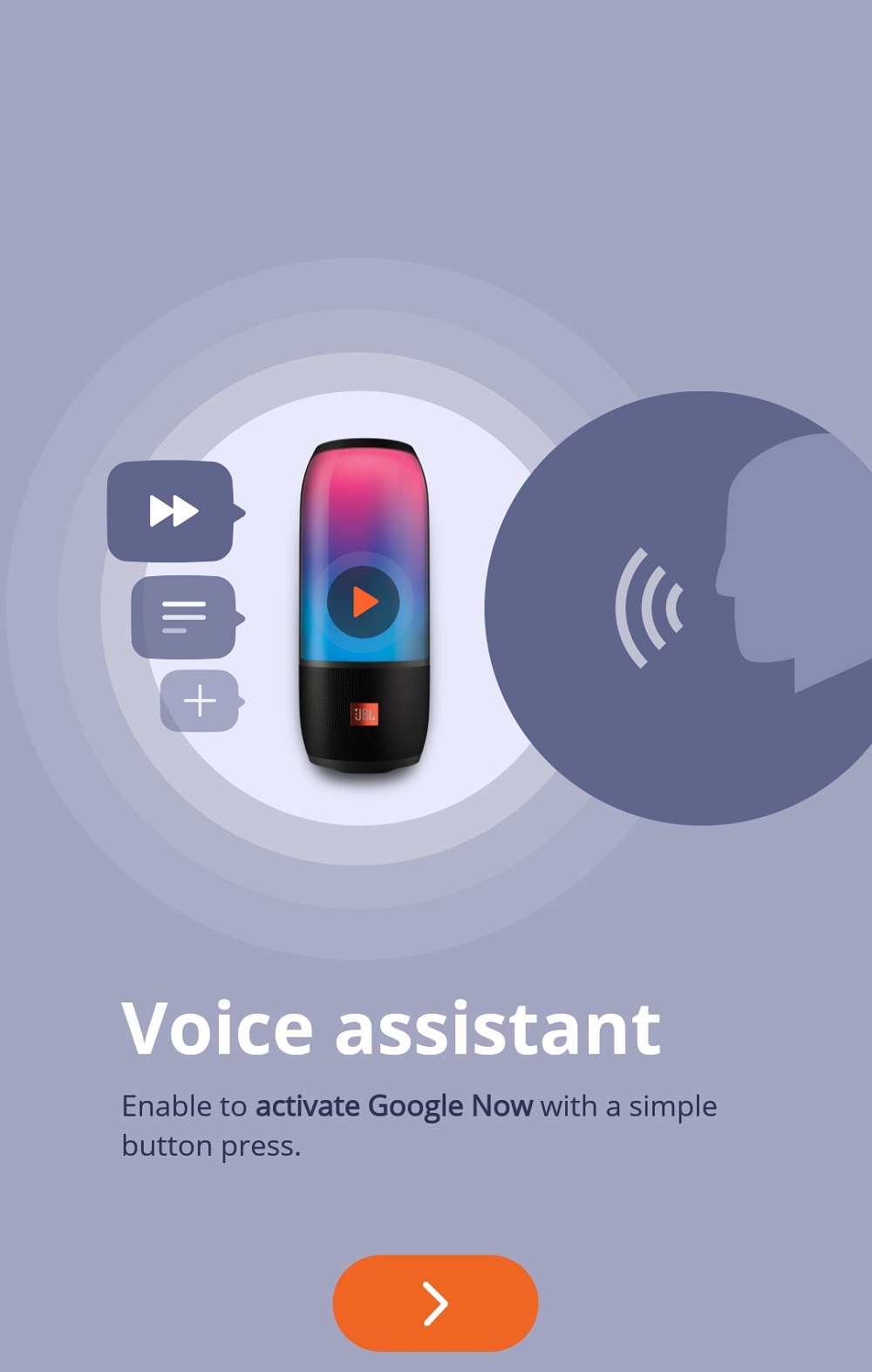 After the presentation, you will get to the main screen of the app. Here you can see a picture of your speaker and battery status.
You can choose Party or Stereo mode. It allows you to connect multiple speakers to the same player. If you just want to enjoy some nice stereo music, you have the option of having two speakers. Or if you want to hold a party and play the same music on all the speakers you can find, then you choose party mode. You can connect over 100 speakers together in party mode, and it's all JBL speakers with the 'connect' option that you can use for this. It's super smart.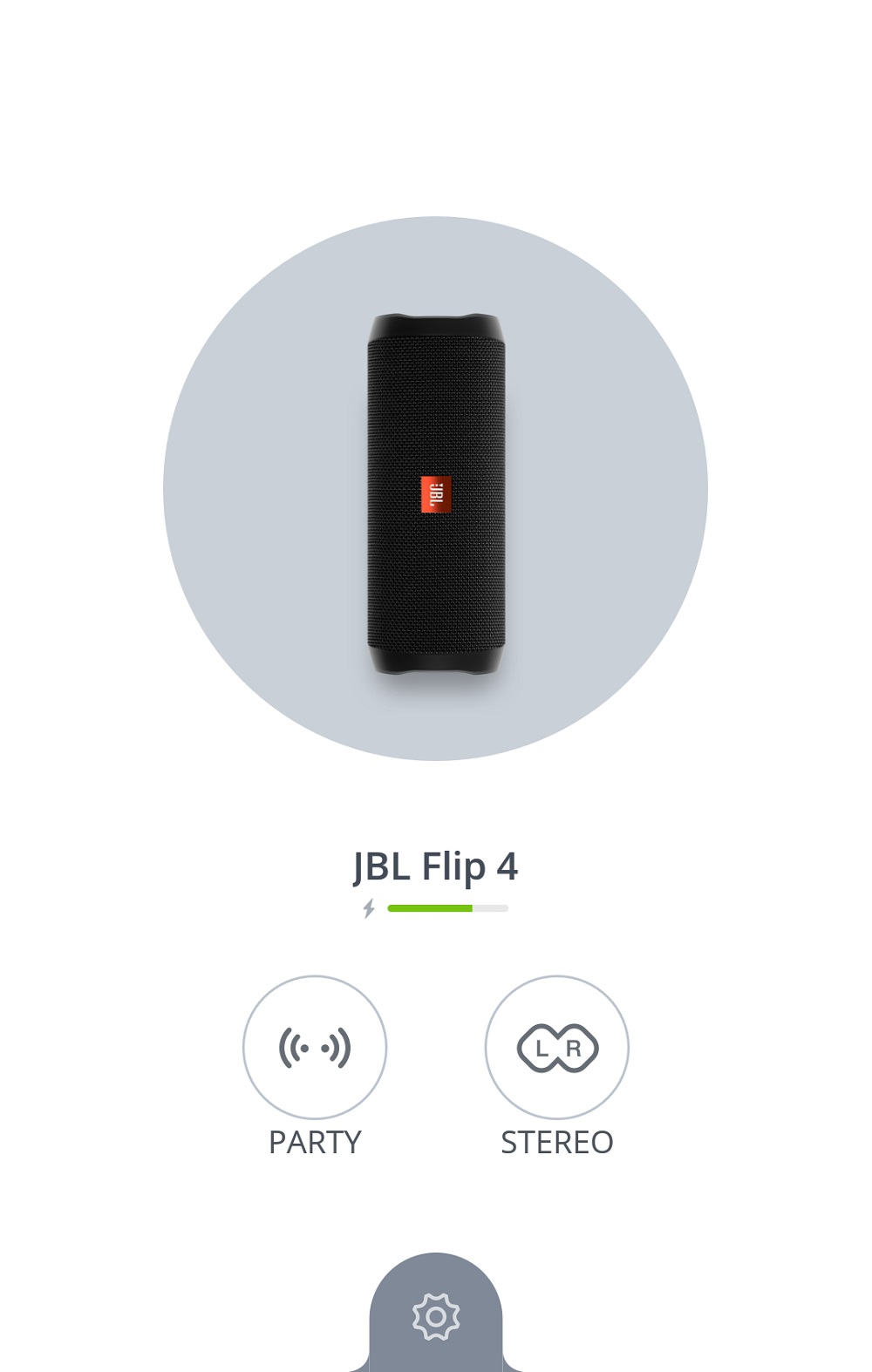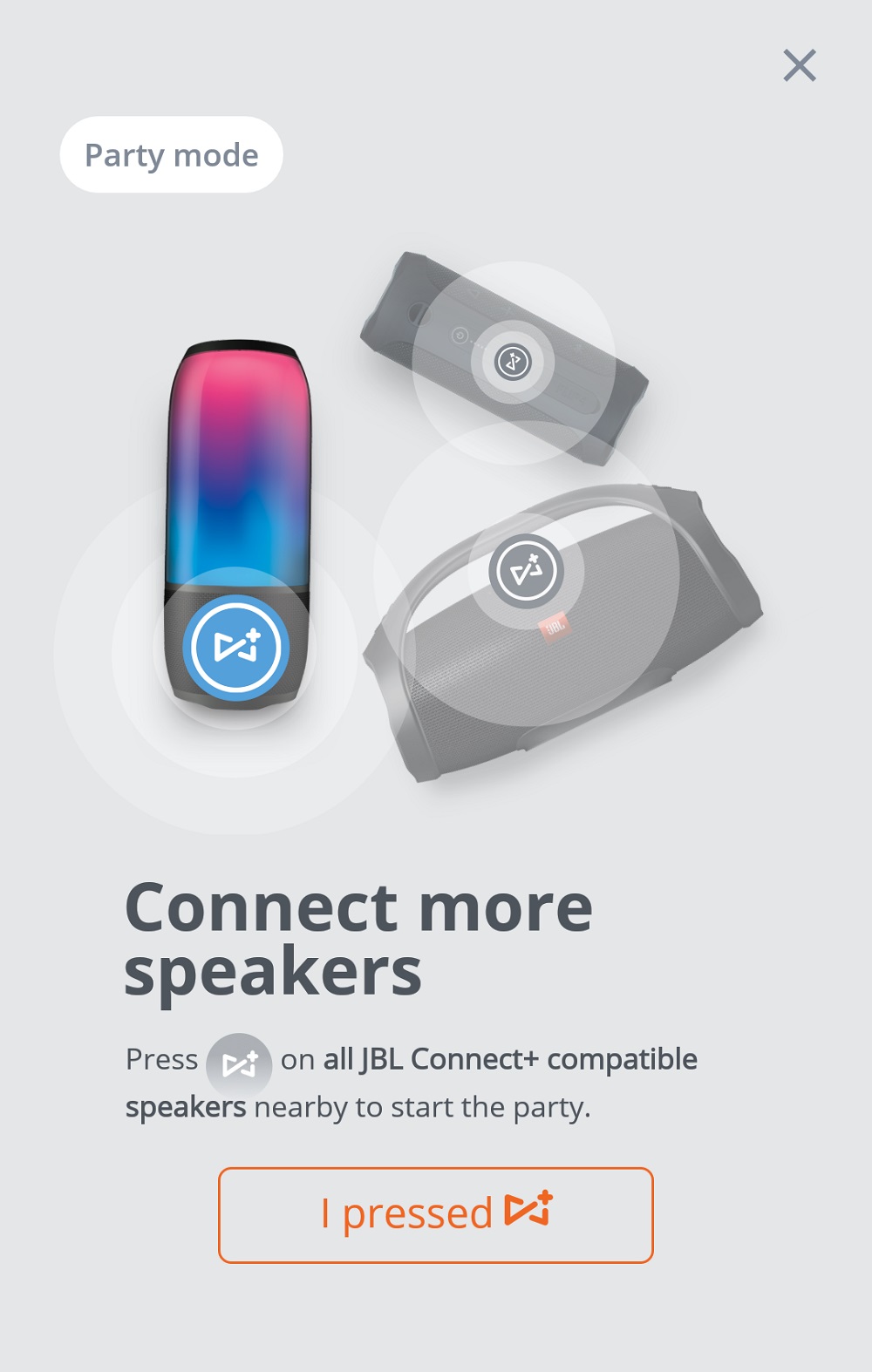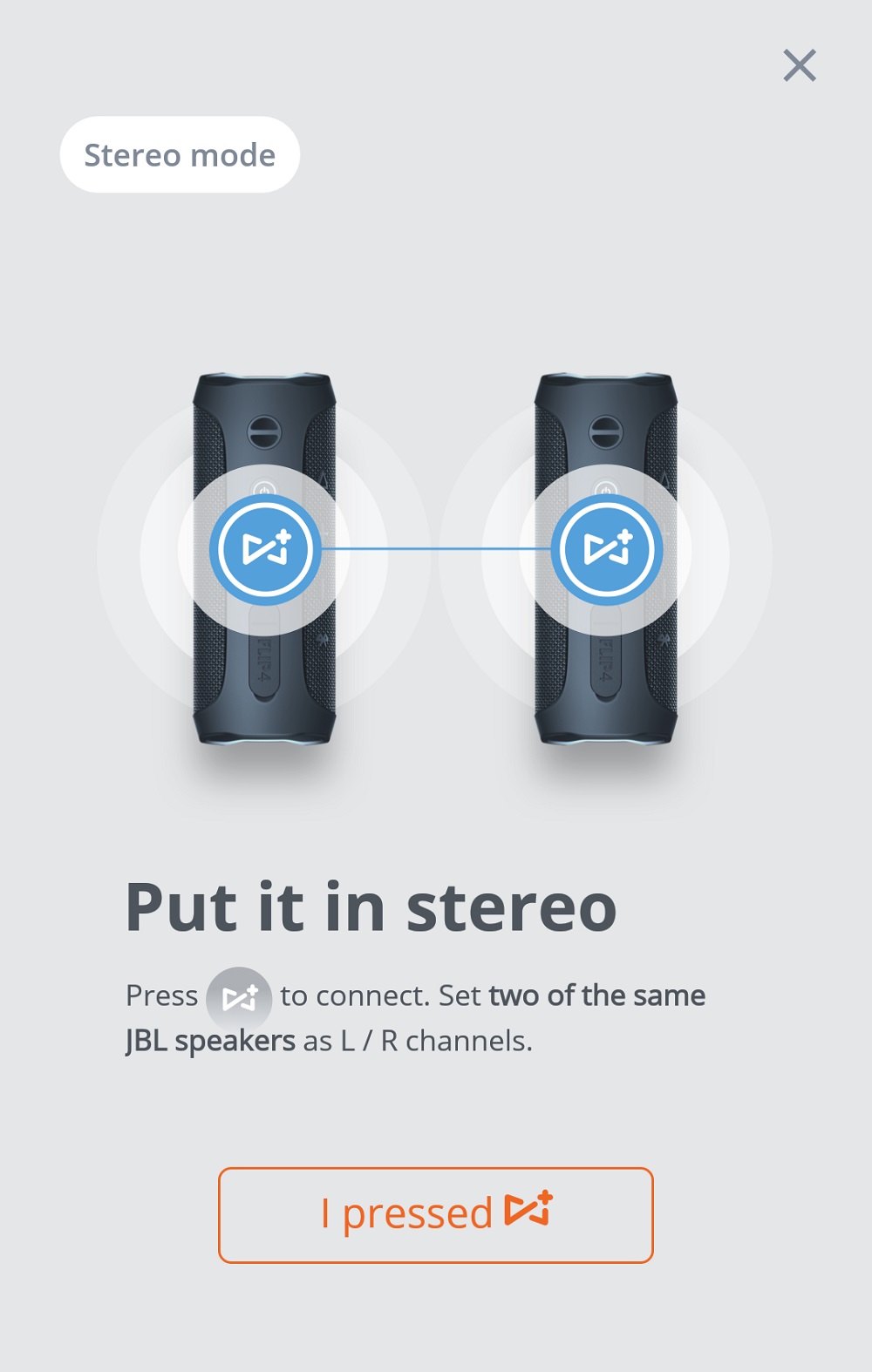 If you press the small gear at the bottom of the main screen, you can choose whether to use the 'play' button for either the voice assistant or if you want to use it to control the music.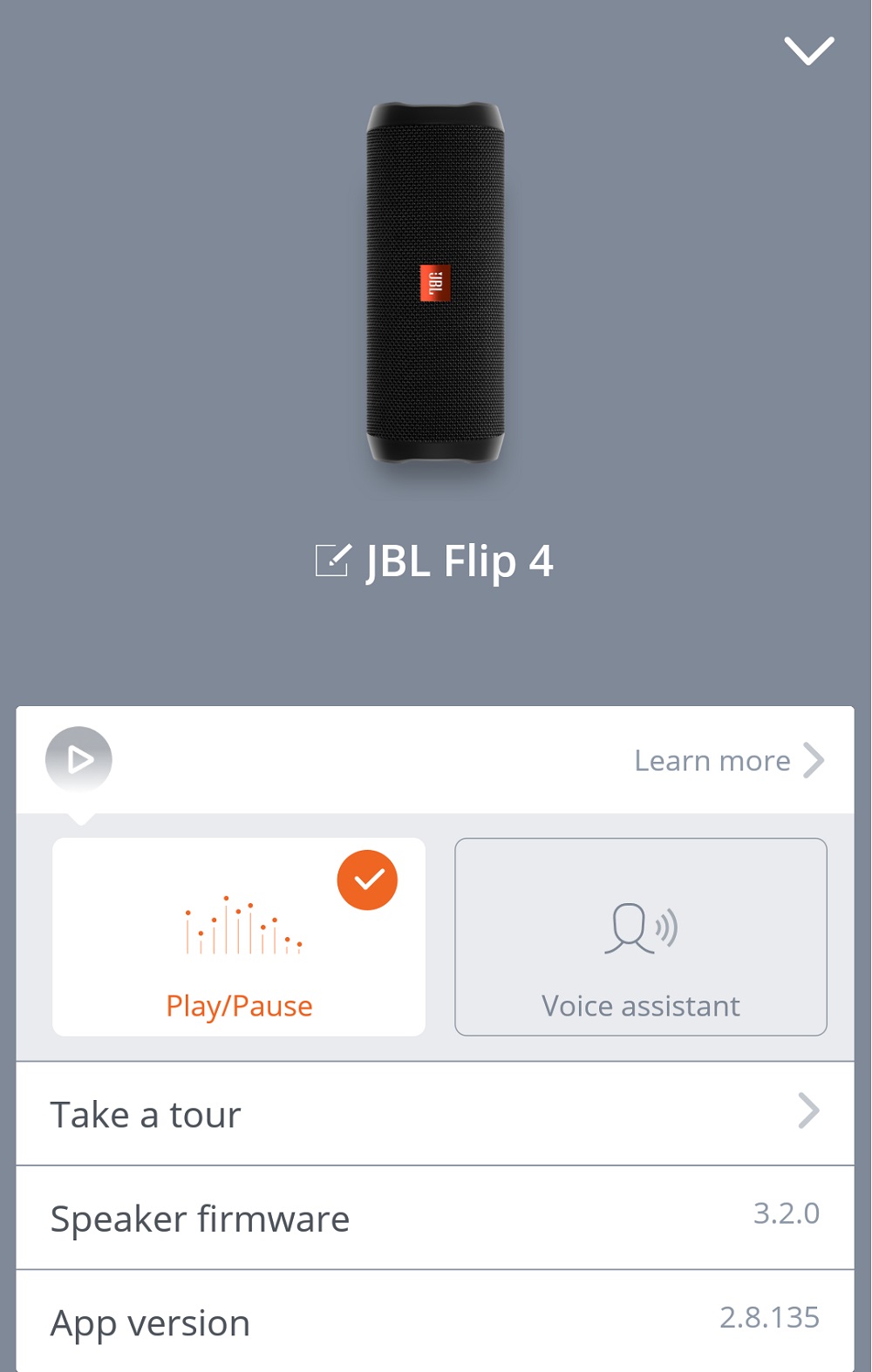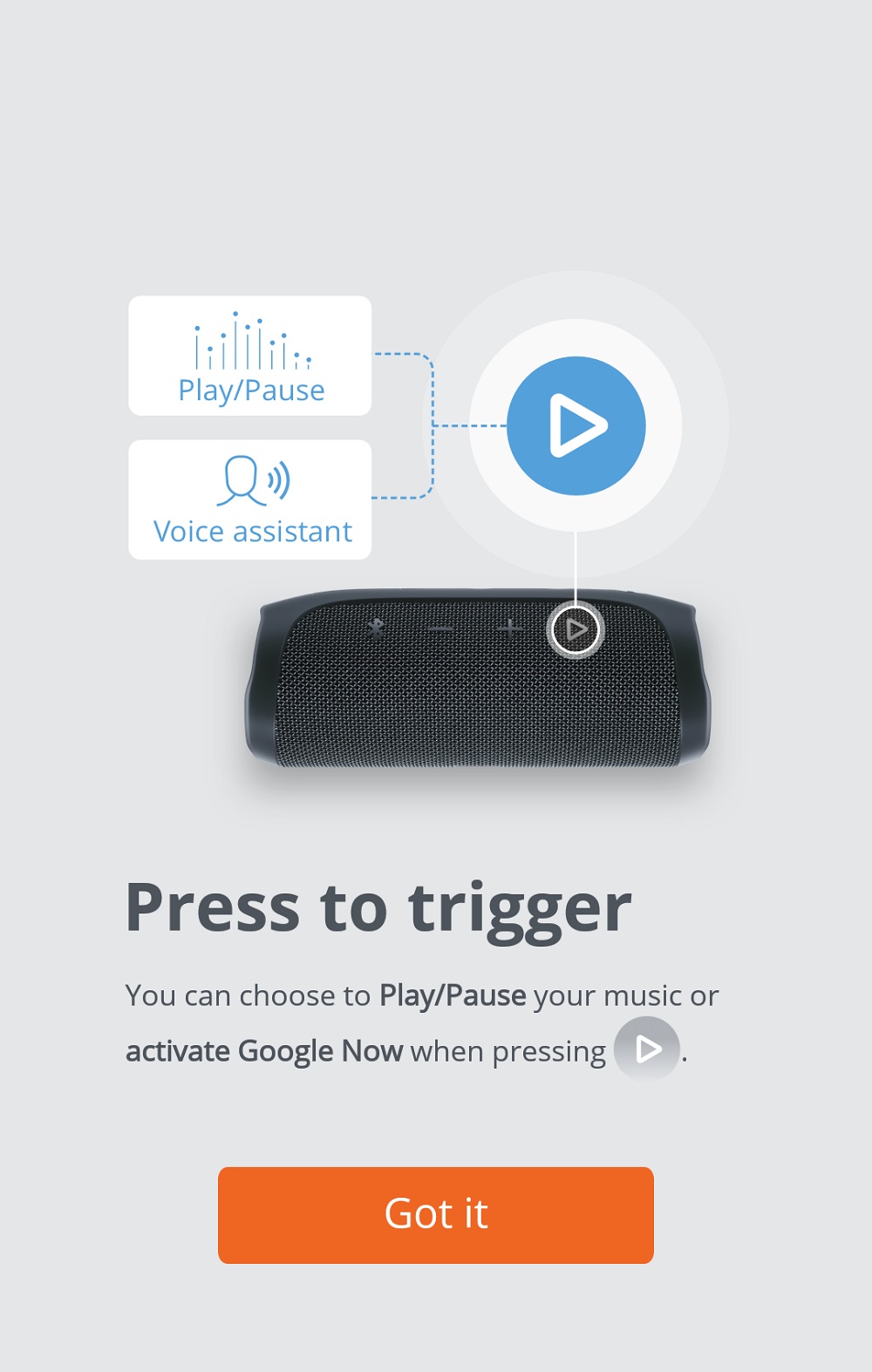 Now it's time to throw music on the speaker.
I have played a lot of cool music on the speaker and there is no doubt that we have some kind of winner here.
The sound:
This speaker simply plays as great as it should. There is good depth in the bass and very nice details in the treble if you sit in front of it. There is a front and back. The front is where the JBL logo is located and the back is where the buttons are located.
There is no doubt that the speaker plays super well and detailed as long as you are placed right. Exactly like with ordinary speakers. If you turn the front away, the sound is immediately a little more muddy and without treble.
It's a common thing about speakers, so that's not a negative point of view. But I have listened to other bluetooth cylinder speakers where this was not a problem, or so obvious. Also from JBL.
It can play impressively high, so there is no doubt that some of them can play up to party in party mode.
Microphone Test:
I have run a little test using Skype echo call test. The loudspeaker records my voice as it should , and can be used for phone calls. However, I still wonder who will use these kind of speakers for calls. But the function is there and it works properly.
Voice assistant:
I was looking forward to try the voice assistant feature. It's not something I've used before, and actually thought it would be plug'n'play.
The problem was that when I pressed the button, the phone asked for my local language. And even if I chose it to download or not, it never started the voice assistant app.
So I never got it to work with my HTC M9. And since I unfortunately do not have another mobile phones to test with, I can not tell if it's good or bad.
I expect it to be good though, and that it is my phone which has a problem.
My final conclusion.
There is no doubt that JBL is producing some super playing and well-functioning bluetooth speakers. This is also true for Flip 4, which is very well-playing.
There is a very good depth in the sound, and if you are sitting with the front (JBL logo) towards you, then there are also very nice details in the sound in the form of middle tone and treble. These, however, disappear if you listen from the back (The buttons). Then the sound becomes a bit more muddy.
The JBL Flip 4 has some cool features and features that makes this speaker especially great. There is Party mode, where you can connect more than 100 speakers together to one huge speaker system. Then there's Stereo mode, where you can connect two speakers together to play the right and left channels, respectively. An excellent opportunity for the computer screen or if you want to listen to stereo music at home in the living room.
JBL Flip 4 has the ability to work with voice assistant on a smartphone, whether it's Apple or Android. And then you can use the loudspeaker for mobile calls.
Finally, the speaker is no less than IPX7 approved, which means that you can submerge the speaker into 1 meter deep water for more than 30 minutes. So if you lose it in the pool, it should not break it. Or do you have it on the boat or in the rain, it should not get broken either.
All of these are some super awesome features wrapped in a nice stylish looking unit.
But. Everything has its price. This speaker costs just below 900 DKK at the time of writing. JBL has set the suggested price to 1200 DKK, and I'm actually glad it does not cost that much. If it had cost the 1200 DKK as JBL suggest, I would have thought it was on the top. But 900 DKK is actually a fair price for this speaker.
When everything is added together, my overall assessment ends with a nice Gold star rating. The speaker plays super nice and it offers some pretty cool features. It is waterproof and can play for up to 12 hours, which should be sufficient for a party or for a good day at the beach with friends.
Read more about JBL Flip 4 here.