be quiet! SFX L 500W Power supply
In this review, we have to look at another small power supply. It is an SFX L supply designed for small powerful computers.
This be quiet! The SFX-L 500W power supply is 80plus gold certified and modular. This way you can choose which cables you want to use on it, and it's extremely efficient without the big waste.

be quiet! is known for their high-quality, discrete looking products. They started with power supplies, but have expanded their range to coolers and casings.
Let's get started, and take a look at the packaging and the contents of the box.
be quiet! SFX L 500W comes in a discreet box with nice illustrations and specifications printed on the outside.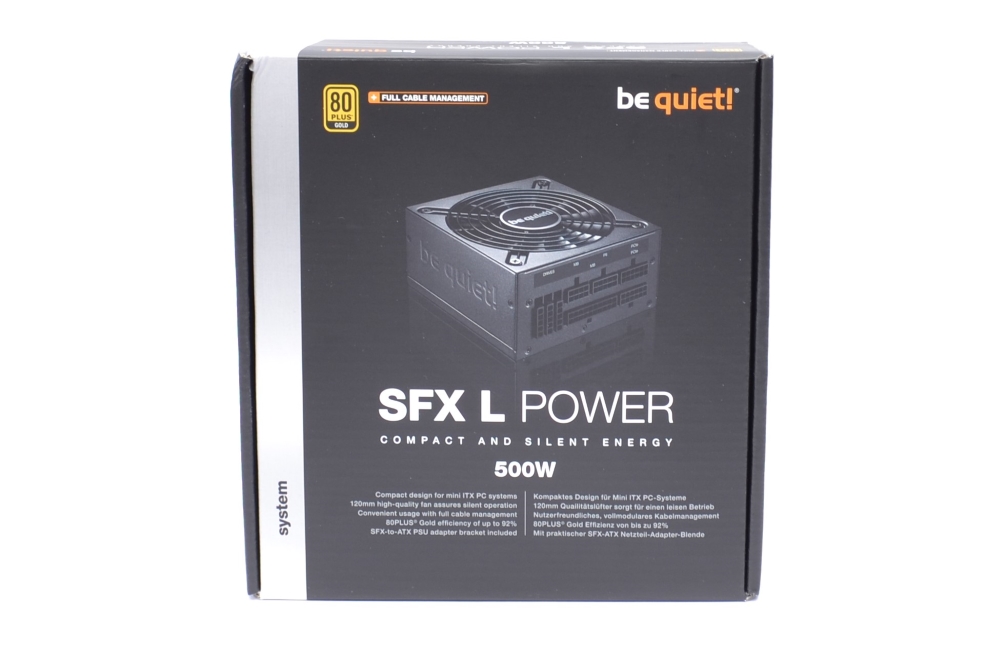 When you open the box you can see that the power supply and bracket is protected with bubble wrapping, so it does not get scratched and has shock protection during transport. The cables are loose, but they are not as fragile as the rest.
Content:
be quiet! SFX L 500W PSU
ATX mounting bracket
Modular cables
Power cable
Mounting screws
Userguide
Before we move on, we just need the specifications.
As you can see, it's a PSU that meets today's standards. It does not make too much noise with its 28dBA at full load, and then it has the protection methods needed to protect your system against error and overload. It all looks fine for now.
Model: SFX L Power 500W
Continuous power (W): 500
Peak power (W): 550
Form factor ATX 12V: PSU DG 1.31 / SFX12V Version 3.3
Form factor EPS 12V: -
Modular cable management: ?
Topology: Active PFC + LLC + DC-DC
Voltage (Vac): 100 - 240
Frequency (Hz): 50 - 60
Input current (A): 10
PFC: active
Power factor at 100% load: 0.99
Compliant to Intel C6/C7: ?
Power consumption in standby (W): 0.14
Average life time (h / 25°C): 100.000
Operating temperature up to (°C): 40
Noise: 20%=10dBA / 50%=14dBA / 100%=28dBA
Protection: OCP / OVP / UVP / SCP / OTP / OPP
A closer look at the power supply.
The primary difference between SFX and SFX L is the size. That means two things, namely, that with a SFX L you can make more powerful power supplies, and you can use a bigger fan. The size of the fan is important for the amount of noise it causes, because a smaller fan must run faster.
be quiet! SFX L 500W power supply, thus, has a nice 120mm fan mounted, instead of an 80 / 92mm fan that is standard in SFX power supplies. The fan does not look like a be quiet! fan judged by the shape of the wings, which is a bit shame in my opinion.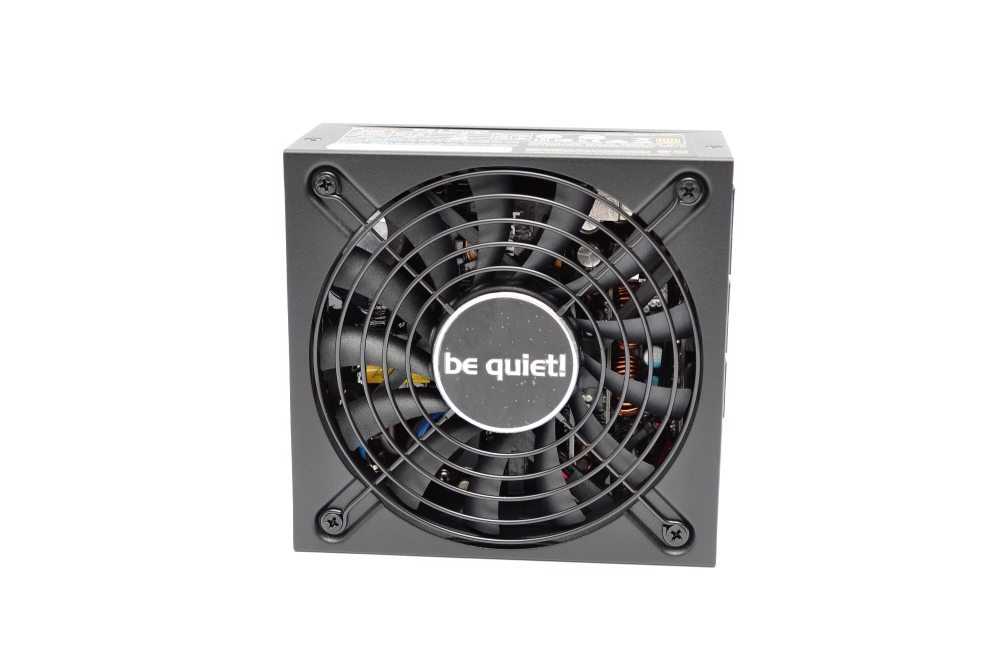 Looking around the power supply, we find on one side a label with all the specifications. Here we can see that it is a single rail power supply which means there is only a 12V part.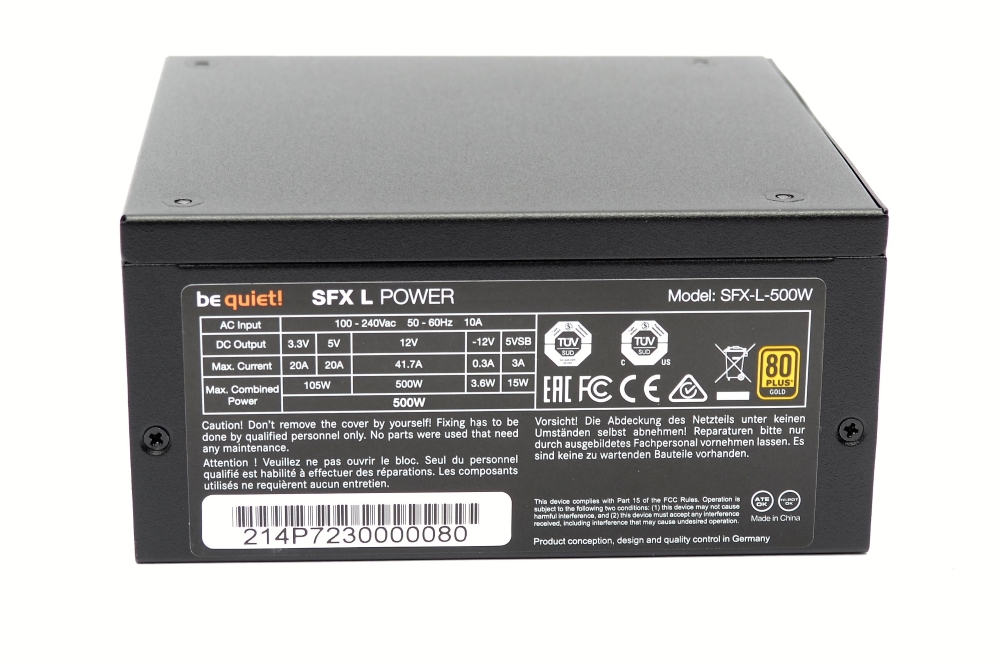 At the opposite end of the power plug, we find all the connectors for the computer. The size given on this power supply, there is actually quite a lot to choose from here. It seems that this supply is prepared for dual graphics cards. It's good to see.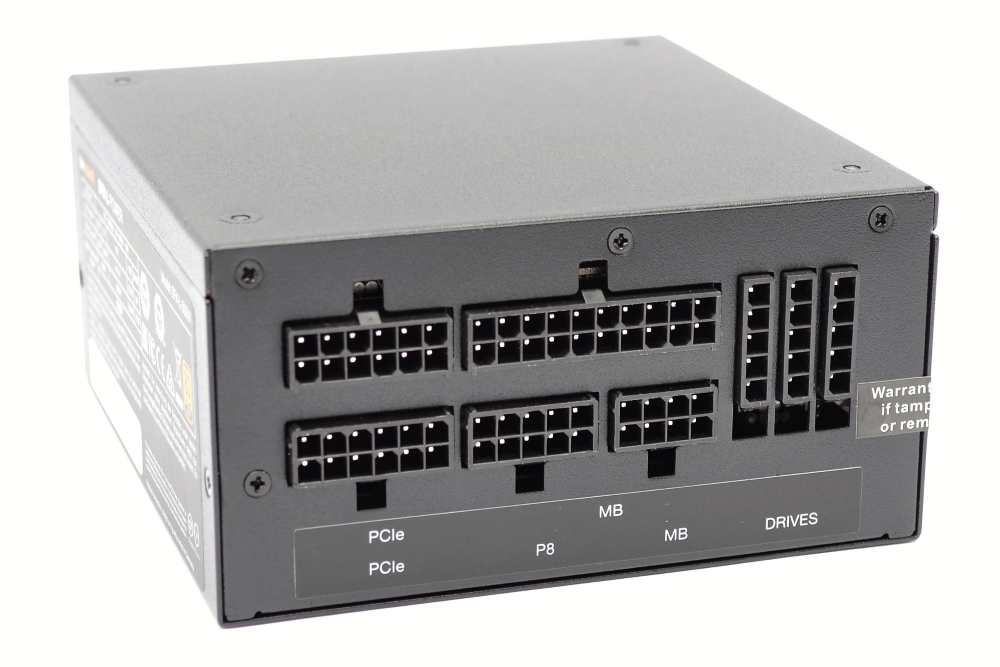 The power plug is protected by a small switch, so you can turn off the power supply completely, before disconnecting it. I really like that. There are nice holes here on this side so that there is a good airflow across the internal components.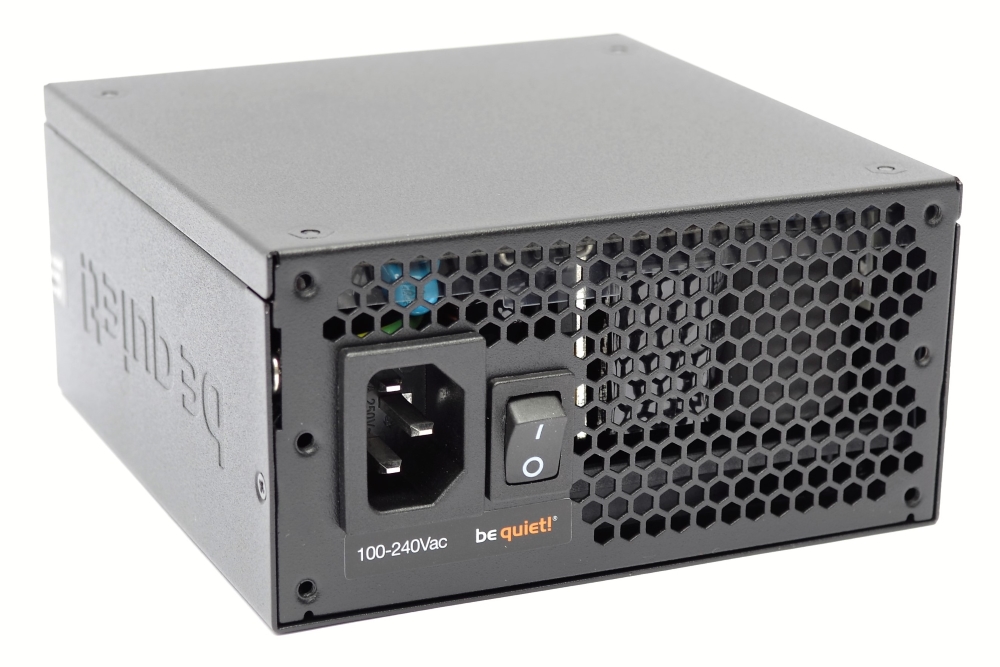 On the last side, you can see it's a be quiet! as power supply. It's simply stamped into the side of it.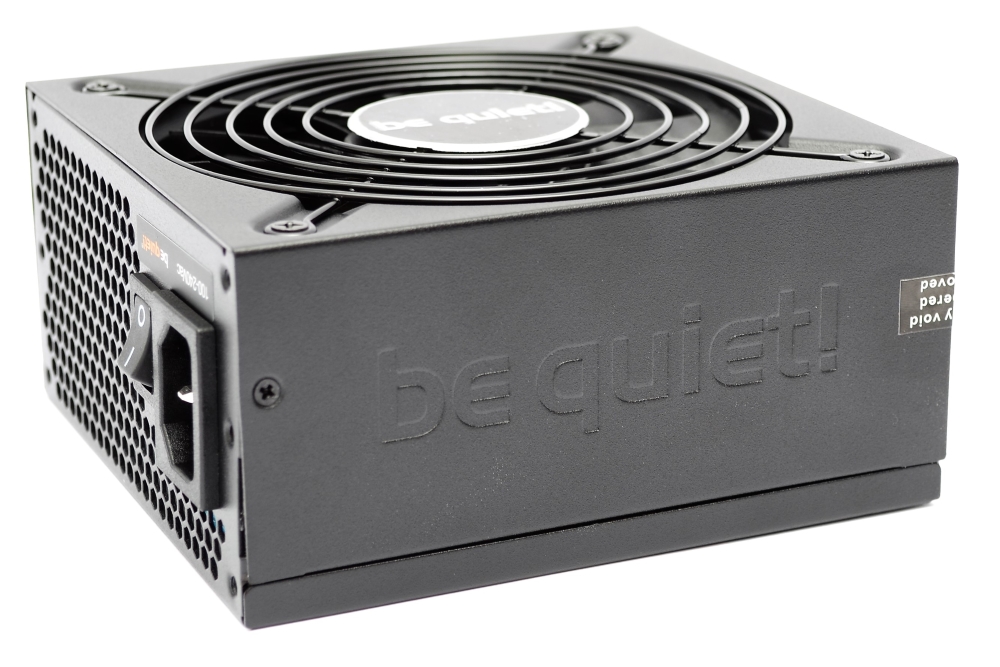 Another thing that suggests that be quiet! even have been in and designing the power supply and not just taken a standard one and put their own name on. That some of the components inside the power supply is marked with a be quiet! logo. I think that indicates good quality.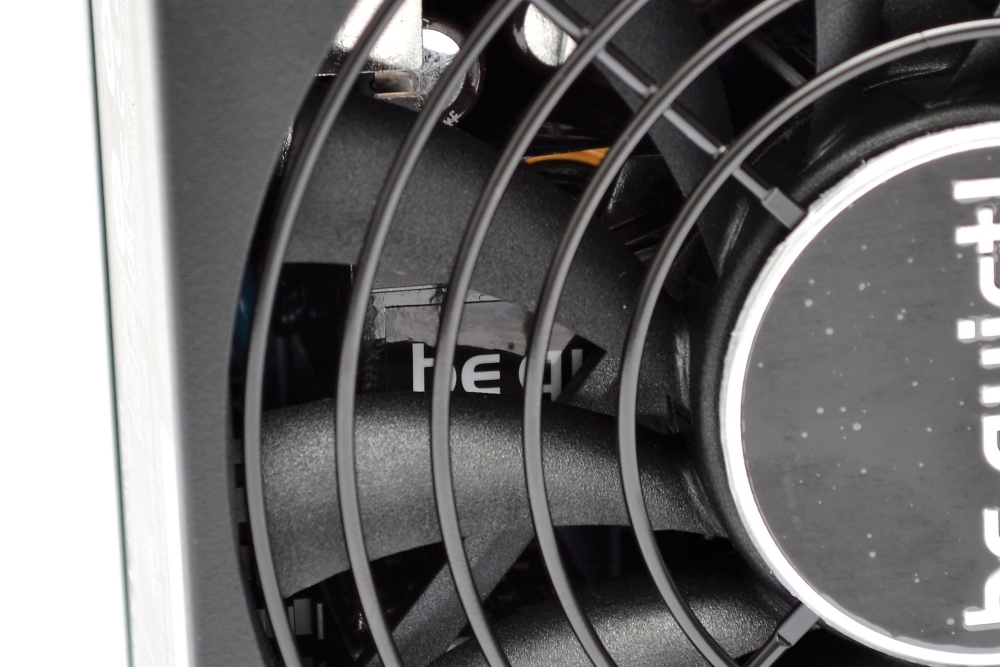 Then there are the cables themselves, which are black ribbon cables with black connectors. Ribbon cables are easy to pull around, and bundle together, and then they are discrete.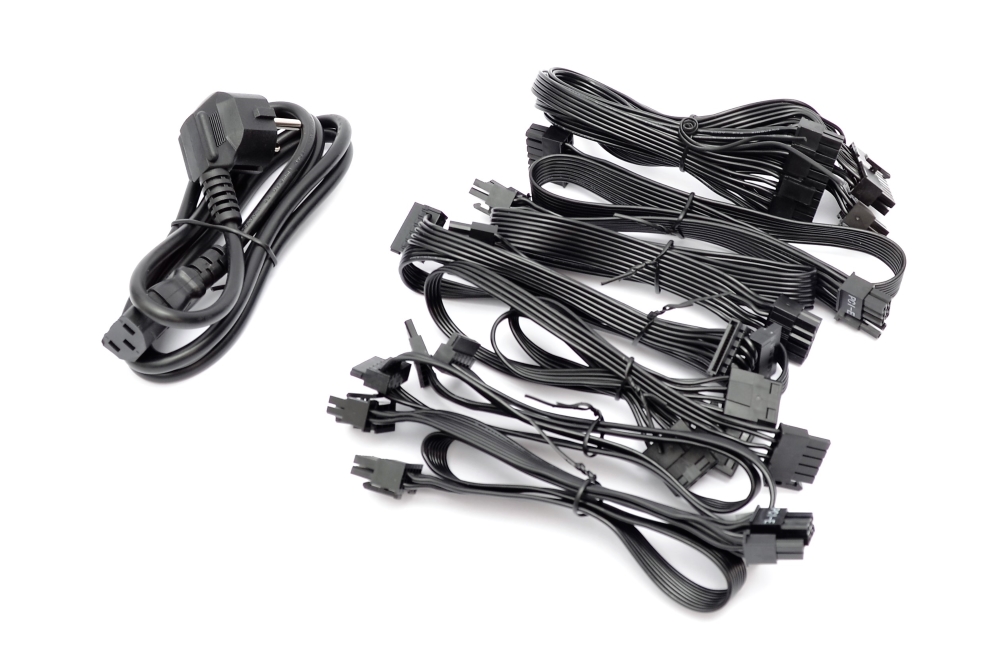 Here is a picture of the length and amount of cables included with the power supply. It is quite alright for a solid setup. Note the cable lengths, especially on the ATX cable. It is certainly not the longest I've seen with its 300mm.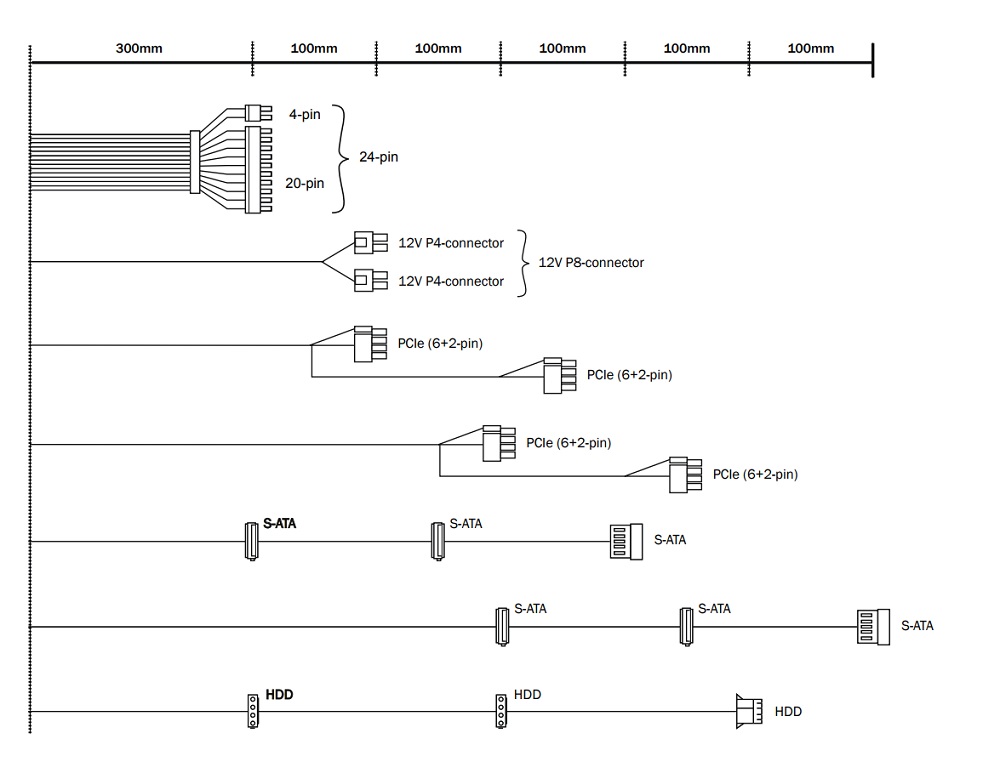 A bracket is included, so you can mount this SFX L power supply into a standard ATX hole. It's pretty smart if you want to keep your power supply small and still have the big casing.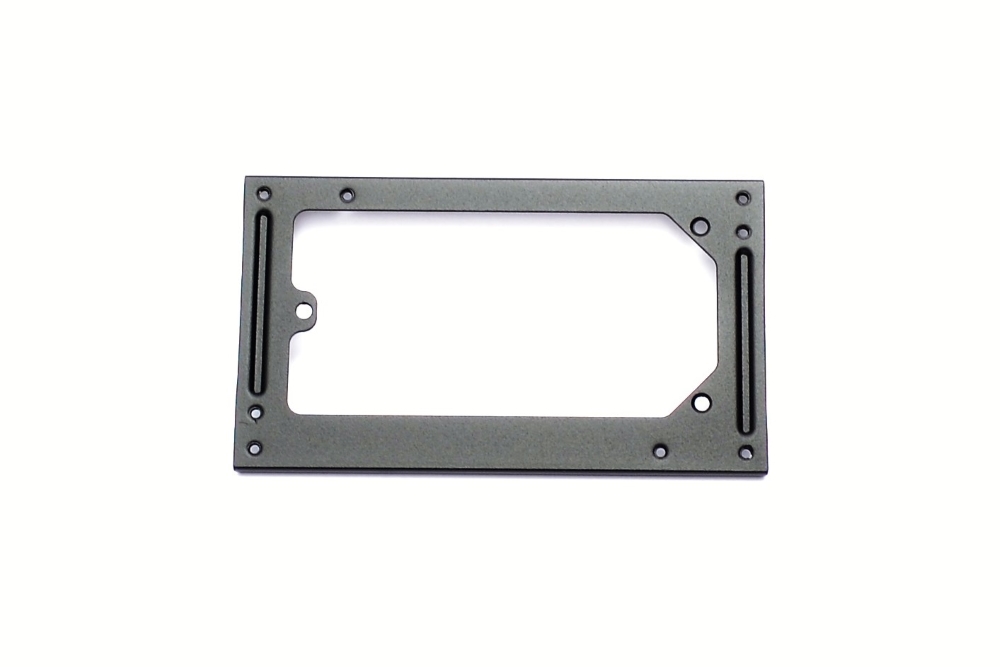 Here are the screws which you use to install the power supply and bracket with. Some of the screws are countersunk, others are normal. That way, you can mount the bracket discreetly if you need it.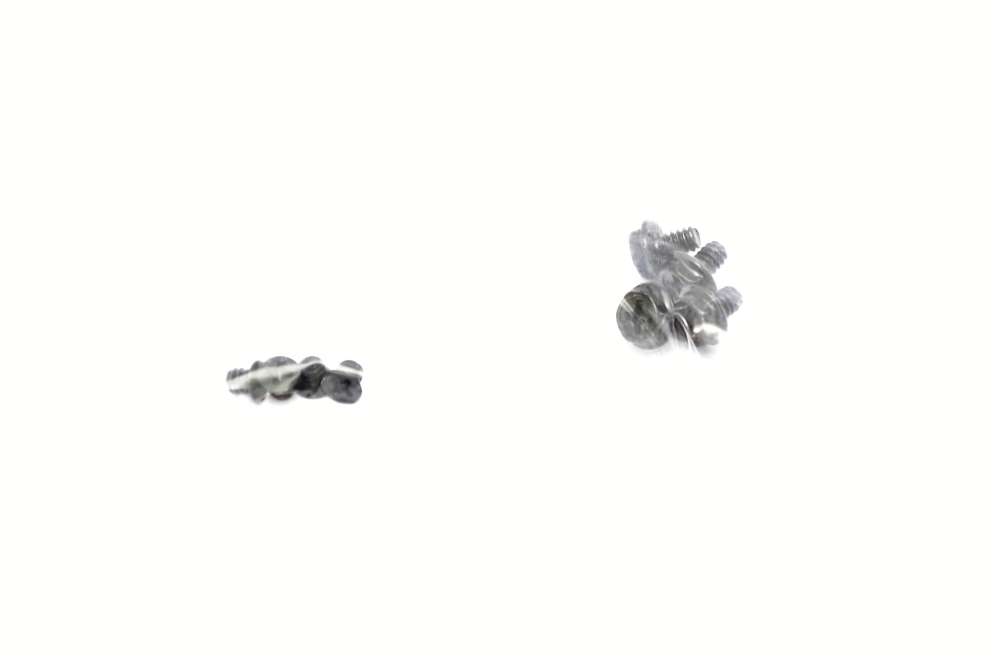 Before we begin the test, we must check certificates and standards.
A power supply is subject to a lot of important approvals and certifications nowadays. This power supply is no exception, and be quiet! has also chosen to make a little extra of it.
ATX Standard:
The basic standard of power supplies is called ATX, and it indicates how much the different voltages may fluctuate on the power supply. It also tells you what limits, for example, the Ripple voltage needs to stay within.
If you want to read more about the ATX standard, you can find more information about it on this link:
https://en.wikipedia.org/wiki/ATX
However, the basic data for ATX power supplies can be seen in this table.

80Plus Certification:
In addition to ATX, you can expand and get better. Once you've done that, you'd like to show it to your customers and have some proof of how well you've done. This is achieved at 80Plus, which gives a certification of the good work that has been done.
80Plus certifications are about making power supplies more efficient. It's important to have as little a loss in a power supply as possible, as it's just throwing money into the bin.
This power supply is 80plus GOLD certified. This means that it will provide 92% effeciency at a 50% load (230V).
All certificates and test results from 80Plus are freely available and you can read the certificate on the link below.
be quiet! SFX-L 500W Gold Certificate
If you'd like to see if your own power supply has been doing well, you can do it on the link below.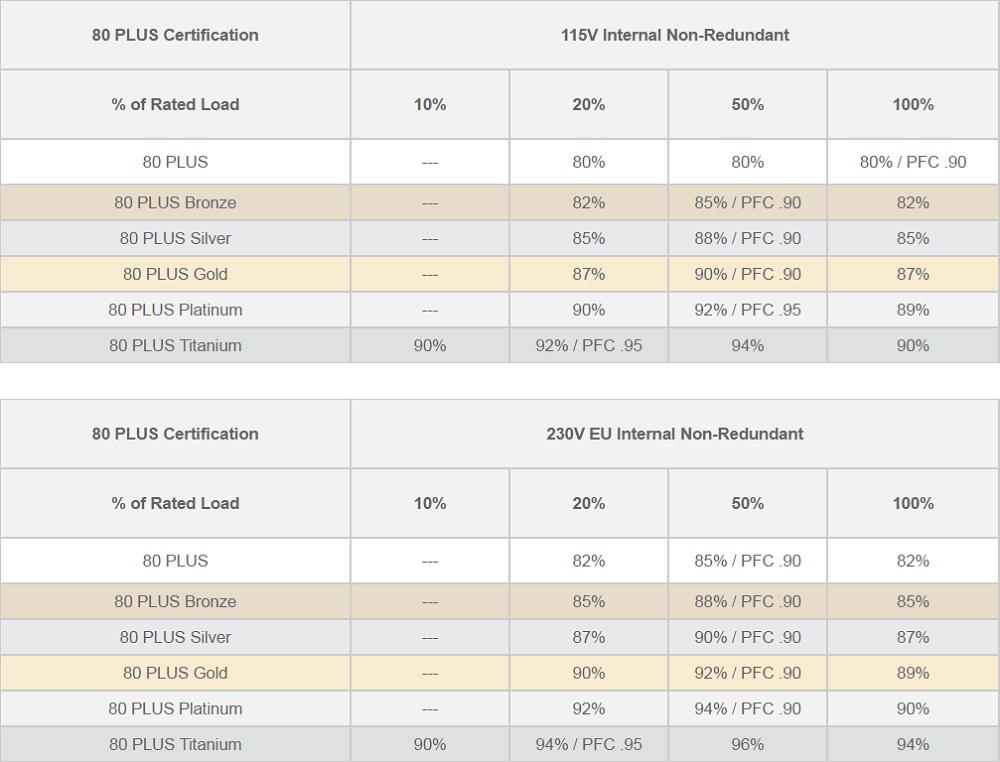 Then it's going to be tested!
My little test here shows how well the supply is doing with my method. My method is not as precise as 80plus, but it gives a small indication of whether it holds what's promised.
Voltages:
It is important for a computer's stability that voltages (Volt) stay within the limits set by the ATX standard. The more voltages differ, the more unstable the system becomes.
This power supply is rock solid. Even when overloading, it simply chooses to keep the voltages well in place. At 549W, the 12V rail is loaded with a total of 45A, yet it is well positioned within the limits. It is impressive.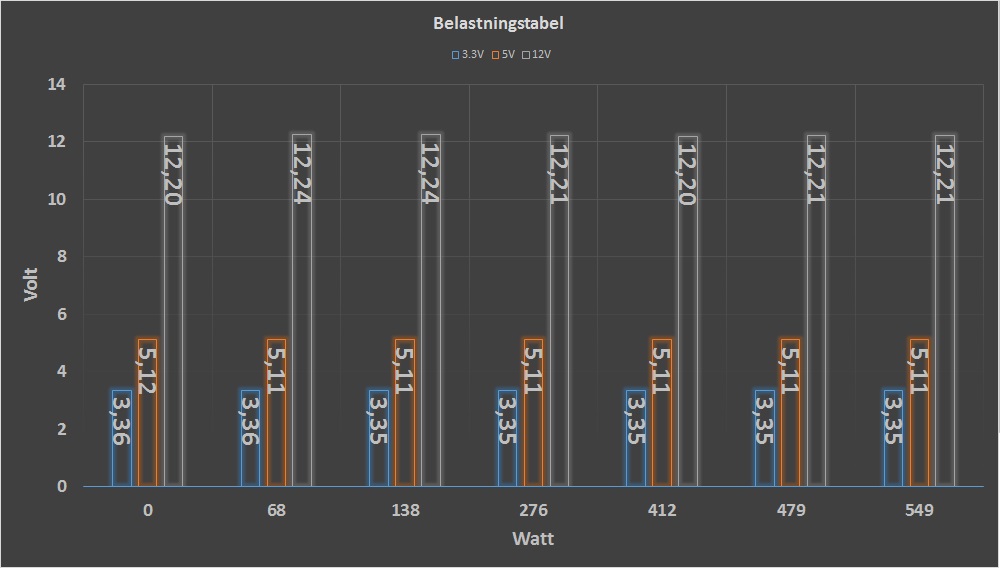 Ripple:
Below is a measurement of the ripple voltage at maximum load of the PSU. As you could read in the ATX standard above, the ripple voltage must be max 120mV on the + 12V line.
Ripple voltage is actually AC voltage (AC) from the wall outlet that comes into the computer. It may damage the computer if it is too much. Therefore, there are standards for how much AC power that must come through a power supply.
Here too, be quiet! really shows what they can. My measurement shows that I have 80mV from peak to peak. But note the tips that are being measured. There are a few that just come across the border between the red lines. The red lines show a boundary of 50mV between them. So, on average, I measure Ripple peak-to-peak as well below 50mV. It is impressive.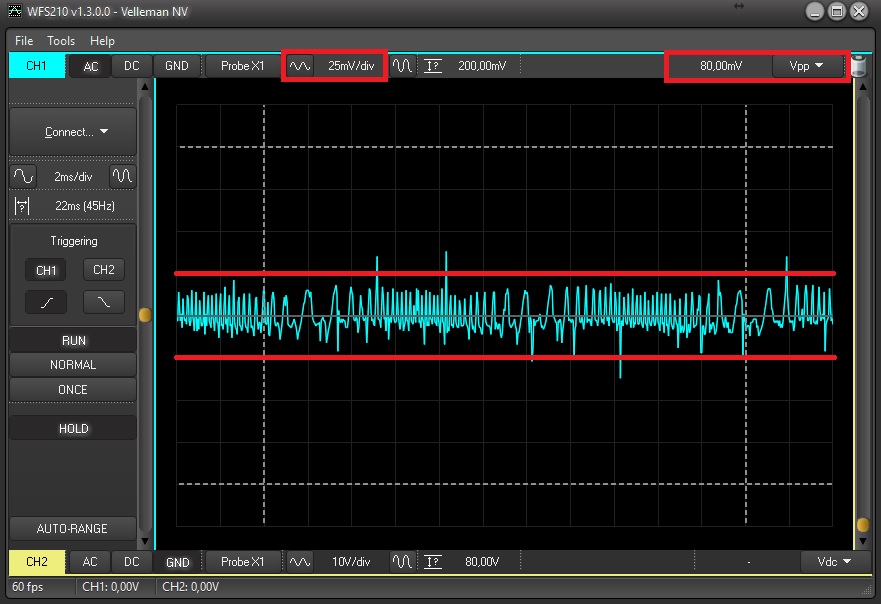 Efficiency:
A power supply should be as effective as possible. That way you save money on the power bill. It also means that the power supply becomes less hot, as a power loss most often develops more heat.
After my calculations, the efficiency great on this PSU. According to the 80plus standard, it must be within 92% at a load of 50%. My calculations with my measurement equipment show an efficiency of 89% at a 55% load rate. So I'm sure the quiet SFX L 500W stays well within what they promise as there is an uncertainty in my measurements.
My conclusion must be.
be quiet! has done it again. They have made a perfect product, despite its discreet appearance.
This power supply is solid as a rock. It keeps the voltages fully in place despite heavy loads and it ensures that as many impurities are kept out of the system as possible.
It's really impressive, and it's a long time since I last had a power supply for testing that's as clean as this one.
There are plenty of accessories applied, so you can mount the power supply in a standard casing, which is pretty cool. However, you should just have the cable lengths in mind before you start thinking about that solution.
This power supply can be purchased for just around 800 DKK in the Danish stores. It's a pretty nice price for a good power supply in this class. The power supply is also available in a 600W model, which can be purchased for the same price. So it would be obvious to choose the larger model.
The conclusion on this test is clear. It can in no way be less than a shiny Gold star rating. be quiet! has made an impressively good power supply, which really delivers the power they promise. It protects your system well against harmful impurities and has the protection a power supply should have now a days. All in all, a great bargain for the price.
Read more about be quiet! SFX L 500W here.